Transform your favorite cocktail into a boozy margarita popsicle that is easy to make, only takes 5 ingredients, and is great for adult parties!
The next time you are craving a big pitcher of something cool and boozy on a hot summer day, opt for these margarita popsicles instead! These frozen margaritas taste just like the refreshing drink and they're healthy, too; each pop is less than 100 calories! That's what I'm talking about!
One thing I love about these boozy popsicles is that you don't need any fancy gadgets. So while most recipes call for a popsicle mold, you can make margarita pops using the standard plastic cup. I almost forgot to mention that you don't even need margarita mix! We use fresh juices in this recipe and my homemade simple syrup adds the sweetness, which is perfect when you don't want to make a run to store or spend the extra money.
They also only take 10 minutes to prep, which is wonderful if you are getting ready for a party. You will definitely want to make these ahead of time. And while they do mix up quickly, they take several hours to freeze through. The last thing you want to do is to serve a slushy, melty popsicle!
While these margarita popsicles are for adults only (sorry kids), you can serve the little ones some of my other favorite treats, like homemade fudgesicles, blue bubble gum ice cream, or mini ice cream sandwich pops!
Ingredients Needed
fresh-squeezed lime juice
orange juice – choose a variety that doesn't contain the pulp
white tequila – any brand will do as long as it's light, such as Patron Silver
simple syrup – you can use store bought but I recommend my homemade simple syrup – delicious and cheap!
limes – grab a few more to slice into wheels to go at the base of each popsicle
Dixie cups – be sure to grab the plastic-coated kind, it's the easiest to work with when it comes time to take the pops out.
Coarse salt
popsicle sticks
How to Make Homemade Margarita Popsicles
Combine all of the ingredients into a large measuring cup with a spout.
Pour the margarita mixture into cups, leaving a little room at the top of each one.
Place a large sliced lime round on the end of each popsicle stick so it fills the space of each cup. Then add to each popsicle.
Freeze for at least 8 hours or overnight.
Pull off the cups, garnish with salt, and enjoy!
Tips for Making
Place the cups on a baking sheet before putting them in the freezer if you have the room. This makes it easier to serve and you don't have to worry about them tipping over before they set.
Roll the limes on the counter before juicing. It makes the process easier.
Plastic lined paper cups work the best for these margarita popsicles.
Make sure you cut the lime slices thick enough to fill that space at the top. You should be able to get about 3 slices from each lime.
Margarita Popsicles Variations
Add a splash of orange liqueur such as Triple Sec or Grand Marnier for another layer of flavor in your pops!
Swap out limeade for the freshly squeezed limes in this recipe – if you do this, it will decrease and possibly eliminate the need for simple syrup.
If you have ice pop molds, it's perfectly fine to use them instead of the Dixie cups! These classic popsicle molds (affil) are my favorite.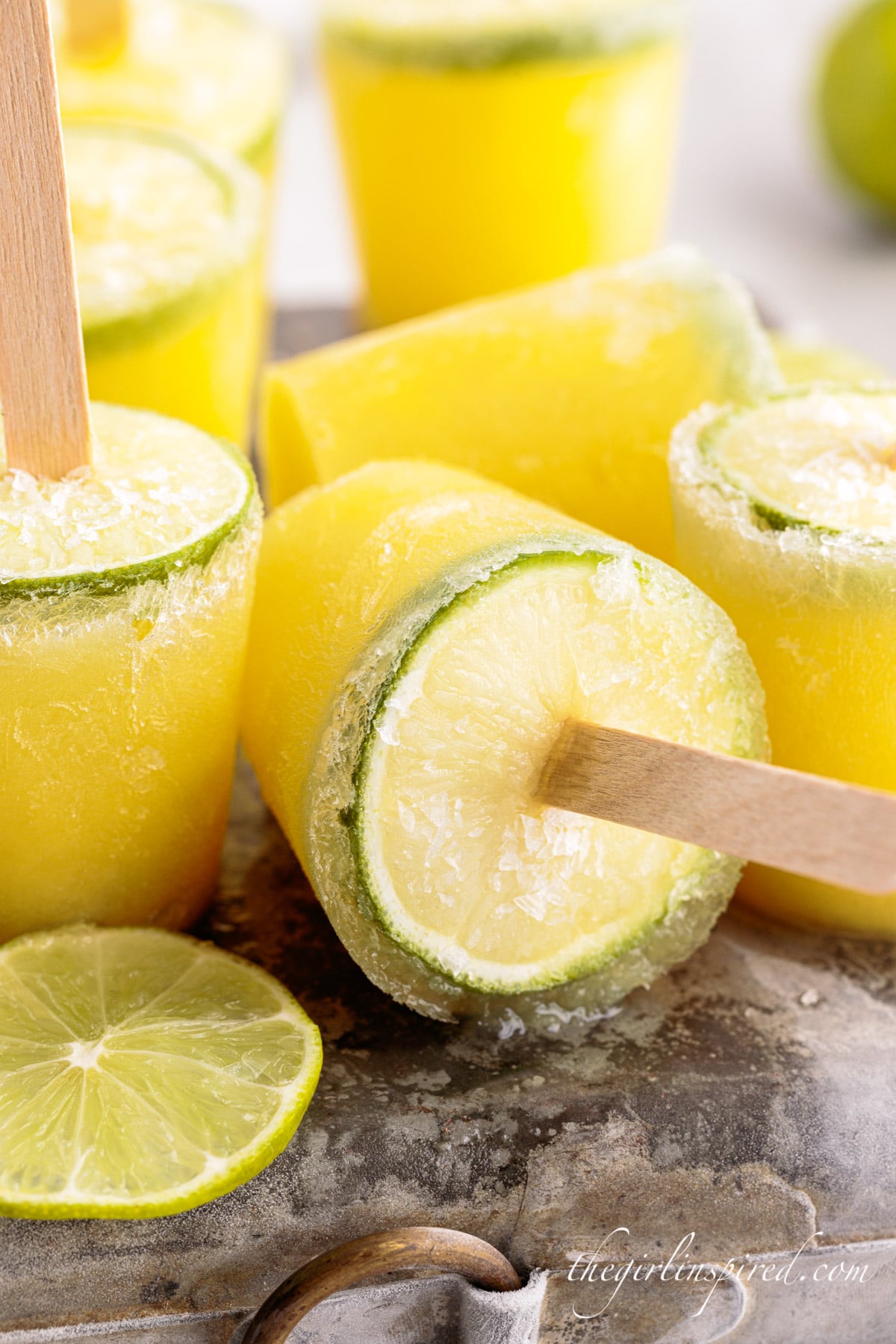 Will tequila freeze in a popsicle?
Yes. Because it is mixed in with the juice at a smaller ratio, it will freeze just fine as long as you follow the recipe. If you increase the amount of alcohol, it's possible they will not set correctly.
How long do ritasicles keep in the freezer?
If you store these icy pops in an airtight container they will stay fresh for up to 1 month. You can keep them in the freezer for a week without sealing them.
More Boozy Summer Favorites You'll Love
Margarita Popsicles
Transform your favorite cocktail into a boozy margarita popsicle that is easy to make, only takes 5 ingredients, and is great for adult parties!
Equipment
8 – popsicle sticks

8 – 3 oz. Dixie cups or similar
Ingredients
½ cup fresh-squeezed lime juice about 4 limes
1 cup orange juice pulp-free
½ cup white tequila
3 tablespoons simple syrup
3-4 additional limes sliced into rounds
Coarse salt
Instructions
In a 4 cup measuring cup with a spout, combine lime juice, orange juice, tequila, and simple syrup. Stir to combine. Taste and adjust sweetness as needed.

Slice limes into rounds – you can get about 3 large rounds from each lime – you want them to be large enough in diameter to fill most of the top of the cup.

Cut a tiny slice in the center of each lime round and insert a popsicle stick.

Place the popsicle stick and lime into each cup, adjusting the position of the lime on the stick so that it rests at the top of the margarita liquid and the popsicle stick stands upright.

Freeze for 8 hours or overnight.

Loosen the popsicle from the cup by warming the outside of the cup with your hand. This should only take a few seconds. Then gently pull the popsicle free! Sprinkle the top of the lime with salt and/or dip the bottom of the popsicle into a little bowl of salt.

Eat immediately!
Nutrition
Calories: 80kcal | Carbohydrates: 13g | Protein: 0.5g | Fat: 0.1g | Saturated Fat: 0.01g | Polyunsaturated Fat: 0.03g | Monounsaturated Fat: 0.02g | Sodium: 6mg | Potassium: 110mg | Fiber: 1g | Sugar: 9g | Vitamin A: 82IU | Vitamin C: 27mg | Calcium: 15mg | Iron: 1mg