When you want a tropical vibe, mix up a 4 ingredient tipsy mermaid that's light, sweet, refreshing, and looks like magic in a glass.
You are going to love this tipsy mermaid drink recipe! It's full of tropical flavors, has a beautiful aqua color, and the ombre look is almost mesmerizing. I know you are thinking that this beachy cocktail is probably hard to make because it's so pretty, wrong! It comes together in a couple of seconds, and no mixology license needed.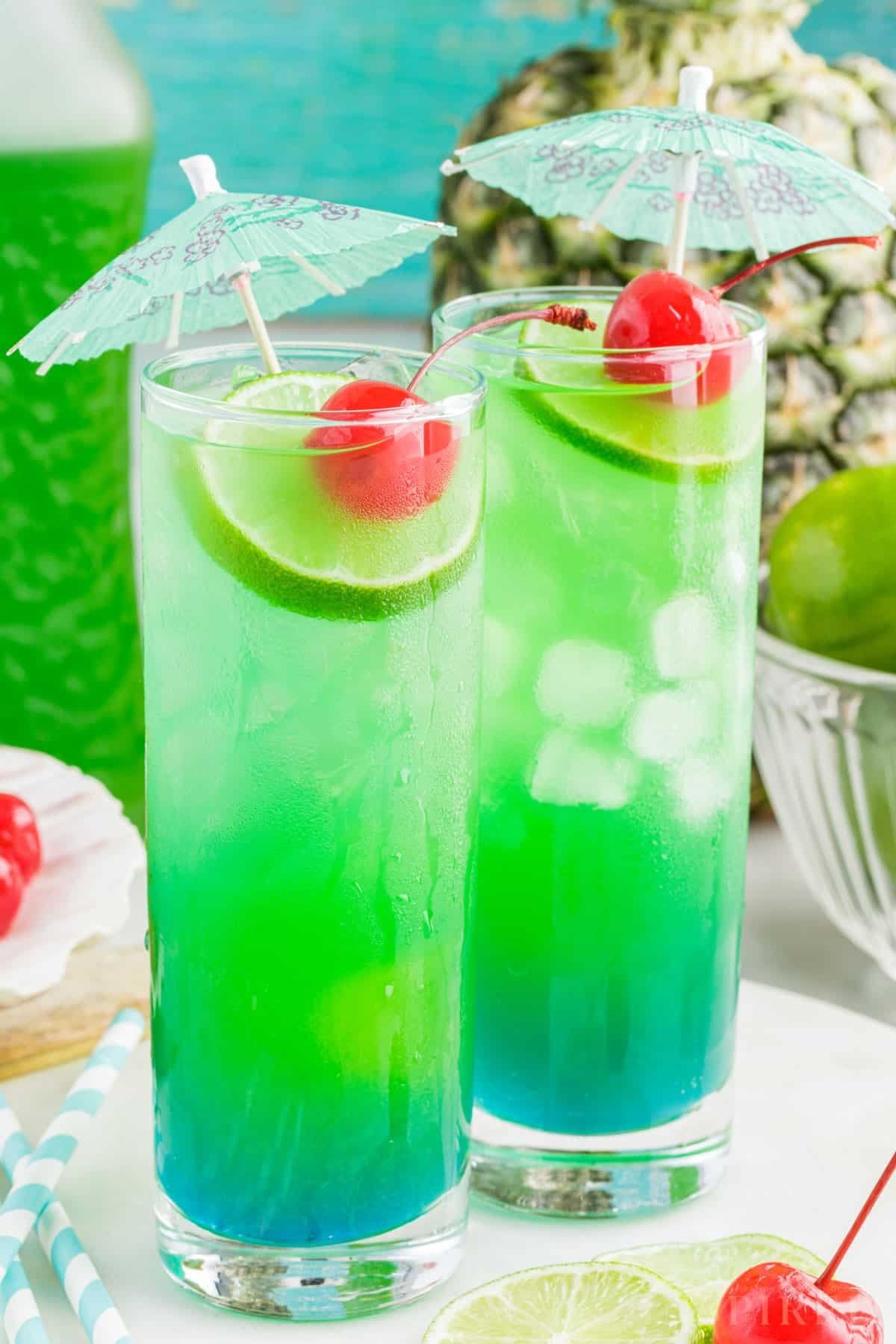 If you are on TikTok you may have seen different versions of the tipsy mermaid rum punch, but I have made a few swaps that are going to knock your socks off!
As we are heading into summer, you may be like me and are dreaming about lake views and sandy beaches. Since it's not time to vacay just yet, I guess you'll find me on the patio mixing up my favorite drinks like the Jolly Rancher Vodka Cocktail and this fruity, boozy Starburst drink.
Jump to:
What is a Tipsy Mermaid drink?
It's a rum punch that is typically made with a couple of types of rum and mixed with pineapple juice. The blue color comes from using Blue Curaçao. While it's low in alcohol volume, its main purpose is to provide that beautiful color and an orange flavor. Some garnish with lime wheels while others may opt for a pineapple slice.
🧜‍♀️ Ingredients: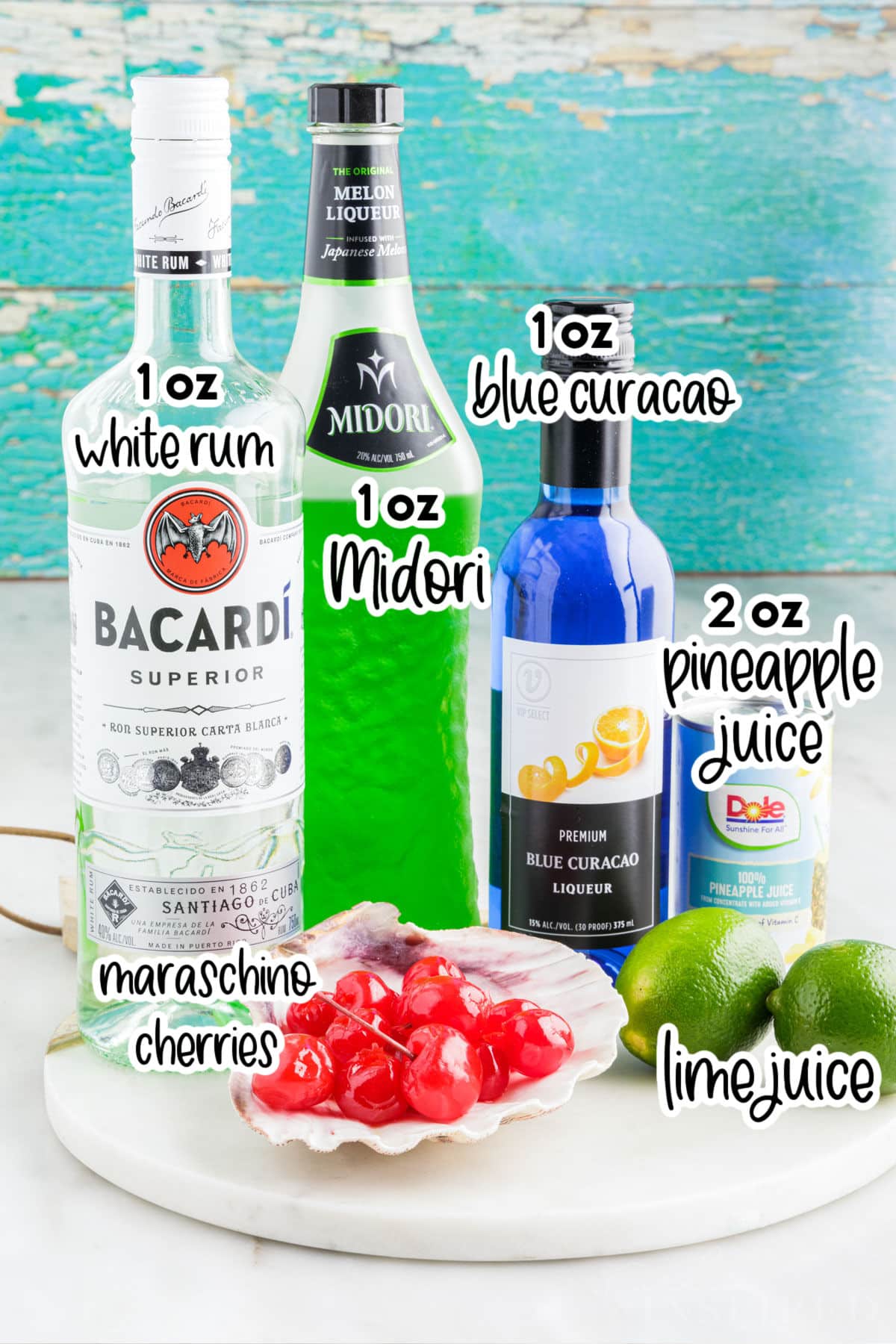 Ice cubes – provide a refreshing chill, you can also chill the glasses before pouring the drinks
Midori – adds a sweet melon flavor and creates some of the color gradient
white rum – this is your non-sweet alcohol base
pineapple juice – brings a tropical tang
Blue Curacao – lends a vibrant blue hue and orange flavor
lime slices and maraschino cherries offer optional garnishes for added visual appeal.
For a full list of ingredients and their measurements, 📋 please view my printable recipe card at the bottom of the post.
Fun Garnish Ideas
Rim the glasses: Place each glass rim in a shallow plate of water or swipe a wedge of lime around the edge, then dip it in coarse sugar or shredded coconut.
Umbrellas and Drink Toppers: Make the drinks more festive by adding cocktail umbrellas, drink toppers, or other decorations depending on the occasion.
Fruit Skewers: Using a longer toothpick, add cherries, pineapple chunks, or oranges and layer it across the rim before serving.
Substitutions and Variations
Please know if you use any of the variations below, that the color of the tipsy mermaid may vary and may not have the layered appearance that we love.
Some like the taste of spiced rum better, which you could swap for the light rum. However, this may change the color of the cocktail.
If you like a bubbly or carbonated beverage, you can use lemon-lime soda, White Claw Watermelon Seltzer (omit the Midori if using), or club soda to top the drinks off.
Experiment by using lemonade instead of pineapple juice.
🔪 Instructions:
PREP: Summarize prep instructions here, if applicable.
Step 1: Add a few ice cubes to a tall glass. Pour in the Midori, rum, and pineapple juice. Stir well.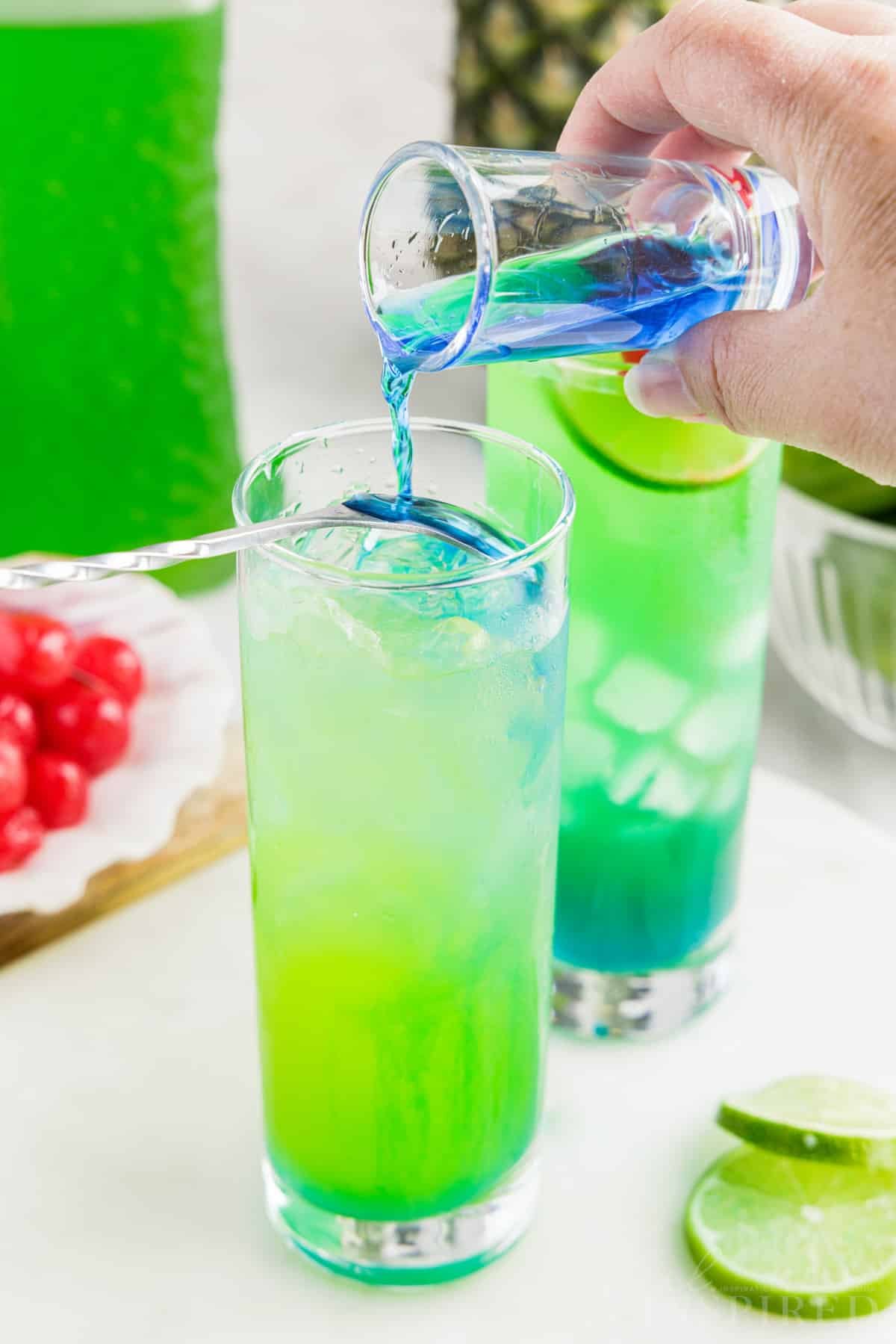 Step 2: Hold a spoon with the backside facing up over the drink. Slowly pour the blue curacao over it so it goes down the side of the glass. If you simply pour the blue curacao into the glass, the liquids will mix together and be murky.
Pro Tip: Do NOT add the blue curacao to the glass before the other ingredients. The blue curacao will simply mix with the other ingredients when they're added on top. Instead, add the other ingredients first and then pour the blue curacao over a spoon to sink down the side and settle on the bottom.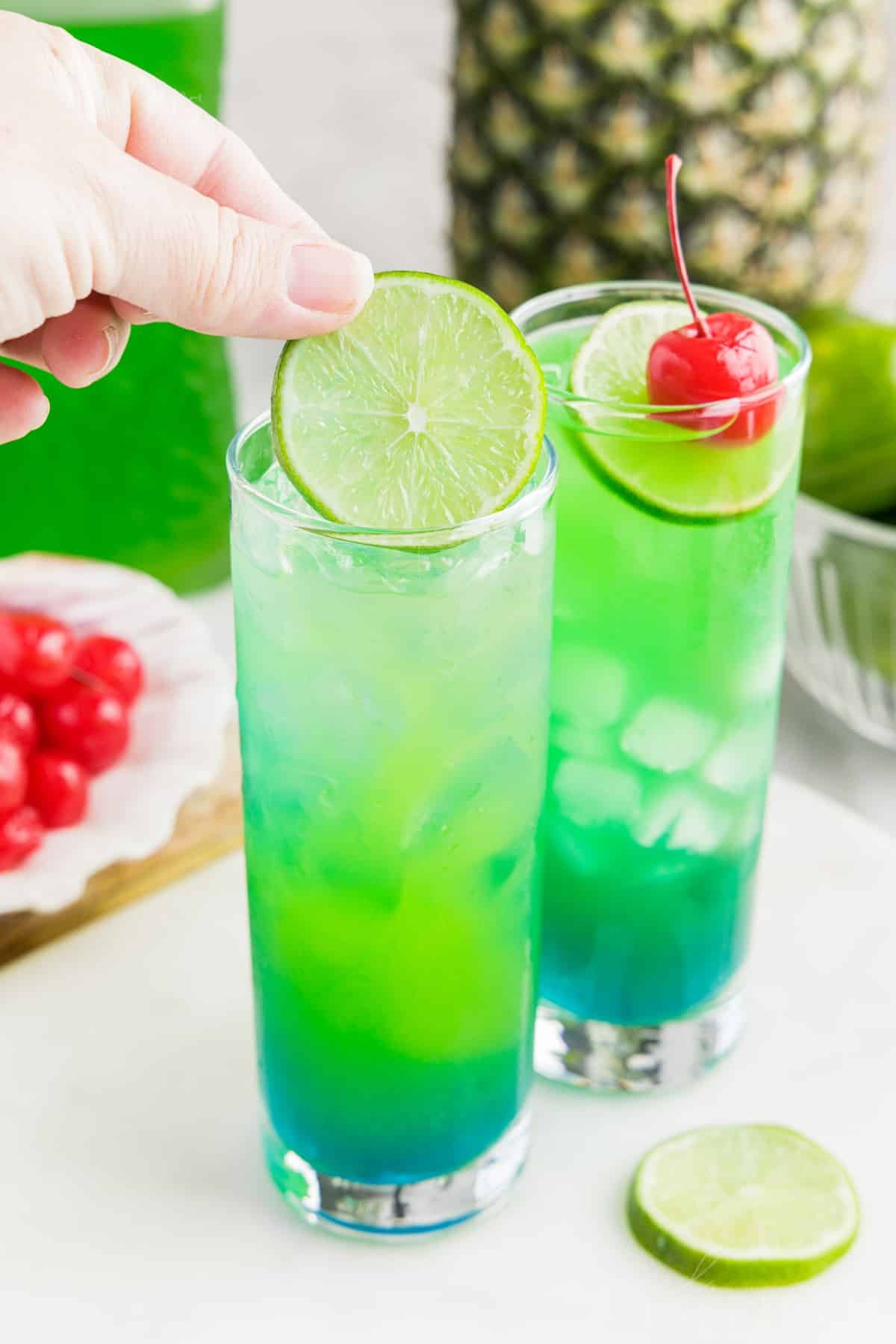 Step 3: Place lime wheels over the top of the glass. A lime wheel fits really nicely resting on top of the ice in a Collins glass.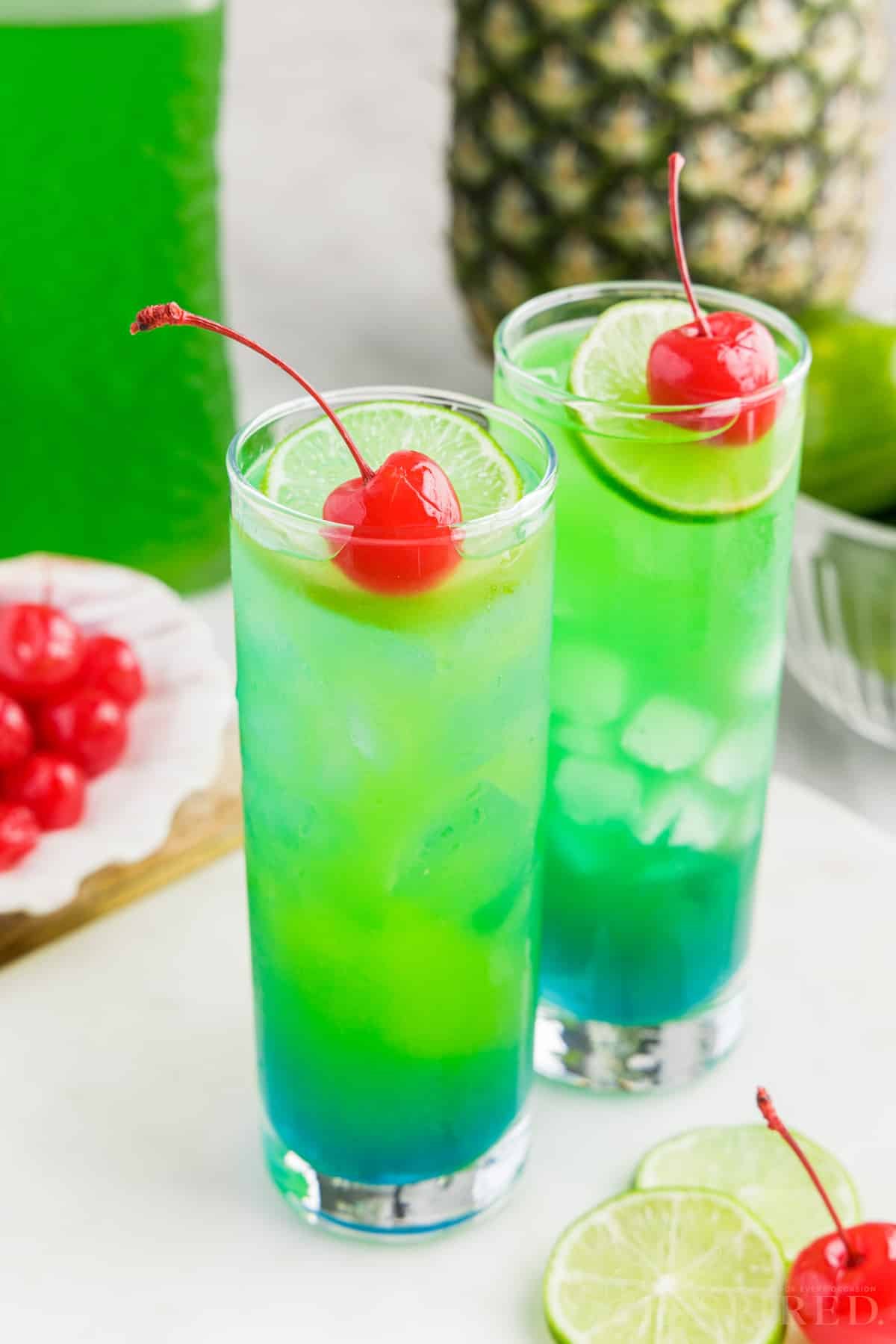 Step 4: Garnish with a maraschino cherry and a paper umbrella or any other fun tropical garnishes. Add a straw if you like!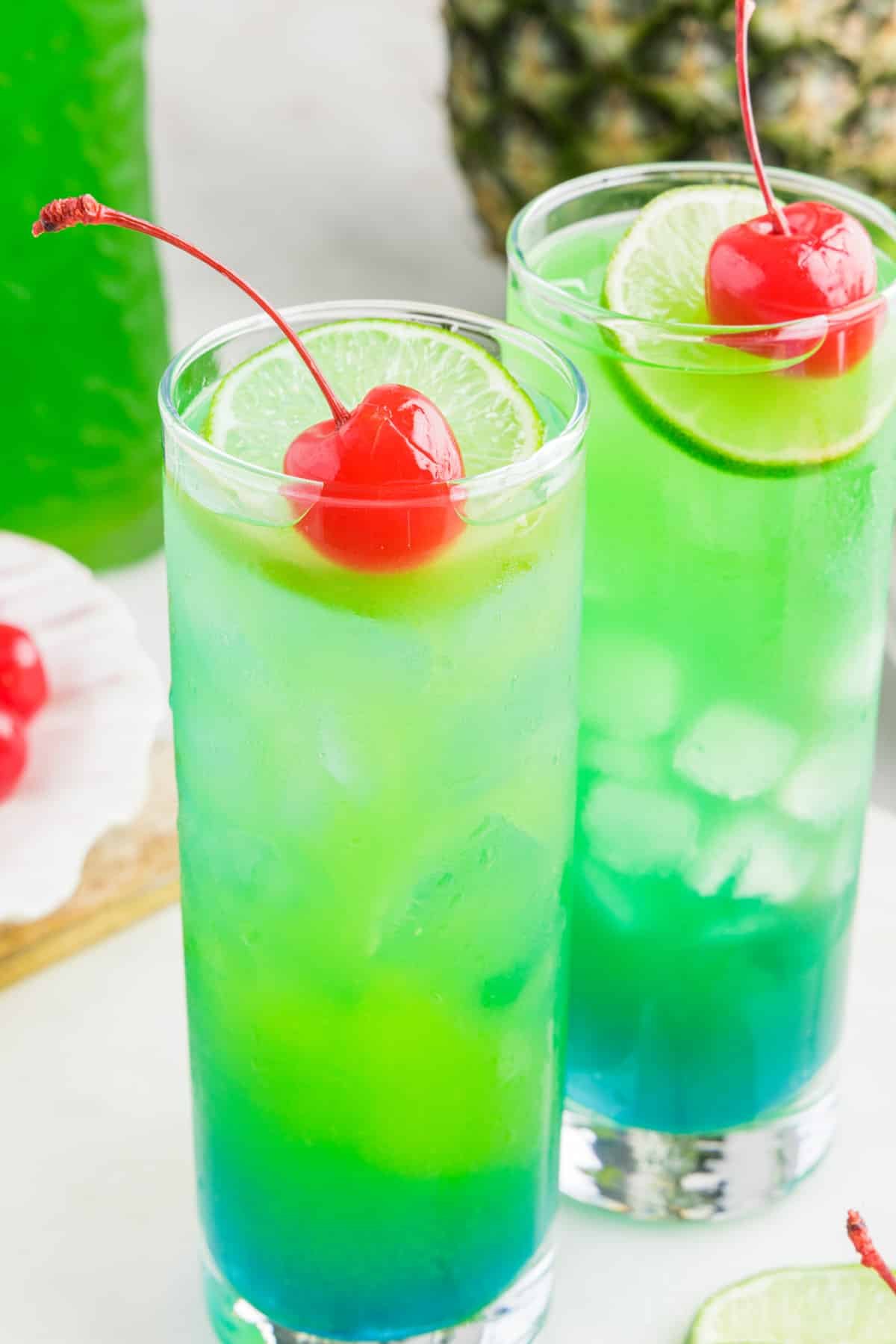 Making Tipsy Mermaids for a Crowd
Many want to make this cocktail recipe into a party punch to serve a large crowd at one time. You can definitely do this, but the drink will not have a layered or ombre look. Instead, all of the ingredients will be mixed together.
To make the punch, increase the quantities of ingredients for the number of servings you need. Follow the instructions, except place the rum mixture in a large punch bowl. Leave out the ice so it doesn't get watered down. Instead, have an ice bucket nearby, so once guests pour their drink they can add ice themselves.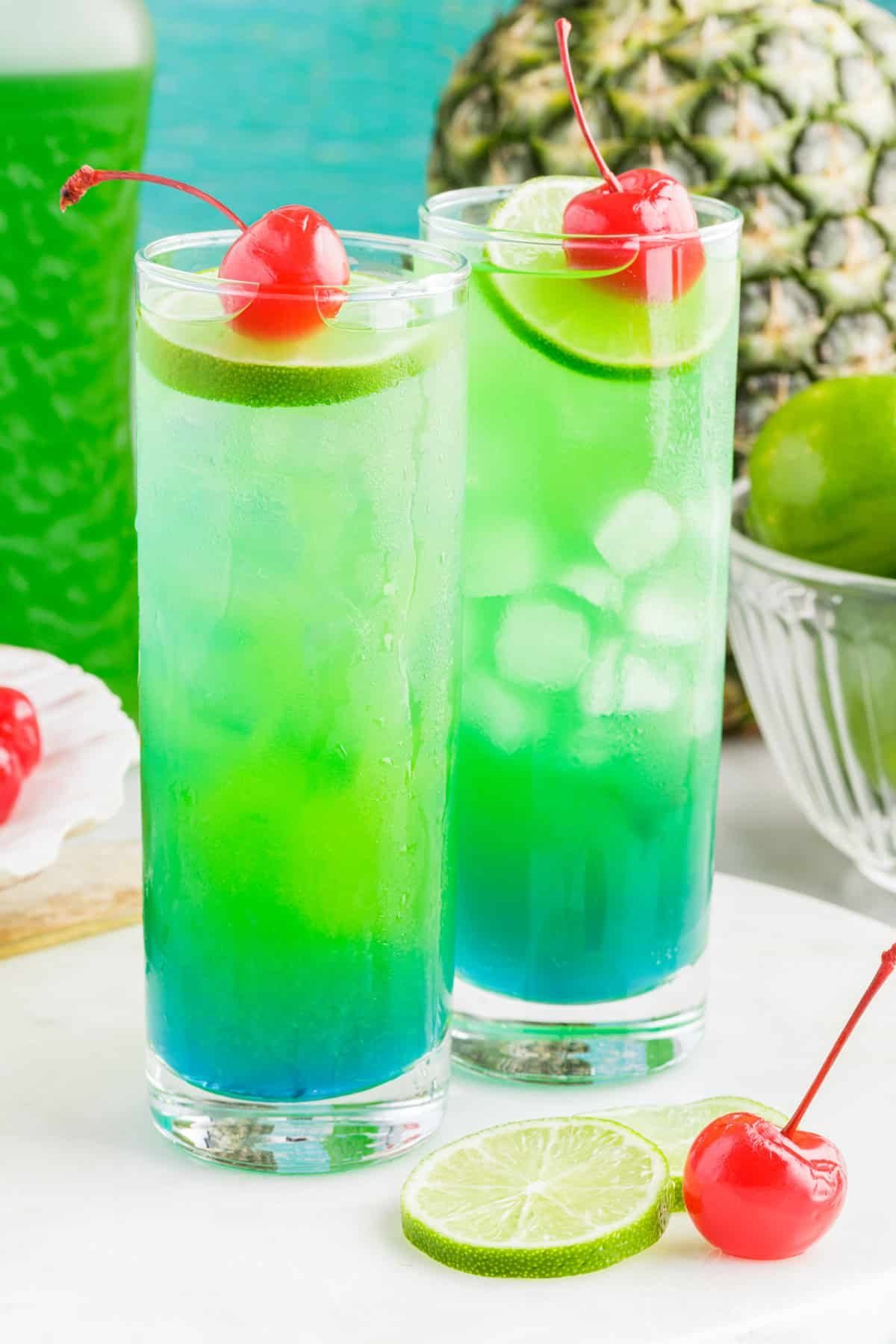 More Boozy Beverages You Have To Try:
If you tried this Tipsy Mermaid Drink or any other recipe on my website, please please leave a 🌟 star rating and let me know how you liked it in the 📝 comments below.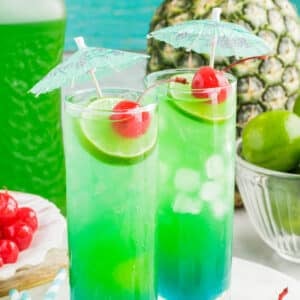 Tipsy Mermaid Drink
When you want a tropical vibe, mix up a 4 ingredient tipsy mermaid that's light, sweet, refreshing, and looks like magic in a glass.
Ingredients
1 cup ice cubes or enough to fill glass
1 oz. Midori
1 oz. white rum
2 oz. pineapple juice
1 oz. Blue Curacao
Lime slices and maraschino cherries for garnish optional
Notes
In order to achieve the layered color look of this Tipsy Mermaid drink, it is important to follow the instructions exactly as given. The sugar content in the blue curacao makes it heavier than the other ingredients. It will sink to the bottom of the glass and the Midori and other ingredients will float above it. However, it must be poured over the back of a spoon to trickle down the sides of the glass AFTER the other ingredients are stirred together. If you add the blue curacao first OR if you just pour it over the top, the blue will mix with the other ingredients instead of sinking below.
You can swap spiced rum or even coconut rum for the white rum. This may change the color of the cocktail.
For a bubbly or carbonated drink, try lemon-lime soda, club soda, or White Claw Watermelon Seltzer (omit the Midori) instead of the pineapple juice. These options also may change the color of the tipsy mermaid.
Nutrition
Calories: 243kcal | Carbohydrates: 25g | Protein: 1g | Fat: 1g | Polyunsaturated Fat: 1g | Monounsaturated Fat: 1g | Sodium: 13mg | Potassium: 74mg | Fiber: 1g | Sugar: 21g | Vitamin A: 3IU | Vitamin C: 6mg | Calcium: 14mg | Iron: 1mg