A sweet, indulgent Caribbean-inspired drink, this chocolate coconut rum cocktail is perfect for chocolate and coconut lovers alike!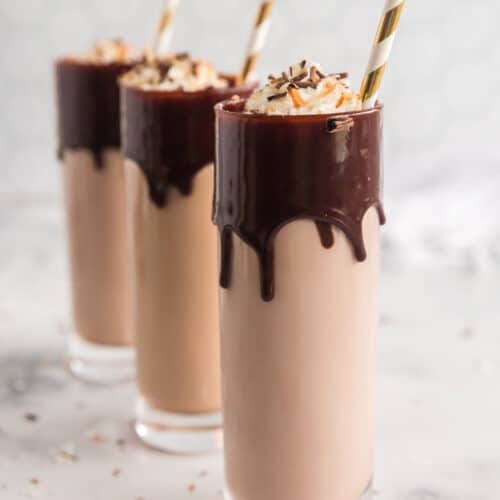 Mmmmmm. Is there anything better than this indulgent little concoction right here? I can't even handle how delicious this Caribbean inspired Coconut Rum Cocktail is! Inspired by two AMAZING cocktails that we had at the Choco Bar in Old San Juan, Puerto Rico, today I bring you the best of chocolate, combined with coconut, combined with RUM in what I like to call a Chococolada! Oh, how I love coconut rum drinks!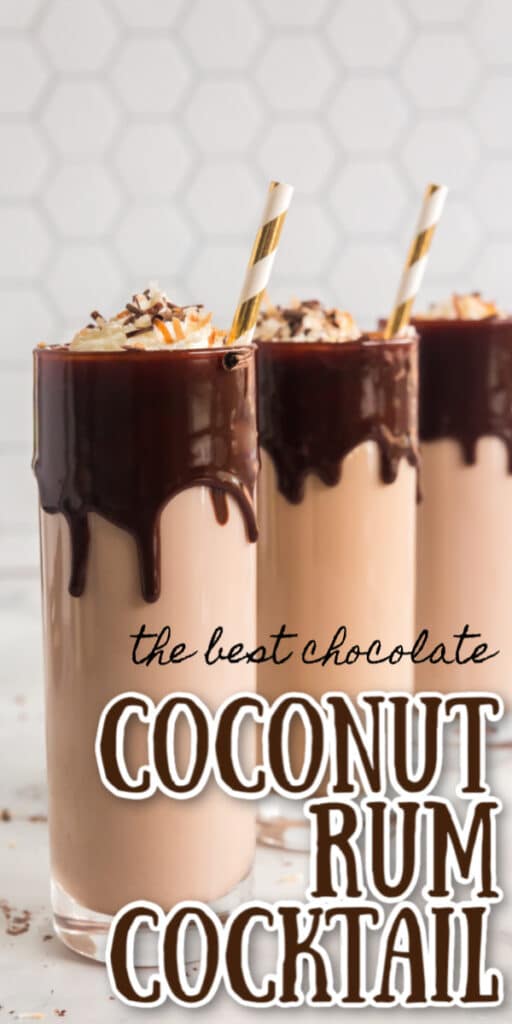 If you are planning to visit Puerto Rico at some point, I have some amazing food recommendations in both Old San Juan and other spots on the island, so be sure to read about them. Among my favorite restaurants was the Choco Bar and for chocolate lovers, it's a must!

So let's get to the making of this heavenly chocolate coconut cocktail concoction! First off, let's work on some of the extras that make the appearance of the choco-colada match the flavor!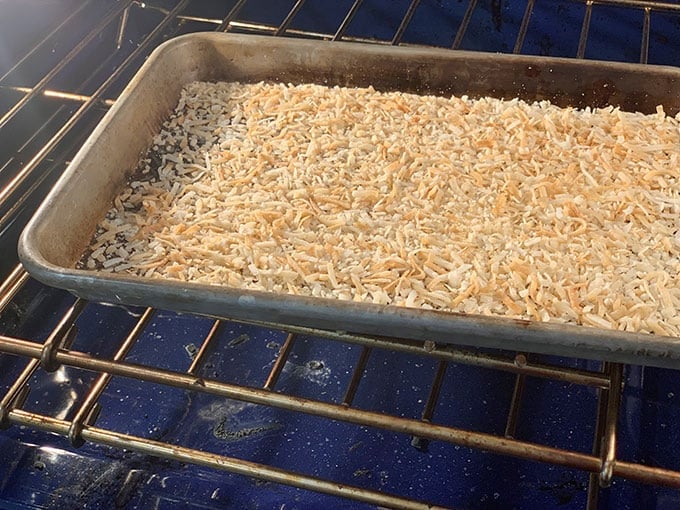 I toasted up some coconut for a beautiful garnish and a bit of extra flavor on the drinks. One glance at the coconut topped drink and you start getting a sense for the flavors you're about to taste! You can toast the coconut over medium heat on the stovetop – or simply spread some out on a baking sheet and pop it into a 350 degree oven, stirring and checking often until it's golden brown (5-10ish minutes).
Now for the decadent ganache rimmed serving glass!! This is so fun to do and it makes the drink extra delicious!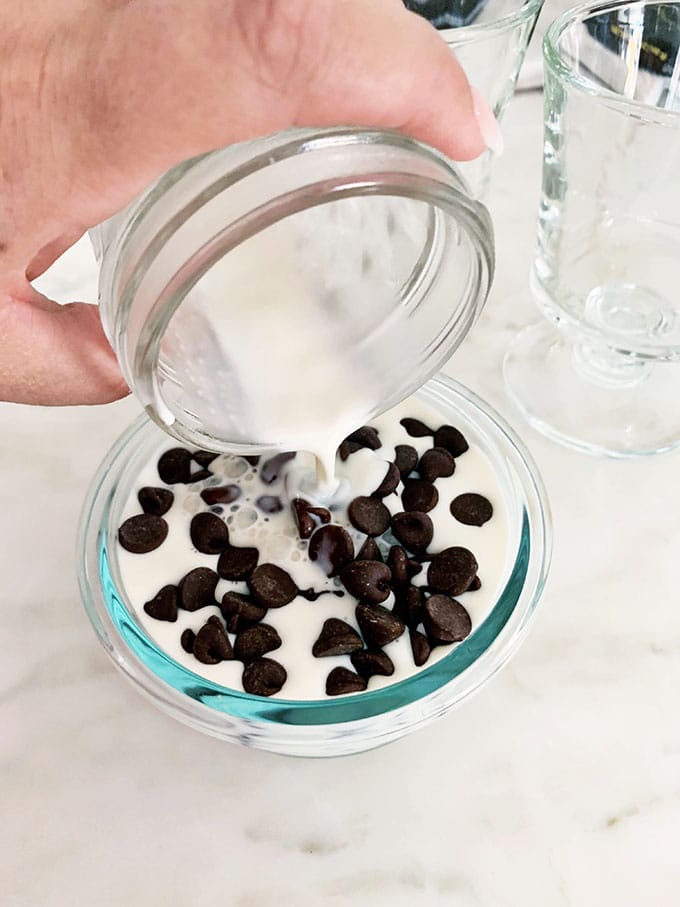 Have you ever made ganache? It is SO simple, I don't even measure. (But if you want to measure, let's say 1 cup chocolate chips and a half cup of heavy cream). Bring some heavy whipping cream to a simmer on the stove top – OR just heat it in the microwave until it starts to get steamy and is about to boil! Pour your heated heavy whipping cream over chocolate chips (you could also chop up a chocolate bar, but chocolate chips are so easy).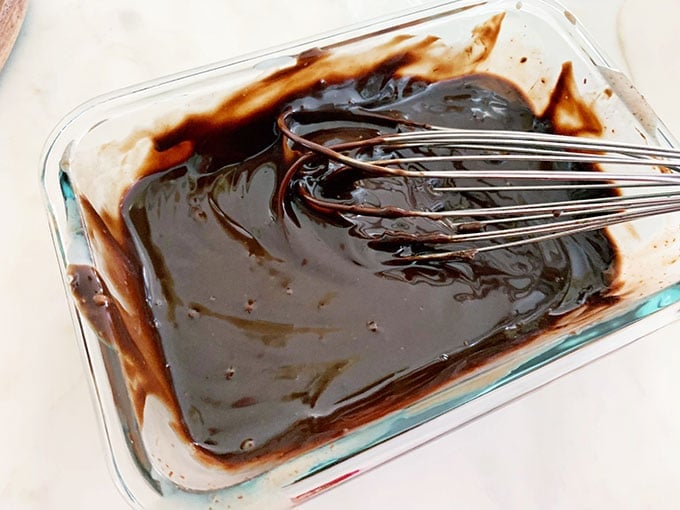 Stir the cream into the chips and allow them to start getting melty. Then whisk the mixture until smooth. THAT'S IT!!! (Notice I had to switch containers so that I had a bit more room for whisking and dipping the glasses.)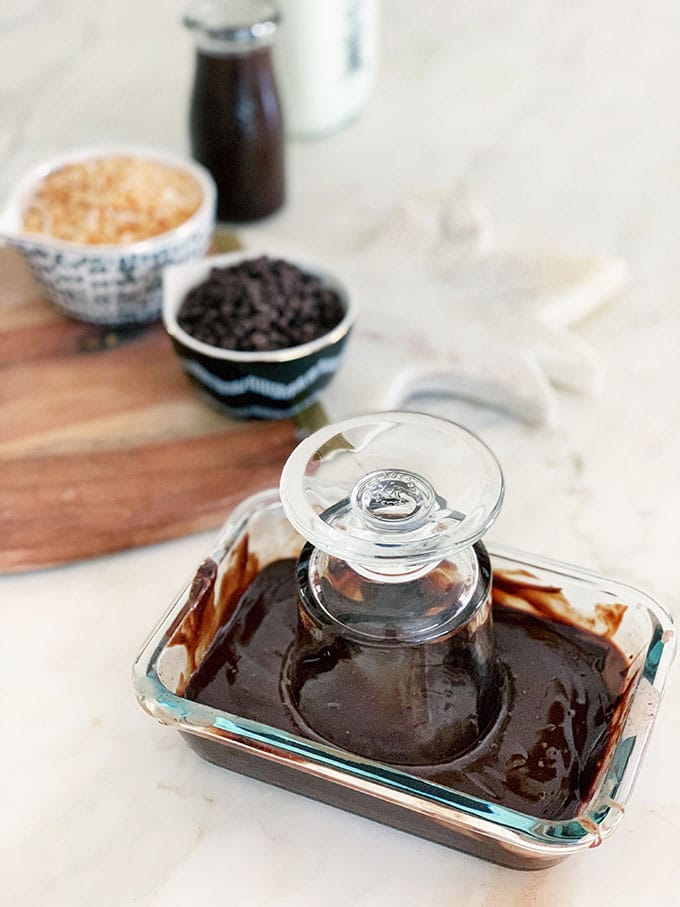 Dunk the glass into the ganache and heavily coat the rim about ½ inch down the sides. Turn right side up and gently tap the glass on a folded towel or cutting board and allow the ganache to drip down the sides of the rim just a bit. Pop the glasses into the freezer to quickly firm up the chocolate rim.
This Brugal rum is what they used in the Chocobar in Puerto Rico and we brought a bottle home with us – the flavor of this particular rum is SO good in this drink. So I popped into my local Bevmo and ???? THEY HAD IT TOO!! Sweet! I didn't have to ration my one bottle from now until eternity! However, when I don't have Brugal on hand, any dark rum makes a fine substitute – we like Meyers. You'll also need Malibu for the added coconut flavor!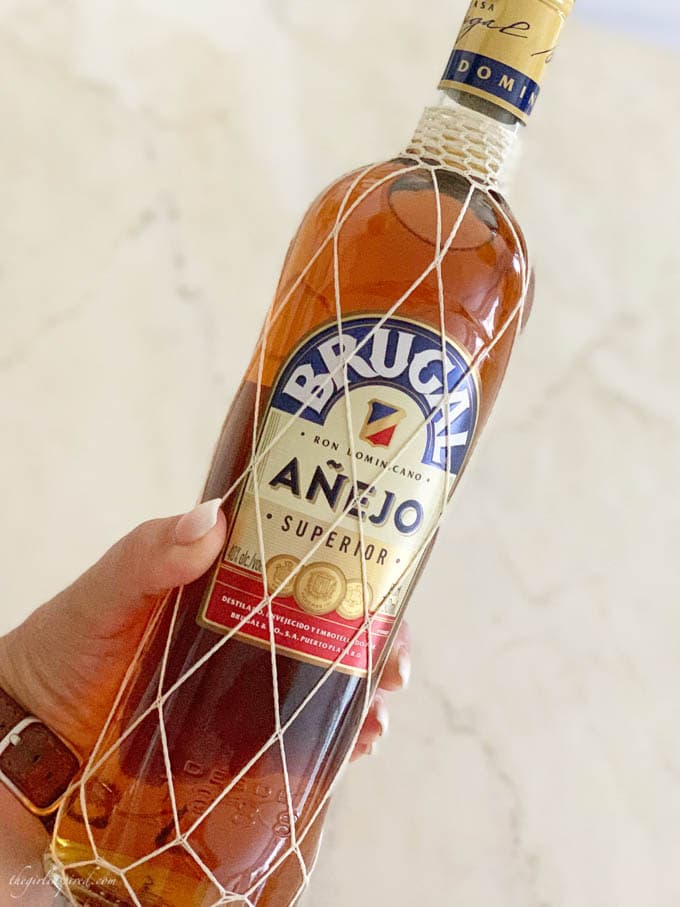 Now it's time to mix our cocktail – guess what??? All you have to do is make chocolate milk and add it to the liquor! So easy! You can use whichever kind of milk you like best, but of course something will a little fat content is going to taste best! Go for 2% or indulge in whole milk! Adjust the portions for however many drinks you're making – I allow about 5 oz. of milk per cocktail. Stir in your favorite chocolate syrup – I prefer good old Hershey's.
Begin by adding one shot of Malibu rum to each glass. Then add one shot of dark rum. Then fill the glass with the chocolate milk and stir. Add a little ice and top with whipped cream!
Top your coconut rum cocktail with whipped cream (freshly whipped is oh so good, but no one will complain if you use a spray can.)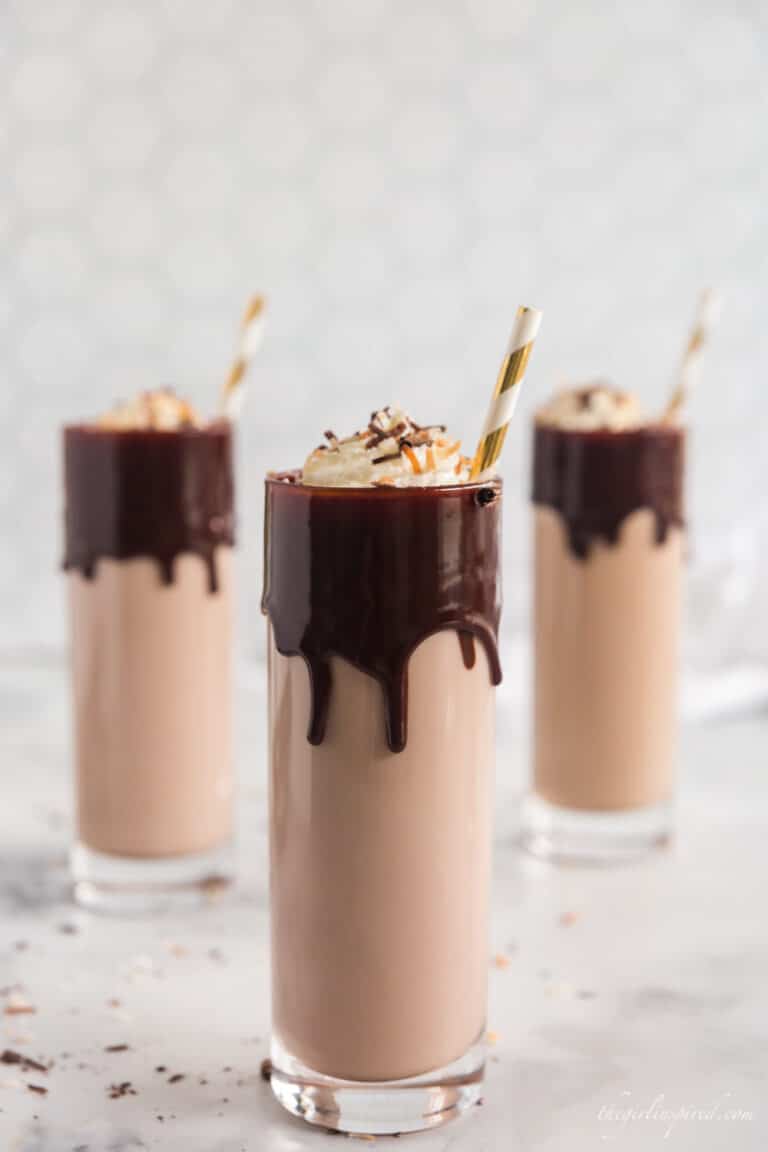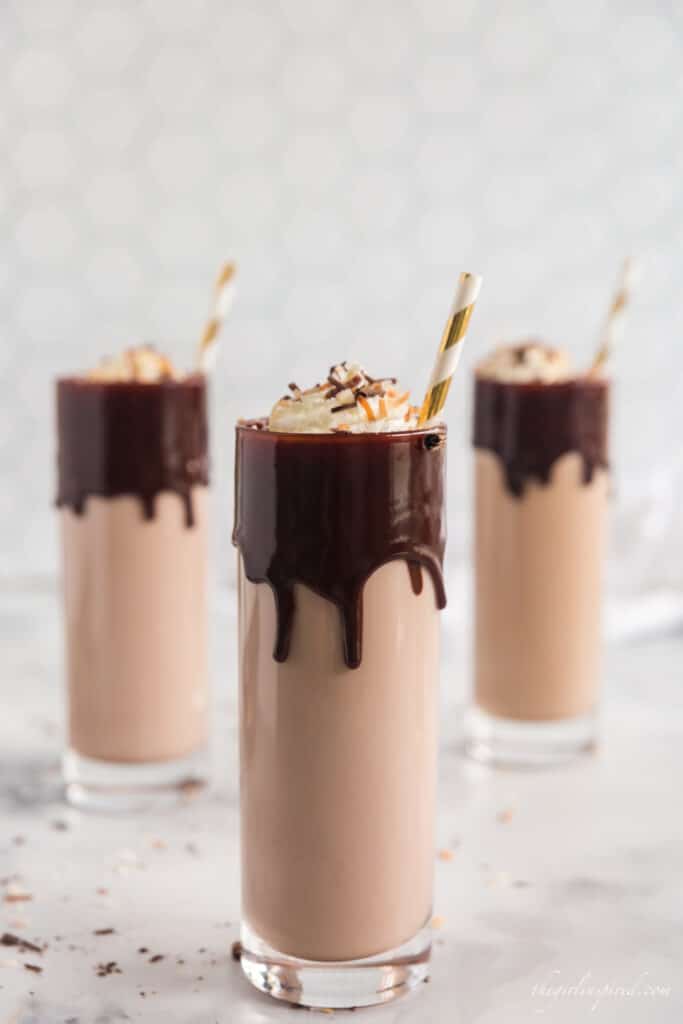 Sprinkle some toasted coconut over the top and add a few mini chocolate chips or chocolate curls. CHEERS!!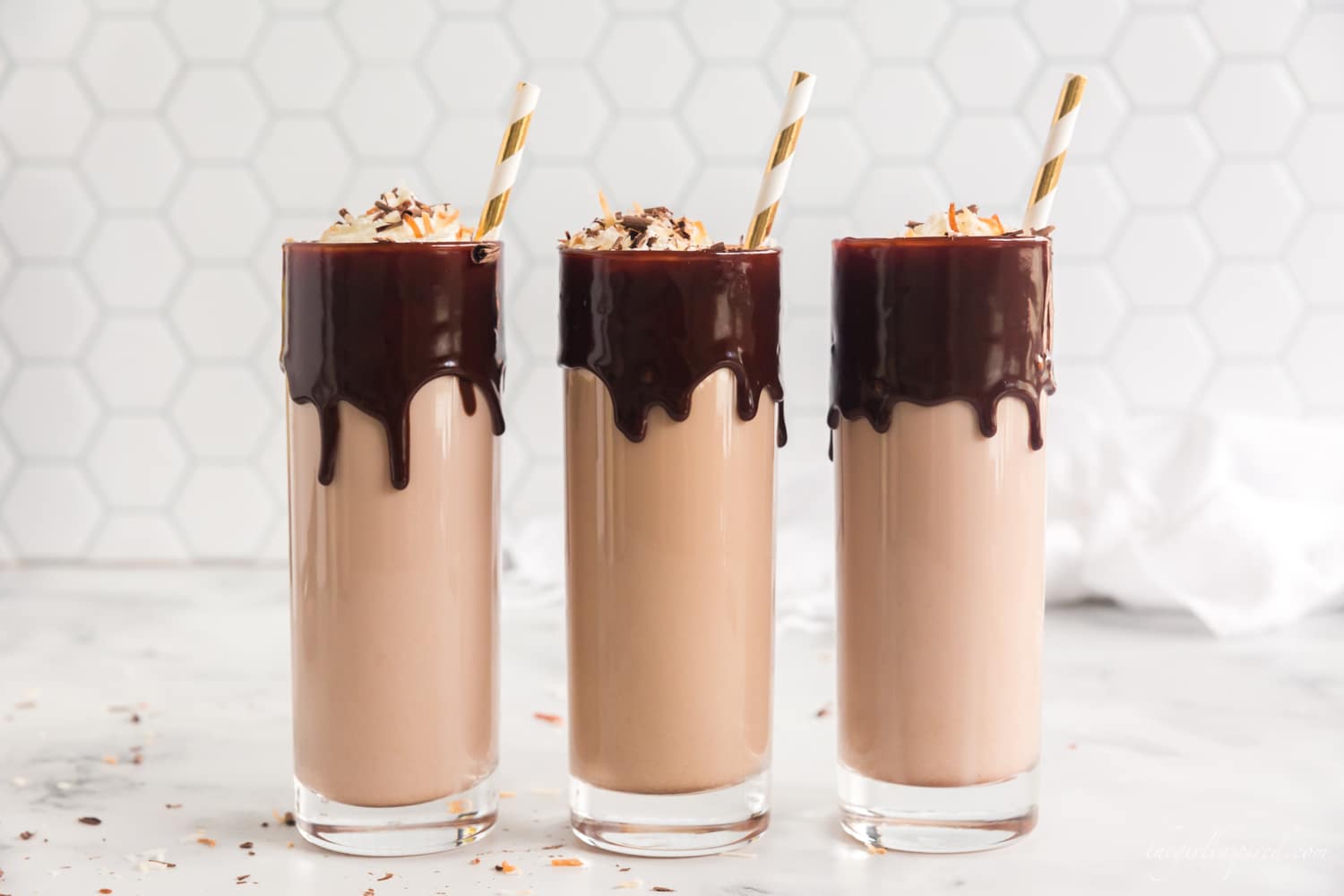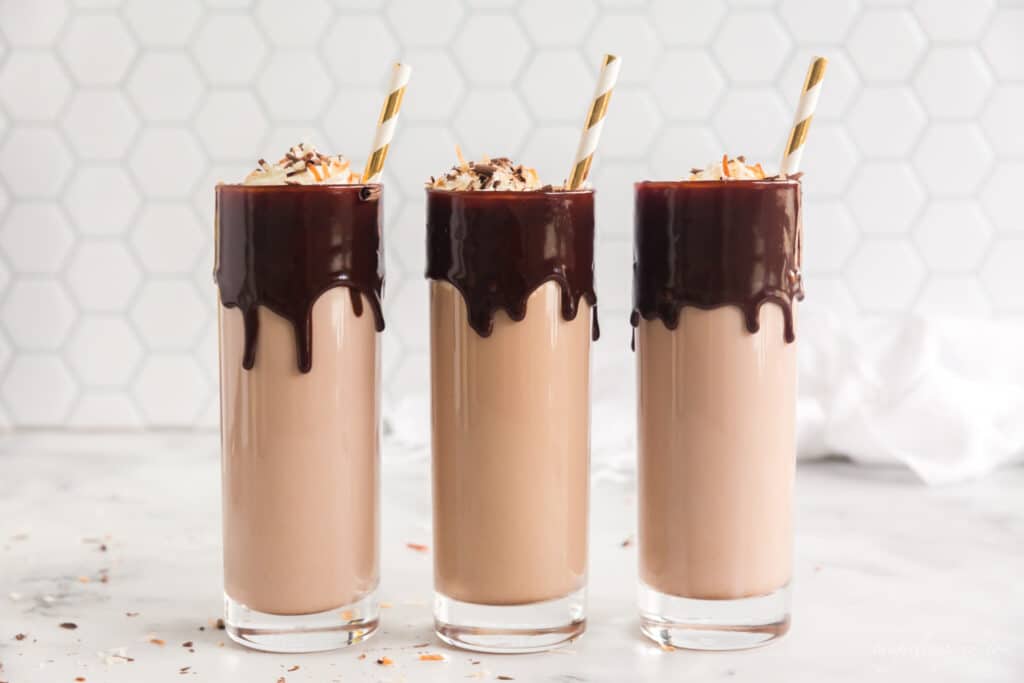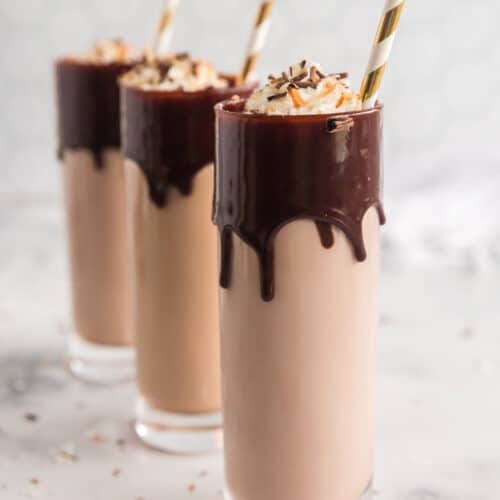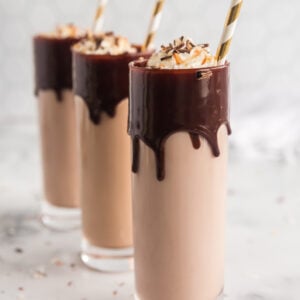 Chocolate Coconut Rum Cocktail
A sweet, indulgent Caribbean-inspired drink, this chocolate coconut rum cocktail is perfect for chocolate and coconut lovers alike!
Ingredients
Ganache
¼ cup semi-sweet chocolate chips
¼ cup heavy whipping cream
Cocktail
5 oz. milk 2% or whole for ultimate creaminess
2 tablespoons chocolate syrup
1-2 oz. Malibu coconut rum can substitute coconut syrup
1-2 oz. Brugal rum or a dark rum like Meyer's
Toppings:
2 tablespoons whipped cream
1 tablespoon toasted coconut
1 tablespoon mini chocolate chips or chocolate shavings
Instructions
Ganache (Optional)
Heat heavy cream in the microwave or on the stovetop until just before boiling.

Pour cream over chocolate chips in an open bowl (so that there is room to dip the glass in).

Allow the mixture to sit for a few minutes so that the chocolate can begin melting.

Stir or whisk until the mixture is a smooth ganache.

Dip the rim of the glass into the mixture. Tap the glass gently to encourage the ganache to drip down the sides.
Cocktail
Stir together milk and chocolate syrup in the prepared glass.

Add coconut rum and dark rum and stir. Leave enough room for ice if desired.

Add ice to the glass (optional). Top with whipped cream, toasted coconut, and mini chocolate chips.

Enjoy!
Notes
Nutritional information does not include ganache on rim of the glass. Simply repeat the steps for more servings. The ganache should make enough to coat quite a few glass rims, but you can make more ganache by using a ration of 1:1 chocolate chips to heavy cream.
Nutrition
Calories: 449kcal | Carbohydrates: 48g | Protein: 7g | Fat: 11g | Saturated Fat: 8g | Trans Fat: 1g | Cholesterol: 20mg | Sodium: 127mg | Potassium: 328mg | Fiber: 2g | Sugar: 40g | Vitamin A: 240IU | Vitamin C: 1mg | Calcium: 203mg | Iron: 1mg