This creamy and rich cheesecake starts with a fudgy brownie bottom layer, followed by silk cheesecake, topped with whipped cream and drizzled with chocolate for serving.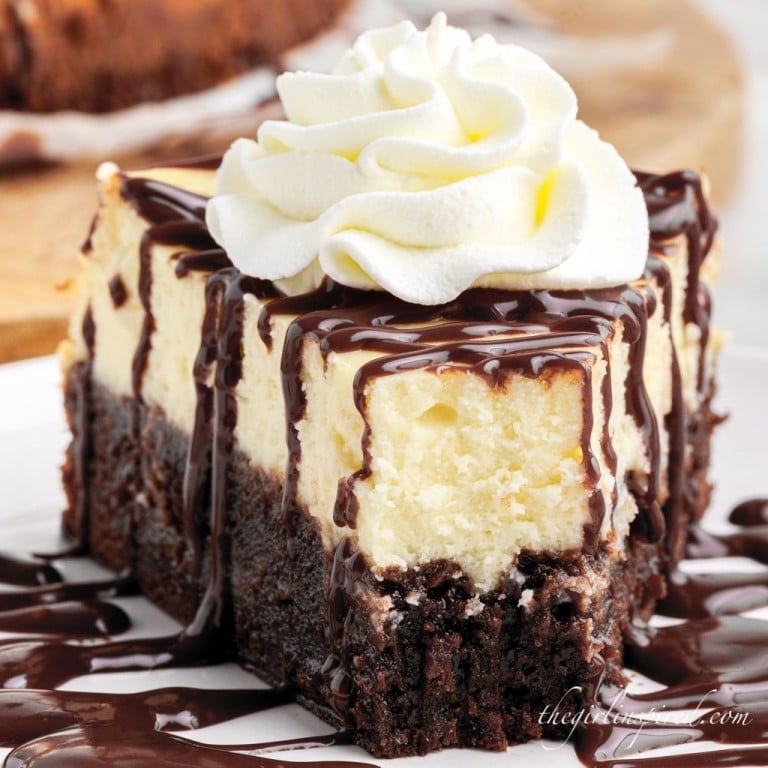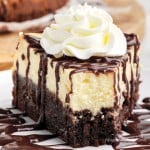 When it comes to simple, but decadent desserts just call me queen of the kitchen. I have combined two of my favorites to make the best brownie bottom cheesecake you have ever tasted. The brownie layer is rich and fudgy, while the cheesecake layer stays creamy and delicious just like the New York style you are used to.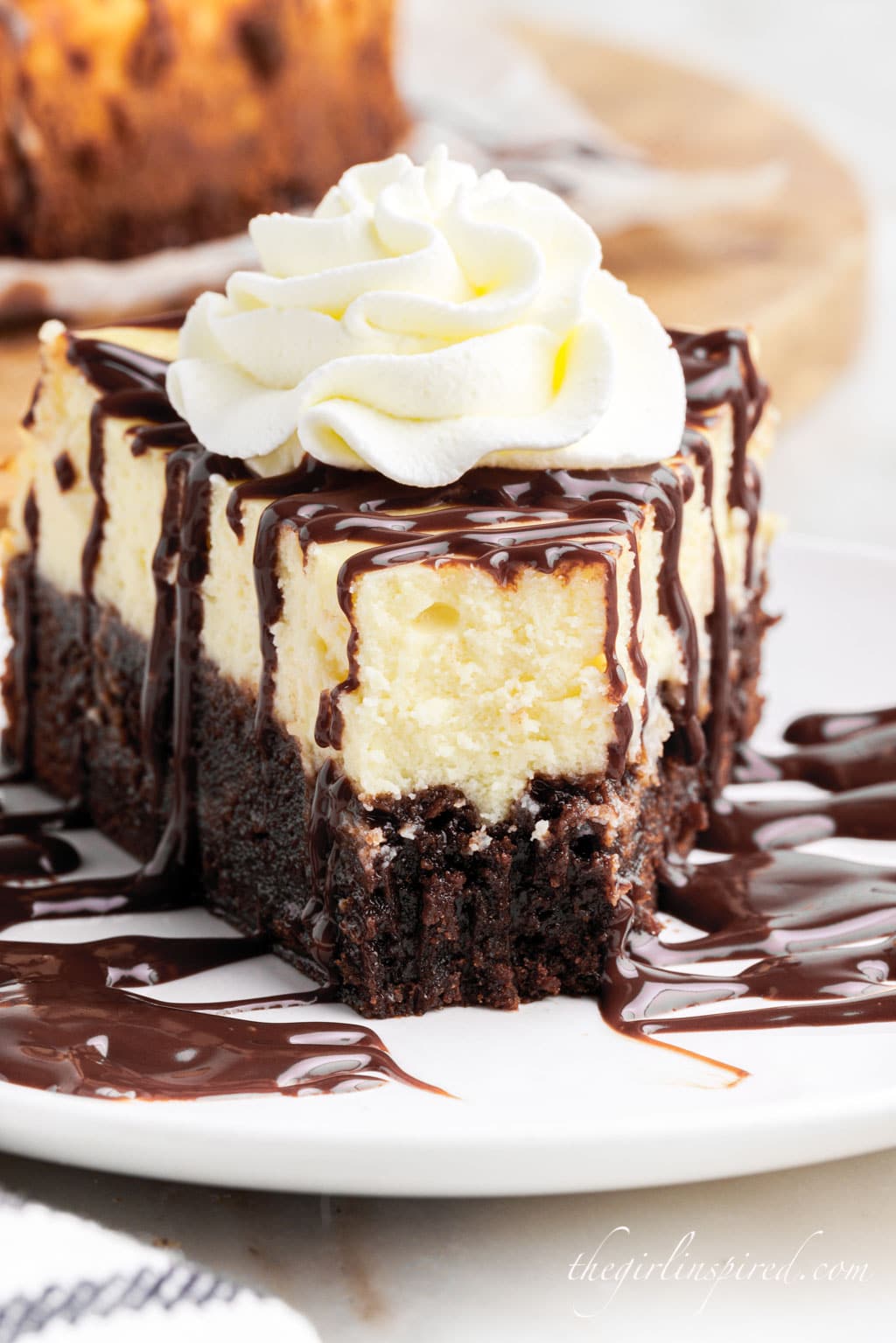 Essentially we are going to make two different desserts, but in the same pan which makes prepping easy! I'm also using a boxed brownie mix because it tastes just as good without all of the extra dry ingredients.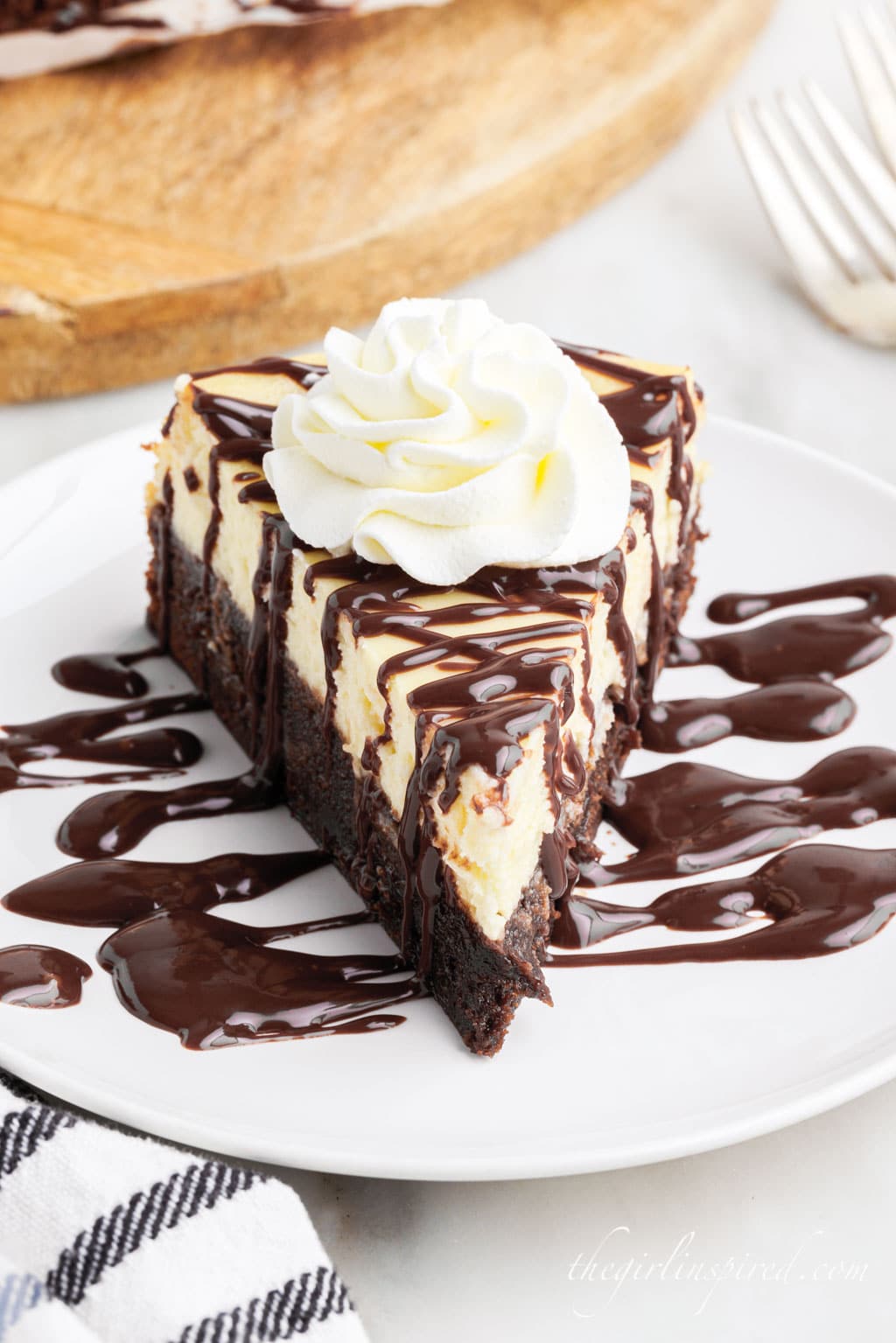 I know you can't beat a buttery graham cracker crust on a regular cheesecake, but believe me, the brownie bottom is where it's at! If you find yourself in the midst of summer and you don't want to turn the oven on, try my No Bake Cheesecake it's the best if I do say so myself!
You may also want to add some citrus to your desserts because this time of year it's absolutely refreshing. If that's the case, use this lemon cheesecake recipe. Needless to say, it didn't last long enough for leftovers.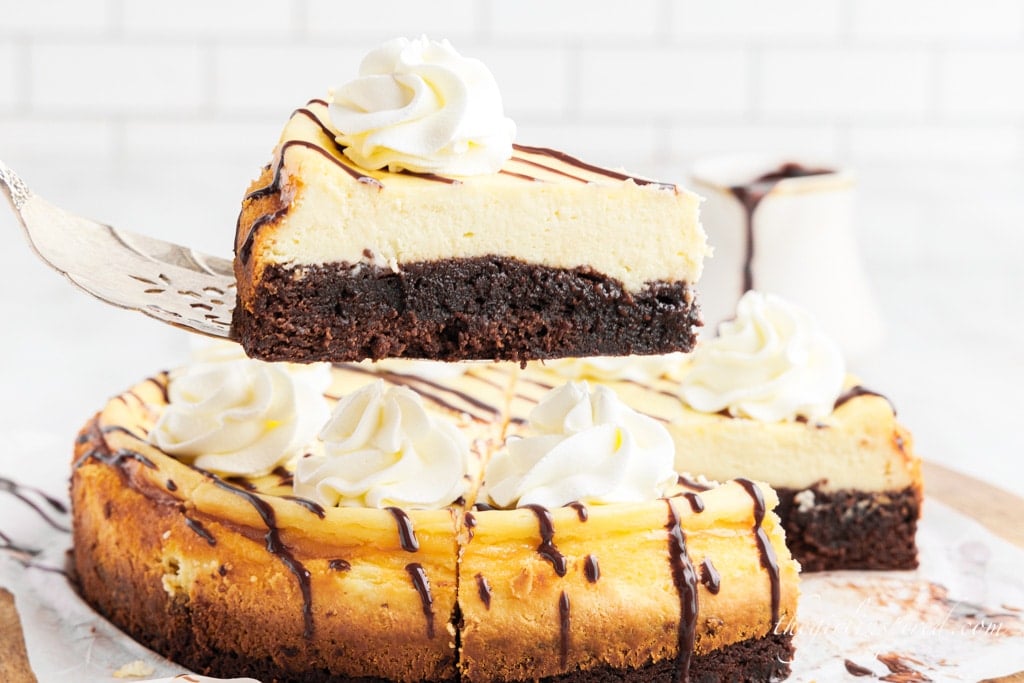 We use a box brownie mix to make this recipe a little simpler, but you can also use my recipe for homemade brownies – follow the same instructions for partially baking before you add the cheesecake layer!
How To Make Brownie Bottom Cheesecake
Prep pan and preheat oven. Line the bottom on a 9-inch springform pan with parchment paper and grease the sides. Preheat the oven to 350 degrees.
Make brownies. Combine the brownie mix, water, eggs, and oil in a mixing bowl. Prepare according to the package instructions.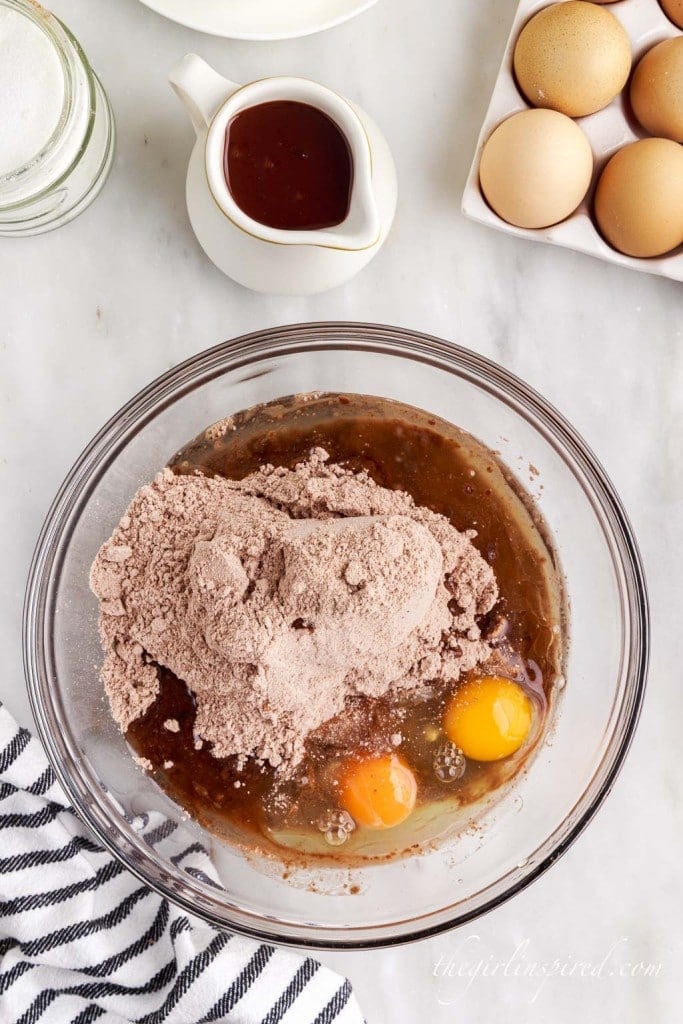 Bake. Pour the brownie batter into the prepared pan and bake for 15 minutes.
Make cheesecake filling. Beat the cream cheese using an electric mixer until it's creamy and smooth. Mix in the sugar, then add the vanilla, flour, sour cream, and ¼ cup of heavy whipping cream. Beat until combined.
Add eggs. Crack one egg at a time into the cheesecake mixture, stirring by hand to mix.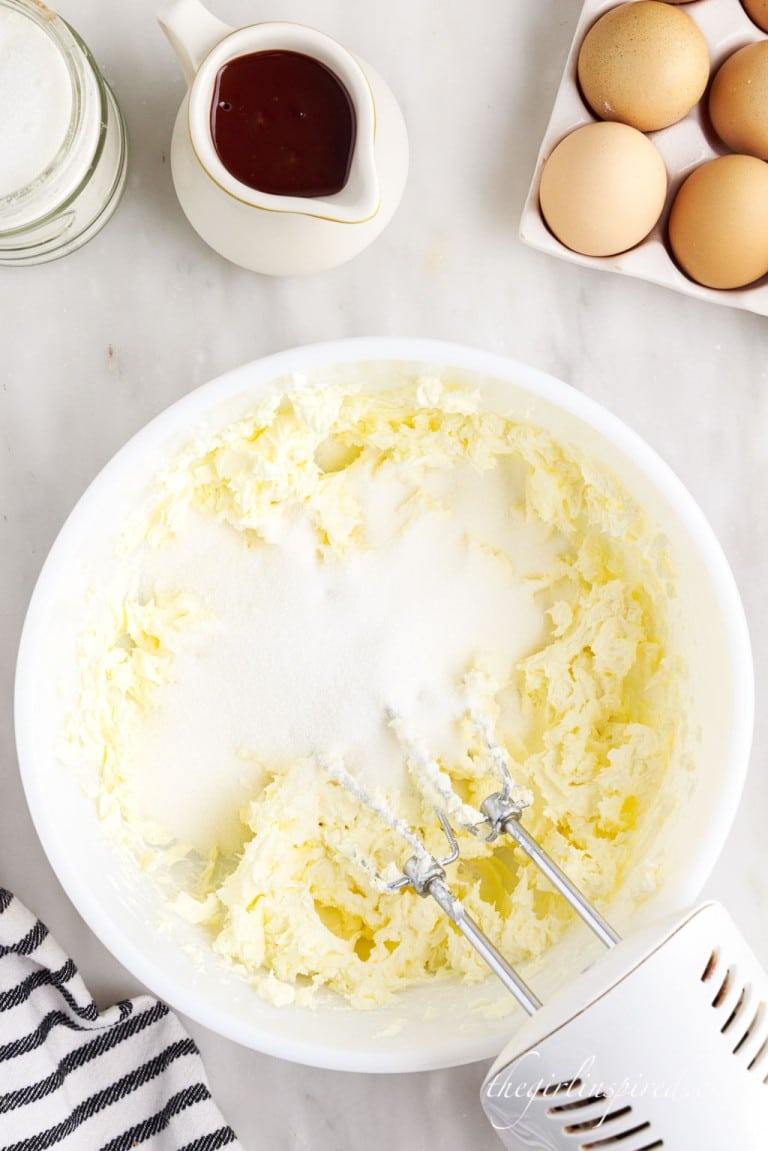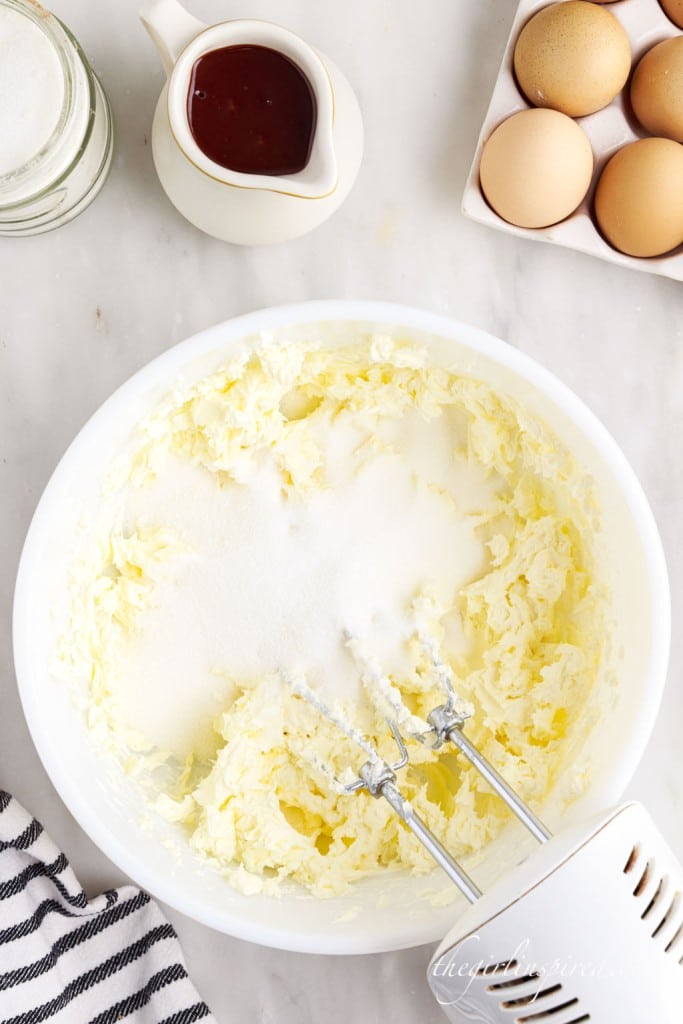 Transfer cheesecake batter. Pour the cheesecake filling over the cooked brownie layer.
Bake. Reduce the oven temperature to 325 degrees and bake for another 45 minutes. Then turn off the oven and let it rest for 20 minutes with the door shut. Afterward, crack the door and let the cake cool for an additional 30 minutes.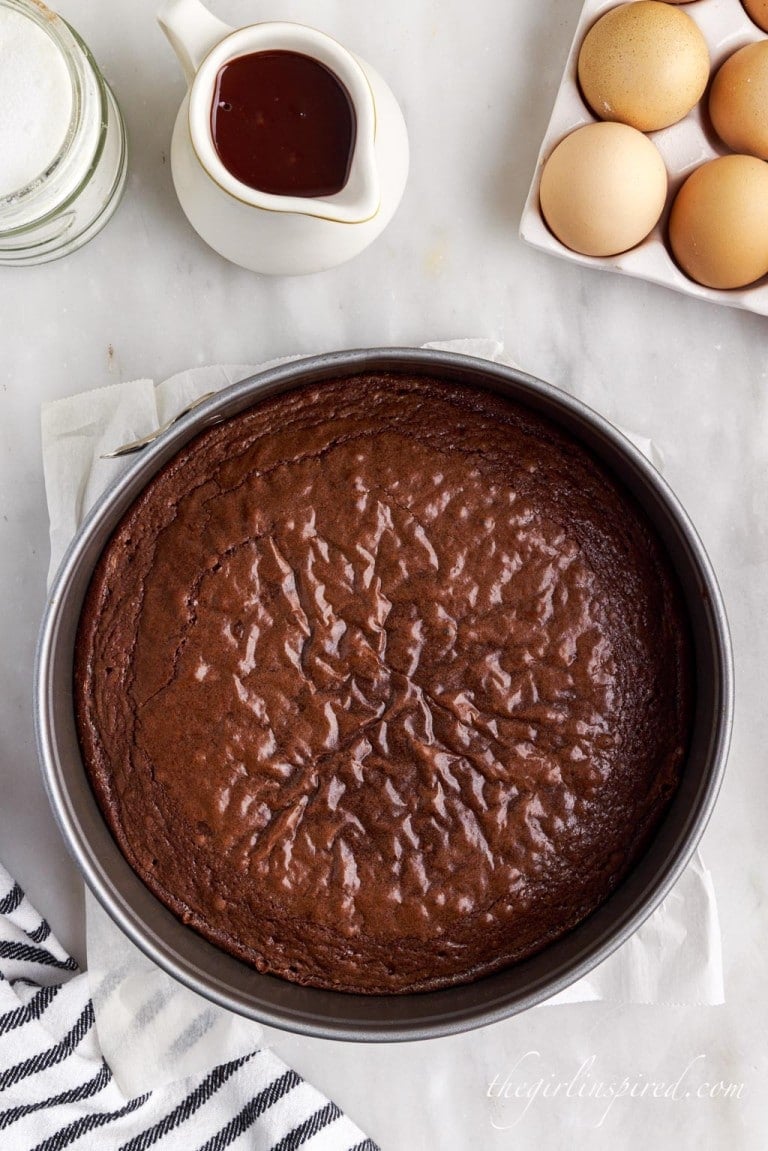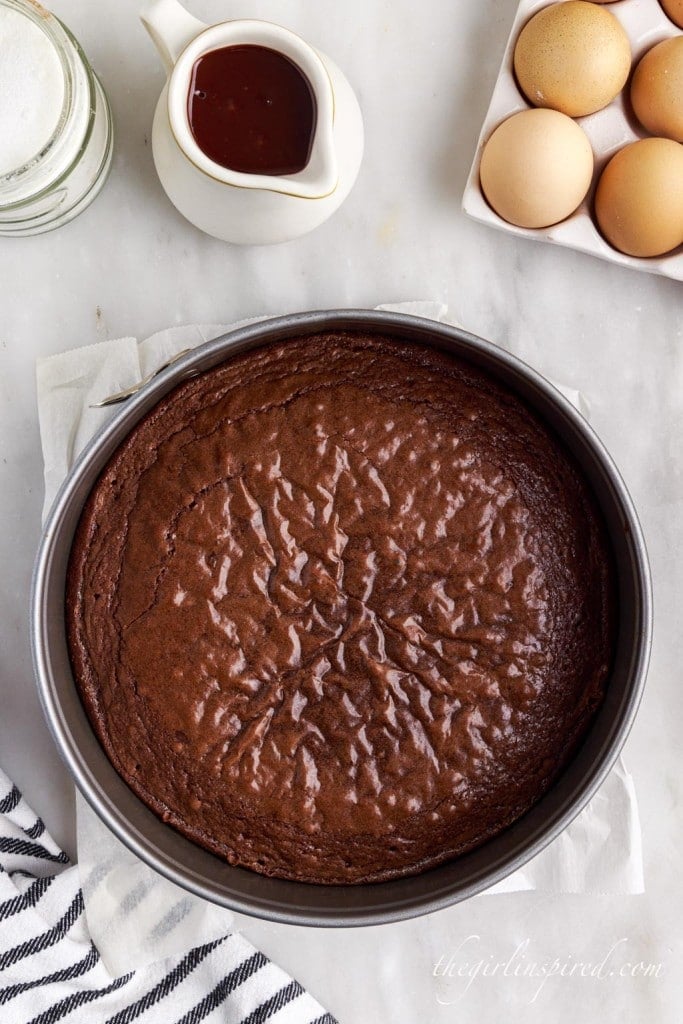 Cool and Chill. Remove the brownie bottom cheesecake from the oven and let it cool to room temperature. Place in the refrigerator for 2 to 3 hours.
Make whipped cream. Combine the remaining whipping cream and powdered sugar in a bowl and beat until stiff peaks form.
Decorate. Pipe the whipped cream onto the top just before serving. Drizzle hot fudge sauce or ganache across the top if desired.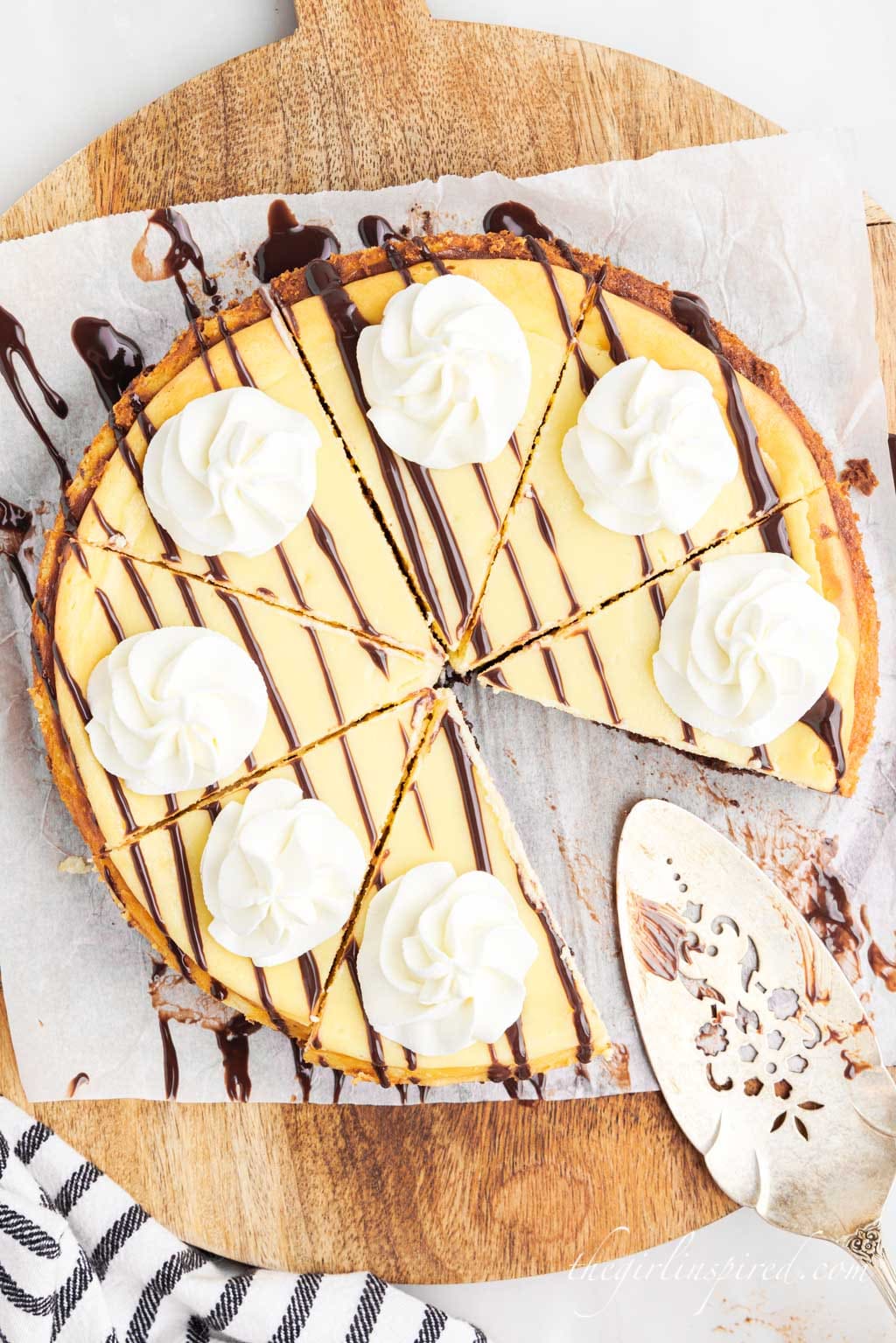 Tips for Making
Do not beat in the eggs. Mixing them in by hand helps to reduce the amount of air in the batter. Excess air causes the cheesecake to rise and crack.
When you turn off the oven and allow the cheesecake to cool by reducing the temperature slowly, this helps to reduce cracking as well. It also ensures even cooking so it's not dry, crumbly, or overcooked.
You want to prebake the brownie crust so at the end you still have the perfect cheesecake but also a fudgy brownie instead of hard and dry.
Be sure to allow time for the cream cheese to soften and the sour cream comes to room temperature.
For beautiful piped swirls of whipped cream, use a 1M tip. If you are new to cake decorating, I have a ton of tips and tutorials for the different techniques I use. This swirled rose cake tutorial gives a close-up for making those perfect swirls.
Store in the refrigerator, covered, or in an airtight container for up to 5 days.
Common FAQs
How do you know when cheesecake is overcooked?
If the center doesn't jiggle when you move the pan, chances are your cheesecake is overdone. You can also use your finger to gently press the middle. If it's firm then it's probably done, but if your finger goes down and you have a little batter on it, it's undercooked.
By using our method of slowly cooling the cheesecake, it will always come out perfect.
How do you serve cheesecake in a springform pan?
You want to be sure the cheesecake has fully set before taking it out of the pan. If needed you can run a butter knife along the edges before unhooking the latch. Once you take the outer ring off, you can serve it off the pan like it is, or gently transfer it to a serving tray.
The bottom should be easy when it comes to transferring because I always line the pan with parchment paper.
Can you freeze cheesecake?
If you are going to freeze brownie bottom cheesecake, follow all of the instructions listed. Then place it on a baking sheet and into the freezer for at least 30 minutes. You want it to be almost frozen before wrapping it up. Then cover it tightly with plastic wrap and freeze for up to a month. It's best to freeze it undecorated, then add the chocolate drizzle and whipped cream just before serving.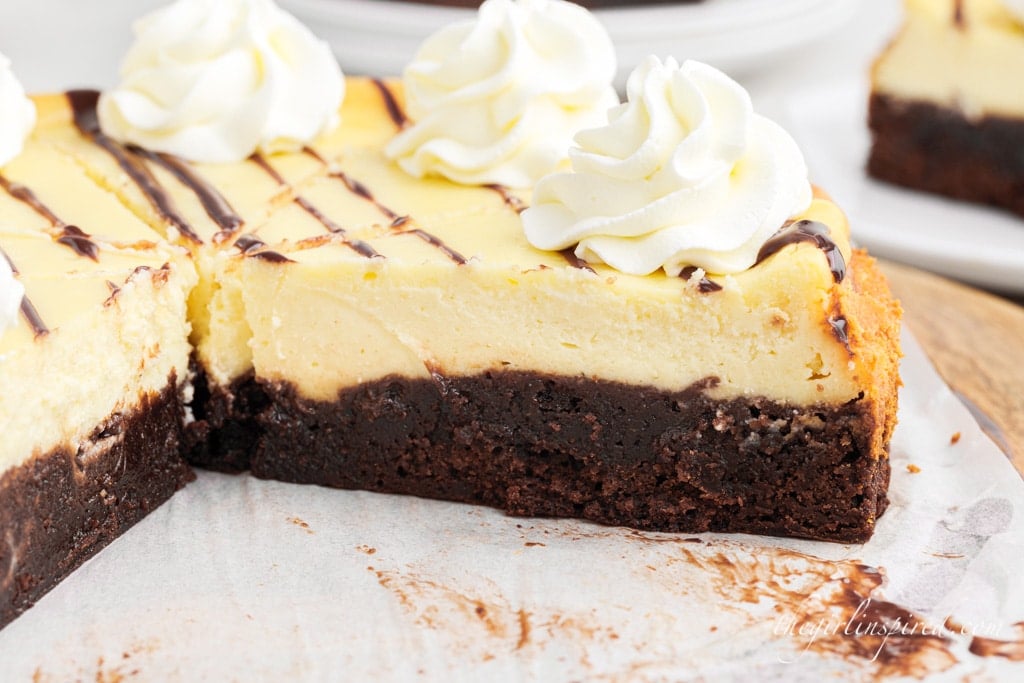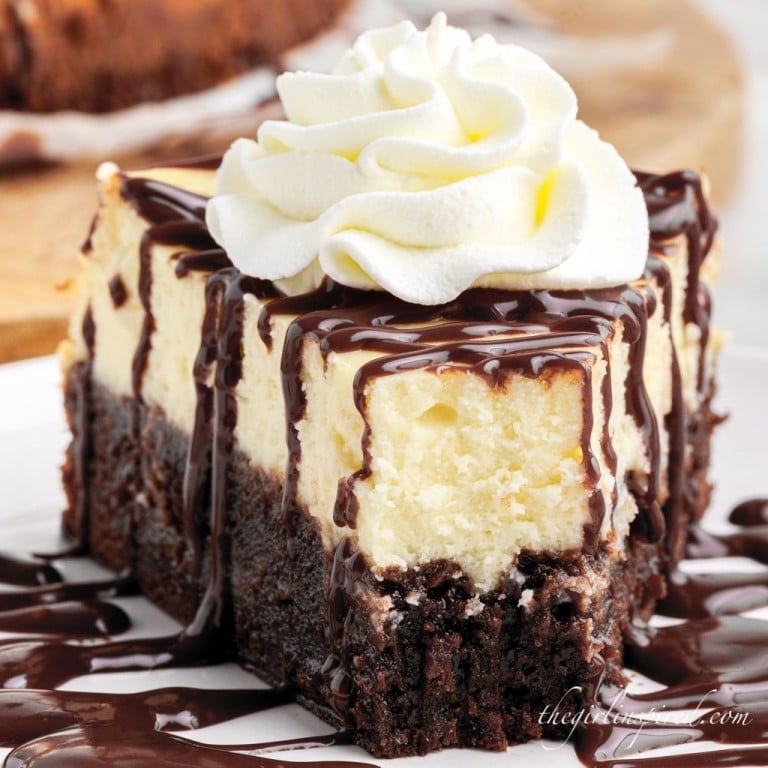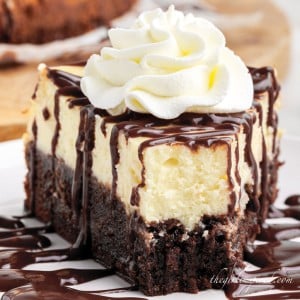 Brownie Bottom Cheesecake
This creamy and rich cheesecake starts with a fudgy brownie bottom layer, followed by silk cheesecake, topped with whipped cream and drizzled with chocolate for serving.
Ingredients
Standard box of brownie mix
Ingredients for preparing brownies as indicated on box typically 2 eggs, 3 tablespoons water, ½ cup vegetable oil
2 – 8 oz. packages cream cheese softened
⅔ cup granulated sugar
1 tablespoons all-purpose flour
1 teaspoons vanilla extract
¼ cup sour cream room temperature
1 ¼ cup heavy whipping cream divided
2 large eggs room temperature
3 tablespoons powdered sugar
½ cup hot fudge sauce or chocolate ganache for serving
Instructions
Preheat the oven to 350°F.

Grease a 9" springform pan and line the bottom with parchment paper.

In a mixing bowl, combine brownie mix, eggs, water, and oil and prepare according to the instructions on the box.

Transfer brownie batter to the prepared springform pan and bake for 15 minutes (until the brownies are set across the top).

Meanwhile, beat the cream cheese with a hand mixer (or standing mixer) until light and fluffy.

Add the granulated sugar and beat until combined.

Add flour, vanilla extract, sour cream, and ¼ cup heavy cream and mix to combine.

Pour cheesecake mixture over the baked brownie (brownie does not need to be cooled after 15 minutes of baking).

Reduce the oven temperature to 325°F.

Return the springform pan to the oven and bake for 45 minutes. After 45 minutes, turn off the oven, keeping the door closed for 20 minutes. Then, crack the door of the oven and allow the cheesecake to cool an additional 30 minutes.

Remove cheesecake from the oven and cool to room temperature and then chill in the refrigerator for 2-3 additional hours.

Just before serving, whip the remaining 1 cup of heavy cream with the powdered sugar until stiff peaks form.
Nutrition
Calories: 137kcal | Carbohydrates: 12g | Protein: 4g | Fat: 8g | Saturated Fat: 5g | Polyunsaturated Fat: 1g | Monounsaturated Fat: 2g | Trans Fat: 1g | Cholesterol: 46mg | Sodium: 138mg | Potassium: 80mg | Fiber: 1g | Sugar: 11g | Vitamin A: 335IU | Vitamin C: 1mg | Calcium: 81mg | Iron: 1mg