This caramel pecan pie cheesecake takes the classic flavors of pecan pie and is combined with the creamiest cheesecake layer you have ever tasted on top of a butter graham cracker crust making it a rich and decadent dessert!
This caramel pecan pie cheesecake recipe is going to start a fight at the holiday dessert table! The filling is made up of traditional pecan pie and a thick, smooth layer of cheesecake on a homemade graham cracker crumb crust, and topped with gooey caramel sauce loaded with chopped pecans.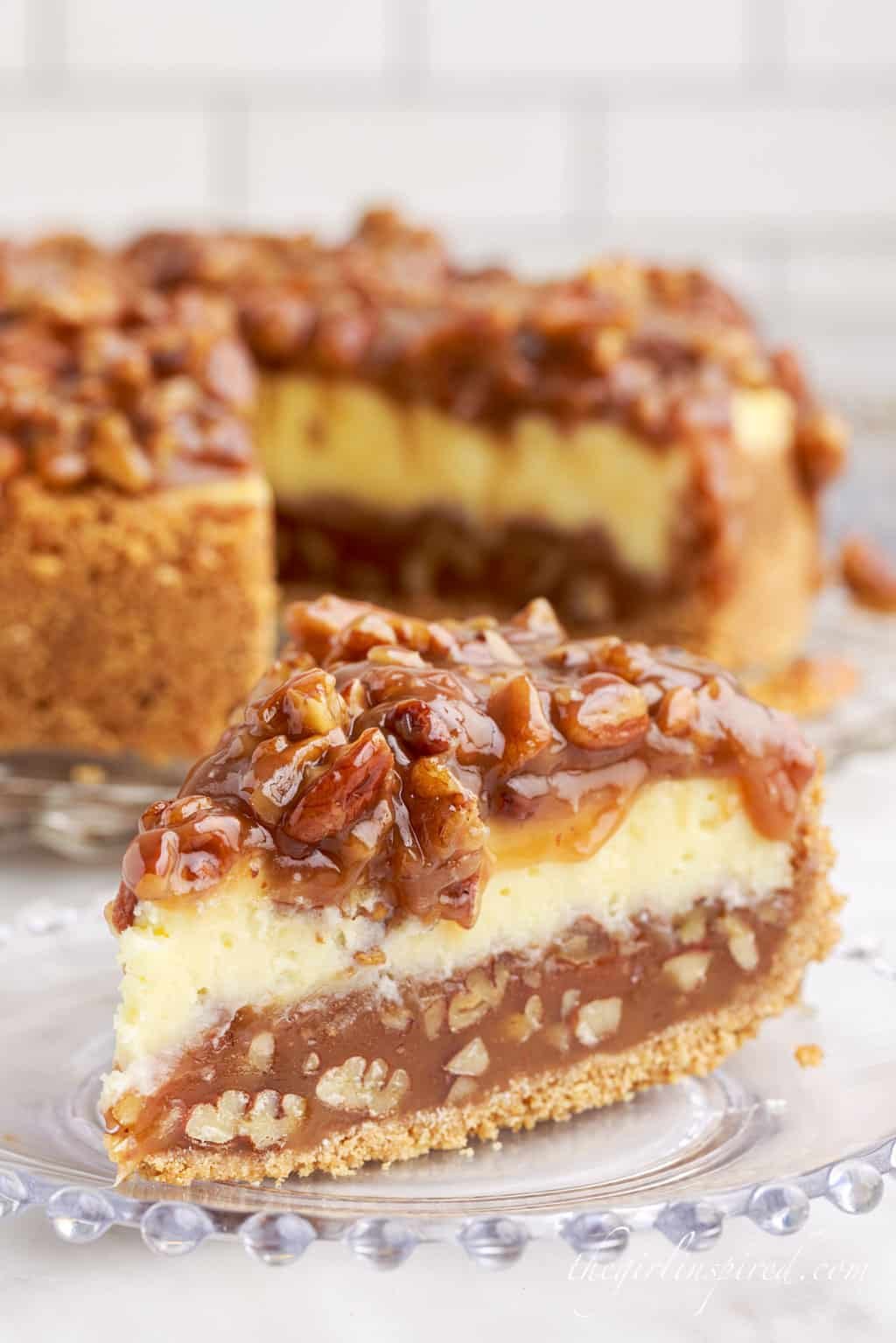 If you are one of those who overdoes it on Thanksgiving with the main course meal, I'm warning you now. Save room for a little slice of heaven! It may take a little effort to whip up this pecan pie cheesecake, but it's so worth it and your guests are going to go crazy! I guess the only thing that is missing is a scoop of ice cream! If you find yourself with leftover pecans that you don't want to store, use them to make brandy pecan baked brie (a great party app) or holiday yams.
I feel like caramel is a flavor that is versatile and everyone loves it. So this season be sure to try caramel apple cheesecake hand pies, pumpkin bread with caramel sauce (my newest obsession), and caramel apples, which kids love to help with! These desserts are also perfect for the holidays and are relatively easy to make!
Why You'll Love This Caramel Pecan Pie Cheesecake Recipe
This cheesecake is a real crowd pleaser!
Looks amazing but easy enough to make for beginners.
Get most of the work out of the way by making it ahead of time, then thawing the day before.
Uses pantry staples.
What Ingredients do I Need for Caramel Pecan Pie Cheesecake?
Crust Ingredients:
graham cracker crumbs – I enjoy making the crust from scratch, but you can use a store bought one in its place.
light brown sugar – be sure to make it when measuring.
salted butter – if you are using unsalted butter, add a dash or two of salt
Pecan Pie Filling Ingredients:
salted butter
eggs
vanilla extract
pecans – buy pre-chopped or place whole nuts in the food processor
light corn syrup
granulated sugar
Cheesecake Ingredients:
cream cheese – allow time for it to come to room temperature
granulated sugar
salt
all-purpose flour
vanilla extract
eggs
sour cream
Pecan Topping Ingredients:
salted butter
light brown sugar
light corn syrup
vanilla extract
heavy cream
roughly chopped pecans
Before You Start leave your ingredients sitting out before using them. Allowing them to warm up after being in the refrigerator makes mixing easier and reduces the lumps.
How to Make Caramel Pecan Pie Cheesecake
MAKE THE CRUST: Combine the graham crackers, sugar, and butter in a food processor and pulse until crumbly. Press the mixture into the bottom of a lined spring-form pan. Chill in the freezer.
MAKE THE PECAN PIE FILLING: Melt the butter and stir in the sugar, corn syrup, and pecans. Add the eggs and vanilla, then cook for 10 minutes. Reduce the heat once it boils until it's thick and golden brown. Stir constantly, then spread over the crust.
MAKE THE CHEESECAKE: Beat together the sugar and cream cheese. Mix in the salt and flour. Add the sour cream and vanilla. Stir each egg in one at a time. Scoop the cheesecake mixture over the pecan pie filling. Wrap the bottom of the pan with aluminum foil and place into a larger pan to make a water bath.
BAKE: AND CHILL: Cook for 1 hour, then turn off the oven and leave the cake inside for 30 minutes. Crack the door and leave it open for 30 more minutes, then remove. Once it has cooled completely, wrap with plastic wrap and chill in the fridge. Before adding the topping remove from the pan.
ADD THE TOPPING AND SERVE: Melt the butter and brown sugar, along with the corn syrup, over low heat. Bring to a simmer and cook for 3 minutes. Remove from the heat, stir in the vanilla and cream. Add the pecans and gently mix. Spread the pecan topping over the cold cheesecake. Serve as it, with whipped cream, or ice cream!
Do not overmix the cheesecake layer. This will add too much air to the batter, causing it to puff while baking, then crack while cooling.
Using a water bath helps the cheesecake to cook evenly, so it's smooth and creamy.
When making the pecan pie filling, be careful to not overcook. It will get too thick and make it hard to eat when it's time to serve.
Stirring the filling while it boils helps to keep it from burning, as caramel sauce can scald quite easily if left unattended.
Do not pour the cheesecake layer over the pecan pie filling. It will cause displacement, instead use a large spoon or scooper, then spread gently.
The topping will become thicker as it sets, so keep this in mind when cooking.
Fun Fact
Technically, cheesecake isn't a cake. It's actually considered a custard pie baked in a crust.
Variations
Some like to swap the graham crackers and make an Oreo crust instead.
Instead of the caramel topping, you could make a chocolate ganache or drizzle chocolate over the caramel.
Topping ideas are endless: whipped cream, coconut, chocolate shavings, or mini chocolate chips.
How long does pecan pie cheesecake last?
If there are leftovers, keep them in the refrigerator covered loosely with plastic wrap or aluminum foil for up to 1 week.
Can you freeze caramel pecan pie cheesecake?
Yes! Once your cheesecake has set and cooled place it on a baking sheet in the freezer for at least 30 minutes. Wrap it tightly in plastic wrap and aluminum foil. To serve, thaw in the fridge overnight and whip up the pecan topping before serving.
What is the difference between New York style cheesecake and regular cheesecake?
New York cheesecake uses more eggs and cream cheese making it richer, denser, and heavier. Regular cheesecakes have a thinner batter like this one and usually contain sour cream to help thin it out.
More of the Best Cheesecake Recipes
Caramel Pecan Pie Cheesecake
This caramel pecan pie cheesecake takes the classic flavors of pecan pie and is combined with the creamiest cheesecake layer you have ever tasted on top of a butter graham cracker crust making it a rich and decadent dessert!
Ingredients
Crust Ingredients:
2 cups graham cracker crumbs either store bought or use a food processor to create fine crumbs from whole graham crackers
⅓ cup packed light brown sugar
½ cup salted butter melted
Pecan Pie Filling Ingredients:
⅓ cup salted butter
1 ½ cup pecans chopped
1 cup light corn syrup
1 cup granulated sugar
2 eggs
1 teaspoon vanilla extract
Cheesecake Ingredients:
2 – 8 oz. packages cream cheese softened
1 cup granulated sugar
¼ teaspoon salt
1 ½ tablespoons all-purpose flour
1 tablespoon vanilla extract
3 eggs
½ cup sour cream
Pecan Topping Ingredients:
½ cup salted butter
⅔ cup light brown sugar
1 tablespoon light corn syrup
1 teaspoon vanilla extract
½ cup heavy cream
2 cups roughly chopped pecans
Instructions
Notes
Storage: Store, loosely covered, in the refrigerator for up to 1 week or in the freezer for up to 2 months. Notes: Overbeating the cheesecake will add too much air to the batter, leading to it puffing during baking and then cracking while cooling. The water bath helps the cheesecake cook into a nice smooth and creamy cheesecake. Recipes inspired by https://lilluna.com/pecan-pie-cheesecake
Nutrition
Calories: 999kcal | Carbohydrates: 104g | Protein: 14g | Fat: 62g | Saturated Fat: 23g | Polyunsaturated Fat: 10g | Monounsaturated Fat: 25g | Trans Fat: 1g | Cholesterol: 171mg | Sodium: 649mg | Potassium: 358mg | Fiber: 4g | Sugar: 90g | Vitamin A: 1161IU | Vitamin C: 1mg | Calcium: 196mg | Iron: 2mg