Creamy, rich chocolate cheesecake and spiked Bailey's chocolate mousse layered with chocolate cookies in this no bake decadent dessert.
Allow me to introduce you to the perfect marriage of cheesecake and trifle in this Bailey's Chocolate Cheesecake Trifle! Layers of crushed oreo cookies with no-bake cheesecake and creamy chocolate filling are served in individual glasses to showcase the decadence of this dessert – a real showstopper for any special occasion.
With no cooking time required, you can whip up this Bailey's cream-infused treat within 20 minutes. Store in your refrigerator while the main meal cooks and serve these chocolate trifles whenever you are ready for dessert!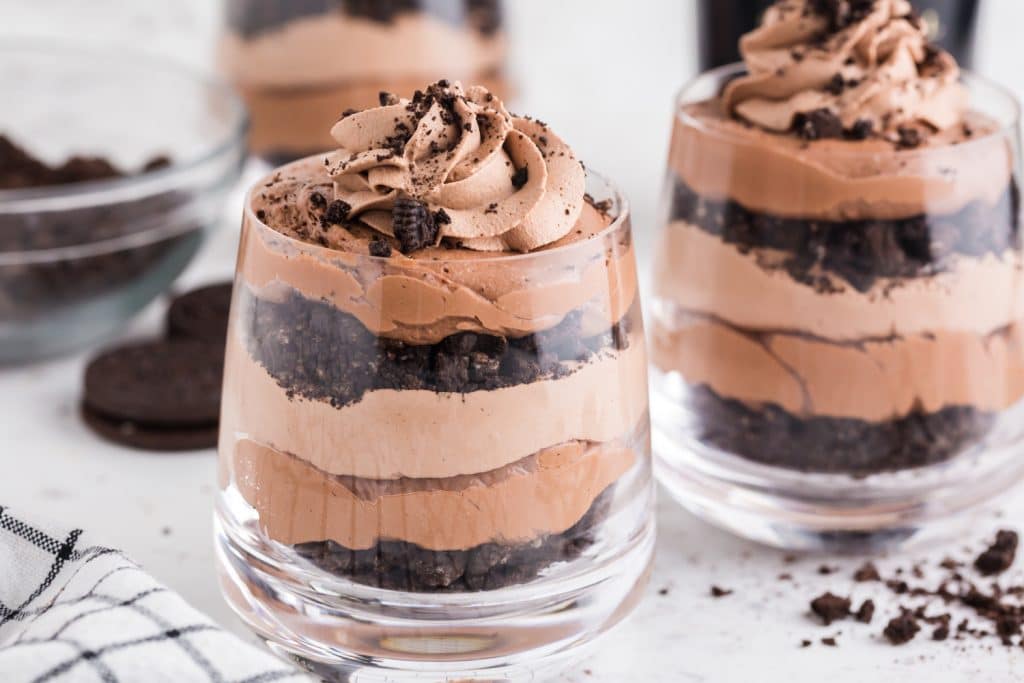 More Jar Desserts
What is a Trifle?
The traditional trifle originated in England. Typically, a trifle consists of sponge cake soaked in a sweet liquor, layered with fruit and custard. Trifles are served in glass dishes so that the layers are visible through the side of the glass dish. Such a showy dessert, trifles are perfect for dinner guests or parties. Usually served cold, trifles are also great for warmer weather.
Why Is This Dessert Called Bailey's Chocolate Cheesecake Trifle?
These mini chocolate cheesecake trifles are the perfect dessert combination of a no-bake chocolate cheesecake and creamy trifle. Bailey's Irish Cream is the hero ingredient in the cheesecake and mousse to give this addictive dessert its name.
Can I Make One Large Cheesecake Trifle With This Recipe?
While this recipe is featured in individual glasses, you can absolutely use one larger glass container. Assemble the ingredients without dividing them between glasses. I use this trifle serving dish (affil).
Whatever you choose to serve your dessert in, I recommend using a clear glass container or bowl. The delicious layers of this recipe MUST be put on display!
How Should This Dessert Be Stored?
Bailey's Chocolate Cheesecake Trifle will typically last for up to 2-3 days in the refrigerator. By day 4, the Oreo cookie layers may be mushy and soggy. The wet ingredients of the cheesecake trifle start mushing together. It will still be delicious, but the crumbled cookies will have lost a bit of their crunch. I always love the creamy filling.
When you do store this dessert, make sure to cover your single-serving glasses tightly with plastic wrap.
Can I Freeze Chocolate Cheesecake Trifle?
I wouldn't suggest freezing this chocolate cheesecake trifle as the cream won't hold up in the freezing and thawing process. This dessert is best within a day or two.
If you want to save some time, consider making this dessert ahead of time (as in a day or 2 maximum before serving) and store in the refrigerator.
Can I make this without the alcohol?
Absolutely! The Bailey's in this trifle is delicious, but it is not essential for a yummy dessert. Simply mix up each layer and omit the alcohol. That's it!
Tips for making Bailey's Chocolate Cheesecake Trifle
Since these desserts are quite thick, you don't need to chill them before serving although if you are making them a day in advance then please do cover them and store in the refrigerator!
Powdered sugar has been used in this recipe since it blends in so well with the smooth cheesecake and whipped cream layers.
You could use a spoon to add the different layers of the dessert to each glass container although I find that piping the layers results in better uniformity and less mess!
If you are catering to a larger crowd, instead of making more dessert, simply use smaller glass containers or bowls to give 6 servings instead of the 4 generous servings. Trust me, you'll still have plenty of dessert per serving if you divide it further this way. You could even use small clear plastic cups – think Dixie cup size – and make a bunch of mini desserts as part of a larger dessert table spread.
Bailey's Chocolate Cheesecake Trifle
Creamy, rich chocolate cheesecake and spiked Bailey's chocolate mousse layered with chocolate cookies in this no bake decadent dessert.
Ingredients
Cheesecake Ingredients
16 oz. cream cheese softened
1 cup powdered sugar
¼ cup unsweetened cocoa powder
1 teaspoon vanilla extract
½ teaspoon sea salt
¼ cup Baileys Irish Cream
Chocolate Whipped Cream Ingredients
1 cup heavy whipping cream chilled
2 tablespoons Baileys Irish Cream
1 teaspoon vanilla extract
2 tablespoons unsweetened cocoa powder
2 tablespoons powdered sugar
Nutrition
Calories: 1103kcal | Carbohydrates: 93g | Protein: 14g | Fat: 77g | Saturated Fat: 42g | Trans Fat: 1g | Cholesterol: 206mg | Sodium: 956mg | Potassium: 454mg | Fiber: 4g | Sugar: 66g | Vitamin A: 2399IU | Vitamin C: 1mg | Calcium: 174mg | Iron: 7mg