Cherry pie bombs are an easy dessert and so much fun to make. The best part is that they are much easier to assemble compared to a traditional cherry pie, but have the same amazing taste.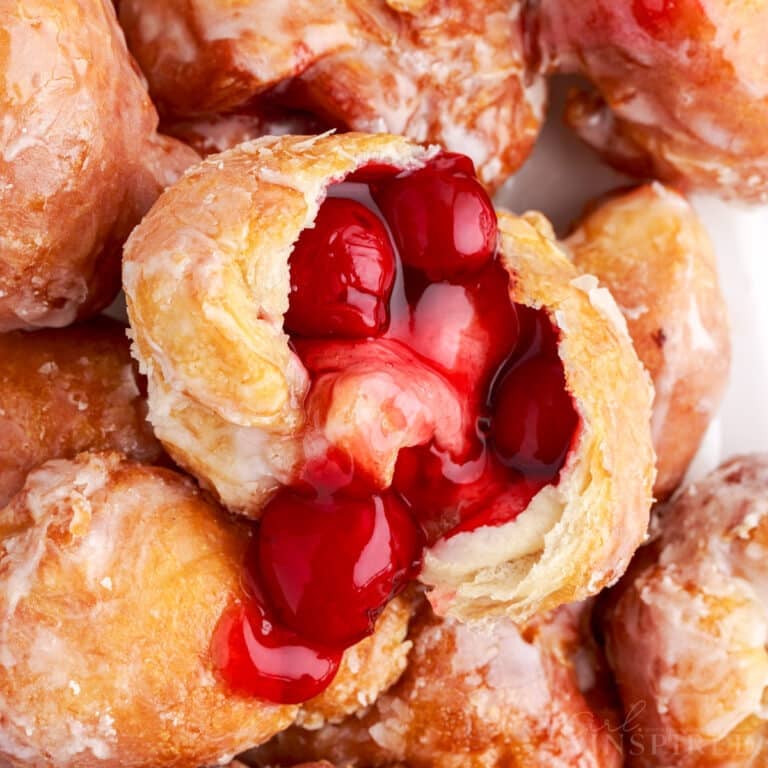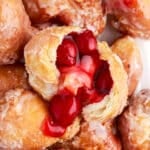 Cherry pie bombs are a delicious sweet treat, made with 6 simple ingredients, that has the same tastes of a homemade cherry pie without all of the additional work. Refrigerated biscuits and canned pie filling make a quick and easy base to this deep fried ball of goodness.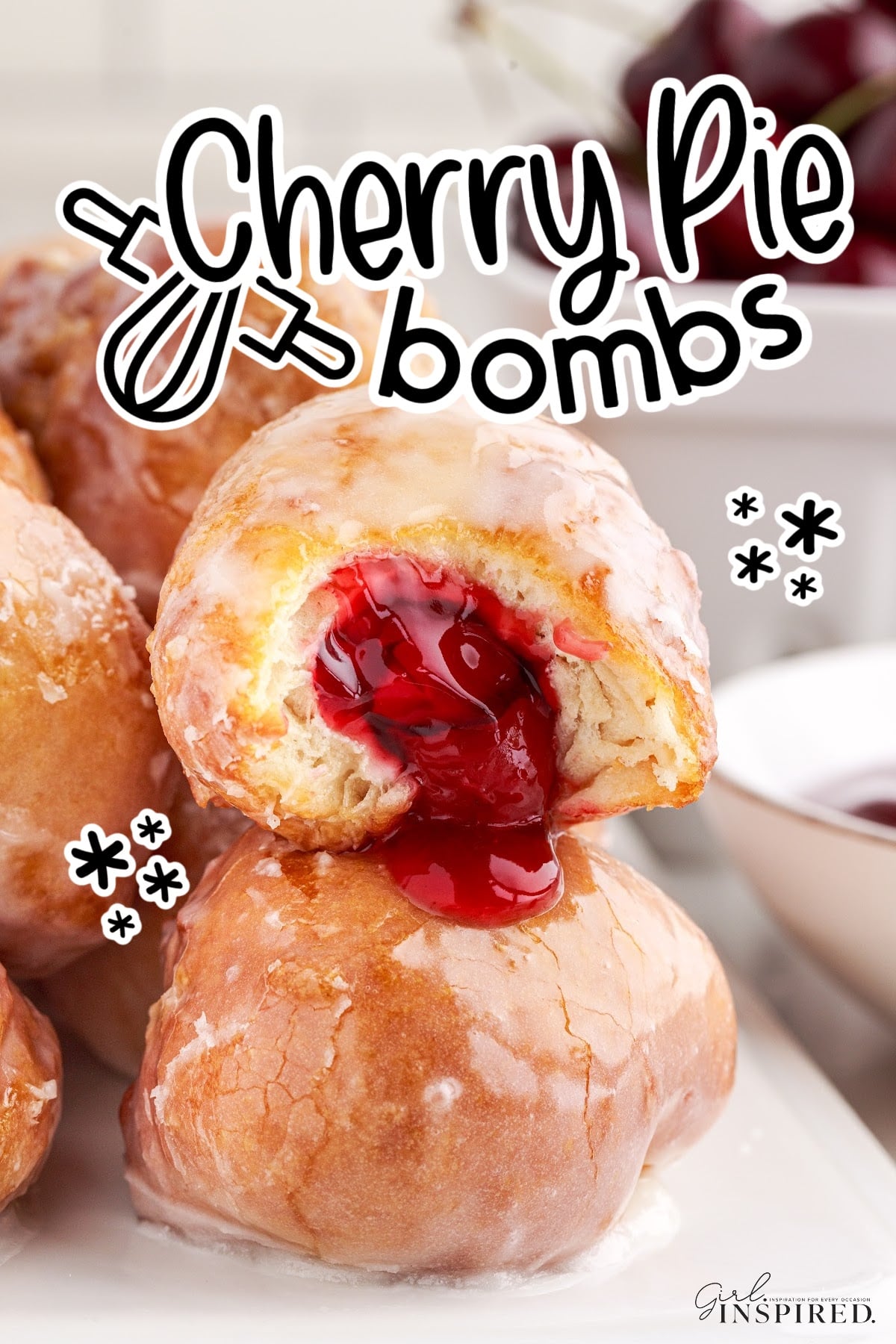 Recently I made apple pie bombs using a similar recipe, except they were coated in a sweet cinnamon sugar mixture. I knew the options were endless since we are making these with canned pie filling. So I decided to test out cherry, and they are delicious! Next on my list is going to be blueberry bombs.
If you wanted to make mini cherry pies, you can swap the fillings in my apple hand pies recipe or mini blueberry pies. Another easy holiday season recipe that incorporates cherries is my Martha Washington Candy, and trust me, they will go fast!
Jump to:
🍒 Ingredients:
Grand Biscuits – be sure to get the flaky biscuits, the ones with the layers. You can also use different brands if needed.
canned cherry pie filling – can be found on the baking aisle.
powdered sugar, light corn syrup, and milk – to make a simple sweet glaze.
Vegetable oil – for frying
For a full list of ingredients and their measurements, 📋 please view my printable recipe card at the bottom of the post.
Optional Garnish:
We love rolling cherry pie bombs in a simple glaze, but cinnamon and sugar or plain would be just as tasty!
Substitutions and Variations
Air fryer cherry pie bombs – Assemble the pie bombs according to instructions. Grease the air fryer basket with cooking spray. Place the dough balls in and air fry at 350 degrees for 8-10 minutes. Once finished, toss them in the glaze.
Other flavors – use this same recipe to make other pie bombs using peach, strawberry, apple, or blueberry pie filling.
Conventional oven – place the assembled cherry pie bombs on a parchment lined baking sheet. Cook at 375 degrees for 15-18 minutes, then coat them in the glaze.
Cinnamon Sugar Coating – if you want to skip the glaze, brush the pie bombs with melted butter, then roll in cinnamon and sugar.
Pie crust dough – use a store bought flaky crust or a homemade pie crust instead of biscuits. Fry at 350 degrees. Note that they make take a little longer to cook.
🔪 Instructions:
PREP: Fill a large saucepan halfway full with oil, so the pie bombs will be completely covered.
Step 1: Separate biscuits by pulling apart at the middle. Flatten the dough pieces slightly.
Step 2: Add a tablespoon of cherry filling to the center of the dough circles.
Step 3: Pinch the edges so the filling doesn't seep out. Then roll gently in the palm of your hand to make a ball shape. Heat the oil to 325 degrees F.
Step 4: Lower the cherry bombs into the oil using a slotted spoon, 2-3 at a time. Fry until all are a nice golden brown color.
Pro Tip: Be sure to monitor the temperature of the oil constantly to ensure the pie bombs cook evenly.
Step 5: Transfer the pie bombs to a paper towel lined plate. Repeat for the remaining cherry pies.
Step 6: Whisk the powdered sugar, corn syrup, and milk in a medium bowl until smooth for the glaze.
Step 7: Coat each pie bomb in the glaze and let the excess drip off.
Step 8: Place them on a parchment-lined baking sheet or a sheet of wax paper.
SERVE: Serve immediately or a few minutes after the glaze has set.
We are frying these at a temperature a little lower than normal temperature so the dough will cook all of the way through. Using high heat may cause them to burn on the outside and be raw on the inside.
The corn syrup in the glaze adds a nice sheet and helps it to set so it's dry to the touch, but it is optional.
Avoid over crowding the pot. You want to have enough room to turn the pie bombs in the oil so they cook evenly.
Regular sized biscuits can be used. Use one per pie bomb and know they will fry quicker.
Be sure to pinch the layers of dough together to seal or else they will break open when frying.
Pie bombs will be heavier on the side where they are sealed. This is why we want to turn them with a spoon while frying so they cook evenly.
Fun Fact
One tree produces 7000 fresh cherries, which are harvested by a machine that shakes the tree and they fall onto a large tarp. -Mental Floss
Recipe FAQs
How to store cherry bombs?
Like most fried food, these have the best taste when eaten immediately. They can be stored at room temperature in an airtight container for up 2 days. To freeze, assembled the dough balls and store in a freezer bag for up to 3 months. When ready to cook, drop them directly in the hot oil. Note they will take a little longer to cook.
Can crescent rolls be used instead of biscuits?
When frying, we don't recommend using crescent roll dough. However, you can use crescent rolls if you were to bake or air fry the cherry pie bombs.
More of Our Favorite Pies
If you tried this Cherry Pie Bombs Recipe or any other recipe on my website, please please leave a 🌟 star rating and let me know how you liked it in the 📝 comments below.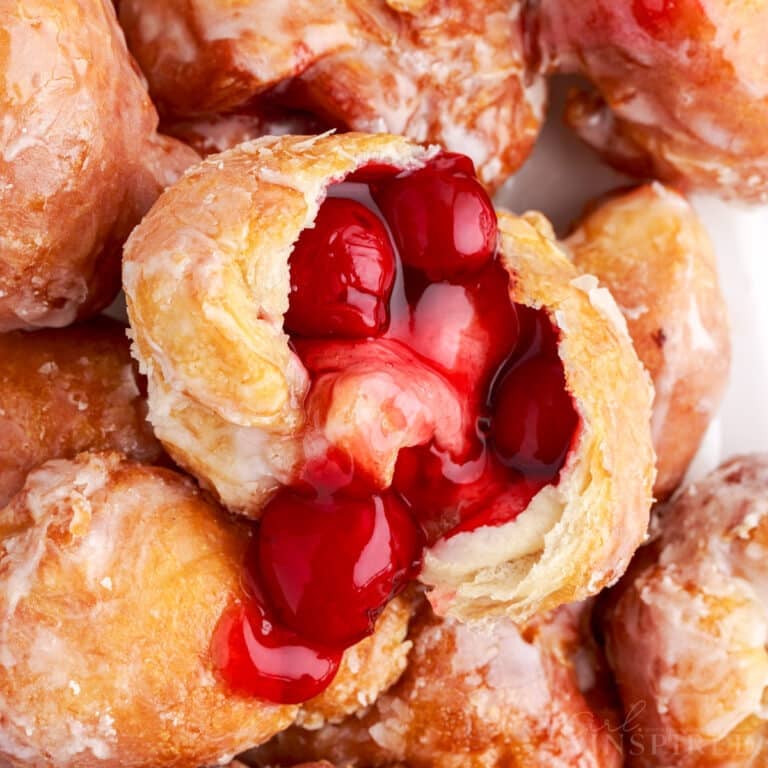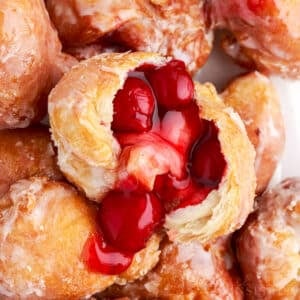 Cherry Pie Bombs
Cherry pie bombs are an easy dessert and so much fun to make. The best part is that they are much easier to assemble compared to a traditional cherry pie, but have the same amazing taste.
Ingredients
1 16.3-ounce can Grands "Big" biscuits, flaky
1 21-ounce can cherry pie filling
2 cups powdered sugar
¼ cup milk
1 tablespoon light corn syrup
Vegetable oil for frying
Instructions
Fill a 2 to 3 quart heavy-bottomed saucepan a little over ½ way with vegetable oil. You will want this deep enough to cover the dough balls completely. Set it aside.

Open the can of biscuits and divide each biscuit in half by pulling apart the "flakey" layers at the center. Use your fingers or a rolling pin to flatten the biscuit dough. Don't roll the dough out thin – just flatten it.

Place 1 tablespoon of cherry pie filling in the center of the dough circle.

Pinch the edges of the dough together to ensure it does not come apart while frying. Once you have pinched the edges, gently roll the ends under into more of a ball shape.

Heat the oil to precisely 325°F and maintain this temperature throughout frying.

Using a slotted metal spoon, carefully lower the dough balls into the oil, cooking 2-3 at a time. Use the slotted spoon to roll the balls around in the oil to ensure they do not stick or burn. Fry the dough balls until all sides are golden brown, about 5 minutes.

Be sure to constantly monitor the oil temperature and adjust accordingly. Too hot and you will burn the dough, too low and it will not cook evenly.

Carefully lift the pie bombs out of the oil and transfer them to a plate with several sheets of paper towels to absorb excess oil. Continue frying the rest of the pie bombs.

In a small bowl, whisk together the powdered sugar, milk, and corn syrup until smooth to make a sugar glaze.

Toss each dough ball in the glaze to coat, lift form the mixture and allow the excess to drip off, then set aside on parchment paper or a cooling rack to set.

Serve immediately or allow the glaze to dry (about 10 minutes) and then serve.
Notes
Storage: These bite-sized treats are best when they are fresh. Keep them in an airtight container on the counter for 2 days. To freeze, assemble and transfer to a freezer bag for up to 3 months. Fry directly from frozen. They will take a little longer to cook. Notes:
The corn syrup gives the glaze a nice sheen and helps it to set, but you can omit if desired. Only fry 2-3 bombs at a time so the pot doesn't get overcrowded. To use regular biscuits, use one per pie bomb. These will cook quicker. Turn the pie bombs often while frying since they are heavier on the sealed size, this helps them fry evenly. Cooking them at 325 degrees makes sure they don't over brown before the inside is cooked through. Pie dough can be used in place of biscuits. The cook time will vary, and should be fried at 350 degrees. Seal the filled biscuits well so they don't ooze out while frying.
Nutrition
Calories: 191kcal | Carbohydrates: 17g | Protein: 0.2g | Fat: 14g | Saturated Fat: 2g | Polyunsaturated Fat: 8g | Monounsaturated Fat: 3g | Trans Fat: 0.1g | Cholesterol: 0.3mg | Sodium: 19mg | Potassium: 9mg | Fiber: 0.02g | Sugar: 16g | Vitamin A: 4IU | Vitamin C: 0.01mg | Calcium: 6mg | Iron: 0.1mg