A classic roasted, tender and juicy Pot Roast, with large chunks of soft potatoes and carrots, herbs, and of course...the gravy!
Nothing quite says Sunday lunch like a tender and juicy Pot Roast with large chunks of soft potatoes, carrots, herbs, and of course…the gravy!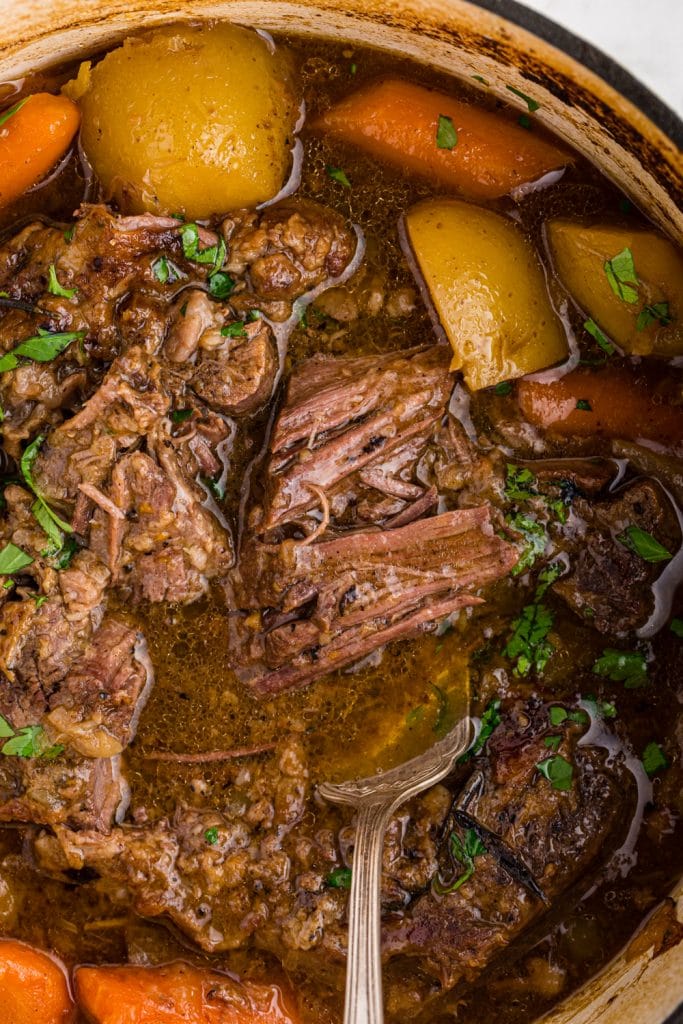 Serve this classic pot roast recipe over rice, couscous or even noodles. Otherwise enjoy your roast alongside some freshly made dinner rolls or biscuits. All of these options are perfect for soaking up the flavor-packed gravy that will leave you coming back for more.
While making a dutch oven pot roast the traditional way may seem intimidating at first, it's really no more labor intensive than making it in a slow cooker or Instant Pot. With just 15 minutes of actual prep, you can get on with your day while your dinner simmers away. Plus, you make everything in one pot, so less dishes!!
Now there's really no excuse for you not to try this delicious recipe!
Other Dinner Ideas You're Sure To Enjoy
Classic Pot Roast Ingredients
1 teaspoon sea salt
1 teaspoon black pepper
½ cup all-purpose flour
2-3 pound boneless beef chuck roast
2 tablespoons canola or olive oil
1 large onion, cut into large chunks
3 medium carrots, cut into large chunks
2 pounds yellow or baby potatoes, cut into large chunks
2 ½ cups beef broth
1 sprig rosemary
Fresh parsley for garnish
How to Make the Best Pot Roast Recipe
Step 1: Preheat the oven to 300°F.
Step 2: Combine salt, pepper, and flour. Spread flour in a dish or on a piece of parchment paper and dip roast into the flour mixture to coat it on all sides.
Step 3: Heat oil over medium-high heat in a large Dutch oven or stock pot. Brown the meat on all sides (about 5 minutes).
Step 4: Remove meat from the pot and set aside.
Step 5: Add additional oil if needed. Add onion and carrots to the pot and saute for 3-5 minutes, or just until onions begin to soften and caramelize around the edges. (If you'd like to add minced garlic to the recipe, now is a great time to toast that as well.) Remove from heat.
Step 6: Add the potatoes to the pot over the vegetables. Add the meat back into the pot over the other ingredients.
Step 7: Pour beef broth and a sprig of rosemary over the meat. Cover with a lid.
Step 8: Cook for about 3 hours or until meat falls apart easily when pulled with a fork. Serve.
What can I serve with this Pot Roast Recipe?
We like to eat this beef roast in a big bowl as a one-pot meal. But if you need more, serve your pot roast over rice (brown or white), with some soft and fluffy homemade dinner rolls or biscuits to soak up any excess gravy. You can even make the roast separate from the potatoes. Then, I highly recommend you pile it over these creamy mashed potatoes – yum!
Add a little zest to your plate with this bright Cranberry Jello salad. Green bean casserole or roasted brussels sprouts would also make a lovely side dish to this hearty meal.
Can this be made in a Slow Cooker or Instant Pot?
Yes, it can. Both slow cooker and Instant Pot Pot Roast recipes are extremely popular, both resulting in tender meat. Cooking in a slow cooker will take approximately 8-10 hours on LOW and about 1 hour in a pressure cooker.
Whichever method you prefer, I highly recommend searing your meat in a pan prior to adding it to a slow cooker or Instant Pot as this will increase the flavors of the dish. The caramelization of the meat really adds the next level of flavor.
Check out this Mississippi Pot Roast recipe for a step-by-step on making a roast in the crock pot.
Can I make the roast ahead of time?
Yes, this is a great meal to make ahead since you can either refrigerate it for up to 4 days or freeze it for up to 3 months.
In both instances, make sure that you store the leftovers in an airtight container once it has cooled completely.
What variations can I make to this recipe?
For a low-carb roast
If you are looking for a low-carb version of this recipe, I suggest omitting the potatoes and adding in some extra vegetables in their place.
You'll want to use hardy types of vegetables that can stand up to a long period of simmering so that you're not left with a veggie mush. Turnip roots are ideal low-carb vegetables to use in place of potatoes.
In addition to using turnips, you could also serve your Pot Roast over cauliflower rice to keep the meal as low-carb as possible.
For a spicy dish
If you want to add a kick of heat to this dish, think of including some Ancho chili sauce to the broth or slice some Ancho chilies and add them to the liquid.
For additional gravy
If you LOVE your gravy, you may want to make some extra other than what is produced from the cooking process listed above.
To do so, add extra beef broth to your pan after cooking with a cornstarch slurry (made by mixing a teaspoon or two of corn starch with equal parts water). Simmer the liquid mixture on the stovetop for a few minutes as needed to get the thickness of gravy desired.
You can also simply thicken the gravy/juices that are in your pot. Remove the meat and vegetables (or pour out the liquid into a separate saucepan. Bring to a simmer and whisk in your cornstarch slurry, cooking until thickened. If the gravy isn't thick enough after 2-3 minutes, add some additional cornstarch mixture.
Fresh Herbs and Flavors that work well in a dutch oven pot roast
Once you have your classic dish mastered, try adding some other flavors into the mix. A splash of balsamic vinegar or red wine will add depth and richness to the pot roast. You don't need a lot of either of these ingredients – I would try ¼-1/3 cup. A tablespoon of worcestershire sauce will also enhance the natural richness of the beef. Garlic lovers may wish to slice small slits all through the roast and insert cloves garlic for a garlic forward dinner. Fresh thyme, fresh rosemary, and parsley can all be added to the pot during cooking or sprinkled over the finished dish.
Tips for making the best Pot Roast
Using larger chunks of carrots and potatoes will ensure that they don't end up mushy once the roast is finished cooking. If you're adding other vegetables to this recipe, make sure that they are the kind that can withstand long simmering times.
Any brand of roast that's labeled as chuck is suitable for this recipe although some do also opt for using brisket or even top round.
Use up leftover shredded roast in sandwiches, tacos, wraps or in pasta dishes throughout the week for easy lunch ideas.
Classic Pot Roast
A classic roasted, tender and juicy Pot Roast, with large chunks of soft potatoes and carrots, herbs, and of course…the gravy!
Ingredients
2-3 pound boneless beef chuck roast
2-3 tablespoons canola or olive oil
½ cup all-purpose flour
1 teaspoon sea salt
1 teaspoon black pepper
1 large onion diced into large wedges
3-4 medium carrots cut on the diagonal into large chunks
2 pounds yellow potatoes cut into halves or quarters depending on size
3 cups beef broth
1 sprig rosemary
parsley for garnish
Instructions
Preheat oven to 300°F.

Heat oil over medium in a large stock pot or Dutch oven

Combine flour, salt, and pepper. Coat roast on all sides with the flour mixture.

Brown all sides of the roast in the heated oil on the stovetop. Remove from the pot.

Add a bit more oil if needed and add carrots and onions to the pot.

Stir and cook for 3-4 minutes or until onions have softened and vegetables begin to form a little browning around the edges. Remove from heat.

Use a spatula to scrape up any browned bits from the bottom of the pot and stir into the vegetables. Add potatoes to the pot and place the browned roast over the top of the vegetables.

Add broth and rosemary to the pot. Cover with a lid and transfer the whole thing to the oven.

Cook for about 3 hours or until the meat falls apart when pulled at gently with a fork.
Nutrition
Calories: 497kcal | Carbohydrates: 39g | Protein: 35g | Fat: 23g | Saturated Fat: 8g | Cholesterol: 104mg | Sodium: 988mg | Potassium: 1339mg | Fiber: 5g | Sugar: 3g | Vitamin A: 5115IU | Vitamin C: 33mg | Calcium: 65mg | Iron: 5mg