Classic chicken cacciatore is full of tender meat stewed in rustic Italian flavors of tomato, herbs, and vegetables.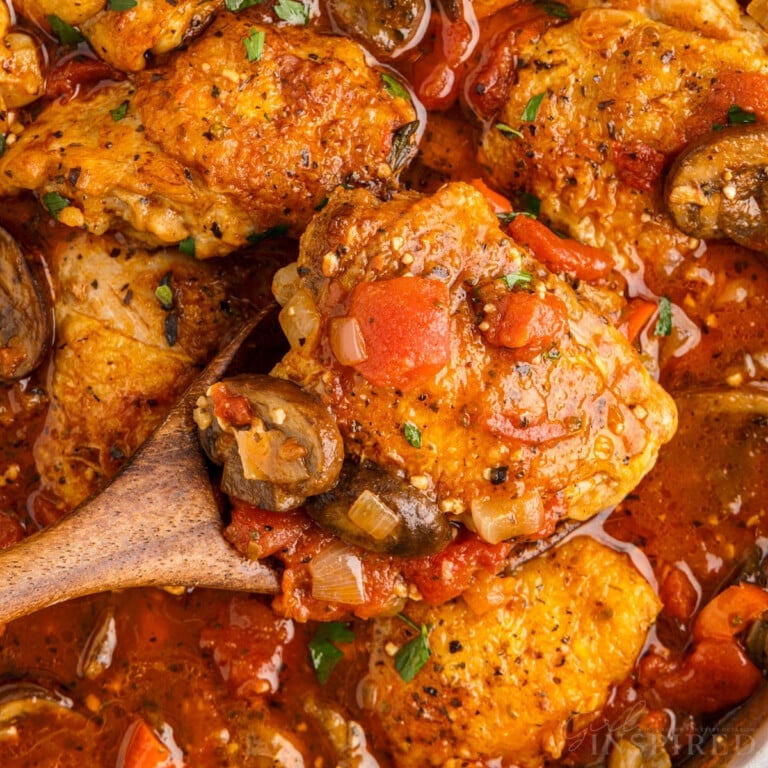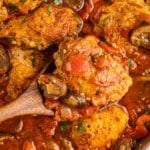 This hearty chicken cacciatore recipe boasts a rich tomato sauce, Italian herbs, and fall off the bone tender chicken. It's one of our favorite family recipes and the ultimate comfort food. It's relatively quick to make and uses ingredients that I always have on hand.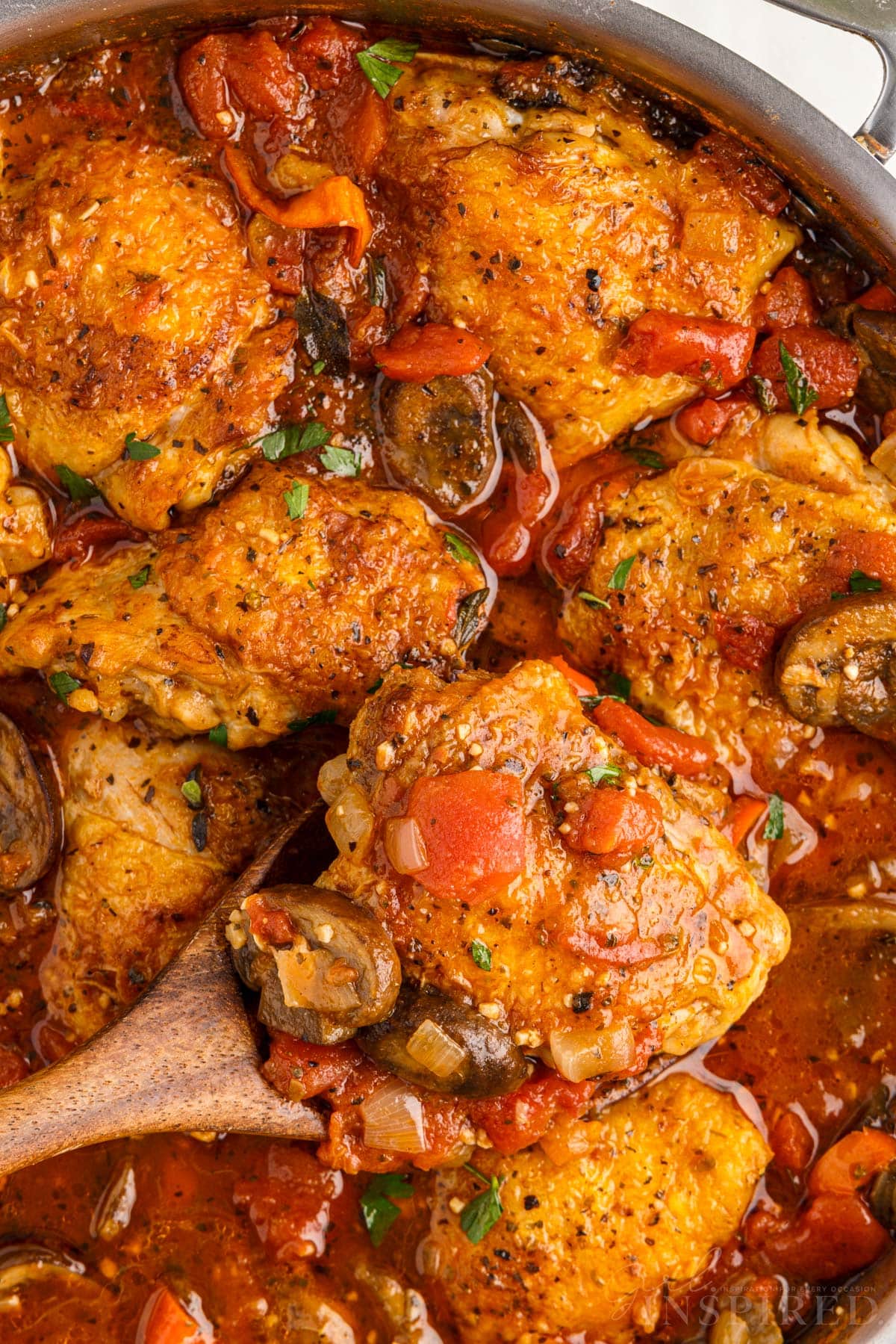 This rustic Italian chicken dish is full of traditional flavor. You can simmer down the sauce to stew consistency or add extra tomatoes and broth to make enough sauce to soak into a bed of rice or scoop up with some crusty bread.
Cacciatore is the Italian word for hunter, thus the origins of chicken cacciatore are thought to have been a humble meal with simple ingredients that hunters were able to prepare in a makeshift oven during travel.
Some of our other favorite chicken recipes include our Herb-roasted Chicken, White Chicken Lasagna, and Southern Fried chicken recipe. For more Italian-inspired dinners, try our Meatball Marinara Sub Sandwiches, Stuffed Ziti Fritta, and Grilled Chicken Alfredo recipe.
Jump to:
🍅 Ingredients: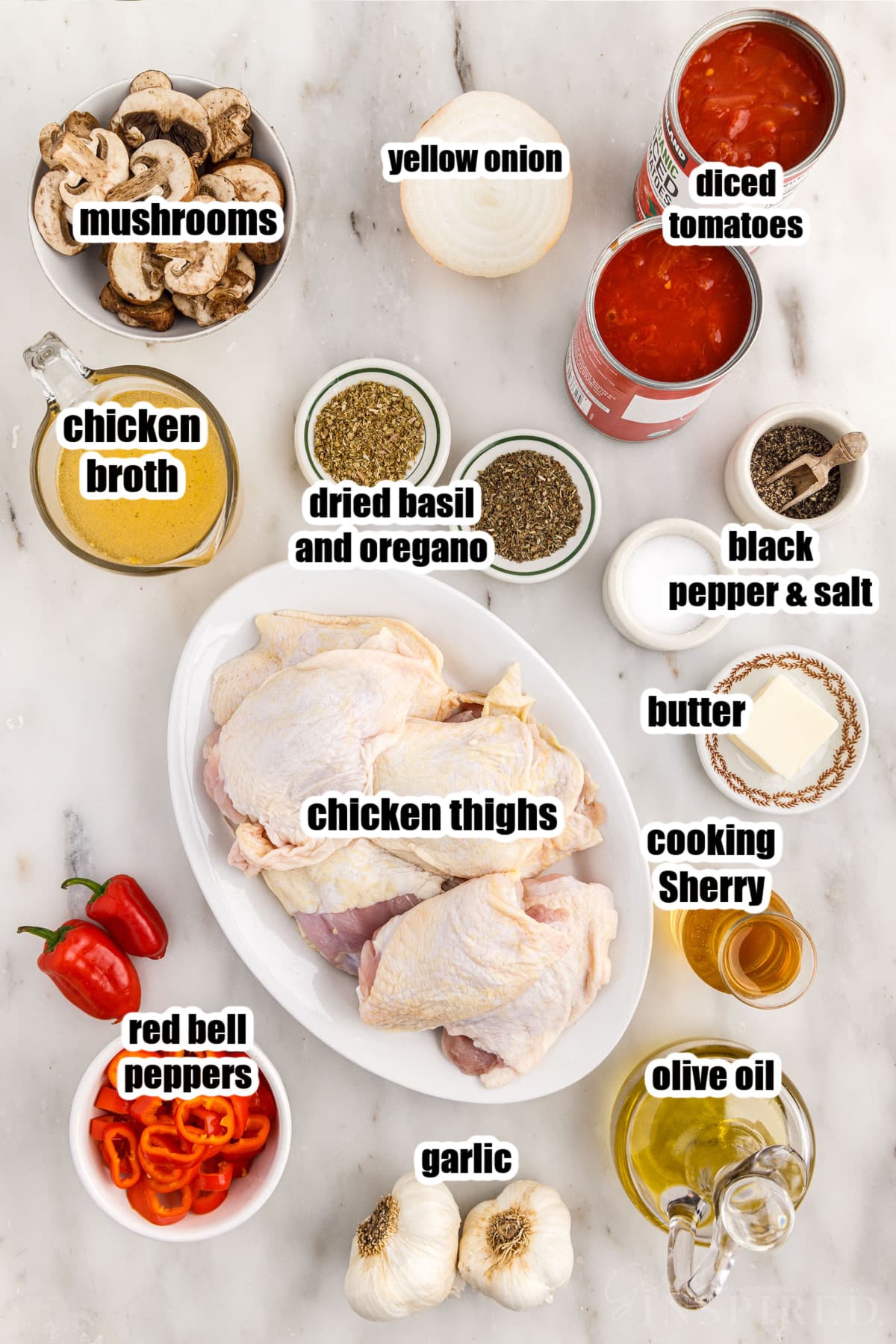 chicken thighs (you can substitute any cuts of chicken that you like)
olive oil – adding an oil with the butter for browning helps prevent the butter from burning
butter – the butter adds flavor while browning the chicken
dried oregano, basil, salt, pepper, and garlic – this combination of seasonings adds a powerful punch of flavor and gives that authentic Italian seasoning to the dish.
sherry/cooking wine – you can also use a splash of whatever white wine you're drinking with dinner or substitute chicken broth or water. The wine also deglazes the pan of any browned bits.
chicken broth or homemade chicken stock – we like some good sauce in the dish to spoon over our rice.
diced tomatoes – include the juices for extra sauce and that deep tomato flavor. You can also use crushed tomatoes.
onion, red bell peppers, and sliced mushrooms round out the dish and add flavor – feel free to omit any of these veggies or add your own favorite veggies.
For a full list of ingredients and their measurements, 📋 please view my printable recipe card at the bottom of the post.
Optional Garnish:
You can top your finished chicken cacciatore dish with fresh herbs or parmesan cheese. Add a sprinkle of crushed red pepper flakes for serving (or add to the sauce while simmering for a bit of heat.)
Substitutions and Variations
Fresh Tomatoes – If you want to use fresh tomatoes, chop them up into small pieces and add 2 tablespoons of tomato paste and a cup of water.
Other Cuts of Chicken – This classic Italian dish will work with any cut of chicken. You can use boneless, skinless chicken breast, boneless, skinless chicken thighs, or a whole chicken cut into pieces. Dark meat and bone-in are generally more moist and are also typically less expensive.
Red Wine – For a richer chicken cacciatore recipe, use a red wine such as Cabernet Sauvignon or Pinot Noir in place of the white wine.
Healthier Option – This Italian chicken dish can be kept low carb by limiting starchy vegetables (consider omitting the onions) and by serving over cauliflower rice or zucchini noodles (zoodles).
Other Flavors – There are many variations of a classic cacciatore dish – some people include green olives or kalamata olives in the simmering sauce. Thinly sliced carrots and celery can also contribute to a flavorful sauce.
🔪 Instructions:
PREP: Rinse chicken and pat dry. If using chicken breasts or large pieces of chicken, cut into equal sized pieces – I cut large chicken breasts in half.
Step 1: Heat olive oil and butter in a large skillet or Dutch oven over medium to medium-high heat. Add the chicken to the heated oil in the stock pot (be careful of the hot oil splattering).
Step 2: Cook over med-high heat until well browned on each side. Try to turn the chicken just once – once it is golden brown on the first side, it should loosen from the pan and be easy to flip without the skin sticking to the bottom of the pan. We are not fully cooking the chicken through here – we are just browning it.
Step 3: Remove the chicken from the skillet and add sliced mushrooms, bell pepper, and diced onions. Cook, stirring frequently, until the onions are soft and translucent and the other veggies are softened.
Step 4: Add the minced garlic to the skillet with the vegetables and sauté for 1-2 minutes longer, until garlic is fragrant.
Step 5: Add the cooking sherry to the skillet and sauté 2 minutes to cook off the alcohol and infuse the flavor into the vegetables.
Step 6: Add basil, oregano, salt and pepper to taste, diced tomatoes (juices included), and chicken broth to the pan. Stir to combine.
Step 7: Nestle the browned chicken into the sauce and bring to a simmer. Reduce the heat to low. Cover the pot with a lid and let simmer for 20-45 minutes. The chicken cacciatore is done cooking when the chicken reaches an internal temperature of 165°F. However, a longer simmer time helps to infuse and intensify the flavors throughout the dish.
Step 8: Serve over rice (we love Basmati rice, but in the name of eating healthier, we tried it with brown rice this time and it was extra hearty and delicious!) Serves 6 people. This recipe also freezes well (sometimes I make a huge batch and then freeze it up for quick dinners later).
GARNISH/SLICE/SERVE: Garnish this easy chicken cacciatore recipe with fresh parsley, basil or oregano and serve over rice or noodles.
Leftover chicken cacciatore can be stored in an airtight container in the refrigerator for 2-3 days. This dish also freezes really well. Seal in Ziploc freezer bags or freezer-safe containers and freeze for up to 3 months. Thaw in the fridge overnight and reheat in the microwave or on the stovetop.
To make slow cooker chicken cacciatore, cook your onions until softened over the stovetop, then transfer them to the slow cooker. Brown the chicken as outlined in this recipe and add it to the crock pot, along with the remaining ingredients. Cook, covered, on high heat for 2-3 hours or low heat for 4-5 hours, until the chicken is falling apart.
Fun Fact
Chicken cacciatore is thought to have originated in central Italy during the Renaissance period. It was likely first made with rabbit or other wild game. – Days of the Year
If you tried this Chicken Cacciatore Recipe or any other recipe on my website, please please leave a 🌟 star rating and let me know how you liked it in the 📝 comments below.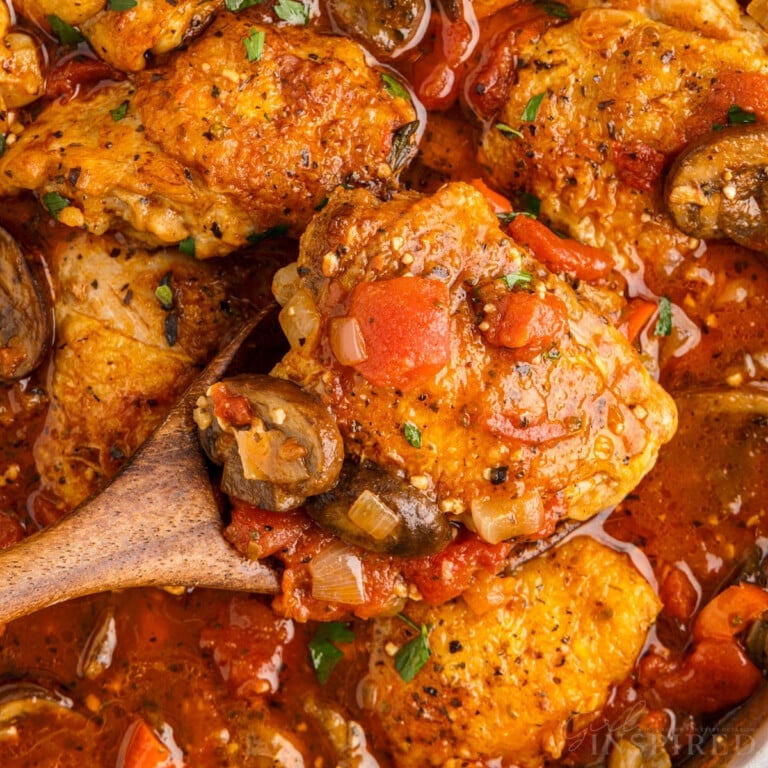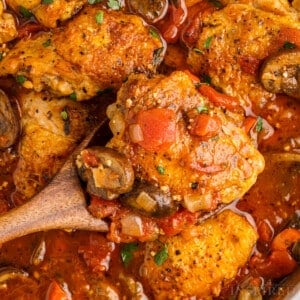 Chicken Cacciatore Recipe
Classic chicken cacciatore is full of tender meat stewed in rustic Italian flavors of tomato, herbs, and vegetables.
Ingredients
7-8 chicken thighs
2 tablespoons olive oil
2 tablespoons butter salted or unsalted
1 medium yellow onion diced
1 cup red bell peppers diced
1 pound sliced mushrooms
4-5 cloves garlic crushed
1 tablespoon dried oregano
1 tablespoon dried basil
½ C. sherry/cooking wine optional
1 cup chicken broth
2 14 oz. cans of diced tomatoes
Instructions
Heat olive oil and butter in a large stock pot or saucepan over medium heat.

Add chicken, skin side down, to the heated oil and brown chicken on each side until golden. Work in batches so that the chicken isn't overcrowded.

Remove chicken from the skillet and set aside. Add onions, bell peppers, and sliced mushrooms to the pan and cook until softened.

Add the minced garlic and saute 1-2 minutes longer.

Deglaze the pan by adding the sherry (or wine) and simmering, scraping the brown bits from the bottom of the pan.

Add basil, oregano, tomatoes (juices included) and chicken broth. Stir to combine.

Add the chicken back into the pan, nestling it down into the sauce. Bring the sauce to a simmer and then reduce the heat to low. Cover and cook 30 minutes more.
Nutrition
Calories: 629kcal | Carbohydrates: 12g | Protein: 37g | Fat: 46g | Saturated Fat: 14g | Polyunsaturated Fat: 8g | Monounsaturated Fat: 20g | Trans Fat: 0.4g | Cholesterol: 210mg | Sodium: 427mg | Potassium: 974mg | Fiber: 3g | Sugar: 6g | Vitamin A: 1527IU | Vitamin C: 53mg | Calcium: 83mg | Iron: 4mg