Making homemade pineapple curd has never been easier! This easy and delicious recipe requires only a few simple ingredients and is ready in 15 minutes.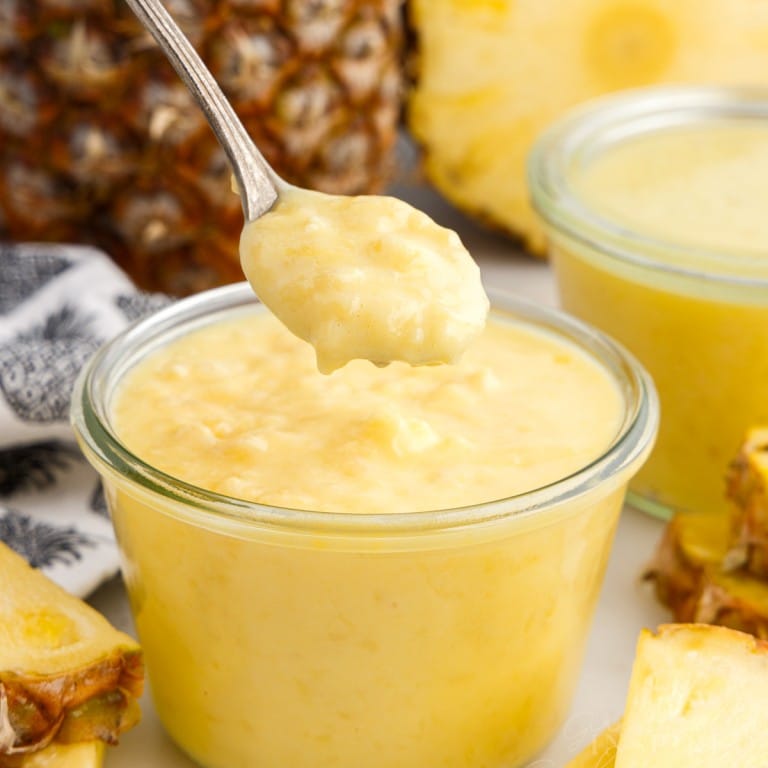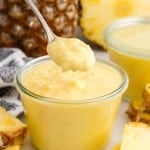 This pineapple curd is so easy to make, taking just 15 minutes! It's sweet and tangy, creamy, and super bright and festive.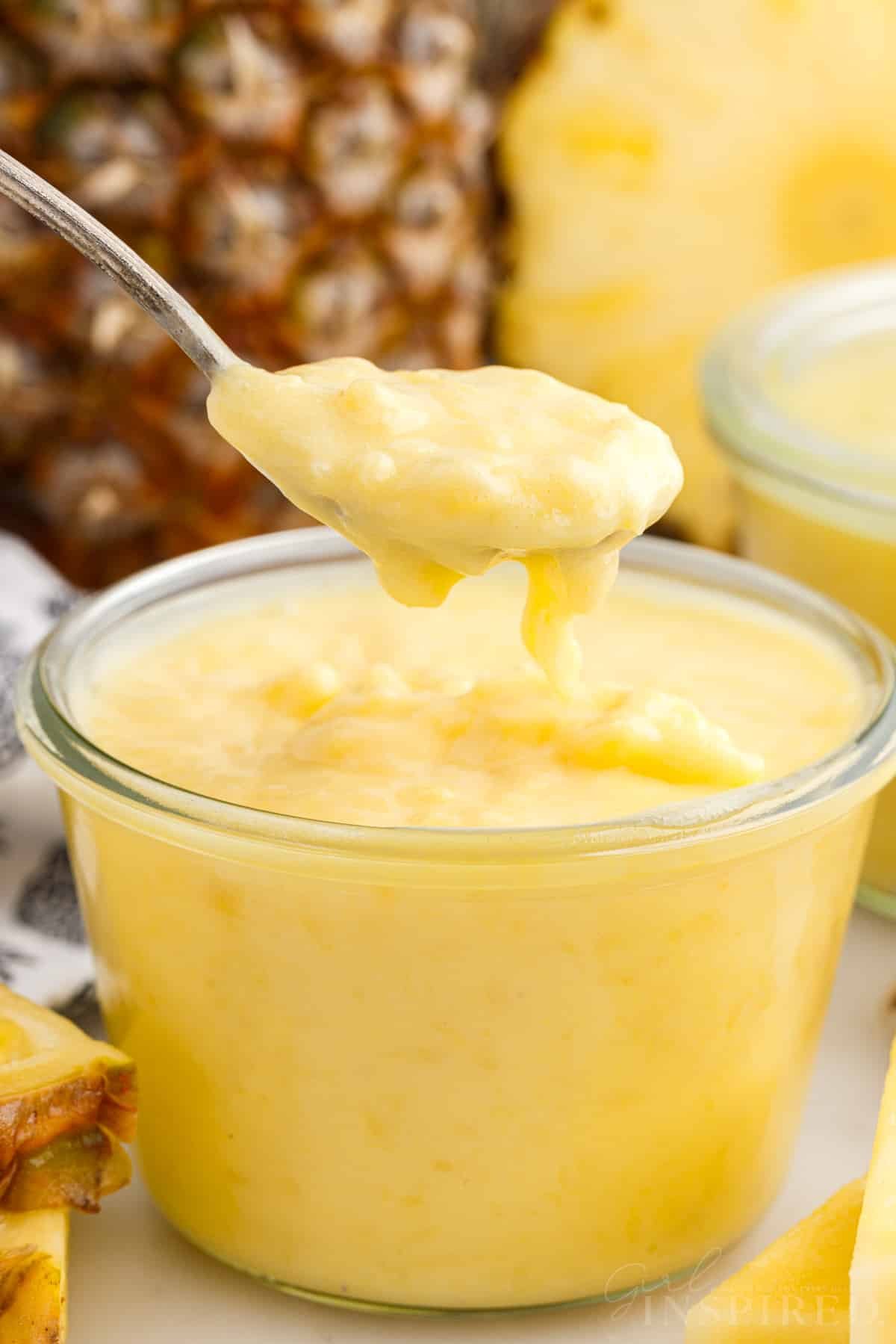 Fruit curds can be used in many different ways and once you start experimenting with them you won't be able to stop! They make a delicious filling in cake, tarts, and can even be spread onto breakfast crepes. Plus you can kill two birds with one stone (actually 3) by using the leftover egg whites to make a half batch of meringue cookies or coconut macaroons. Then use the remaining crushed pineapple to make pineapple cookies!
Homemade pineapple curd is perfect on waffles and pancakes. Sometimes we make a quick breakfast by just adding it to greek yogurt! You can also swap the lemon curd in this lemon tart recipe to turn it into a pineapple version. Don't forget to test out my strawberry curd to switch up flavors. Our favorite use for this pineapple curd recipe, however, is in our heavenly pineapple coconut cake – layers upon layers of flavor!!
Jump to:
🍍 Ingredients:
large eggs and egg yolks – make sure both of these are room temperature before using.
crushed pineapple – we are using canned
granulated sugar – adds sweetness so it's not so tart.
lemon juice – brings out more of the pineapple flavor
butter – we use unsalted, the butter balances the strong flavors and makes this recipe for pineapple curd ultra creamy
For a full list of ingredients and their measurements, 📋 please view my printable recipe card at the bottom of the post.
Optional Garnish:
Serve this tropical curd with ice cream, as a spread on toast, in a tart, as filling in this white cupcake recipe or coconut cake filling, or between cake layers. You can also add it to a pastry bag and fill your thumbprint cookies up. Combine creamy pineapple curd with cream cheese to make a delicious and tropical fruit dip.
Substitutions and Variations
Vegan pineapple curd – Omit the eggs and egg yolks, substitute vegan butter, and use 3 tablespoons of cornstarch in place of the eggs.
Fresh pineapple – we like using canned for ease. When using fresh pineapple add it to the food processor for easy mixing. Be sure to trim the pineapple of all the tough skin and fibrous core.
🔪 Instructions: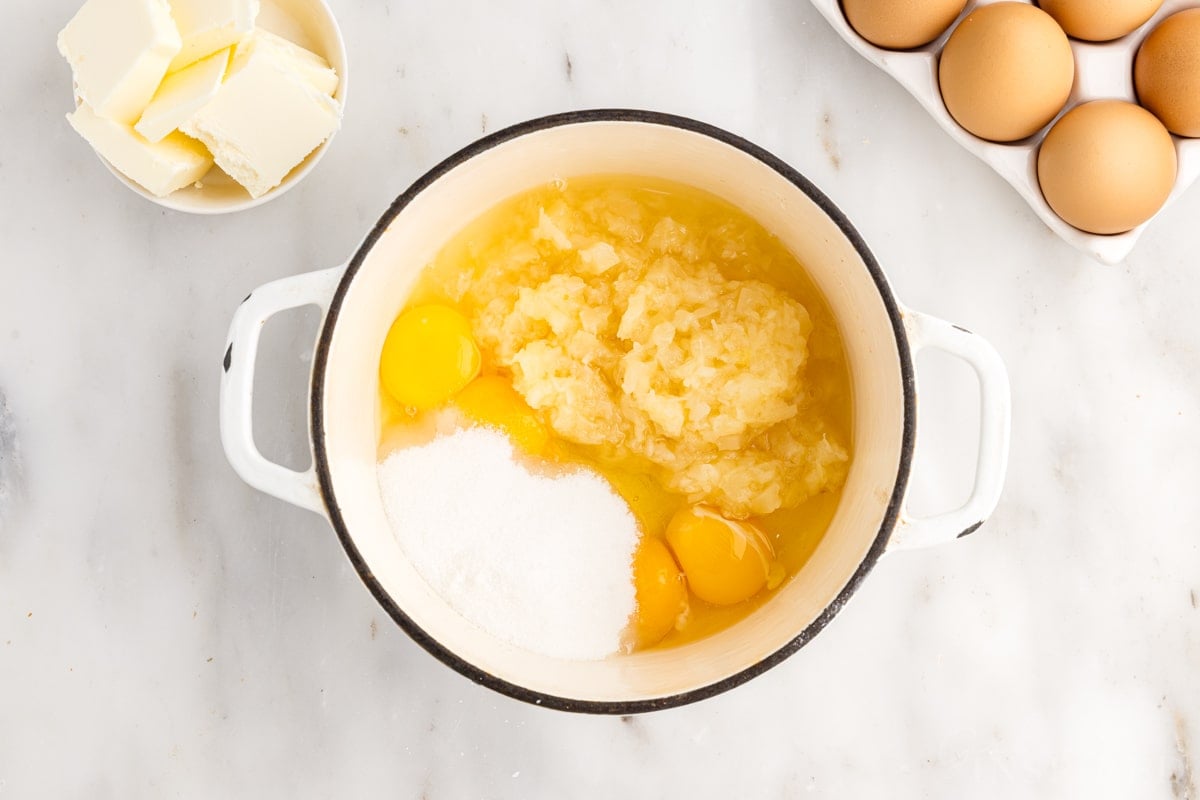 Step 1: In a medium saucepan, whisk together the eggs, egg yolks, sugar, lemon juice, fresh pineapple, and sugar. Stir everything together BEFORE you turn on the heat to prevent turning the eggs into scrambled eggs! Cook on medium-low heat, for 7-10 minutes while stirring constantly.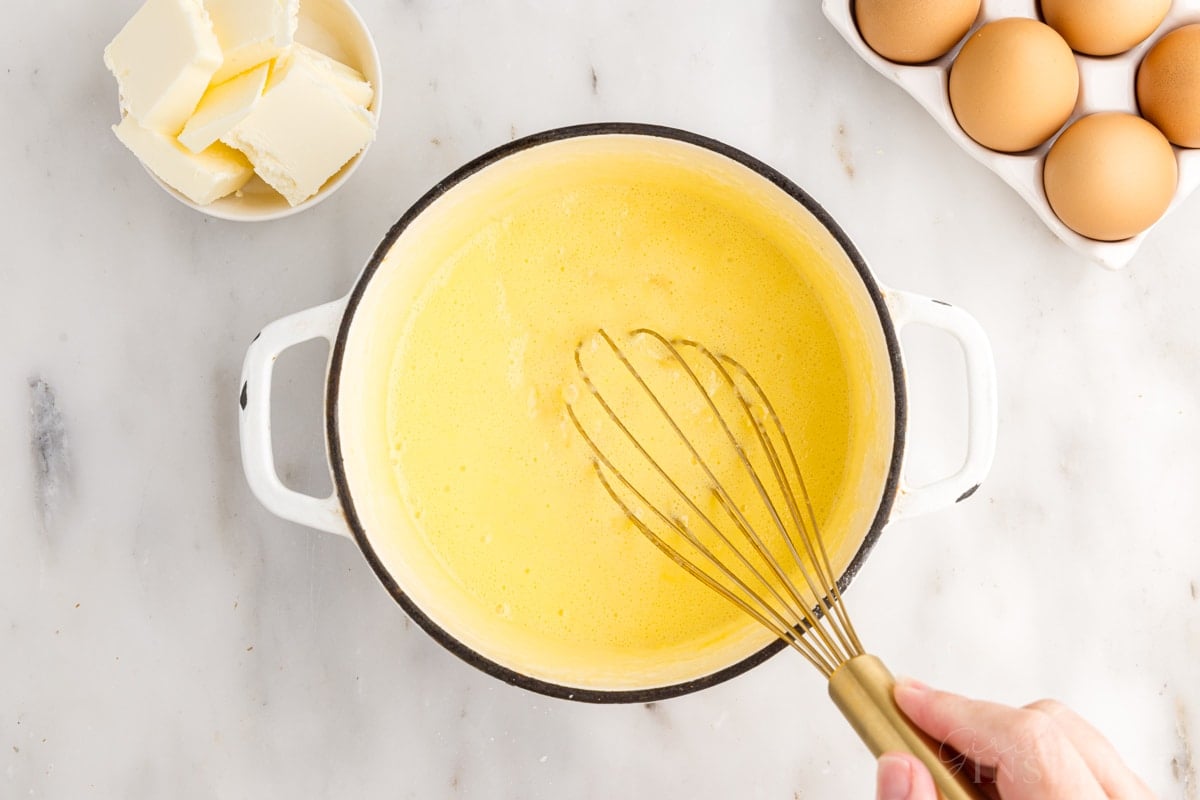 Step 2: Once the curd is foamy throughout, thickens, and pales it is done.
Pro Tip: If you need to scrape the sides of the saucepan, swap to a wooden spoon or silicone spatula, then continue whisking.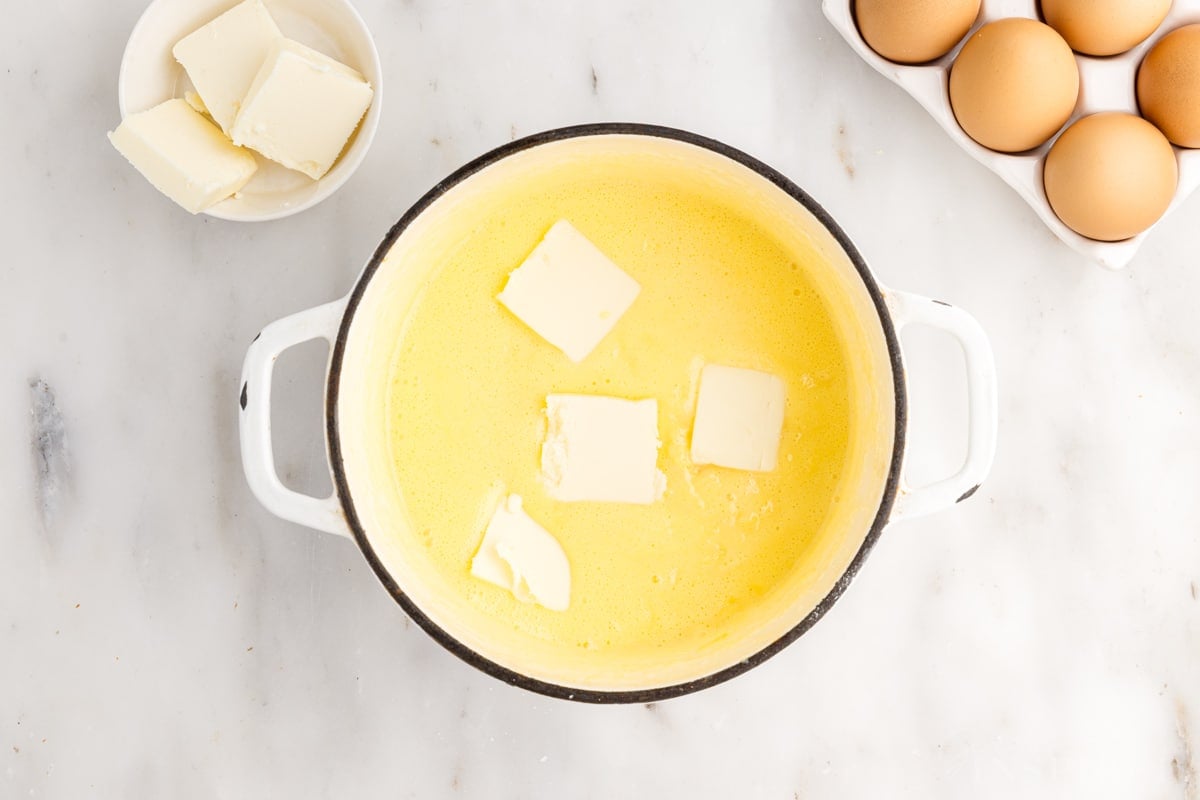 Step 3: Remove from the heat and stir in the butter until it's melted and combined. Transfer the thickened curd to a small bowl and cover with plastic wrap so it sits directly on the curd. This will prevent a skin from forming on the top of the curd. Allow it to cool to room temperature then chill in the refrigerator until it's cold and thick.
SERVE: Now you can add the tasty curd as a filling, to your breakfast, or as a sundae topping!
Do not let the curd boil. This can end with scrambled eggs.
The canned pineapple juice adds more fresh tropical flavor of pineapple, so do not drain.
Letting the plastic wrap sit on top of the curds keeps a skin from forming as it sets.
If needed, use a fine mesh sieve to strain the curd and remove the larger pieces (or lumps) of pineapple if you want a smooth curd.
Stainless steel pots could make your curd have a metallic taste. It's best to use something like ceramic, non-stick, or a make a double boiler by adding a little water to your pot, then the ingredients in a glass bowl on top.
Recipe FAQs
How to store pineapple curd?
Keep leftovers in an airtight container or glass jar for up to 7 days in the fridge. Freeze for 3 months.
What is curd in baking?
Curd typically refers to a type of thick, creamy, and tangy fruit-based filling or spread.
More Pineapple Flavored Treats
If you tried this Pineapple Curd or any other recipe on my website, please please leave a 🌟 star rating and let me know how you liked it in the 📝 comments below.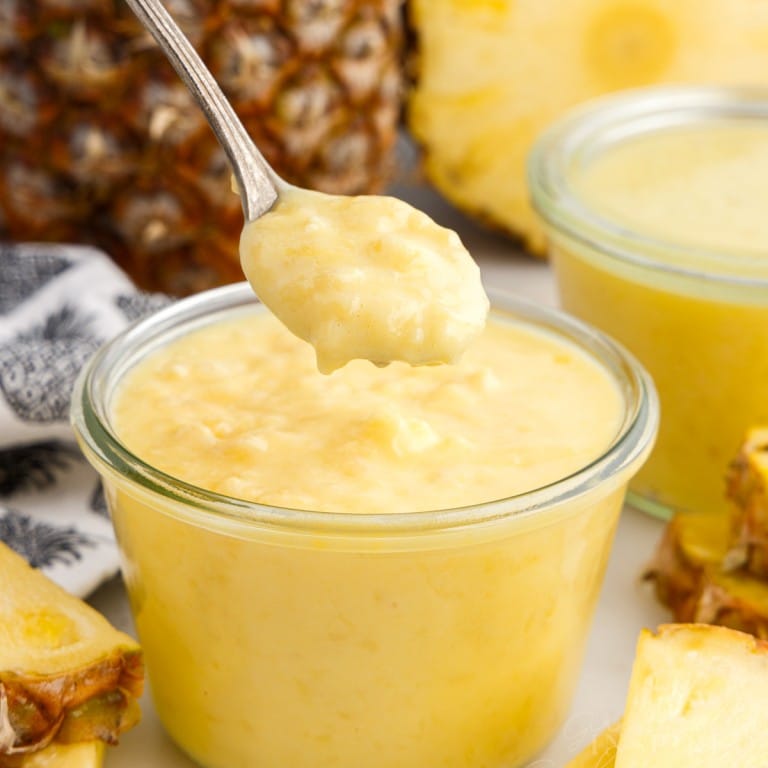 Pineapple Curd
Making homemade pineapple curd has never been easier! This easy and delicious recipe requires only a few simple ingredients and is ready in 15 minutes.
cups
Ingredients
2 whole eggs large, room temperature
2 egg yolks large, room temperature
1 cup crushed pineapple
½ cup granulated sugar
1 tablespoon lemon juice
½ cup unsalted butter cut into pieces
Instructions
To make the curd, whisk together eggs, egg yolks, crushed pineapple, sugar, and lemon juice in a cold saucepan.

Heat over medium-low, whisking continuously, for 7-10 minutes. When the curd becomes foamy throughout and then pales and thickens, it is done. Do not turn the heat above medium at any time, as this will overcook the eggs.

Remove the curd from the heat and whisk in the butter until melted and fully combined.

Transfer curd to a bowl and press a sheet of plastic wrap over it. Cool to room temperature and then chill in the refrigerator until thickened and cold.
Notes
To avoid ruining the curd, it's important to ensure that it doesn't boil. Boiling can cause the eggs to scramble, which can affect the texture and flavor of the curd. Stir together all ingredients in your saucepan before turning on the heat – cook over low to medium heat until the curd thickens – this typically takes about 7-9 minutes. When using canned crushed pineapple, it's best to include the juice and not drain it. This will add a fresh, tropical flavor to the curd. Placing plastic wrap on top as it sets will prevent a skin from forming on the surface. If desired, strain through a fine mesh sieve if you don't want any of the pineapple pieces in the finished curd. Use ceramic or non-stick pots to avoid a metallic taste that may develop from using stainless steel pots.
Nutrition
Calories: 793kcal | Carbohydrates: 70g | Protein: 10g | Fat: 55g | Saturated Fat: 32g | Polyunsaturated Fat: 3g | Monounsaturated Fat: 16g | Trans Fat: 2g | Cholesterol: 480mg | Sodium: 79mg | Potassium: 249mg | Fiber: 2g | Sugar: 67g | Vitamin A: 1975IU | Vitamin C: 14mg | Calcium: 81mg | Iron: 2mg