Make delicious and creamy pina coladas from scratch at home with just 5 ingredients and they taste better than the ones you have on vacation.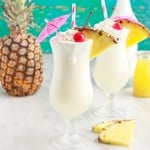 When the rays are beating down this summer and the weather is hot, make a batch of the best Pina Colada recipe you have ever treated yourself to! This ultra creamy, rum-infused tropical cocktail will make you feel like you are on the islands and is the perfect frozen drink to serve up poolside with your friends and guests.
My pina colada recipe only requires 5 simple ingredients, and if you enjoy boozy drinks you may already have these on hand. It's refreshing, easy to make, and can be made for 2 or you can double and triple the recipe to make pitchers for a crowd.
When we are hosting, we are usually the bartenders and while I love serving fancy and pretty cocktails I like it when there's not much work involved or many ingredients. Sometimes I will make these fun and fruity Starburst drinks or a batch of the best Summer Peach Sangria, but a quick Tipsy Mermaid or a Mai Tai are an easy go-to as well. Something for everyone!
If you LOVE cream of coconut (like me!!), try our fluffy coconut cream cake (a layer cake) or our super quick coconut poke cake!
Jump to:
What Rum is Best for Pina Coladas?
There's truly no right or wrong answer. If there is a variety of rum you like, use it! We like using Mailbu Rum or another flavored coconut rum because it adds more tropical flavor, and hides the liquor taste.
You can use any light white rum or aged rum (añejo rum). If you go with aged, it tastes similar to a cognac. If you aren't really a connoisseur of liquor to start with you will never know the difference and it won't matter what type you pour.
If you're looking for an extra kick in your pina colada, try pouring a dark rum, like Meyers, on top of your drink. In fact, if I'm making a batch of this frozen drink for my kids, too, I omit the rum from the blended portion (so just ice, pineapple juice, and coconut cream) and then I top the adult drinks with Meyers.
🍍 Ingredients:
cream of coconut – this is the key to a delicious pina colada – be sure you purchase cream of coconut, NOT coconut milk or coconut cream. Cream of coconut is canned and is mixed with sugar.
pineapple juice
Malibu rum (or another white or dark rum of your choice)
Ice
pineapple slices or chunks, maraschino cherries, and/or whipped cream
🔪 Instructions:
In a blender, combine the cream of coconut, pineapple juice, ice, and rum. Blend until it's smooth and creamy.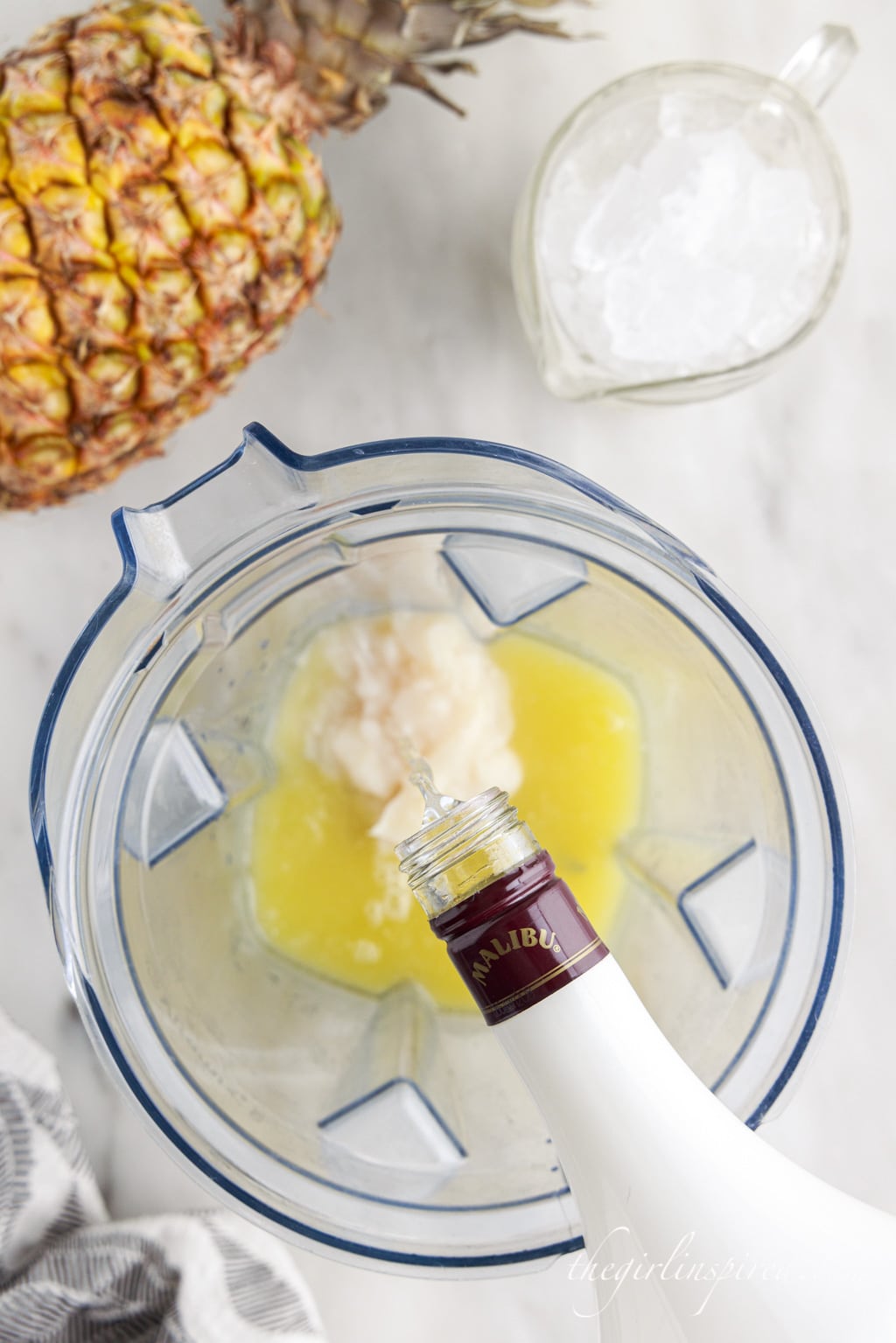 Pour into a hurricane glass, and top with fresh pineapple slices, cherries, or whipped cream for a garnish. Then stick a straw in it and serve!
To make the classic piña colada even more festive, add a paper umbrella or one of these summer drink toppers.
Making a Piña Colada Mocktail (aka Virgin Piña Colada)
Make a batch but omit the rum – you may need to increase the pineapple juice a bit. This is a nice, versatile base – serve it to the kids or anyone who wants a non-alcoholic drink.
Coconut Cream vs. Cream of Coconut vs. Coconut Milk
Cream of coconut is typically sold in a can, you may recognize the Coco Lopez Brand. It is not the same as coconut milk. It is a thick, jelly-like product (it looks almost like white Vaseline) and is made with real coconut and sugar. It is very sweet and packed with coconut flavor.
Coconut cream is unsweetened and made from coconut milk. Oddly enough coconut milk and cream taste wildly similar with the main difference being the consistency.
For piña colada recipes, if you use anything other than cream of coconut you may have to choose another sweetener to add so it has the same flavor.
Tips
You can add a splash of heavy cream to the mixture in the blender for an even creamier drink, but it is thick and creamy as is.
We love using coconut rum, but you can substitute a spiced rum and/or add a float of dark rum, like Meyer's, on top of the pina colada.
If you need to make drinks with and without alcohol, to make things easier you can make a pitcher that is plain. Then just add the rum on top for those who want it.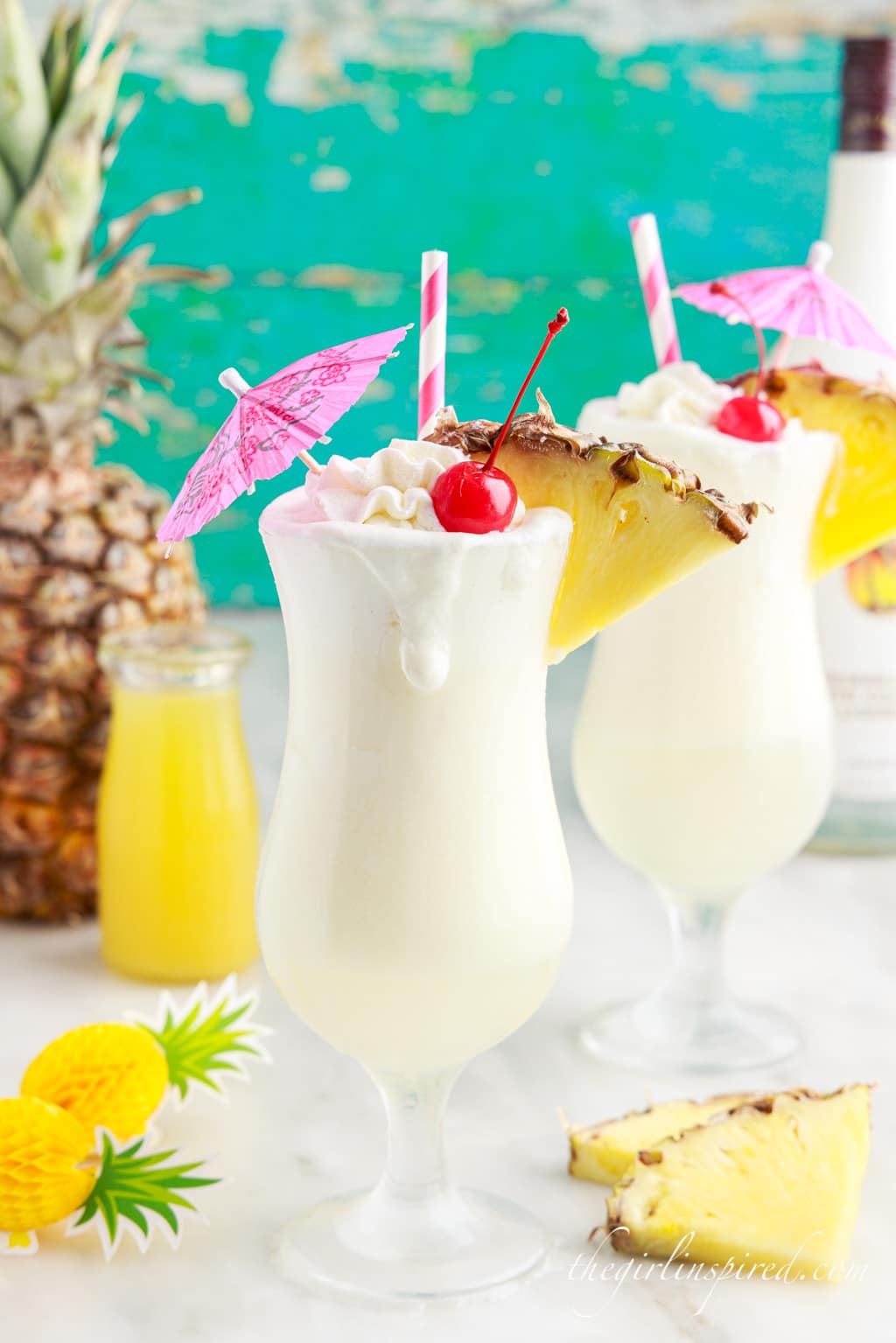 Recipe FAQs
Can I use coconut milk instead of cream of coconut for pina coladas?
You can if you don't have any coconut cream, however, the drinks will not be nearly as sweet or as thick. Coconut milk is not a good substitute for the cream of coconut in this recipe.
What can I use instead of rum in Piña Colada?
Sometimes people like to substitute vodka for the rum. You will definitely be able to tell the difference so you may need to add more cream of coconut to make it sweeter or some simple syrup.
Are pina coladas blended?
Most of the time, yes. You can also make pina coladas on the rocks by mixing the ingredients in a cocktail shaker and pouring the drink over ice.
Where was pina colada invented?
This classic drink was created in San Juan, Puerto Rico! No wonder we think of a tropical vacation when we mix these up. It started long ago when a bartender at the Caribe Hilton hotel blended the drink. It's now known as the National Drink of Puerto Rico. Check out some of my other hot spot food and drink recommendations in Puerto Rico!
More Boozy Summer Drinks to Try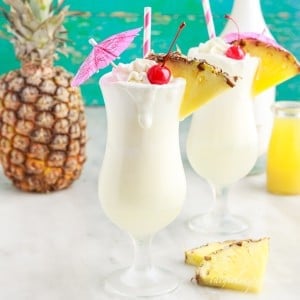 Pina Colada
Make delicious and creamy pina coladas from scratch at home with just 5 ingredients and they taste better than the ones you have on vacation.
Ingredients
6 oz. cream of coconut
6 oz. can pineapple juice
4 oz. Malibu rum or coconut rum
4 cups small ice cubes
Pineapple slices maraschino cherries, and/or whipped cream for garnish (optional)
Instructions
Nutrition
Calories: 544kcal | Carbohydrates: 70g | Protein: 1g | Fat: 14g | Saturated Fat: 13g | Polyunsaturated Fat: 1g | Monounsaturated Fat: 1g | Sodium: 68mg | Potassium: 112mg | Fiber: 3g | Sugar: 65g | Vitamin A: 4IU | Vitamin C: 9mg | Calcium: 25mg | Iron: 1mg