If vodka and 7Up  is your drink, this cocktail is just one step further.  Tastes just like your favorite Jolly Rancher flavor in a bubbly sweet drink!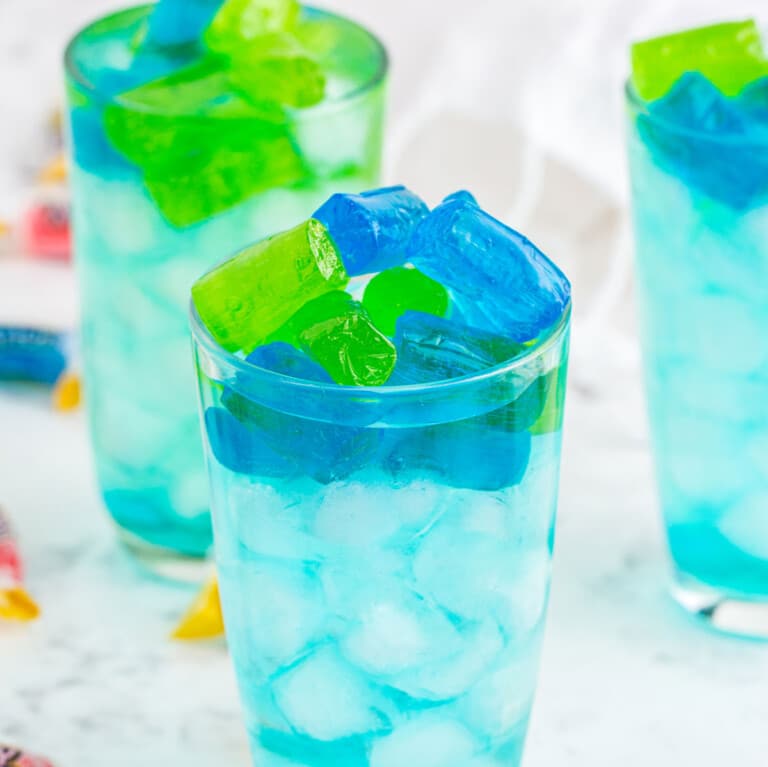 If you enjoyed Jolly Rancher hard candies growing up then you're going to LOVE this Jolly Rancher Vodka Cocktail recipe! Whether your favorite flavor is green apple or blue raspberry, this jolly rancher drink will not disappoint! Vodka that is infused with your favorite flavor of Jolly Ranchers is then mixed with lemon-lime soda in a drinking glass packed with ice to make this party-style cocktail.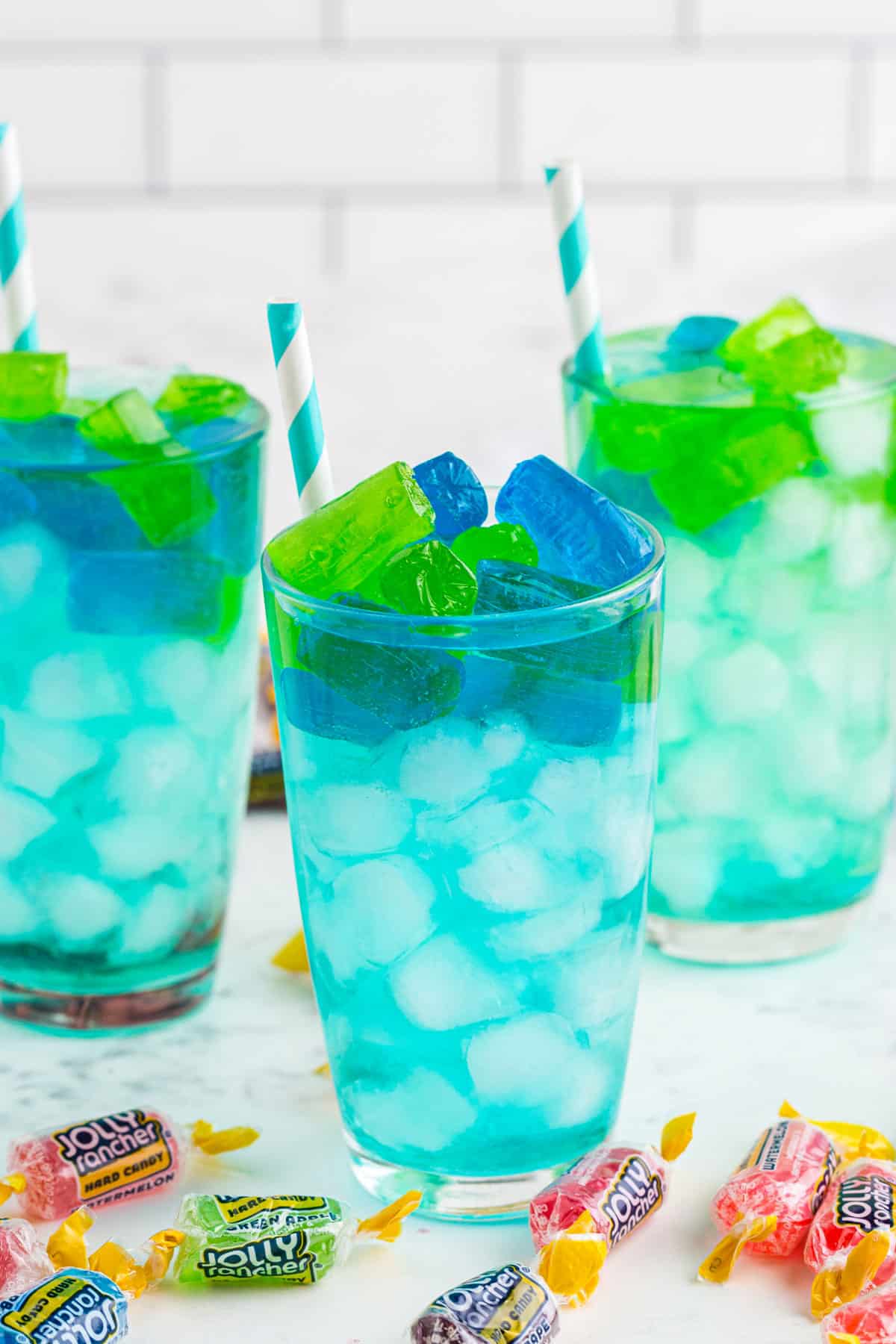 To up the cute factor, place candies on the finished cocktail as garnish. The hard candy will also dissolve in your glass as you sip your beverage.
If you love a great summertime cocktail, you might also be interested in a frozen wine slushie or our super silly fish bowl drink. For entertainment without the alcohol, try a gorgeous bowl of party punch or a classic orange julius!
Since the candied alcohol needs to be made 24 hours in advance, it's a great cocktail option to partially make ahead of any parties or social events, leaving you with a delicious cocktail that you can serve up within just 10 minutes!
🍭 Ingredients: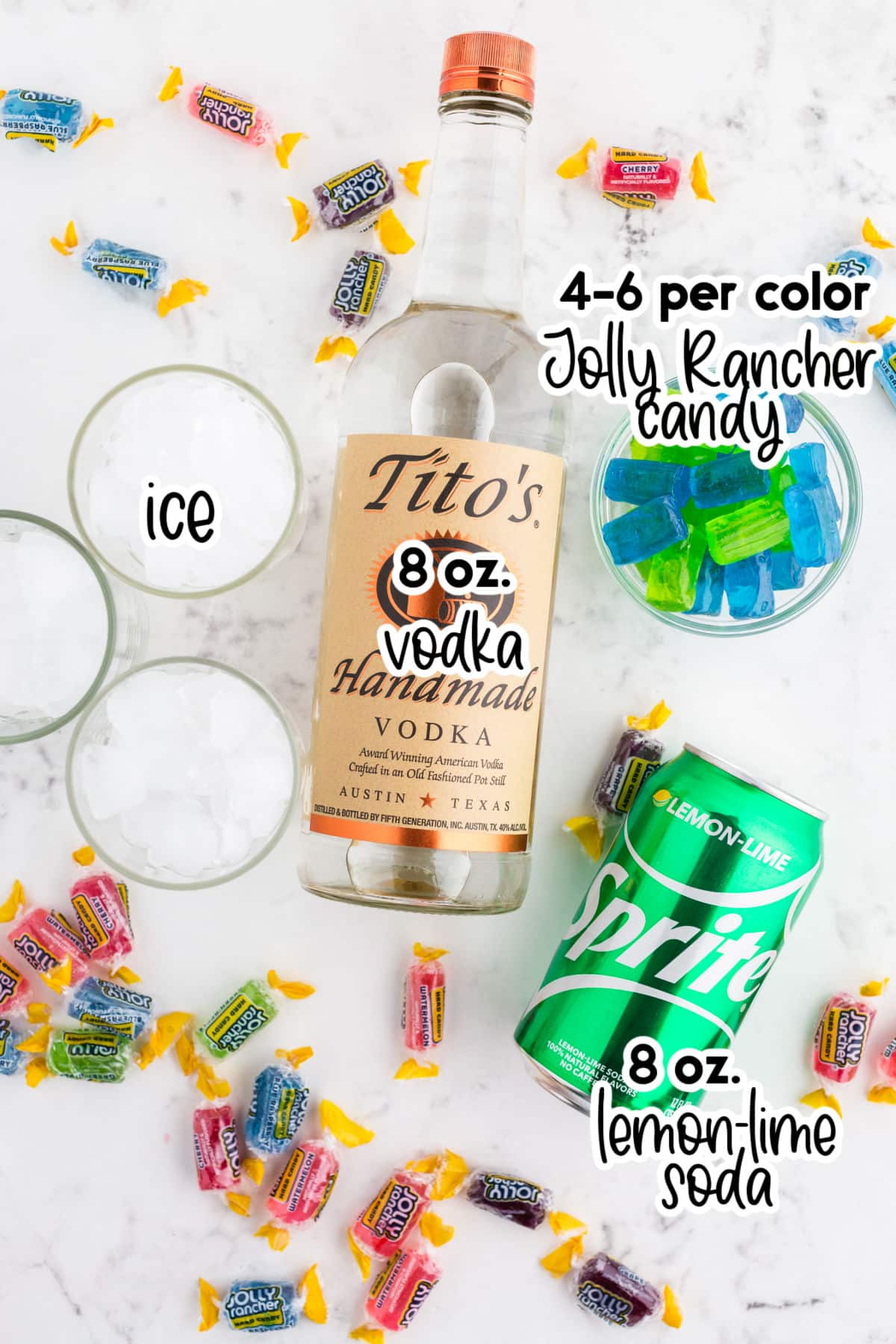 Vodka – I would recommend a decent quality vodka as the liquor will take on the candy flavor and go down smoother.
Jolly Rancher candies – you'll need candies to dissolve in the vodka to make the drink and additional pieces for garnish, if desired
Lemon-lime soda
Ice
For a full list of ingredients and their measurements, 📋 please view my printable recipe card at the bottom of the post.
🍹How to Make Jolly Rancher Vodka: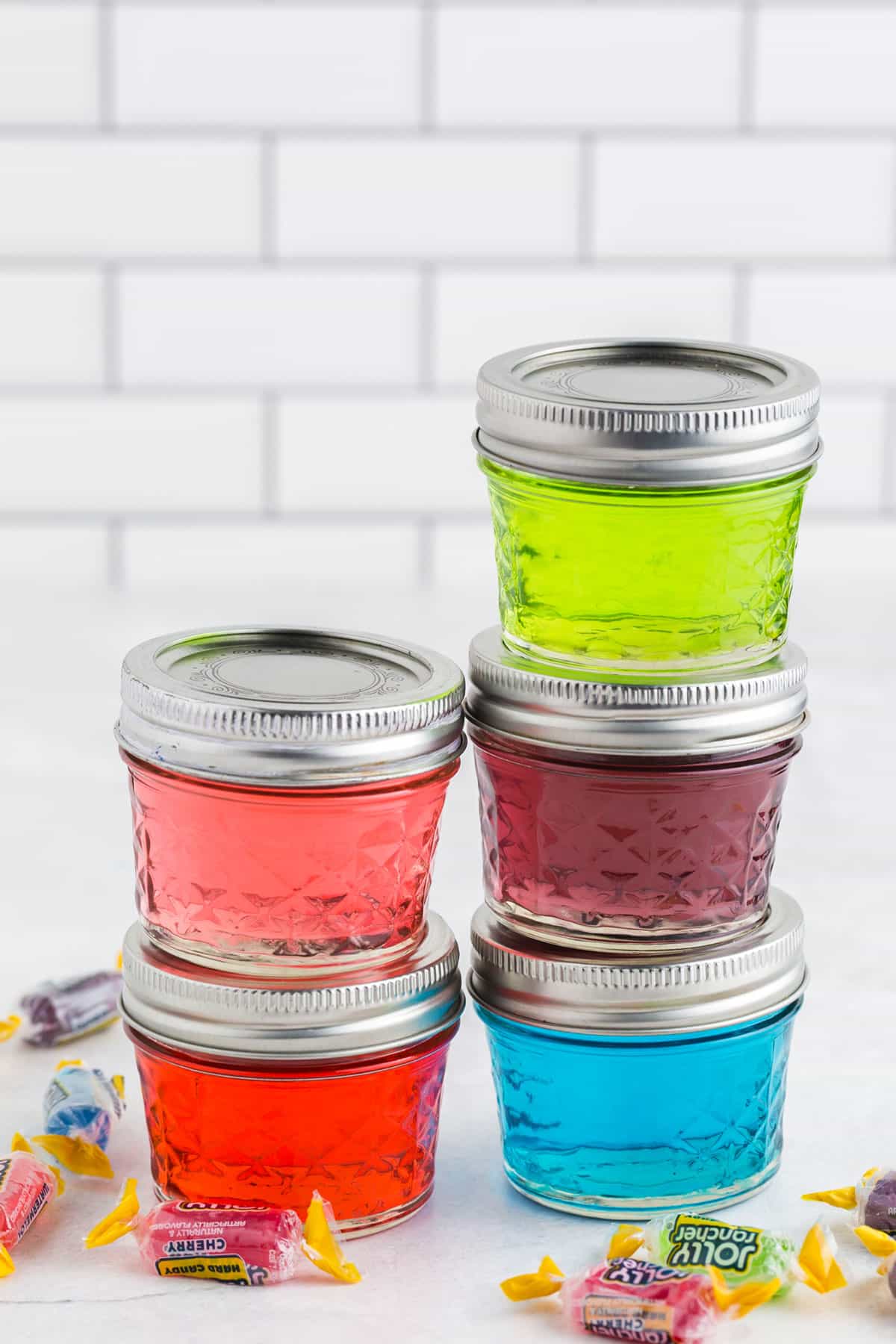 Step 3: Allow candies to dissolve in the alcohol for about 24 hours. Stir or swirl occasionally to help combine the mixture. (If you want to make a larger number of cocktails all the same flavor/color, go ahead and fill a larger container with more vodka – add 2-3 candies per ounce of vodka.)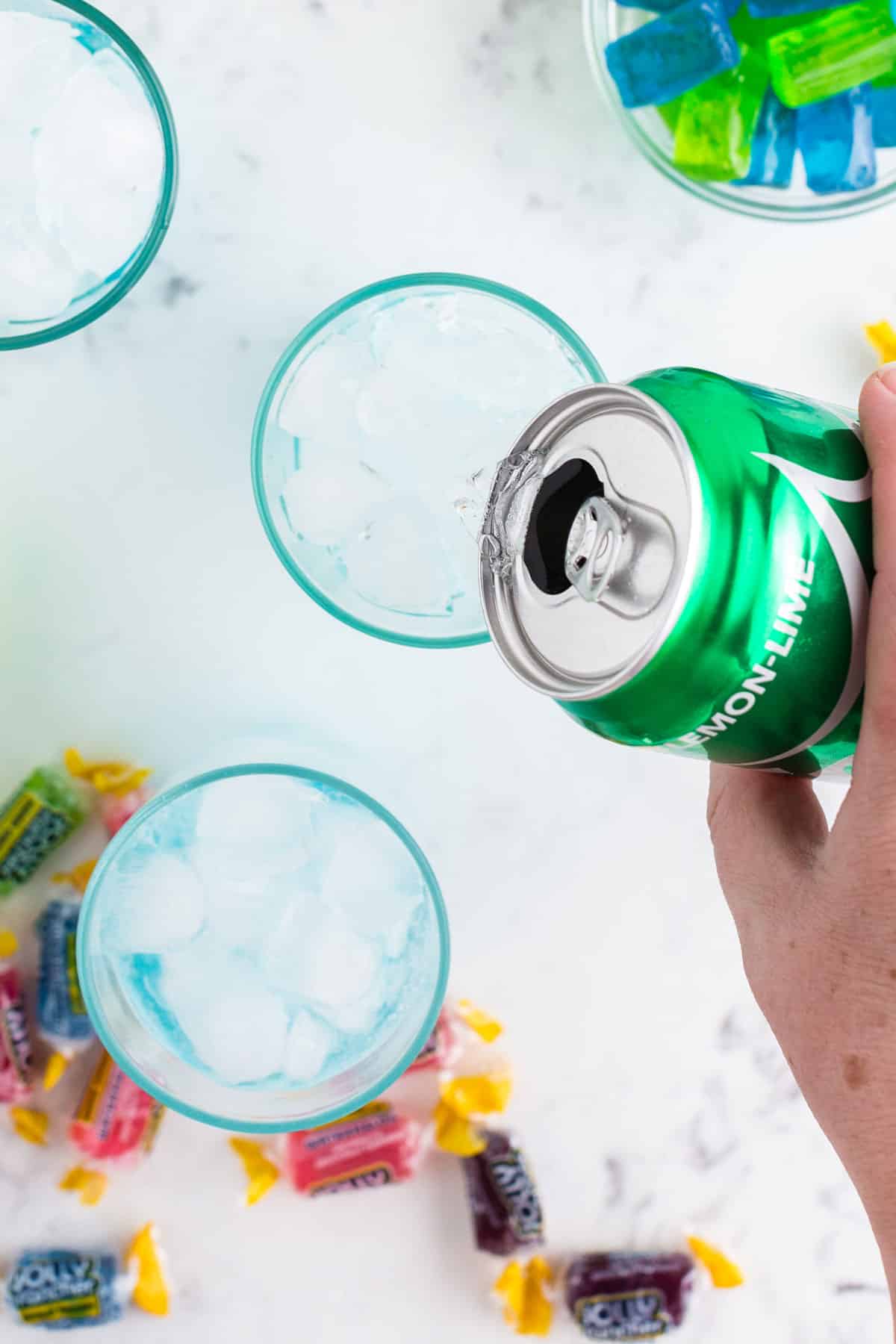 Step 5: Top off the vodka with some 7-UP or lemon lime soda – or even club soda! It's like a vodka soda, but BETTER!!
What Is A Jolly Rancher Cocktail?
Do you remember those childhood Jolly Rancher candies that so many loved while growing up? Well those hard fruity candies are the inspiration behind this Jolly Rancher Cocktail.
My Jolly Rancher Cocktail actually incorporates these candies into the ingredients list for this fruity cocktail.
I bought a big huge bag of jolly ranchers and then sorted them by color. Dissolve the candies in vodka, giving the cocktail that fruity taste and color and then simply add some lemon-lime soda and ice when assembling in cocktail glasses. It's as simple as that! So easy and so much fun!
How Should I Store Jolly Rancher Vodka?
The Jolly Rancher vodka can be stored in an airtight glass jar or container in the refrigerator for up to 2 weeks. I like to use a mason jar – it's the easiest way to both make the candy vodka and store it after you're done. When you're ready to serve your cocktails, simply add the ice and soda and you're ready for a good time!
I wouldn't suggest trying to freeze your candied alcohol as a storage method. Firstly, vodka doesn't freeze solid in most freezers due to its very low freezing point and secondly, storing vodka in the freezer can potentially mask the alcohol's subtle flavors, depending on what you're using.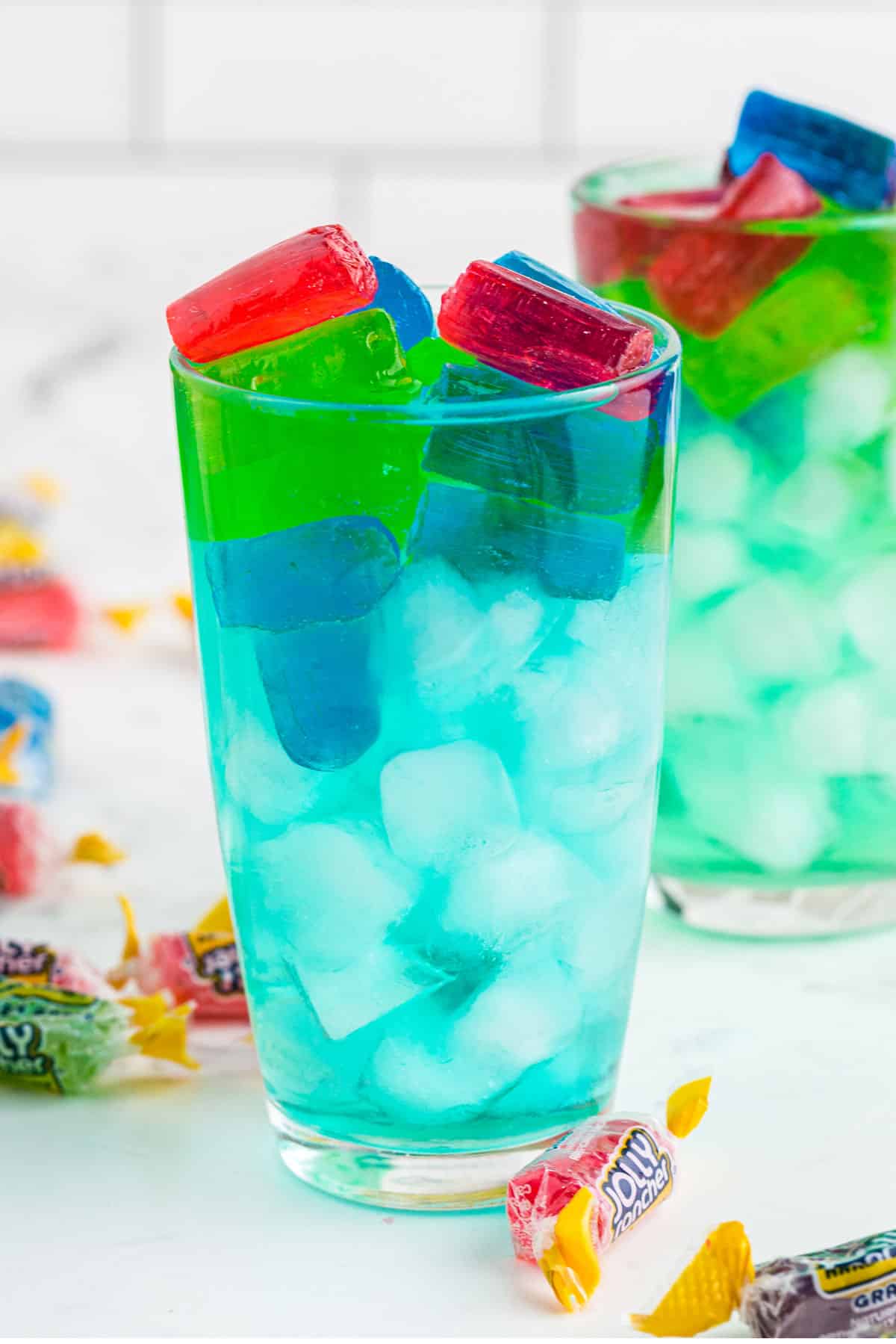 What Other Jolly Rancher Boozy Variations Can I Make?
Here are some great ways to change things up:
For a Jolly Rancher Cocktail Slushy: Add crushed ice to your drinking glass instead of ice cubes and pour the candied alcohol with soda over the ice. Serve your slushie with a straw. You could even use a slushie machine if you want to make a whole bunch of frozen drinks.
For a Jolly Rancher Punch: Multiply your ingredient quantities and serve it in a punch bowl instead of individual drinking glasses. This is a great idea for a party!
For Jolly Rancher Jello Shots: Use Jolly Rancher gelatin (aff) mixed with boiling water until dissolved and then add in the vodka. Pour into plastic shot glasses and chill overnight or for at least 4 hours.
For a rum-infused Jolly Rancher Cocktail: If vodka isn't your choice of poison then you can use a light rum instead and it'll taste just as good! Avoid using a dark rum as this will affect the coloring of your cocktail.
For St. Patrick's Day, make a green drink with all sour apple candies.
Can I Make A Jolly Rancher Mocktail Instead?
Yes, of course! Simply dissolve the candies in water for a couple of hours and then add the ingredients to the glass when ready to serve as you would with this recipe but now without any vodka added.
Tips For Making Candy Cocktails
I added candies as cute garnish to my cocktails. To stop the candies from sinking to the bottom of your glass, make sure that you fill each glass with ice and then position the individual candies on top.
Feel free to add more lemon-lime soda, plain vodka or Jolly Rancher infused vodka to the glass depending on your taste preferences. It's also helpful to do so since the Jolly Rancher candies used as garnish will start to dissolve in the drink and may offset a few of the other ingredients.
Experiment with different colors of vodka if you like but be warned that they are likely to blend together fairly quickly. I tried layering colors which looks cool, but blends quickly.
Having Too much Fun to think about Dinner?
Try some of our trending dinner favorites. Our classic pot roast recipe or crockpot chicken tortilla soup are popular because there's just a little prep work and then they cook away without any fuss. You might also like our oven baked meatballs or bacon cheeseburger sliders alongside your cocktail. Happy cooking and happy drink mixing!
More Incredible Drink Recipes to Try
If you try this Jolly Rancher Cocktail or any other recipe on my website, please leave a 🌟 star rating and let me know how you liked it in the 📝 comments below.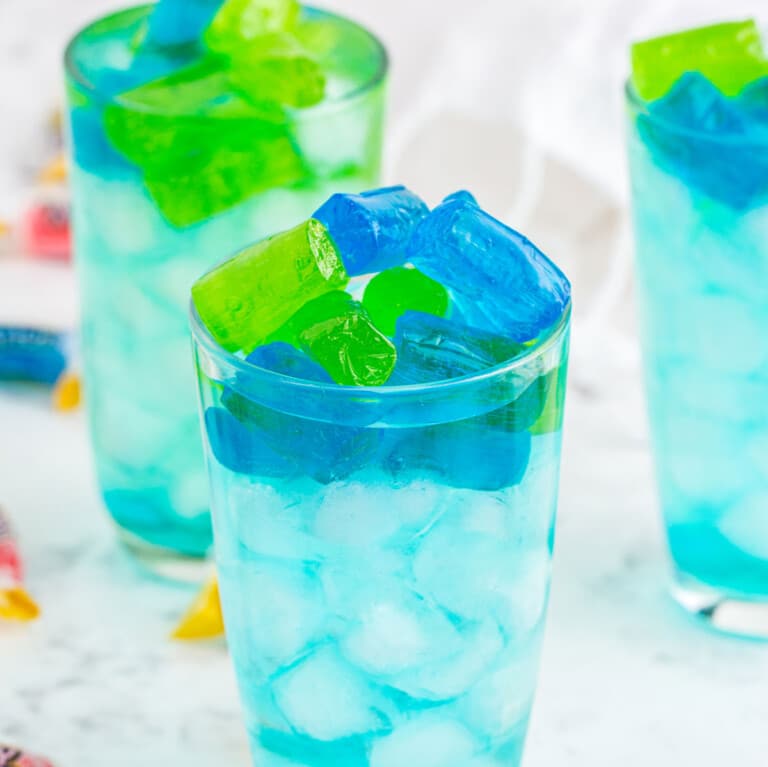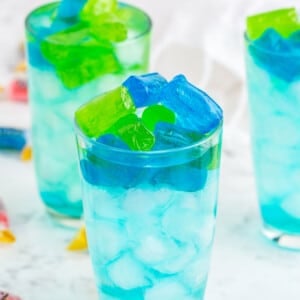 Jolly Rancher Cocktail
If vodka and 7Up is your drink, this cocktail is just one step further. Tastes just like your favorite Jolly Rancher flavor in a bubbly sweet drink!
Ingredients
4 ounces vodka per jolly rancher color
4-6 Jolly Rancher candies plus lots more for garnish
8-12 ounces lemon-lime soda
ice
Notes
Storage: Candied alcohol will keep in the refrigerator for up to 2 weeks.
Nutrition
Calories: 218kcal | Carbohydrates: 21g | Protein: 1g | Sodium: 12mg | Potassium: 2mg | Sugar: 18g | Calcium: 2mg | Iron: 1mg