This copycat Orange Julius recipe is a creamier version of the popular drink, made with vanilla ice cream, frozen orange concentrate, milk, sugar, vanilla extract, and ice.
This copycat Orange Julius recipe is more of an adaptation of the popular drink rather than a homemade version of the original drink. In this easy Orange Julius recipe, I've added vanilla ice cream for a thicker, creamier version of this much-loved citrusy drink!
Of course, this refreshing treat can be easily reduced in richness if you'd prefer a thinner drink. And in case you're wondering…yes, it can also be made with vodka if the adult version sounds like an appealing option to you – simply scroll down below to where I give suggestions on how to make it. This fruity, milkshake-like version pays homage to the original Orange Julius recipe while making for a more decadent treat to be enjoyed on a hot Summer day by kids and adults alike.
If you love ice cream-inspired treats, then consider trying this Cookie Monster Ice Cream, Peanut Butter Whiskey and Root Beer Float, or Copycat Mac and Cheese Ice Cream!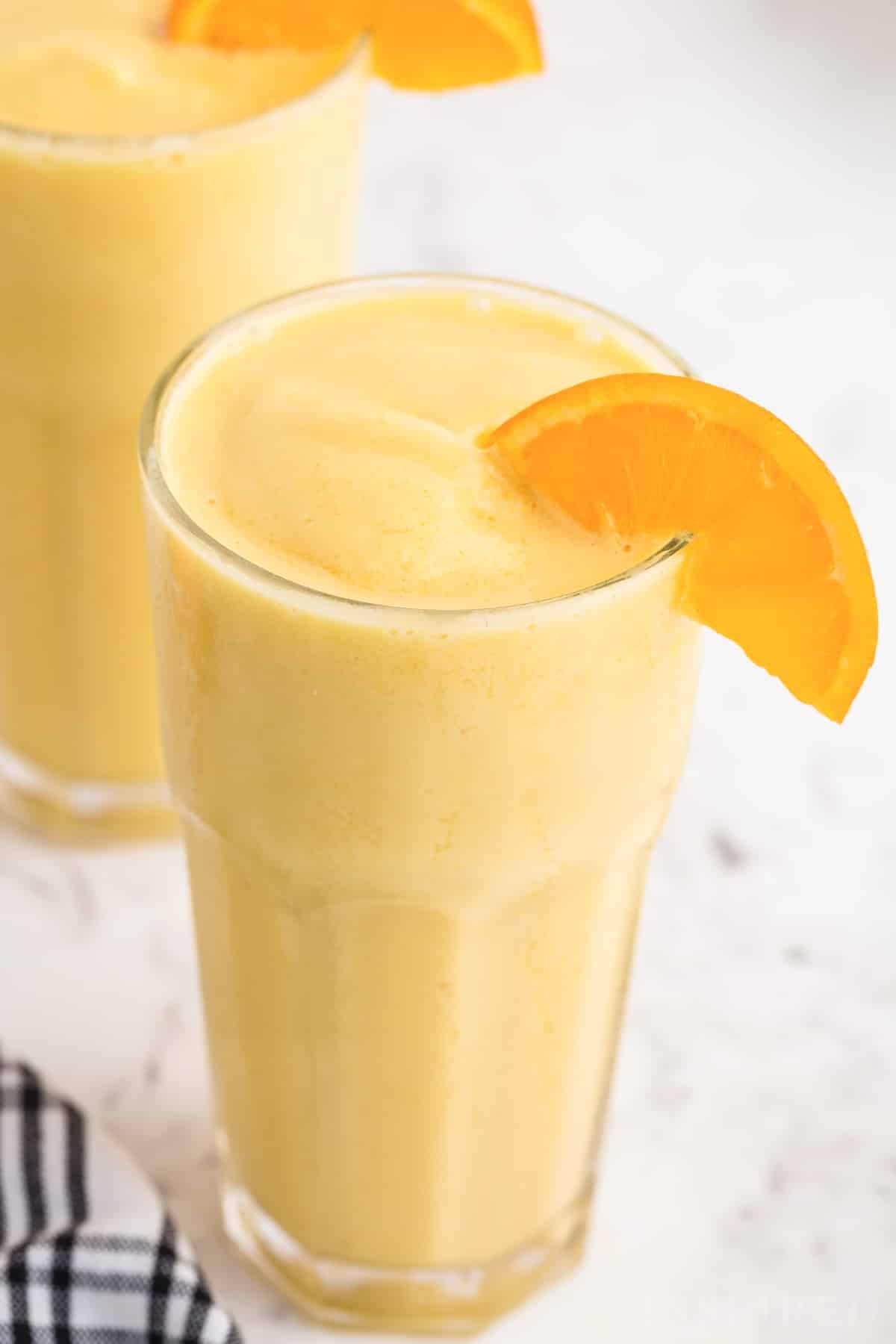 What do I Need for this Orange Julius Recipe?
🍜 Ingredients:
Can of frozen orange juice concentrate – The frozen concentrate adds an extra chill factor for a refreshing drink!
Granulated sugar
Whole milk – Coconut milk or almond milk can be used. Low-fat milk is another option, although whole milk creates a creamier texture.
Vanilla ice cream
Vanilla extract
Ice cubes
Optional Garnish:
Garnish this creamy drink with orange slices and a sprinkle of orange zest.
Equipment Needed:
Blender, tall drinking glasses, ice cube tray, and decorative straws.
Variations and Substitutions:
Adding vanilla ice cream and milk provides a rich creaminess to this drink, making it more of a treat with a thicker consistency! If you want to reduce the overall creamy richness of this recipe, then simply omit the ice cream and increase the milk by ½ cup.
You can add more ice if you'd like to dilute the mixture or make it icier, like a blended smoothie.
Vary this recipe by adding other frozen fruit combinations like frozen banana, and berries or fresh fruit like pineapple.
Make this fresh orange smoothie dairy-free using plant-based milk and dairy-free ice cream.
Add protein powder or whey protein for a healthy orange Julius recipe.
🔪 Instructions:
PREP: Assemble the simple ingredients for this homemade orange Julius recipe.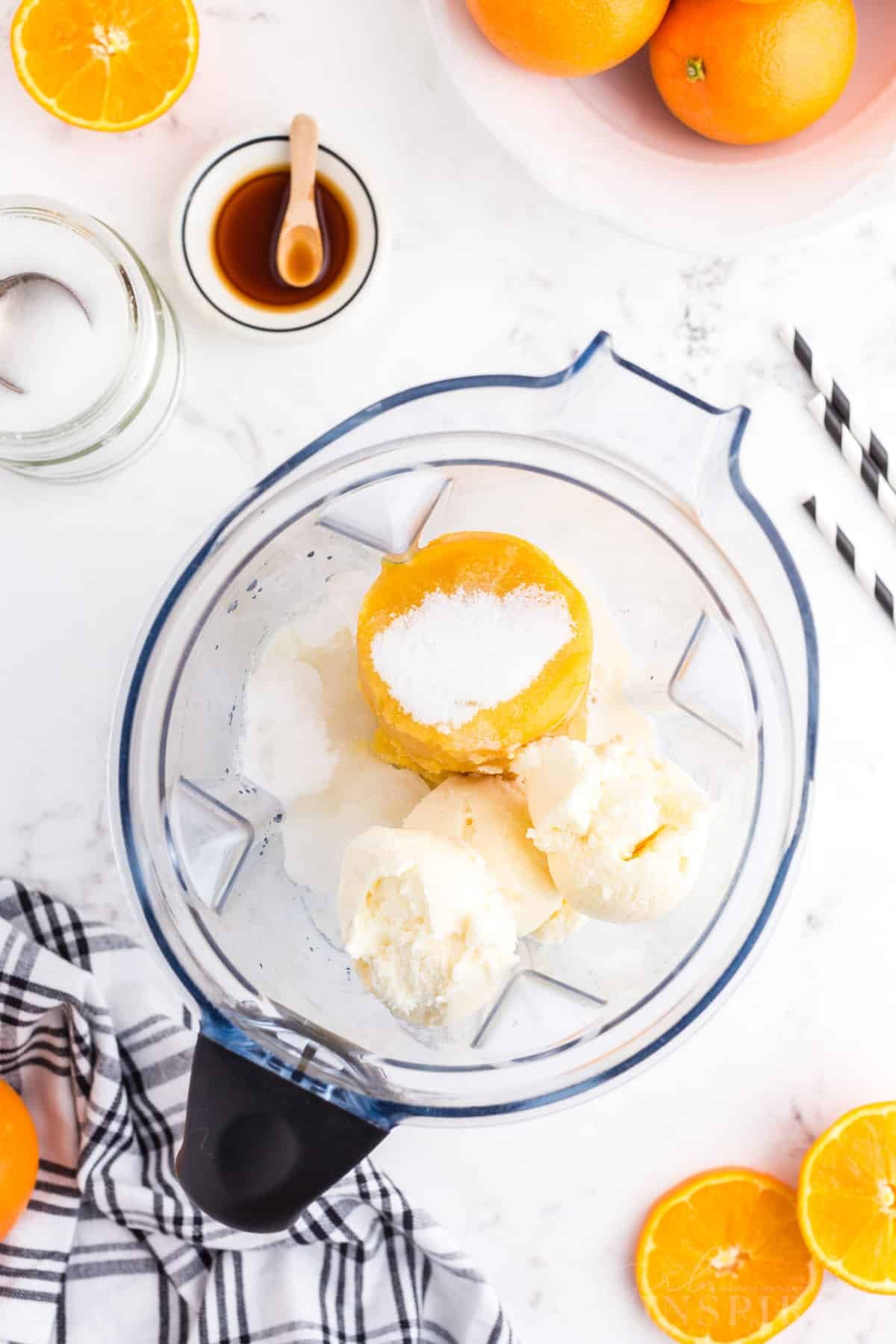 Step 1: Add the basic ingredients to the blender.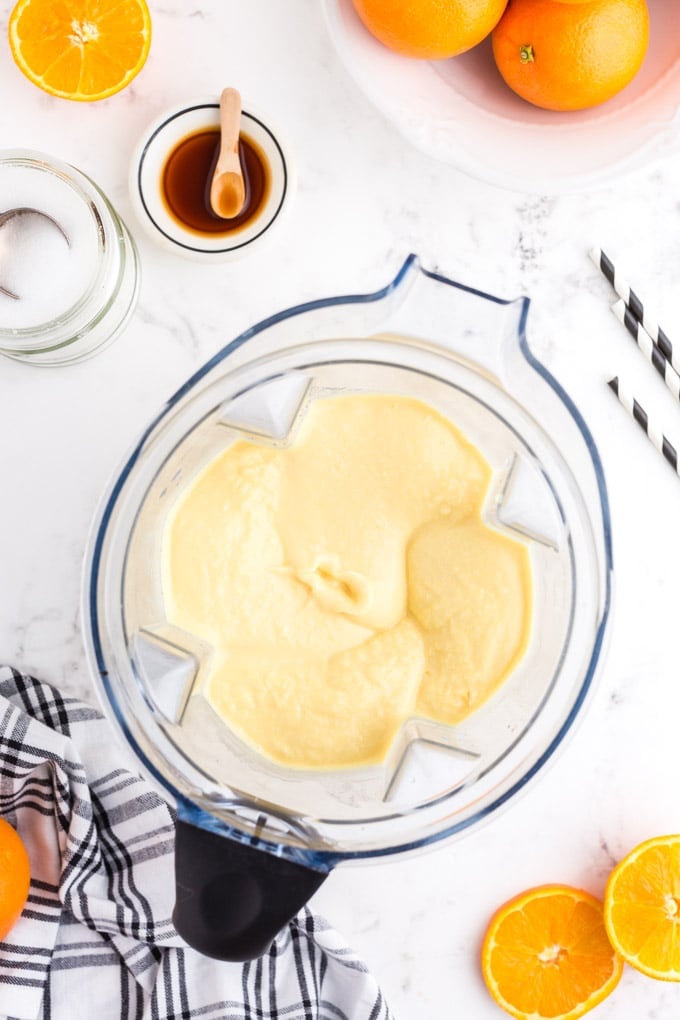 Step 2: Blend until smooth.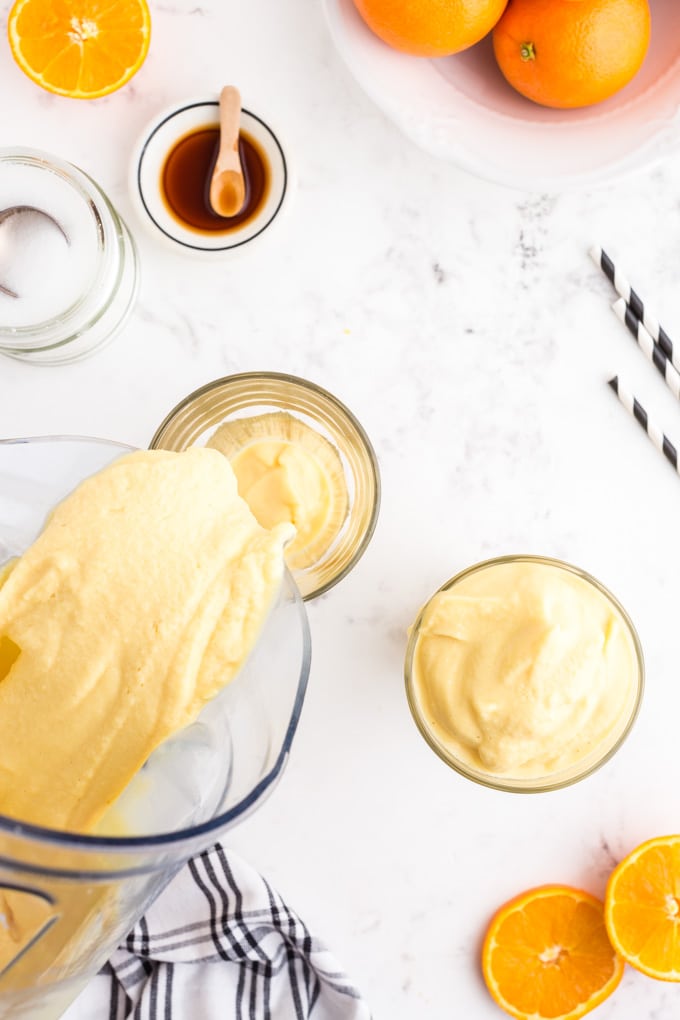 Step 3: Pour the frothy smoothie into serving glasses.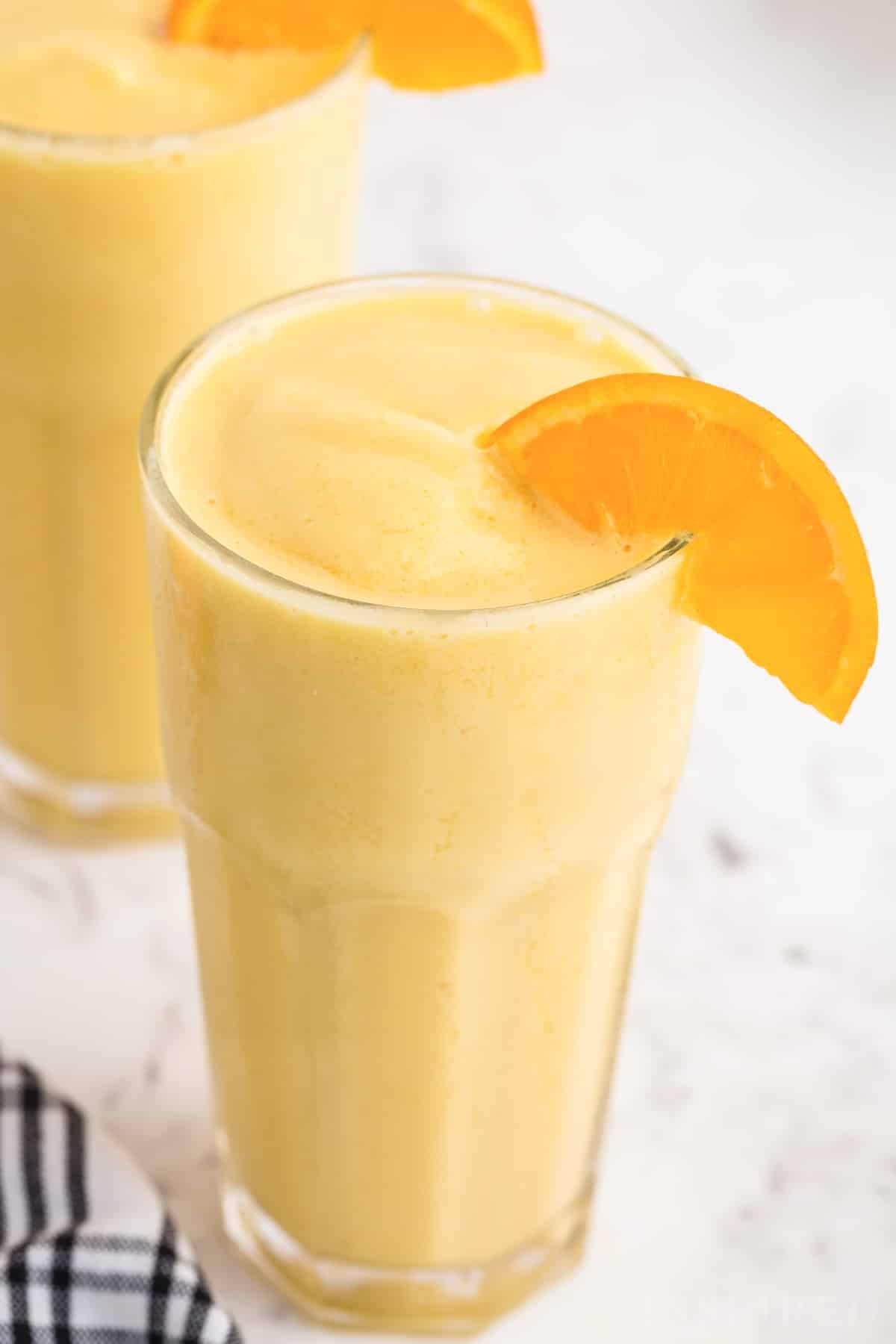 Step 4: Serve immediately while still chilled with a frothy texture.
GARNISH: Garnish each delicious drink with fresh oranges and decorative straws.
Don't skip the vanilla extract or the vanilla ice cream, as they give this drink that signature orange Julius or orange creamsicle flavor.
I recommend using a high-quality blender (like Vitamix) to ensure that all the ingredients are blended into a smooth, creamy consistency, much like the classic orange Julius.
If you serve these for a special occasion, consider serving them in something like Mason Jar Mugs with cute paper straws. You can also add a slice of orange to the rim of the glass.
Fun Fact
While the original Orange Julius was named after an orange juice salesman "Julius Freed", it was, in actual fact, his real estate agent that came up with the original recipe and invested in Freed's beverage business with the Orange Julius soon after becoming the flagship drink of what then became a very popular franchise, bought over today by Dairy Queen. If you'd like to read the full history of how the classic Orange Julius came to be, then have a read of this very informative article here.
Can I Make This Orange Julius Ahead Of Time?
No. Since this drink contains dairy products, I highly recommend, for food safety purposes, that you make it just prior to serving and that it be enjoyed in one sitting.
Can I Store Orange Julius Leftovers?
While I don't suggest refrigerating any leftovers, you do have the option of freezing the leftovers and then enjoying them later on as a frozen treat that can be scooped into ice cream cones or served in a bowl with some ice cream wafers.
Is This Orange Julius Recipe Any Different To An Orange Milkshake?
Well, yes and no. An Orange Julius in its truest form actually doesn't contain ice cream as an orange milkshake does. Instead, it's a combination of orange juice, milk, sweetener, powdered egg whites, and some vanilla flavoring.

My take on the Orange Julius drink does, however, resemble an orange milkshake to an extent since it makes use of ice cream.
Why Did My Orange Julius Curdle?
There's a simple explanation for why you may have experienced curdling when mixing your ingredients. Both the orange concentrate and the milk and ice cream need to be at the same temperature when mixed together to prevent any possible curdling.

Since I make use of ice cream in this Orange Julius recipe, I made sure to add frozen orange concentrate straight to the blender with the other cold ingredients. If you add room-temperature orange juice to ice cream and chilled milk, then you risk ending up with a curdled drink instead!
Can I Make An Adult Version Of This Orange Julius?
Yes, you can!! To make an adult Orange Julius simply omit the ice cream and increase the milk by ½ cup. Then add in ½ cup of vodka, and you now have the adult version of this Orange Julius beverage.
Orange Julius Recipe
This copycat Orange Julius recipe is a creamier version of the popular drink, made with vanilla ice cream, frozen orange concentrate, milk, sugar, vanilla extract, and ice.
Ingredients
12 oz. frozen orange juice concentrate
1 cup granulated sugar
½ cup whole milk
1 cup vanilla ice cream
1 teaspoon vanilla extract
3 cups of ice cubes
Instructions
Blend together orange juice concentrate, sugar, milk, ice cream, vanilla, and ice cubes.

Pour into glasses and serve immediately.
Nutrition
Calories: 408kcal | Carbohydrates: 89g | Protein: 4g | Fat: 5g | Saturated Fat: 3g | Polyunsaturated Fat: 0.2g | Monounsaturated Fat: 1g | Cholesterol: 18mg | Sodium: 53mg | Potassium: 649mg | Fiber: 1g | Sugar: 84g | Vitamin A: 511IU | Vitamin C: 124mg | Calcium: 118mg | Iron: 0.3mg