This delicious Brown Sugar Caramel Sauce offers that perfect balance of salty sweetness! Make it from the comfort of your home in just 15 minutes and serve with your favorite treats.
This delicious caramel sauce offers that perfect balance of salty sweetness that you'd expect from a restaurant's quality brown sugar caramel sauce, but now you can easily make it at home in a matter of 15 minutes and pair it with your favorite desserts!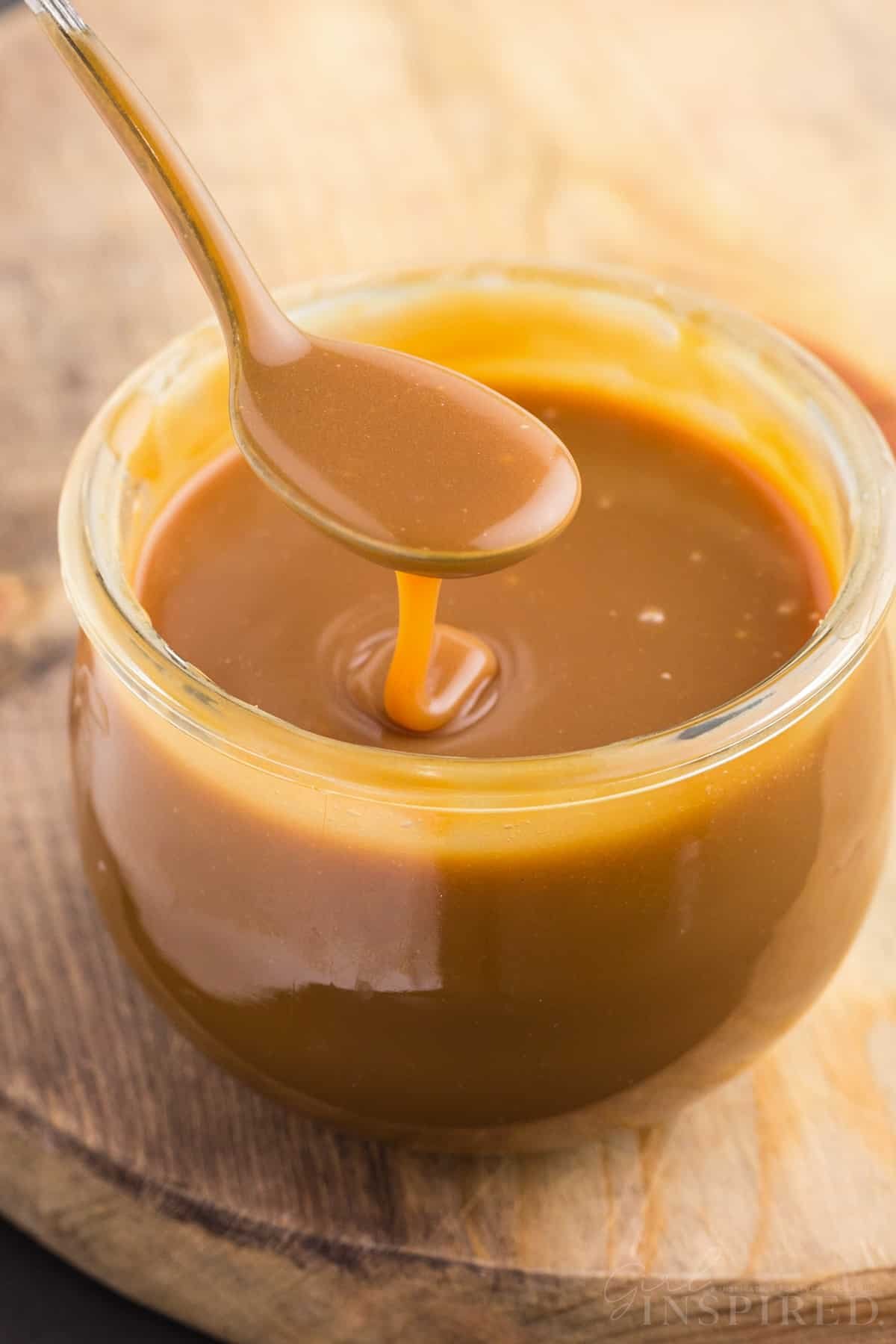 Use your batch of homemade caramel sauce in various caramel recipes and desserts, such as Salted Caramel Cupcakes, Banana Cream Pie, and Churro Cupcakes. You can also pour your salted caramel sauce over a scoop of vanilla ice cream, ice cream sundaes, apple pie, apple slices, French toast, or line a drinking glass when making a decedent drink! Having a good supply of creamy caramel sauce is a sure way to elevate treats or give it to friends and family as a fabulous gift!
If you love caramel dessert or the combination of thick caramel sauce with other dessert flavors, try Caramel Brownies, Chocolate Turtle Thumbprint Cookies, or Salted Caramel Chocolate Chip Cookie Bars.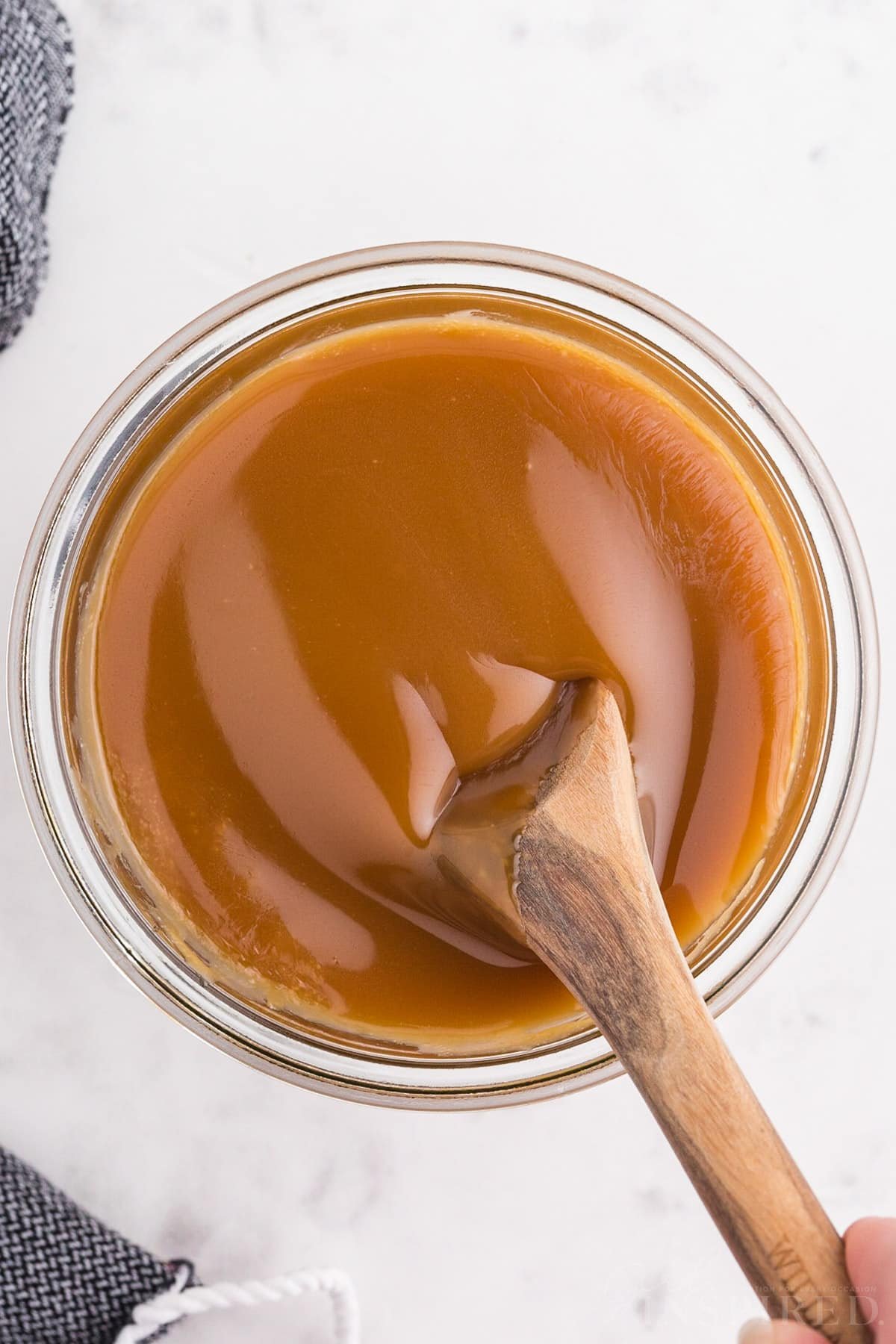 What do I Need for Brown Sugar Caramel Sauce?
🍜 Ingredients:
Salted butter
Packed light brown sugar
Heavy cream- Heavy whipping cream can also be used.
Real vanilla extract
Sea salt or sea salt flakes -This is optional but does enhance the flavor of the hot caramel sauce.
Optional Garnish:
Top this dipping sauce with a little bit of salt, chopped nuts, or chocolate shavings when assembling caramel apples, serving it over an ice cream bar, or as a perfect topping for pound cake and other delicious recipes.
Equipment Needed:
Airtight glass container, medium saucepan, candy thermometer, and a wooden spoon.
Variations and Substitutions:
I like using heavy cream for rich creaminess, but half and half can also be used.
The vanilla and kosher salt are optional ingredients and the amounts can be varied to your liking. Personally, I love the addition of salt as it reminds me of soft caramel salted candies!
The full recipe ingredients can easily be doubled, making just over a full pint of caramel sauce. Any leftover caramel sauce can easily be stored in the refrigerator or the freezer so don't be concerned about more than what you immediately need.
You can use unsalted butter instead of salted butter but then you may need to adjust the amount of salt you add to the recipe to compensate for the unsalted butter.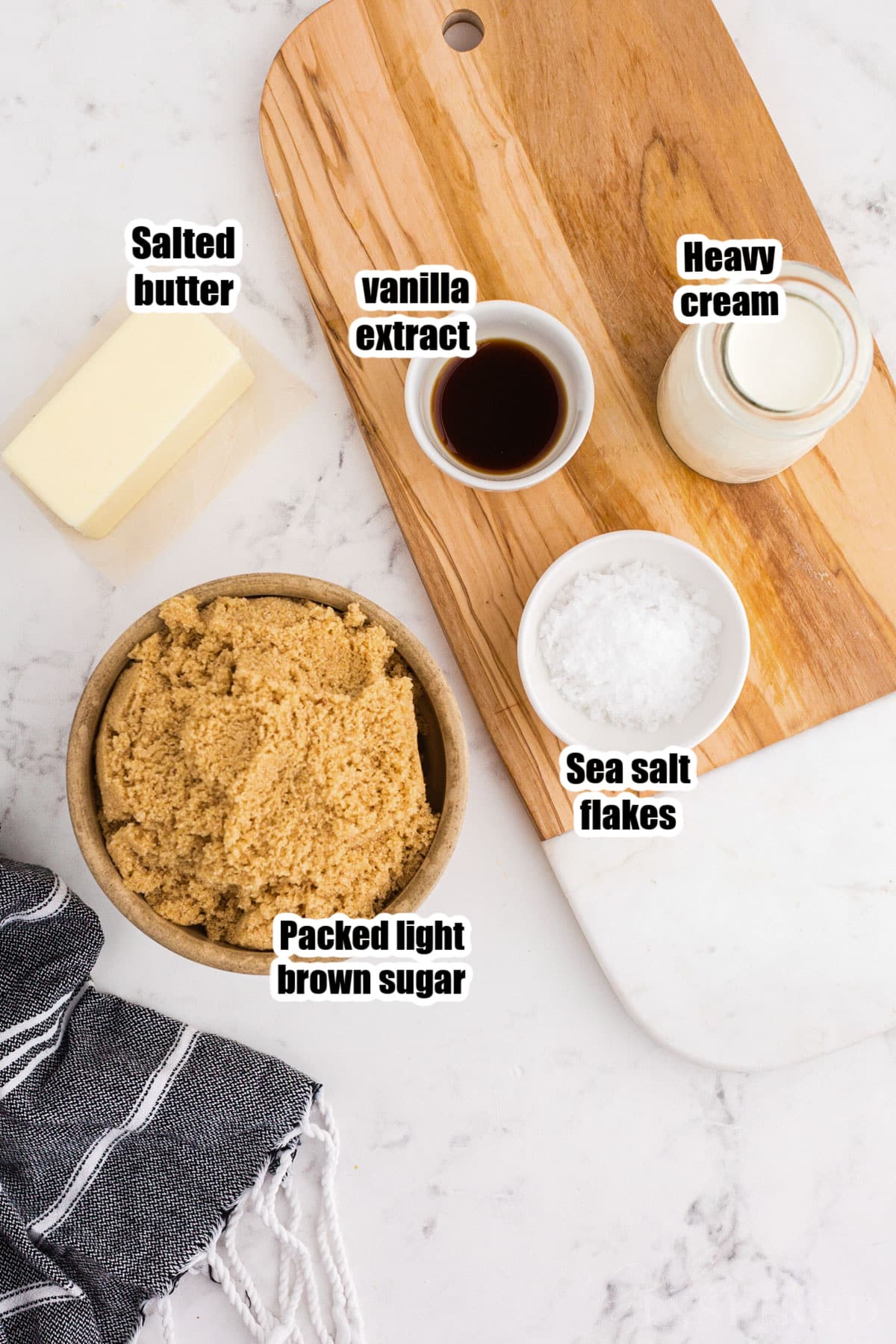 🔪 Instructions:
PREP: Assemble the simple ingredients called for in the recipe card below.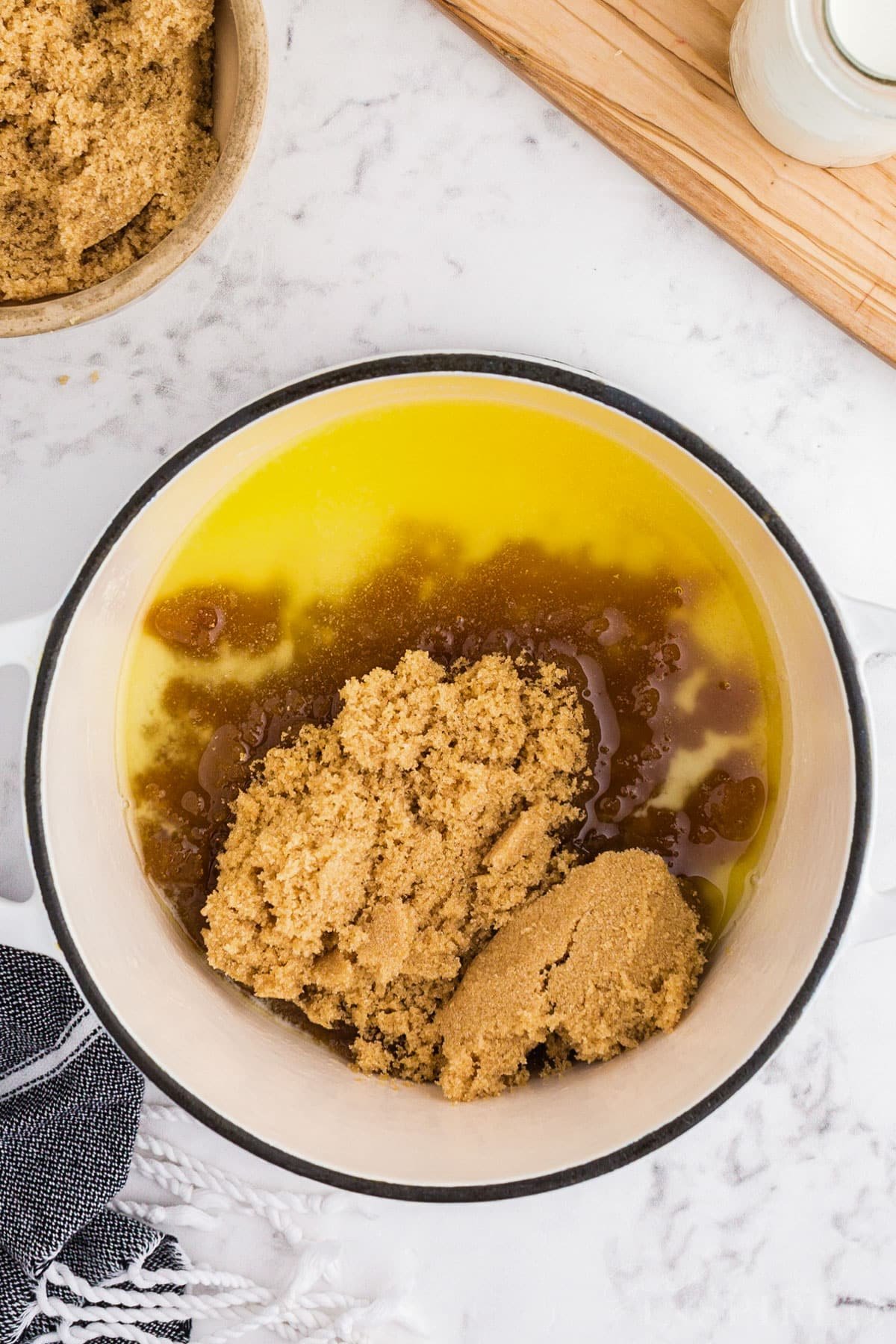 Step 1: Melt butter in a medium saucepan over medium heat and then add the brown sugar. Combine and cook the mixture for a few minutes until it bubbles.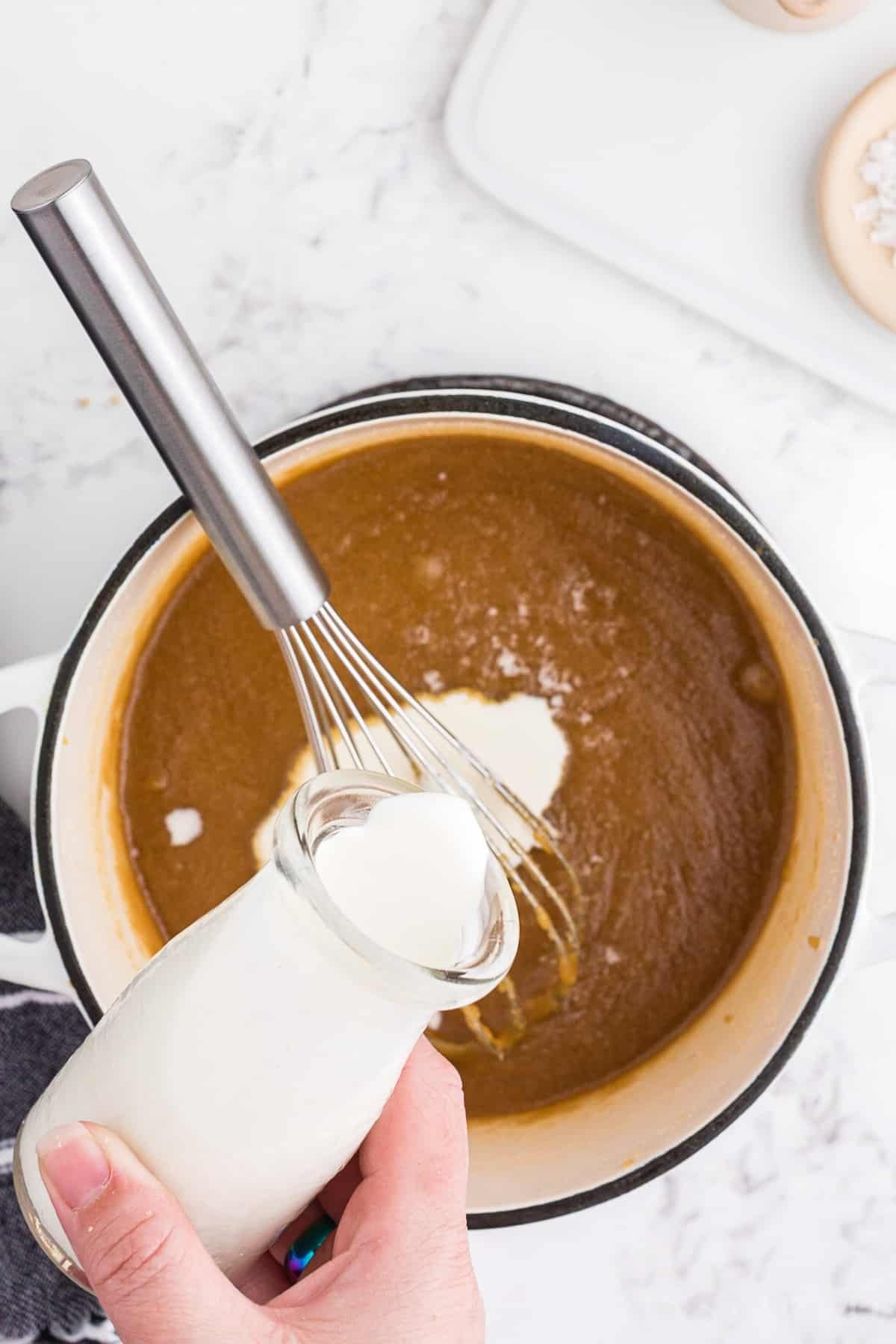 Step 2: Pour in the heavy cream slowly, whisking gently.
PRO TIP: If you want a thin and light caramel sauce, remove it from the heat immediately after the cream has been incorporated. For a darker and thicker sauce, allow the mixture to simmer for a few minutes until you get the desired golden brown color.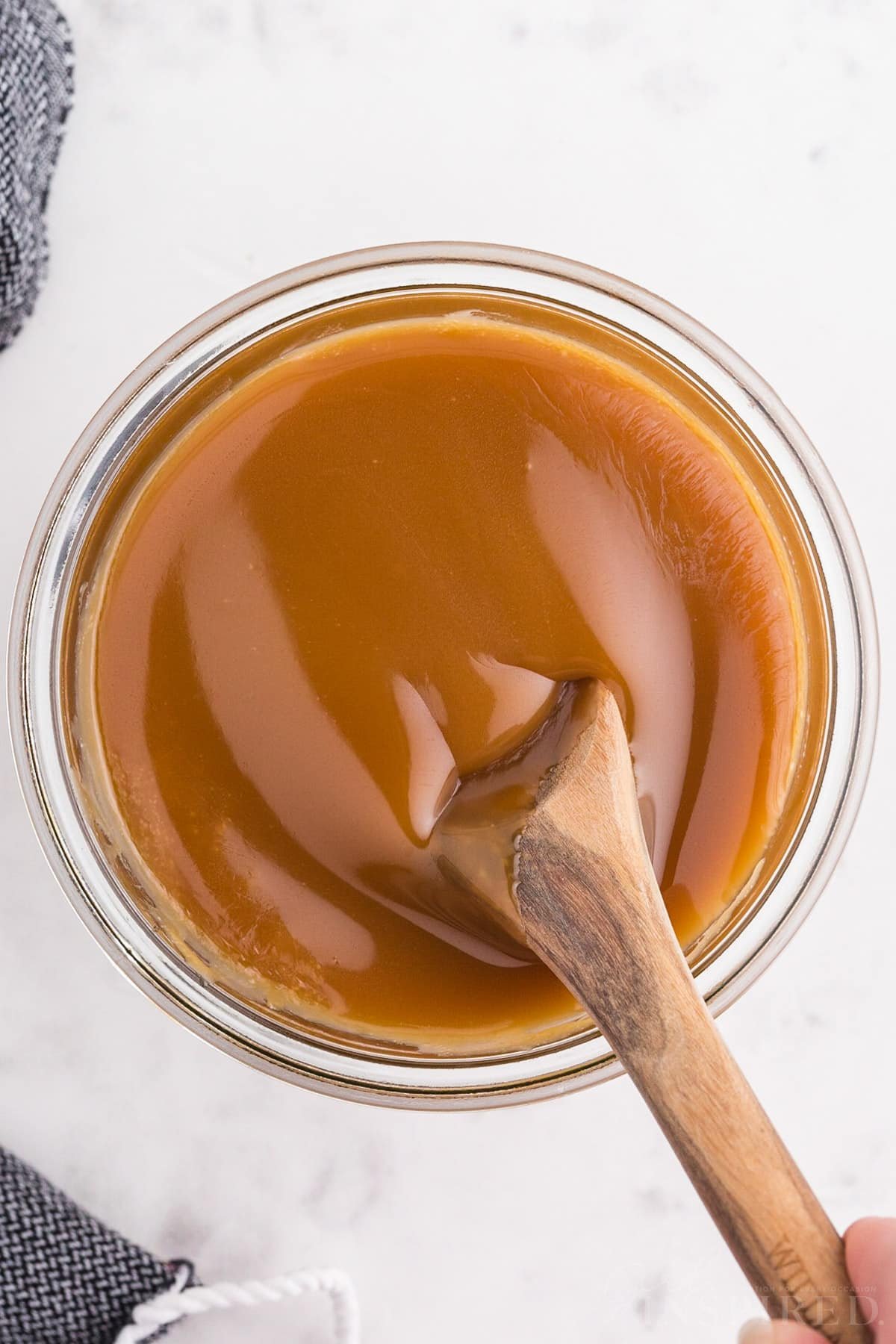 Step 3: Once removed from the heat, stir in the vanilla and a pinch of salt.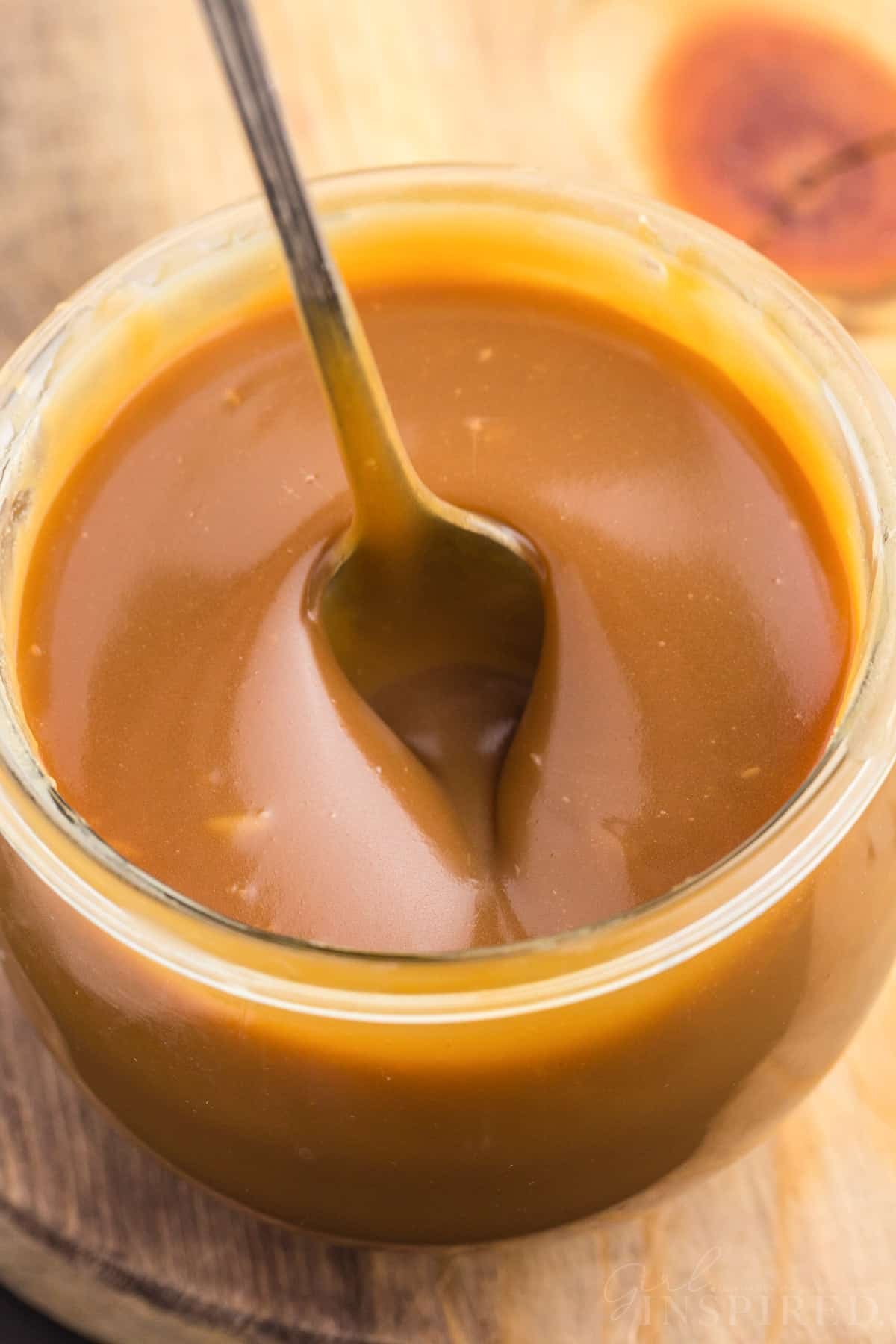 Step 4: Transfer the sauce to an airtight container so that the caramel cools to room temperature.
GARNISH/SLICE/SERVE: Serve this amazing caramel sauce immediately over desserts or store it away in the fridge for up to 2 weeks.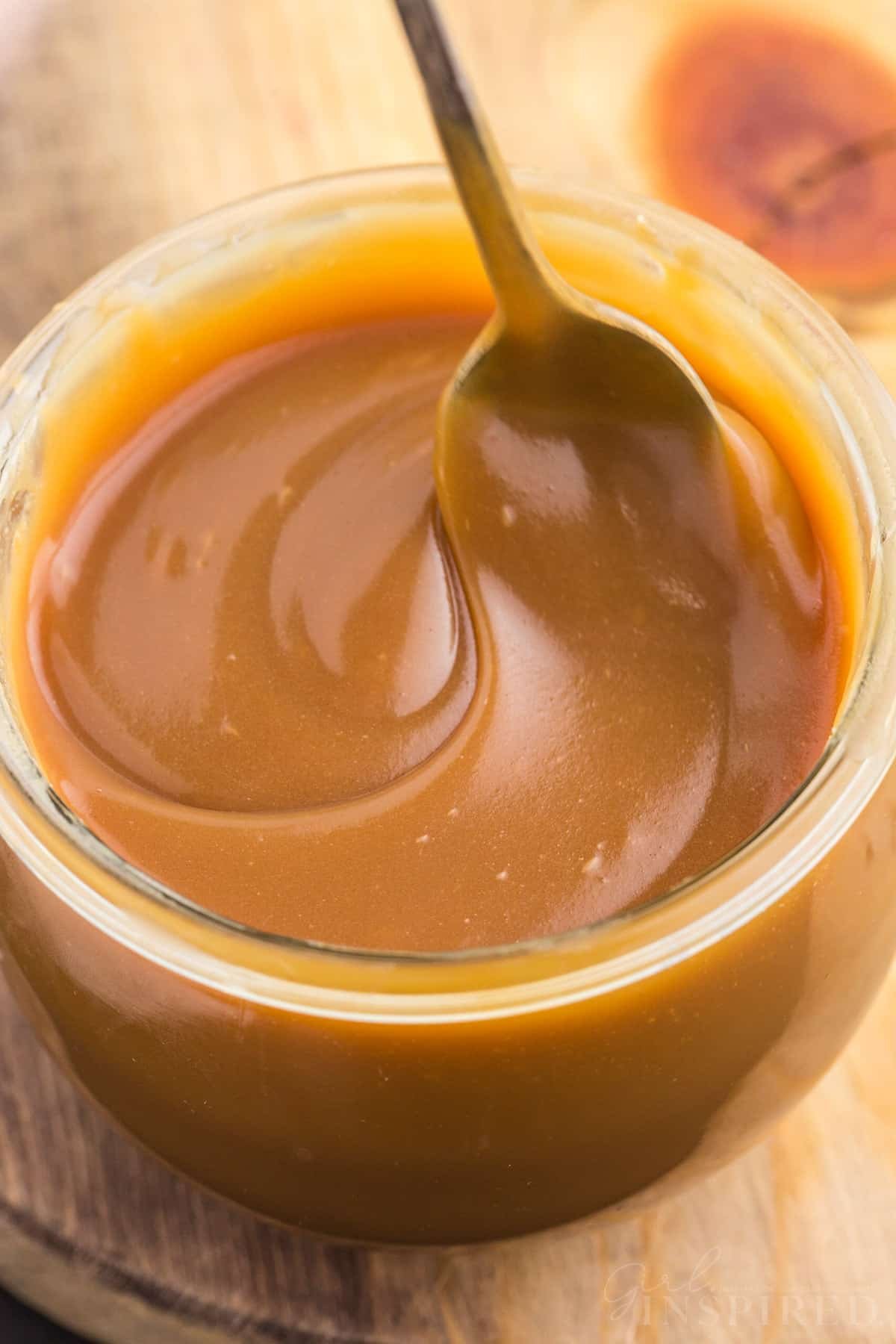 The caramel sauce thickens while cooling and the longer you simmer the sauce, the thicker it will become. Once the caramel has cooled completely, it may no longer be of pourable consistency. To get it back to a pourable consistency, simply reheat it for a few seconds in the microwave.
It'll save you a lot of trouble later on if you pour your caramel into a microwave-safe dish, or glass jar container once it's ready in case you need to reheat the caramel either from initial cooling or from extended storage time.
This recipe is a somewhat non-traditional method for making caramel sauce since you're not caramelizing granulated sugar as you would in a traditional recipe. No thermometer is required and you can make this caramel sauce in a matter of minutes or you can cook it longer for a deeper caramel.
Be very careful not to heat the sugar on high or to scorch it so it burns as this will change the flavor of the caramel dramatically, leaving it less sweet and more bitter.
This recipe is pretty foolproof. If, for whatever reason, you happen to produce a grainy consistency in your sauce, simply reheat the caramel and add a bit of acid (lemon juice) or light corn syrup, which should react with the sugar crystals and smooth everything out.
Fun Fact
While the exact origin of caramel is still unknown, there are historical records of early American settlers making caramel in their kettles in the 1650s. The addition of fat, milk, and salt to the boiled sugar mixture came later in the 1880s as a result of a candy maker's experimental genius! Since then, caramel sauce, caramel candies, and the use of caramel in many recipes has skyrocketed and continues to do so!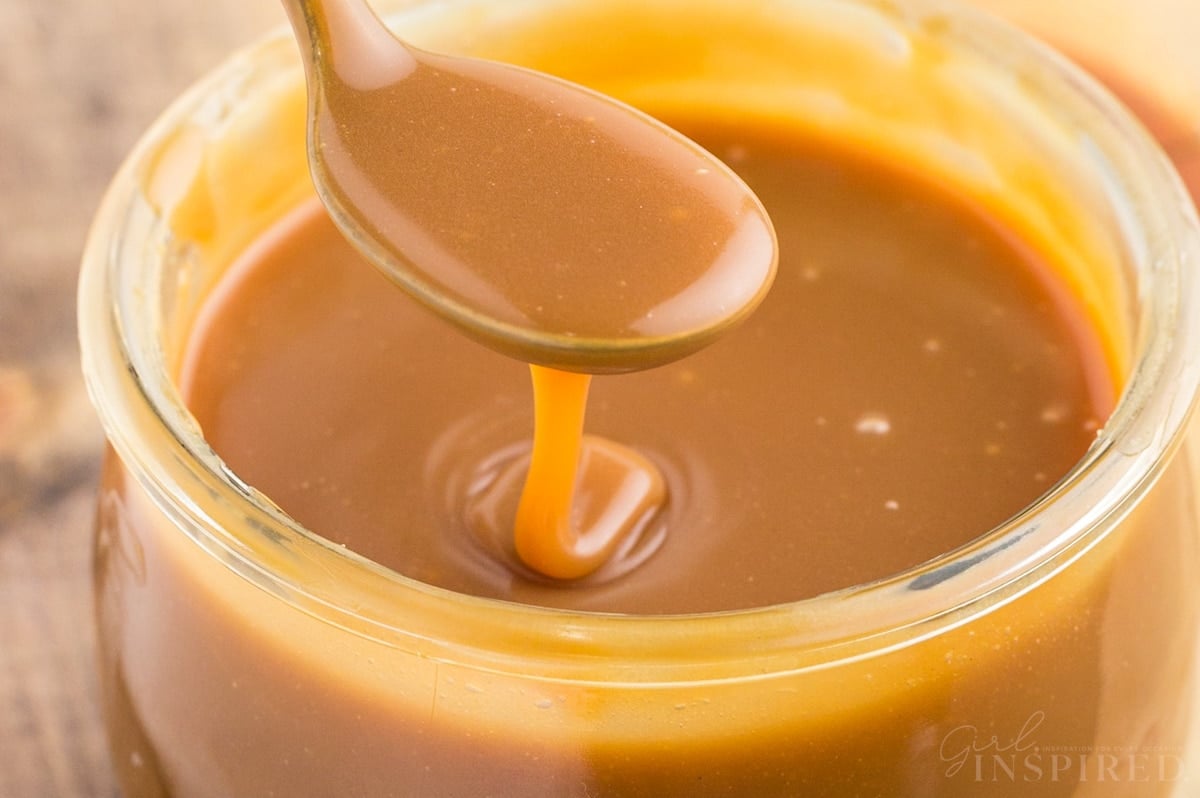 How Long Will Homemade Caramel Sauce Last For?
You can store this easy caramel sauce in an airtight container or jar in the refrigerator for up to 2 weeks.

You can heat up the cooled caramel sauce in the microwave for 1 minute, stirring twice throughout that time, OR, place your caramel over a pot of simmering water on the stovetop, stirring occasionally until the caramel is at the correct consistency required.
Can I Freeze This Caramel Sauce?
Yes, you can! Once your caramel is no longer hot, you can store it in the freezer for up to 2 months!

To thaw, allow your caramel to sit at room temperature for a couple of hours, and then repeat either of the two heating options mentioned above.
Caramel Treats You'll Love!
Brown Sugar Caramel Sauce
This delicious Brown Sugar Caramel Sauce offers that perfect balance of salty sweetness! Make it from the comfort of your home in just 15 minutes and serve with your favorite treats.
Servings
Ingredients
½ cup salted butter
1 cup packed light brown sugar
¾ cup heavy cream
2 teaspoons vanilla extract
Pinch sea salt or sea salt flakes optional
Instructions
In a heavy saucepan, melt together the butter and brown sugar.

Cook for a couple minutes until mixture is bubbly and combined.

Gently whisk in heavy whipping cream, pouring slowly as mixture may bubble up. For a light and thin caramel sauce (great for drinks or pouring over ice cream/desserts), remove saucepan from heat. For a darker and/or thicker caramel, simmer for several more minutes until desired golden color is reached.

Once removed from the heat, stir in vanilla extract and a pinch of salt, if desired.

Transfer to a heat-proof container and allow to cool to room temperature. Cover with a lid and store in the refrigerator up to 2 weeks.
Nutrition
Calories: 142kcal | Carbohydrates: 14g | Protein: 0.4g | Fat: 10g | Saturated Fat: 6g | Polyunsaturated Fat: 0.4g | Monounsaturated Fat: 3g | Trans Fat: 0.2g | Cholesterol: 28mg | Sodium: 53mg | Potassium: 31mg | Sugar: 14g | Vitamin A: 341IU | Vitamin C: 0.1mg | Calcium: 21mg | Iron: 0.1mg