Make your own copycat Starbucks Dark Caramel Sauce at home! Rich, easy, and budget-friendly. Coffee lovers can make their own caramel drinks using this 6 ingredient sauce.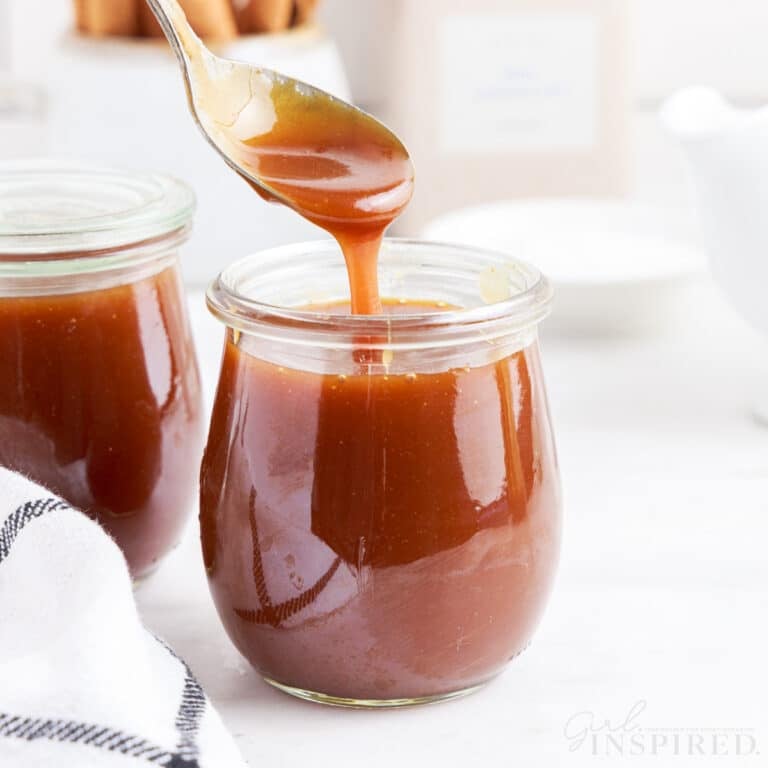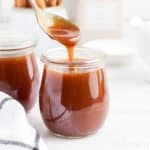 Learn how to make your own Starbucks Dark Caramel Sauce using just 6 simple ingredients. The rich sauce is ready in 20 minutes and can be made from scratch for a fraction of the price when compared to Starbucks caramel drinks.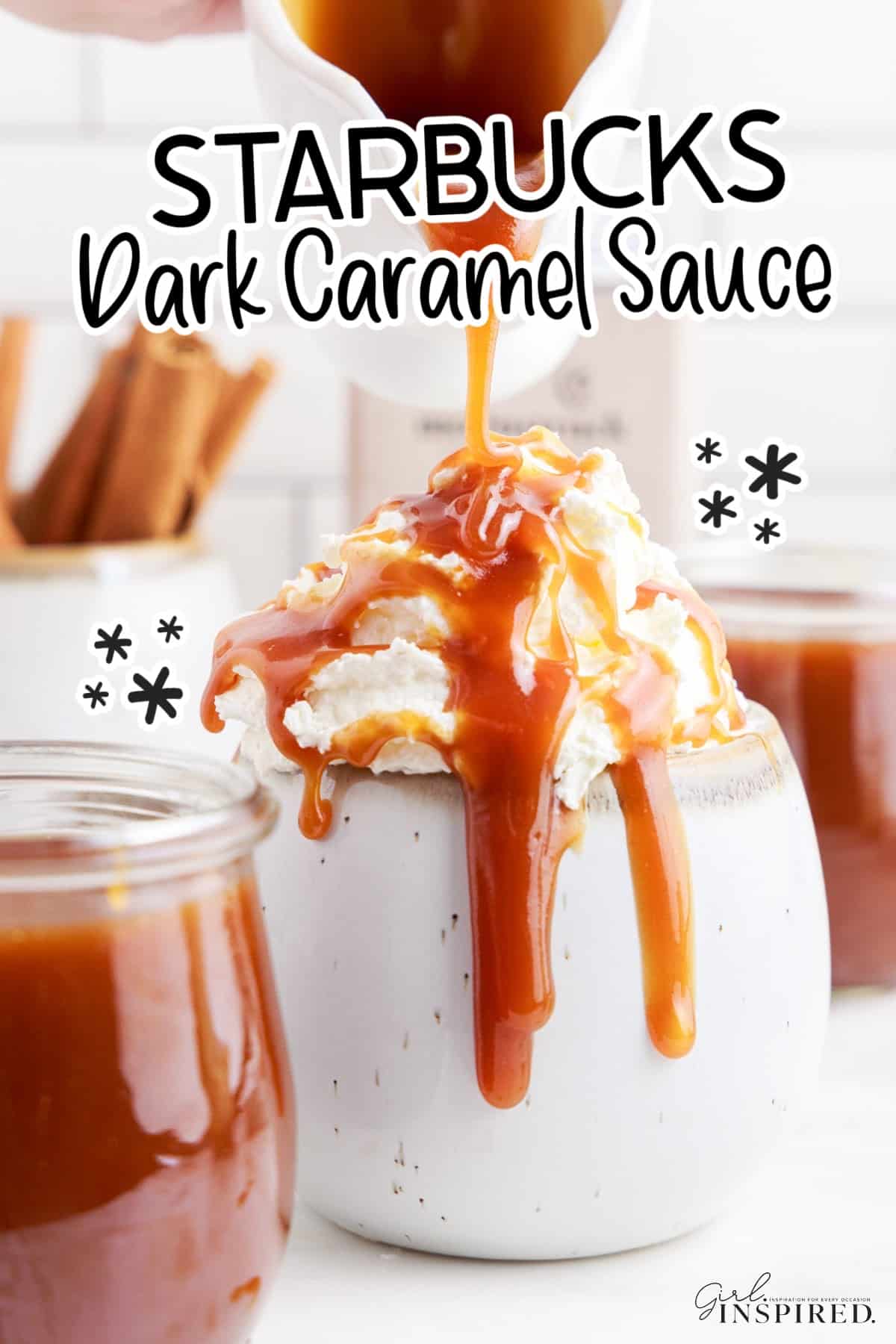 When that fall breeze starts blowing and everyone claims that it's pumpkin spice season, I also love to reach for a caramel latte or iced coffee. Caramel lovers can enjoy the sweet taste of this caramel flavoring in any coffee shop favorite, but I also like to use it for salted caramel cupcakes, caramel brownies, and dutch caramel apple pie.
If you like the thought of copycat drinks, don't skip on the Starbucks Pink Drink and double chocolate chip frappuccino. Both taste exactly like the real deal, are super cheap to make, and can be whipped up in a matter of minutes.
Jump to:
🍮Ingredients: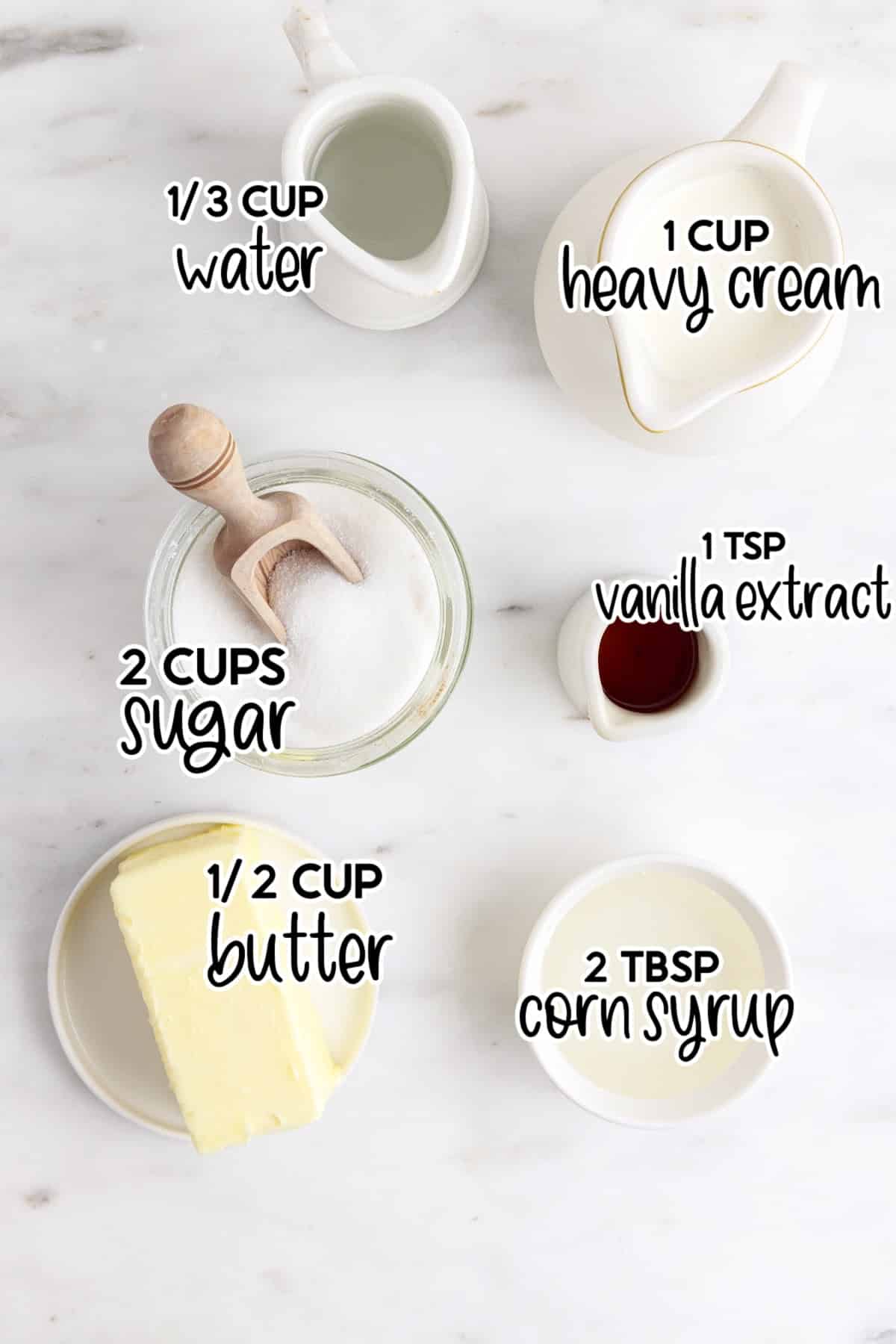 granulated sugar – our base for caramel.
corn syrup – helps to keep the sauce from getting grainy.
water – allows the sugar to cook longer to make better flavors.
vanilla extract – adds a light hint of vanilla.
heavy cream – adds richness to the sauce.
unsalted butter – chop into pieces first so it melts quicker.
For a full list of ingredients and their measurements, 📋 please view my printable recipe card at the bottom of the post.
Optional Garnish:
There are so many ways to use Starbucks caramel syrup. It can be blended in cold drinks, added to hot drinks, such as lattes, and you can even drizzle it over ice cream as a sundae topping. The sweet flavor goes well in most coffee drinks, included hot chocolate.
Substitutions and Variations
Regular caramel sauce – use my brown sugar caramel sauce recipe that calls for brown sugar and butter. It's the non-traditional version because we aren't actually caramelizing the sugar, but it's still delicious and provides a bit more mellow, creamy flavor.
Salted caramel sauce – add a large pinch of sea salt flakes when adding the vanilla.
To make your own dark caramel coffee frappuccino, blend a cup of coffee, a cup of whole milk, ⅓ cup of dark caramel sauce with ice. If you like more of a sweet taste, you can add in a little simple syrup, honey, or maple syrup.
For a hot classic caramel macchiato, heat a cup of milk until it's hot. Combine with a shot of espresso or a ½ cup of hot coffee. Add a pump or two of vanilla syrup. Top with whipped cream and caramel sauce.
To make a caramel pumpkin macchiato, use pumpkin pie syrup (recipe in our Iced Pumpkin Spice Latte recipe) and add a tablespoon or two of sauce. Use cold coffee or espresso blended with ice cubes for the iced version.
🔪 Instructions: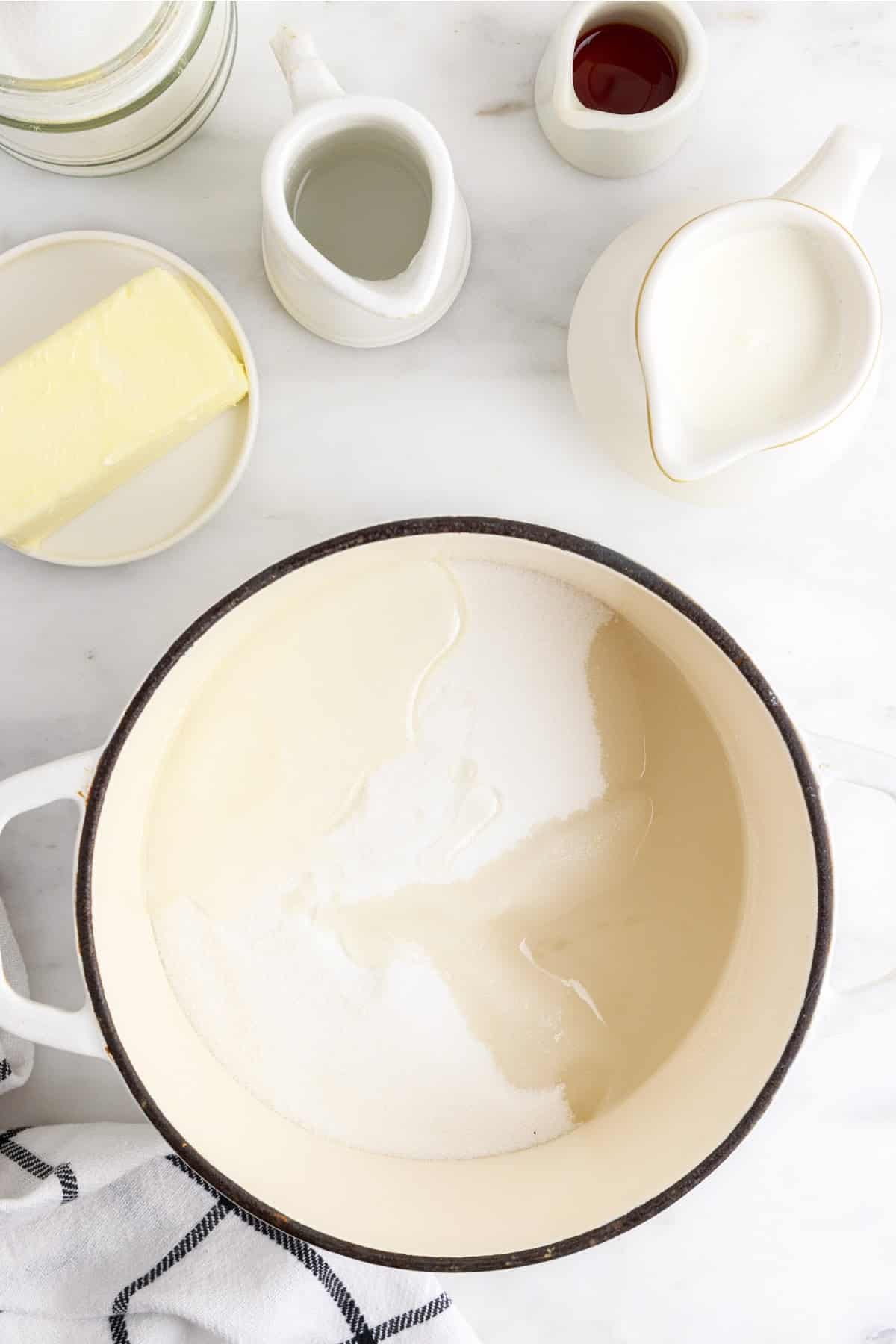 Step 1: Combine the sugar, water, and corn syrup in a heavy saucepan and stir until combined.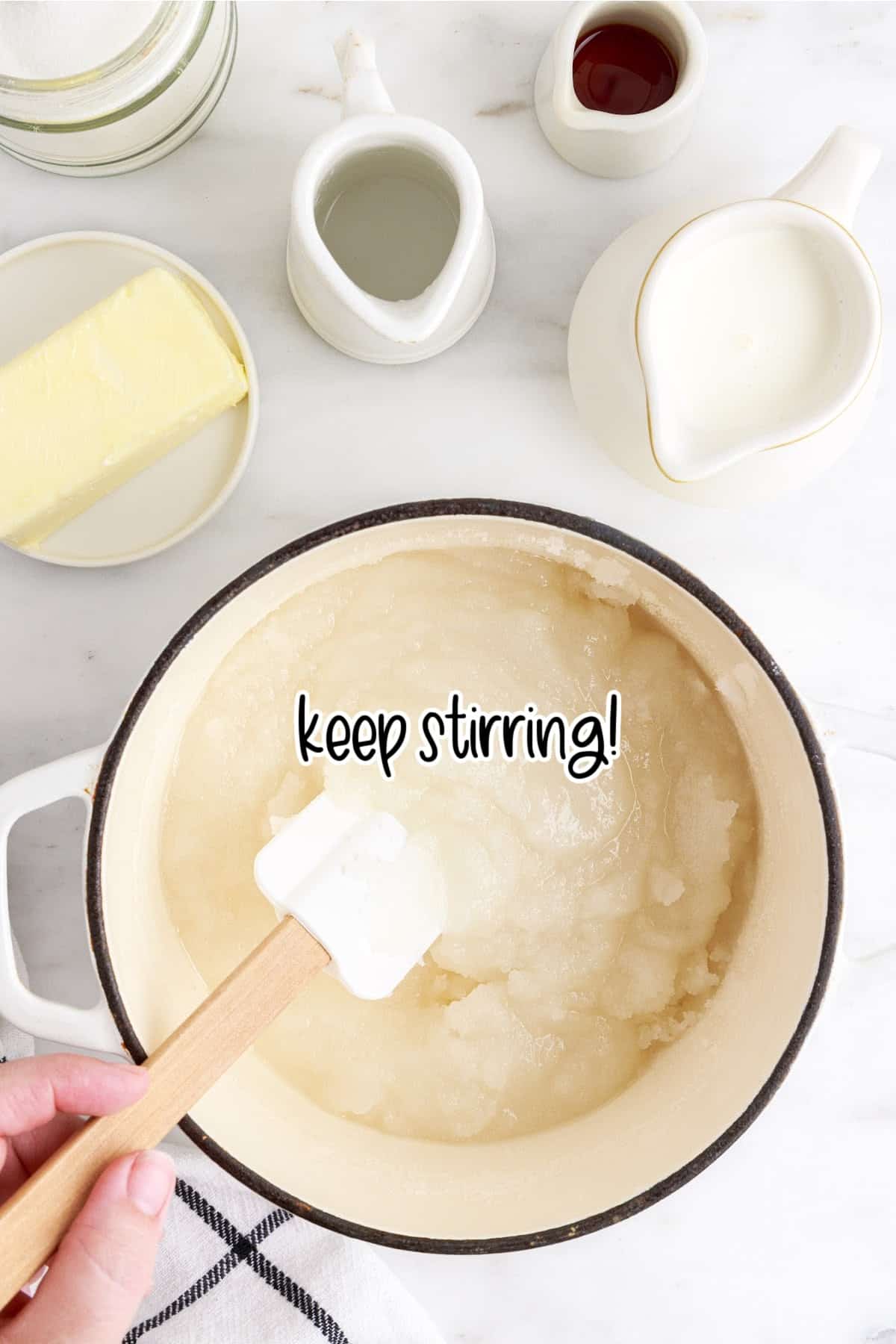 Step 2: Heat over medium heat so the mixture comes to a simmer. Constantly stir so the sugar dissolves evenly as it is heating up and doesn't scorch on the bottom.
Step 3: Dip a pastry brush in water to wash down the sides of the pan. If sugar crystals stay on the sides of the pan and then get added to the caramel later, it can cause crystallization in the finished sauce.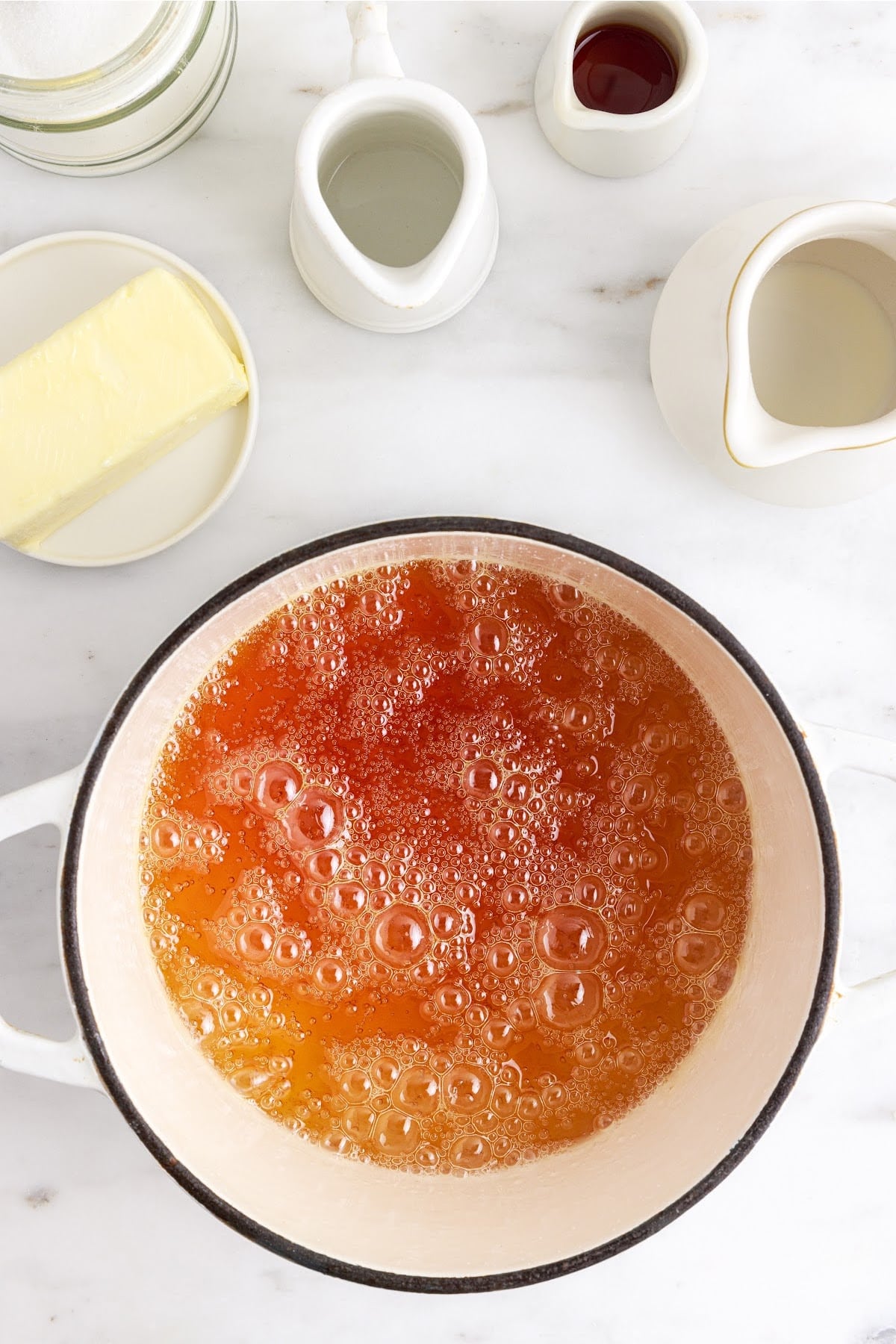 Step 4: Once the sauce is simmering and the sides have been washed down, stop stirring.
Pro Tip: Washing the sides of the pan ensures that the sugar crystals do not stick above where the mixture is. This can lead to a grainy sauce.
Step 5: Use a candy thermometer to monitor the temperature so that it turns an amber color and is 355-360 degrees. .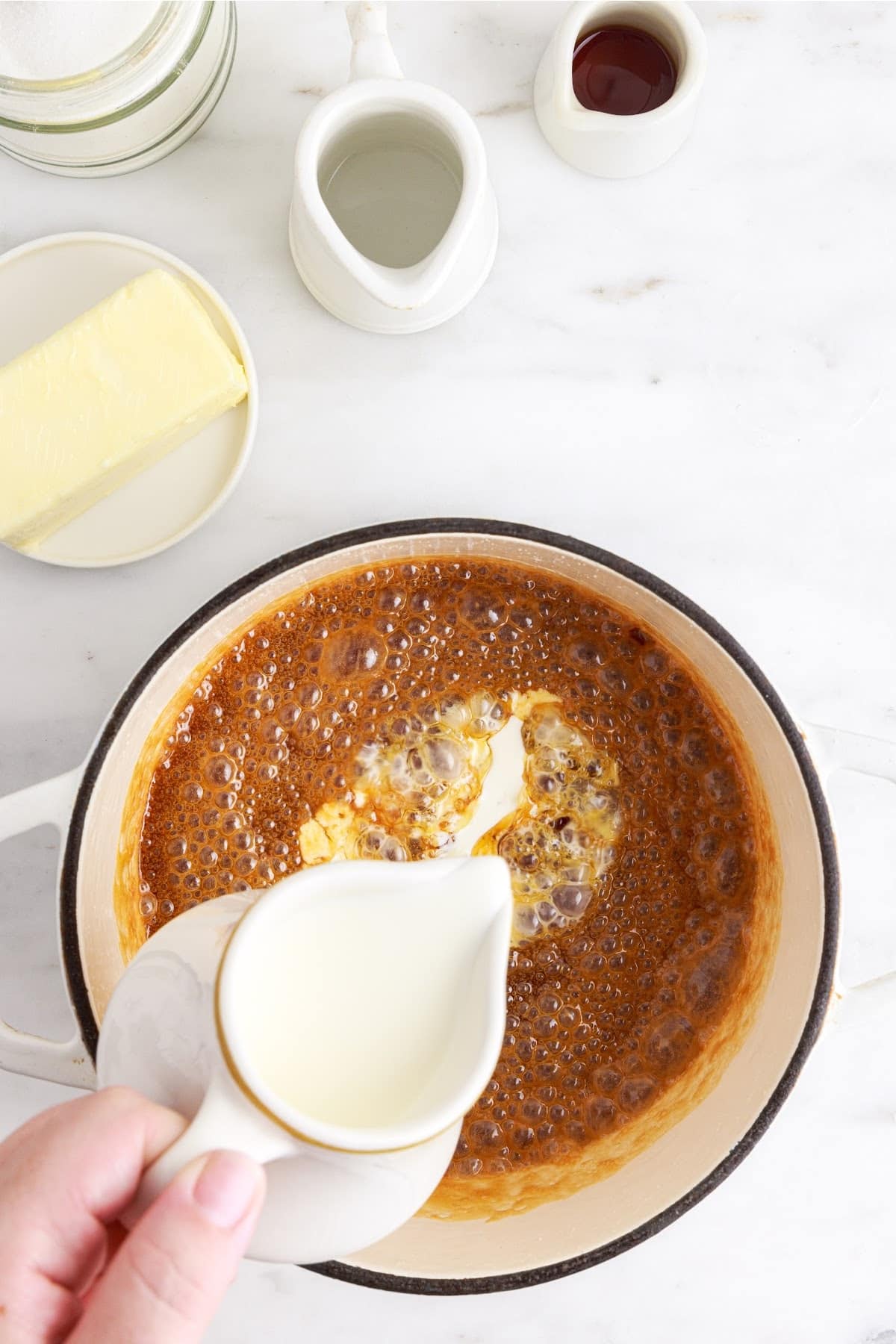 Step 6: Remove the caramelized sugar from the stovetop and stir in the cream slowly.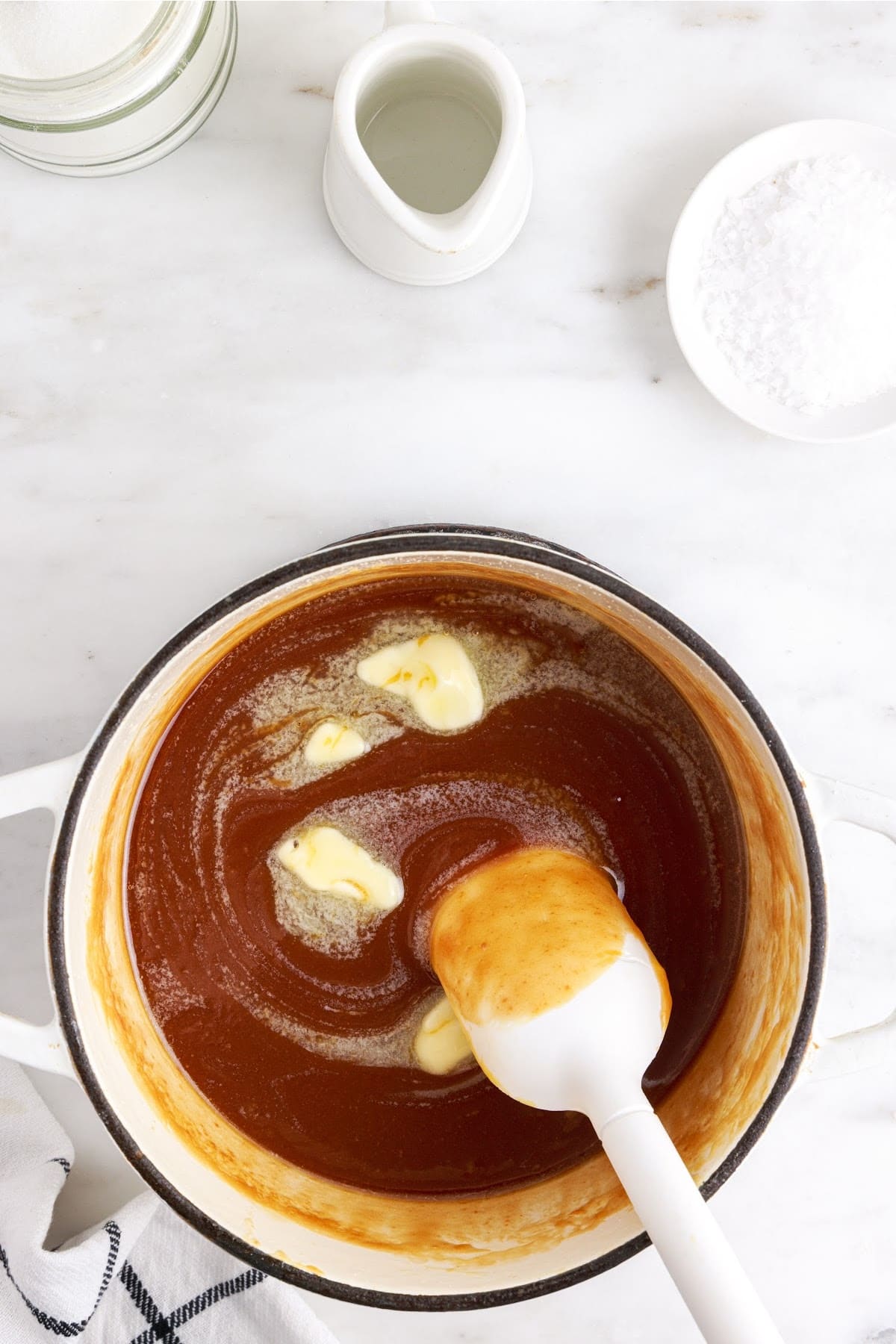 Step 7: Stir in the vanilla and pieces of butter one at a time. Cool the caramel sauce to room temperature.
SERVE: Use this sauce in a salted caramel cream cold brew, add a dark caramel drizzle to your ice cream sundae, or jazz up a vanilla bean frappuccino.
Starbucks Dark Caramel Recipe Tips
Dark caramel happens when it's heat to 375-380°F, while medium amber caramel heats to 355-360°F.
Keep a close eye once the sugar begins to change colors. The temperature can increase fast and cause the sauce to burn quickly.
This caramel sauce has a deep, complex flavor. Just on the edge of scorched, the caramel is richer than a non-traditional caramel sauce.
We are using the wet method of cooking caramel here, since we mix the granulated sugar with water. The dry method of caramel making requires caramelizing the sugar crystals without using water and I find it a bit more tedious.
Fun Fact
The lighter a caramel sauce is the less flavor it will have.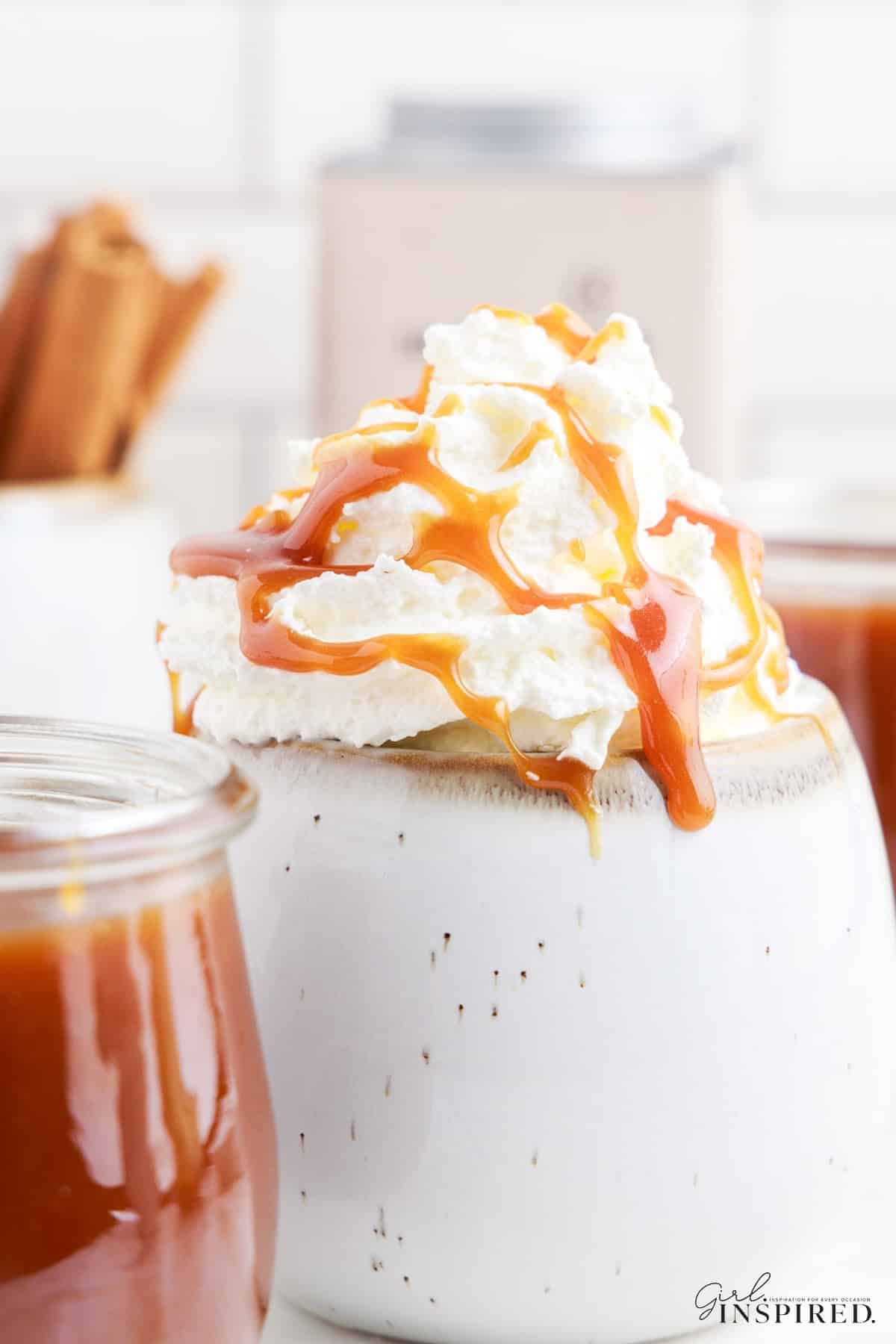 Recipe FAQs
What drinks use dark caramel sauce at Starbucks?
While the Starbuck's menu changes often and they have seasonal drinks, the most common Starbucks drinks that use dark caramel sauce are Caramel Frappuccino, Iced Caramel Macchiato, Caramel Apple Spice, and Salted Caramel Mocha.
How long does Starbucks caramel sauce last?
This rich sauce will keep in the refrigerator for up to 14 days when stored in an airtight container or glass jar. When you are ready to make your next batch of caramel-flavored drinks, simply warm it in the warm it in the microwave for 1 minute, stirring after 30 seconds or place it over a pot of simmering water until it reaches the right consistency.
What's the difference between regular and dark caramel sauce?
The key differences between the two is that the dark caramel sauce has a bit more smoky flavor and is darker in color because it's cooked longer.
More Tasty Recipes That Uses Caramel
If you tried this Starbucks Dark Caramel Sauce Recipe or any other recipe on my website, please please leave a 🌟 star rating and let me know how you liked it in the 📝 comments below.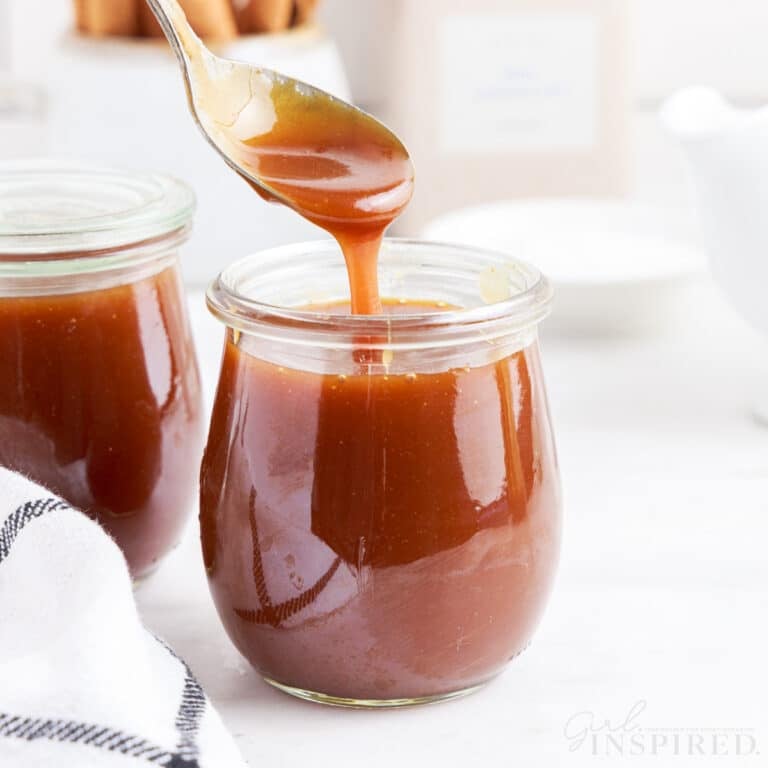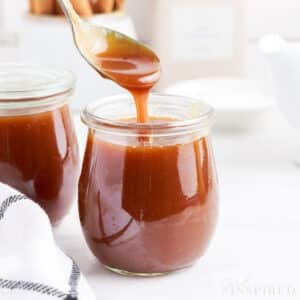 Starbucks Dark Caramel Sauce
tablespoons (recipe makes 2.5 cups)
Make your own copycat Starbucks Dark Caramel Sauce at home! Rich, easy, and budget-friendly. Coffee lovers can make their own caramel drinks using this 6 ingredient sauce.
tablespoons (recipe makes 2.5 cups)
Ingredients
2 cups granulated sugar
2 tablespoons corn syrup
⅓ cup water
1 teaspoon vanilla extract
1 cup heavy cream
½ cup unsalted butter cut into pieces
Instructions
In a heavy saucepan, stir together granulated sugar, corn syrup, and water. Stir until combined.

Place the saucepan over medium heat and bring the mixture to a simmer. During this time, stir the mixture to ensure that the sugar dissolves evenly and completely as it heats.

Use a pastry brush dipped in water to wash down the sides of the pan, making sure that no sugar crystals remain stuck to the pan above the line of the mixture.

Once the mixture comes to a simmer and the pan has been washed down, do not stir any longer.

Place a candy thermometer in the sugar mixture and monitor it as it heats until the color turns amber and the candy thermometer has reached about 355-360°F.

Remove the caramelized sugar from the heat and slowly stir in the cream, taking care as the mixture will splatter.

Stir in the vanilla extract and then the pieces of butter, 2 tablespoons at a time.

Cool to room temperature.
Notes
Notes:
For the perfect salted caramel, add a large pinch of sea salt flakes.
If you are using salted butter, it will taste a bit different, but will still be delicious.
Medium amber color occurs when the mixture cooks at 355-360 degrees. Dark caramel is heated to 375-380 degrees. Once the sugar changes colors, the temperature can increase fast and burn.
Washing the sides of the pan ensures the caramel will not be grainy. This is also why we use corn syrup.
By caramelizing granulated sugar we are making a "true" caramel sauce. You can also make easy caramel sauce using butter and brown sugar.
Nutrition
Calories: 82kcal | Carbohydrates: 11g | Protein: 0.2g | Fat: 4g | Saturated Fat: 3g | Polyunsaturated Fat: 0.2g | Monounsaturated Fat: 1g | Trans Fat: 0.1g | Cholesterol: 13mg | Sodium: 3mg | Potassium: 7mg | Sugar: 11g | Vitamin A: 158IU | Vitamin C: 0.04mg | Calcium: 5mg | Iron: 0.01mg