Making pumpkin soup is so easy when you use canned pumpkin. It's creamy, comforting, healthy, and full of spices and fall flavors. Plus it's ready in just 30 minutes on the stovetop.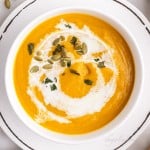 Making pumpkin soup with canned pumpkin is super easy, and a fall staple around our house. It's ready in just 30 minutes, freezes and reheats well, and uses simple ingredients that you probably already have on hand!
You can't think about the fall season without seeing pumpkins. We usually kick the season off with pumpkin bread pudding or another decadent pumpkin treat, like this irresistible pumpkin swirl cheesecake.
Pumpkin soup paired with pull apart garlic bread or buttermilk cornbread and a little side salad make a lovely meal or the soup can be an appetizer before the main course! Canned pumpkin is so easy to use and just as tasty as the real thing, but if you need to use up your fresh pumpkins, read to the end for those instructions.
Need ideas for what to serve this soup with? Orange and Sugar Glazed Ham, my famous pot roast recipe, roasted beef tenderloin, and herb roasted chicken are all great for the season and for holiday dinners.
Why You'll Love This Easy Pumpkin Soup Recipe
It's healthy and is less than 100 calories per serving.
Super easy with a can of pumpkin puree.
Feeds a crowd and is ready in 30 minutes.
Can be made vegan friendly.
A perfect starter for fall gatherings.
Creamy and full of flavor.
🥣 Ingredients:
olive oil
onion
garlic – mince your own cloves or use store bought for less prep work
red pepper flakes – use more if you like it a little spicier
nutmeg
salt
black pepper
pumpkin puree – don't confuse this with pumpkin pie filling, it's not the same.
chicken broth
water
sage leaves
light brown sugar – this is optional but adds a little sweetness to balance out the spices
heavy cream – can also use half and half in its place.
Roasted pumpkin seeds -this adds some crunch to the top and breaks up the smooth texture of the soup
Pro tip: Follow this same recipe and the instructions, but swap the pumpkin for butternut squash soup!
How to Make this Easy Pumpkin Soup
PREP: Saute the diced onion in a Dutch oven until soft. Add the minced garlic, nutmeg, and red pepper flakes until fragrant. Add the salt, pumpkin, sage leaves, pepper, water, and chicken broth. Cook until the soup boils.
COOK: Reduce the heat and simmer for 20 to 30 minutes, or until the soup has reduced by ⅓. Remove the sage leaves and taste. Season with salt and pepper, then stir in the brown sugar.
BLEND: Transfer the soup to a blender (or use an immersion blender directly in the pot) and puree until smooth. Place the soup back into the pot and heat until it's warm.
SERVE: Serve in your favorite soup bowls topped with a swirl of heavy whipping cream, homemade croutons, pumpkin seeds, or fried sage (see our notes below. )
If you have leftover canned pumpkin and want to make a new dessert, try pumpkin cinnamon rolls using sweet dinner roll dough! They taste exactly like the classic pie, except no fork needed! You can also try my homemade pumpkin spice latte, 2 ingredient pumpkin donuts, or pumpkin streusel coffee cake.
While the soup simmers is will be thin, but will thicken up as it reduces. To thin it out use more chicken broth. For a thicker pumpkin soup, allow it to simmer longer.
Other herbs that would pair well in this soup: rosemary, oregano, fresh parsley, cinnamon, or curry powder. The sage and nutmeg combo is our favorite though.
I love adding homemade croutons just before serving.
How to make fried sage: Melt some butter over medium heat and add a handful of sage leaves. Fry until crispy.
Fun Fact
Every pumpkin contains around 500 seeds and while we often think of them as vegetables, they are actually a fruit.
How long does pumpkin soup last?
Store leftovers in an airtight container in the refrigerator or 3-4 days. You can freeze it for up to 3 months.
How do you make vegan pumpkin soup?
Follow the same recipe, except substitute coconut milk for the whipping cream and vegetable broth for the chicken broth.
How to make pumpkin soup with fresh pumpkin?
Cut open a pumpkin and scoop out the seeds. Season with salt and pepper, then brush with olive oil. Place the flesh side down on a parchment lined baking sheet. Roast for 45-55 minutes or until its fork tender. Scoop out the pumpkin and add to the soup pot.
More Comforting and Delicious Soups
Creamy Pumpkin Soup
Making pumpkin soup is so easy when you use canned pumpkin. It's creamy, comforting, healthy, and full of spices and fall flavors. Plus it's ready in just 30 minutes on the stovetop.
cups
Ingredients
1-2 tablespoons olive oil
1 cup white or yellow onion diced
2-3 cloves garlic minced
⅛ teaspoon crushed red pepper flakes adjust to taste
¼ teaspoon ground nutmeg
½ teaspoon salt
¼ teaspoon black pepper
29 oz. can pure pumpkin puree about 4 cups
4 cups chicken broth
2 cups water
2 sage leaves
1-2 teaspoons light brown sugar optional
¼ cup heavy cream or half and half plus more for serving
Roasted pumpkin seeds for garnish
Instructions
Using a large stockpot or dutch oven, saute the onion in olive oil in a large stockpot until soft and translucent.

Add minced garlic, red pepper flakes, and nutmeg to the pot and saute 1-2 minutes longer, until fragrant.

Add the salt, pepper, pumpkin, chicken broth, water, and sage leaves to the stockpot. Heat over high heat until mixture boils.

Then, reduce the heat and simmer, uncovered, for 20-30 minutes, or until the soup has reduced by about ⅓.

Remove sage leaves and discard. Taste the soup and add brown sugar and cream; adjust salt and pepper to taste.

Transfer soup to a blender and puree. You can alternately use an immersion blender, but I like a countertop blender to reduce splatter and make a creamier soup. Return the soup to the pot and heat through, if cooled. Adjust thickness by adding more chicken broth if the soup is too thick, or simmer a bit longer to thicken.

Ladle pumpkin soup into bowls. Top with a swirl of heavy cream, pumpkin seeds or croutons, and crushed fried sage (see note).
Nutrition
Calories: 94kcal | Carbohydrates: 12g | Protein: 2g | Fat: 5g | Saturated Fat: 2g | Polyunsaturated Fat: 0.3g | Monounsaturated Fat: 2g | Cholesterol: 11mg | Sodium: 593mg | Potassium: 275mg | Fiber: 3g | Sugar: 5g | Vitamin A: 16115IU | Vitamin C: 6mg | Calcium: 45mg | Iron: 2mg