The tell tale flavors of pumpkin, cinnamon, cloves, and espresso come together in this pumpkin spice latte.
Oh yes, it's pumpkin all the things season and yes please, let's throw fall flavor into our caffeine and throw back a pumpkin spice latte every day we can. Today we have pumpkin spice coffee three ways: blended, iced, and steamy hot! Once you've mixed up a batch of pumpkin spice syrup, you can make the most delicious pumpkin spice latte or frappuccino any time you like.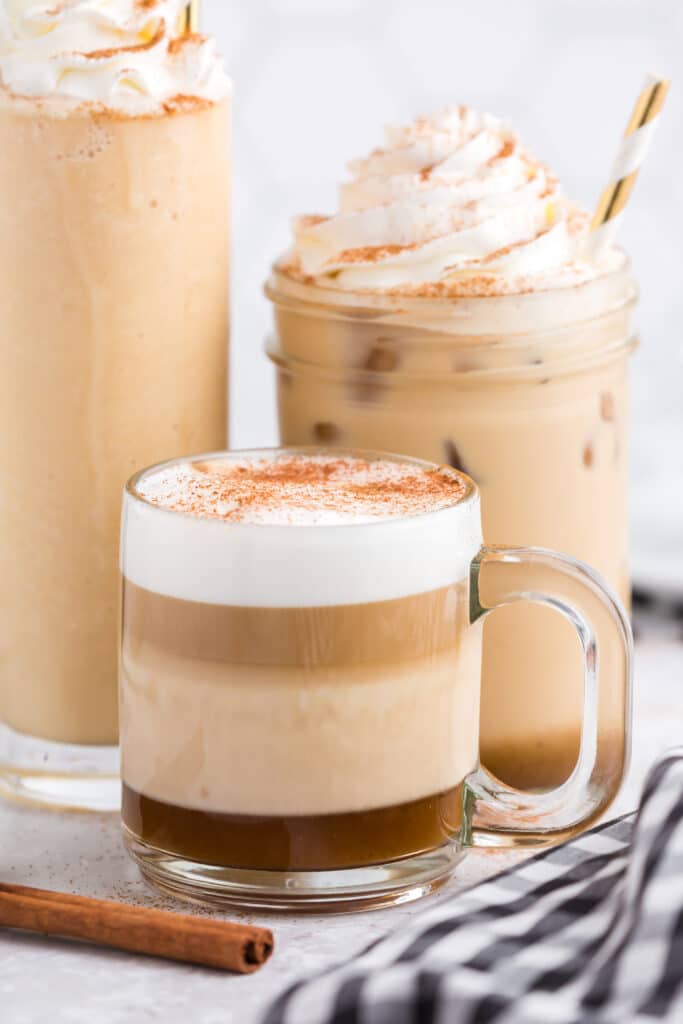 Autumn in California brings a combination of scorching hot weather and the cool, rainy beginnings of a new season. Some days I want to sip on a hot coffee and some days I want a cold, refreshing drink, but I'm ALWAYS down for the flavors of fall! Whether you like your pumpkin spice latte hot or cold, it's a great compliment to our easy two-ingredient pumpkin donuts and our pumpkin apple muffins.
How to Make a Pumpkin Spice Latte
The trick to making a delicious and perfectly balanced pumpkin spice latte is to mix up a sweet pumpkin spice syrup using pumpkin puree and earthy spices and then use this syrup to mix up your drink of choice. The pumpkin spice syrup will keep for a week or more in your refrigerator so you can cook up a decent batch and then use it for a whole week of coffee heaven.
Pumpkin Spice Latte Ingredients
Pumpkin Puree – the pumpkin puree gets cooked into the syrup solution to infuse the flavors without having an odd texture in your coffee drink
Pumpkin Spice Seasoning – you can also use a medley of your favorite fall spices – cinnamon, nutmeg, cloves, and ginger are all good choices.
Sugar – I really like some sweetness to balance the spice in my pumpkin spice lattes. By cooking the sugar into the syrup, it blends easily in the lattes whether you're making a hot or a cold drink.
Water – water is the base for dissolving the sugar and blending the flavors into the syrup, just like we'd use to make a simple syrup.
Milk – I love a good creamy milk, but of course you can substitute your favorite milk substitute – almond, soy, or rice milk would work. I wouldn't recommend coconut milk for this combo.
Espresso – For a true pumpkin spice latte, we use milk and espresso and flavor this traditional latte combo with the flavoring. Adding a little cream and pumpkin spice syrup to a mug of regular coffee would be delicious also. For non-coffee lovers, like my kiddos, we omit the espresso altogether and make pumpkin spice milk – good cold, blended, or hot!
Whipped Cream – I mean – what's a party in your mouth without some whipped cream added in there. Sure, this is optional, but oh so yummy!
Let's Make the Pumpkin Spice Syrup
First things first, no matter which drink you'd like to make, we'll need pumpkin spice syrup for our signature flavor. Remember how simple it is to make simple syrup? We combine 1 part sugar to 1 part water and simmer to dissolve the sugar. For this particular recipe, we also add pumpkin puree and pumpkin spice seasoning. Simmer all of these flavors together for about 5 minutes over low heat. Cool and transfer to a glass bottle or airtight container for storage.
This syrup is thicker than a regular simple syrup, but not nearly as thick as I expected it to be with the pumpkin puree mixed in. I poured the syrup through a fine mesh sieve expecting to get some of the pumpkin texture out, but actually there was not much of anything that didn't stir through the sieve. After that first time, I skip the sieve step and just use the pumpkin spice syrup directly out of the saucepan!
Making a Hot Pumpkin Spice Latte
Now that the pumpkin syrup is ready, let's make our first drink – a classic latte. For each latte, you'll need about ½-3/4 cup of steamed milk, a shot of espresso, and 2-3 tablespoons of flavored syrup. To make a latte that looks as good as it tastes, use a clear glass mug and layer first the syrup, then the steamed milk, followed by the espresso, and topped with foam (as shown here) or whipped cream. Garnish with a bit of cinnamon or nutmeg if you like.
Making an Iced Pumpkin Latte
Warm Autumn afternoon calling for something a bit cooler? Stir together the pumpkin syrup, milk, and a shot of espresso and pour over ice. Top with whipped cream. Yum!
How to Make a Pumpkin Spice Frappuccino
Blended coffees are all the rage and it is super simple to make a coffee-house copycat right at home. Use 1 cup of ice, ½ cup of milk, ¼ cup of pumpkin spice syrup, and 1-2 shots of espresso.
Blend together thoroughly and top with whipped cream!
Now that you have the how to for making all the pumpkin latte varieties, you might like to mix up some of our favorite fall treats.
Pumpkin Spice Latte Recipe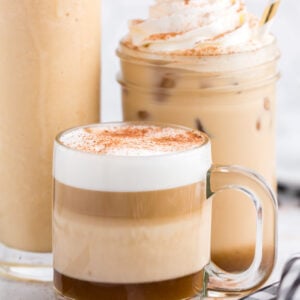 Pumpkin Spice Latte
The tell tale flavors of pumpkin, cinnamon, cloves, and espresso come together in this pumpkin spice latte.
Ingredients
Pumpkin Spice Syrup
½ cup pumpkin puree
1 teaspoon pumpkin spice seasoning
2 cups granulated sugar
2 cups water
Pumpkin Spice Latte
¼ cup pumpkin spice syrup
¾ cup milk
1 shot espresso
¼ cup whipped cream
Instructions
Pumpkin Spice Syrup
To make the syrup, combine pumpkin puree, pumpkin spice seasoning, sugar, and water in a small saucepan.

Whisk mixture over medium-low heat until it comes to a simmer.

Simmer for 5 minutes, stirring frequently. Remove from heat and cool.

Transfer cooled syrup to an airtight container and store in the refrigerator.
Pumpkin Spice Latte
Combine 2-3 tablespoons of the pumpkin spice syrup with steamed milk and espresso.

For an iced latte, pour over 1 cup of ice. Blend with 1 cup of ice fore a frappuccino.

Top with whipped cream or milk foam and serve.
Nutrition
Calories: 395kcal | Carbohydrates: 79g | Protein: 7g | Fat: 7g | Saturated Fat: 4g | Cholesterol: 26mg | Sodium: 94mg | Potassium: 346mg | Fiber: 1g | Sugar: 77g | Vitamin A: 3461IU | Vitamin C: 1mg | Calcium: 235mg | Iron: 1mg