Today's Pumpkin Apple Muffins are moist and dense, with all of the wonderful flavors of the season – pumpkin, cinnamon, cloves, and apple! Muffins are one of my favorite fall treats – so good for a quick breakfast or alongside a salad or bowl of soup for lunch or dinner.
It's time to bring on the pumpkin!! First thing on the menu is pumpkin apple muffins! I discovered the ease and satisfaction of two-ingredient pumpkin donuts a couple years ago, but this year I was eager to make a batter from scratch. The pumpkin patch that we used to go to every year sold the most delicious muffins and I worked hard to create a similar recipe to satisfy our cravings.
If you don't care for pieces of fruit in your baked goods, simply omit the apples. I will say, though, that whether I made the batch with or without apples, there was not a single muffin left on the counter by bedtime. My kids, husband, neighbors, and I scarfed them down!
Muffin Ingredients:
Butter
Brown Sugar
Vanilla Extract
Eggs
Greek Yogurt – yogurt adds moisture and density to the muffin batter, you can also use sour cream.
Pumpkin Puree
Flour
Salt
Baking Soda
Cinnamon – you can't really have pumpkin and apples without cinnamon, but you can also substitute some pumpkin spice seasoning for the cinnamon and the cloves
Ground Cloves
Golden delicious apple – use any good baking apple – Rome, Gala, or Golden Delicious will all work
How to Make Pumpkin Apple Muffins:
We'll start by creaming together the butter and sugar. Be sure the butter is room temperature so that it blends together with the sugar.
Beat in vanilla extract, yogurt, pumpkin puree, and vanilla extract.
In a separate bowl, combine the dry ingredients – flour, salt, baking soda, cinnamon, and cloves.
Gently stir the dry ingredients into the wet ingredients, just until combined. It's okay if there are some flour streaks in the batter. Do not overmix.
Fold in apple pieces.
Fill muffin cups, leaving room for the muffins to rise.
Sprinkle with cinnamon and sugar. Bake for 20 minutes until a toothpick in the center of the muffin comes out clean.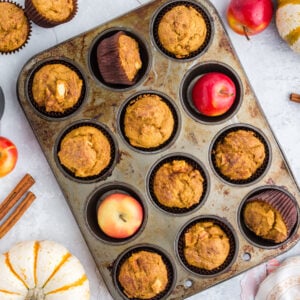 Pumpkin Apple Muffins
Ingredients
¾ C. butter softened
2 C. brown sugar
1 ½ tsp. vanilla extract
3 eggs
⅓ C. plain Greek yogurt
1 can 15 oz. pumpkin puree
3 C. flour
pinch of salt
1 ½ tsp. baking soda
½ tsp. cinnamon
¼ tsp. ground cloves
1 small Golden Delicious Apple chopped into ¼″ pieces
cinnamon and sugar for sprinkling
Instructions
Cream butter and sugar together in a mixer.

Add in pumpkin, eggs, yogurt, and vanilla extract.

In a separate bowl, sift together flour, salt, baking soda, cinnamon, and cloves.

Add dry ingredients to butter mixture, just until combined.

Fold in apple pieces, if desired.

Place ¼ cup of batter into cups of a paper-lined muffin tin.

Sprinkle with cinnamon and sugar.

Bake at 350 degrees for 20 minutes or until the center of each muffin is set.
Nutrition
Calories: 261kcal | Carbohydrates: 46g | Protein: 4g | Fat: 7g | Saturated Fat: 4g | Cholesterol: 36mg | Sodium: 151mg | Potassium: 79mg | Fiber: 1g | Sugar: 20g | Vitamin A: 219IU | Vitamin C: 1mg | Calcium: 28mg | Iron: 2mg