Lill smokies pigs in a blanket is a classic party appetizer that the whole family will love! Lil' smokies are wrapped in a slightly sweet crescent dough, brushed with butter, and baked until golden brown! An easy 30 minute recipe!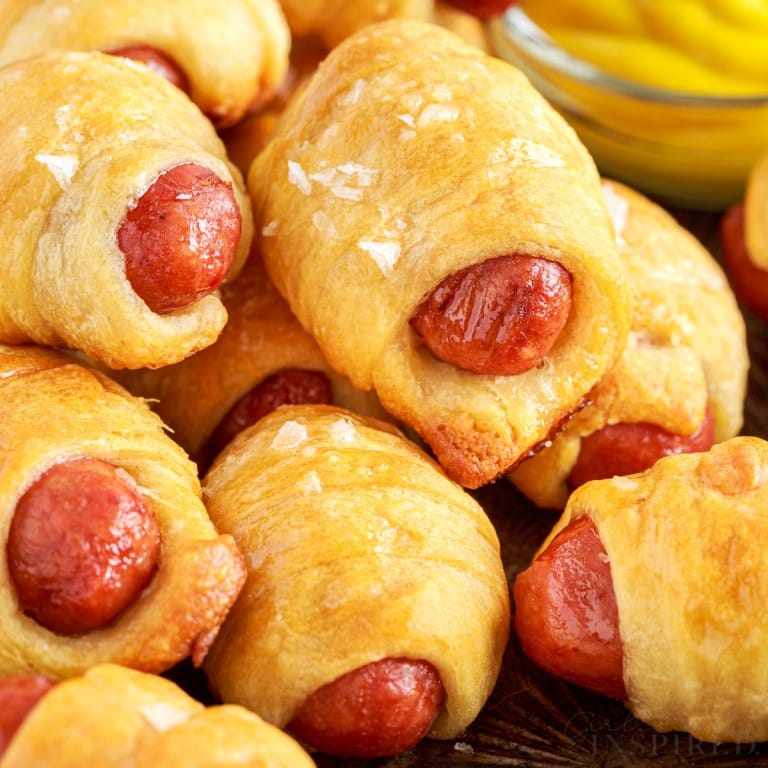 This Lil smokies pigs in a blanket recipe makes the perfect appetizer for any occasion, including a weekend at the house! Mini cocktail weenies are wrapped in a buttery crescent roll and topped with sea salt that adds a nice contrast to the sweetness of the bread. Each batch only takes 30 minutes to make!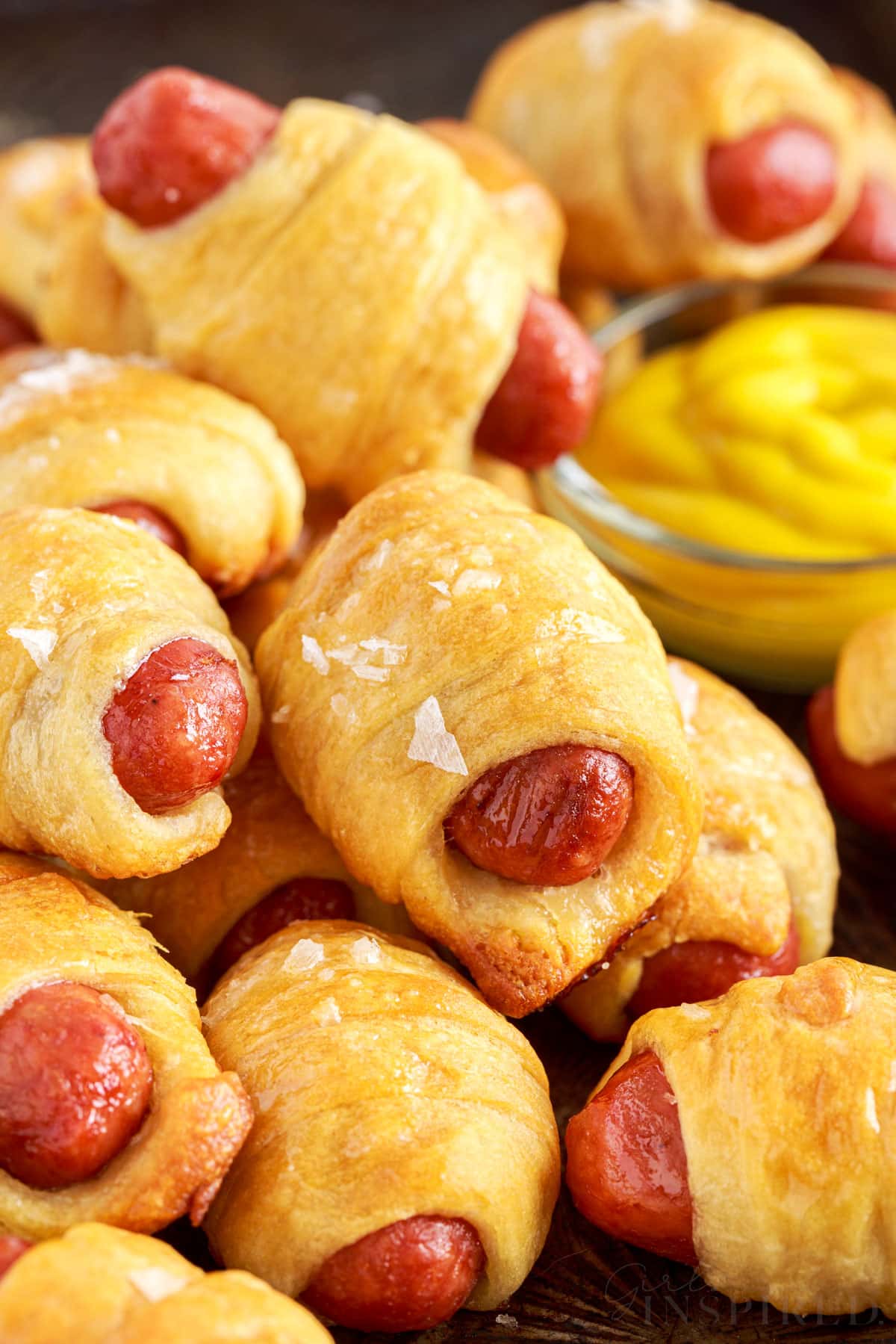 It doesn't have to be the holiday season, birthday party, or the super bowl to serve this classic appetizer! When we are feeling lazy around the house and don't want a full-course meal, sometimes we just cook game day food and veg out! If you have leftover cocktail sausages you can place them in the crockpot with bbq sauce and grape jelly to make another easy appetizer. These crock pot meatballs with grape jelly are made in a similar way.
If we are serving these mini dogs for a party, we always have buffalo chicken meatballs, dill pickle dip, buffalo chicken fries, and Rotel dip with sausage. Pizza bites and wings are some other easy options and crowd faves! For the adults we also serve margaritas, Malibu pina coladas, and strawberry sangria. These are easy drinks that can be made in batches and usually everyone loves them!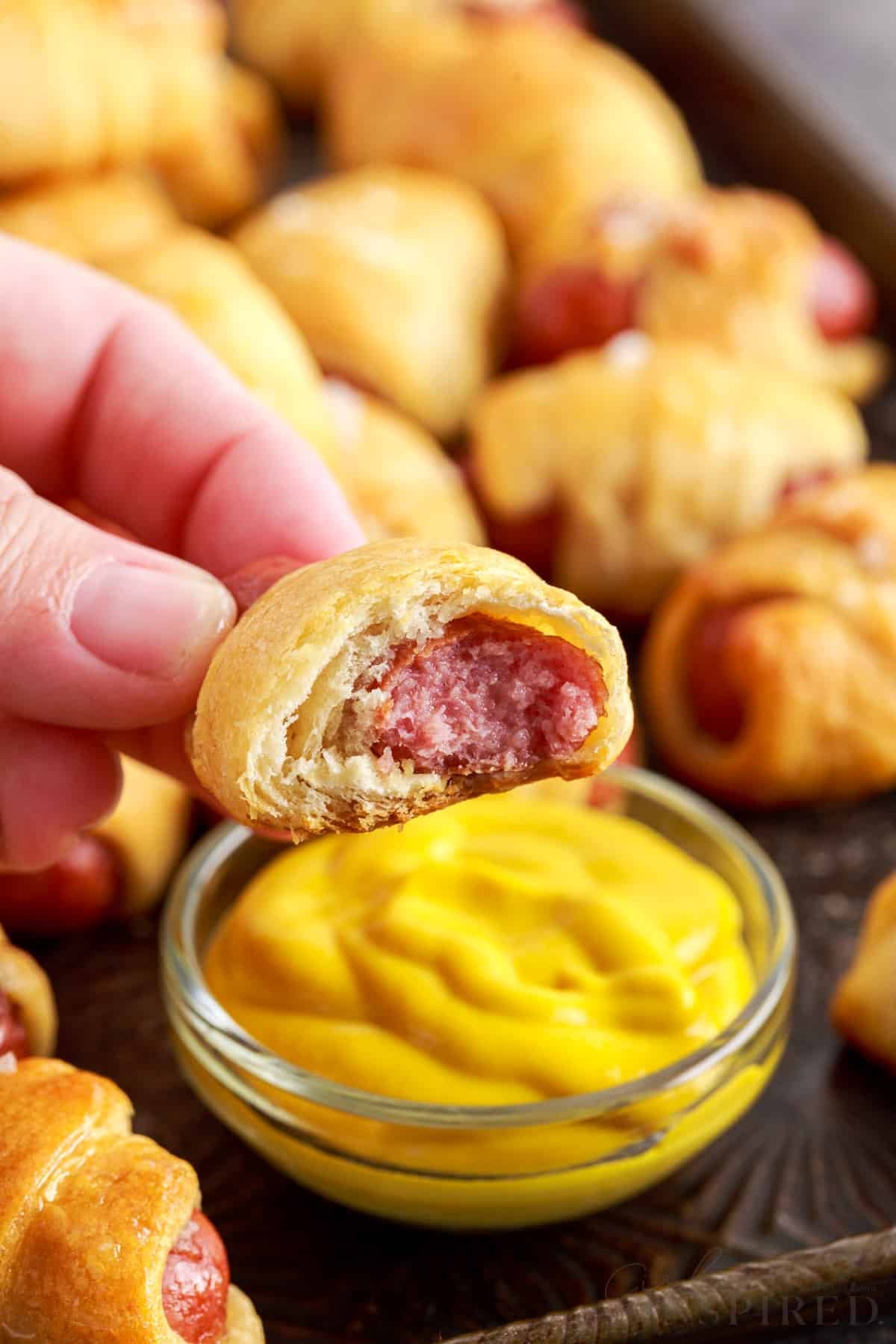 Why You'll Love This Little Smokies Recipe
Such an easy appetizer recipe that can easily feed a crowd.
Can be made ahead of time if needed.
Ready in just 30 minutes!
What Ingredients do I Need for Easy Pigs in a Blanket?
refrigerated crescent roll dough
cocktail sausages
melted butter
sea salt (such as Madon's)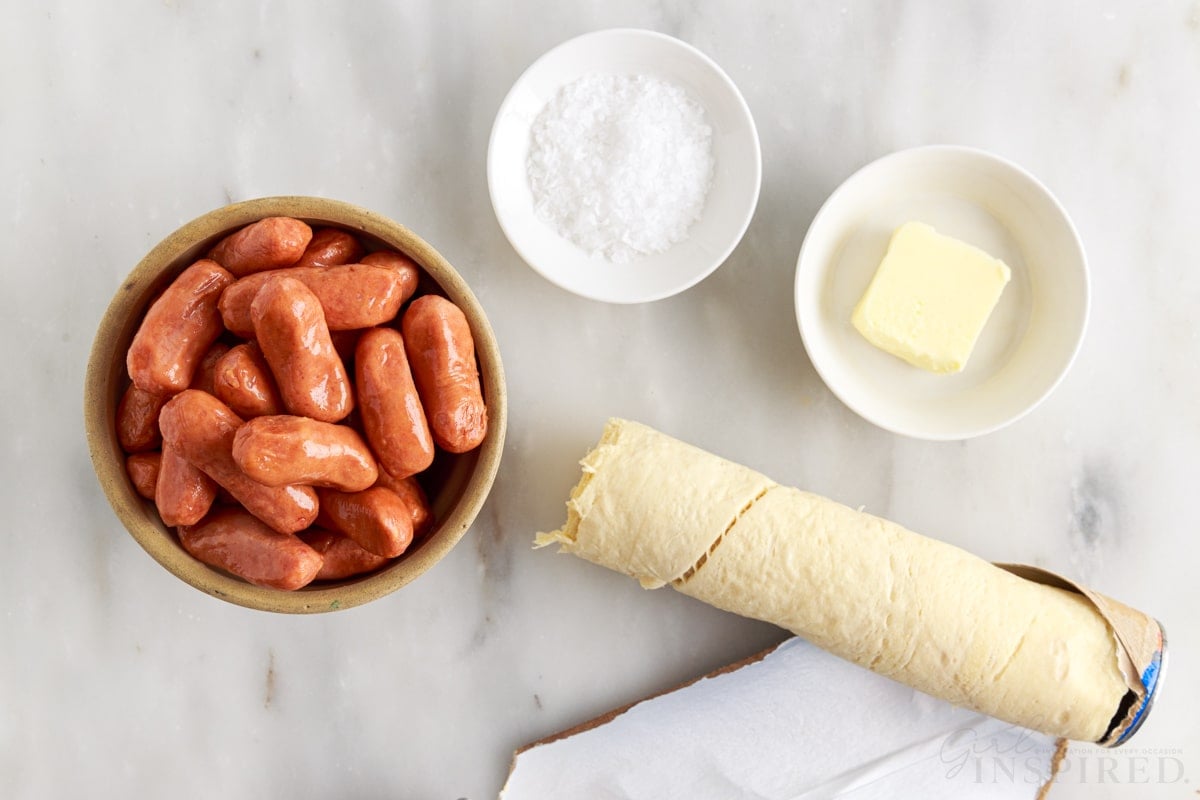 Pro Tip: If you are making these for a party, start them the day before so all you have to do is bake when you are ready to serve!
How to Make Lil Smokies Pigs in a Blanket
PREP: Line a baking sheet with parchment paper and preheat the oven to 375 degrees. Gently unroll the dough so the perforated sheet stays intact. Pinch the seams together so it's a solid sheet of dough. Use a pizza cutter or sharp knife to cut each piece into 7 narrow triangles.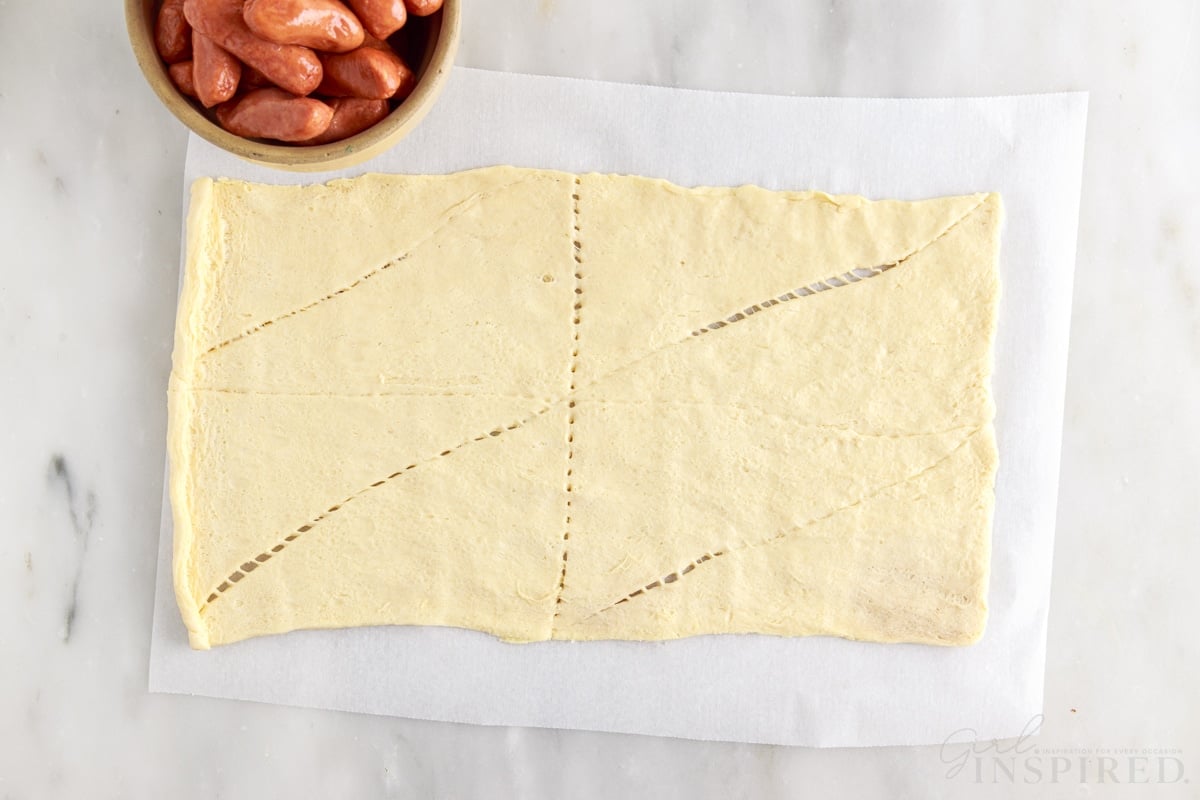 ROLL: Place the cocktail sausage on the wide end of the triangle. Roll towards the tip so the "pig" is wrapped in the "blanket" and place it on the cookie sheet in a single layer. Repeat until all are made. Brush the tops with melted butter and sprinkle with a little sea salt.
COOK: Bake for 15 minutes or until the tops are golden brown and puffed up.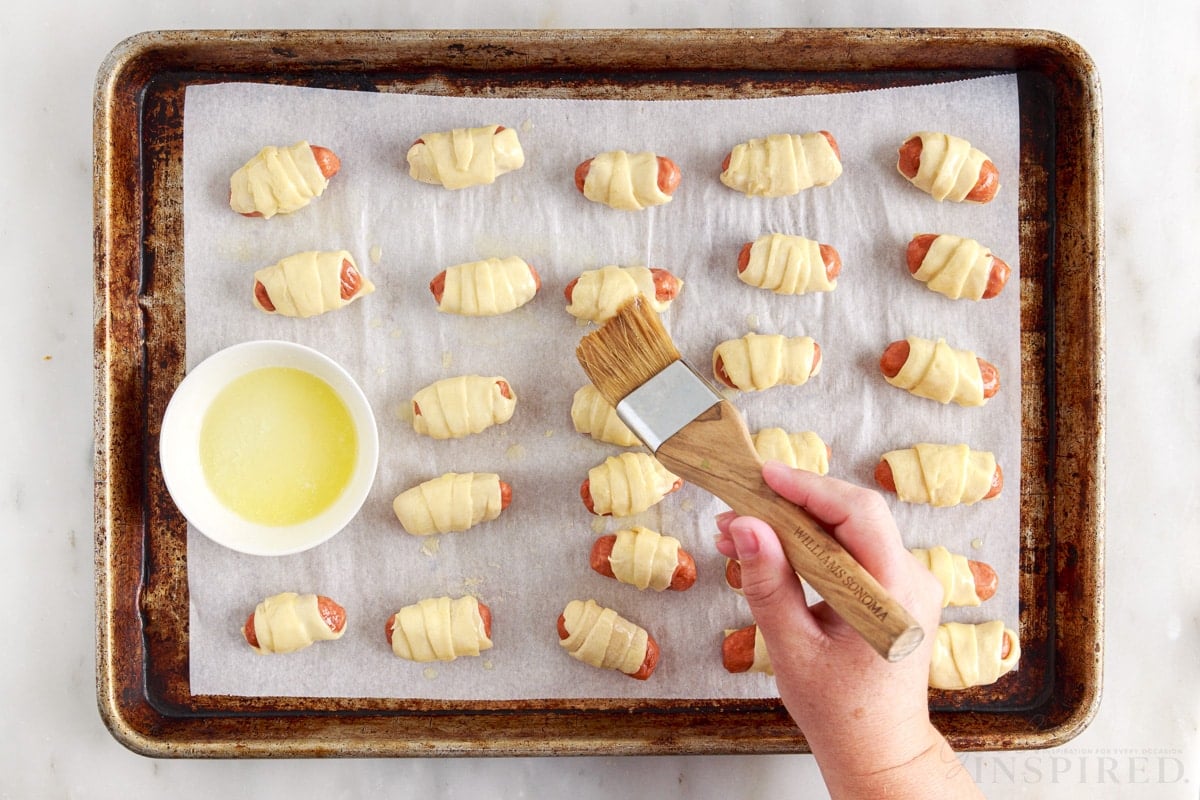 SERVE: Serve with your favorite dipping sauce such as ketchup, yellow mustard, ranch dressing, honey mustard sauce, or bbq sauce.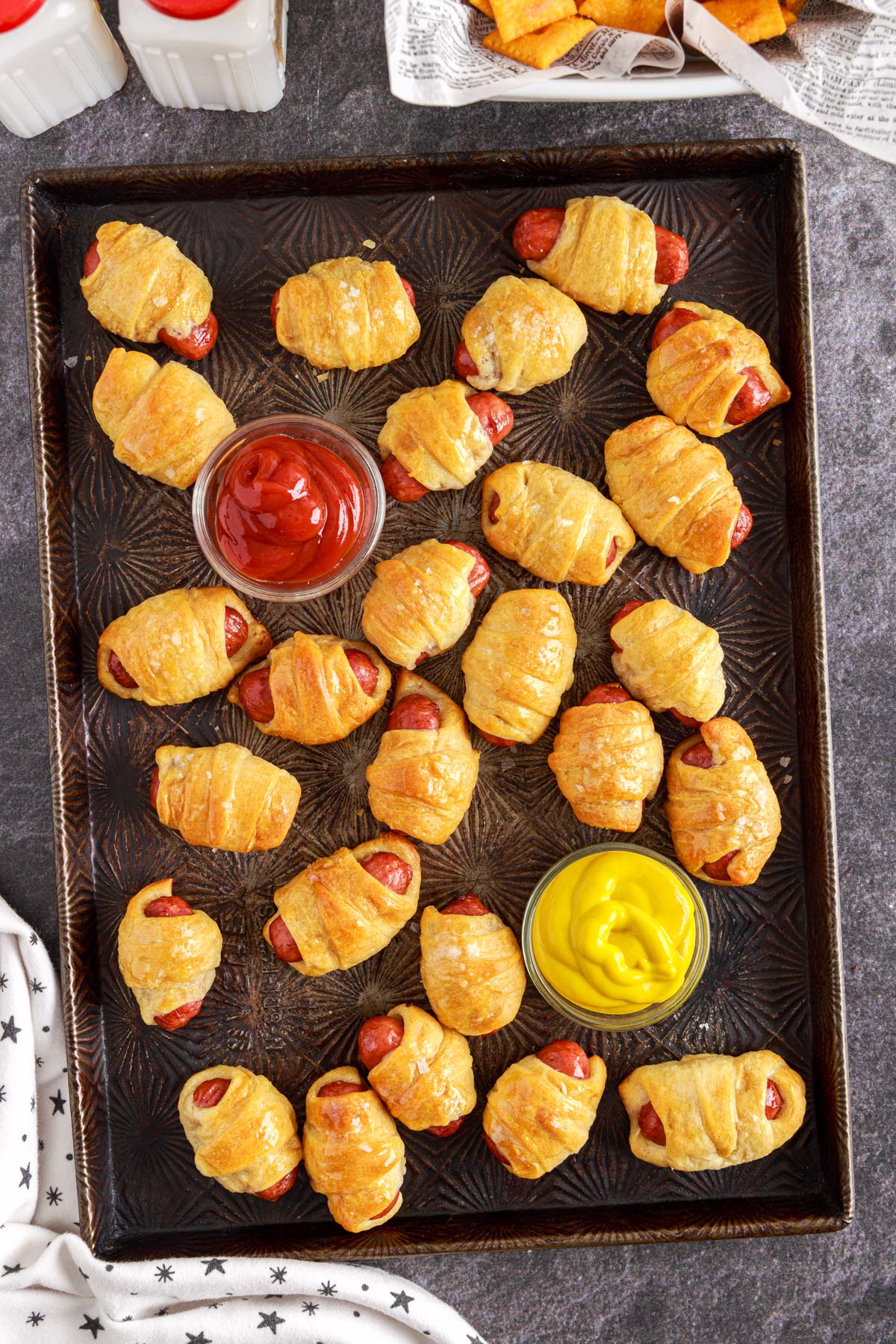 While the salt is optional it adds a nice balance to the sweeter dough.
Brushing the mini pigs in a blanket with butter helps them to get nice and brown while keeping the salt on.
One can of dough is enough to cover a 14-ounce package of little smokies. Feel free to double or triple!
Because the dough puffs up while baking, don't overcrowd the pan.
Unsalted or salted will work. You can also use an egg wash instead.
If you can find the dough sheets without the perforated seams, this saves time!
Fun Fact
The first little smokies pigs in a blanket recipe was recorded in a kids' cookbook, which makes sense! It's such an easy recipe that even their little hands can make them.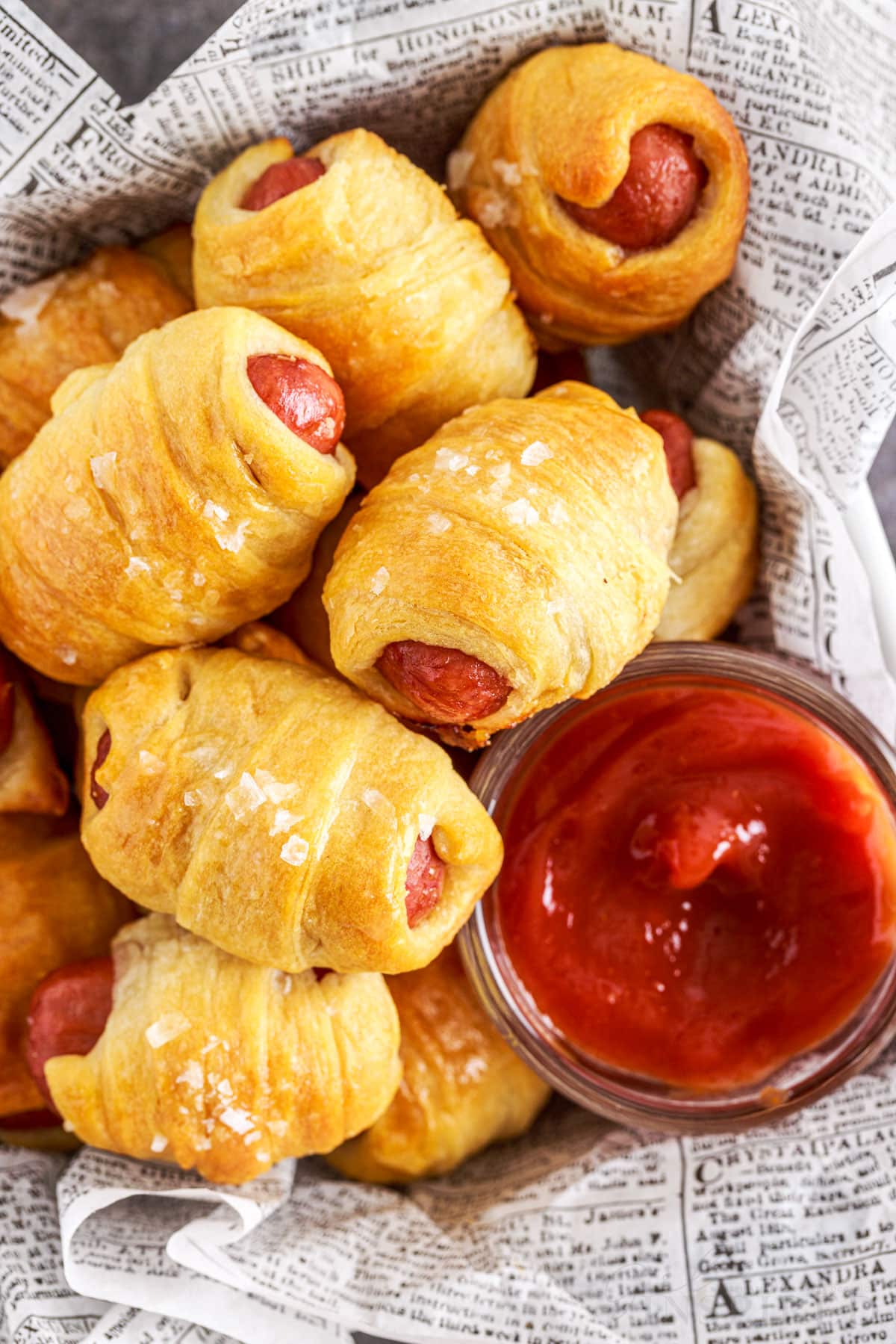 Variations
Use regular hot dogs instead of mini sausages. Cut the whole hot dogs into thirds or fourths and follow the same instructions above. Sausage links could also be substituted if that's what you have on hand.
Some like to use refrigerated pizza dough or puff pastry versus crescent dough. The puff pastry may take extra time to cook.
For extra flavor, brush with butter and top with Everything Bagel seasoning instead of just the salt.
Add a little cheddar cheese on the inside before wrapping the little sausages.
How long do classic pigs in a blanket last?
Store leftovers in an airtight container for 4-5 days in the fridge. For reheating, bake them in the oven or air fryer until they are warmed completely. Microwaving them will make the bread not as crispy.
Can you prep pigs in a blanket the night before?
Sure can! Once you have the dogs wrapped, place them on a baking sheet, cover them, and refrigerate. Before baking, let them sit out for a little bit and bake
More Mouthwatering Appetizer Recipes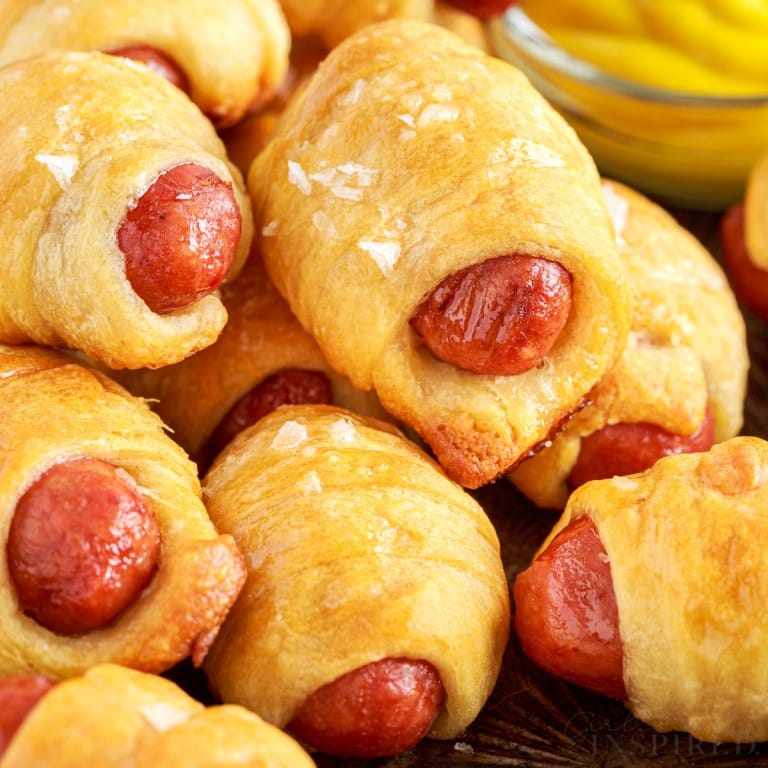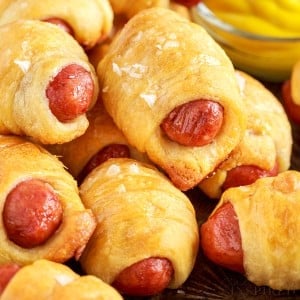 Lil Smokies Pigs in a Blanket
Lill smokies pigs in a blanket is a classic party appetizer that the whole family will love! Lil' smokies are wrapped in a slightly sweet crescent dough, brushed with butter, and baked until golden brown! An easy 30 minute recipe!
Ingredients
8 oz. cans refrigerated crescent rolls 8 count each
14 oz. package of cocktail sausages
1 tablespoon melted butter
1 teaspoon flaked sea salt such as Madon's, optional
Instructions
Preheat oven to 375°F and line a baking sheet with parchment paper.

Remove crescent rolls from packaging and gently unroll, taking care to keep the perforated sheet intact. Press over the seams gently to form a single sheet of crescent roll dough.

Use a pizza wheel to slice the crescent sheet into four sections and then slice each section into 7 triangles. (The triangles don't have to be perfect or sized exactly the same – approximate triangles are just fine.)

Place one cocktail sausage aligned with the wide end of each triangle. Roll up the sausage to form a small crescent roll surrounding the sausage. Place prepared "pigs in a blanket" on the prepared baking sheet.

Brush the tops of each roll with melted butter and top with a sprinkle of flaked/coarse salt, if desired.

Bake for 15 minutes or until the crescent rolls are puffed and golden brown.

Serve hot with ketchup, mustard, and any of your favorite dipping sauces.
Notes
Storage:
Store in an airtight container in the refrigerator for 4-5 days.
The salt is optional, but it really adds a nice salty contrast to the sweetness of the crescent roll dough.
Brushing the pigs in a blanket with melted butter helps them to achieve a nice golden brown color and it also helps the salt stick to the top of the roll.
One can of crescent dough is enough to cover about 1 full 14 oz. package of sausages. Double, triple, quadruple the recipe as needed – these little snacks go fast!
Leave a little room between sausages on the baking sheet as the dough does puff up around the sausage and you don't want them bumping into one another.
Salted or unsalted butter will work fine to brush over the crescent dough. You could also use an egg wash.
Some stores sell crescent roll SHEETS – if you can find one of these, you can eliminate the step of pressing the perforated seams together. Simply slice the sheet into 28 small triangles. You can even just cut small strips of the dough, though I like the more traditional crescent roll appearance.
Nutrition
Calories: 75kcal | Carbohydrates: 3g | Protein: 2g | Fat: 6g | Saturated Fat: 2g | Polyunsaturated Fat: 1g | Monounsaturated Fat: 2g | Trans Fat: 0.02g | Cholesterol: 10mg | Sodium: 295mg | Potassium: 25mg | Sugar: 1g | Vitamin A: 12IU | Calcium: 2mg | Iron: 0.3mg