Air fried baked potatoes are such an easy recipe and can be customized by adding your favorite toppings! These are also great when hosting a baked potato bar!
Once you taste a baked potato in the air fryer, you will never eat them another way again! Fluffy potato on the inside and crispy seasoned skin on the outside, there is virtually no cleanup, and they only take 40 minutes to make! Load them with your favorite toppings for an easy side dish or main course meal if you stuff them with protein!
Using the air fryer is the best way to get the perfect baked potato! From the crispy outside to the fluffy insides – you couldn't ask for anything better! If you have leftover Russets, dice them up for a batch of bacon cheeseburger soup or creamy chicken stew.
Potato recipes make some of the best side dishes because they go great with just about anything. We love serving air-fried potatoes with this French Onion Chicken Skillet, Crockpot Steak Bites, or Chicken with Sundried Tomatoes and Spinach. Did you know that you can even make this homemade gnocchi recipe using baked potatoes?
Why You'll Love Air Fryer Baked Potatoes
Takes a fraction of the time compared to oven-baked potatoes.
Only 3 simple ingredients are needed.
Goes great with many different meals.
Perfectly cooked every time!
What Ingredients do I Need for the Air Fryer Baked Potato Recipe?
Russet potatoes – these make the best-baked potatoes! Yukon gold potatoes can also be used.
Vegetable oil – olive oil or avocado oil can be substituted if desired. Since we are cooking at 400 degrees F, you want to use an oil with a high smoke point.
Coarse salt
Pro Tip: Leave room between the potatoes while cooking. Overloading the basket will increase the cooking time and the outsides will not be as crispy.
How to Make a Baked Potato in Air Fryer
PREP: Scrub potatoes, then pat dry with a paper towel. Use a fork (or sharp knife) to poke holes in each one. Brush or rub each one with oil and sprinkle with sea salt.
AIR FRY: Place potatoes in the basket in a single layer and cook for 30 minutes at 400 degrees. Use tongs to flip each one then continue cooking for another 10-15 minutes or until they are fork-tender.
SERVE: Slice them open and serve with your favorite potato toppings!
The cook time may vary depending on the size of your potatoes and the number you are cooking. Small potatoes will cook much faster, but you could use this same method to make baby potatoes.
Oiling the potatoes makes for a perfectly crispy skin. If you choose to skip the oil, you will have to omit the salt as well because it will not stick.
You can also rub coarse black pepper on the outer skin.
There's no need to use a paper liner or use cooking spray on the basket of the air fryer. For the best results, place the potatoes in directly so the hot air can swirl around.
If you are using larger potatoes and are cooking in batches, simply wrap the cooked potatoes in aluminum foil so they stay hot until you are ready to serve.
Love making your whole Sunday dinner in the air fryer? Try this air fryer roast beef or cook a whole chicken in the air fryer!
Fun Fact
In the UK, baked potatoes may also be referred to as jacket potatoes.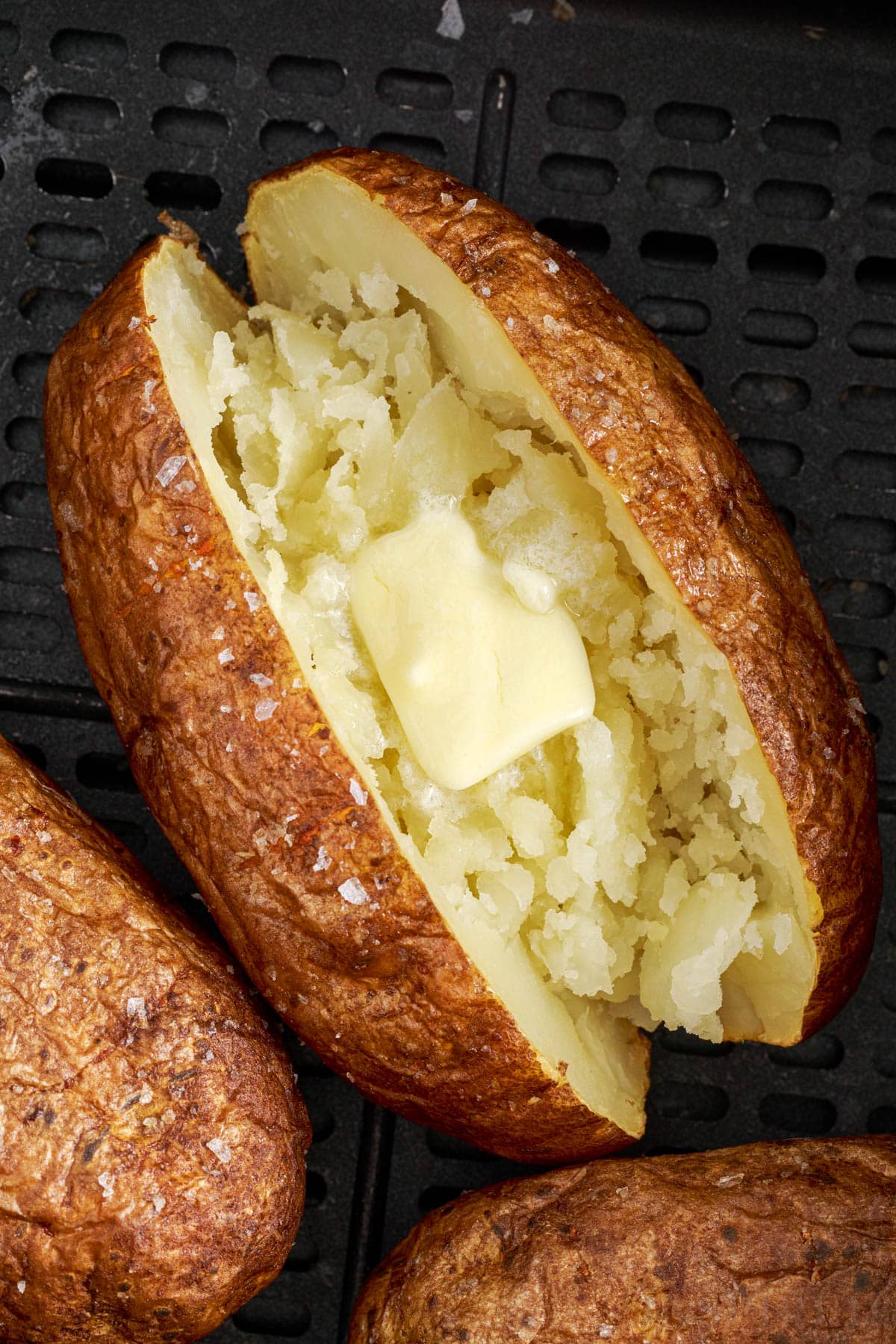 Potato Topping Ideas
Loaded – This is a classic combo of butter, sour cream, chives (or green onions), cheddar cheese, and bacon bits.
Veggie – Add sauteed or roasted vegetables of your choice. This makes a great vegetarian meal.
Broccoli Cheddar – Roast or steam the broccoli, then pile it on with cheddar cheese or melted Velveeta.
Protein Packed – add chicken, steak, bbq, or smoked salmon.
How long do air fryer baked potatoes last?
Store leftovers in the refrigerator for 3-4 days.
Can you reheat a baked potato in the air fryer?
Yes! Lower the temperature to 300-350 degrees and air fry until it's warmed through.
More Easy but Tasty Air Fryer Recipes
Baked Potato in Air Fryer
Air fried baked potatoes are such an easy recipe and can be customized by adding your favorite toppings! These are also great when hosting a baked potato bar!
Ingredients
3-4 Russet potatoes depending on how many will fit in your air fryer
1 tablespoon vegetable oil
Sea salt to taste
Instructions
Clean potatoes well by scrubbing them under running water. Pat dry with a clean towel.

Prick the potatoes all over with a fork

Brush or rub oil over the entire outside of the potatoes and sprinkle with sea salt (sprinkle salt as liberally as you'd like.)

Place the prepared potatoes in a single layer in the basket of the air fryer (there should be a bit of room between the potatoes, do not overcrowd.)

Cook at 400°F for 30 minutes, then turn and continue cooking 10-15 minutes more.

Cook time will vary slightly depending on the size of the potatoes and the number of potatoes in the air fryer basket.
Notes
Store in an airtight container in the refrigerator for 3-4 days. Notes: The air fryer will cook a potato with a delicious, crispy skin, maybe even better than in the oven. The oil on the skin aids in a crispy exterior. You do not have to use oil on the skin. You can follow the recipe as is and omit the oil and salt. (Note that the oil helps hold the salt on the skin so if you skip the oil, you're skipping the salt too.) Test that the potato is done by gently pressing a fork into it. If the fork goes into the potato easily, the potato is done. If you feel resistance in the center of the potato, go ahead and cook for 5 minutes longer. You can also rub black pepper onto the skin. I like to use sea salt and a coarse black pepper. You do not need to line the air fryer basket and do not place the potatoes on a plate or anything in the basket. Allowing the hot air to swirl up and around all sides of the potato will produce the best results.
Nutrition
Calories: 156kcal | Carbohydrates: 29g | Protein: 3g | Fat: 4g | Saturated Fat: 1g | Polyunsaturated Fat: 2g | Monounsaturated Fat: 1g | Trans Fat: 0.02g | Sodium: 8mg | Potassium: 666mg | Fiber: 2g | Sugar: 1g | Vitamin A: 2IU | Vitamin C: 9mg | Calcium: 21mg | Iron: 1mg