Easy Amish macaroni salad is made with a handful of simple ingredients and tossed in a creamy homemade dressing that is sweet and tangy, all in one.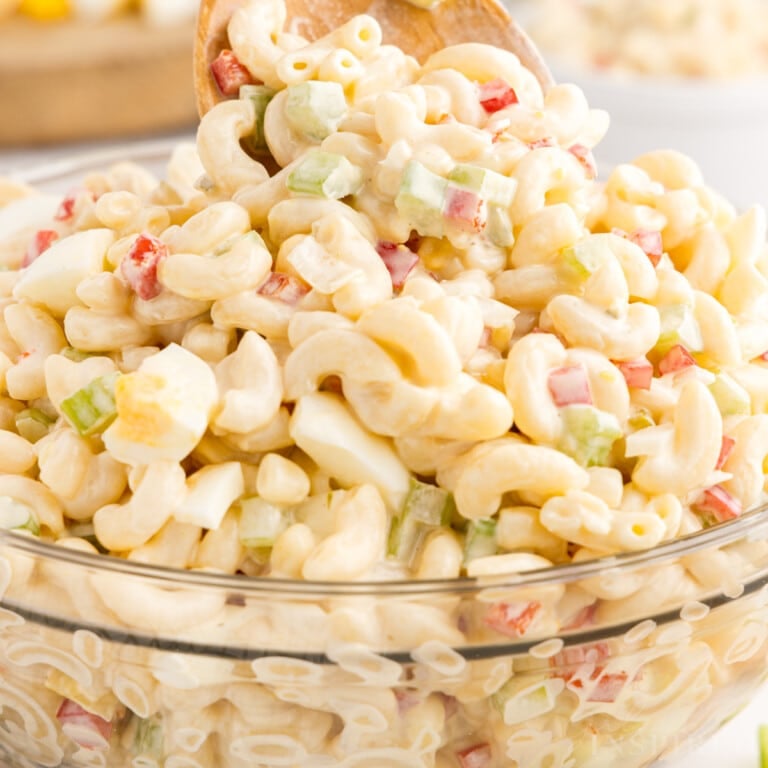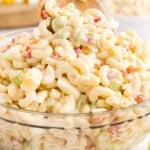 This Amish macaroni salad recipe is sweet, tangy, crunchy, and full of flavor. It's a must have for your next cookout and always a summer staple at our family gatherings. Plus, it's a great make ahead recipe, doesn't take long to prepare, and the flavors get even better the next day after it sits.
You have just landed on the best macaroni salad you have ever tasted! The flavor profile is amazing and is anything but bland, plus the texture is crisp and refreshing. You may think it sounds weird to add eggs, but don't skip out on those. You can even make air fryer hard boiled eggs or cook a big batch of hard-boiled eggs in the oven if you don't feel like boiling them.
Creamy macaroni salad is the perfect side dish to Southern fried chicken and grilled shrimp skewers. During summer parties we also like serving pigs in a blanket and southwest chicken roll ups for starters. Try this Amish macaroni salad recipe with an icy peach-infused white wine slushie!
Jump to:
🥗 Ingredients: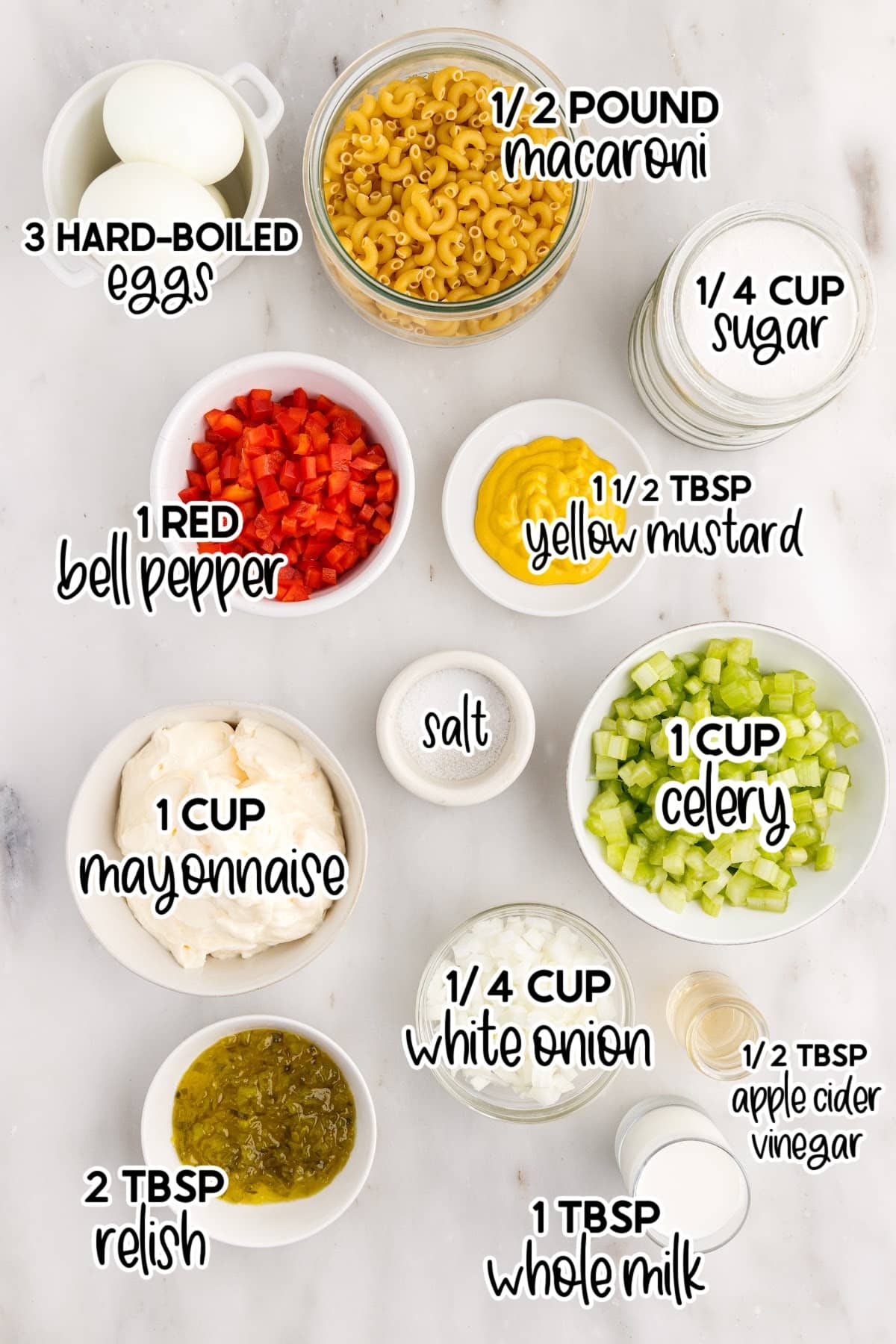 macaroni pasta – we are using regular size elbow noodles that would go in classic macaroni salad. They hold their shape and texture the best.
hard-boiled eggs – you can also grab these from the grocery store already prepped. Costco sells a bulk box of hard-boiled eggs that are great, too.
Veggies: chopped celery, onion, red bell pepper.
Dressing Ingredients
mayonnaise – use your favorite kind. We love Best Foods, but Miracle Whip would go well with this sweet macaroni salad recipe.
whole milk – thins the dressing out just a bit so it's not as thick
white sugar – pairs well with the vinegar and mustard so the dressing isn't too sour. Consider reducing the amount if using Miracle Whip for your mayo.
sweet relish – helps to balance out the other flavors
apple cider vinegar and yellow mustard – adds tanginess to the dressing
Salt – adjust to your liking. Some also like to add black pepper.
For a full list of ingredients and their measurements, 📋 please view my printable recipe card at the bottom of the post.
Substitutions and Variations
Red Onion – if you like more of a bite and want more color swap the white for red. These are more pungent in flavor.
Bread and Butter pickles – dice into fine pieces to use in place of the sweet relish.
Miracle Whip – can be swapped for the real mayonnaise, but it is a little sweeter. The amount of sugar and sweet relish will need to be reduced.
🔪 Instructions:
PREP: ​Cook ½ lb elbow macaroni noodles in a large pot of salted water until al dente. Drain and rinse with cold water until the pasta is completely cooled. Dice all of the veggies and eggs.
Step 1: Add the cooked macaroni noodles, celery, onion, eggs, and red pepper to a large bowl.
Step 2: Whisk together the mayo, milk, relish, sugar, vinegar, and mustard in a small bowl.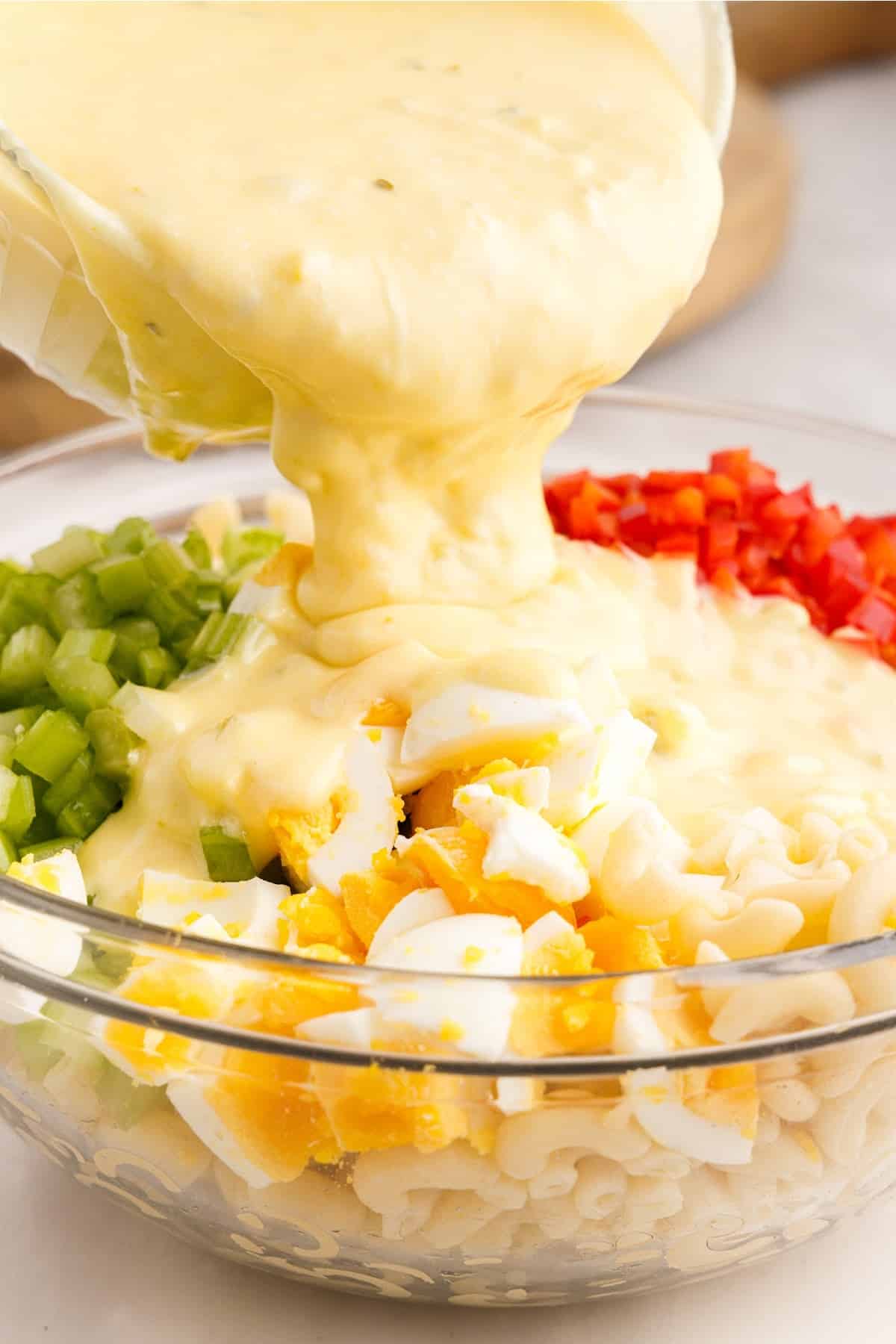 Step 3: Pour the dressing over the pasta mixture.
Step 4: Toss to combine.
Pro Tip: Don't skip the chilling time before serving. This gives the salad time to marinate and let all of the flavors really shine.
SERVE: Refrigerate for 1 hour, then serve.
This pasta salad is super creamy, tangy, and sweet.
Rinsing the pasta with cold water stops the cooking process and gets rid of the starches so it doesn't clump together.
As it sits, the flavors marry with one another. This makes this salad especially good for leftovers or making ahead of time.
Make the salad ahead of time by cooking the pasta, drain and cool. Store in plastic bag for 1-2 days. Veggies and eggs can be diced and refrigerated for up to 3 days. The full salad can be assembled up to a day in advance.
If you're looking for more Amish-inspired recipes, try these ultra soft Amish sugar cookies and our Amish potato salad recipe!
Fun Fact
Did you know that Walmart's amish macaroni salad was really inspired by an original recipe from the Amish country?
Recipe FAQs
What's the difference between regular macaroni salad and creamy amish macaroni salad?
The main difference is the salad dressing. It is sweeter, and tangier that the standard pasta salad because of the addition of sugar, relish, and vinegar.

Traditional macaroni salad also often includes vegetables like celery, bell peppers, and onions. On the other hand, Amish macaroni salad commonly incorporates sweet ingredients like sweet pickles or pickle relish, which add a touch of sweetness and tang to the salad.

Also, the best Amish macaroni salad typically embraces a simpler and more rustic approach. It focuses on basic, readily available ingredients without excessive additions or seasonings, reflecting the traditional cooking style of the Amish community.
How best to store Amish macaroni salad?
Keep the salad in an airtight container or covered with plastic in the refrigerator for 3 to 5 days. After that, the quality and taste may start to deteriorate, so it's best to consume it within this timeframe.

A well-fitting lid helps to prevent moisture loss and keeps the salad from absorbing odors from other foods in the refrigerator.

Freezing Amish macaroni salad is not recommended, as the texture and taste may be altered when thawed. The mayonnaise-based dressing can separate and become watery, affecting the overall quality of the salad.


More Delicious Salads To Try
If you tried this Amish Macaroni Salad or any other recipe on my website, please please leave a 🌟 star rating and let me know how you liked it in the 📝 comments below.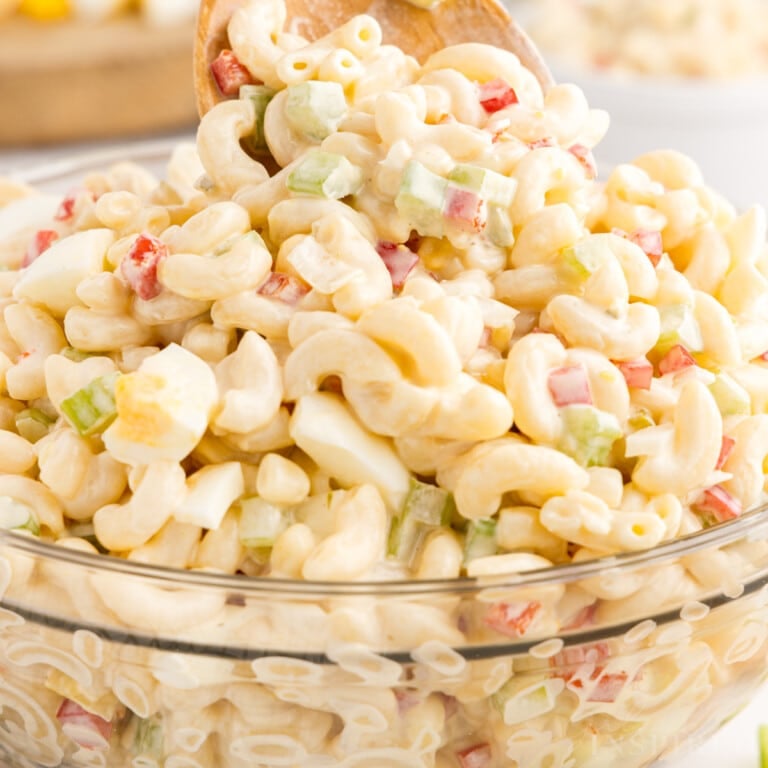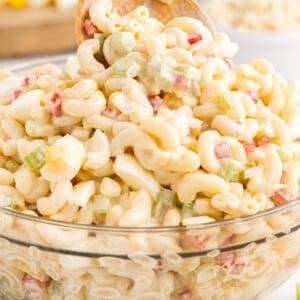 Amish Macaroni Salad
Easy Amish macaroni salad is made with a handful of simple ingredients and tossed in a creamy homemade dressing that is sweet and tangy, all in one.
Ingredients
½ lb. macaroni pasta about 2-2 ½ cups
1 cup chopped celery
3 hard-boiled eggs peeled and chopped
¼ cup finely chopped white onion
1 red bell pepper diced (about ¾ cup)
1 cup mayonnaise
1 tablespoon whole milk
¼ cup granulated sugar
2 tablespoons sweet pickle relish
½ tablespoon apple cider vinegar
1 ½ tablespoons yellow mustard
Salt to taste
Instructions
Cook pasta in a large pot of salted, boiling water. Drain and rinse with cold water until completely cool.

Place cold pasta, celery, eggs, onion, and bell pepper in a large salad bowl.

In a separate bowl, whisk together mayonnaise, milk, sugar, relish, vinegar, and yellow mustard.

Pour dressing mixture over the pasta, eggs, and vegetables in the salad bowl.

Toss until fully combined.

Chill for an hour before serving.
Notes
Storage: Cover the salad with plastic wrap or keep leftovers in an airtight container for 4-5 days in the refrigerator. Notes: Unlike classic pasta salad, Amish macaroni salad has a sweet and tangy flavor and it's extra creamy. Swap Miracle Whip for the mayo if desired. Since it's sweeter you will need to adjust the sugar and sweet pickle relish. To make ahead of time, store the cool, drained pasta in a plastic bag for up to 48 hours. Dice the veggies and eggs up to 3 days in advance.
Nutrition
Calories: 361kcal | Carbohydrates: 30g | Protein: 7g | Fat: 24g | Saturated Fat: 4g | Polyunsaturated Fat: 13g | Monounsaturated Fat: 6g | Trans Fat: 0.1g | Cholesterol: 82mg | Sodium: 339mg | Potassium: 148mg | Fiber: 1g | Sugar: 9g | Vitamin A: 247IU | Vitamin C: 3mg | Calcium: 30mg | Iron: 1mg