Use this easy Amish sugar cookies recipe for your holiday baking extravaganza! Melt in your mouth delicious, using only pantry staples, and everyone loves them!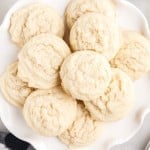 These soft, melt-in-your-mouth Amish sugar cookies are so simple to make, only use pantry staples, and one batch sure does go a long way! These are perfect for Christmas parties, cookie exchanges, or delicious edible gifts.
It's official! It's cookie-baking season, and one of my favorite times of the year! We always make several different batches just because it's fun, festive, and has turned into a Christmas tradition. The kids love decorating Santa cookies, reindeer cupcakes, and cutout sugar cookies. In the past, we even made chocolate-covered strawberry Christmas trees that everyone thought were cute and genius!
The treats don't stop at cookies though! Try your hands at the infamous dipped Ritz crackers, copycat Reese's trees, or these decadent chocolate truffles that are super easy. If you need a couple more edible gift ideas, we love giving hot chocolate bombs, Bailey's fudge (for adults only ;), and Oreo balls.
Why You'll Love This Sugar Cookie Recipe
Easier to make compared to cut-out sugar cookies.
One batch makes 50 cookies!
Ready in less than 1 hour.
Uses simple ingredients.
Soft, puffy, and super tasty!
What Ingredients do I Need for Amish Sugar Cookies?
butter – allow time for it to soften so it mixes easily. Salted or unsalted will work.
vegetable oil
granulated sugar
powdered sugar
eggs
vanilla extract
all-purpose flour
baking soda – If needed you can swap for baking powder. 1 teaspoon of baking powder is equivalent to ¼ teaspoon of baking soda.
cream of tartar – This helps to keep the sugar from crystallizing and acts as a leavening agent.
Before your start: Parchment paper and/or silicone mats are optional. While this will make for easy cleanup, it doesn't change the way the cookies bake or spread. So, you can place the cookie dough directly on your baking pans.
How to Make Soft and Chewy Amish Sugar Cookies
PREP AND MIX: Line baking sheets with parchment paper and preheat the oven to 375 degrees. In a large bowl, beat the butter, oil, and sugar together using an electric mixer. Add the eggs and vanilla, then mix for 2 more minutes. Stir the flour, baking soda, and cream of tartar together in a separate bowl. While the mixer is on low speed, add the flour mixture in spoonfuls until the batter is mixed evenly.
FORM COOKIES: Use a cookie scoop to drop the dough on the baking sheets. Leave some room in between the cookie dough balls.
BAKE: Bake the cookies for 7-8 minutes or until the edges and the bottoms are lightly browned. Transfer to a wire rack to let them cool before serving.
There's no need to chill Amish sugar cookie dough! We found that there was no difference in the way they baked. However, if you wanted to chill the dough until you are ready to use, cover the cookie dough in a large mixing bowl with plastic wrap. Allow it to sit out for a little bit before forming the cookies so it's easier.
The cream of tartar and powdered sugar are what make these cookies melt in your mouth!
We chose to go with a half oil/butter mixture and vanilla extract for a mildly sweet cookie. Using almond extract would add more flavor.
Be sure your leaveners (baking soda and cream of tartar) are in date. If they are expired, it may take away from the tender texture and will cause them to be flat.
If desired, half the ingredients to make a smaller batch.
Fun Fact
It's said that these cookies were originally made in Pennsylvania.
How long do Amish sugar cookies last?
Store leftover baked cookies in an airtight container for up to 5 days on the counter.
Can Amish sugar cookies be frozen?
After they have cooled, transfer them to a freezer bag. Use parchment paper to separate the layers and freeze for up to 3 months. If you are using frozen cookie dough, when ready, place cookies on a baking sheet and add a few more minutes to the baking time.
What is the difference between a sugar cookie and a shortbread cookie?
Sugar cookies are best for decorating and cutting shapes because the dough is much sturdier. Shortbread cookies have a more crumbly texture but are still tender. There is also more butter to flour (ratio) in shortbread cookies compared to sugar.
What are Amish sugar cookies?
Amish sugar cookies are considered a vintage recipe since they debuted in an Amish cookbook during the 1700s.
Variations
Melt your favorite variety of chocolate and dip one side of each cookie.
If you want to add sprinkles, roll the dough balls in the sprinkles, then bake.
These are also delicious with frosting on top. Use your favorite or whisk together milk and powdered sugar to create a simple glaze.
More Holiday Cookie Recipes
Amish Sugar Cookies
Use this easy Amish sugar cookies recipe for your holiday baking extravaganza! Melt in your mouth delicious, using only pantry staples, and everyone loves them!
Ingredients
1 cup butter softened
1 cup vegetable oil
1 cup granulated sugar
1 cup powdered sugar
2 large eggs
2 tsp. vanilla extract
4 ½ cups all-purpose flour
1 tsp. baking soda
1 tsp. cream of tartar
Instructions
Preheat the oven to 375°. Line two baking sheets with parchment paper and set aside.

In the bowl of a standing mixer, beat together butter, vegetable oil, granulated sugar, and powdered sugar. Add the eggs and vanilla and beat for 2 minutes longer, scraping down the sides of the bowl as needed.

Mix together flour, baking soda and cream of tartar in a separate bowl.

With the mixer running on low speed, add the flour mixture a couple spoonfuls at a time until the dough is evenly combined.

Use a cookie dough scoop to drop spoonfuls of the dough onto prepared baking sheets. Bake for 7-8 minutes until just lightly golden brown on the bottom edges.

Transfer baked cookies to cooling racks.
Notes
STORAGE:
Store cookies in an airtight container for up to 5 days or freeze up to 3 months. NOTES:
Dough does not need to be chilled. Chilling the dough does not make a difference in the spread or consistency of the cookies – if you want to chill the dough, go ahead! But you can also simply mix and scoop right onto the baking sheets.
Parchment paper is optional. Some cookies will spread differently when cooked on parchment paper, but there is no difference with this recipe. Parchment paper makes cleanup a breeze, but you can also bake the cookies right on your ungreased cookie sheets.
These are soft and melt in your mouth, thanks to the addition of the powdered sugar and the cream of tartar. Using half vegetable oil (half butter) and just vanilla extract makes for a very mild sweet cookie. You could also add almond extract for more flavor.
Nutrition
Calories: 140kcal | Carbohydrates: 15g | Protein: 1g | Fat: 8g | Saturated Fat: 3g | Polyunsaturated Fat: 3g | Monounsaturated Fat: 2g | Trans Fat: 0.2g | Cholesterol: 16mg | Sodium: 59mg | Potassium: 32mg | Fiber: 0.3g | Sugar: 6g | Vitamin A: 123IU | Calcium: 4mg | Iron: 1mg