These Christmas cookie bars are going to be hit this season! Think blondie meets the chocolate chip cookie with a whole lot of holiday cheer that's ready in 30 minutes!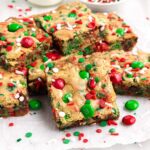 Christmas bar cookies are a baked from scratch cookie treat that everyone enjoys! Holiday sprinkles and festive M&M candies are added to a traditional chocolate chip cookie dough for these holiday cookie bars. They are fun to make and are ready in 30 minutes. All you need is the Christmas music cranked up to set the mood!
Christmas cookies are a staple around here as soon as the holiday season hits! We love getting together and having a party where we let the kids decorate cut-out sugar cookies. But there are a few times where I don't really feel like making actual cookies, so cookie bars come in handy!
As for the other Christmas goodies, our lineup consists of candy cane cookies, copycat Reese's peanut butter Christmas trees, and coconut macaroons which could really be baked for any occasion! You may even catch us sipping on a Dirty Snowman or a glass of homemade eggnog!
Jump to:
Why You'll Love Christmas Bar Cookies
Fun to make and way more festive than the average cookie!
It's a simple holiday dessert ready in 30 minutes.
Easier and less prep work compared to regular cookies.
🤶 Ingredients:
unsalted butter, light brown sugar, and granulated sugar – for a traditional butter and sugar base to the cookie dough; we use melted butter in this recipe so there is no need to set it out in advance to soften.
egg – room temperature eggs are best, they provide the lift and fluff for the cookies. We do not use any other leaveners (like baking soda or baking powder) in this recipe to keep the bars thick and chewy.
vanilla extract – you can change up your extract and swap in your favorite flavor if you like
all-purpose flour – measure by stirring the flour to fluff it, spooning it into the measuring cup, and then swipe across the top with a knife to level it. Proper measuring will prevent you from adding too much flour to your cookie dough, which will result in heavy, drier cookies
salt – seasons and balances the cookie dough
semi-sweet chocolate chips – or use your favorite type of chip – milk chocolate chips, dark chocolate chips, or white chocolate chips or chunks can all be used
red and green M&Ms – use a holiday m&m mix or pull the red and green m&m candies from a larger bag of all the colors.
Christmas jimmies – Jimmies hold their color when stirred into a wet dough. Other types of sprinkles might bleed and turn your cookie dough into an unsightly greenish brown color.
additional Christmas sprinkles for sprinkling over the baked cookie bars
For a full list of ingredients and their measurements, 📋 please view my printable recipe card at the bottom of the post.
Substitutions and Variations
For other holidays, swap the candy and sprinkles out for a different color.
You can also sprinkle white chocolate chips on top or minis.
🔪 Instructions:
PREP: Set out egg in advance so that it can come to room temperature. Preheat the oven to 350 degrees and line an 8×8 baking dish with parchment paper.
Step 1: Whisk together the butter and sugars in a large bowl. Then add the egg and vanilla.
Step 2: Mix together the salt and flour in a small bowl and then stir the dry ingredients into the dough just until it's moistened. Fold in the chocolate chips, M&Ms, and jimmies.
Over-stirring will make your cookies tough and crumbly.
Step 3: Transfer the cookie dough batter to the lined baking pan. Top with the remaining sprinkles and candy.
Step 4: Bake for 20 minutes. Allow the cookie bars to cool on a wire rack in the pan.
GARNISH/SLICE/SERVE: Lift the bars out by the overhanging parchment paper and place on a cutting board. Slice into 9 large squares. Serve this Christmas dessert with mugs of Italian hot chocolate for a fast and fabulous sugar coma.
Pro Tip: The cookie bars are easy to lift and transfer from the pan once they are cooled. If they are still warm, they will bend and fall apart. If you want to eat them warm, I'll just look the other way while your dig out some chunks from the pan.
Recipe Tips for m&m Christmas Cookie Bars:
Feel free to adjust the amount of chocolate chips, candy, and sprinkles. The amount we used gave us lots of chocolate and sprinkle flavors, along with a chewy blondie.
Jimmy sprinkles work the best when adding to the dough because they do not bleed. If you are using a different type of sprinkle, only add those to the top just before baking. When stirred in they turn the batter a greenish-brown color.
Avoid overmixing the batter because it can make the cookie bars tough and crumbly.
Fun Fact
The tradition of putting out cookies for Santa actually started during the Great Depression to try to show kids to be thankful.
Recipe FAQs
How long do holiday cookie bars last?
Store leftovers in an airtight container on the counter for up to 5 days.
Why is it called a bar cookie?
Unlike a traditional batch of cookies, these are made in one pan, then sliced into bars once they have finished baking. They taste just like a regular, thicker cookie.
More Christmas Desserts You'll Love
If you tried this Christmas Bar Cookie Recipe or any other recipe on my website, please please leave a 🌟 star rating and let me know how you liked it in the 📝 comments below.
Christmas Bar Cookies
These Christmas cookie bars are going to be hit this season! Think blondie meets the chocolate chip cookie with a whole lot of holiday cheer that's ready in 30 minutes!
Ingredients
½ cup unsalted butter melted
½ cup packed light brown sugar
⅓ cup granulated sugar
1 large egg room temperature
1 teaspoon vanilla extract
1 cup all-purpose flour
¼ teaspoon salt
½ cup semi-sweet chocolate chips
½ cup red and green M&Ms
¼ cup Christmas jimmies
additional Christmas sprinkles for sprinkling over the baked cookie bars if desired
Instructions
Preheat oven to 350°F. Brush an 8×8-inch square baking pan with a bit of the melted butter and line the pan with parchment paper, leaving a 2-inch overhang on two sides.

In a large bowl, whisk remaining butter and sugars until smooth. Whisk in egg and vanilla until fully incorporated.

Add flour and salt and mix just until moistened (do not over mix). Fold in ½ cup chocolate chips, ⅓ cup of the M&Ms, and jimmies.

Transfer batter to prepared pan and smooth top with a rubber spatula. Sprinkle the top with the remaining M&Ms.

Bake for 20 minutes or until the top is golden brown and a toothpick inserted into the center comes out clean.
Notes
Store in an airtight container for up to 5 days. You can adjust the chocolate chips, M&Ms, and sprinkles amounts however you'd like. The amounts given here produce a chewy blondie with lots of chocolate and sprinkle flavor. Jimmies are the best choice for adding into the batter as the dye will not bleed. Other sprinkles should be added to the top only of the cookies; if stirred in, they will turn the batter a greenish-brown color. Stir the batter together gently to keep the cookies soft and chewy; Overmixing can cause the brownies to be crumbly and tough.
Nutrition
Calories: 282kcal | Carbohydrates: 35g | Protein: 3g | Fat: 15g | Saturated Fat: 9g | Polyunsaturated Fat: 1g | Monounsaturated Fat: 4g | Trans Fat: 0.4g | Cholesterol: 46mg | Sodium: 78mg | Potassium: 98mg | Fiber: 1g | Sugar: 23g | Vitamin A: 347IU | Calcium: 24mg | Iron: 1mg