This easy Amish potato salad recipe is the best side dish because it's easy, can be made ahead of time, and has a delicious tangy dressing.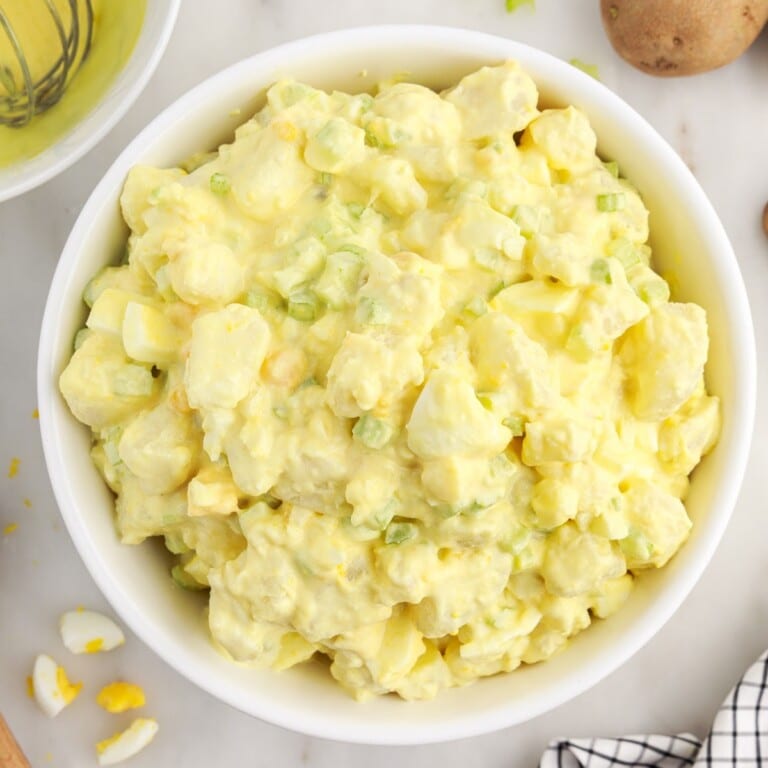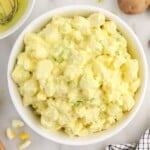 This Amish potato salad has an ultra creamy texture and is full of flavor from the tangy dressing. It's the perfect side for summer picnics and holiday dinners. All you need are 8 basic ingredients and it only takes 30 minutes worth of prep work.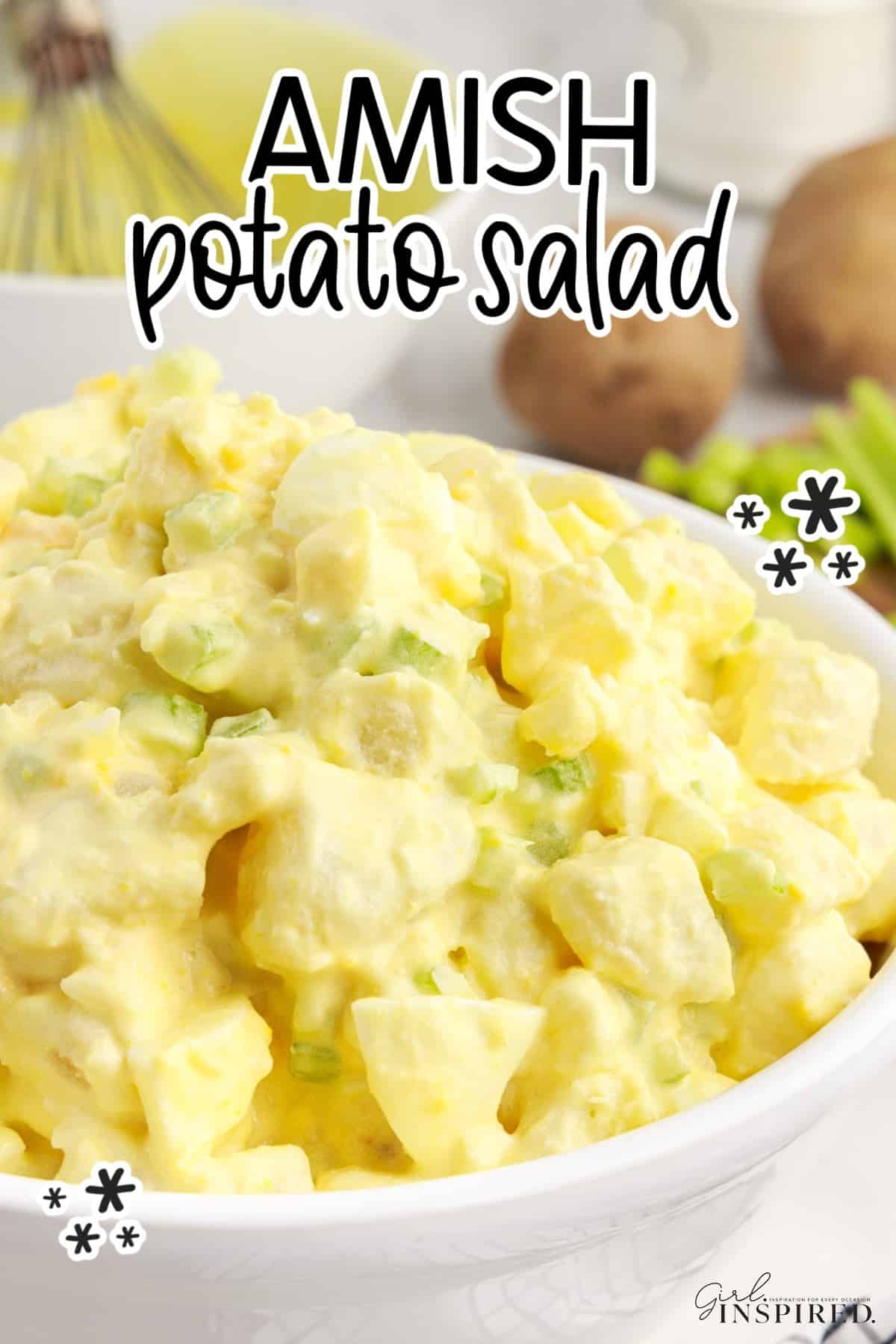 If you've ever tasted the Walmart potato salad and consider it to be the best Amish style potato salad, you will love this recipe. It is similar, but much better, trust me I am picky when it comes to homemade potato salad! It's also worth noting since we will be using boiled eggs, you should try making them with either our recipe for air fryer hard boiled eggs or hard-boiled eggs in the oven. Both are easy methods that cooks them perfectly every time (my favorite is in the air fryer, though if I want to make a huge batch, I prefer the oven method.) Plus if you are cooking for the holidays, these methods free up the stove top.
I mentioned earlier this recipe being the best when it comes to Amish-style potato salad, same goes for Amish macaroni salad. It's creamy, tangy, and has so much flavor! You can serve both of these alongside grilled trout, buttermilk fried chicken tenders, and bbq chicken legs for an easy dinner.
Jump to:
🥔 Ingredients: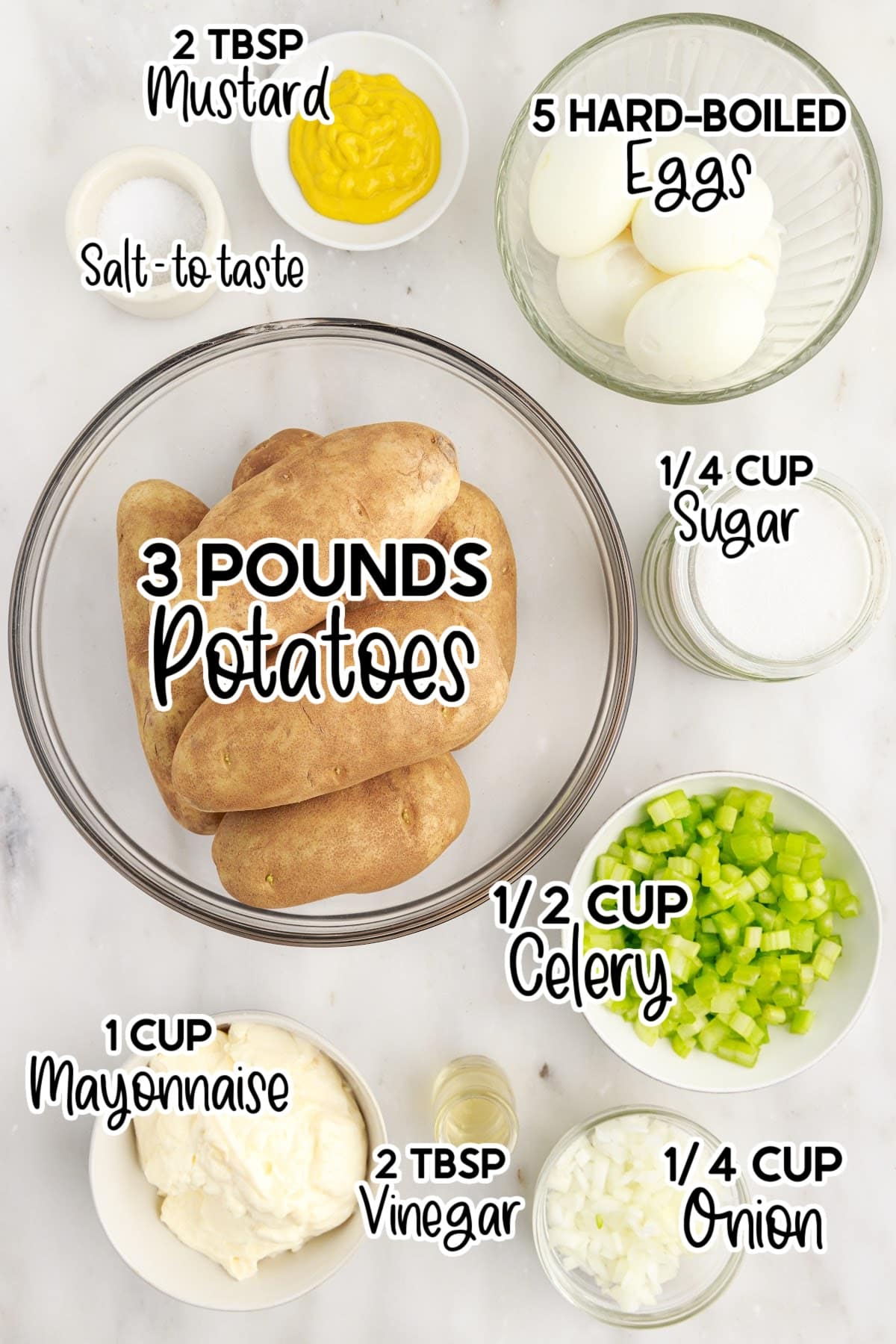 starchy potatoes – we recommend russet potatoes or yukon gold potatoes
celery – adds a nice crunch and flavor. You can also use celery seed in its place (a little goes a long way).
hard-boiled eggs – don't feel like prepping? Grocery stores have these prepackaged and you can grab them in bulk from Costco.
onion – we used white as they're just a bit sweeter for eating raw, but yellow onions are great too. If you like a sharper bite from the onion, use very small pieces of red onion.
mayonnaise – we used regular, real mayonaise. Some like to use Miracle Whip instead, but it is sweeter and the amount of sugar may need reducing.
granulated sugar – a signature ingredient – these Amish-style summer salads tend toward the sweeter side and a bit of sugar helps to balance the vinegar.
white vinegar or rice vinegar – either of these will work, but I don't recommend apple cider vinegar, it's just a little too strong.
yellow mustard – adds just enough tanginess to balance out the sugar.
Salt – adjust to your liking. You can also add black pepper if desired.
For a full list of ingredients and their measurements, 📋 please view my printable recipe card at the bottom of the post.
Optional Garnish:
Garnish this recipe for Amish potato salad with a few dashes of paprika, fresh dill, or black pepper.
Equipment Needed:
Substitutions and Variations
Pickles – while this ingredient isn't in a traditional recipe for Amish potato salad, many like to add chopped sweet pickles or sweet pickle relish to their potato salad. If you find the Amish salad is too sweet, then go with dill pickles.
Miracle Whip – sweeter than mayonnaise, but can be substituted. Adjust the sugar as needed since it is sweeter.
🔪 Instructions: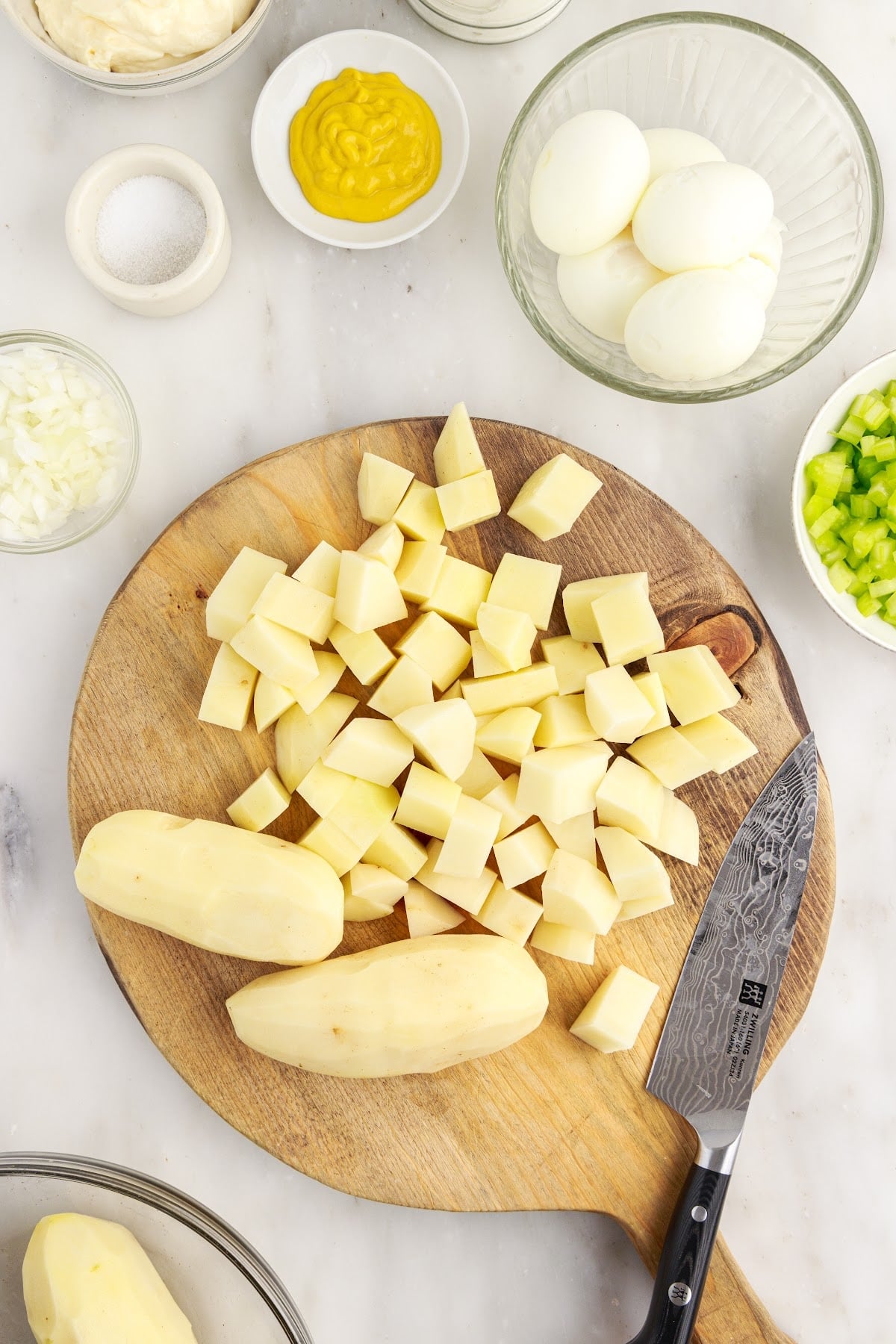 Step 1: Peel and dice the potatoes into small pieces (around 1 inch). Add the potatoes to a large pot with enough water so they are covered. Add a tablespoon salt and bring them to a boil over high heat. Cook potatoes until tender, drain, and rinse with cold water until they have cooled.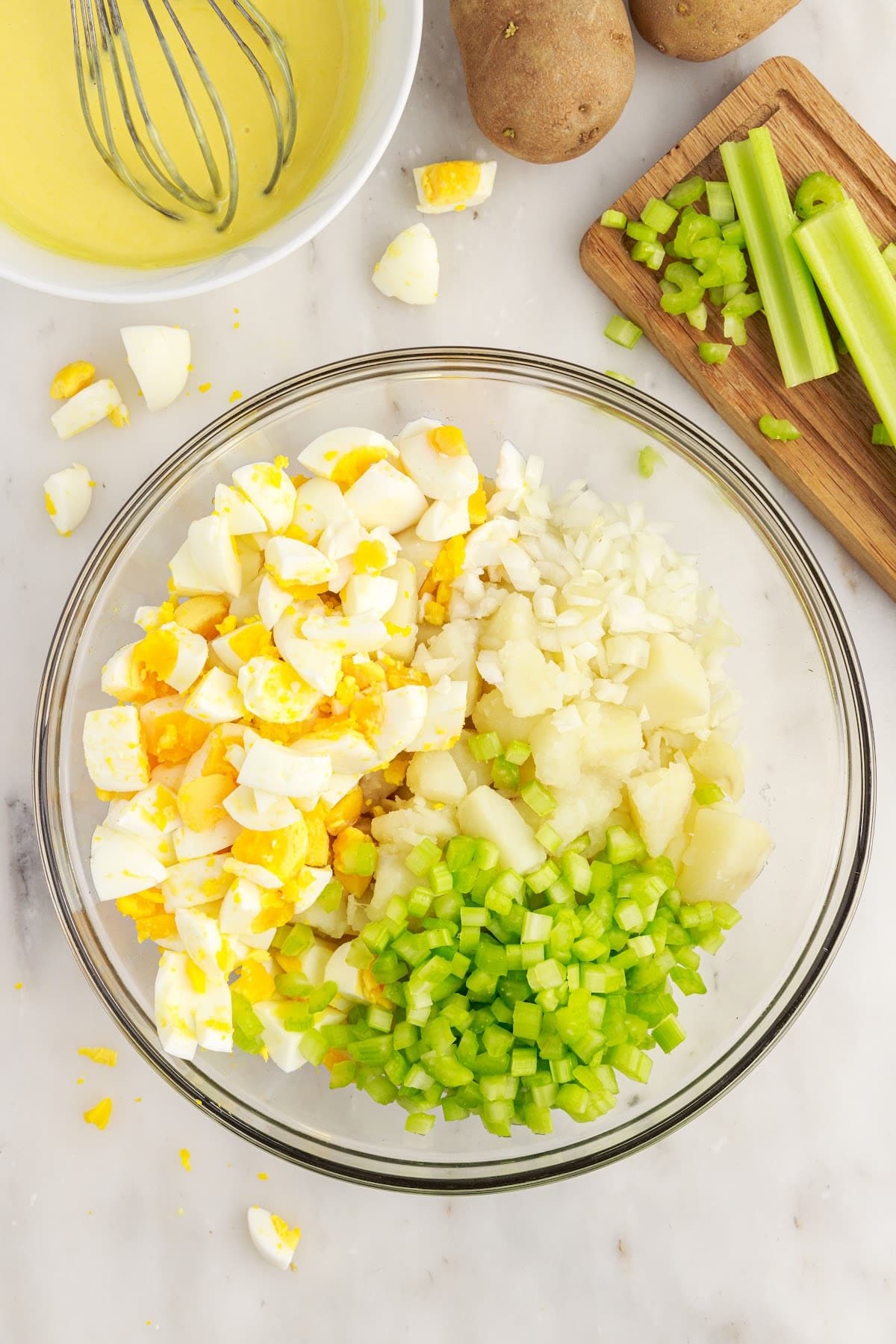 Step 2: Transfer the cooled potatoes to a large bowl. Add the celery, onions, and eggs.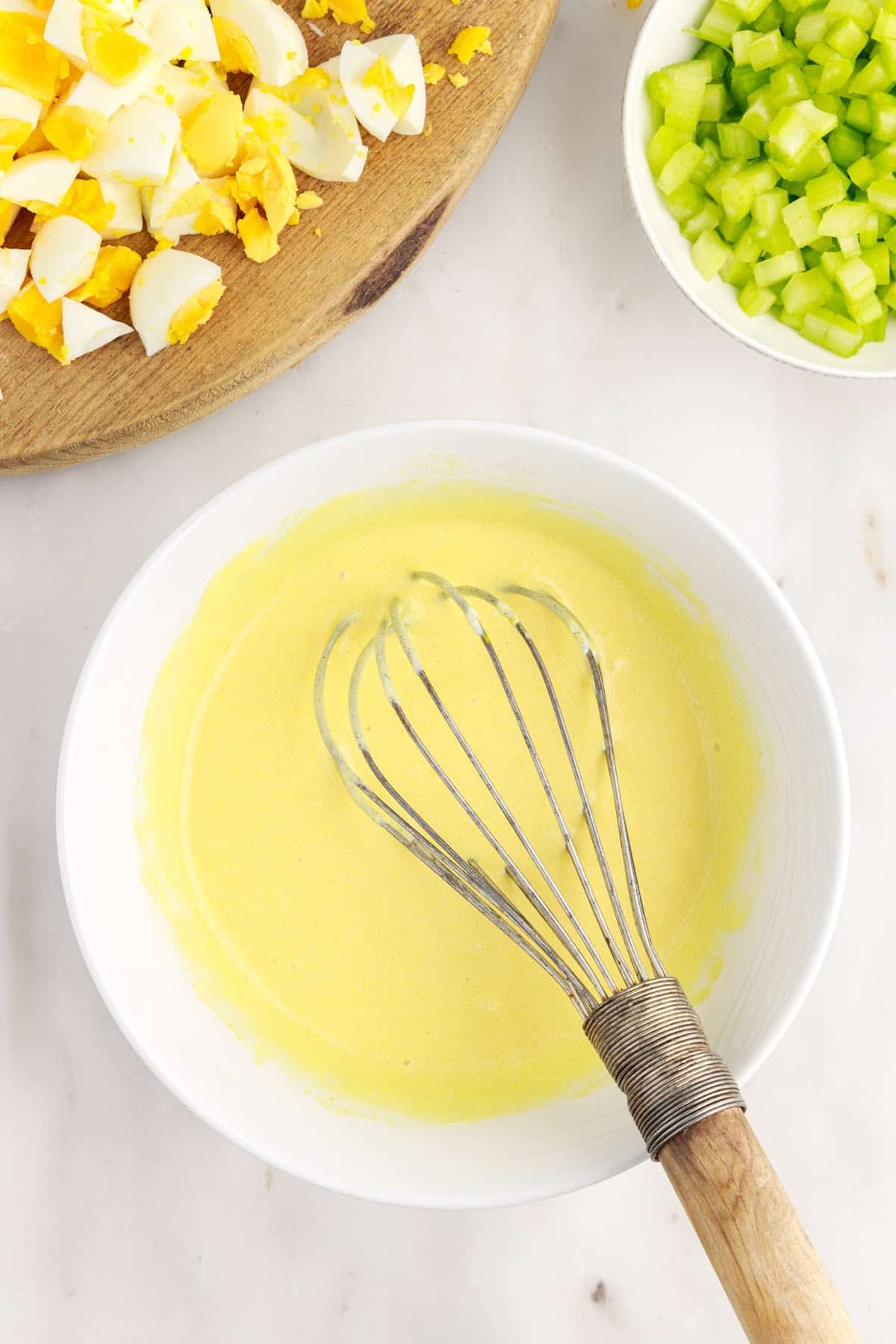 Step 3: In a medium bowl, whisk together the mayo, sugar, mustard, and vinegar to make the salad dressing.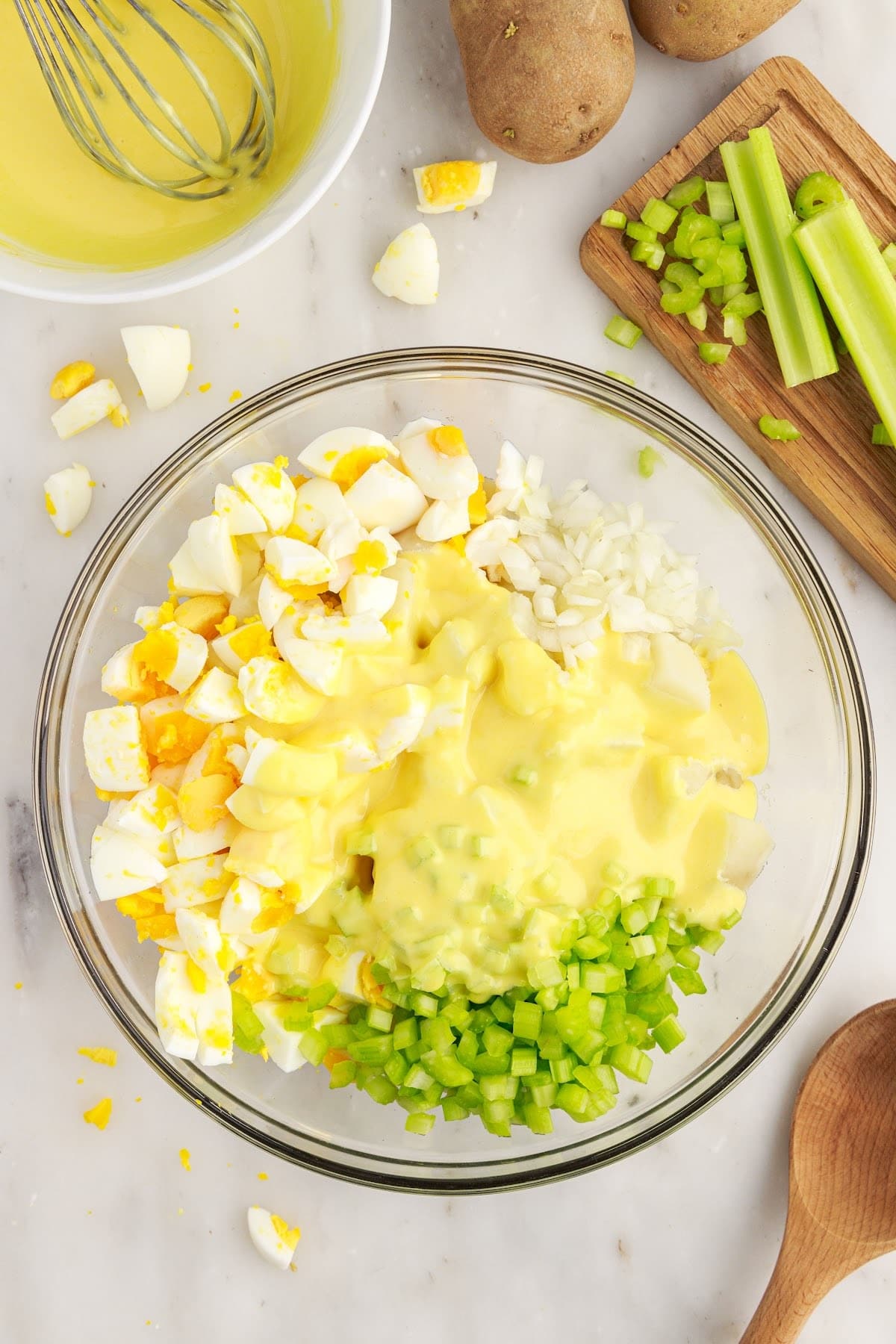 Step 4: Pour the sweet mayonnaise dressing over the potato mixture.
Pro Tip: Avoid overcooking the potatoes. You want them to be fork tender, not mushy.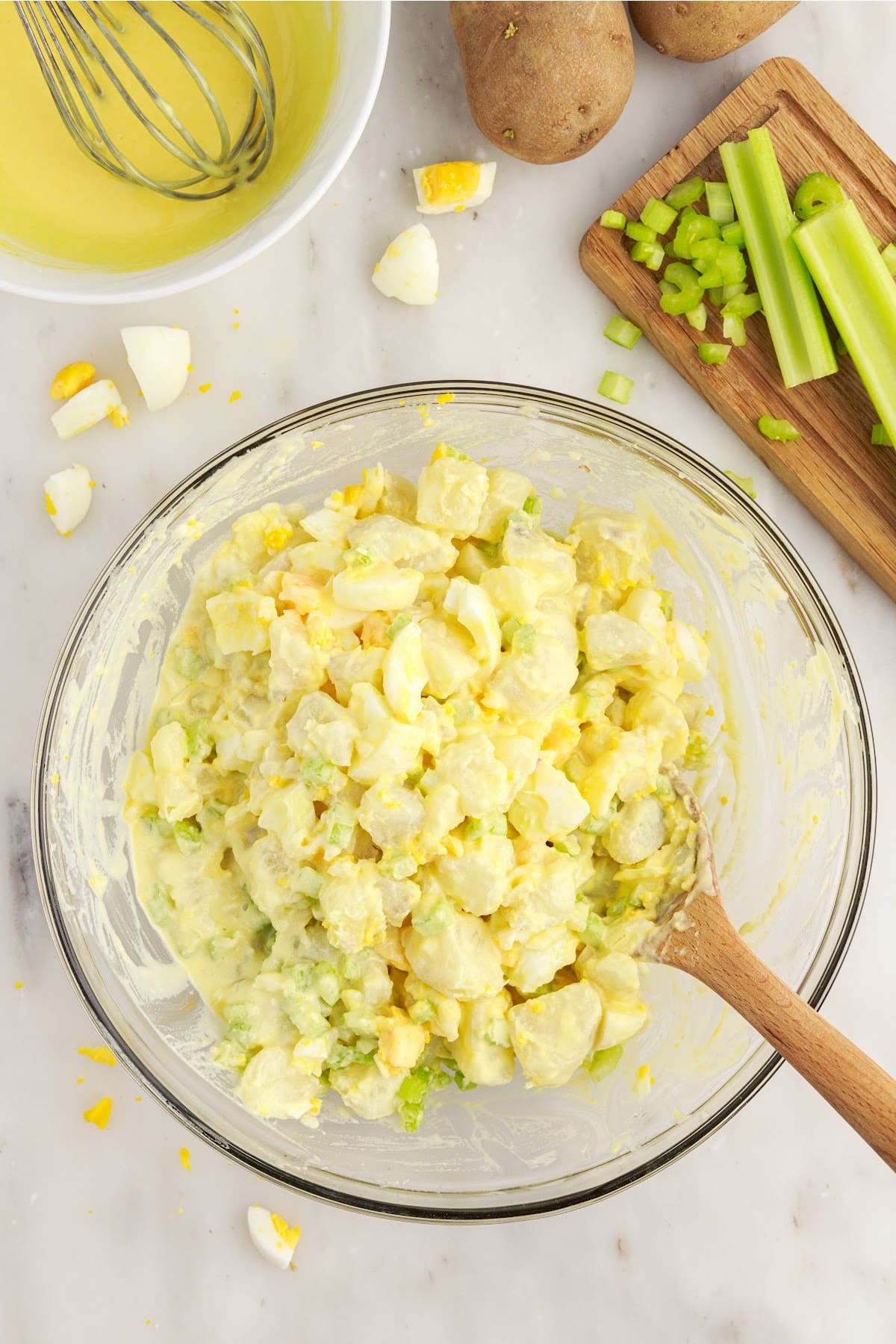 Step 5: Toss until combined using a rubber spatula or wooden spoon.
SERVE: Chill at least one hour before serving! That's when the flavors are best.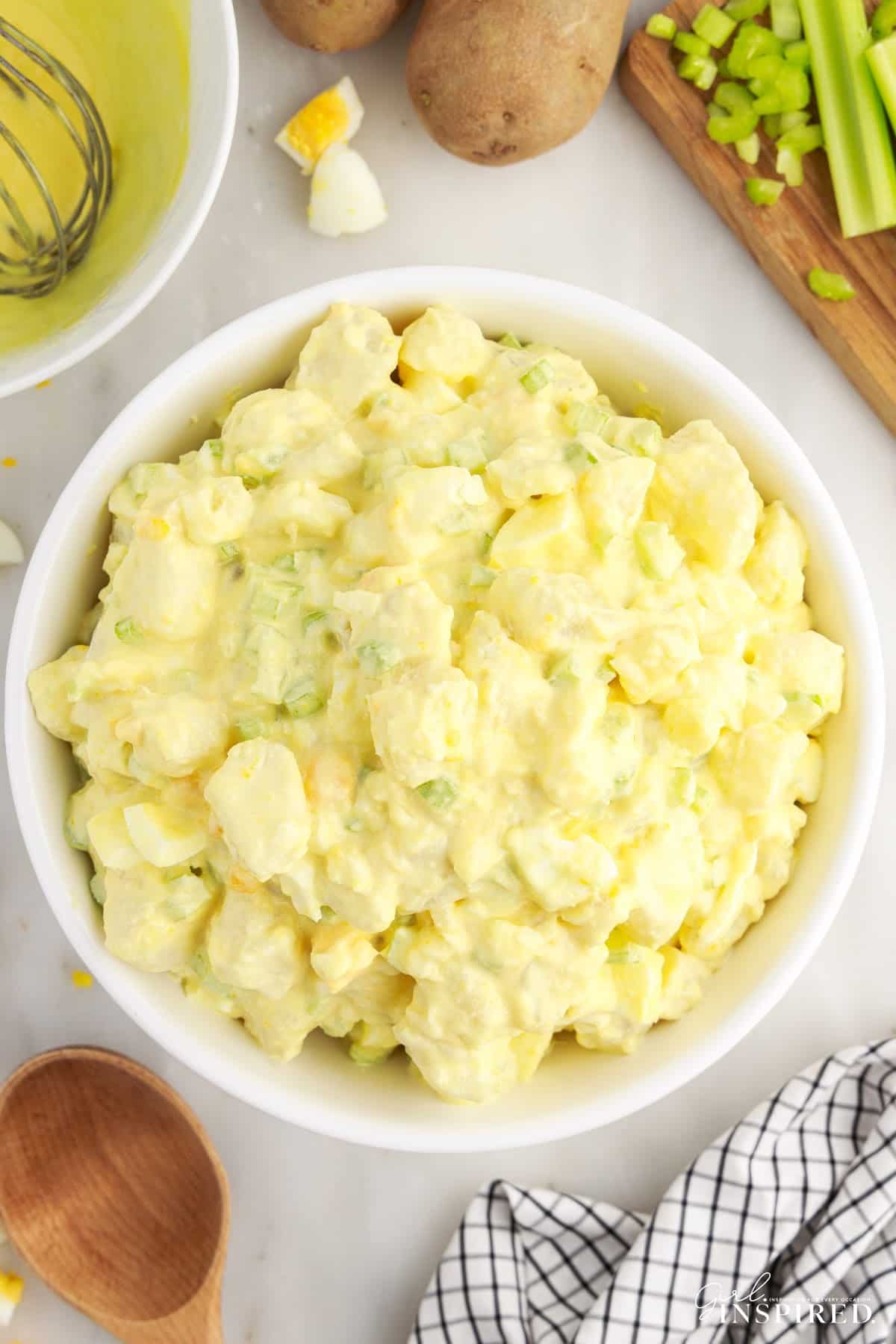 Rinsing the hot potatoes with cold water stops the cooking process.
This delicious salad is even better the next day after the flavors have a chance to marry, so it's great for making it ahead of time.
​To save time, chop the veggies in advance. Hard-cooked eggs can be made several days in advance.
Do not peel the potatoes until you are ready to use them, or else they will brown.
If you are serving a big crowd at summer barbecues, feel free to double or triple the recipe.
Fun Fact
Many old-fashioned recipes that the Amish make contain sugar, even if the traditional recipe doesn't.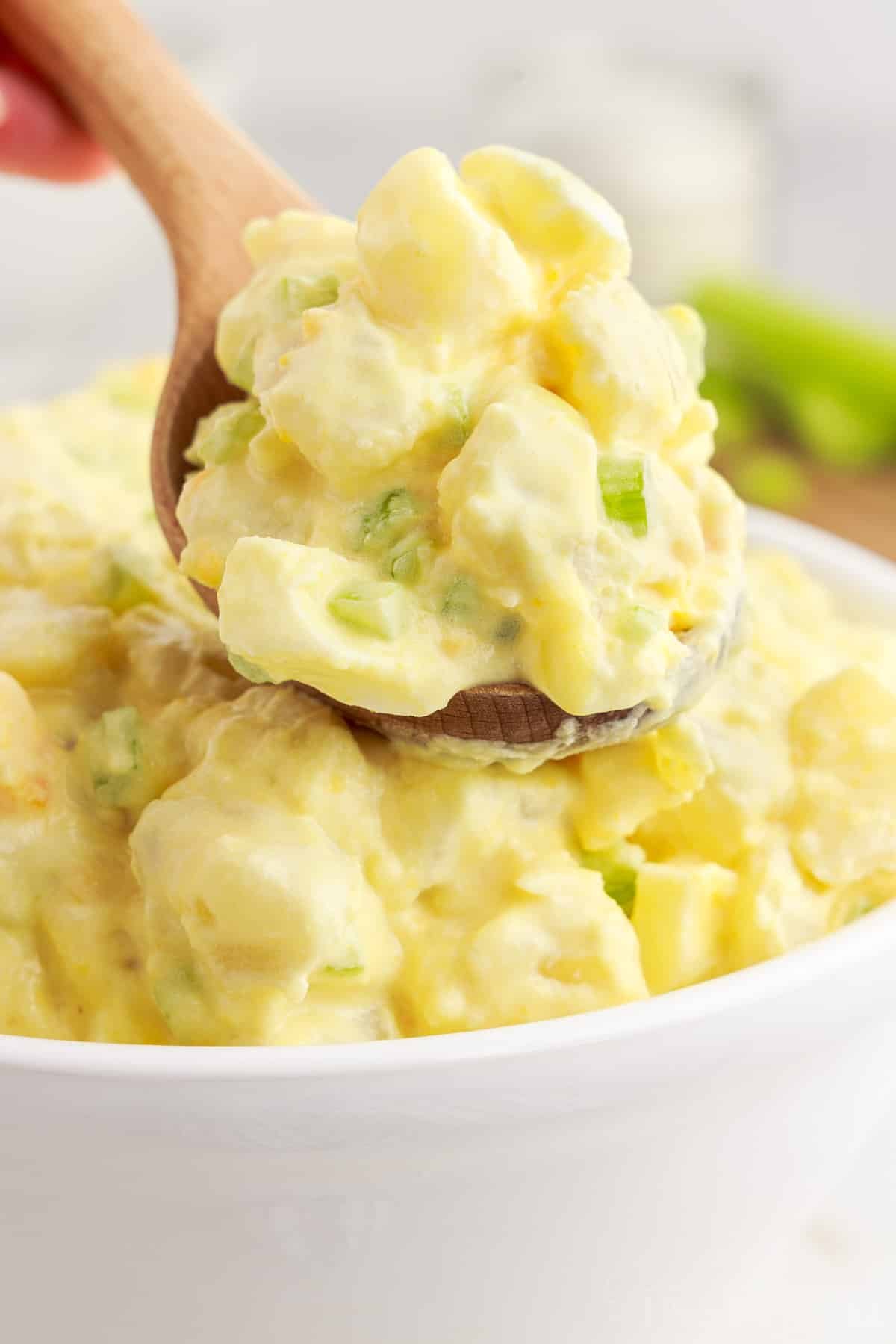 Recipe FAQs
What's the difference between creamy Amish potato salad and regular potato salad?
The main difference between Amish potato salad and traditional potato salad lies in the dressing. It's much tangier and Amish salad calls for sugar.
How to store the best Amish potato salad?
Cover the leftover salad or place in into an airtight container and refrigerate for up to 5 days.
Can you peel potatoes ahead of time for potato salad?
We recommend waiting until cooking so they don't turn brown. However, some people like to chop their potatoes and cover with water, then refrigerate. If you choose this route, you will want to change the water before boiling and rinse off the starch.
More Refreshing Salad Recipes
If you tried this Amish Potato Salad Recipe or any other recipe on my website, please please leave a 🌟 star rating and let me know how you liked it in the 📝 comments below.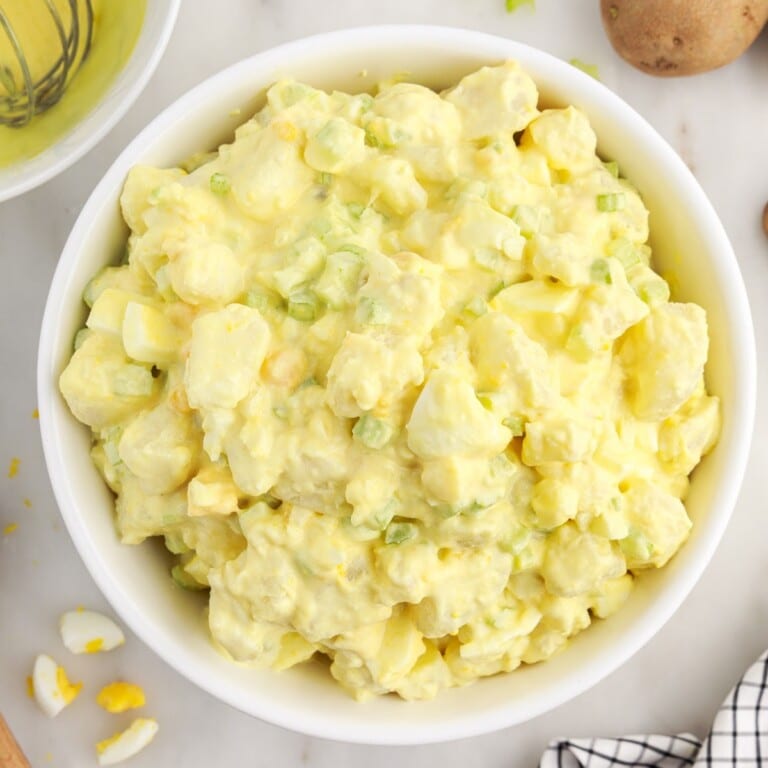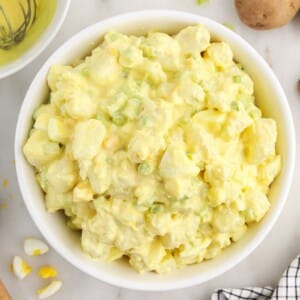 Amish Potato Salad
This easy Amish potato salad recipe is the best side dish because it's easy, can be made ahead of time, and has a delicious tangy dressing.
Ingredients
3 lbs. starchy potatoes Russett or Yukon gold
½ cup chopped celery
5 hard-boiled eggs peeled and chopped
¼ cup finely chopped white onion
1 cup mayonnaise
¼ cup granulated sugar
2 tablespoons white vinegar or rice vinegar
2 tablespoons yellow mustard
Salt to taste
Instructions
Peel and chop potatoes into 1-inch pieces.

Place the potatoes into a deep pot, and cover with water. Add a heaping teaspoon of salt to the pot and bring the potatoes to a boil. Cook until potatoes are tender. Drain and rinse with cold water until completely cool.

Place potatoes, celery, eggs, and onion in a large salad bowl.

In a separate bowl, whisk together mayonnaise, sugar, vinegar, and yellow mustard.

Pour dressing mixture over the ingredients in the salad bowl.

Toss until fully combined.

Chill for at least one hour before serving.
Notes
Storage: Store in the refrigerator for 4-5 days in an airtight container or covered with plastic wrap. Notes: Amish potato salad is ultra creamy, tangy, and sweet. Add salt and pepper if desired to balance the sweetness. Boil the eggs and chop the vegetables in advance to save time. If you peel the potatoes before you are ready to use, they will turn brown. You CAN peel, boil, drain, and then store the cooked potatoes in an airtight container or Ziploc in the refrigerator and they won't turn brown.
Nutrition
Calories: 403kcal | Carbohydrates: 38g | Protein: 8g | Fat: 25g | Saturated Fat: 4g | Polyunsaturated Fat: 13g | Monounsaturated Fat: 6g | Trans Fat: 0.1g | Cholesterol: 128mg | Sodium: 272mg | Potassium: 784mg | Fiber: 3g | Sugar: 8g | Vitamin A: 214IU | Vitamin C: 10mg | Calcium: 46mg | Iron: 2mg