Blueberry Caprese salad is a fun and festive side dish that can be made into a salad or skewers using berries, mozzarella, tomatoes, and balsamic in just 10 minutes.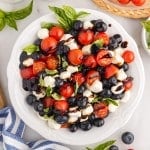 Blueberry Caprese salad is the perfect summer salad. It's full of refreshing flavors, like fragrant basil and creamy mozzarella. The color scheme is great for Independence Day. Don't worry, you'll still taste that sweet and tangy balsamic reduction that every traditional Caprese salad has.
Adding blueberries is a great way to jazz up a classic caprese salad. This time of year, you may be on the hunt for red, white, and blue food – so the blueberries compliment the other flavors well along with the nice colors.
You can always kick the party off with our 4th of July jello shots and homemade bomb pops and end the night with our festive 4th of July poke cake. For the main course, fire up the grill for grilled shrimp skewers. These are all easy party foods and can easily be doubled or tripled for a larger crowd.
What do I Need for this Recipe?
🫐Ingredients:
fresh tomatoes – go with cherry or grape tomatoes. If they are larger tomatoes, cut them in half.
mini-mozzarella balls – fresh mozzarella cheese really shines in this festive salad.
blueberries – when choosing fresh berries, remember that wild blueberries are sweeter.
fresh basil leaves – slice them into chiffonade or tear them into bite-sized pieces.
balsamic glaze – use store-bought or whip up our homemade version below.
extra virgin olive oil – balances out the flavor of the balsamic dressing.
Coarse sea salt and pepper – add enough for your liking.
Variations and Substitutions:
Regular fresh mozzarella – if you can't find the pearls at your local grocery store, go with fresh versus pre-shredded. The pre-shredded has a waxy outer coating and doesn't have near the flavor.
Other berries – instead of tomatoes go with strawberries. The flavors are great and it keeps the red, white, and blue theme going. You can also swap the blueberries (or just add) blackberries.
Nuts – Pine nuts add a nice crunch.
Bed of greens – if desired, you can serve this delicious salad over lettuce or arugula.
DIY Balsamic Glaze – combine ¼ cup of honey or brown sugar with 1 cup of balsamic vinegar. Cook in a saucepan over medium heat. Once it boils reduce the heat to low and cook for about 25 minutes. This creates a balsamic reduction that will thicken up and can be used in place of store-bought glaze. Store leftovers in a small jar in the refrigerator for up to 1 week.
Skewers – instead of the salad, layer the berries, cheese, tomatoes, and basil onto toothpicks or skewers, then drizzle the oil and glaze over top. Torn prosciutto also goes great when you serve these on a skewer.
🔪 Instructions:
PREP: If needed, chop the tomatoes in half and drain the mozzarella.
Step 1: In a large bowl combine the berries, cheese, and basil leaves.
Step 2: Drizzle the top with oil and balsamic glaze.
Pro Tip: This salad is the best when made with the freshest ingredients.
SERVE: Garnish with freshly cracked salt and pepper then serve.
If you are shopping in the store for balsamic glaze, it can be found in the aisle with oil and vinegar.
The DIY glaze can be pretty strong from the vinegar, so cook in a well-ventilated area.
Basil chiffonade – roll the leaves together tightly and slice so the pieces look like ribbons.
Sometimes the mozzarella pearls are packaged in water, drain before adding to the salad.
Coarse salt and pepper help to balance the sweet flavors of the berries and balsamic.
Fun Fact
It is thought that Caprese salad was created with ingredients to honor Italy.
How to store blueberry Caprese salad?
It's best when served right after making.

Keep leftovers in the refrigerator for 2-3 days. If you know you want to store the salad for later, wait to drizzle the oil and balsamic until you are ready to serve.
Can caprese salad be made ahead of time?
While it's best when the salad is fresh, you can combine the berries, cheese, and tomatoes. Keep them covered in the refrigerator (up to 3 days) and the dressing separate until ready to serve.
More Easy Salads To Make This Season
Blueberry Caprese Salad
Blueberry Caprese salad is a fun and festive side dish that can be made into a salad or skewers using berries, mozzarella, tomatoes, and balsamic in just 10 minutes.
Ingredients
2 cups cherry or grape tomatoes cut in half if tomatoes are larger
8 oz. fresh mozzarella pearls drained
2 cups fresh blueberries rinsed
Small handful of fresh basil leaves
¼ cup balsamic glaze more or less to taste
Drizzle of extra virgin olive oil
Coarse sea salt and pepper to taste
Instructions
Combine tomatoes, mozzarella, blueberries, and basil leaves in a serving bowl and toss together to distribute ingredients evenly.

Drizzle olive oil and balsamic glaze over the top.

Garnish with freshly cracked black pepper and coarse sea salt.

Toss to combine just before serving.
Notes
Balsamic glaze can be made with a few simple ingredients (see caprese salad) or can be purchased at most grocery stores. Look for it in the aisle with oil and vinegar. Coarse sea salt (such as Maldon's flakey sea salt) and freshly cracked black pepper add some contrast to the sweetness of the blueberries and balsamic glaze. If your basil leaves are larger, they can be chiffonade or torn into pieces and added to the salad. Mozzarella pearls are sometimes packaged in liquid – be sure to drain the mozzarella before adding it to the salad. Blackberries and/or strawberries would make a nice addition to this caprese salad.
Nutrition
Calories: 250kcal | Carbohydrates: 22g | Protein: 14g | Fat: 13g | Saturated Fat: 7g | Polyunsaturated Fat: 1g | Monounsaturated Fat: 4g | Cholesterol: 45mg | Sodium: 360mg | Potassium: 277mg | Fiber: 3g | Sugar: 13g | Vitamin A: 1044IU | Vitamin C: 17mg | Calcium: 298mg | Iron: 1mg