3 Ingredient Cherry Coke Jello shots are made with spiced rum, cherry jello, and Coca Cola. We guarantee these to be a party fave!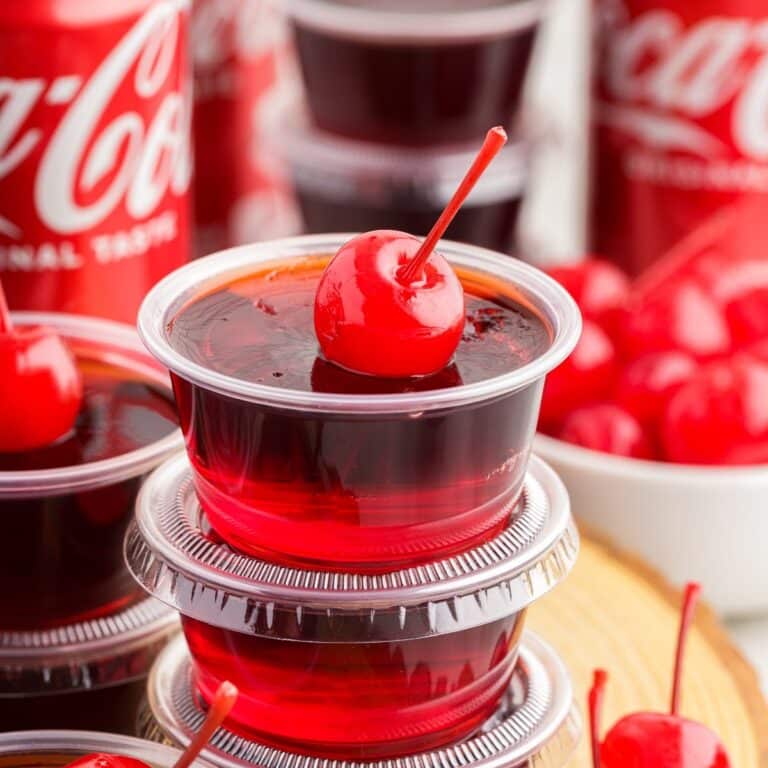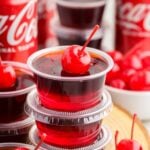 Cherry Coke Jell-O shots are made with delicious rum, cherry gelatin, and America's favorite soda. They are fun, boozy, and festive to look at.
If you enjoy the classic Jack and coke or a good spiked cherry coke, you will love these shooters. They have the same great flavor, packed in a nifty little cup. The best part is not worrying about ice watering them down as you would with a classic drink. Not to mention they are the perfect addition for parties and game day.
Other classic rum shooters we love are Pina Colada Jello shots and Dole Whip Jello shots. They are both tropical, fun, and simple to make.
Jump to:
🍒 Ingredients: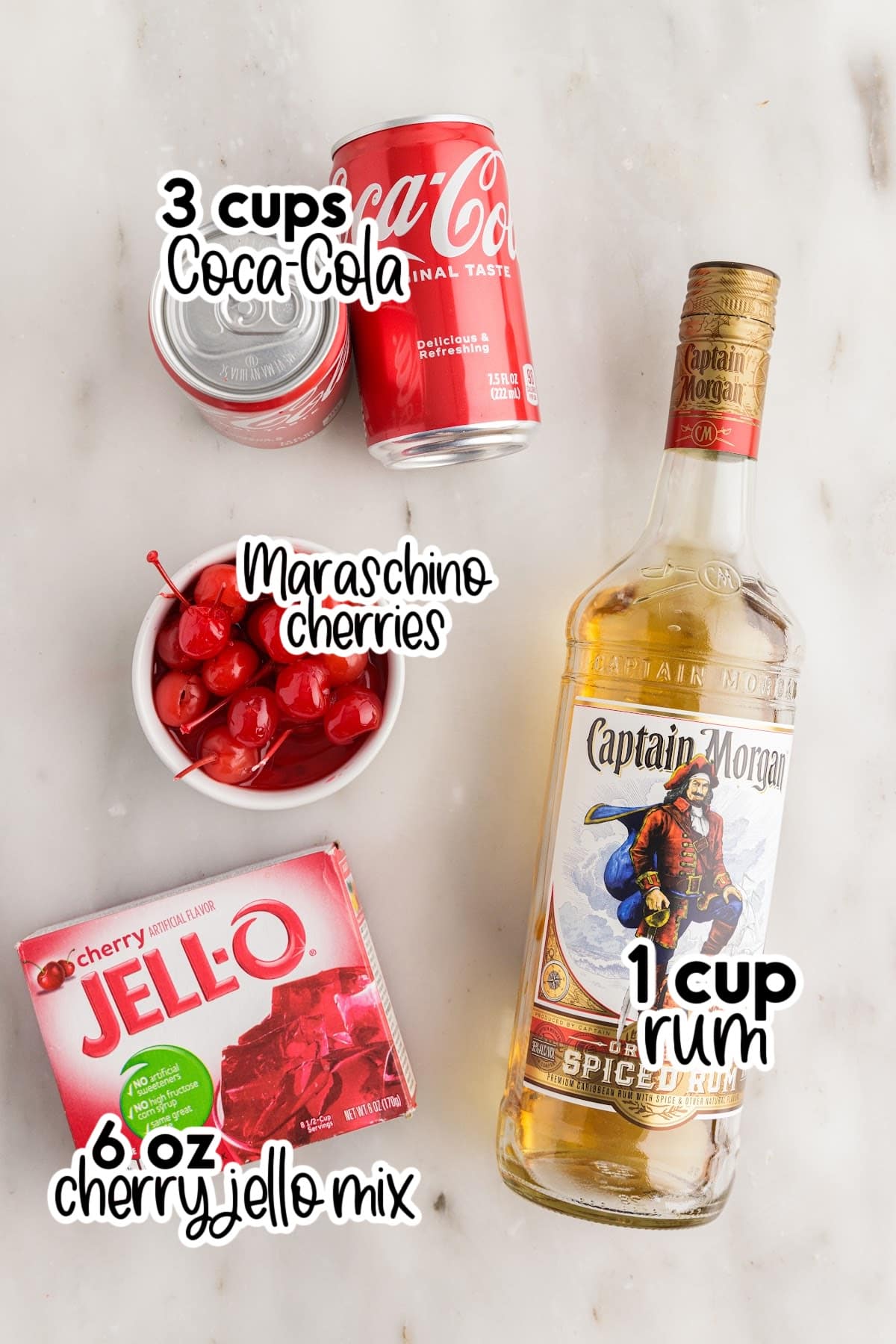 Box of cherry jello – a 6oz. box, which is the larger size.
Coca-Cola – you'll need 3 cups which is 2 of the 12 oz size cans.
Rum – we used spiced rum.
Maraschino cherries – as a garnish.
For a full list of ingredients and their measurements, 📋 please view my printable recipe card at the bottom of the post.
Optional Garnish:
Garnish these fun jello shots with maraschino cherries. You can also add a dollop of whipped cream before serving for a tasty twist.
Substitutions and Variations
Syringes – if you are making cherry cola jello shots for a Halloween party, use my fun syringe jello shot recipe.
Black cherry – use black cherry gelatin and top with a black cherry for garnish.
Less sugar – because there is sugar in the rum, you can't make this jello shot completely sugar free. But to lower the sugar substantially, use sugar free jello and Diet Coke.
Layered look – combine half of the pack of jello with 1 cup of hot water, stir until dissolved. Add a ½ cup of alcohol and ½ cup of cold water. Divide evenly between the cups. Chill until firm. Mix the remaining jello mixture with a cup of hot coke until dissolved. Stir in ½ cup of rum and ½ cup more coke. Allow it to come to room temperature, then pour over the cherry layer. Chill until set.
Cherry flavor vodka – if you don't have rum you can cherry vodka.
Other soda – you can also use Pepsi instead of Coke.
🔪 Instructions:
PREP: Heat 1 cup of Coke in a large measuring cup with a spout or a medium boil until boiling.
Step 1: Sprinkle the gelatin powder into the boiling cola.
Step 2: Whisk until dissolved. Don't be alarmed if the mixture bubbles.
Step 3: Stir in the remaining cold cola and rum.
Step 4: Pour mixture into the jello shot cups.
Pro Tip: To make serving to a crowd easier, place the plastic cups on a cookie sheet. Be sure your baking sheet fits in the fridge before loading them all up.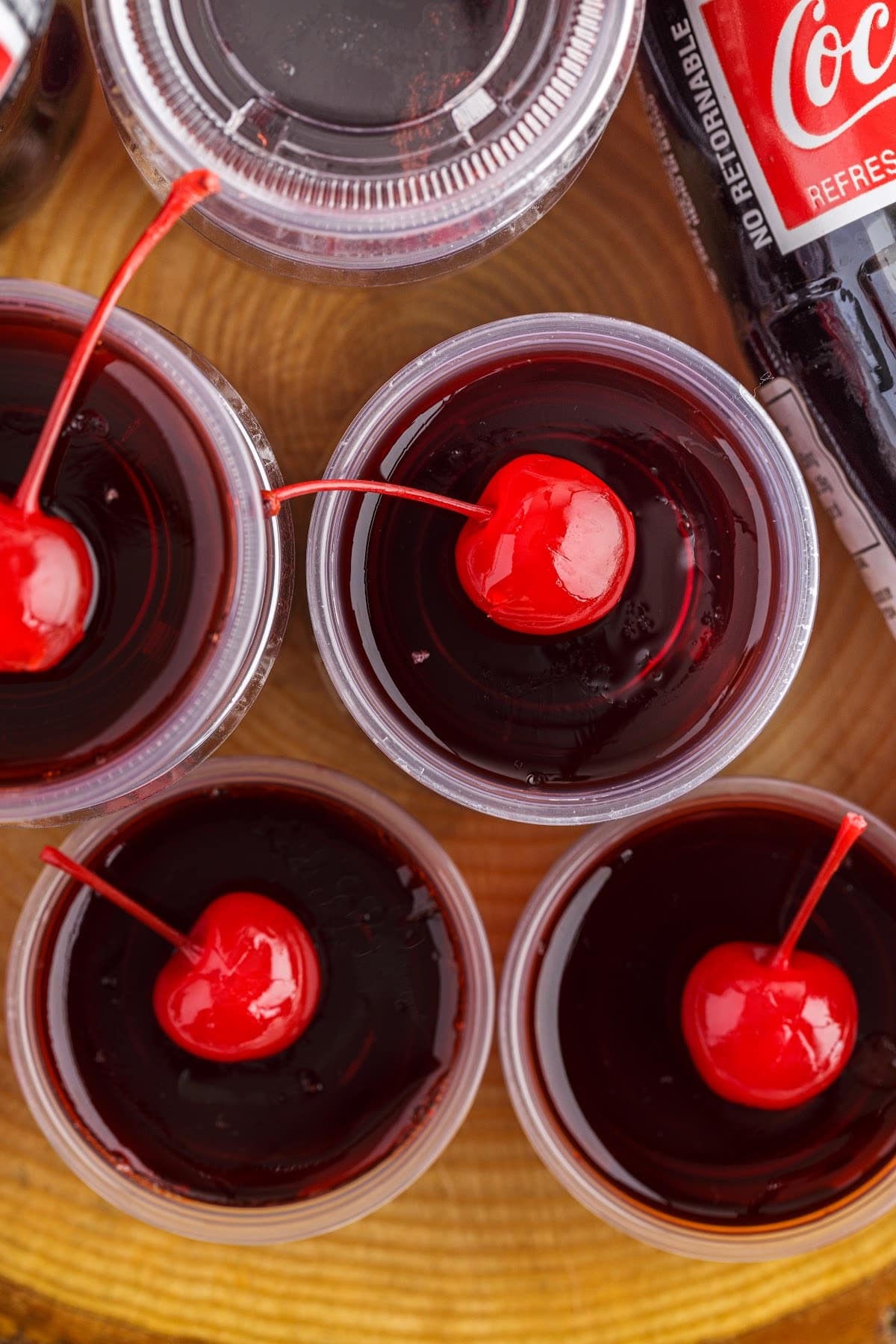 Step 5: Refrigerate the shots for 4 hours or until they have set. Keep refrigerated until you are ready to serve.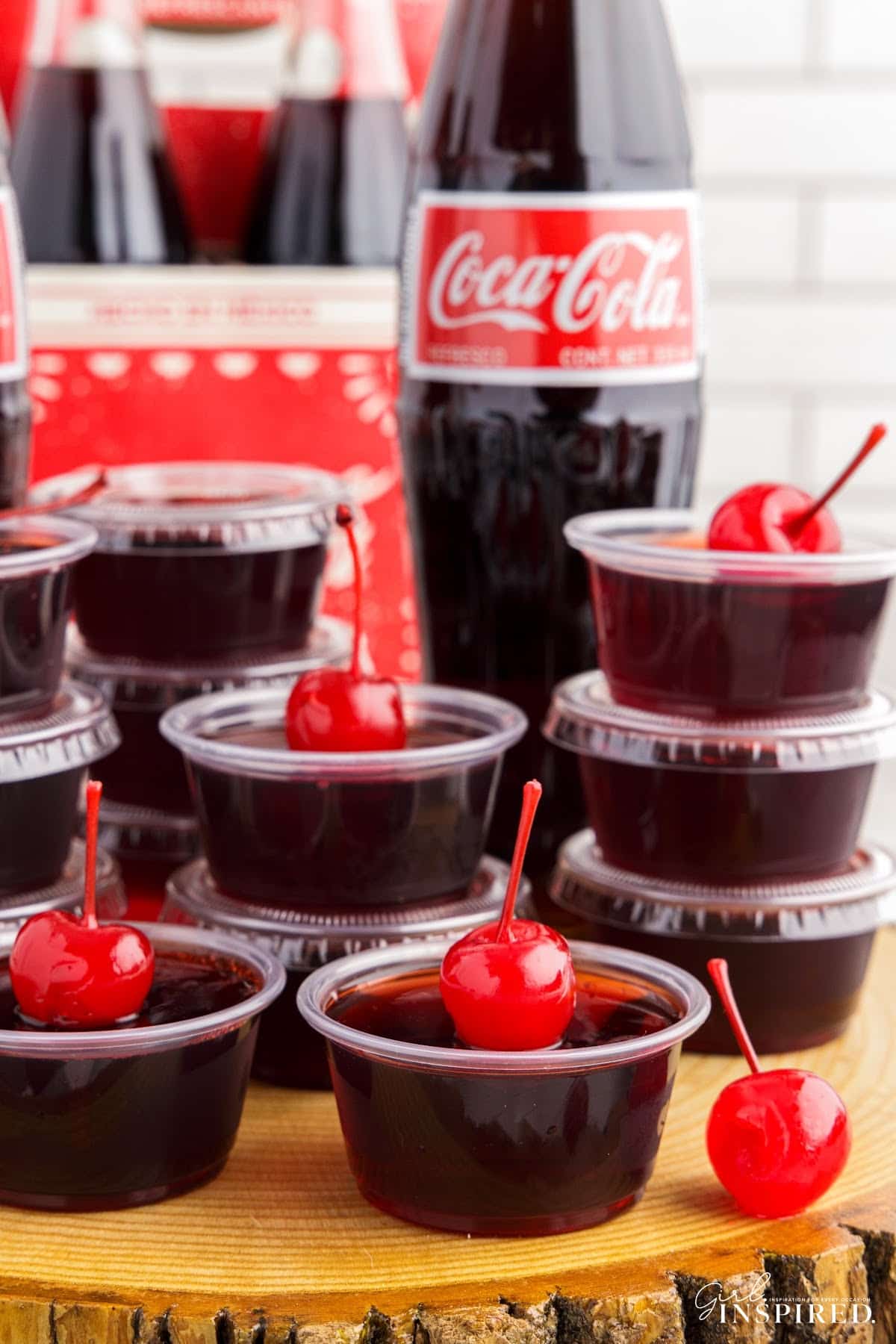 SERVE: Add a cherry to each shot and enjoy!
For summer parties, keep these refrigerated until ready to serve. They will liquefy in the hot sun.
For a stronger shot, use up to 1.5 cups of alcohol.
For a lighter shot, use more cold water or regular Coke and less rum. You need 4 cups of liquid total. ]
The shots may firm up in less than 4 hours. If you have a shallower glass or cup, and use ice cold liquid they will set faster.
Fun Fact
Cherry Coke was the first of it's kind and was released in 1985. -Coke Solutions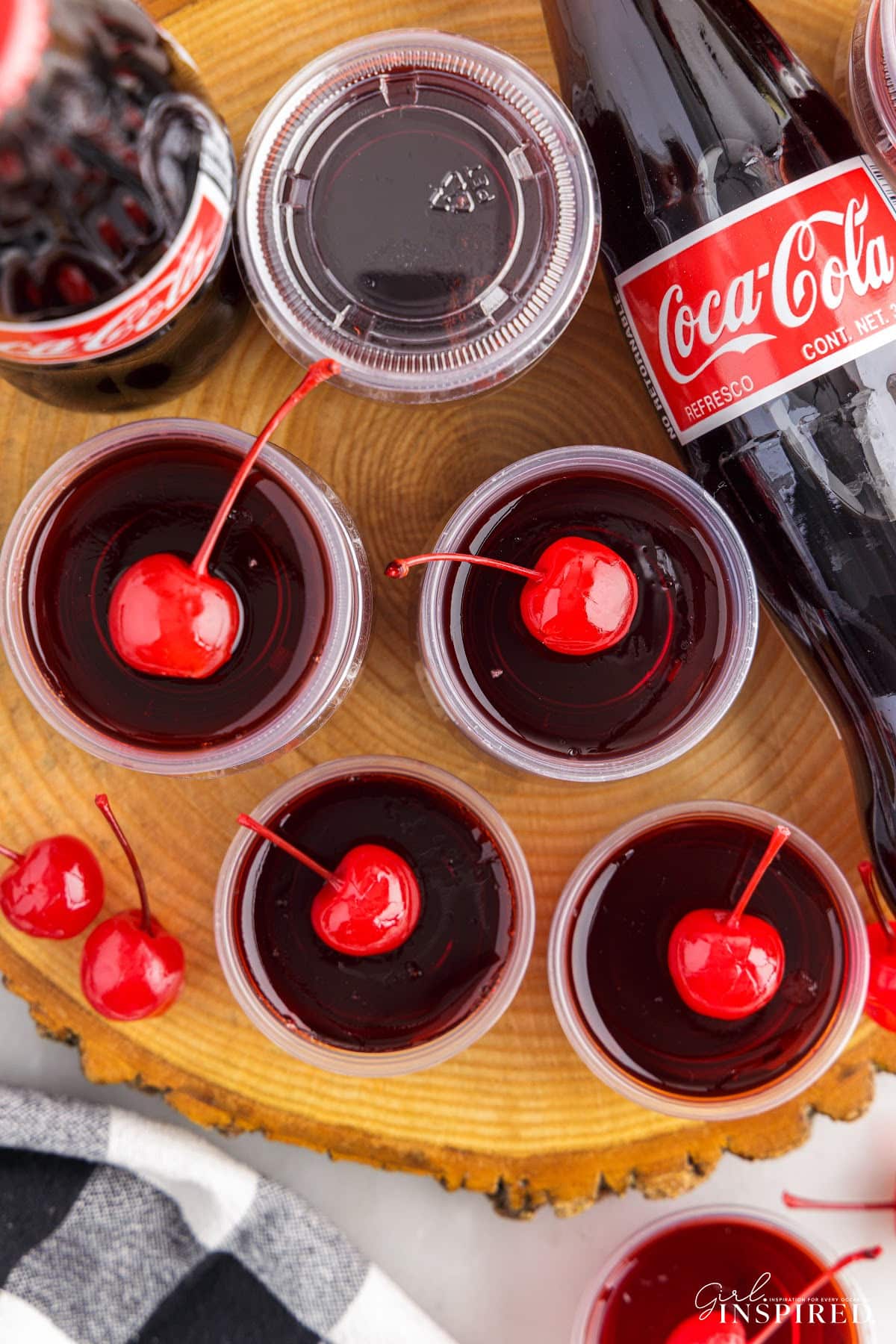 Recipe FAQs
How long do cherry cola jello shots last?
They will keep for 1 week in the refrigerator. If your cups have lids, place those on, if not keep them covered and ungarnished until you are ready to serve.
What alcohol is best for jello shots?
Rum, vodka, and tequila can all be used for jello shots, it just depends on the flavor combinations. Just be sure not to use too much liquor or else the shots will not set.
More of Our Favorite Jello Shot Recipes
If you tried this Cherry Coke Jello Shots Recipe or any other recipe on my website, please please leave a 🌟 star rating and let me know how you liked it in the 📝 comments below.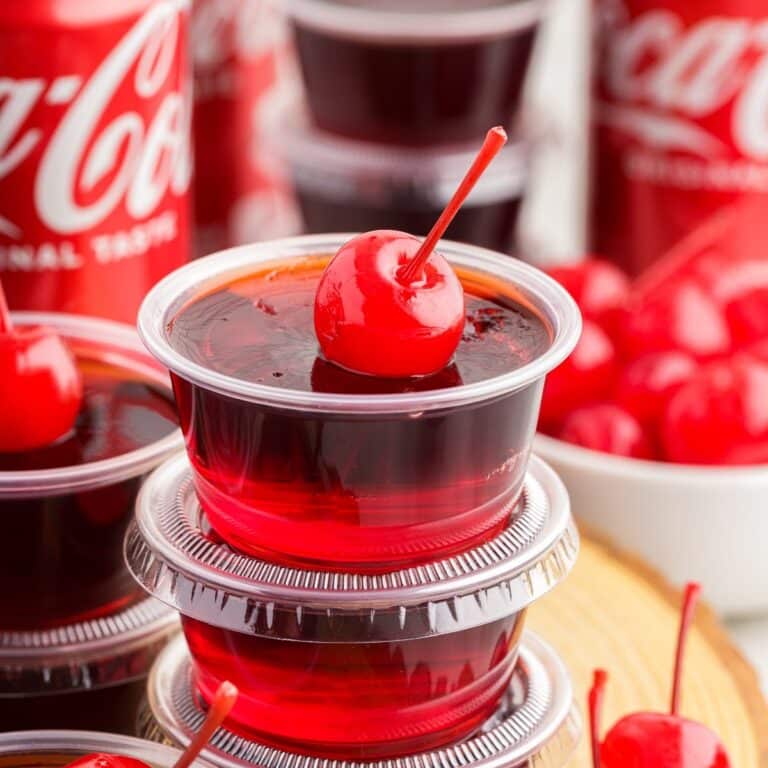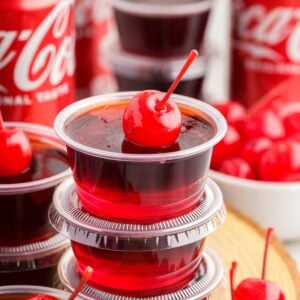 Cherry Coke Jello Shots
3 Ingredient Cherry Coke Jello shots are made with spiced rum, cherry jello, and Coca Cola. We guarantee these to be a party fave!
2 oz shots
Ingredients
1 6-ounce box cherry jello mix
3 cups Coca-Cola
1 cup rum we used spiced rum
Maraschino cherries for garnish
Instructions
In a medium bowl or large (4-cup) measuring cup with a spout, heat 1 cup of Coke until boiling or nearly boiling.

Sprinkle jello powder into the hot liquid and whisk until completely dissolved. Mixture may bubble a little.

Stir in remaining 1½ cup of cold Coke and the rum.

Pour into plastic shot glasses.

Transfer jello shots to the refrigerator and chill for 4 hours until set.

Just before serving, top each jello shot with a maraschino cherry.
Notes
Storage: Store ungarnished jello shots in the refrigerator for up to 1 week covered. Notes: To make a stronger shot, use up to 1 ½ cups of alcohol. Use more cold water or Coke and less alcohol for a lighter shot. You just need 4 cups of liquid total. These will melt in the summer heat, so keep them cold until serving time. Shallower shot glasses and icy cold liquids will make these set up faster. For a layered look: Combine 1 cup boiling water with half of the package of jello. Stir until dissolved. Mix in ½ cup cold water and ½ cup rum. Pour into cups and chill until set. Combine remaining jello mixture with 1 cup hot Coke until dissolved. Stir in ½ cup rum and ½ cup more Coke. Bring to room temperature. Pour over the set cherry jello layers. Chill until set. For a mostly sugar free version use diet Coke and sugar-free jello. Note that it will not be completely sugar free because the rum has sugar in it.
Nutrition
Calories: 34kcal | Carbohydrates: 3g | Protein: 0.02g | Fat: 0.01g | Sodium: 1mg | Potassium: 1mg | Sugar: 3g | Calcium: 1mg | Iron: 0.04mg