This simple chicken curry recipe is full of tender chicken and smothered in a creamy coconut curry sauce that the whole family will love. It's a complete meal that is ready in just 30 minutes.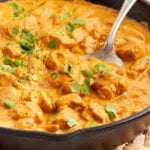 Chicken curry with coconut milk is hearty, creamy, and better than takeout. This is one of those easy weeknight dinners that is ready in 30 minutes, made in one pan, and packed with that signature curry spice.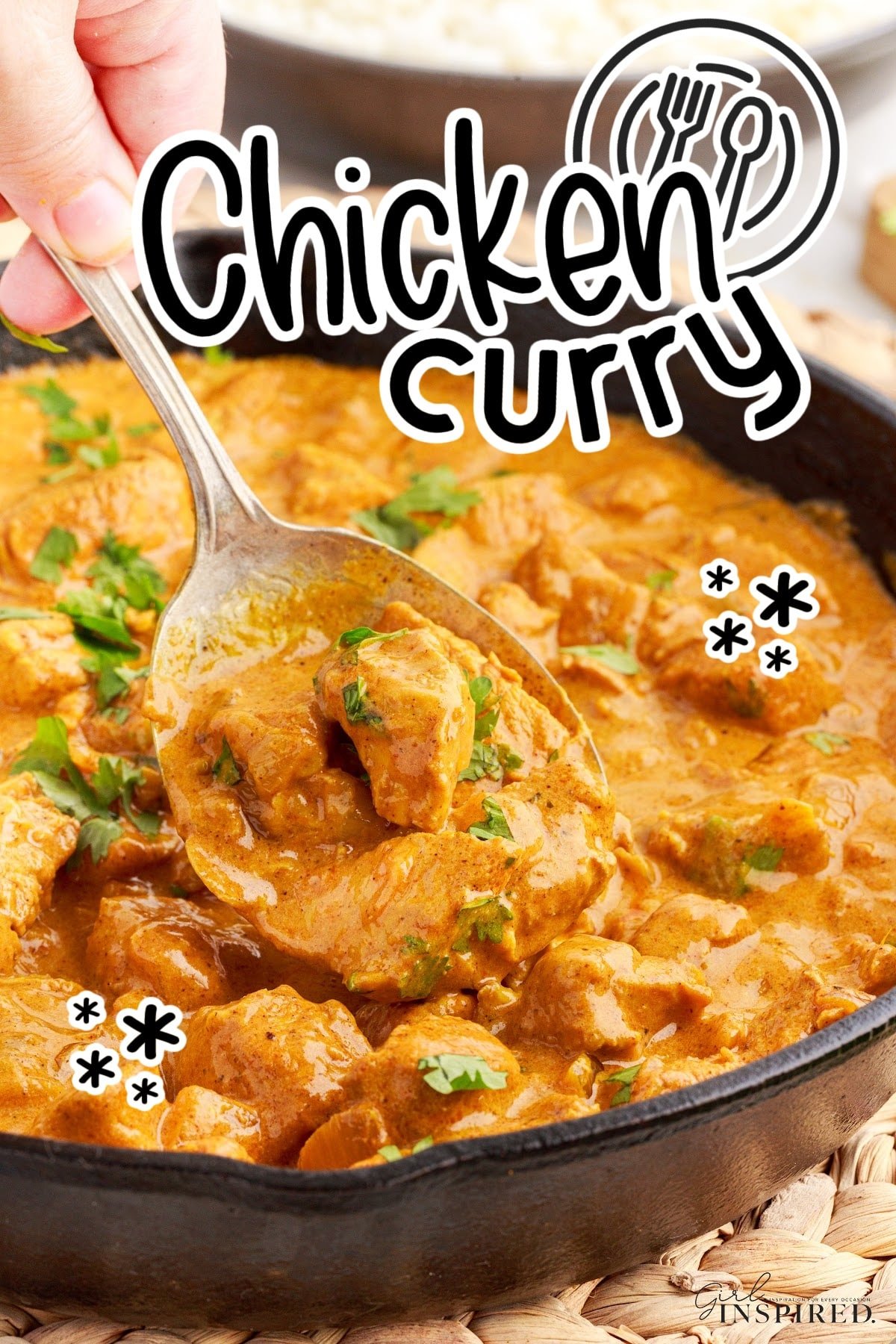 This is a great recipe when you're at home and get a hankering for Indian food, but want to skip the takeout. Depending on the size of the can of coconut milk you are using, there may be leftovers. If so, you can use the rest to make a Starbuck's Pink Drink or coconut cream cake.
My version of creamy chicken curry is actually a blend of what you would see at Indian and Thai restaurants. A Thai curry recipe typically uses more coconut milk, while Indian curries would have a tomato base and where the creaminess is mainly for texture, like with butter chicken. Also, the spices vary but we here we have combined a few from both cuisines.
If you love recipes that really have a punch of flavor, try my chicken couscous soup. While the soup and curries go great with naan bread, you can also make a batch of dutch oven bread from scratch.
Jump to:
🍗 Ingredients: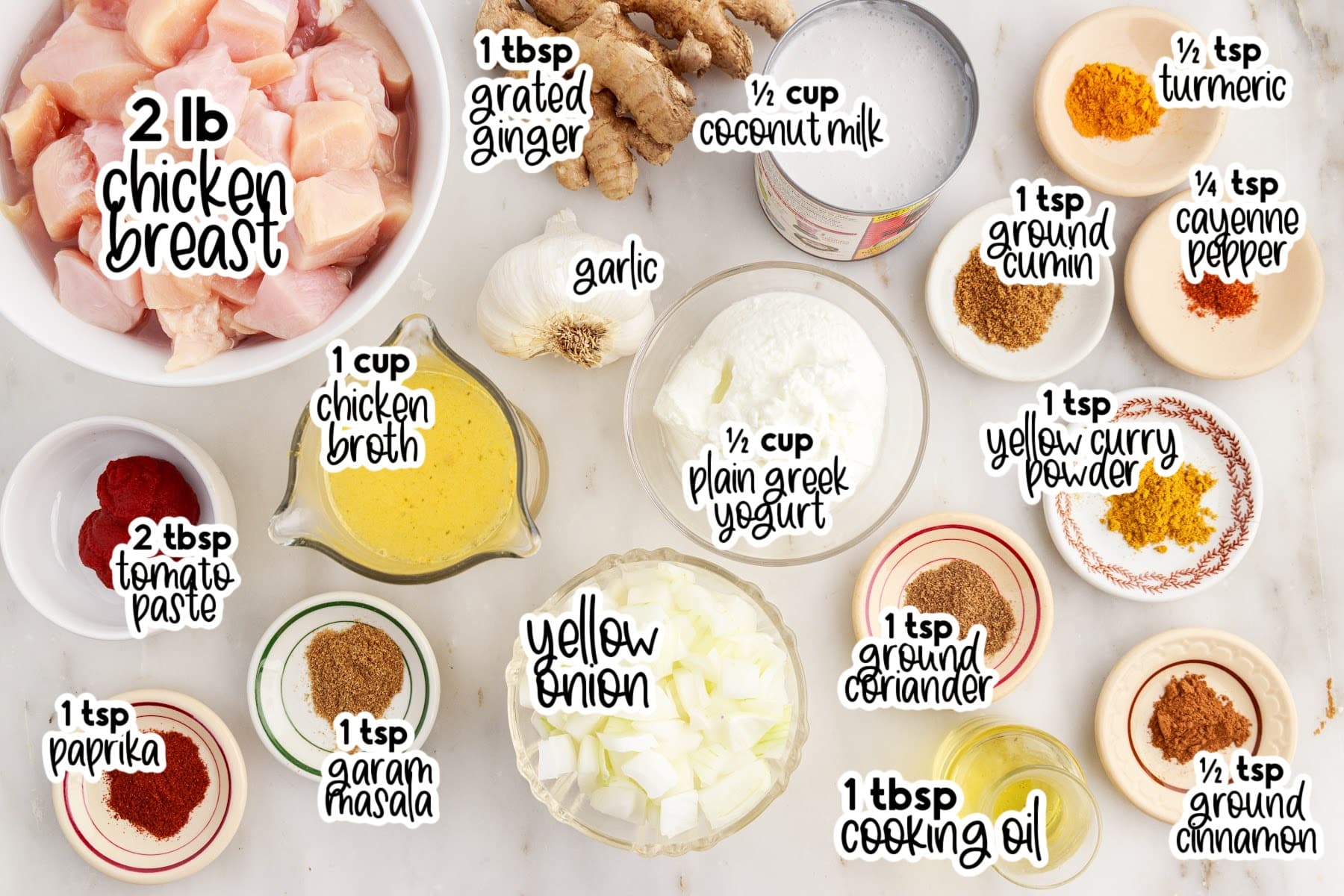 cooking oil – coconut oil, vegetable, canola, or olive oil can be used. We recommend a neutral oil so it doesn't clash with the curry flavor.
yellow onion – see the variations section for more veggie options.
garlic – we minced fresh cloves, but you can also use store-bought minced or garlic powder if that's what you have.
fresh grated ginger or ginger paste – these pastes can be found in the produce section of most grocery stores. Some like to use garlic ginger paste where both are combined.
yellow curry powder – some curry recipes call for red curry paste which is spicier, so technically you can use either one.
Spices: garam masala, ground cumin, ground coriander, paprika, turmeric, ground cinnamon, cayenne pepper.
boneless skinless chicken breasts – try to dice them equal in size so they cook more evenly.
tomato paste – or 1 cup of crushed or tomato puree.
chicken broth
coconut milk and plain greek yogurt – adds a creamy, tangy flavor.
For a full list of ingredients and their measurements, 📋 please view my printable recipe card at the bottom of the post.
Optional Garnish:
Garnish coconut curry chicken with fresh chopped cilantro, and serve with basmati rice, jasmine rice, brown rice, and/or naan bread. As a lower carb and healthier option, serve with cauliflower rice.
Substitutions and Variations
Coconut cream – combine 3 tablespoons of coconut cream with enough water to thin it to milk consistency to use in place of the coconut milk. Do this before adding it to the curry.
Heavy cream can be substituted for coconut milk – you may wish to add a teaspoon or so of granulated sugar if using cream instead of coconut milk.
Vegetables – you can make a good curry with just about anything. Feel free to add bell peppers, potatoes, chickpeas, or butternut squash.
Boneless chicken thighs – some like to boneless skinless chicken thighs for curries. The cooking time may vary.
Spicier – increase the cayenne pepper or red pepper flakes. You can also use diced chilis. Add them with the ginger and garlic.
🔪 Instructions:
PREP: Dice the chicken and onions. Mince the garlic cloves.
Step 1: Over medium-high heat, heat the oil in a skillet or large pot. Add the diced onions and cook until translucent and soft, about 3-4 minutes.
Step 2: Stir in the minced garlic and cook until fragrant.
Step 3: Pour all of the spices into the pan and cook for 1 minute to toast.
Step 4: Add the chicken pieces to the skillet and brown over medium-low heat.
Pro Tip: Toasting the spices adds tons of the flavors to the dish.
Step 5: Stir in the chicken broth and tomato paste so it dissolves. Bring to a boil, then cover and reduce to a simmer. Cook for 15 minutes or until the chicken is cooked through.
Step 6: Remove from the stove and whisk in the coconut milk and Greek yogurt.
SERVE: Garnish the chicken coconut Indian curry with fresh parsley and serve with your favorite rice or naan bread.
Chicken Curry Recipe Tips
For a mild curry, omit the cayenne pepper.
If you are using full-fat coconut milk, you may notice that the top is somewhat congealed when you open it. It's okay to use it that way, or you can stir it up first.
The milk and yogurt is what makes the creamy sauce, but you want to make sure the chicken is fully cooked first. These ingredient can curdle if boiled, which is why we add them at the end.
To add extra moisture to the chicken, you can add the raw pieces to a brine before cooking. Just 30 minutes in a salt water bath helps the chicken retain its moisture during cooking. You can find more information in my air fryer boneless chicken breasts recipe.
Fun Fact
Indian curry is not just one single dish, these flavors vary based on the region they originated from.
Recipe FAQs
How to store creamy coconut chicken curry?
Keep leftover chicken coconut curry in the refrigerator in an airtight container for 3-5 days.

Once the curry has cooled, you can freeze it for up to 3 months. Thaw in the fridge overnight or heat it low and slow on the stove top directly from the freezer.
What does coconut milk do to curry?
Coconut milk adds creaminess, a mild coconut flavor, and helps mellow spiciness in curry, creating a rich and balanced dish. It can also add a subtle hint of sweetness.

What kind of coconut milk to use for curry?
Full fat will add more creaminess and make the curry thicker. Light coconut milk can be used to lower the calories, but is much thinner and has less flavor. I use coconut milk from the can.
More Flavorful Chicken Recipes
If you tried this Chicken Curry with Coconut Milk or any other recipe on my website, please please leave a 🌟 star rating and let me know how you liked it in the 📝 comments below.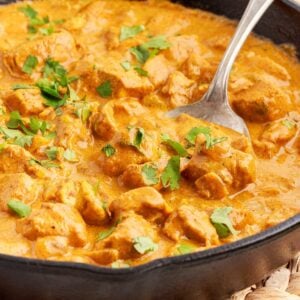 Chicken Curry with Coconut Milk
This simple chicken curry recipe is full of tender chicken and smothered in a creamy coconut curry sauce that the whole family will love. It's a complete meal that is ready in just 30 minutes.
Ingredients
1 tablespoon cooking oil vegetable oil, canola oil, etc.
1 small yellow onion diced (about 1 cup)
3-4 cloves garlic minced
1 tablespoon fresh grated ginger or ginger paste
2 teaspoons yellow curry powder
1 teaspoon garam masala
1 teaspoon ground cumin
1 teaspoon ground coriander
1 teaspoon paprika
½ teaspoon turmeric
½ teaspoon ground cinnamon
¼ teaspoon cayenne pepper optional
1.5-2 pounds boneless skinless chicken breast, cut into 1-inch cubes
2 tablespoons tomato paste
1 cup chicken broth
½ cup coconut milk
½ cup plain greek yogurt
Instructions
Heat cooking oil in a large skillet over medium heat. Add diced onion and cook until softened and translucent.

Add the minced garlic and ginger and cook 1-2 minutes longer, until fragrant.

Add the spices to the onion mixture – curry powder, garam masala, cumin, ground coriander, paprika, turmeric, cinnamon and cayenne pepper. Cook 1 minute, toasting the spices.

Add chicken to the skillet (you do not need to remove the onion mixture) and brown over medium heat.

Add the tomato paste and broth to the skillet, stirring to dissolve the tomato paste into the liquid. Bring to a boil, reduce heat to a simmer, cover, and cook for about 15 minutes, so the chicken is cooked through.

Remove from heat and stir in the coconut milk and greek yogurt.

Serve curry chicken with freshly chopped cilantro, basmati rice, and/or naan.
Notes
Storage: Keep leftovers refrigerated in an airtight container for 3-5 days or freeze for 3 months. Notes: The spices can be adjusted for personal preference. For a milder chicken curry dish, omit or decrease the cayenne pepper. Increase for more spice or use diced green chiles in addition. Pour in the chiles with the garlic and ginger. Simmer the chicken until it's fully cooked before adding the creamy coconut milk and yogurt. These can curdle if boiled. To replace the tomato paste, use 1 cup of crushed or pureed tomatoes. We also like to add ½ teaspoon chili powder with the other spices. If desired, use heavy cream in place of the coconut milk. You may want to add a teaspoon of sugar.
Nutrition
Calories: 331kcal | Carbohydrates: 10g | Protein: 41g | Fat: 14g | Saturated Fat: 7g | Polyunsaturated Fat: 1g | Monounsaturated Fat: 4g | Trans Fat: 0.02g | Cholesterol: 111mg | Sodium: 497mg | Potassium: 912mg | Fiber: 2g | Sugar: 3g | Vitamin A: 283IU | Vitamin C: 9mg | Calcium: 73mg | Iron: 3mg