Lemon and chicken couscous soup has so much flavor, full of healthy ingredients, and is ready in just 30 minutes.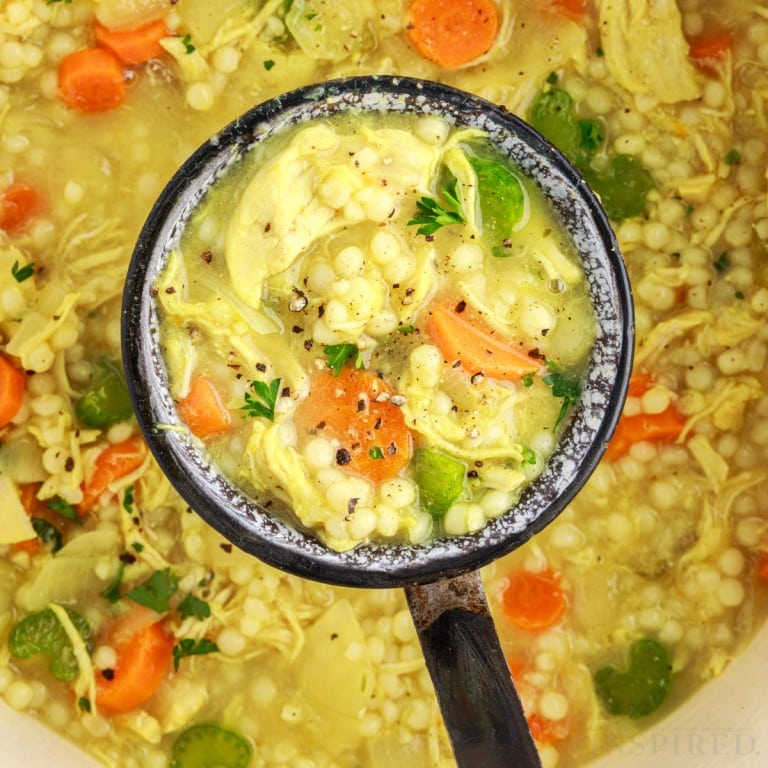 Chicken couscous soup is an easy recipe that is perfect on cold winter days. It's packed with comforting flavors and ingredients that help boost our immune system. The best part is that it's ready in 30 minutes with very little prep and cleanup.
Not only is this lemon chicken couscous soup a healthy recipe, but it's perfect on a rainy day, cold winter night, or anytime sickness strikes the house! Most of us think of couscous being a grain, but Israeli couscous is actually pasta. Let me tell you, Campbell's Chicken Noodle soup has nothing on this, especially when you serve it with some crusty bread!
While this hearty stew is filling on its own, we recommend serving it with sourdough or dutch oven bread. Speaking of immune support, don't forget to save this golden milk recipe for when you need it! You can also use your pressure cooker to make Instant Pot chicken soup which is also delicious!
What do I Need for this Recipe?
🍜 Ingredients:
olive oil – to saute the veggies in
Veggies: yellow onion, celery, carrots – adds some flavor and helps to make this a healthy soup.
Spices: garlic, ginger, lemongrass, turmeric, salt and black pepper – talk about a lot of flavor! This is what takes a chicken soup recipe to a whole new level! The lemongrass is optional, but we think it adds a nice touch. Garlic and ginger are both great for fighting cold season and have anti inflammatory properties.
chicken breast – while we are going with boneless skinless chicken breast, tenderloins or boneless skinless chicken thighs could be used. The thighs do not have as much meat, so you may need a little more. Also, since it's dark meat the taste may change slightly.
chicken broth – chicken stock can be used as well.
pearl couscous – we use Israeli couscous. It's larger than traditional couscous, so it gives the brothy soup more texture and helps to thicken it.
Lemon juice – we are using freshly squeezed lemon juice, but store bought can be substituted if needed.
Optional Garnish:
Fresh dill, grated parmesan cheese
Equipment Needed:
Dutch oven – a large pot will do the trick as well.
Veggie peeler – to peel the ginger and turmeric
Variations and Substitutions:
Low carb – skip the pasta and serve with cauliflower rice
Rotisserie Chicken – if it's flu season and you are down and out, use store-bought cooked chicken to speed the process up a little bit.
Swap the couscous – Some like switching things up, so you can easily use rice or egg noodles in place of the couscous.
Vegan/Vegetarian – omit the chicken and use vegetable broth instead of chicken.
Homemade stock – feel free to use what you have on hand. The main difference between broth and stock is that stock is made with bones while broth is made from veggies and meat and is typically thinner. Stock can be made by simmering down the bones for a longer period of time to make a richer, bone broth.
🔪 Instructions:
PREP: Chop all of the vegetables and prepare the ginger, turmeric, and garlic.
Step 1: Pour the olive oil into a large pot and heat over medium heat. Saute the onions and celery until they are soft.
Step 2: Stir in the ginger and garlic, while cooking for another couple of minutes.
Step 3: Add the carrots and chicken breasts. Season with salt and pepper.
Step 4: Pour in the broth and add the lemongrass if you are using it.
Pro Tip: Lemongrass is great in this soup, but it still tastes delicious even if you decide to omit it.
Step 5: Bring soup to a low boil, reduce heat and simmer until chicken breasts are cooked through
Step 6: Once the chicken is cooked, remove and shred.
Step 7: Boil the soup again, add the shredded chicken to the pot, along with the couscous, turmeric, and lemon juice. Cook for 10 more minutes or until the couscous is done.
SERVE: Remove the lemongrass and serve in your favorite soup bowl immediately.
This is the perfect soup when you want something quick, but also healthy that provides nourishment.
The combination of garlic, turmeric, and lemon gives an earthy and flavorful depth to the soup.
Fresh ingredients are the best, especially if eating when you are side.
Ginger can be stringy and hard to mince. I like to scrape it over a grater, which ends almost like a paste. Ginger paste can also be purchased in the grocery store.
Peel both the ginger and turmeric before grating using a vegetable peeler.
To cook with lemongrass, peel off the hard outer layer. Place the chunks on a cutting board and smash them with the side of a knife.
Fun Fact
While our culture often serves couscous as a savory meal, places like Libya and Egypt use it in desserts.
How to store chicken couscous soup?
Store leftovers in an airtight container for up to 4 days in the refrigerator.
Can you freeze this recipe?
If you want to freeze this soup, we recommend freezing just the base. The pasta may not thaw as well when reheated. Storing in individual servings is also a great way to freeze. You don't have to worry about unthawing the entire batch if you don't need it. Plus it reheats faster.
Is Israeli couscous rice or pasta?
While most think it's rice it's actually pasta made from wheat flour and is often considered a healthy alternative because it's less refined than most other kinds of pasta.
More Comforting Soup Recipes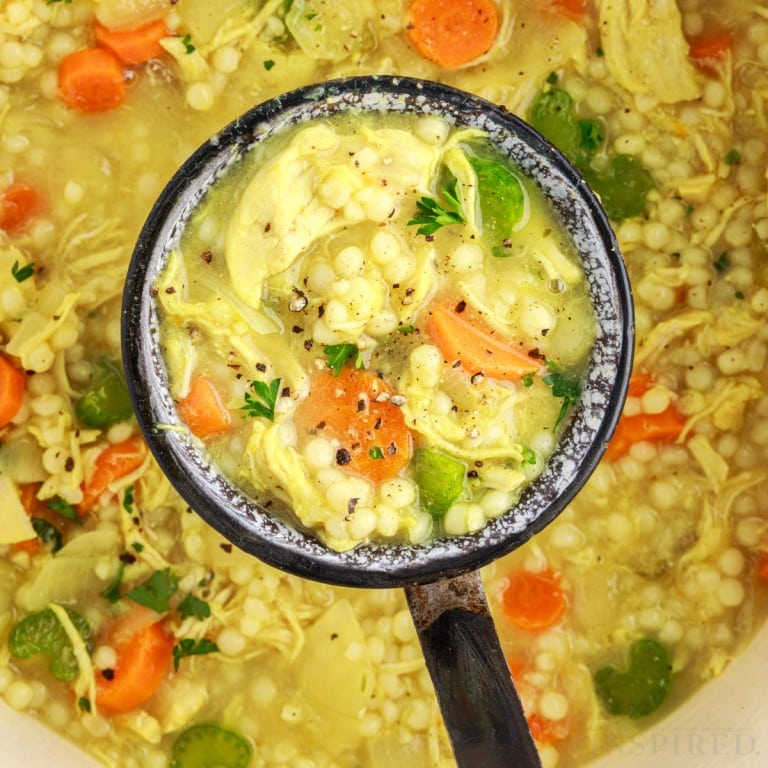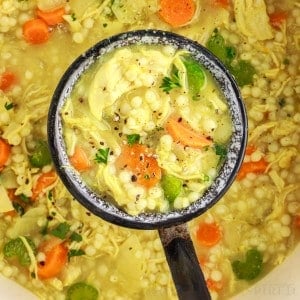 Chicken Couscous Soup
Lemon and chicken couscous soup has so much flavor, full of healthy ingredients, and is ready in just 30 minutes.
Ingredients
1 tablespoon olive oil
1 medium yellow onion diced
1 cup celery sliced (2-3 stalks)
2 cloves of garlic minced
1 tablespoon grated ginger
1 cup sliced carrots 2-3 medium carrots
1 lb. boneless skinless chicken breast
2 1- inch sections of lemongrass optional
8 cups chicken broth
1 cup pearl couscous Israeli couscous
1 tablespoon grated turmeric
Juice of 1 lemon 4 tablespoons
Salt and pepper to taste
Instructions
Heat olive oil over medium heat in a large pot or Dutch oven. Saute onion and celery until onion is soft and translucent.

Add the garlic and ginger; cook 1-2 minutes more.

Add carrots and chicken breast to the pot. Sprinkle chicken with salt and pepper and then pour the chicken broth to cover the chicken. Add lemongrass to the pot if you are using.

Bring soup to a low boil, reduce heat and simmer until chicken breasts are cooked through (~10 minutes for thin-sliced chicken breasts).

When the chicken is cooked through, remove it from the pot and shred with two forks.

Bring the soup up to a boil once again. Return the chicken to the pot, add couscous, turmeric, and lemon juice. Cook 8-10 minutes more, until couscous is cooked through.

Remove pieces of lemongrass.

Serve immediately.
Notes
Storage: Refrigerate for up to 4 days in an airtight container. Notes: This soup is packed with nutrients and healthy ingredients. Garlic, ginger, turmeric, and lemon are all associated with a boost to the immune system. Their inclusion in this soup gives an earthy and ultra-flavorful depth to a fairly traditional chicken noodle soup. The greatest health benefits will come from using fresh ingredients. Ginger can be pretty stringy and difficult to finely mince. I like to just scrape it over a grater. It turns it into almost a paste – you can also purchase ginger paste in the grocery store produce area. Turmeric is softer and easy to grate. Peel both the ginger and turmeric before grating – I use a regular potato peeler. The lemongrass is a lovely addition to the soup. To cook with lemongrass, peel off the hard outer layers. Place the chunks of lemongrass on a cutting board and smash them with the flat of a knife. Add to the soup while it is simmering.
Nutrition
Calories: 260kcal | Carbohydrates: 30g | Protein: 22g | Fat: 5g | Saturated Fat: 1g | Polyunsaturated Fat: 1g | Monounsaturated Fat: 2g | Trans Fat: 0.01g | Cholesterol: 55mg | Sodium: 1283mg | Potassium: 579mg | Fiber: 3g | Sugar: 3g | Vitamin A: 3669IU | Vitamin C: 5mg | Calcium: 47mg | Iron: 2mg