This 15 bean soup instant pot recipe is made with a blend of different kinds of beans, hearty veggies, and a savory ham hock. It's comforting, filling, easy to make, and freezes well for later!
This 15 Bean Soup (Instant Pot) recipe is comforting, hearty, simple to make, and full of flavor! The bean soup mix is budget friendly and you can easily double this recipe to feed a larger crowd! Each bite is full of ham, tender beans, and vegetables, so it's a great one-pot meal.
Honestly, I could eat this hearty bean soup all year, but I typically make it when we have holiday ham. The leftover ham bone adds great flavor, plus you don't always have to buy an entire cut of meat to make the soup (even though today I am using an actual ham shank and they are inexpensive and readily available anytime of year). It's even better the next day after it sits and all the flavors marry together! I love using my homemade chicken stock recipe for this soup, plus you can store it and use it in other recipes, such as crock pot chicken tortilla soup and cabbage soup.
We always go with a brown sugar glazed ham but you can use your favorite. This soup also goes great with buttermilk cornbread, sourdough croutons, or these buttery sweet dinner rolls.
Why You'll Love This Instant Pot Soup Recipe
It's an easy one-pot meal.
Feeds a crowd.
Can use up your leftover ham from the holidays.
Inexpensive ingredients make it budget-friendly.
What Ingredients do I Need for Instant Pot 15 Bean Soup?
yellow onion
dried beans (15 bean soup mixture)
garlic cloves
ham shank
freshly cracked black pepper
bay leaf
dried thyme
dried rosemary
chicken broth or stock – could also use vegetable broth or stock if needed
carrots
celery
diced tomatoes
Salt
lemon juice
Grated parmesan cheese
Fresh parsley
Pro Tip: Sometimes 15 bean soup can also be packaged as 16 bean soup. Either will work fine! You can use a 16 ounce or 20 ounce package without having to change the recipe.
How to Make 15 Bean Soup in the Instant Pot
PREP: Use a colander to rinse and strain the beans. Pick out debris you see and discard it. Throw away the seasoning packet, because we will not be using it.
LAYER INGREDIENTS: Add the onions, beans, and ham to the inner pot. Top with the bay leaf and other spices. Pour in the chicken stock.
COOK: On high pressure, cook for 40 minutes. Release the pressure and add the diced veggies. Cook for an additional 10 minutes, then perform a natural pressure release for 10 minutes.
SERVE: Shred the ham, discard the bone, and add the meat back to the pot. Add the lemon juice and salt if needed. Ladle into soup bowls and top with parmesan cheese and parsley.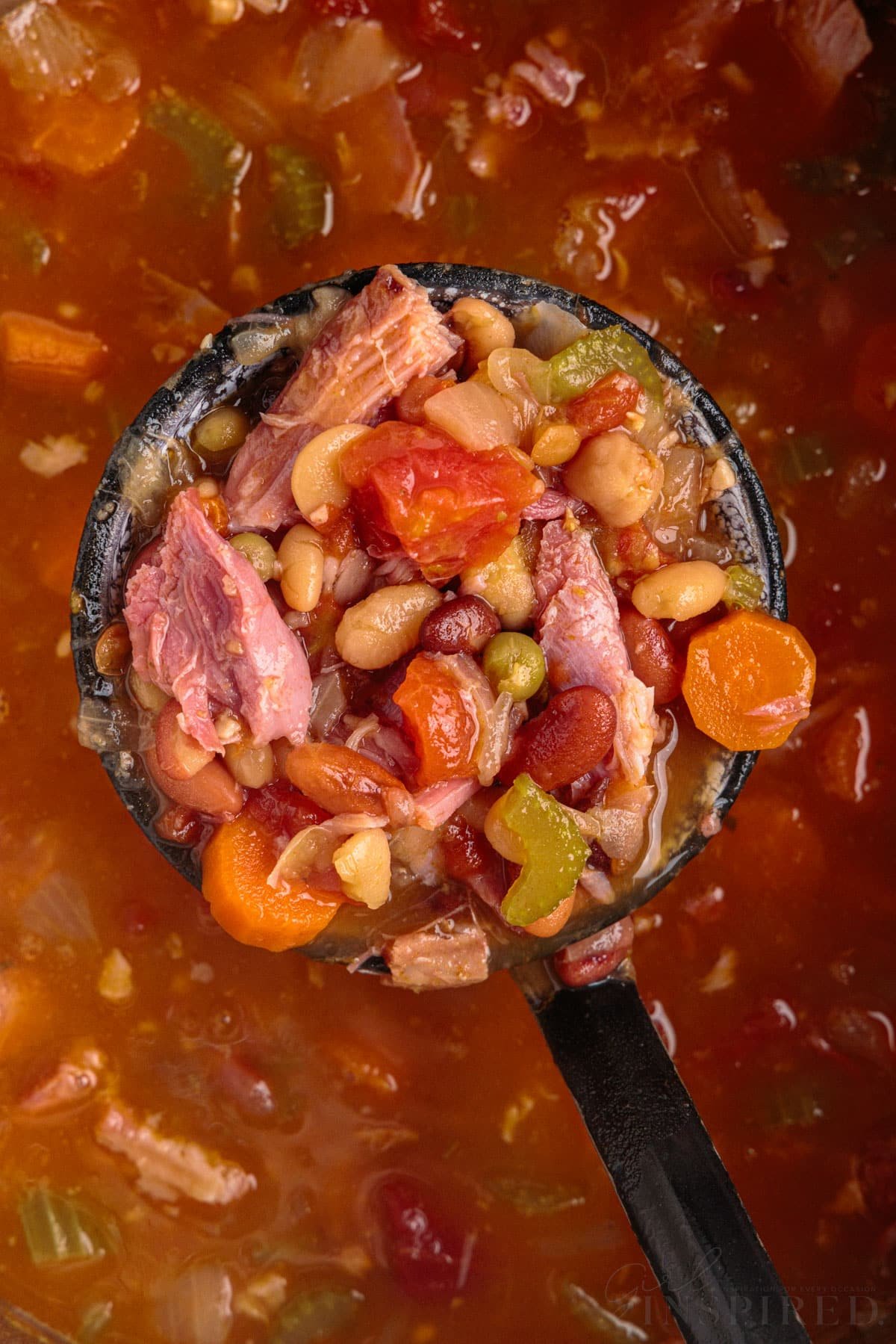 The acid from the lemon and tomatoes can prevent the beans from softening and cooking properly, which is why we add it at the end.
We like to add the veggies after the initial cook time so they don't fall apart by serving time. You can add them all at once, they will just be in very small pieces by the end.
If you don't have a whole ham shank, use the leftover bone from the dinner ham.
Fun Fact
Hurst's Hambeens were the first producers of this dried bean mixture that included a seasoning packet and have been in business since the late 1940s.
Do you have to soak 15 beans before cooking?
For this pressure cooker recipe, there is no need to soak the beans before cooking.
Can you freeze 15 bean soup?
Once the soup has cooled completely, transfer it to an airtight container, freezer bag, or souper cube and freeze for up to 3 months.
How long does 15 bean soup last after cooking?
Keep leftovers in the refrigerator for up to 4 days.
What is 15 bean soup made of?
This blend of beans is a mixture of yellow split peas, green split peas, garbanzo beans, pinto beans, navy beans, black beans, white kidney beans, and small red kidney beans, along with other lentils.
More Easy Instant Pot Recipes
If you try this Instant Pot 15 Bean Soup or any other recipe on my website, please leave a 🌟 star rating and let me know how you liked it in the 📝 comments below.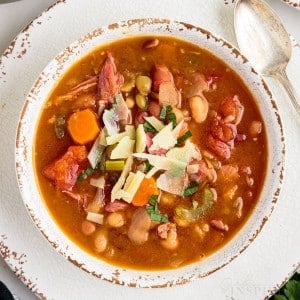 15 Bean Soup Instant Pot Recipe
This 15 bean soup instant pot recipe is made with a blend of different kinds of beans, hearty veggies, and a savory ham hock. It's comforting, filling, easy to make, and freezes well for later!
Ingredients
1 large yellow onion, diced
16 oz. bag of dried beans 15 bean soup mixture
2 garlic cloves minced
1 ham shank
1 teaspoon freshly cracked black pepper
1 bay leaf
½ teaspoon dried thyme
½ teaspoon dried rosemary
8 cups chicken broth/stock
1 ½ cups diced carrots
1 ½ cups diced celery
15 oz. can diced tomatoes
Salt to taste
Juice of 1 lemon
Grated parmesan cheese for garnish
Fresh parsley chopped, to garnish
Instructions
Remove the seasoning packet from the bag of beans and discard. Rinse beans and strain; pick out any debris from the beans.

Layer the onions, rinsed beans, and ham shank in the instant pot.

Seal the instant pot and set it to pressure cook for 40 minutes. Release the pressure valve and remove the lid. Add the carrots, celery, and tomatoes (juices included) to the soup and reseal. Pressure cook for an additional 10 minutes, then allow the pot to naturally release for 10 minutes.

Lift the ham shank from the soup and discard bones and tough skin/fat. Chop or shred the meat into bite-sized pieces. Stir the meat back into the soup.

Squeeze the lemon over the soup. Taste the soup and add a pinch of salt, if desired. Typically, the meat and/or chicken broth will season the soup with enough salt.

Serve with freshly grated parmesan cheese and parsley.
Nutrition
Calories: 207kcal | Carbohydrates: 35g | Protein: 14g | Fat: 2g | Saturated Fat: 0.5g | Polyunsaturated Fat: 0.5g | Monounsaturated Fat: 1g | Cholesterol: 0.1mg | Sodium: 149mg | Potassium: 983mg | Fiber: 8g | Sugar: 3g | Vitamin A: 3361IU | Vitamin C: 9mg | Calcium: 88mg | Iron: 3mg