A one-dish meal that will fill your home with the most delicious aroma. This flavor-bursting herb roasted chicken is a must have for your recipe box.
There is something about serving your family an herb roasted chicken dinner that just warms the soul. This baked chicken recipe with caramelized vegetables turns out juicy and full of the most delicious flavors every time. The aroma of the baked chicken wafting through the house and the children gathering in the kitchen to see what's coming out of the oven – it's such a wonderful feeling to nourish your family with such a simple, yet well-rounded meal.
Making the perfect herb-roasted chicken is a cinch – the preparation is easy and you can include an entire meal in one baking dish. Or, for a special occasion or holiday, serve this baked chicken with some pecan streusel topped yams!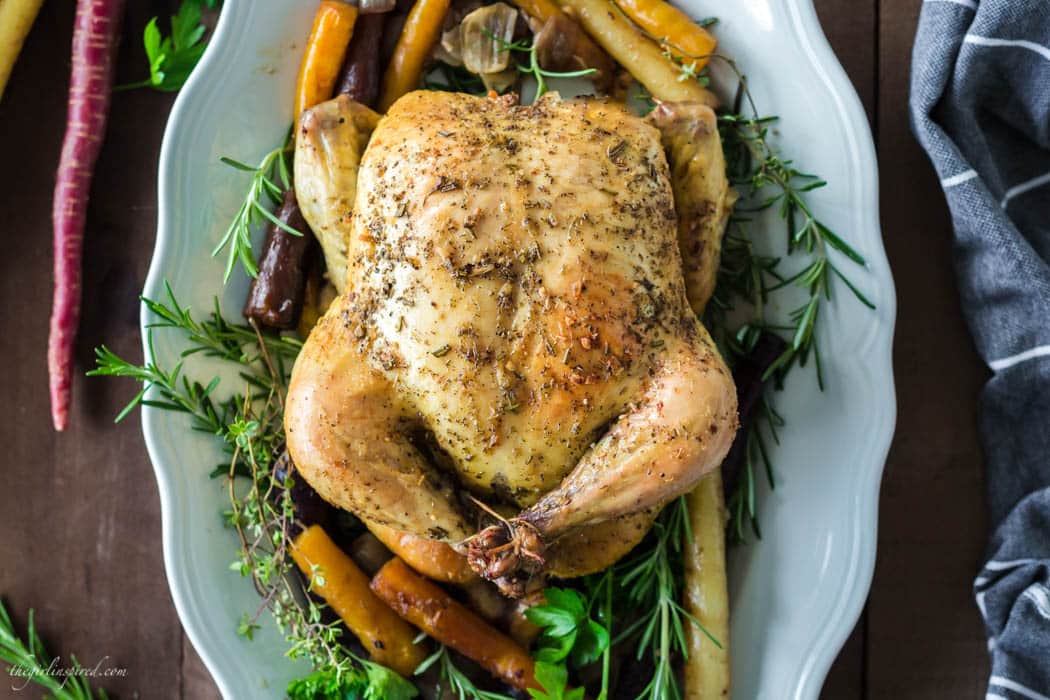 I purchase whole chickens on sale, typically paying about $5 per chicken. I stock up when the price is good and freeze the meat until I'm ready to use it. We have baked chicken frequently. Vegetables and potatoes can be included with the chicken for a complete dinner. By using the leftover meat and bones to make stock and soup, I can stretch one chicken into two to three meals for the week. This recipe is gluten-free and sugar-free. Roast it without the potatoes and it also works perfectly for a Paleo or Keto diet.
After defrosting and rinsing the chicken, remove the giblets (organs) from the body cavity of the bird (discard or use as you wish). Pat it dry with a paper towel. Place the whole chicken in a large baking dish or roasting pan. Be sure the pan is deep enough to hold all the juices that emerge while cooking.
Coat the entire chicken with a light layer of olive oil and then rub 2-3 Tbs. of herb mixture over the exterior and inside the chicken (more details on the herb rub below). Add 1 whole yellow onion and 5-6 large carrots, peeled and chopped into large pieces.
You can also use whole carrots and for an especially gorgeous presentation, try rainbow carrots! The caramelized vegetables that appear in your roasting pan after baking the chicken are incomparable in flavor, so load up your pan! If desired, peel several potatoes and cut into large chunks. Toss all of the vegetables in additional olive oil, salt, and pepper. Add them around the chicken in the bottom of the pan.
Bake, uncovered, in a 350 degree oven for 1 ½ hours (for a 5 lb. chicken). Check to make sure that the chicken is cooked completely by slicing into the meat between the drumstick and the body. The juices should run clear without any red blood along the bone. When the chicken is done, remove it from the oven and serve it up!
Herb Roasted Chicken
A one-dish meal that will fill your home with the most delicious aroma. This flavor-bursting herb roasted chicken is a must have for your recipe box.
Ingredients
Herb Spice Rub
1 tablespoon salt
2 teaspoon black pepper
1.5 teaspoon ground thyme
2 teaspoon garlic powder
1 teaspoon dried rosemary
Roasted Chicken Recipe
5 lb. whole chicken giblets removed, rinsed, and pat dry
rosemary for garnish
2 tablespoon olive oil
2 cups carrots
1 yellow onion
Instructions
Combine all dry spice ingredients in a sealable container.

Remove giblets (neck, heart, liver, etc.) from inner cavity of chicken. Rinse bird and pat dry with paper towels.

Coat the entire chicken inside and out with olive oil and place breast side up in a roasting pan.

Sprinkle 2-3 Tbs. of spice rub mixture over the chicken and use your hands to rub the spices into every nook and cranny.

Wash your hands well.

Cut up 1 whole yellow onion, carrots, and potatoes if desired into large chunks. Coat vegetables with an additional tablespoon or so of olive oil.

Arrange vegetables in pan around the chicken.

Roast (uncovered) in a 350 degree oven for 1 ½ hours. Stir the vegetable mixture once or twice during roasting to ensure even cooking.
Notes
Spice rub recipe should yield enough for 3 chickens. Store extra spice mixture in a sealed container for 1-2 months. Nutrition calculations have been adjusted for 1 chicken recipe.
Nutrition
Calories: 661kcal | Carbohydrates: 5g | Protein: 53g | Fat: 46g | Saturated Fat: 13g | Cholesterol: 213mg | Sodium: 512mg | Potassium: 658mg | Fiber: 1g | Sugar: 2g | Vitamin A: 5743IU | Vitamin C: 7mg | Calcium: 47mg | Iron: 3mg
I don't typically measure my herbs and spices, but I do use the same combination of ingredients consistently. I toss all the herbs and spices into a bowl, then mix them together before rubbing them onto the chicken. Adjust the proportions and ingredients to your liking!