Easy chicken bacon ranch casserole is made with simple ingredients, ready in no time, and a great recipe the entire family will enjoy.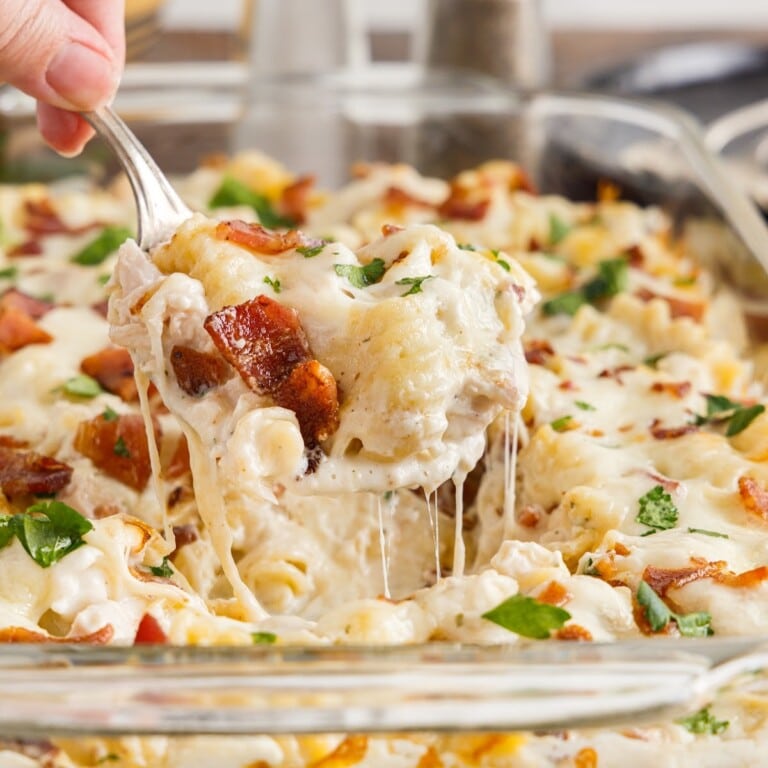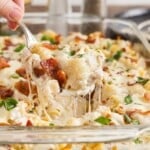 The whole family will love this chicken bacon ranch casserole recipe. It's packed with shredded chicken, crispy bacon, and is super cheesy. It's the perfect recipe for a busy weeknight, because it's ready in just 40 minutes.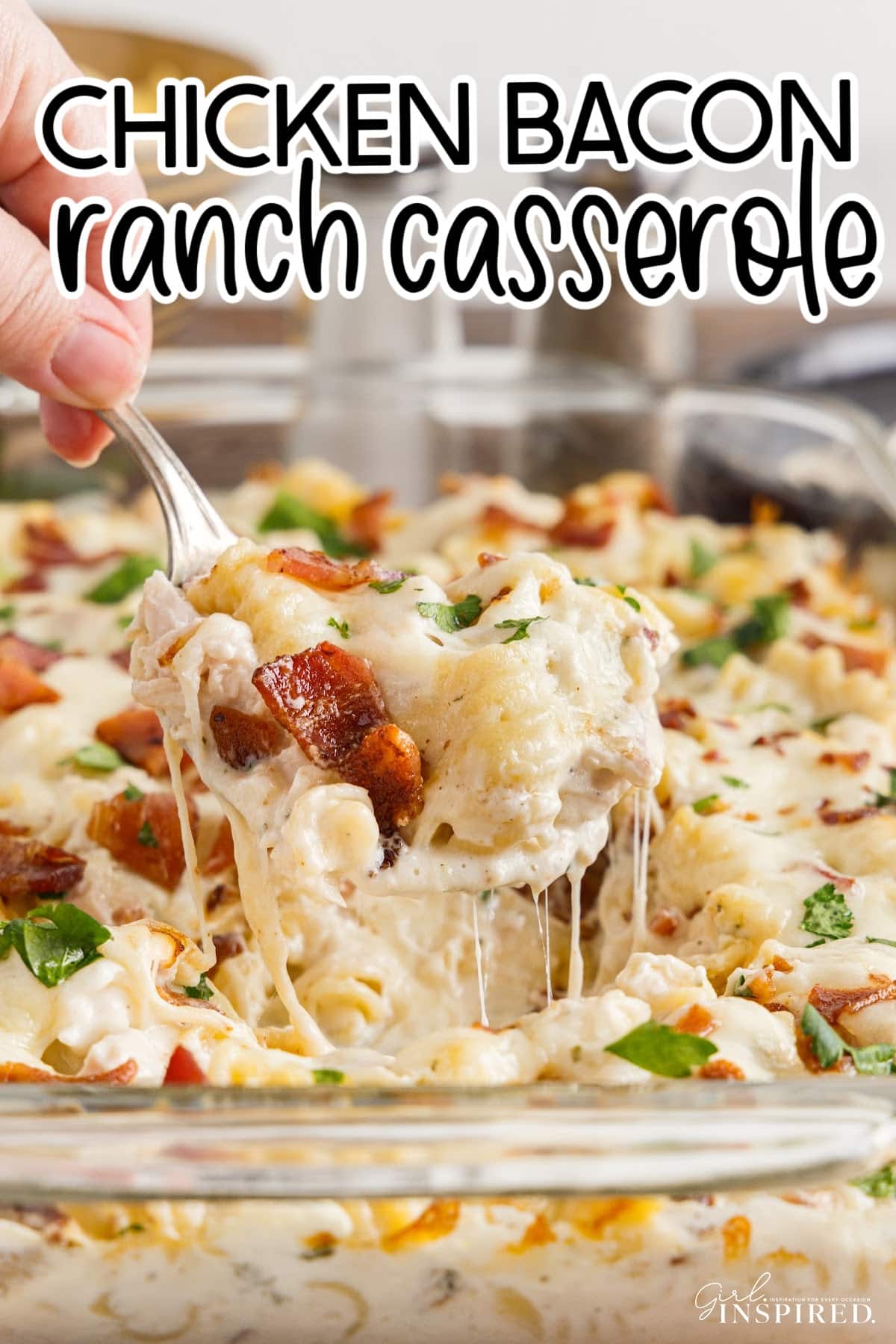 I'm so glad that this easy recipe is a family favorite because it sure does make my life easier when we are busy! I love that it's basically a one pan meal and no sides are needed, unless you just want them. Chicken casserole reheats well the next day like this easy chicken pot pie, so it's worth making a double batch for extra leftovers. If you don't feel like frying, cook the bacon in the air fryer. It comes out crispy and clean up is easy!
As I mentioned, we often eat the casserole as is, but if you need veggies I recommend bang bang Brussels sprouts or instant pot corn on the cob. They are both simple and quick. Another favorite with similar flavors is my chicken bacon ranch salad, perfect for warmer weather!
Jump to:
🥓 Ingredients: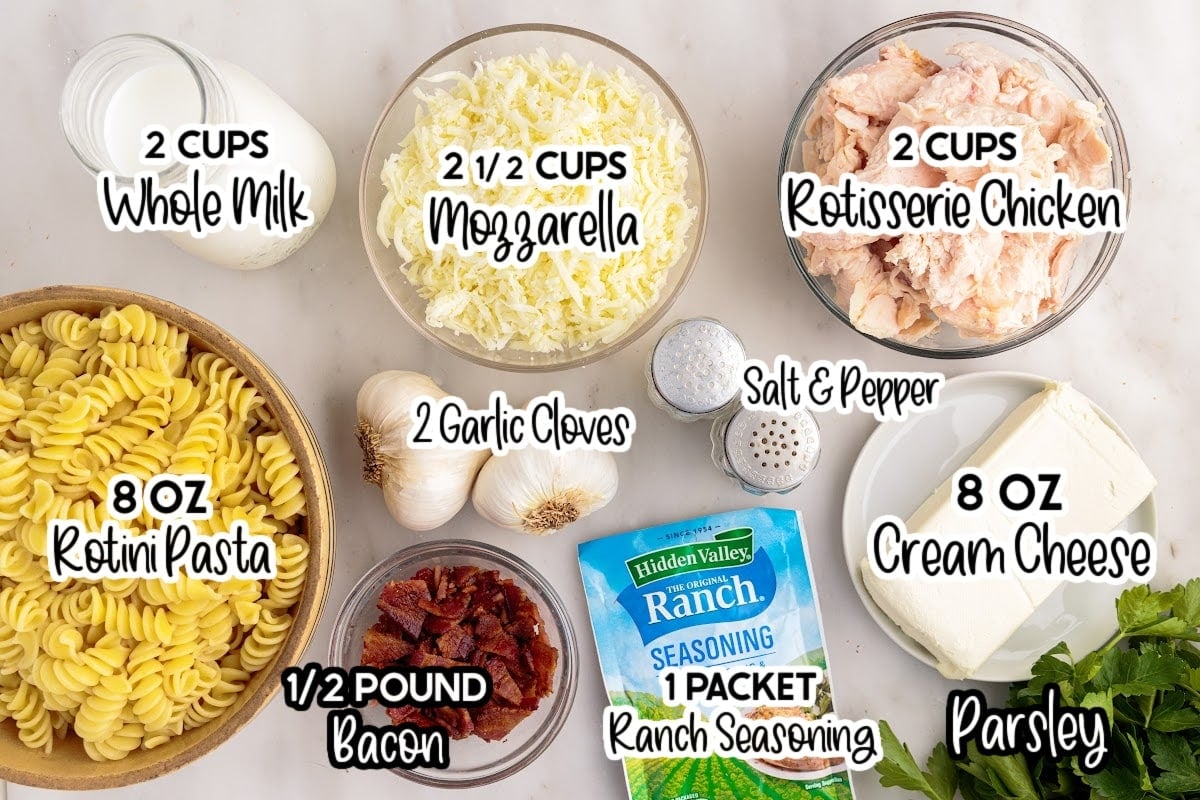 pasta – we like using rotini but penne pasta would work too.
bacon – it will need to be cooked before adding to the casserole. Don't forget to reserve a little of the grease, which adds a ton of flavor to the dish.
garlic cloves – garlic powder can be used in place of the cloves for ease.
cream cheese – makes the dish rich and creamy.
ranch seasoning mix – you can also make it from scratch using this ranch seasoning packet recipe if desired.
salt and pepper – adjust to your liking
milk– we used whole milk, but 2% or even nonfat milk will work – the casserole will just be less creamy.
mozzarella cheese – freshly shredded does melt better and has more flavor; you can use another type of cheese if you like – provolone or jack would also work great.
rotisserie chicken – we typically just use the white meat, but you can use the dark as well.
Freshly chopped parsley – just for garnish.
For a full list of ingredients and their measurements, 📋 please view my printable recipe card at the bottom of the post.
Optional Garnish:
We like to garnish this recipe with fresh parsley just before serving. You can also sprinkle additional cheese on individual servings if desired.
Substitutions and Variations
Chicken breast – using rotisserie is easy, but you can also boil a couple of chicken breasts, use canned chicken, or quickly make instant pot chicken breasts.
Keto chicken bacon ranch casserole – replace the pasta with broccoli florets and/or cauliflower florets for a low carb dinner. Just steam the veggies before adding them to the bacon dish. You can also use cauliflower rice or zucchini spirals/zoodles.
More protein – use 8 ounces of protein pasta such as Banza or Barilla.
Meal prep hack – make Instant Pot chicken breast, then use the leftover chicken for this casserole and a jalapeño popper chicken casserole to have dinner for the rest of the week.
Cheddar cheese – we like the mozzarella, but cheddar or any of your other favorites can be substituted.
Alfredo sauce – this pasta dish would be perfect with a creamy alfredo sauce. Use this alfredo sauce recipe, skip the sauce instructions listed below. Bake as directed.
🔪 Instructions:
PREP: Preheat the oven to 350 degrees. Cook the pasta in a large pot of salted water until al dente. Drain and set aside once done. Dice the chicken into small pieces. Cook the bacon until crispy.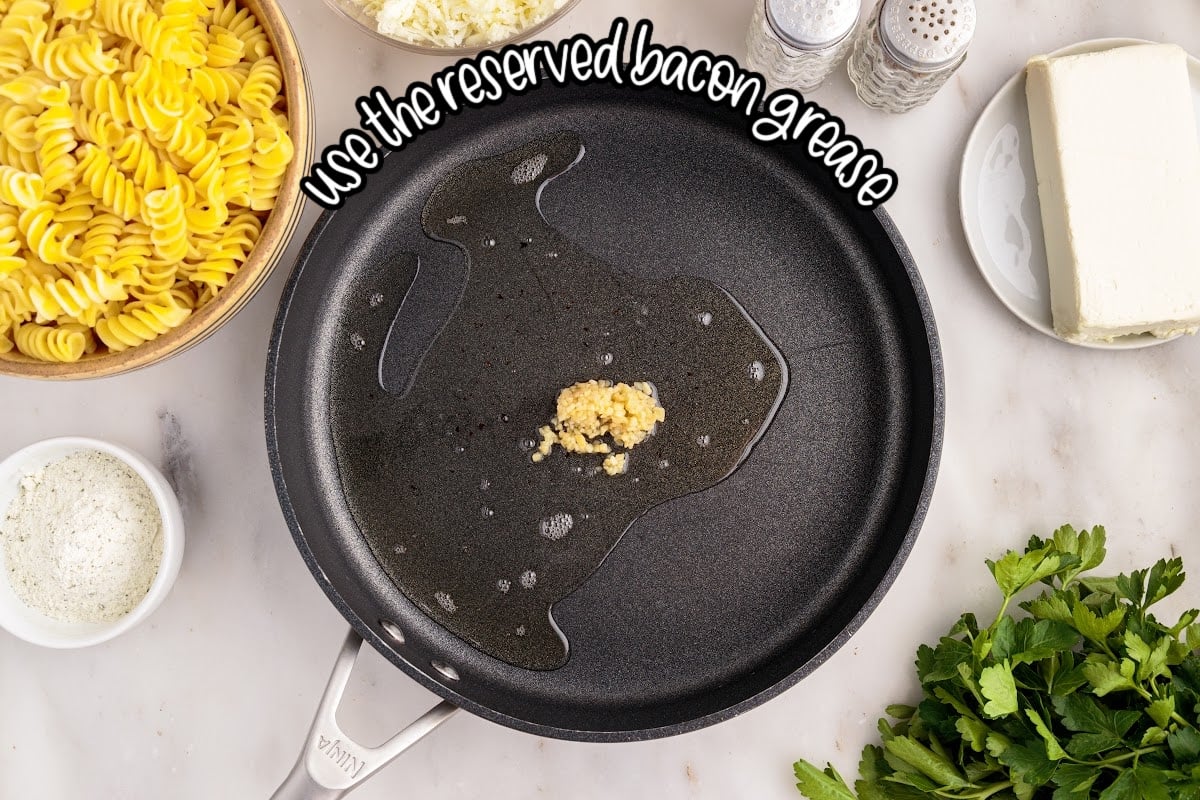 Step 1: Sauté the minced garlic in a large skillet with the reserved bacon grease until toasted. You can use olive oil instead of the bacon grease if you prefer.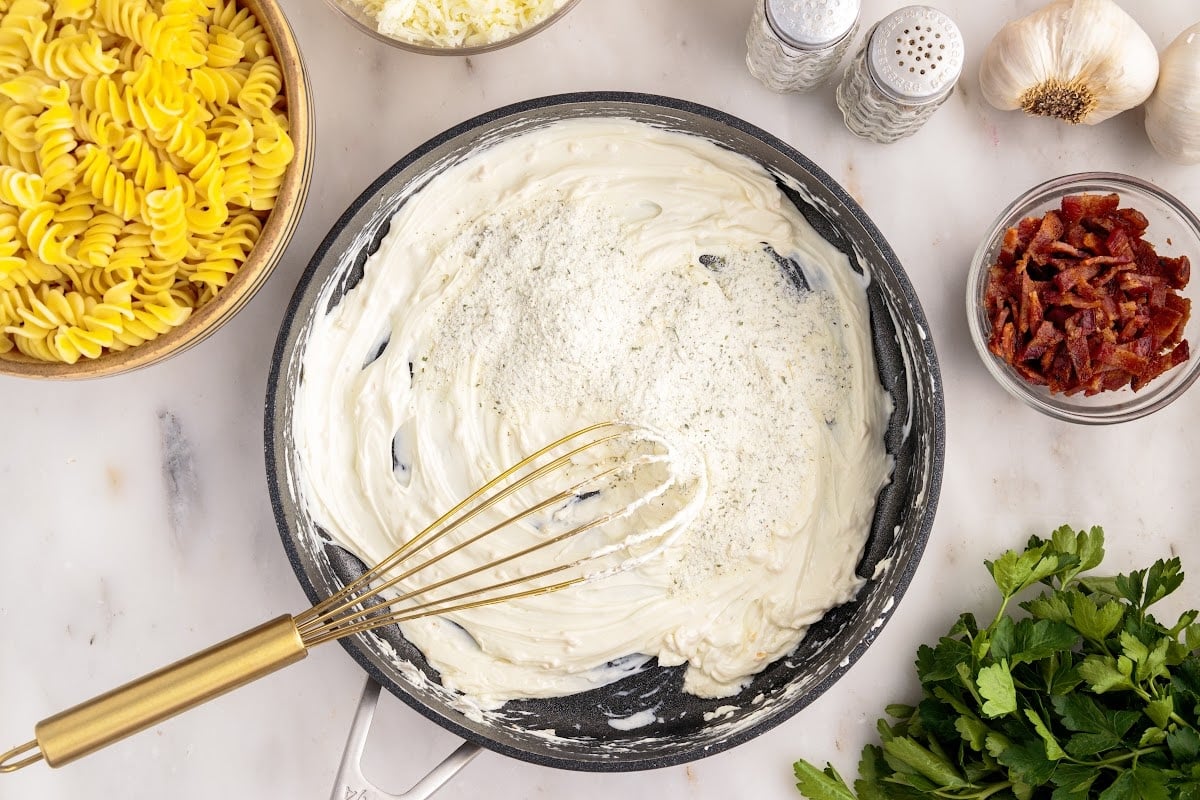 Step 2: Whisk in the cream cheese. Stir on low heat until smooth and melted.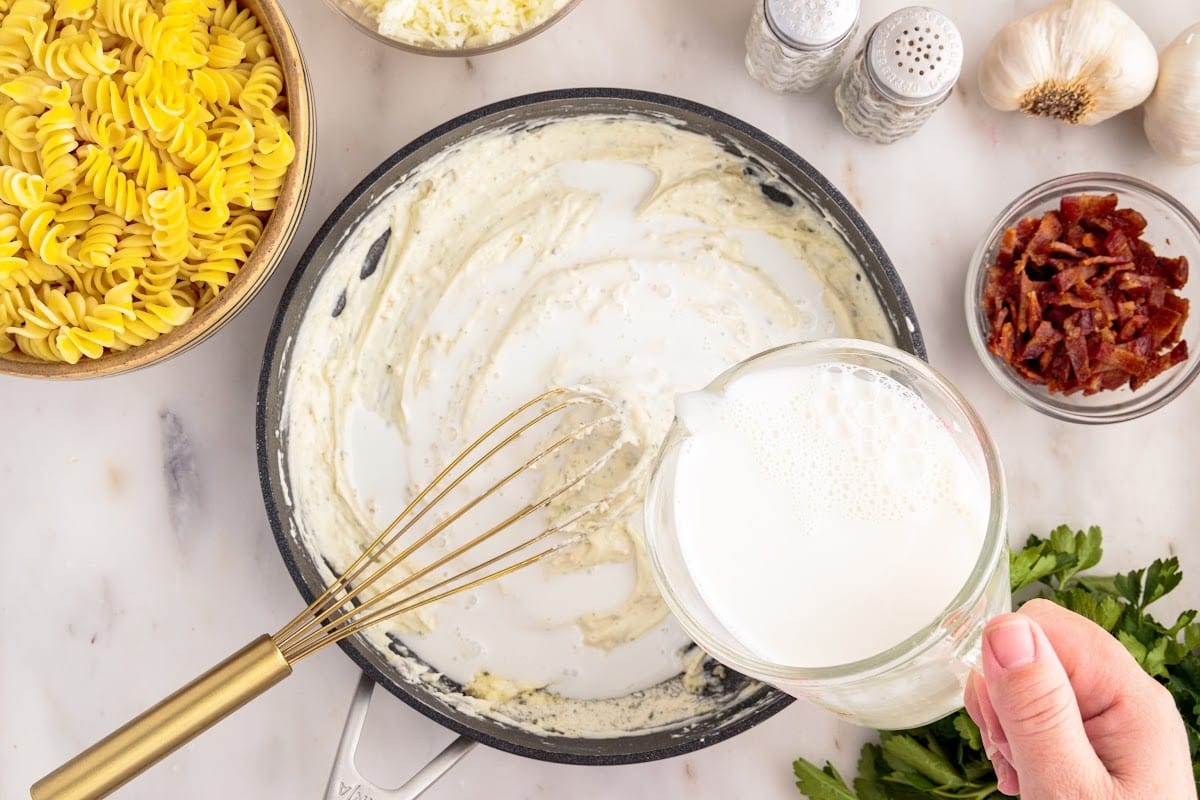 Step 3: Add the ranch seasoning mix and the milk. Heat over medium heat until combined.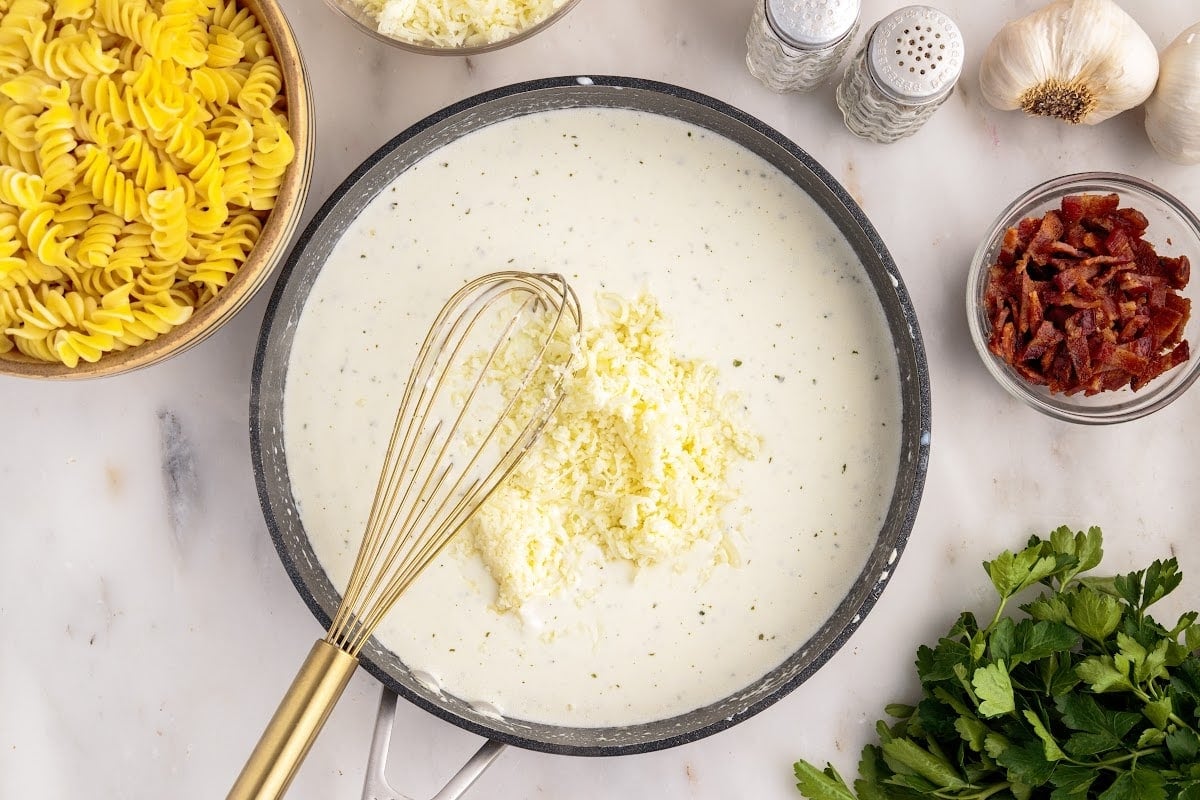 Step 4: Whisk in a cup of mozzarella and stir until melted.
Pro Tip: Don't turn the heat up too high while making the sauce. Be sure to stir often.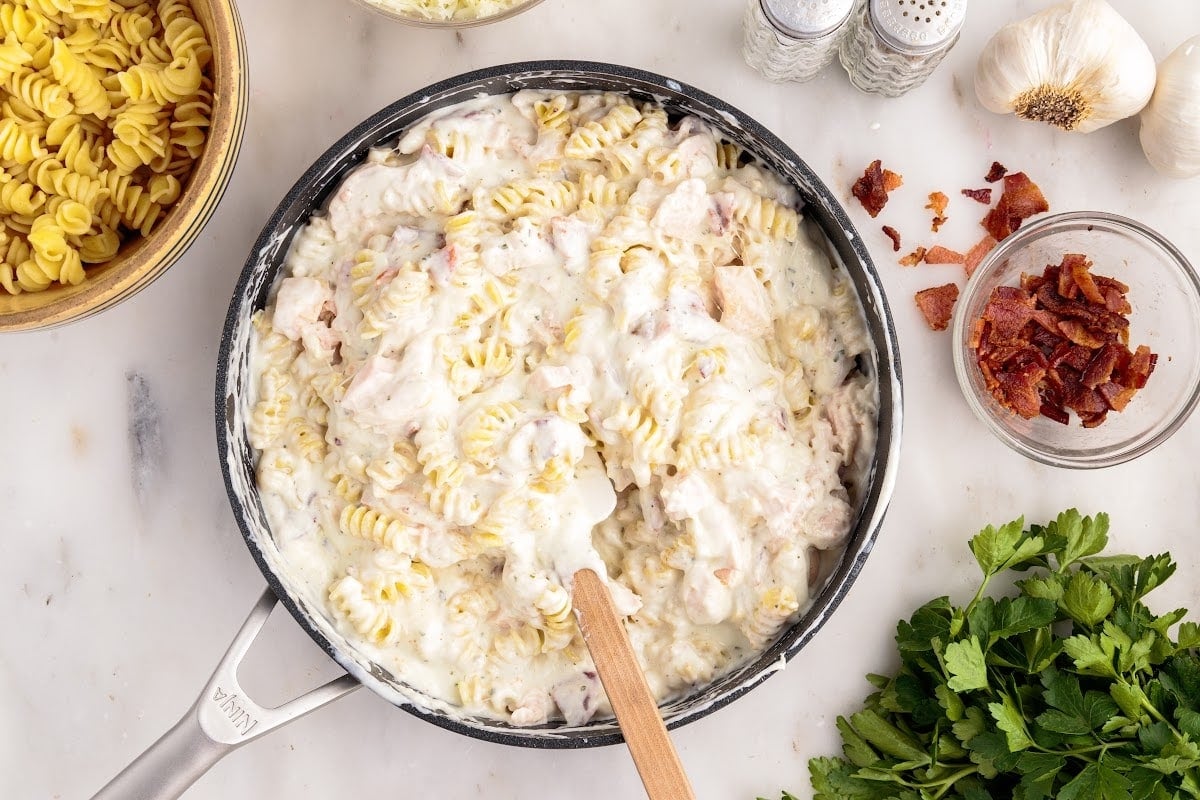 Step 5: Combine the cooked pasta, half of the crumbled bacon, and the chicken. I like to reduce dishes and stir everything in the skillet, but you can also stir things together in a large bowl.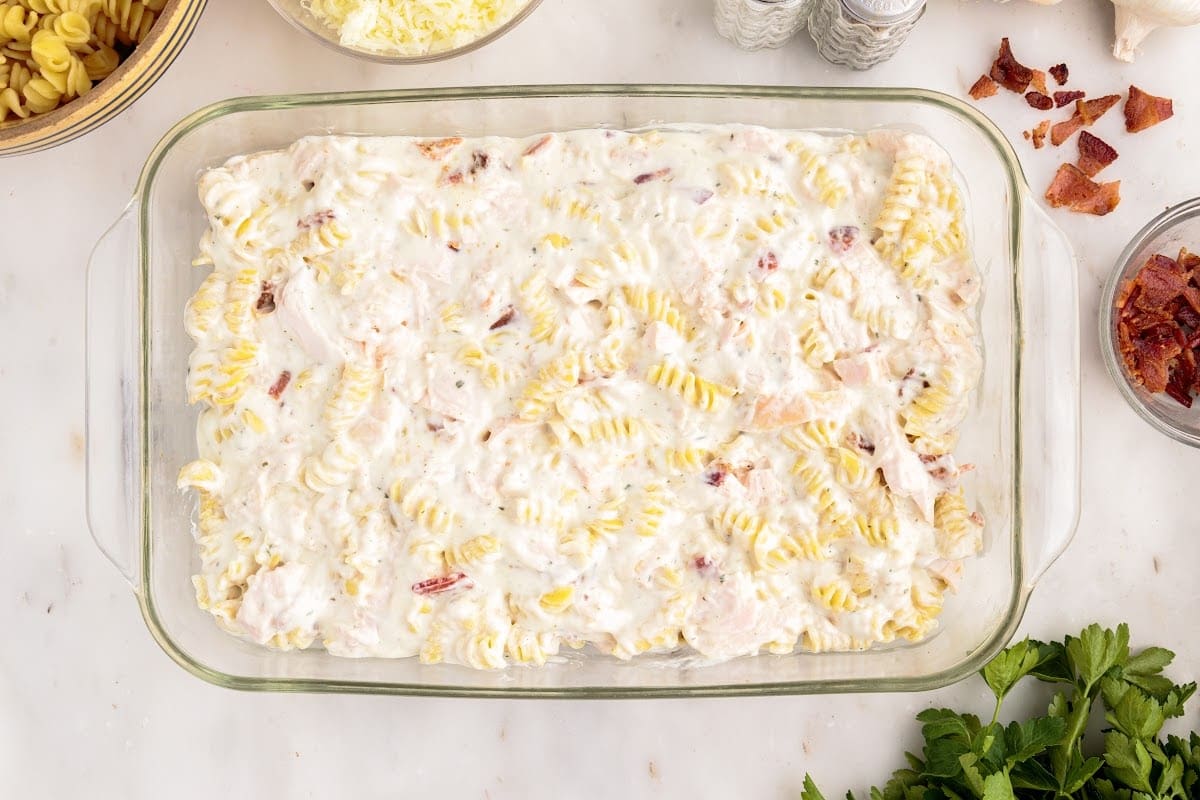 Step 6: Grease a large baking dish with nonstick cooking spray. Transfer the mixture and spread evenly.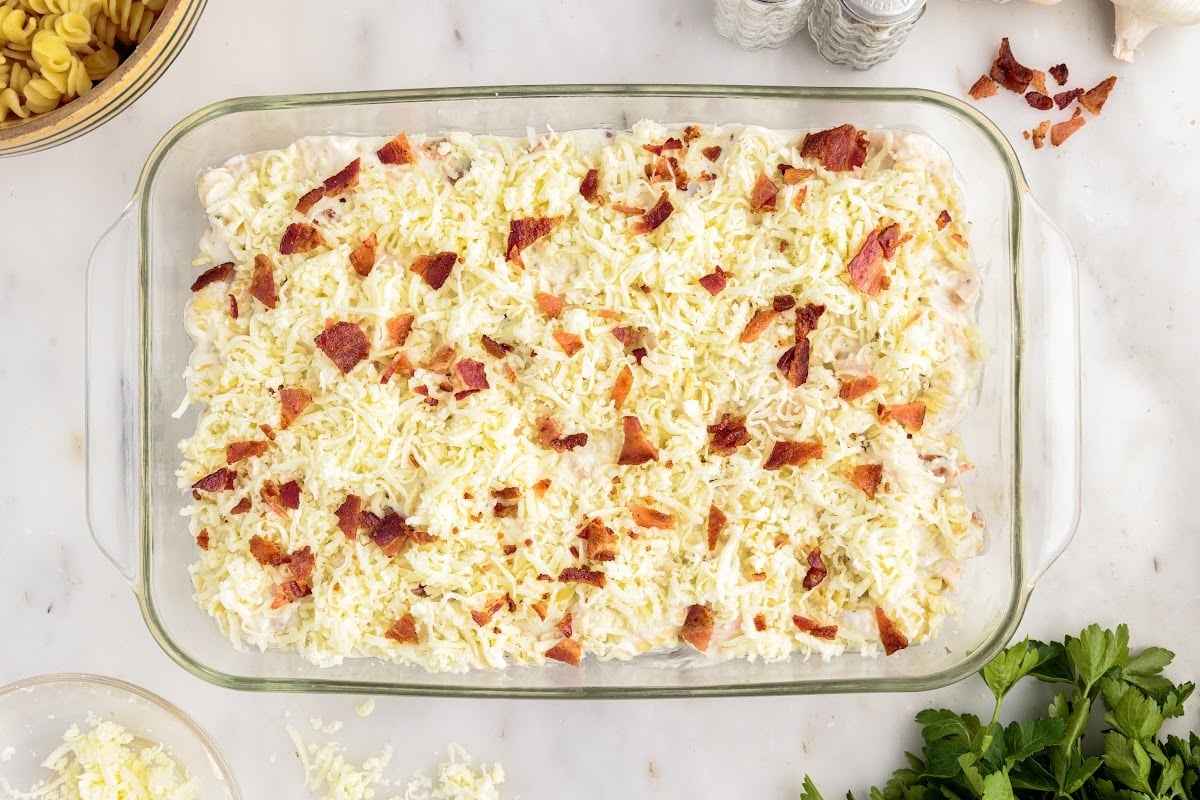 Step 7: Top with the remaining cheese and bacon pieces.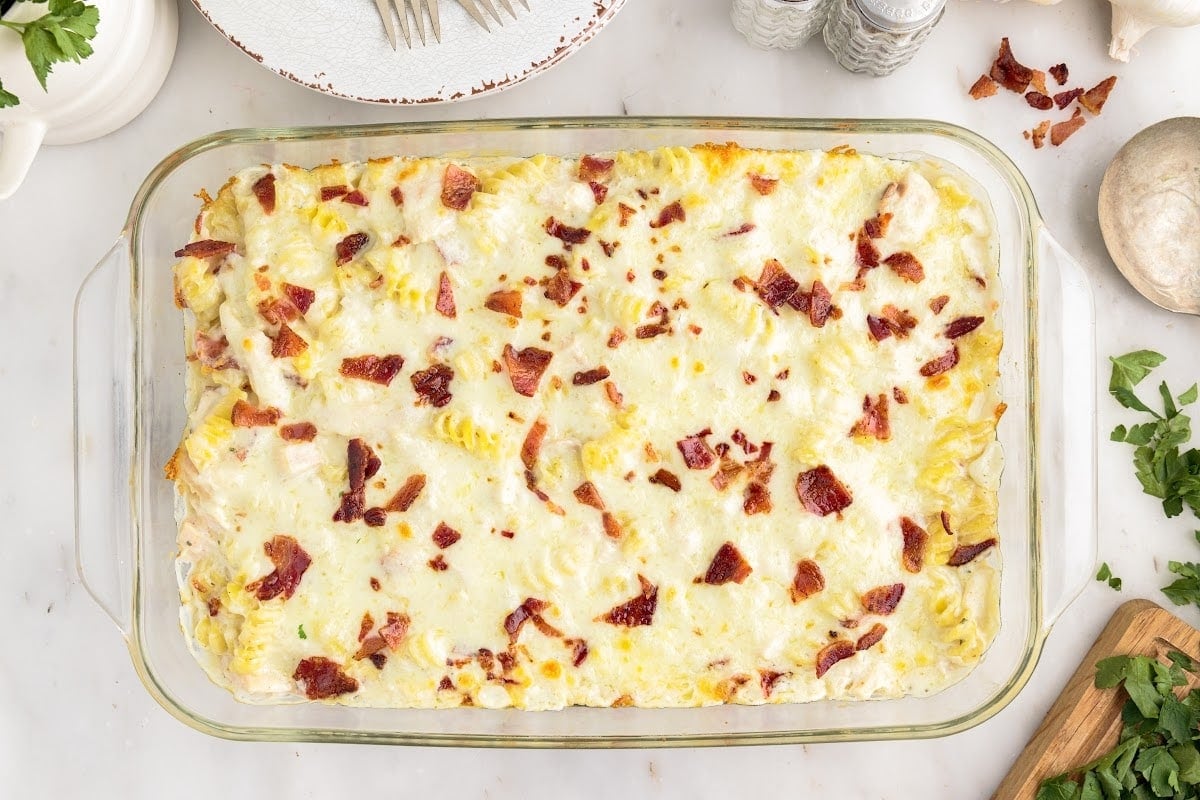 Step 8: Baked for 20-25 minutes until the casserole bubbles and the cheese melts and is starting to brown.
SERVE: ​Garnish with fresh parsley or green onions, and serve.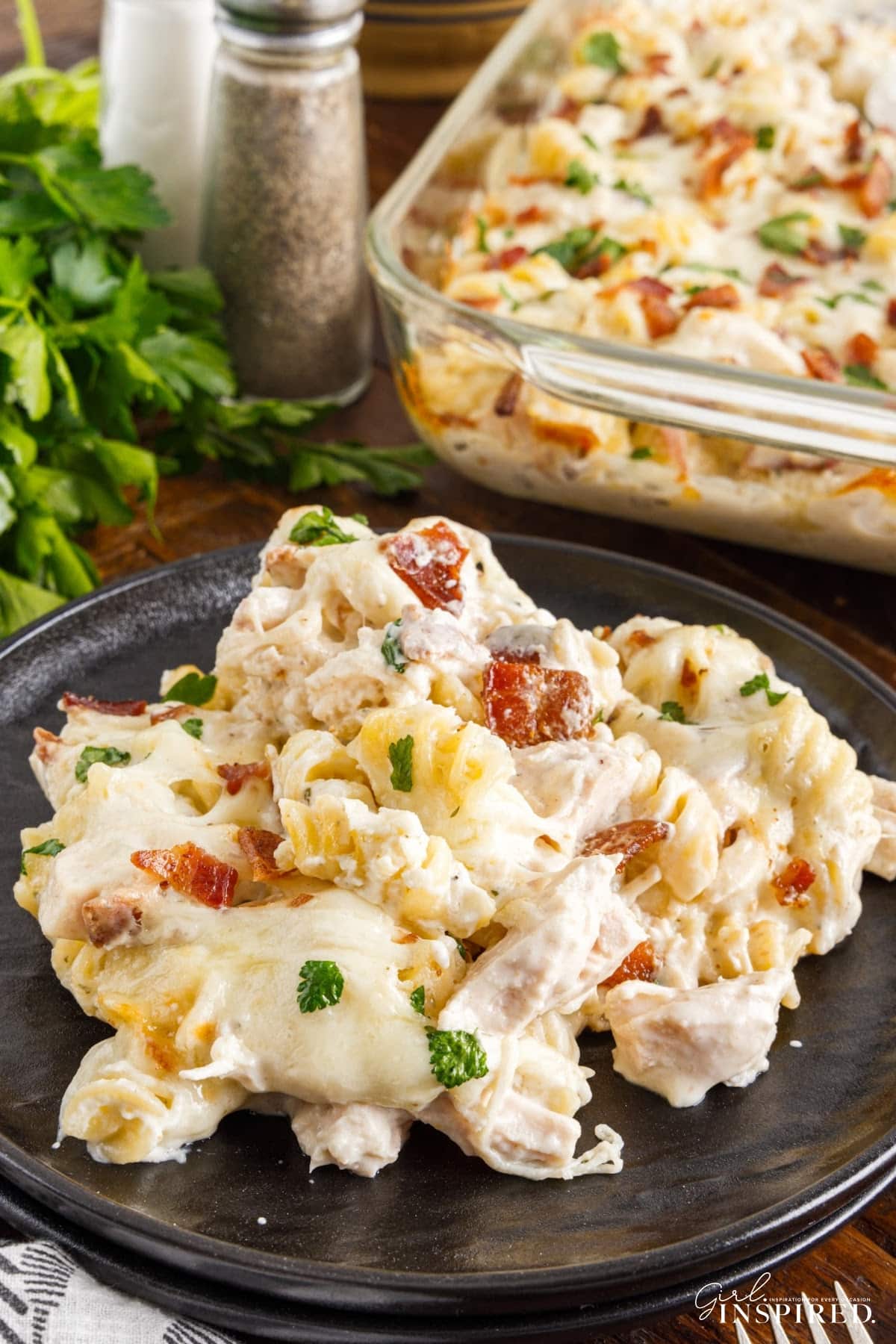 To make the casserole a day ahead of time, assemble according to the instructions. Cover with foil while storing. When ready, bake covered for 45-60 minutes or until it's warm throughout.
You will only need ½ a box of pasta unless you are doubling the recipe. In that case you would need to double all of the ingredients.
If you used a full packet of ranch seasoning, you will not need to add much salt and pepper to the white sauce.
Fun Fact
Did you know ranch is the most popular salad dressing consumed in the United States? -Thrillist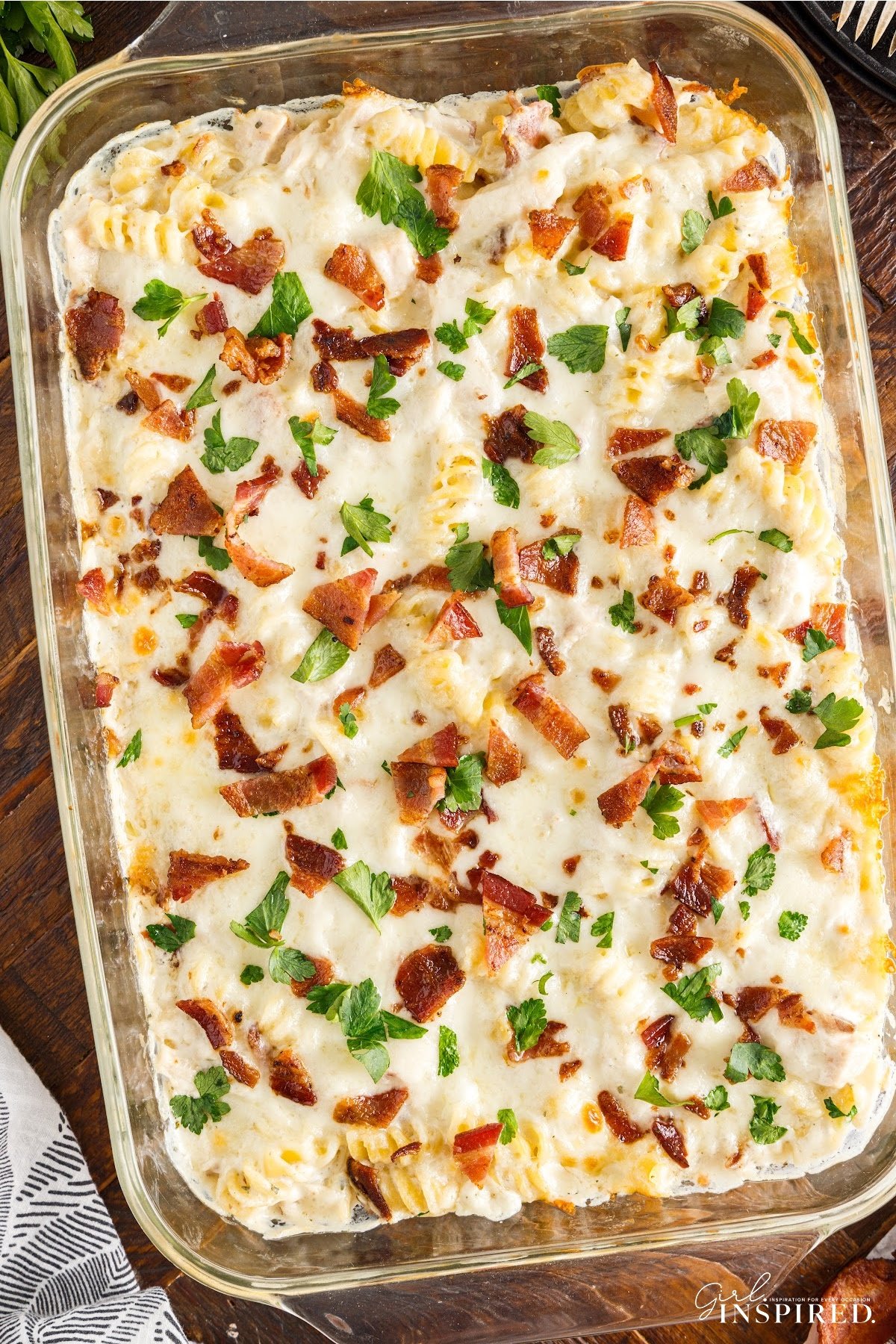 Recipe FAQs
How to store chicken bacon ranch casserole?
Store in an airtight container or cover the dish with plastic wrap and refrigerate for 3 days.
Can you freeze chicken bacon ranch casserole?
Yes. Wrap the cooked or uncooked casserole in several layers of plastic wrap, then foil. Freeze for up to 3 months. If you are making these in advance and know you want to freeze, the aluminum disposable pans work great.
To reheat, bake directly from the freeze at 350 degrees until warm.
More Comforting Casserole Recipes
If you tried this Chicken Bacon Ranch Casserole Recipe or any other recipe on my website, please please leave a 🌟 star rating and let me know how you liked it in the 📝 comments below.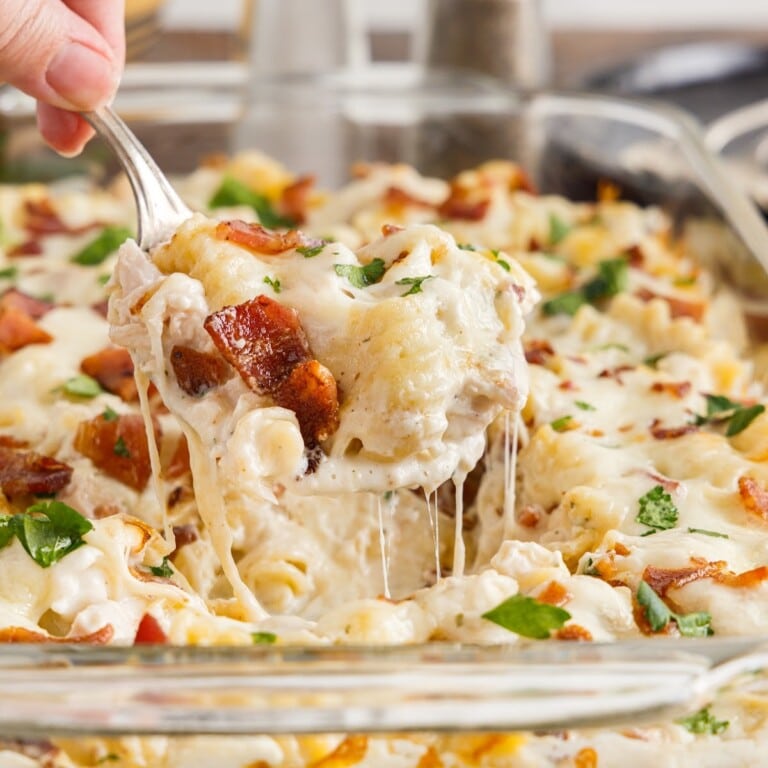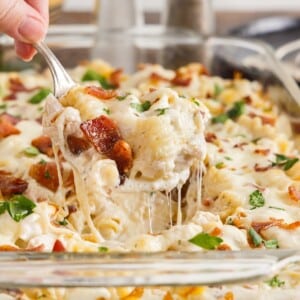 Chicken Bacon Ranch Casserole
Easy chicken bacon ranch casserole is made with simple ingredients, ready in no time, and a great recipe the entire family will enjoy.
Ingredients
8 oz. rotini pasta ½ standard 1 lb. box
½ pound bacon cooked and crumbled reserve 2 tablespoons bacon grease
2 garlic cloves minced
8 oz. cream cheese cut into cubes
1 packet ranch seasoning mix
salt/pepper to taste
2 cups whole milk
2 ½ cups shredded mozzarella cheese
2 cups chopped rotisserie chicken
Freshly chopped parsley for garnish
Instructions
Preheat oven to 350°F.

Bring a large pot of salted water to a boil. Cook pasta to al dente texture. Drain pasta.

Meanwhile, in a large skillet, saute the minced garlic in reserved bacon grease until lightly toasted.

Whisk in the cream cheese and heat over low until melted and smooth.

Whisk in the ranch seasoning mix and then the milk. Heat over medium until mixture is combined. Whisk in 1 cup of grated cheese and stir until melted.

Add the cooked pasta, half of the bacon, and the chicken and stir to combine all the ingredients.

Transfer the mixture into a 9×13 casserole dish.

Top with remaining 1 ½ cups of mozzarella cheese and the remaining bacon crumbles.

Bake for 20-25 minutes until cheese is melted and casserole is bubbling and beginning to brown.

Garnish with freshly chopped parsley and serve hot.
Notes
Storage: Keep leftovers in an airtight container for up to 3 days in the fridge or 3 months in the freezer. Notes: Make the casserole a day in advance by assembling and covering with aluminum foil. When ready, cook for 45-60 minutes until heated through. 8 oz. of pasta is HALF of a standard box. Do not use a full box of pasta, there is not enough sauce to coat it evenly. Add salt and pepper to the white sauce as desired. However, if you use a full packet of ranch seasoning you probably won't need any. Use rotisserie chicken or chicken breasts for this recipe. I like the white meat the best, but you can use dark as well.
Nutrition
Calories: 785kcal | Carbohydrates: 36g | Protein: 55g | Fat: 46g | Saturated Fat: 22g | Polyunsaturated Fat: 4g | Monounsaturated Fat: 13g | Trans Fat: 0.1g | Cholesterol: 198mg | Sodium: 1366mg | Potassium: 484mg | Fiber: 1g | Sugar: 7g | Vitamin A: 969IU | Vitamin C: 0.3mg | Calcium: 386mg | Iron: 1mg