Mint margaritas are simple to make, only take a few ingredients, and has a balanced and refreshing flavor profile.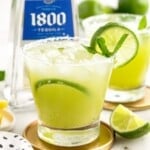 This mint margarita is refreshing, boozy, and make the perfect cocktail on a hot summer day using just 5 simple ingredients! The bright green color also makes it a festive drink for your favorite holidays.
I love the coolness and color when using mint ingredients (see our mint fudge recipe). We know classic rum mojitos and variations like a strawberry mojito are the most common mint cocktail, but you won't be able to resist the color of this fresh mint margarita.
Don't forget to try my margarita popsicles and peach margaritas! They are a nice summer treat and great for Cinco de Mayo parties. For a full blown Mexican-inspired event, go with Mexican ceviche recipe and Mexican street corn. End the evening with churros or churro cupcakes.
Jump to:
🍹 Mint Margarita Ingredients:
tequila and Triple sec – use at least a mid grade quality.
fresh lime juice – squeezed fresh really does make a difference.
simple syrup – use store bought or my homemade simple syrup recipe.
fresh mint – you can find sprigs in the cooled produce area in most grocery stores.
Ice cubes – cubed or crushed will both work.
Fresh lemon slices to garnish
Coarse salt– for rimming the glasses
For a full list of ingredients and their measurements, 📋 please view my printable recipe card at the bottom of the post.
Optional Garnish:
Garnish your mint margarita with fresh mint leaves, lemon, or lime wheels.
Substitutions and Variations
Spicy – add jalapeños for an extra kick.
Lower calories – instead of simple syrup use a little agave or honey.
Pitcher – this recipe makes one, 8 ounce margarita. Simply increase the ingredients to serve your crowd.
Grand Marnier – if desired, use in place of the Triple Sec or your other favorite orange liqueur.
🔪 Instructions:
PREP: Chill glasses in the freezer for a few minutes before mixing and pouring your drink to keep your cocktail nice and cold.
Step 1: Add the mint sprigs to a high speed blender or food processor. Pour in the tequila.
Step 2: Add the simple syrup.
Step 3: Squeeze the limes.
Step 4: Blend for 10-15 seconds.
Pro Tip: Do not over blend. This will alter the flavor of the margarita and possibly make it bitter. Blend just until the mint is broken down.
Step 5: Run a lime wedge around the rim of your glass, then turn upside down on a small shallow plate of coarse salt to coat.
Step 6: Add ice cubes to the glass. Strain the mint margarita through a sieve over the ice.
SERVE: Garnish with a lemon slice and mint sprig, then drink up!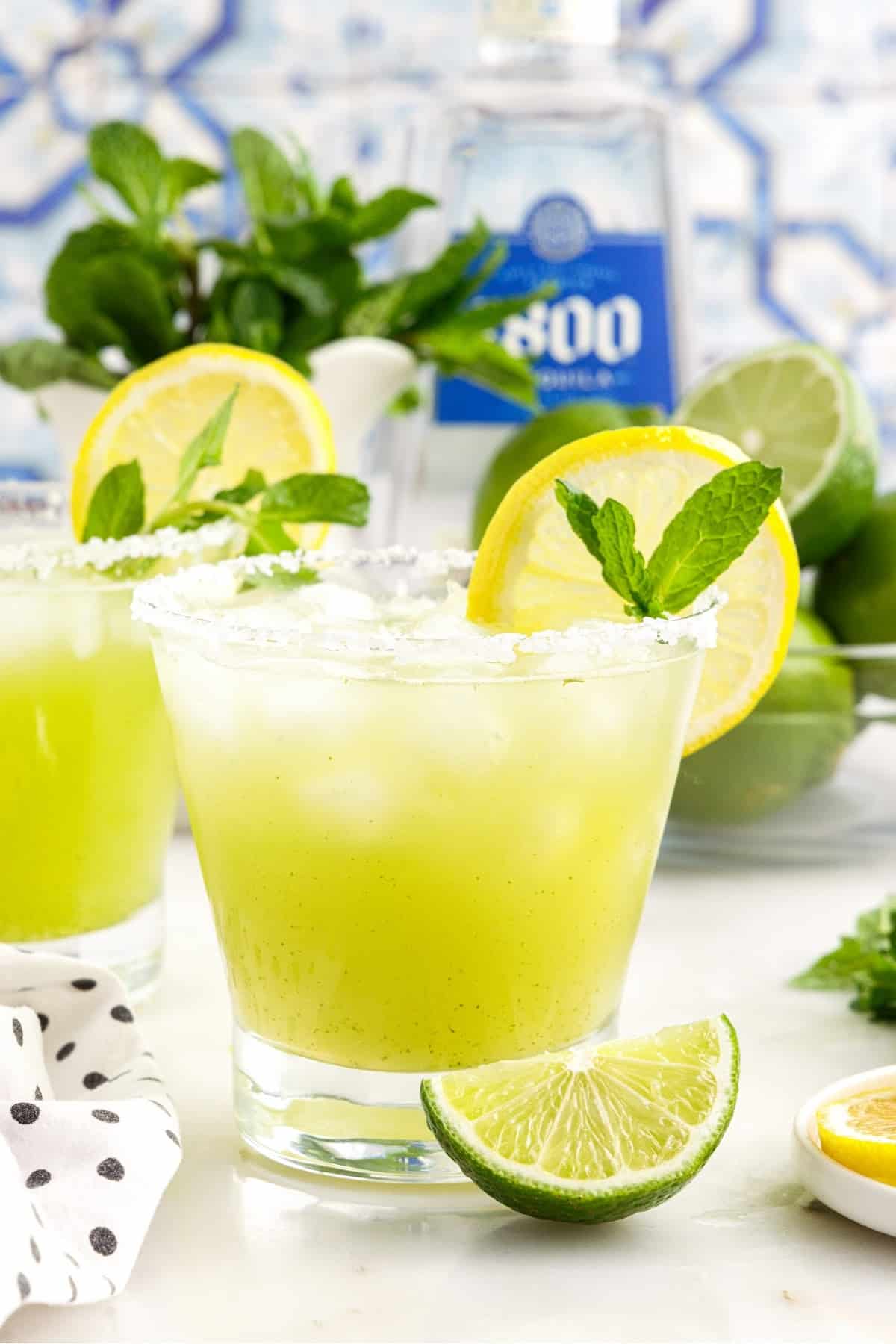 Fresh lime juice is so much better than sweet and sour mix or bottled lime juice.
We tested this recipe several ways and the blending method was the best for color and flavor. Most of the mint pieces were removed when strained, but there were a few little pieces floating around. Plus, the color is amazing.
Fun Fact
It takes up to 8-12 years to harvest a blue agave plant (what tequila is made of). -Tequila 512
Recipe FAQs
What kind of tequila is best for margaritas?

Traditionally, margaritas are made with silver tequila or blanco, which is clear and unaged or aged for a short period (up to two months). Blanco tequila has a crisp and clean taste that works well in margaritas, allowing the other ingredients like lime and sweetener to shine.

However, some people prefer to use reposado tequila, which is aged for a few months to a year. Reposado tequila has a slightly more complex flavor profile with notes of oak and vanilla from the aging process. This can add a subtle depth to the margarita.
Why is my margarita bitter?
It's possible you over blended the mint leaves or poured too much tequila. You may be able to save the cocktail using a little more simple syrup.
More Refreshing Cocktail Recipes
If you tried this Mint Margarita Recipe or any other recipe on my website, please please leave a 🌟 star rating and let me know how you liked it in the 📝 comments below.
Mint Margarita
Mint margaritas are simple to make, only take a few ingredients, and has a balanced and refreshing flavor profile.
8 oz
Ingredients
1 ½ ounces top shelf tequila
1 oz. triple sec
2 ounces fresh lime juice
½ ounce simple syrup
2 sprigs fresh mint
Ice to fill the glass
Fresh lemon slices to garnish
Coarse salt for the rims
Instructions
Place two sprigs of mint in a blender or food processor (a small capacity blender works great for this). Add tequila, triple sec, lime juice, and simple syrup to the blender.

Blend for 10-15 seconds. You want to break down the mint, but over-blending will result in a deeper green colored drink with unbalanced flavor. Set aside.

Run a wedge of lime around the rim of the glass and then invert the glass on a small plate of coarse salt to coat the rim.

Fill the glass with ice.

Strain the blended margarita through a sieve over the ice in the prepared glass.

Garnish drink with a lemon slice and a sprig of mint.
Notes
Storage:
We do not recommend storing, so when it's ready.
Notes:
The mint is mild with a lasting brightness, making it a refreshing twist on the traditional margarita.
Trust me when I say fresh lime juice is the best and you will be able to tell a difference compared to bottled and sweet and sour mix.
I recommend homemade simple syrup (what I used for this margarita), but you can buy it in the stores as well.
Triple sec really helps to balance the lime and mint, along with bringing the flavors together. Feel free to swap for Grand Marnier or another orange liqueur.
We made this cocktail several different ways, and the blender worked the best for flavor and looks.
Nutrition
Calories: 239kcal | Carbohydrates: 25g | Protein: 0.4g | Fat: 0.1g | Saturated Fat: 0.03g | Polyunsaturated Fat: 0.1g | Monounsaturated Fat: 0.01g | Sodium: 13mg | Potassium: 96mg | Fiber: 0.4g | Sugar: 20g | Vitamin A: 113IU | Vitamin C: 18mg | Calcium: 15mg | Iron: 1mg