This Mexican Ceviche Recipe is a no cook, easy to make meal bursting with zesty citrus flavor, fresh tomatoes, cilantro, avocados, and a bit of jalapeno zing.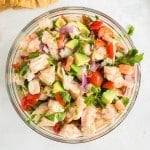 During the heat of summer, it's nice to have a handful of menu items that require no cooking and little prep. This shrimp-filled Mexican ceviche recipe is full of fresh flavor and can be used as an appetizer or a light meal. Ceviche is made with fresh shrimp or fish "cooked" in citrus and combined with jalapeños, tomato, avocado, and zesty red onion. Tortilla chips compliment this shrimp ceviche so well!
Ceviche originated in South America. It is a dish where raw seafood is diced and marinated in lemon and lime juice. The marination process "cooks" the seafood by curing the fish proteins. The seafood is safe to eat after "cooking" in the lime juice. Authentic ceviche is frequently served as a light appetizer in many Latin American countries. Ceviche de camarón (shrimp) and Mexican ceviche de pescado (fish) are often served in Mexican restaurants in the United States as well.
Using already cooked shrimp is quick and easy, but it is also a fun experience to make traditional ceviche by using uncooked shrimp and soaking them in the lemon/lime juice mixture. You can also use the same recipe and toss white fish into the marinade!
Jump to:
🍤 Ingredients:
1 lb. shrimp (cooked or uncooked are fine) – be sure to purchase your fresh seafood from a trusted source; food safety is of the utmost importance when working with raw foods. For this shrimp ceviche recipe, you can use either pre-cooked or uncooked shrimp and I will provide instructions for both methods.
1 large tomato (1 cup diced tomatoes) – Roma tomatoes work well because they are firm and have fewer juices and seeds. I also use cherry tomatoes frequently.
1 jalapeno pepper or other hot pepper of your choice (green chiles or serrano pepper can be used)
½ cup finely diced red onion – I love the zing of some red onion, but you can substitute sweet white onions such as a Bermuda onion, Vidalia, or Walla Walla.
½ cup fresh cilantro
1 avocado, diced – creamy avocado provides just the contrast needed in a dish that's full of tart and spicy flavors.
1 tablespoon cocktail sauce or ketchup
½ cup fresh lemon juice (about 2 lemons) and ½ cup fresh lime juice (about 5 limes) – the citrus makes the acidic marinade and is the key catalyst in this seafood dish.
For a full list of ingredients and their measurements, 📋 please view my printable recipe card at the bottom of the post.
Optional Garnish:
For serving, I like to mound the fish ceviche in a glass bowl and top with a few lime wedges or a sprinkle of cilantro. You can also serve it in individual small bowls or glasses.
Equipment Needed:
Include ONLY SPECIAL EQUIPMENT needed. If you think an affiliate link to a particular appliance or something is helpful, message me so I can include a link with a disclaimer. Don't include affiliate links without a disclaimer. Don't include links to amazon that are not affiliate links.
Substitutions and Variations
There are loads of different ways to customize this easy shrimp ceviche recipe. To achieve that hint of tomato in the marinade, we use ketchup or cocktail sauce (like the kind served with shrimp cocktail), but you can also use clamato juice or your favorite hot sauce.
Once you're feeling brave, go ahead and try this recipe with fresh fish. Red snapper, sea bass, sole, and mahi mahi are popular choices. I recently had a fish ceviche in France made with sea bream and it was fantastic. Any firm or semi-firm white fish should make a perfect dish. Just remember, the best fish is the freshest fish. Dice the fish into very small pieces or slice very thin and roll into lovely spirals. Use small cubes of fish – they should be bite-sized pieces; larger chunks will take longer to "cook."
You can add additional fresh veggies for flavor and texture. Green pepper, red pepper, and crunchy cucumber are all great choices. Cherry or grape tomatoes can be halved or quartered instead of dicing up a large tomato.
Rather than serving with tortilla chips, try plantain chips or mound the fresh ceviche on tostada shells. For a low-carb option, use chunks of bell pepper, cucumber, or other crisp veggies as your "chips."
If you want to skip some of the prep work, use fresh pico de gallo to skip right over dicing the fresh vegetables!
Skip the "chips" altogether and spoon the homemade shrimp ceviche right into jicama wraps or corn tortillas for some bangin' shrimp tacos!
How to Make Ceviche with Uncooked Shrimp
Devein and dice the uncooked shrimp. Mix together the lemon and lime juice in a large bowl and place the diced shrimp in the mixture. Allow them to marinate for 45 minutes – until the shrimp turn opaque and pink – and then go ahead and proceed with the recipe by dicing and mixing in the remaining ingredients.
How to Make the Recipe with Cooked Shrimp
Using pre-cooked shrimp may be less intimidating for the ceviche beginner and it is also a time saver. In addition, pregnant women might appreciate a classic ceviche without worrying about the "raw fish" factor. Remove the tails from the cooked and dice into large bite-size pieces. Juice the lemons and limes and place in a medium bowl. Dice all the remaining veggies. Add the rest of the ingredients to the bowl with the citrus juice, along with the cocktail sauce or ketchup, and stir. When using cooked fish in your ceviche, there is no need to wait before eating. However, if you can wait, cover the bowl and place it in the refrigerator for 30 minutes-1 hour. This will give the flavors some time to marry together.
This fresh Mexican ceviche is ready to eat! This light dinner always appeals to me. Healthy and delicious shrimp ceviche using fresh ingredients and zesty flavors – it's one of my absolute favorite recipes.
Recipe FAQs
How to Eat Shrimp Ceviche?
Eat with tortilla chips or just a fork if you want to skip the carbs and calories!
How to Store Ceviche?
The ceviche will keep fresh and delicious for 2-3 days in an airtight container in the refrigerator. Try to submerge the ingredients in the citrus marinade – the avocados, specifically, will keep from turning brown as long as they are covered in lemon or lime juice. The shrimp will become a bit more tough as they marinate in the liquid.
How Does Lime Juice Cook Raw Fish?
The citric acid in lime and/or lemon juice breaks down the proteins in the fish, similar to the process that happens when heat is applied. After marinating in the fresh citrus juice, the fish becomes white (or pink! in the case of shrimp) – it firms up in texture and the flesh turns opaque.
If you tried this Mexican Ceviche Recipe or any other recipe on my website, please please leave a 🌟 star rating and let me know how you liked it in the 📝 comments below.
Mexican Ceviche Recipe
This Mexican Ceviche Recipe is a no cook, easy to make meal bursting with zesty citrus flavor, fresh tomatoes, cilantro, avocados, and a bit of jalapeno zing.
Ingredients
1 pound medium shrimp peeled, deveined, and chopped (raw or cooked)
1 cup chopped tomatoes
½ cup red onion
½ cup cilantro
1 jalapeno
½ cup lemon juice
½ cup lime juice
1 tablespoon cocktail sauce or ketchup
1 avocado
Instructions
Juice lemons and limes and place the juice in medium sized bowl.

Devein, peel, and remove tails from shrimp if they are not already prepared. Chop shrimp into large pieces. Place shrimp in citrus juice.

If shrimp are raw, allow them to marinate 45 minutes until "cooked" and they become pink and opaque.

If shrimp are pre-cooked, no need to marinate, proceed with the recipe.

Dice tomato, red onion, jalapeno, cilantro, and avocado.

Whisk cocktail sauce or ketchup into citrus mixture.

Gently stir in all remaining ingredients.

Serve with tortilla chips.
Nutrition
Calories: 155kcal | Carbohydrates: 10g | Protein: 17g | Fat: 6g | Saturated Fat: 1g | Cholesterol: 191mg | Sodium: 671mg | Potassium: 377mg | Fiber: 3g | Sugar: 3g | Vitamin A: 234IU | Vitamin C: 28mg | Calcium: 132mg | Iron: 2mg