The easiest, yummiest chocolate donut recipe - it takes just two ingredients and a donut pan!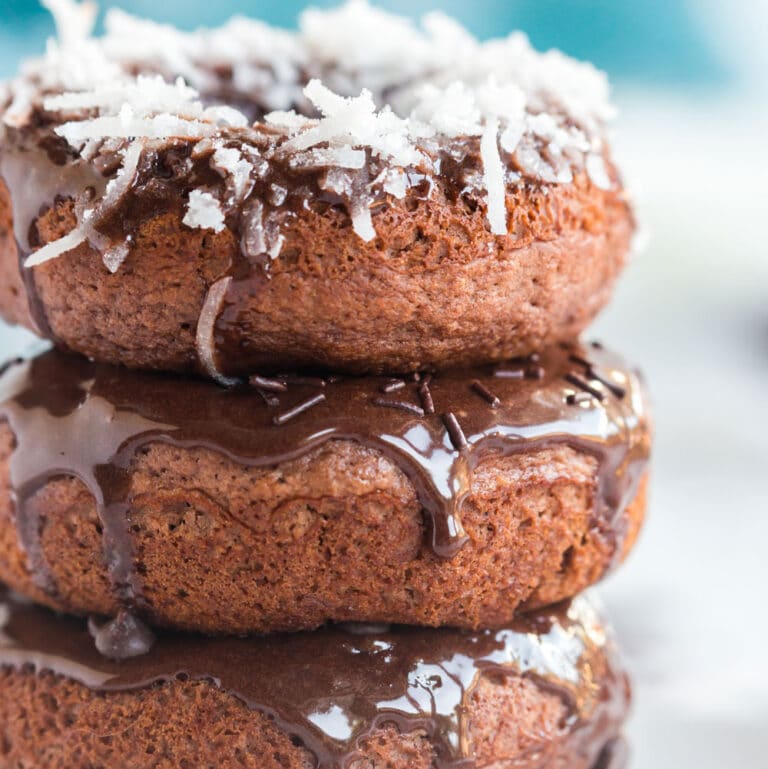 TWO. INGREDIENTS. That's it. You can make this chocolate baked donut recipe with just one box of chocolate cake mix and a jar of applesauce. They are soft and moist and just melt in your mouth. I even have a super savvy tip for adding ready-made frosting. These chocolate donuts are so good, you won't even know they're made with applesauce!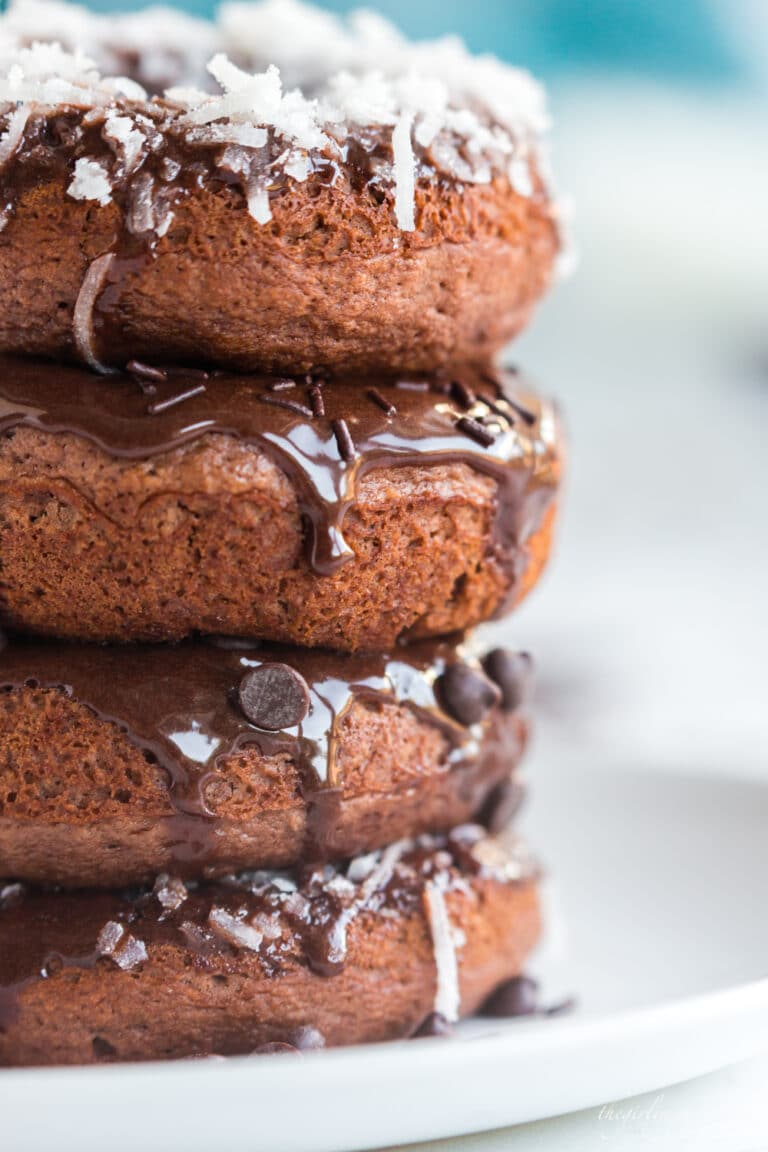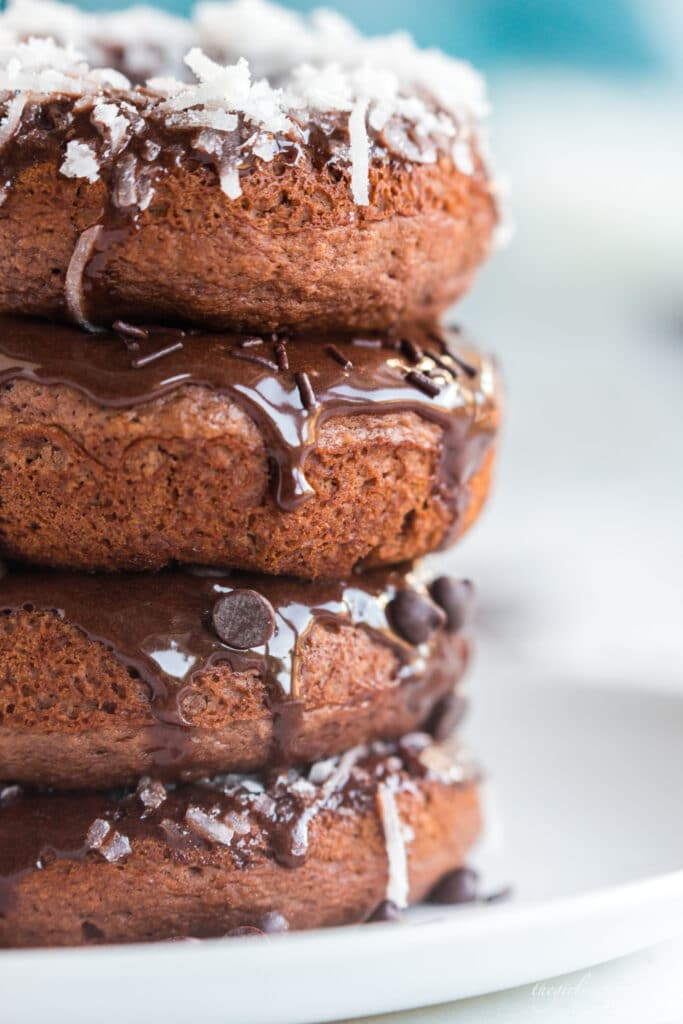 Sometimes you just need a super quick win! I love to use cake mix as a base for delicious bundt cakes like our favorite chocolate Kahlua cake and the buttery rich pecan rum cake. When I can take a cake mix and only need ONE other ingredient from the pantry to make donuts, AND call it healthy, it's really a good day. We love whipping up two ingredient pumpkin donuts and now we've added these yummy chocolate donuts to the mix!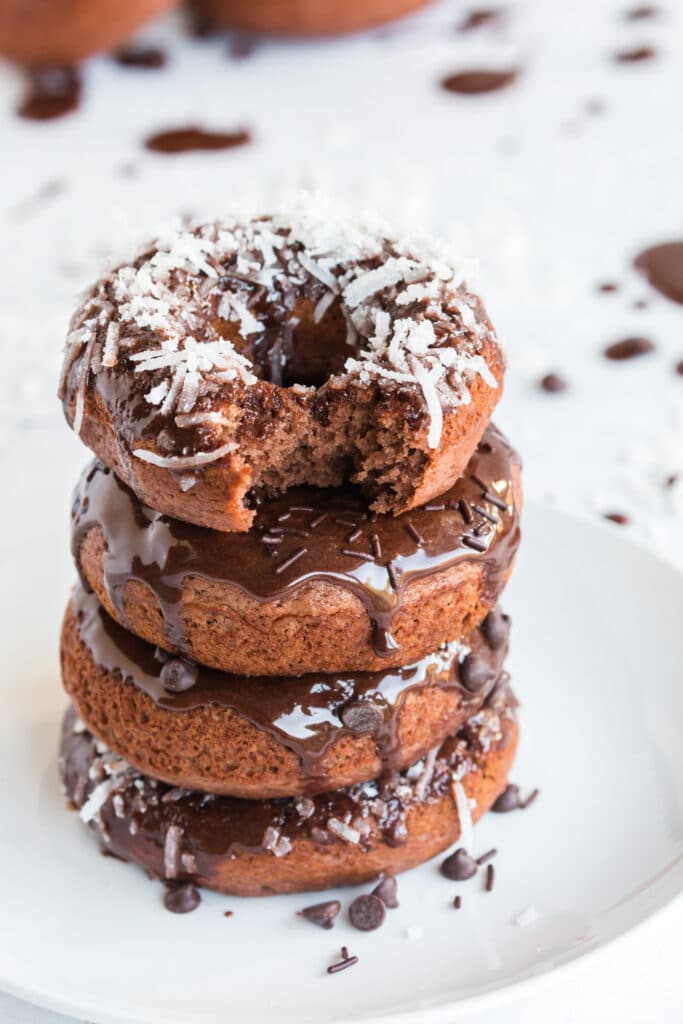 It couldn't be simpler to bake these donuts. Let's get to it.
Chocolate Donut Ingredients
1 box chocolate cake mix
15 oz. jar of plain applesauce
Optional: ready-made chocolate frosting and toppings
Baking Instructions
Step 1: Pour 15 oz. of applesauce into a mixing bowl. Stir in one package of chocolate cake mix until batter is evenly mixed.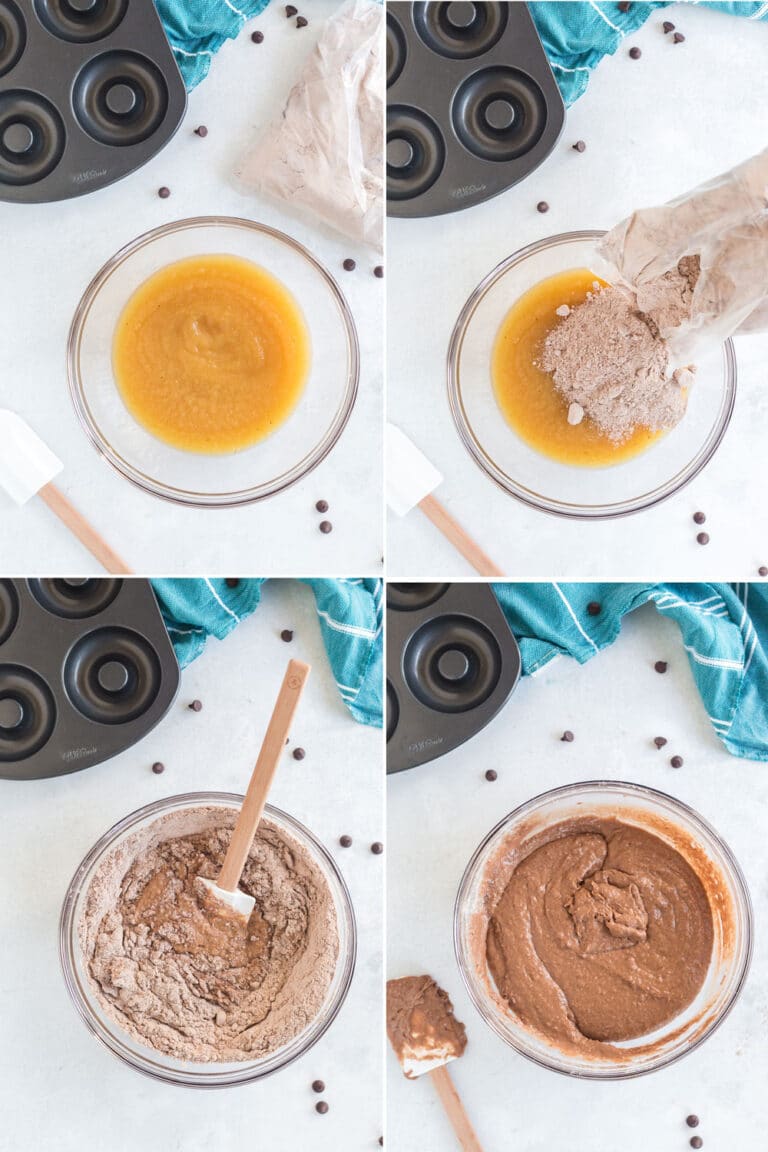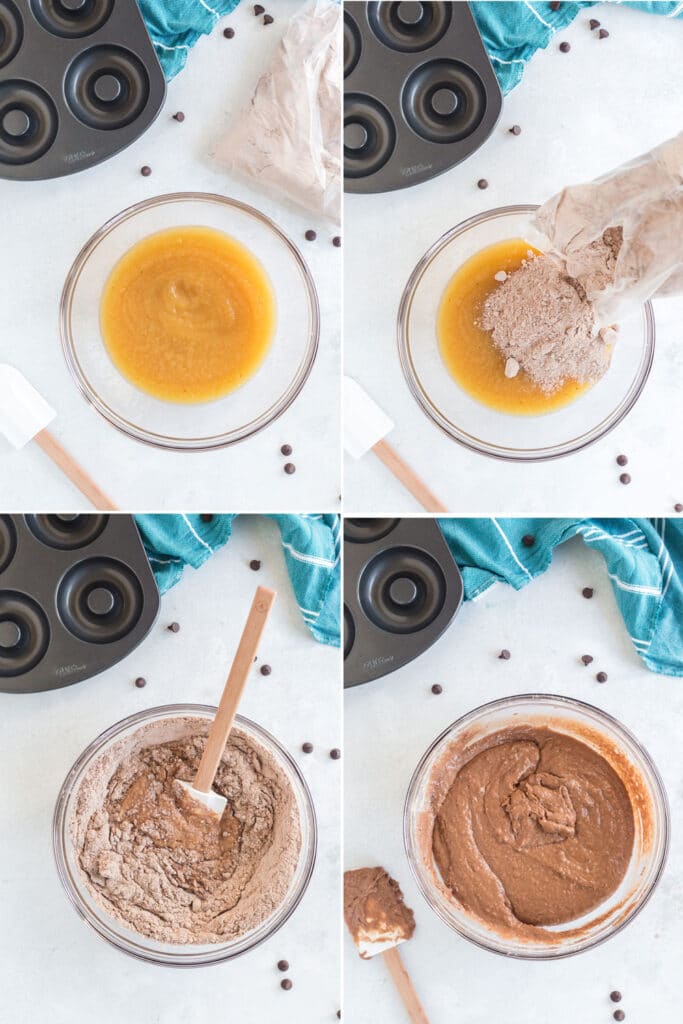 Step 2: Grease the donut pan. You can use any size donut pan you like. I prefer metal donut pans. These are the donut pans I have the best luck with (affil).
Step 3: Fill each cavity of donut pan halfway full of batter. It is easiest to pipe the batter into the pan. If you don't have a piping bag, just fill a gallon size ziplock bag and snip the corner off to make a piping bag.
Step 4: Bake at 400 degrees F for 8-10 minutes. Gently press your finger against the baked donut. If it springs back, the donuts are done baking. If the indent stays in the donuts, bake them a few minutes longer until they're done.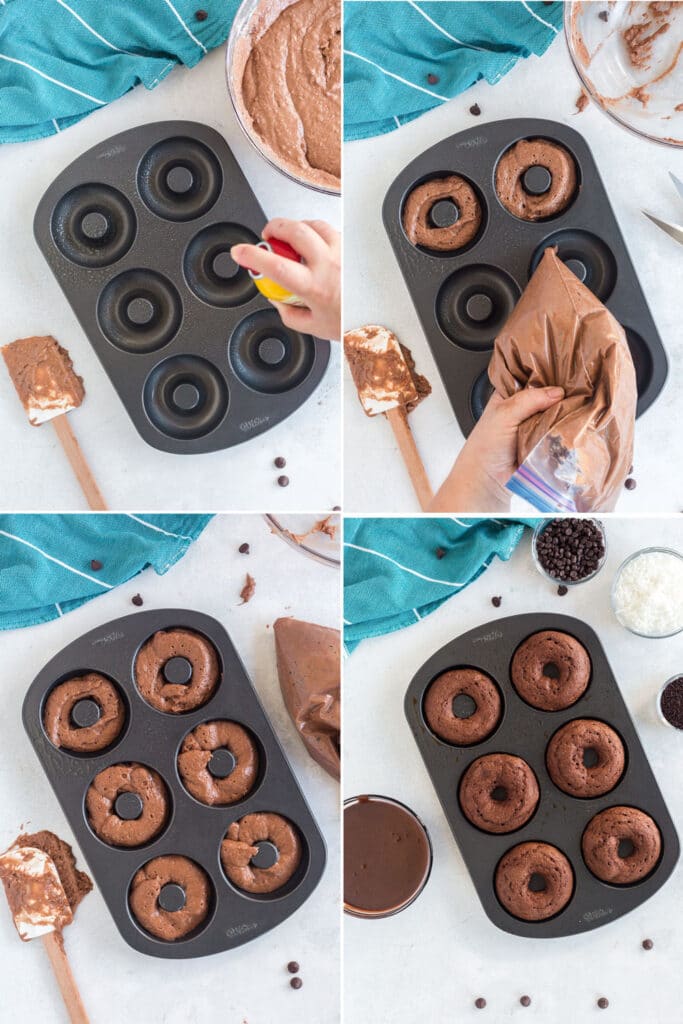 Step 5: Allow the baked donuts to cool in the pan. Gently remove them from the pan onto a cooling rack. They should just tip right out of the pan. If they stick at all, scoot a spatula underneath to loosen them.
Step 6: Time to frost these delicious treats! Obviously, you can use any kind of frosting or toppings that your little heart desires, but since we're going for SUPER FAST AND EASY, there is nothing faster than a can of pre-made frosting. Choose a nice chocolatey flavor and here's the secret….pop the can into the microwave for 30 second increments until the frosting is perfectly pourable. A full can will probably take 1 minute total – so super fast!
Once the frosting is pourable, you can top the donuts in one of two ways. Either pour the frosting into a bowl and dunk the top of the donuts in. Or pour the frosting straight from the tub over the top of the donuts. The cooling rack underneath the donuts gives the extra drips a place to go.
Step 7: Once the donuts are frosted, you can sprinkle on any topping you'd like! Coconut is great, as are sprinkles or chocolate chips! Give them some color or stick with a death by chocolate theme. Whatever you choose, get ready to sink your teeth in!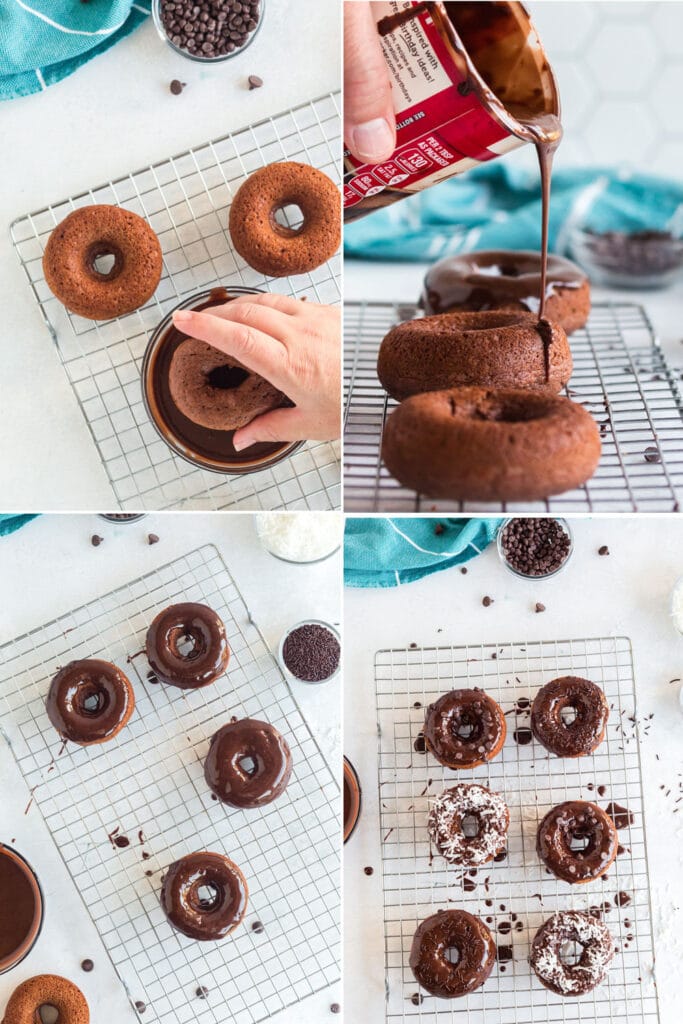 Oh yeah! Those donuts are ready to eat! So good! No one will know they're made from applesauce unless you tell them.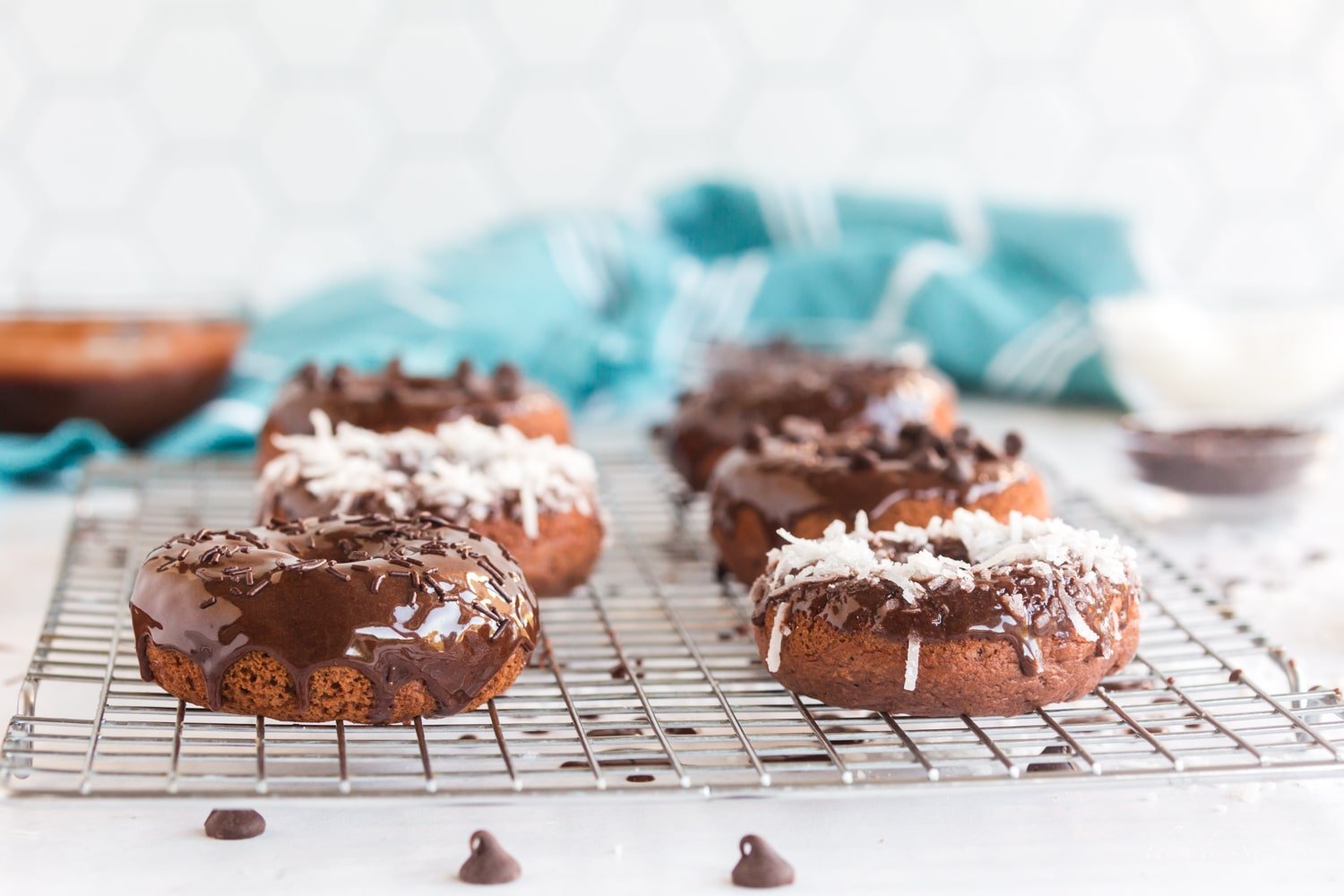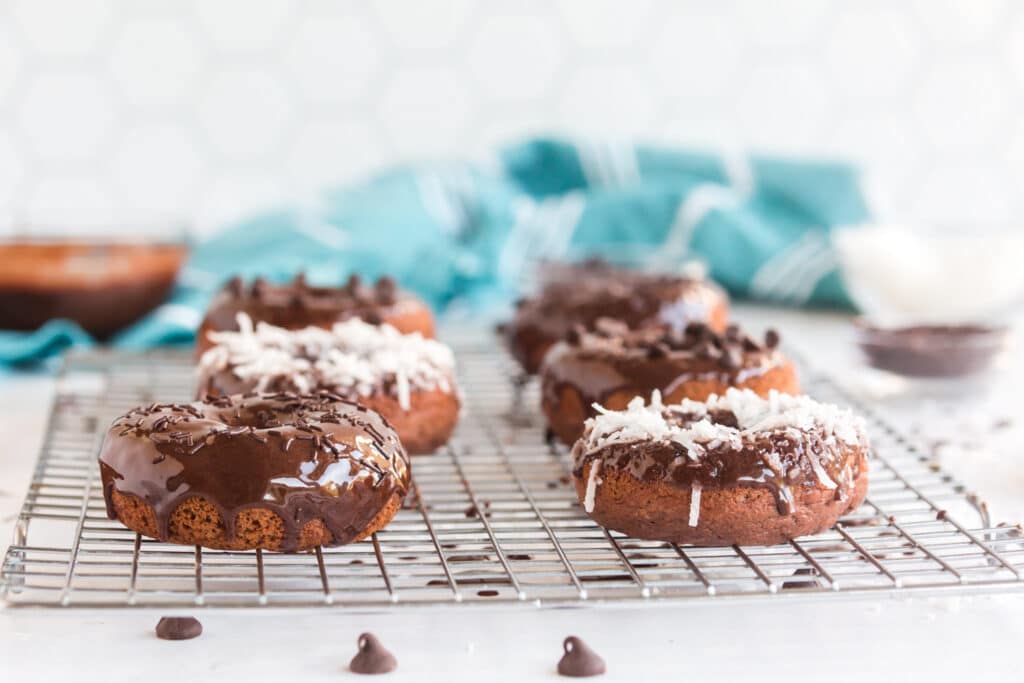 These baked donuts will stay fresh for 2-3 days in an airtight container. Do not frost until ready to serve!
You can freeze the baked donuts as well. Freeze on a cookie sheet in a single layer. Once frozen, place the donuts in an airtight container and keep frozen. The donuts will defrost at room temperature within several hours.
Chocolate Baked Donut Recipe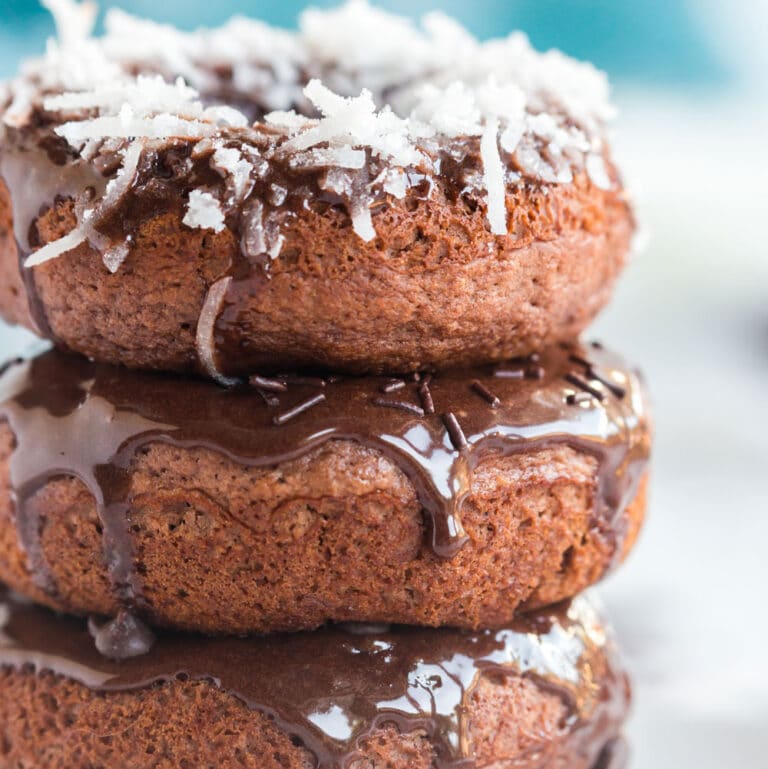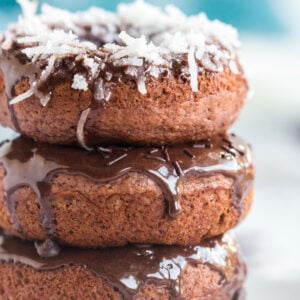 Chocolate Baked Donut Recipe
The easiest, yummiest chocolate donut recipe – it takes just two ingredients and a donut pan!
Ingredients
1 box chocolate cake mix
15 oz. applesauce
Instructions
Preheat oven to 400 degrees.

Grease donut pan.

Stir together applesauce and cake mix.

Fill each donut cavity half full.

Bake for 8-10 minutes until donuts spring back to the touch.
Nutrition
Calories: 169kcal | Carbohydrates: 30g | Protein: 2g | Fat: 6g | Saturated Fat: 1g | Sodium: 298mg | Potassium: 145mg | Fiber: 1g | Sugar: 17g | Vitamin A: 10IU | Vitamin C: 1mg | Calcium: 55mg | Iron: 2mg