Learn how to make easy deep fried ice cream using egg whites, cornflakes, cinnamon, sugar, and vanilla ice cream. It's so simple and tastes just like the restaurant or fair!
Deep fried ice cream combines creamy vanilla ice cream coated in crunchy corn flakes and fried to perfection, then garnished with your favorite toppings. This delicious dessert tastes just like the ones from your local Mexican restaurant, but is super simple to make at home using just 6 ingredients.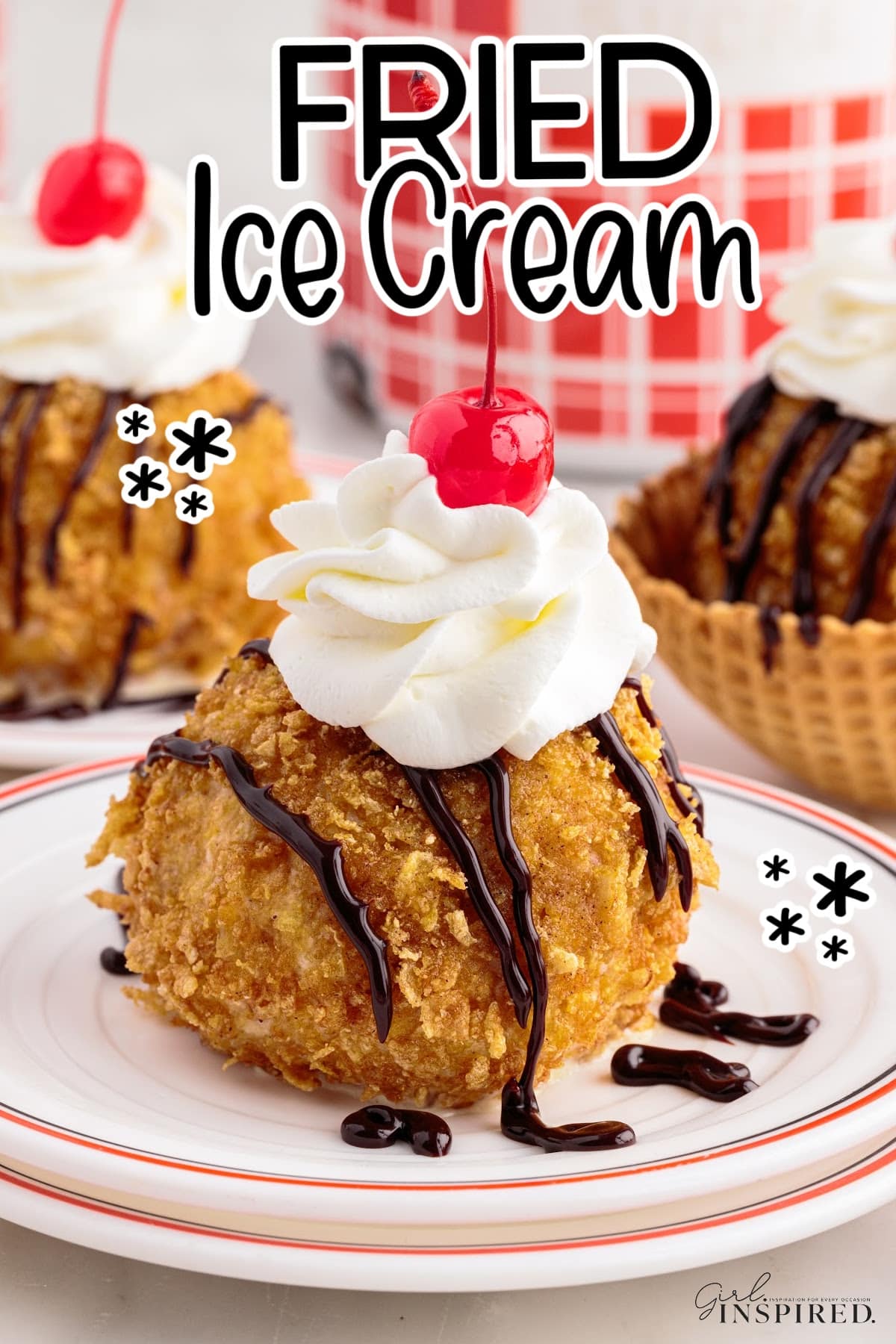 This Mexican dessert was a big hit around our house, so I'm positive it will be at yours too! Adding the cinnamon and sugar to the cereal mixture sort of reminds me of the classic churro flavor and adds a little more dimension to the crispy shell.
If you love the thought of mixing desserts with the deep frying method, you have to try my homemade cannoli recipe and deep fried cheesecake. The first time may seem a little intimidating, but you may find yourself experimenting with more sweet treats in the deep fryer. We even did cherry cheesecake tacos!
Jump to:
🍦 Ingredients: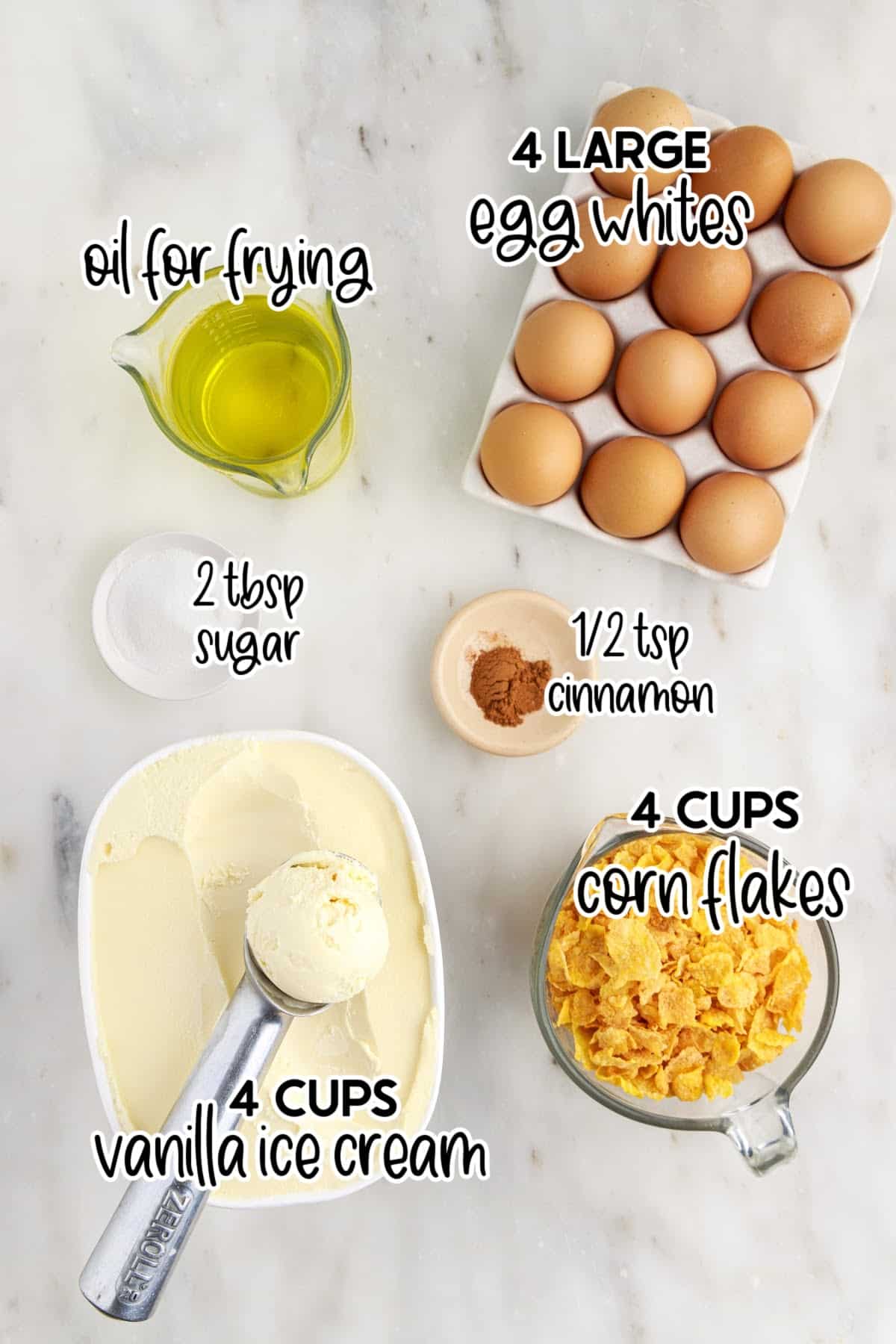 vanilla ice cream – you'll need 4 cups so you have large scoops of ice cream. This helps everything hold together better when frying.
egg whites – be sure you don't get the yolks in. Room temperature egg whites will whip easier than cold.
Corn Flakes cereal – store brands will work as well.
ground cinnamon and granulated sugar – adds sweetness to the crunchy cereal.
Oil – for deep frying, vegetable oil, shortening, or peanut oil will work
For a full list of ingredients and their measurements, 📋 please view my printable recipe card at the bottom of the post.
Optional Garnish:
While you can serve Mexican fried ice cream just like it is, we like to jazz it up with whipped cream and a maraschino cherry. You can also add caramel sauce or a drizzle of chocolate sauce.
Substitutions and Variations
Ice cream flavor – use this same recipe with strawberry ice cream, chocolate ice cream, or any other flavor you enjoy.
Crispy coating – we like the crunch and texture of Corn Flakes, however some like to use Cinnamon Toast Crunch or crushed vanilla wafers. Coating Variations: Instead of using the traditional coating of cornflakes or bread crumbs, you can explore different coatings to add extra flavor and texture. Some popular options include crushed cookies (like crushed vanilla wafers, graham crackers or Oreo cookies), shredded coconut, crushed nuts (such as almonds or peanuts), or even crushed cereal like Rice Krispies or Cinnamon Toast Crunch.
Toppings and Sauces: After frying the ice cream, you can customize the dish with various toppings and sauces. Popular choices include chocolate syrup, a drizzle of honey, caramel sauce, whipped cream, fresh fruits, crushed candies, or even a drizzle of flavored liqueurs like Kahlua or Grand Marnier.
Regional Variations: Different cultures have their own take on fried ice cream. For example, in some Asian countries like Thailand and Japan, a tempura-style batter is used instead of the typical cornflake or breadcrumb coating.
🔪 Instructions:
Step 1: Use a large ice cream scoop to scoop out 8 – ½ cup round balls. Place them on a parchment lined baking sheet and freeze for 30 minutes to 1 hour.
Step 2: Add the egg whites to a shallow dish and whisk so they are frothy.
Step 3: Place the Corn Flakes into a gallon freezer bag and seal. Use a rolling pin to roll back and forth to crush the cereal.
Step 4: Transfer the crushed Corn Flakes to a separate bowl and stir in the cinnamon and sugar.
Pro Tip: Be sure you keep the ice cream as cold as possible throughout the process. The ice cream balls should be frozen between each step.
Step 5: Take one ball of ice cream out of the freezer at a time. Dip into the egg whites so it's covered, then toss in the crushed cornflakes. Return the coated ice cream ball to the freezer as soon as possible. Repeat for the remaining ice cream balls. Allow them to freeze for 30 minutes, then re-dip each one (for a second time) into the egg whites and the cornflake mixture. Leave the coated ice cream balls in the freezer for at least 3 hours.
Step 6: When ready, fill your deep fryer, large deep skillet, or Dutch oven with 4-5 inches of oil. Heat oil to 375 degrees. Use a candy thermometer to monitor the temperature so it stays between 370 and 375 degrees. Fry the frozen ice cream balls one at a time. Place each one on a slotted spoon and lower into the oil so it's submerged completely. Cook for about 10 seconds, remove when golden brown and blot on paper towels.
SERVE: Serve immediately with chocolate syrup, whipped cream, and a cherry for an ice cream sundae or return the freezer until you are ready.
Be sure to freeze the ice cream between each step. It needs to be as cold as possible before frying.
Using larger ice cream scoops is key because they can withstand the oil temperature better. If the ice cream balls are too small, it will melt before the outer coating is fried.
​If they fry any longer than 10 seconds, they will fall apart.
When dunking the ice cream in, keep the slotted spoon underneath. The ice cream balls stay more intact this way versus rolling them around and trying to catch them again. Since they are heavy, they tend to sink to the bottom if you don't keep the spoon below.
Some of the cereal may break off, that's okay and is also why we add a second layer to the crispy shell. However, if all of the Corn Flakes start coming off, the ice cream is just going to melt into the oil.
Fun Fact
It wasn't until the 1980s that we started associated fried ice cream with Mexican restaurants. -The Corner Taqueria
Recipe FAQs
How to store this fried ice cream recipe?
​Deep fried ice cream is best when served immediately. While you can store it in a freezer bag after frying, the corn flake coating will not be as crispy. However, my kids gobbled it up the day after it was fried.
Why does fried ice cream not melt?
The key is to get the ice cream as frozen as possible before frying. It's being fried so quickly, that it will not melt the inside. However, if the ice cream balls aren't solid before coating or are left in the oil for too long, it will melt. The cornflake coating provides just enough barrier between the ice cream and the hot oil to keep the ice cream from melting while it cooks.
Can you make fried ice cream ahead of time?
If you are serving this ice cream dessert for a larger crowd, we recommend prepping up to the point of frying. You can do this 24-48 hours ahead of time. Then fry and serve.
More Ice Cream Desserts to Try
If you tried this Deep Fried Ice Cream Recipe or any other recipe on my website, please please leave a 🌟 star rating and let me know how you liked it in the 📝 comments below.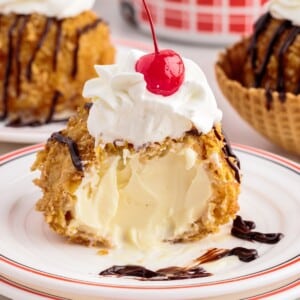 Deep Fried Ice Cream
Learn how to make easy deep fried ice cream using egg whites, cornflakes, cinnamon, sugar, and vanilla ice cream. It's so simple and tastes just like the restaurant or fair!
Ingredients
4 cups vanilla ice cream
4 large egg whites
4 cups Corn Flakes cereal
½ teaspoon ground cinnamon
2 tablespoons granulated sugar
Whipped cream chocolate sauce, and/or maraschino cherries for serving
Oil for frying
Instructions
Scoop ice cream into 8 – ½ cup round balls. Place on a quarter sheet pan on a sheet of parchment paper and immediately place in the freezer for the ice cream to re-solidify (30 minutes – 1 hour).

Meanwhile, place four egg whites into a shallow bowl and whisk until frothy.

Place Corn Flakes in a gallon size Ziploc, seal the bag, and roll with a rolling pin to crush the cereal into small pieces (you can crush them completely or leave them about "Rice Krispie" size.

Transfer the crushed cereal to another shallow bowl and stir together with the cinnamon and granulated sugar.

Taking one ice cream ball from the freezer at a time, dip the ice cream into the frothy egg whites and toss to coat. Immediately place the ice cream ball into the cereal mixture and toss it until well coated. Return the coated ball back to the freezer as quickly as possible.

Coat the remaining ice cream balls. Chill the balls for about 30 minutes. Then, repeat step 5 to coat all of the balls in a second layer of frothy egg whites and cereal.

Leave the prepared ice cream in the freezer for at least 3 more hours, longer if desired.

When you are ready to fry the ice cream, fill a deep skillet or Dutch oven with 4-5 inches of cooking oil, such as vegetable oil or canola oil. Use a candy thermometer to monitor the temperature of the oil. Heat until the oil reaches 375°F; maintain the oil temperature between 370°F and 375°F throughout cooking.

Use a large, flat slotted spoon or frying simmer to dip an ice cream ball into the hot oil. Be sure the ice cream dunks all the way under the oil and is completely covered so that it cooks evenly. Cook for about 10 seconds and then immediately lift it out of the oil and blot on a paper towel.

Serve immediately or return the fried ice cream to the freezer.

Fry the ice cream balls one at a time, taking each one out of the freezer only when you are ready to put it in the fryer.
Notes
Swap the vanilla ice cream for your favorite flavor. You never want the ice cream to be left out for long, so it's best to keep it in the freezer between each step. The ice cream balls need to be pretty good size. If they are too small they will melt before the cereal coating can fry. Don't fry for more than 10 seconds. The best way I found to keep the ice cream in tact was to dunk it in the oil, keeping the spoon underneath, then pulling it straight up onto paper towels. If you roll it too much in the oil they start to fall apart and because they are heavy, they automatically want to sink to the bottom. Double dip in the coating so that if a few corn flakes come off while frying there is still another layer. Make sure the egg whites are really foamy. The frothiness acts as "glue" and holds the cereal on. Rewhisk the egg whites while coating, if needed. Serve immediately. The longer they sit in the freezer after frying the less crispy the outside will be.
Nutrition
Calories: 206kcal | Carbohydrates: 31g | Protein: 5g | Fat: 7g | Saturated Fat: 4g | Polyunsaturated Fat: 0.3g | Monounsaturated Fat: 2g | Cholesterol: 29mg | Sodium: 180mg | Potassium: 180mg | Fiber: 1g | Sugar: 18g | Vitamin A: 528IU | Vitamin C: 3mg | Calcium: 88mg | Iron: 4mg