Learn how to make rolled ice cream using just 5 simple ingredients that is ready from start to finish in just over an hour without even leaving the house.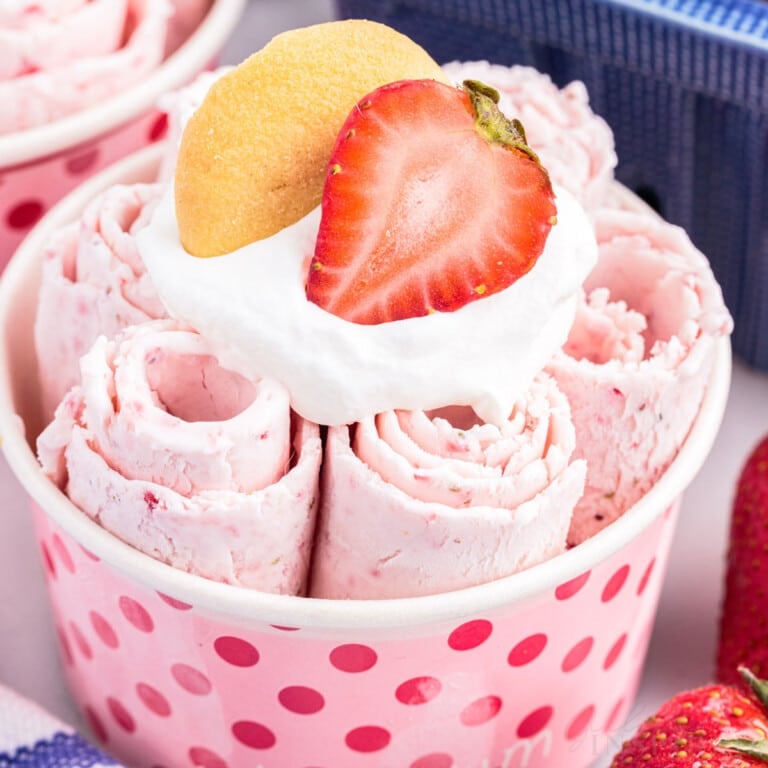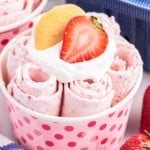 Have you been wondering how to make rolled ice cream? We are going to make ice cream rolls using just 5 ingredients with no churning required! You can make just about any flavor you love in a little over 1 hour, including the chilling time! We are sharing a simple vanilla base as well as a strawberry rolled ice cream and no special equipment is needed!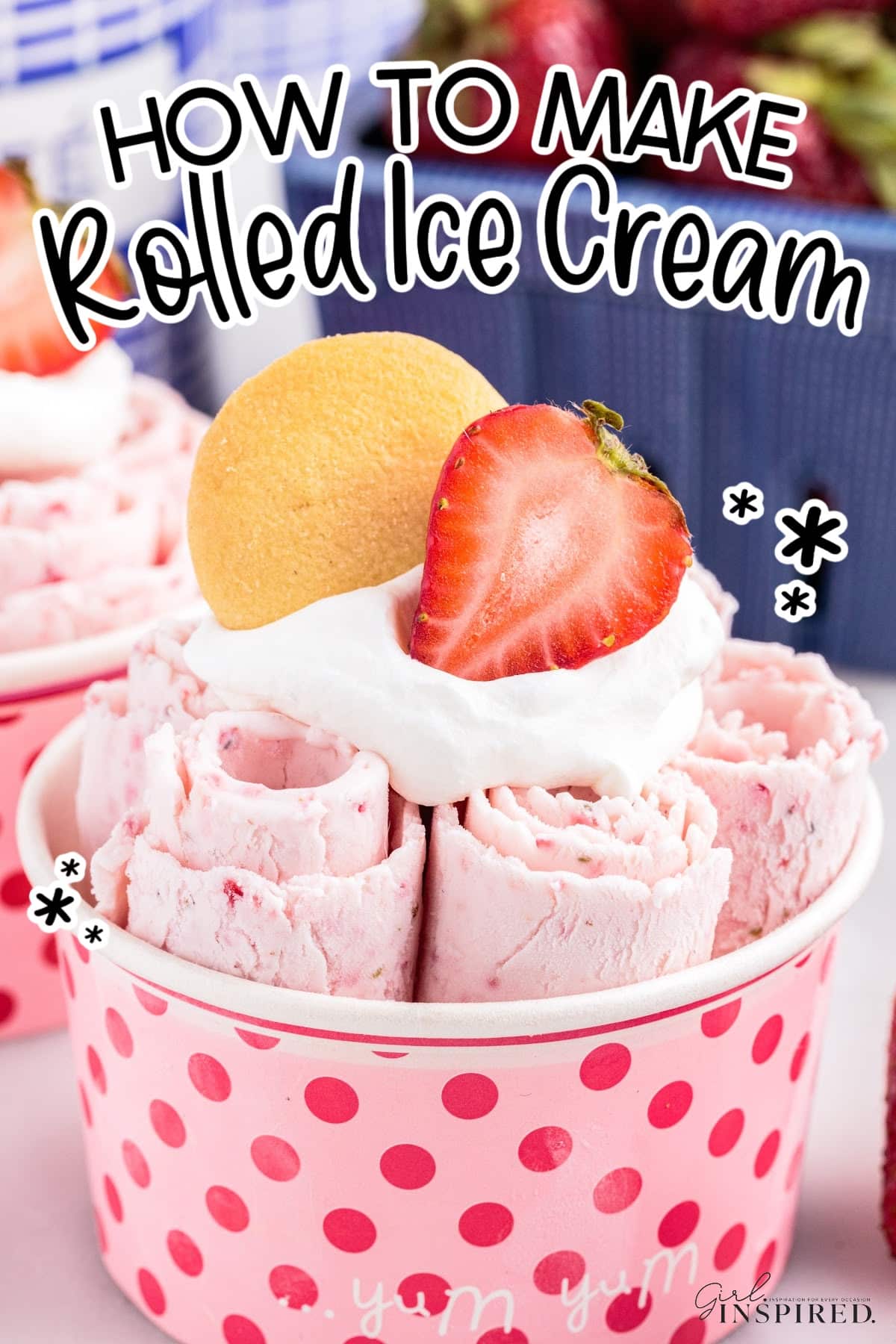 The kids and I typically make several of our favorite churn ice cream recipes every summer, including the time we made Mac and Cheese ice cream. I know, if you haven't seen the trend, you may be a little on the fence, but give it a try! My personal favorite is blue bubblegum ice cream and we're also huge fans of Cherry Garcia ice cream.
If strawberries are your thing, make a batch of strawberry scones, use them for garnish on a strawberry crunch poke cake, or whip up a strawberry cheesecake trifle.
No-churn ice cream is a little bit different as it uses sweetened condensed milk for sweetness and to keep the ice cream pliable. The flavor is slightly different than a traditional ice cream – it's hard to describe, but it's almost smoother and not as icy. With simple ingredients and no special equipment needed, a no-churn recipe becomes the base for this rolled ice cream.
Rolled ice cream first developed in Thailand in Southeast Asia. It's readily available through street vendors and you order your different flavors and unlimited toppings on the spot, so they don't have time to go through a full churning process – they mix your ice cream, spread it onto a very cold surface, and roll it up right into a cup a few minutes later. Check out this video I took at a rolled ice cream shop street vendor in Phuket, Thailand! You can see how fast he's working the ice cream ingredients.
It is really fun and a bit nostalgic to make Thai ice cream at home. I've tested and tested to develop the perfect base recipe for a vanilla rolled ice cream. I've also added fresh strawberries to demonstrate how easy it is to mix ingredients into this recipe, though please note that you will adjust your proportions slightly when adding mix in ingredients.
Jump to:
Why You'll Love Rolled Ice Cream
Kids love the way it looks and tastes!
No fancy equipment needed.
Can make any flavor using the same technique and base ingredients.
The prep work is quick and easy.
A fun and delicious summertime sweet treat.
🍦 Ingredients: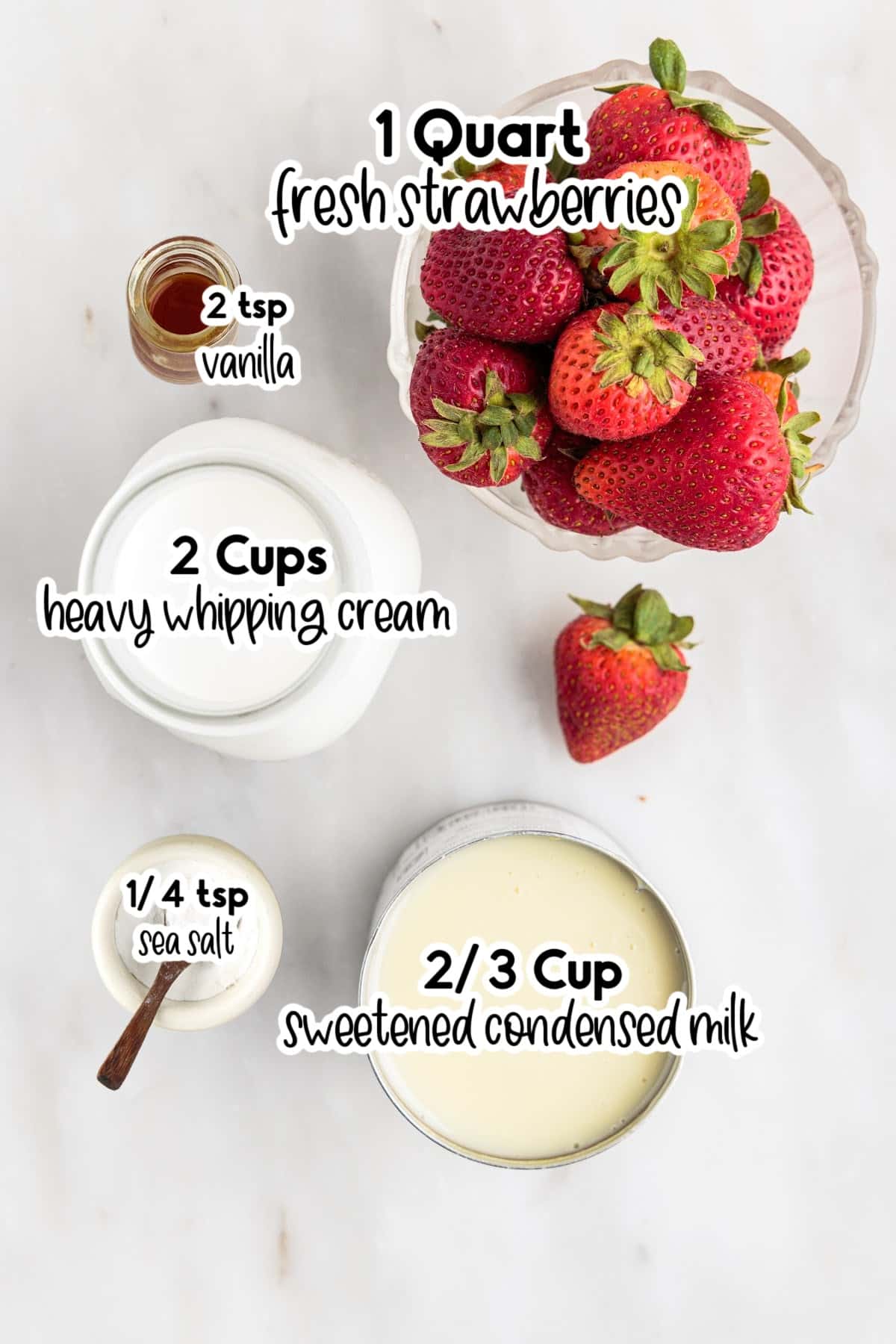 heavy whipping cream – this gives us that rich, creamy flavor but the heavy cream also thins out the sweetened, condensed milk and allows the ice cream to freeze enough to form into rolls.
sweetened, condensed milk – this provides both our sweetness and also keeps the ice cream from freezing solid – it gives it pliability, if you will. If you find that your ice cream won't freeze hard enough to roll and just flops and melts when you try to roll it, reduce the amount of sweetened, condensed milk.
sea salt – a little salt really helps boost the flavors in the ice cream, but can be omitted
pure vanilla extract – great for flavor, you can also use other extracts or essential oils to change the ice cream flavor.
fresh strawberries – we blended fresh strawberries for this recipe, but you can use frozen berries or even freeze-dried strawberries.
For a full list of ingredients and their measurements, 📋 please view my printable recipe card at the bottom of the post.
Variations
Mint Chocolate Chip – use up to 1 teaspoon of mint extract. Sprinkle the mini chocolate chips on top of the ice cream once it's on the baking sheet and gently fold then in.
Cookies and Cream – Add a few crushed oreo cookies to the food processor or fold them in after the ice cream is poured on the sheet. Some choose to add a drizzle of caramel or chocolate syrup for more flavor.
Cookie Dough – Fold in the chunks before freezing.
Candy – Chop candy like Snickers, Reeses, or an Almond Joy and sprinkle over the ice cream before freezing.
Toppings: When you are ready to served add a dollop of whipped cream, sprinkles, cherries, chocolate sauce, caramel sauce, nuts, or other crushed candies.
📋 How to Make Rolled Ice Cream at Home:
Before You Start: Place a rimmed sheet pan in the freezer so that it is sitting level for at least 15 minutes before starting to make the ice cream.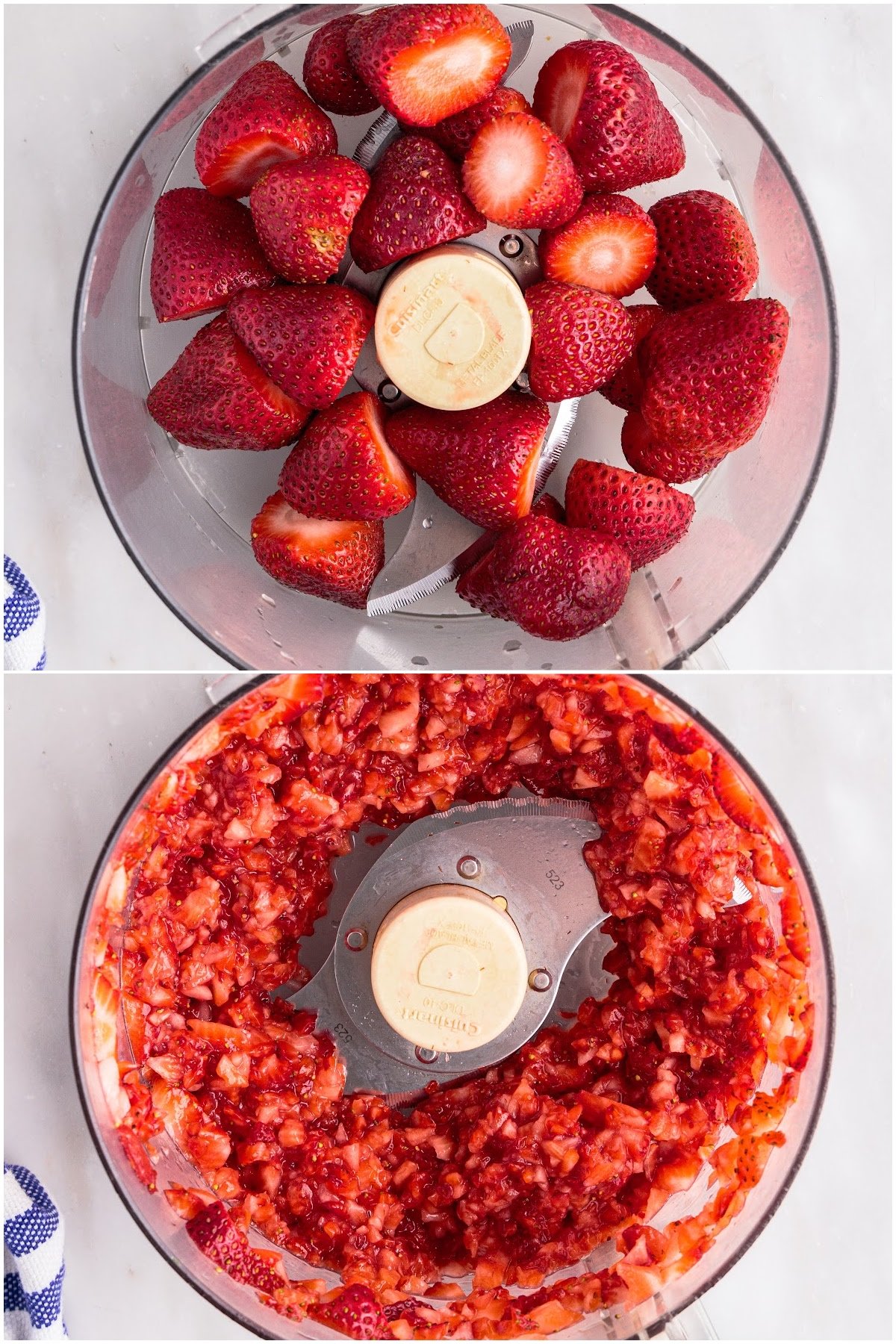 Step 1: Add the strawberries to a food processor and pulse until smooth.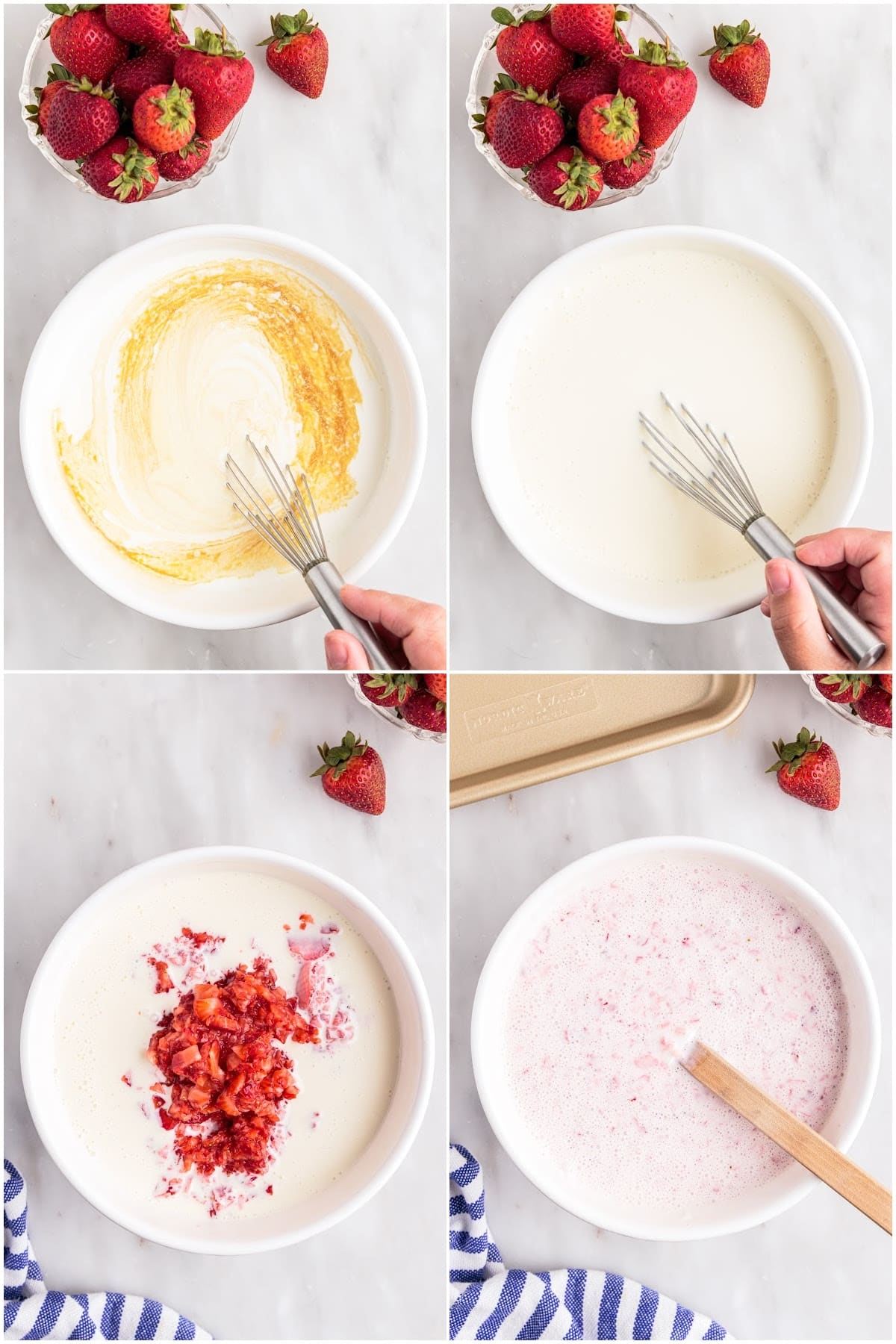 Step 2: Whisk together the heavy cream, condensed milk, salt, and vanilla. (Proceed with Step 3 to make vanilla rolled ice cream.) Add strawberry pieces to mixture OR add the cream mixture to the chopped strawberries in the food processor and blend until smooth. Processing everything together will give you more of a uniform strawberry ice cream.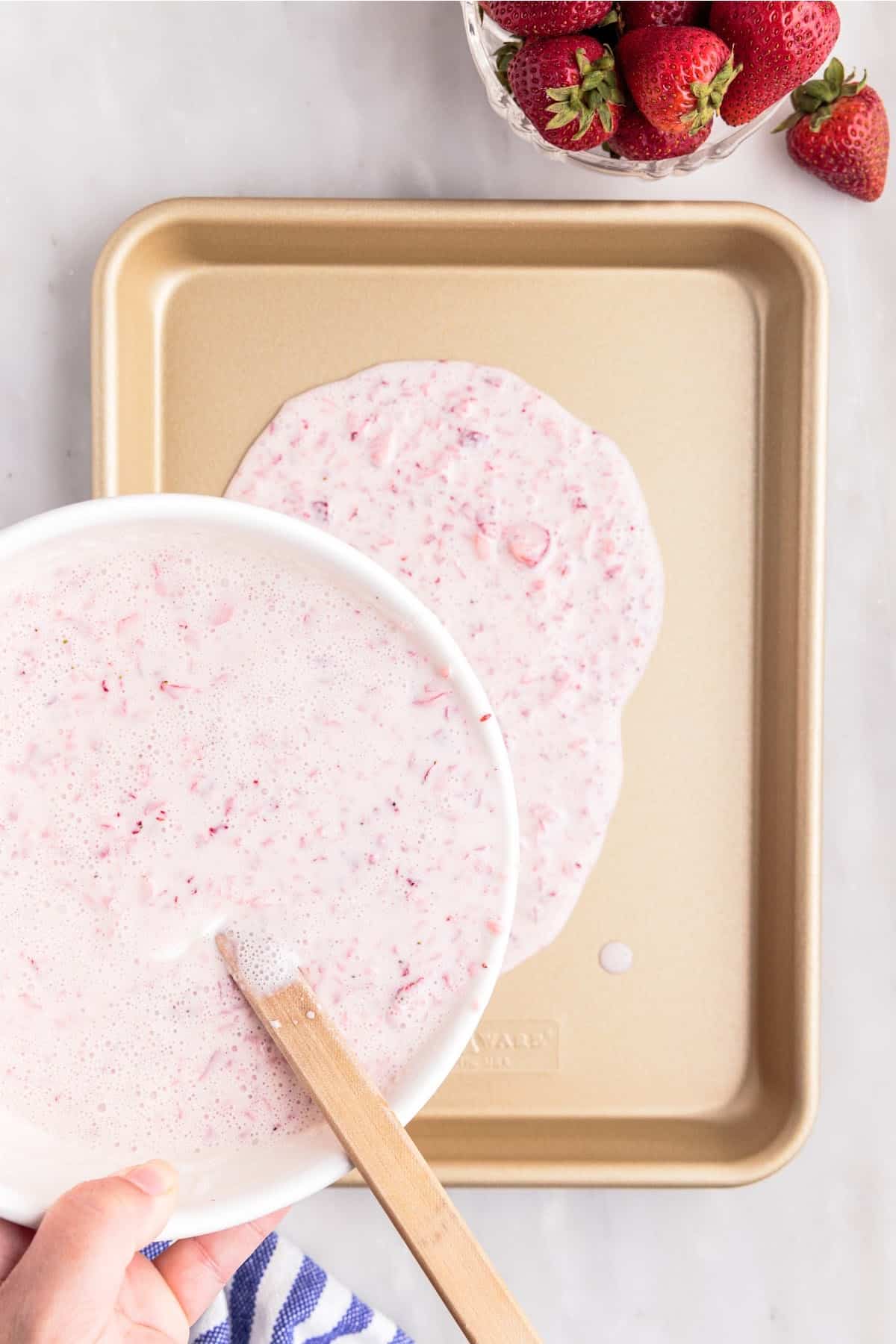 Step 3: Pour the ice cream mixture onto the pan that you froze earlier. Use a spatula to spread the layer so it's very thin. Freeze for 2-3 hours or until it's solid. If your freezer is cold enough, the mixture may set up in as little as 20-30 minutes!
Step 4: Use a wide metal spatula (mine is about 4″ wide) to lift the ice cream at the edge of the pan and glide across to form the rolls.
PRO TIP: For whatever reason, I have the most success forming great rolls when I scrape across the pan at a bit of a diagonal!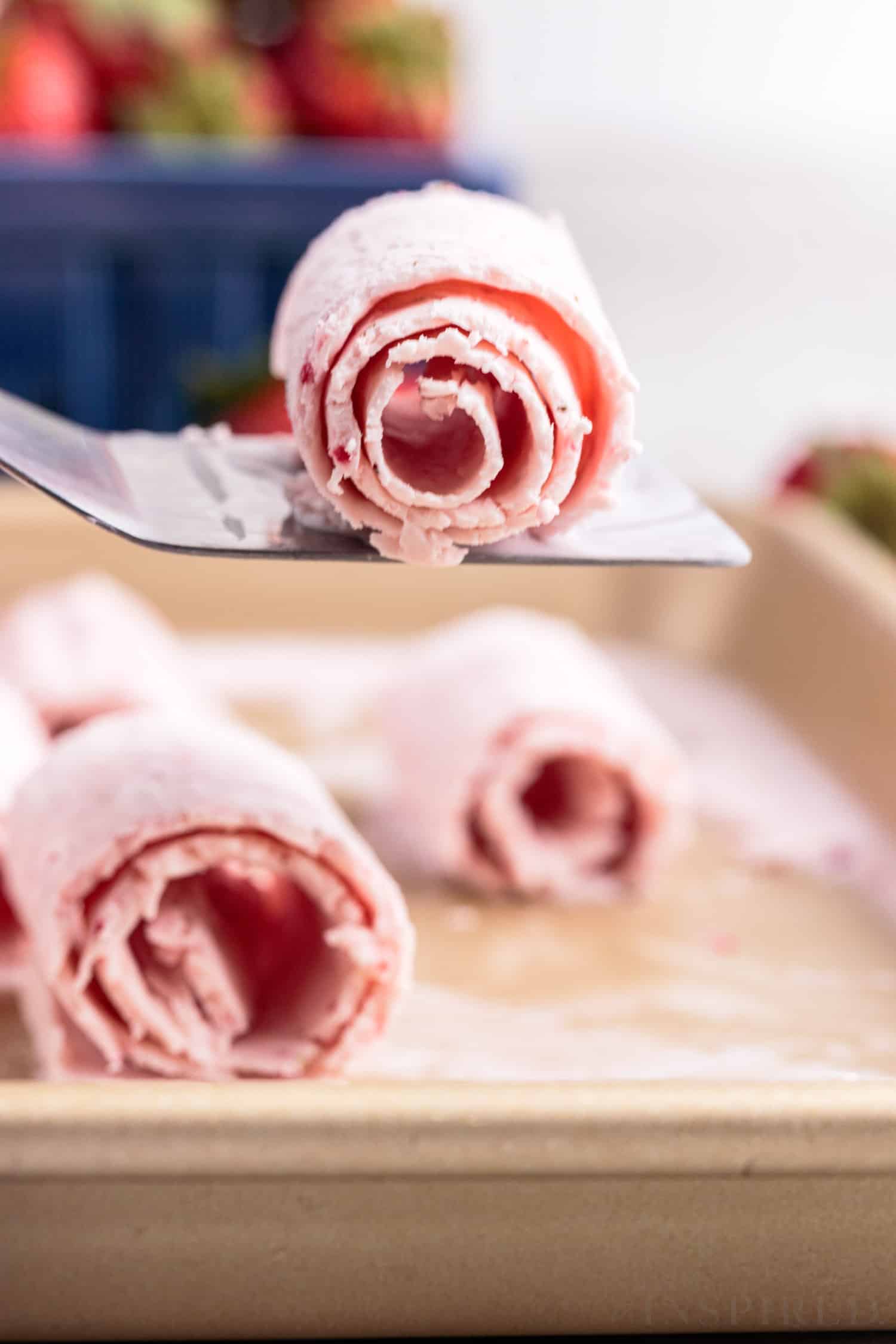 Step 6: Place the rolls in an ice cream bowl or cup for serving. Use tongs, chopsticks, or your spatula to lift and stuff the rolls into the cups.
Because this is no churn ice cream, we get the sweetness from the condensed milk which is why we don't need milk and sugar.
Rolled ice cream is softer than traditional, so work quickly to serve or place in the freezer until you are ready.
To make vanilla rolled ice cream: Use only ½ cup of sweetened condensed milk and omit the strawberries.
If the ice cream will not roll and is melting you need to adjust the mixture by adding more heavy cream or use less condensed milk.
If it breaks instead of rolling up you need more sweetened condensed milk.
Different brands of sweetened condensed milk may make a difference.
To adjust the proportions, leave the sheet pan on the counter for a few minutes to soften, then scrape and pour the mixture back into a bowl, adjust ingredients and try again.
Store the the base mixture in the fridge between pours.
I preferred using quarter sheet pans and doing smaller batches at a time, however, you can use any pan you may have.
Keep your bowl and scraper cold until you are ready to roll.
Turning your freezer down 5 degrees will help the ice cream to set faster.
Some people use a paint scraper if they don't have one they use in the kitchen.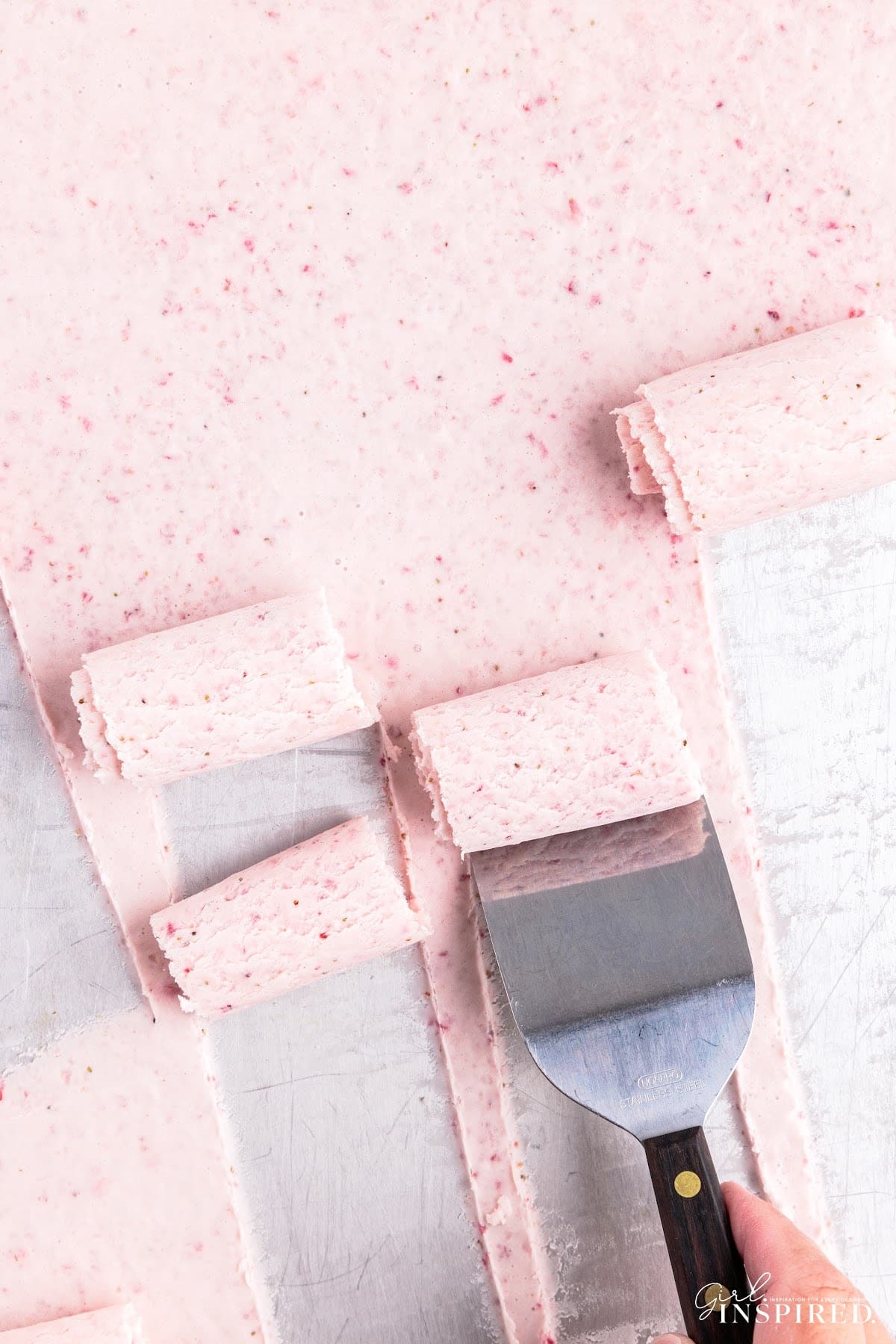 Fun Fact
The rolled ice cream trend started in Thailand (in 2009) and is also called stir-fried ice cream. While it tastes much like traditional ice cream, it's cooler than scooping and you can add in almost any topping imaginable!
Recipe FAQs
Is rolled ice cream the same as real ice cream?
I make the ice cream base with heavy cream and sweetened, condensed milk, a standard no-churn recipe. Traditional churned ice cream usually has milk, cream, sugar, and eggs. The real difference is that we serve it in thin layers that are scraped off a cold surface, giving it the rolled look.
How long do homemade ice cream rolls last?
You can freeze them for up to 1 month when they are covered tightly or placed in an airtight container.
More Easy Delicious Ice Cream Recipes
If you tried this Rolled Ice Cream Recipe or any other recipe on my website, please please leave a 🌟 star rating and let me know how you liked it in the 📝 comments below.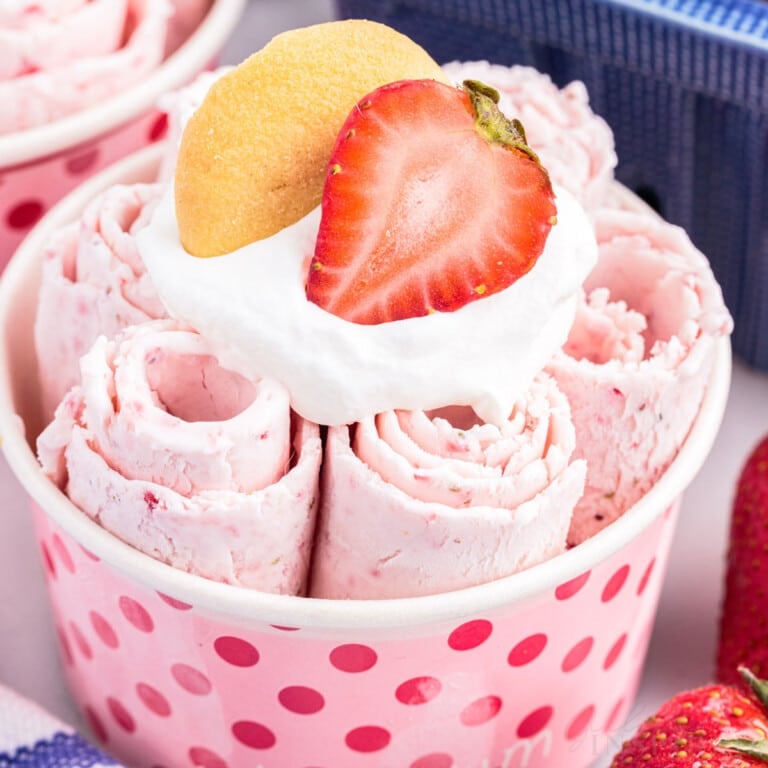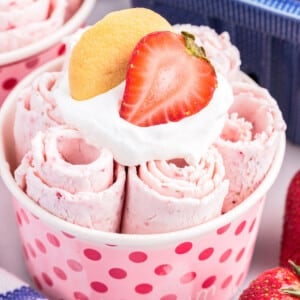 How to Make Rolled Ice Cream
Learn how to make rolled ice cream using just 5 simple ingredients that is ready from start to finish in just over an hour without even leaving the house.
Ingredients
2 cups heavy whipping cream
⅔ cup sweetened condensed milk
¼ teaspoon sea salt
2 teaspoons pure vanilla extract
1 quart fresh strawberries rinsed and hulled
Instructions
Prior to preparing the ingredients, place a full size sheet pan with rimmed edges into the freezer. Be sure there is ample space for the sheet pan to set level. Allow the pan to chill in the freezer for at least 15 minutes up to several hours in advance.

Whisk together all of the ingredients in a large bowl. For strawberry ice cream, pulse or blend the ingredients, including the fresh strawberries, in a food processor or blender. The more you blend the mixture, the smoother the finished ice cream will be.

Pour the mixture into the prepped pan. Use a large icing spatula to spread the cream mixture evenly across the entire bottom of the sheet pan, into a thin smooth layer. The layer should be quite thin, about ⅛" thick, even thinner if you can manage.

Freeze for at least 2-3 hours, until the ice cream is solid. This may take a shorter amount of time for colder freezers or thinner ice cream layers.

Working quickly with a 3" wide straight spatula – gently lift the edge of the ice cream and then glide your spatula across the sheet pan to make rolls of ice cream. Transfer the rolls into a paper cup or bowl for serving.
Notes
Storage: Keep in the freezer up to 1 month. Cover sheet pan tight with plastic wrap or form rolls and transfer to an airtight container. Scrape across the frozen ice cream layer at a diagonal if you're having trouble getting it to roll. If the ice cream is too soft, add more heavy cream to the mixture. If the ice cream is to stiff – icy and it breaks apart instead of rolling – add more sweetened, condensed milk. For plain vanilla rolled ice cream, use only ½ cup sweetened condensed milk per 2 cups heavy cream.
Nutrition
Calories: 551kcal | Carbohydrates: 29g | Protein: 5g | Fat: 48g | Saturated Fat: 31g | Polyunsaturated Fat: 2g | Monounsaturated Fat: 11g | Cholesterol: 134mg | Sodium: 220mg | Potassium: 529mg | Fiber: 6g | Sugar: 21g | Vitamin A: 1778IU | Vitamin C: 140mg | Calcium: 118mg | Iron: 1mg