This Strawberry Crunch Poke Cake is a pretty cake filled with a sweet strawberry milk and gelatin mixture, then topped with crushed Oreos and fresh strawberries!
If you need to make an easy but appealing and attractive cake for birthdays, office gatherings, or school functions, Strawberry Crunch Poke Cake is exactly what you've been looking for! This recipe starts with a white sheet cake that is infused with sweet creamy strawberry flavor – it's like a tres leches cake, but with a strawberry twist!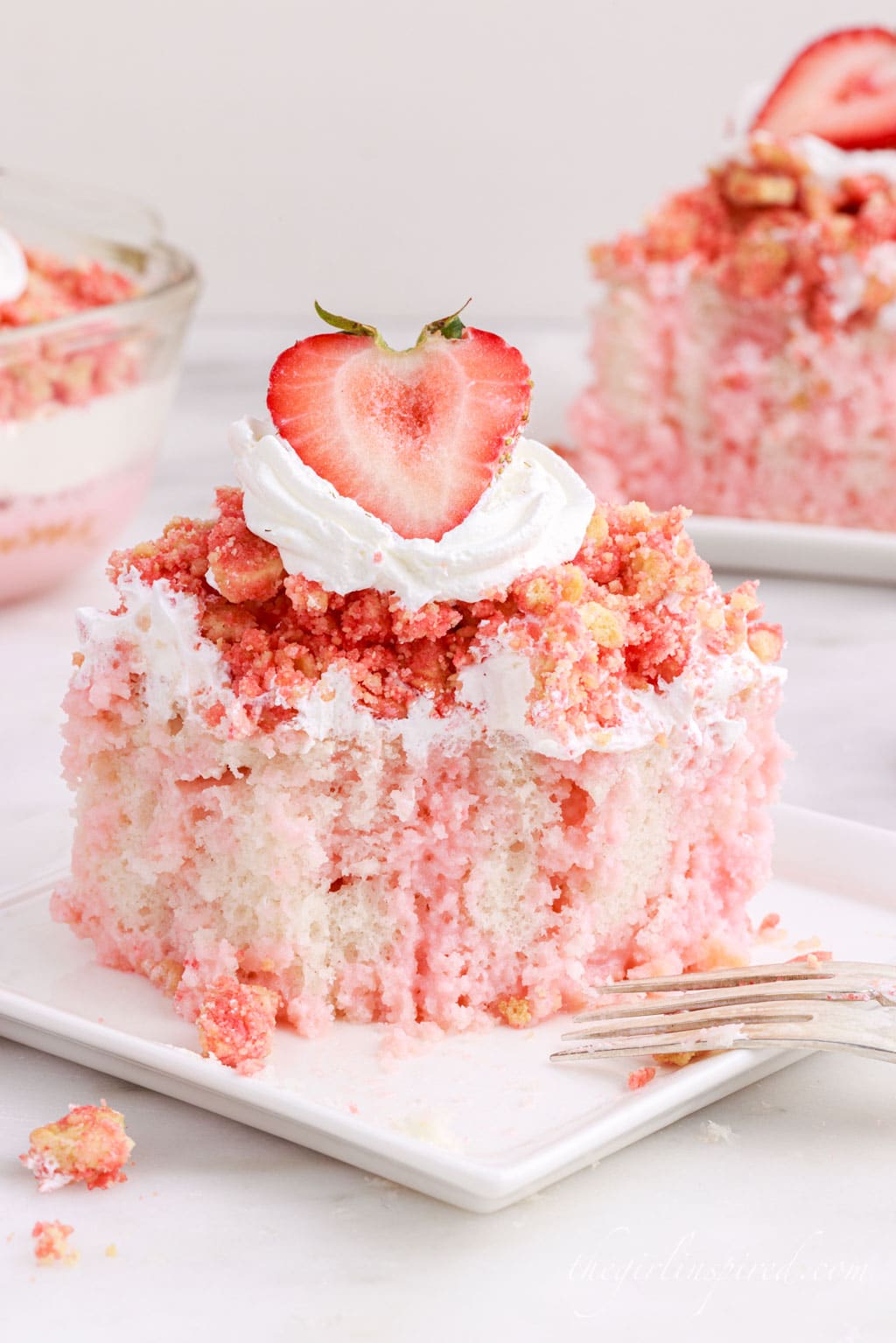 Don't know what a poke cake is? Then you're in for a real treat. By poking holes in your base cake layer (referred to as a sheet cake), and filling it with strawberry gelatin milk, you instantly transform an ordinary sheet cake into a colorful patterned cake base that's loaded with delicious flavor.
You'd be correct in thinking that the 3-milk mixture poured over the cake is very similar to the method used when making a tres leches cake. This mixture of strawberry jello, evaporated milk, whole milk, and condensed milk gives this cake an amazing flavor. It's just like strawberry milk!
Once topped off with soft Cool Whip frosting, crunchy crumbled golden Oreos, and dollops of whipped cream with whole fresh strawberries, you'll have a masterpiece on your hands that'll likely be devoured in minutes!
I love how easy it is to adapt poke cakes, just like this 4th of July Poke Cake!
What is Strawberry Crunch Poke Cake?
Strawberry Crunch Poke Cake is made with a classic white cake base that's poked with bamboo skewers. A milk and strawberry gelatin mixture is poured over the cake so that all that delicious flavor and pink color seeps throughout the cake. The poke cake is then topped with Cool Whip, crushed Golden Oreos, and garnished with halved fresh strawberries!
What do I Need for this Recipe?
🍓 Ingredients:
baked white cake – I find it really quick and easy to use a boxed cake mix and whip up a white cake. You can use your favorite white cake recipe if you prefer. A white cake makes the prettiest contrast for this poke cake, but you can use a yellow cake if you must.
evaporated milk, heavy cream, and sweetened condensed milk – these three milks are combined with strawberry gelatin to make an ultra smooth, sweet strawberry cream that is drizzled over the holes to seep into the sponge of the cake
strawberry gelatin – this flavors the "tres leches" milk mixture and is also used to make the infamous "strawberry crunch" topping.
Golden Oreos – any type of vanilla sandwich cookie will work. These are broken into crumbs and mixed with butter and strawberry gelatin to make the strawberry crunch topping.
Cool Whip – you can also whip up heavy cream for the topping – both will work, though I find that Cool Whip freezes well if you will be storing your leftovers.
butter – use salted or unsalted – the melted butter is drizzled into the cookie crumble, along with the strawberry Jello to make the crunch topping.
Optional Garnish:
strawberries – fresh whole, halved, or sliced strawberries make a gorgeous garnish on this poke cake. I used six large strawberries and sliced each in half.
whipped cream – If you'd like to make little swirls of whipped cream and then top with a strawberry like I did, you'll want some extra Cool Whip or whipped cream. You can add this as part of the presentation of the whole cake or slice the cake and then used squirty whipped cream as you're serving.
Variations and Substitutions:
This recipe uses a box cake mix which is super convenient but you can make your own sheet cake or use a store-bought cake instead.
If you cannot get Golden Oreos, use any vanilla cream-filled cookies for your crunchy cookie topping.
Make a cream cheese whipped topping out of cream cheese, heavy whipped cream, vanilla, and confectioner's sugar. This makes a great tangy topping.
Make this cake gluten-free by using a gluten-free cake box mix as well as gluten-free cookies for the crushed cookie topping.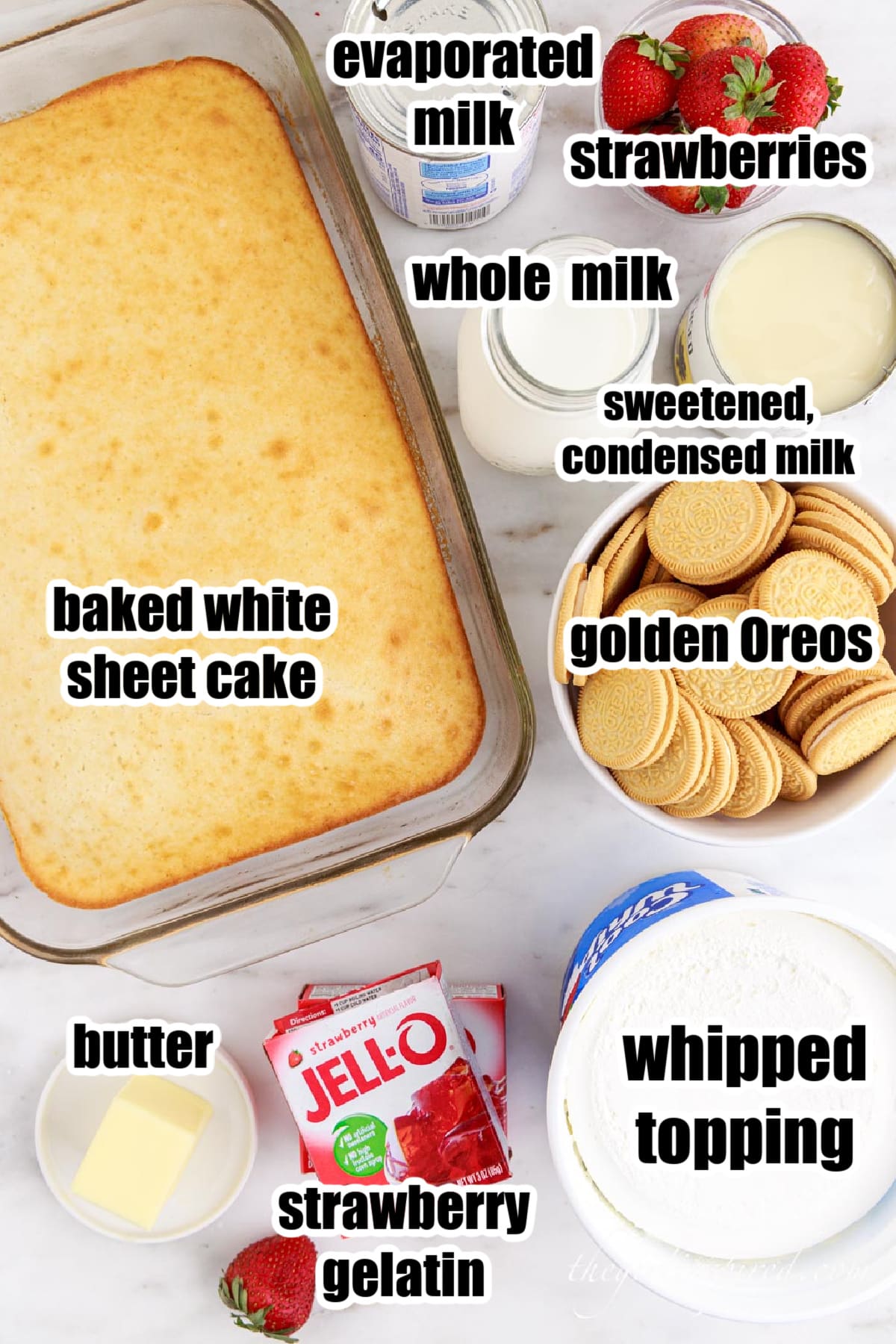 🔪 Instructions:
Step 1: Begin by baking a white cake in a 9×13 baking dish. You can use any cake mix or recipe you prefer. Standard boxed cake mixes make a 9×13 sheet cake. Cool the cake completely.
Step 2: Use a bamboo skewer or a chopstick to poke holes all over the cake. Space them ½″ up to 1″ apart.
Step 3: Heat the evaporated milk in a saucepan over medium heat until it comes to a simmer. Sprinkle half (1.5 oz.) of the package of jello into the warm milk and whisk until the gelatin has dissolved completely. Set aside to cool.
Step 4: Whisk the sweetened condensed milk and the whole milk into the strawberry evaporated milk mixture. Stir until they are fully blended.
Step 5: Ladle the cooled jello mixture over the top of the cake. Continue adding all of the milk, allowing it to soak into the holes in the cake.
Step 6: Cover the cake with plastic wrap and place it in the refrigerator, allowing it to soak up all of the gelatin for at least 1 hour.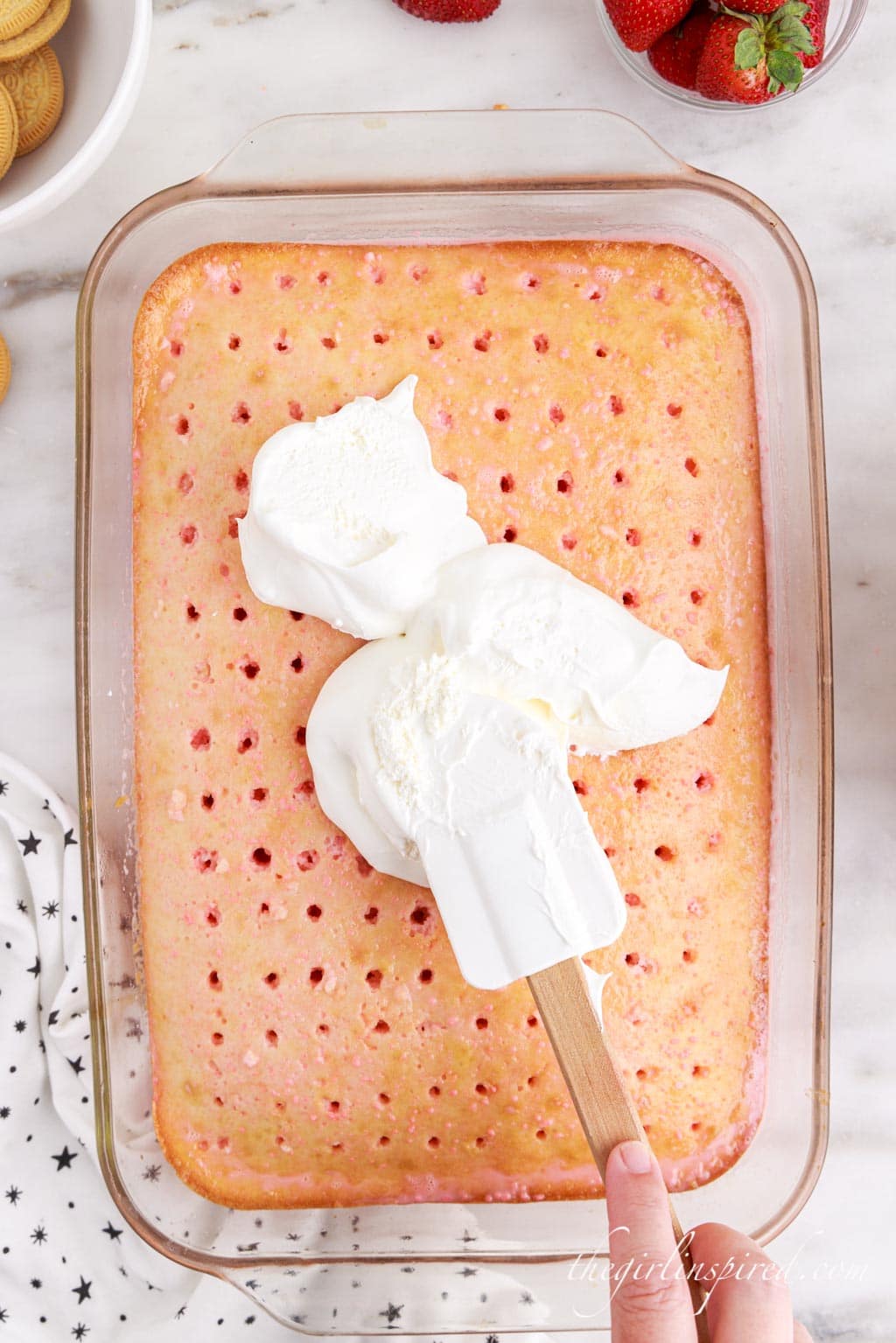 Step 7: Top the poke cake with a thick layer of fluffy Cool Whip (or whipped cream.)
Step 8: Place the Oreos into a food processor or in a gallon size Ziploc bag. Use a rolling pin to crush the Oreos into fairly small crumbles.
Step 9: Sprinkle the remaining ½ package of strawberry gelatin and the melted butter over the cookie crumbs.
Step 10: Stir the cookie mixture to make a lovely pink crunchy topping.
Step 11: Spread the strawberry cookie topping over the whipped cream layer of the poke cake.
Step 8: For a beautiful presentation, slice the cake into 12 even sections. Pipe or squirt a swirl of whipped cream on top of each piece and then top with a strawberry half.
Can I make this poke cake gluten-free?
Yes! To make this cake gluten-free, simply use a gluten-free box cake mix. Bob's Red Mill brand is one that immediately comes to mind
Can this recipe be used to make cupcakes?
It most certainly can be used to make cupcakes. Using muffin liners in your muffin pans, cook your cake mixture for a shorter time than you would for a whole cake, and fill the muffin liners to only halfway.

Once cooled, poke holes in the cupcakes and carefully spoon your strawberry gelatin milk mixture over them. Refrigerate until it's set, top, and decorate as per the recipe instructions.
Why can't I store this cake at room temperature?
While most cakes can be stored at room temperature, this strawberry crunch poke cake will need to be stored in the refrigerator due to the milk-based gelatin mixture. The topping of this cake also calls for Cool Whip which is then best stored chilled.
Can I make this poke cake ahead of time?
Absolutely! Your freshly made cake with its cream topping can be kept in the refrigerator for 3 – 4 days well sealed in an airtight container.

I suggest that you only put the oreo topping on, with your fresh strawberries, just before you serve it. The biscuits will still be crunchy but will have started to soften a little over 2 – 3 days in storage.

You can also freeze this cake (unfrosted) for up to 3 months as long as you have wrapped it well with plastic wrap and placed it in an airtight container. It is important to defrost your cake in the refrigerator before frosting and serving.
Tips For Making Strawberry Crunch Poke Cake
The holes in the cake should be sufficiently large enough to allow the strawberry milk liquid to trickle through them down into the entire cake. Using something like a wooden skewer will work well.
Make sure that the strawberry milk mixture in the cake has set sufficiently well in the refrigerator before you move on to layering the cake with cream, cookies, and strawberries.
You can speed up the setting of the gelatin by placing the cake in the freezer but don't forget to remove it before the cake freezes!
If you opt to use a food processor instead of a rolling pin to crush the Oreos, be mindful of not creating a paste. You do want some pieces of cookie to remain – a pulverized crumb is not what we're going for here. HOWEVER, that would taste ok, too.
To pipe Cool Whip on the cake for added decoration, add an additional 8oz tub of Cool Whip to the ingredients. One tub will only cover the top of the cake. It looks finished when each piece is decorated with a dollop of whipped cream and a fresh strawberry.
If you plan to freeze your cake (either whole or as individual pieces) with the Cool Whip topping, flash freeze it first for 2-3 hours before wrapping tightly with plastic wrap and then foil. Once defrosted in the fridge, go on to add the Golden Oreos and fresh strawberries
Strawberry Crunch Poke Cake
This Strawberry Crunch Poke Cake is a pretty cake filled with a sweet strawberry milk and gelatin mixture, then topped with crushed Oreos and fresh strawberries!
Ingredients
White sheet cake baked in 9×13 dish
14 oz. can sweetened condensed milk
12 oz. can evaporated milk
½ cup whole milk
3 oz. package strawberry jello, divided
8 oz. container of Cool Whip or frozen whipped topping thawed (plus more for garnish, see notes)
25 Golden Oreos about 1 package
¼ cup salted butter melted
Fresh strawberries for garnish optional
Instructions
Preheat the oven to 350°F or as directed on cake mix package instructions. Mix and bake cake in a 9×13 glass baking dish according to the instructions. Cool cake completely.

Meanwhile, in a small saucepan, heat evaporated milk over medium. Whisk in ½ package of strawberry gelatin powder, stirring and heating until the gelatin is dissolved. Remove from heat and set aside to cool.

To the cooled evaporated milk mixture, add sweetened condensed milk and whole milk. Whisk until fully combined.

Use a bamboo skewer to poke small, evenly spaced holes all over the cooled cake.

Spoon the strawberry milk mixture over the cake, being sure to evenly coat the cake. Cover with plastic wrap and place the cake in the refrigerator to soak up the milk mixture for at least 1 hour.

Gently spread Cool Whip over the top of the cake.

Place golden Oreos in a plastic bag and crush into crumbs using a rolling pin.

Transfer crushed cookies to a medium bowl. Pour melted butter over the cookie crumbs and sprinkle with the remaining ½ package of strawberry gelatin powder. Stir to combine.

Sprinkle the cookie mixture over the Cool Whip on the cake. Press down as needed to make a smooth, flat top.

Slice the cake into individual servings. Serve with a dollop of Cool Whip (or whipped cream) and a fresh strawberry half.
Nutrition
Calories: 360kcal | Carbohydrates: 50g | Protein: 7g | Fat: 15g | Saturated Fat: 7g | Polyunsaturated Fat: 2g | Monounsaturated Fat: 5g | Trans Fat: 1g | Cholesterol: 34mg | Sodium: 250mg | Potassium: 269mg | Fiber: 1g | Sugar: 40g | Vitamin A: 324IU | Vitamin C: 1mg | Calcium: 209mg | Iron: 1mg