Strawberry Shortcake made from scratch with moist melt-in-your-mouth biscuits, fresh strawberries and whipped cream.
Have you ever tried a strawberry shortcake recipe from scratch? We're talking about soft and moist strawberry shortcake biscuits stacked with fresh, ripe strawberries and rich whipped cream. Once you have a taste of these strawberry shortcakes, you will never go back to any other kind.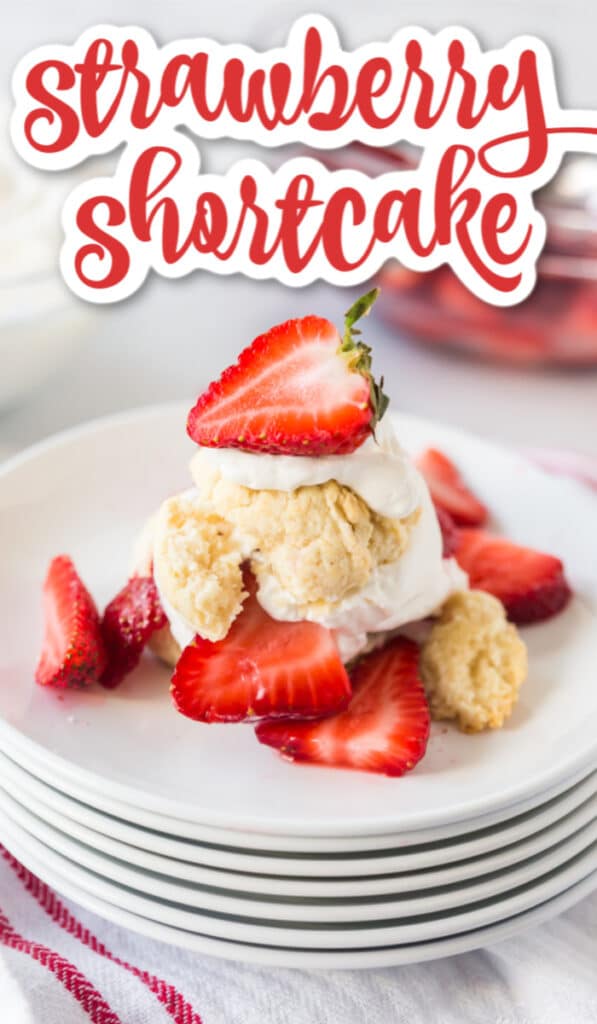 We make a lot of strawberry shortcake this time of year because the local farmers are selling full flats of juicy, red strawberries in pop up stands in the neighborhood and we just can't get enough. Ripe strawberries with freshly whipped cream are one of the most delicious combinations, and it just gets better piled on top of these melt-in-your-mouth shortcakes.
Making strawberry shortcake from scratch is pretty simple and also doesn't take long. I like to mix the dough recipe up in the food processor to make easy strawberry shortcake biscuits and keep the dough soft and fluffy.
How to Make Strawberry Shortcake from Scratch
Start by blending together the dry ingredients – the flour, sugar, baking powder, baking soda, and powdered sugar. In a separate bowl, whisk together the milk, butter, and oil. With the food processor running, slowly pour the milk mixture into the dry ingredients and you're done! The dough will resemble one of those fun touchy-feely concoctions your kids like to play with – like the moon dough that is a fluffy sand but forms a soft ball when you squish it.
Use an ice cream scoop for nice big shortcake biscuits or simply make drop biscuits with a spoon. Form a loose ball with the dough so it cooks up nice and fluffy and soft – don't over squish!
While your shortcakes are baking, prepare the strawberries and whipped cream. Rinse the strawberries, remove the stems, and slice them into bite-size pieces. Place them in a bowl and sprinkle with granulated sugar. I use about ¼ cup of sugar per quart of strawberries. Stir the strawberries and sugar around and allow them to sit for a few minutes. Whip up your heavy cream and it's time to build your desserts!
Slice the shortcakes in half and layer the biscuits with strawberries, followed by whipped cream. Top with the other biscuit half and add a few more strawberries and whip if you like! Dig in!
More Delicious Strawberry Dishes to Try: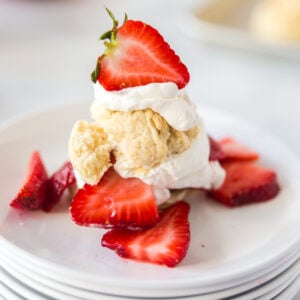 Strawberry Shortcake
Strawberry Shortcake made from scratch with moist melt-in-your-mouth biscuits, fresh strawberries and whipped cream.
Ingredients
Strawberry Shortcake Biscuits
3 cups flour
¼ cup granulated sugar
1 ½ tablespoon baking powder
1 tablespoon powdered sugar
¾ teaspoon baking soda
¾ cup milk
4 ½ tablespoon vegetable oil
¼ cup melted butter
Toppings
1-2 quart fresh strawberries
¼ cup granulated sugar
2 cups heavy whipping cream
2 tablespoon powdered sugar for sweetening the cream
Instructions
Preheat oven to 425 degrees.

In a food processor or medium sized bowl, stir together flour, baking powder, baking soda, ¼ cup sugar, and 1 tablespoon powdered sugar.

In a separate bowl, whisk together milk, oil, and melted butter.

Pour milk mixture into dry ingredients while running food processor until just incoporated. Do not overmix.

Scoop into large drop biscuits, forming 6-8 balls and place on an ungreased cookie sheet.

Bake shortcakes for 12-15 minutes or until golden brown on top. Do not overbake. The shortcakes are especially delicious when they are still a tad doughy in the middle

Rinse, remove stem, and slice the strawberries into bite-sized pieces. Sprinkle with ¼ cup (per quart) of granulated sugar and stir. Let rest for 5-10 minutes.

Whisk or use the whisk attachment of a food mixer to whip the heavy cream. Add the 2 tablespoon of powdered sugar in the final seconds of whisking.

Slice warm shortcake biscuits in half and layer with sweetened strawberries and whipped cream.
Nutrition
Calories: 602kcal | Carbohydrates: 64g | Protein: 8g | Fat: 37g | Saturated Fat: 24g | Cholesterol: 99mg | Sodium: 427mg | Potassium: 307mg | Fiber: 4g | Sugar: 23g | Vitamin A: 1089IU | Vitamin C: 70mg | Calcium: 225mg | Iron: 3mg