Put together a darling little succulent teacup in just minutes. Succulent containers can be ANYTHING, but when you want to create a sweet and simple gift, plant up these cute teacups.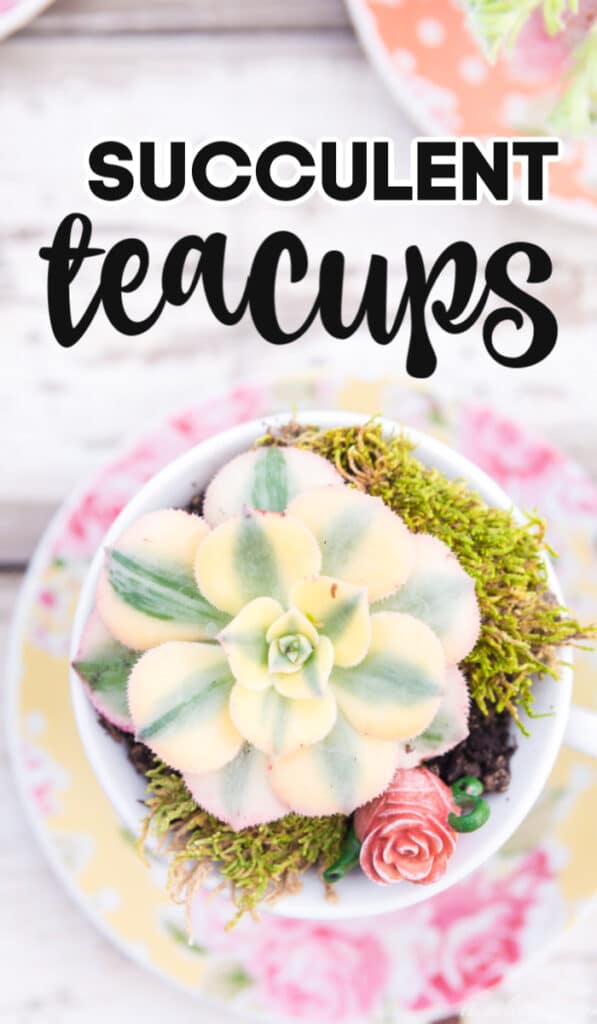 Gather Succulent Teacup Materials
If you keep succulents, this is a great project for refreshing overgrown, lanky plants that need sprucing up.
If you are starting fresh, there are endless succulents available at nurseries and even grocery stores. Grab a few, along with a couple teacups or fun coffee mugs, and let's plant these easy to care for plants.
Preparing Containers for Succulents
Prepare the teacups or containers by filling about a third of the way with small pea gravel or Pearlite. Since these containers don't have drain holes, you want to fill the bottom with a non porous material so that the extra water drains through the soil and doesn't rot the roots.
How to Take a Succulent Cutting
If you have some lanky succulents, you can take cuttings from them to make new potted plants. Clip the lanky stem at its base (the succulent will grow new leaves out of the clipped base!) Gently twist off any leaves along the stem (these can be set aside to root new plants also) and leave about 1-2″ of a stem beneath the top cluster of leaves. Gently press the stem down into the soil until the crown of the succulent rests just above the soil.
If you have a few days time, go ahead and just set the cutting out in a shaded area for a couple days until the cut end of the stem scabs over. This will help to prevent rotting of the stem and encourage new roots to grow once it's placed into soil.
Repotting Succulents
If you are using small potted succulents, they likely are already rooted into their soil. Gently lift them out of the pots they came in and nestle down into the teacups over the drainage pebbles. Sprinkle in cactus soil to fill the teacup the rest of the way.
If you'd like, place little pieces of moss and/or fairy garden accents in the succulent teacups for some added whimsy. So cute!
Add a cute little name plate to the teacups if you'd like to gift these. They are perfect for Mother's Day, teacher appreciation, or to give a little something to a friend on their birthday.
Caring for your Succulent Teacup
Once the teacups have been filled with succulents and any accents have been added, use a spray bottle to give them a little spritz. Teacup planters are DONE!
Succulent teacup planters do not need a lot of care. Spritz with a light spray once a day or so and they should be good for a long, long time! For more gift ideas (for Moms!), check out these quick, homemade gifts!