This easy Buckeye balls recipe only requires 6 simple ingredients, no baking needed, and they also make a great gift. This chocolatey peanut butter sweet treat is rich, creamy, and totally satisfying.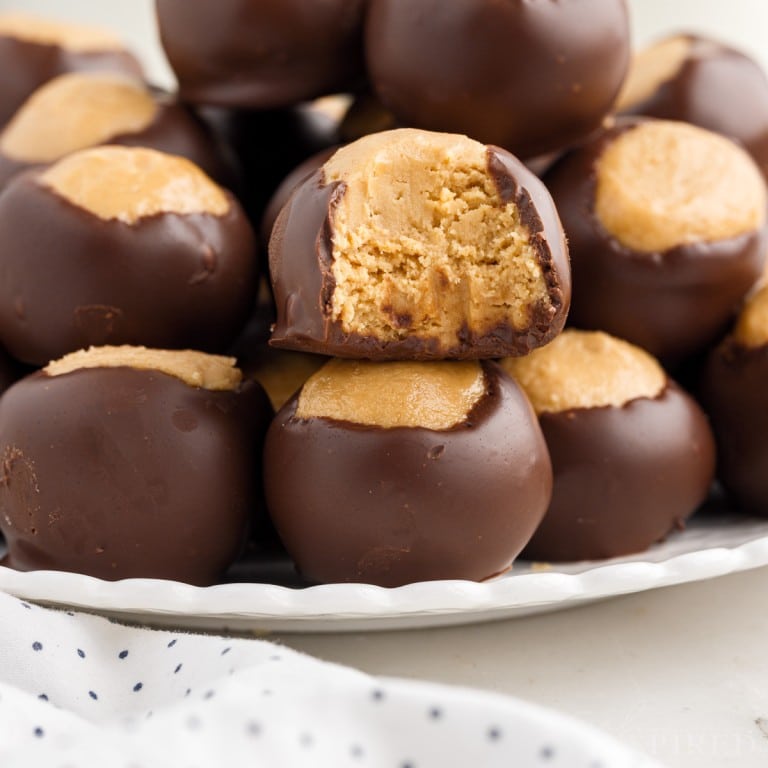 This buckeye balls recipe is an easy no bake dessert and one of our favorites to make during the holiday season. Homemade buckeyes are coated in rich chocolate and have a creamy peanut butter center that can be slightly addicting!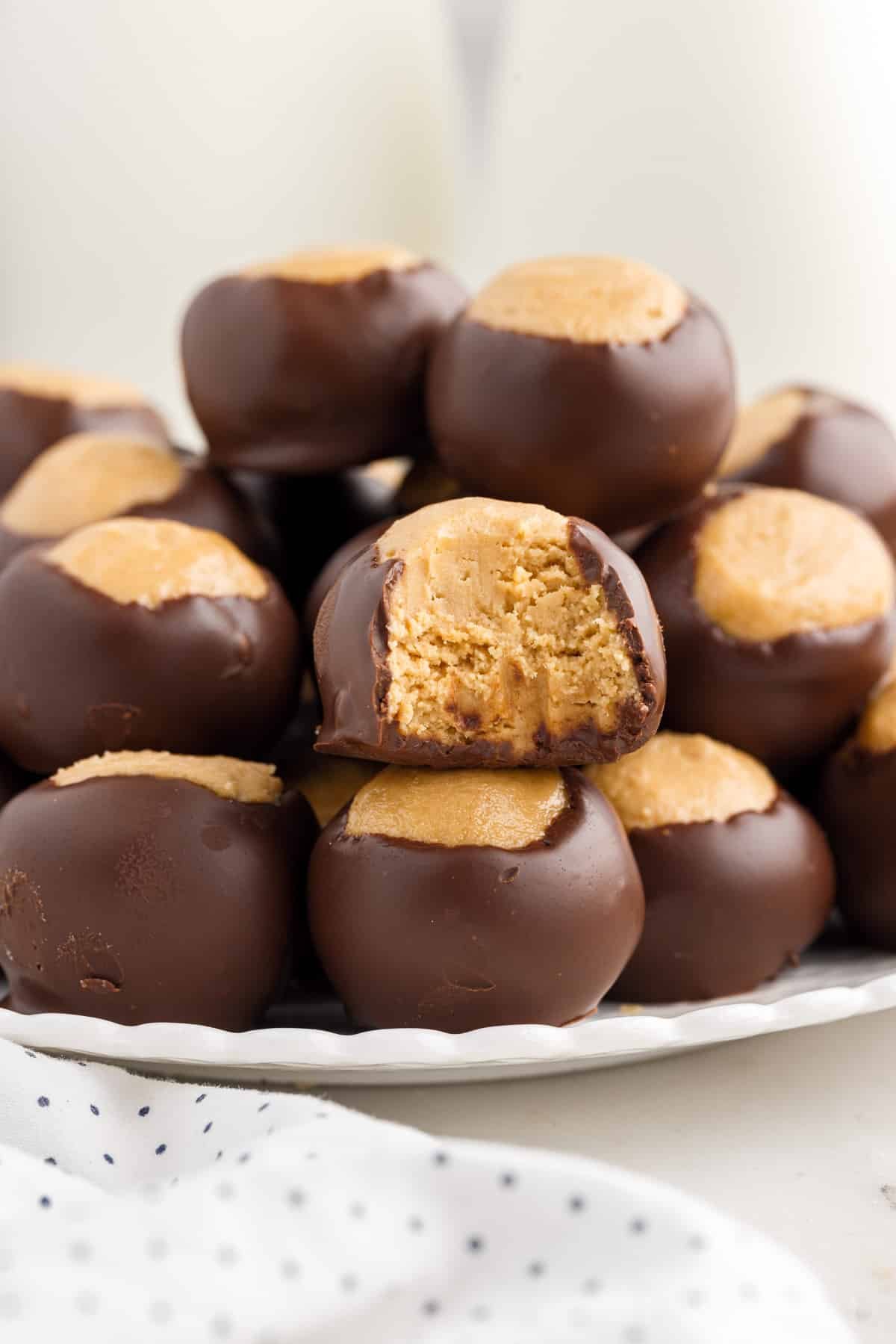 Buckeye candies taste kind of like homemade Reese's peanut butter cups, but are SO much easier! In the past we made our own Reese's (trees, eggs, and hearts) and I think going forward we will be having buckeyes instead. If you want an even easier version, you can also make buckeye dip and serve it with cookies or graham crackers.
These peanut butter balls are great to eat as is, or they can really take your chocolate peanut butter cheesecake to the next level adorning the top.
I love the peanut butter chocolate combo! These peanut butter brownies are super fudgy and rich. If you need another no-bake idea, peanut butter oat balls or chocolate dipped peanut butter Ritz are really easy and a holiday fave. We also love peanut butter frozen hot chocolate, BUT if you like the boozy version go with Skrewball whiskey Reese shots or peanut butter whiskey root beer.
What do I Need for this Recipe?
🍫 Ingredients:
butter – allow it to soften at room temperature before mixing.
peanut butter – we used creamy and have not tested these with natural peanut butter.
​ vanilla extract – adds just a little more flavor.
confectioners' sugar – sweetens the dough balls and helps with texture.
semi-sweet chocolate chips (or a combination of semi and milk chocolate chips)
shortening – helps to make the chocolate smooth.
Equipment Needed:
Electric mixer or stand mixer – makes mixing the peanut butter mixture easier compared to stirring by hand.
Variations and Substitutions:
Dark chocolate or White Chocolate – melt this chocolate instead of semi- or milk chocolate.
Double boiler – we love using the microwave since it's so easy, but you can also melt the chocolate using a double boiler.
Coconut oil – can be used in place of the shortening.
Crunchy peanut butter – we like the creamy filling, but using crunch will add just a little bit of a crunch if you like that.
​Festive sprinkles – perfect for jazzing up the Buckeyes for any occasion! Roll in sprinkles before the chocolate sets.
Toppings – after dipping them in chocolate you can also roll them in coconut, crushed cookies, chopped nuts, or dust with powdered sugar.
🔪 Instructions:
PREP: In a large bowl, combine peanut butter and softened butter. Mix together using an electric mixer.
Step 1: Beat in the powdered sugar and vanilla until smooth.
Step 2: Use a small cookie scoop to form balls. Roll them between the palms of your hands to make a smooth ball. Place the peanut butter balls on a baking sheet lined with parchment or wax paper.
Pro Tip: Before using a cookie scoop, you can place the dough in the freezer for 10-15 minutes to firm it up so it's easier to handle. You can also coat your hands with a little butter.
Step 3: Chill in the freezer for at least 30 minutes. Add the semisweet chocolate chips to a microwave-safe bowl. Add the shortening over the top. Microwave in 30-second increments until the chocolate coating is smooth.
Step 4: Stick a toothpick in the top of the buckeye and swirl it around in the melted chocolate so it's mostly covered. Tap off the excess chocolate and place it on the baking sheet. Repeat for the remaining balls.
SERVE: Before serving or storing, allow the chocolate to harden and set.
To make these ahead of time, roll out all of the balls and freeze them on the sheet. Then pull them out when you are ready to dip in a bowl of melted chocolate.
Chilling the balls before dipping them helps to keep their shape.
Adding shortening to the chocolate also helps to lessen the discoloration that the chocolate causes when stored.
Reheat the chocolate in bursts if it sets while you are working in batches.
Fun Fact
When the leaves and twigs of Buckeye trees are crushed, they give off a skunk-like smell.
What are buckeye balls?
Buckeye balls are a type of confectionery that is popular in the Midwest region of the United States. They are made by rolling a mixture of peanut butter, butter, and powdered sugar into small balls, and then dipping them in melted chocolate.

The name "buckeye" comes from the resemblance of the nut of the Ohio buckeye tree, which is the state tree of Ohio. Buckeye balls are often served as a dessert or snack during the holidays and throughout the football season. However, it's worth noting that buckeye balls should not be confused with actual buckeye nuts, which are toxic and should never be consumed.

​Some people may also call these chocolate peanut butter balls instead of buckeyes.
How to store peanut butter buckeye balls?
Store buckeyes in an airtight container in the refrigerator, on the counter, or freeze (in a zip-top freezer bag) for up to 3 months. After a day or two in the fridge or on the counter, the chocolate may discolor.
More Tasty No Bake Treats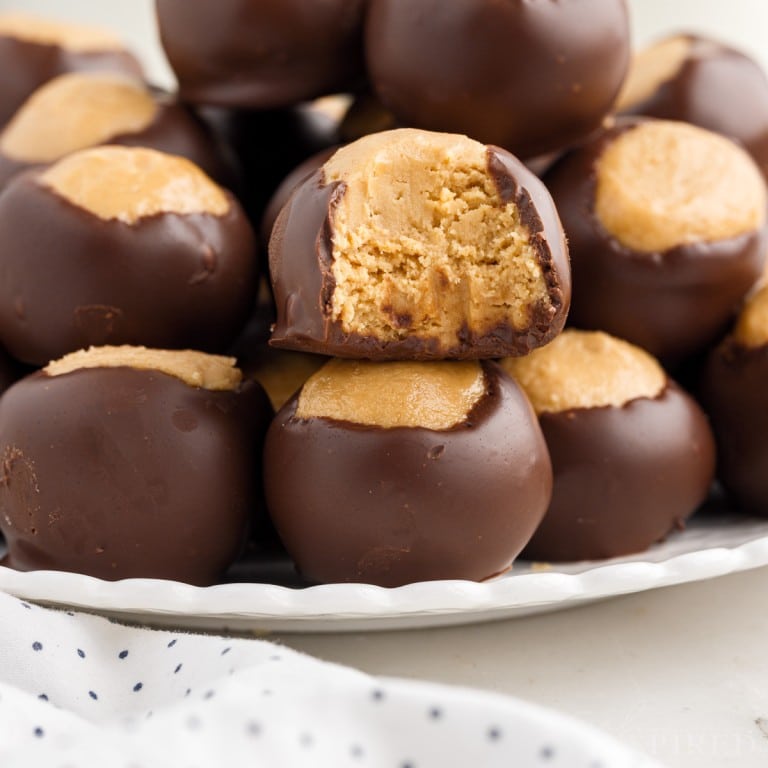 Buckeye Balls Recipe
This easy Buckeye balls recipe only requires 6 simple ingredients, no baking needed, and they also make a great gift. This chocolatey peanut butter sweet treat is rich, creamy, and totally satisfying.
Ingredients
5 tablespoons salted butter softened
1 cup creamy peanut butter
1 teaspoon vanilla extract
2 cups powdered sugar
1 ½ cups semi-sweet chocolate chips or a combination of semi and milk chocolate chips
1 ½ tablespoon shortening
Instructions
In a mixing bowl, cream together butter and peanut butter until combined.

Add in the powdered sugar and vanilla and beat until smooth and combined into a dough.

Use a 2 tablespoon cookie dough scoop to form balls of dough and place them on a cookie sheet lined with parchment paper.

Place the dough into the freezer for 10-15 minutes to firm it up a bit so it is easier to handle. You can also coat your hands with some butter.

Roll the scoops of peanut butter dough into smooth balls.

Chill in the freezer for at least 30 minutes (they can be left in the freezer up to several days.

Place the chocolate chips in a heatproof bowl. Dollop the shortening over the top. Heat and stir in 30-second increments in the microwave until the chocolate is smooth and melted completely.

Using a toothpick, lift one peanut butter ball at a time and swirl it in the melted chocolate, covering most of the ball, but leaving a circle at the top exposed.. Tap excess chocolate off of the ball and place it back onto the parchment paper.

Allow chocolate to harden at room temperature.

Buckeye balls can be kept at room temperature, in the refrigerator, or freezer. The chocolate may discolor after a day or two, but the flavor will continue to be great up to 3 months in the freezer.
Notes
Notes: The shortening added to the melted chocolate makes it easier for coating and helps to lessen "bloom" on the chocolate (or the discoloration of the chocolate surface). It also makes it soft and will melt or imprint easily if touched. You can reheat chocolate in short bursts to keep it smooth and easy to use for coating the hearts.
Nutrition
Calories: 169kcal | Carbohydrates: 16g | Protein: 3g | Fat: 11g | Saturated Fat: 5g | Polyunsaturated Fat: 2g | Monounsaturated Fat: 4g | Trans Fat: 0.2g | Cholesterol: 6mg | Sodium: 57mg | Potassium: 108mg | Fiber: 1g | Sugar: 13g | Vitamin A: 67IU | Calcium: 11mg | Iron: 1mg