Combining Skrewball whiskey with root beer and ice cream is the best boozy float that can be enjoyed year round!
This peanut butter whiskey and root beer float is similar to your childhood version, but with alcohol for the best adult beverage! It's a great party drink and they are super simple to make.
The last time I made peanut butter frozen hot chocolate and Italian hot chocolate, for some reason it got me thinking about old-fashioned floats! In the summer, we like serving whipped lemonade and Malibu pina coladas with a maraschino cherry on top, but it's been a while since I made a float, so I thought let's mix things up with root beer and peanut butter flavors!
If this reminds you of a peanut butter and jelly sandwich (because who can think of peanut butter without relating it to grape jelly?), check out the variations of our Skrewball whiskey Reese shot. It's like a twist on peanut butter old-fashioned. You can also turn that recipe into peanut butter whiskey drinks by making a bigger batch, using a shaker, and serving in a highball glass. Our other favorite classic drinks are spiked apple cider and the boozy creamsicle float made with vodka.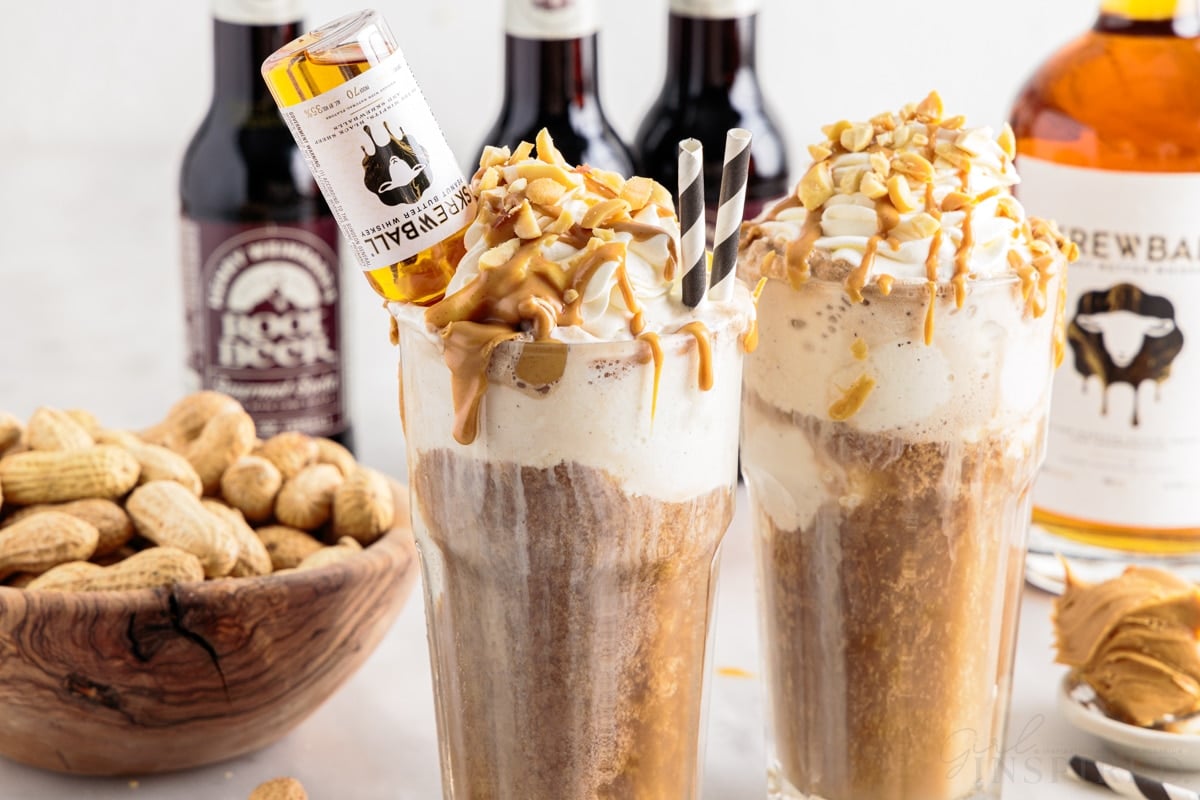 What do I Need for this Recipe?
🥜 Ingredients:
root beer – any brand will work.
Skrewball peanut butter flavored whiskey – each drink will need a 1-ounce shot.
vanilla ice cream – you will need about 1 cup per drink.
Whipped cream – we like making homemade whipped cream but you can also use the kind in a spray can. Cool Whip is a little too thin if you want to pipe it on.
Peanut butter – any creamy kind will work. We do not recommend crunchy.
Optional Garnish:
Crushed peanuts, chocolate syrup, a peanut butter cup, marshmallows
Variations and Substitutions:
Swap the alcohol – you can also make this drink using bourbon.
Omit the root beer – make different versions by leaving out the root beer and adding coffee liqueur (or chocolate liqueur) and Bailey's Irish cream.
Non-Boozy version – for kids, omit the alcohol and add peanut butter to the drink or swap the vanilla ice cream for a peanut butter swirl.
Homemade whipped cream – combine 1 cup of heavy cream with a couple of tablespoons of powdered sugar. Beat with a mixer until stiff peaks form.
On the rocks – While the spiked root beer float is fun, you can also serve the root beer and whiskey over ice.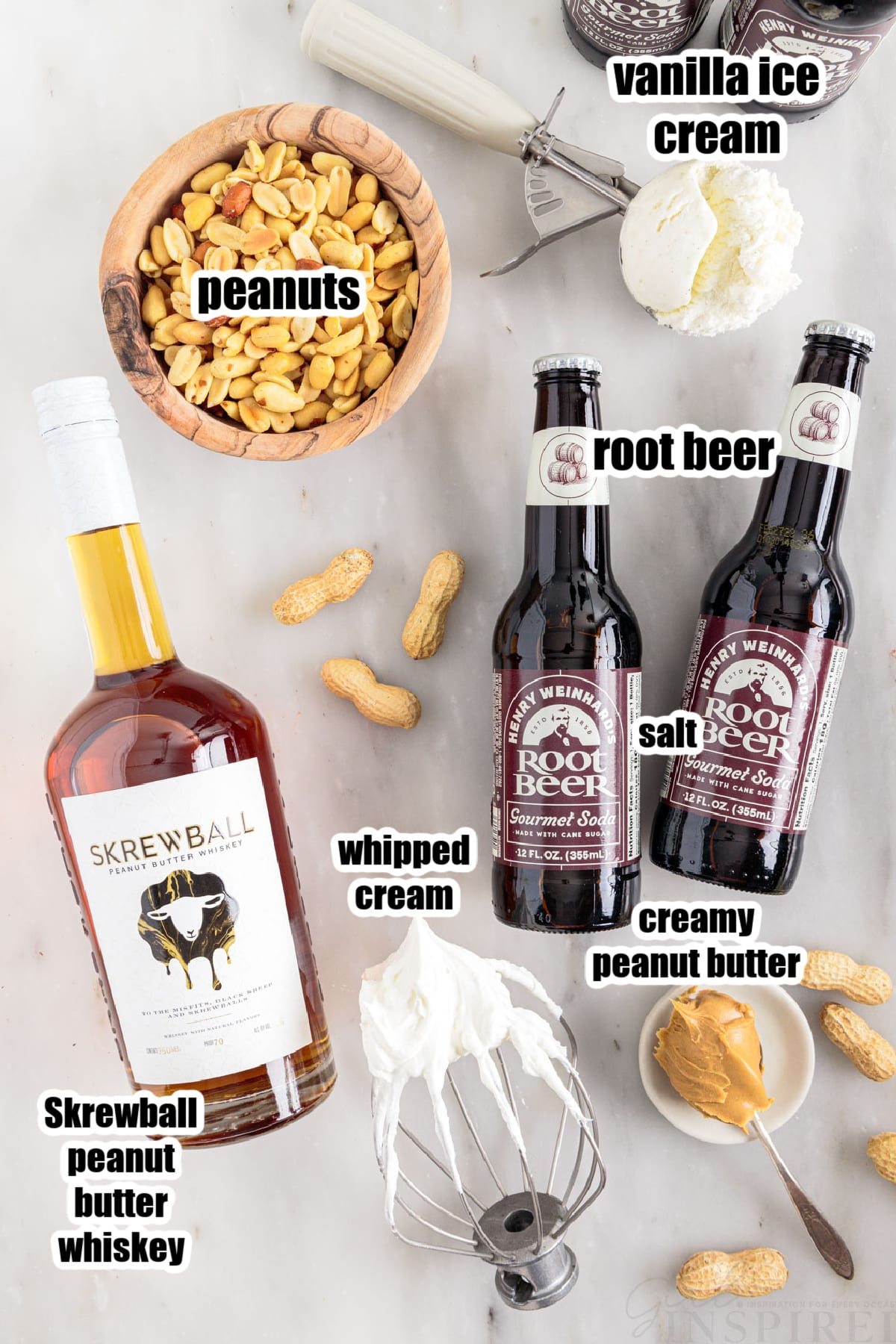 🔪 Instructions: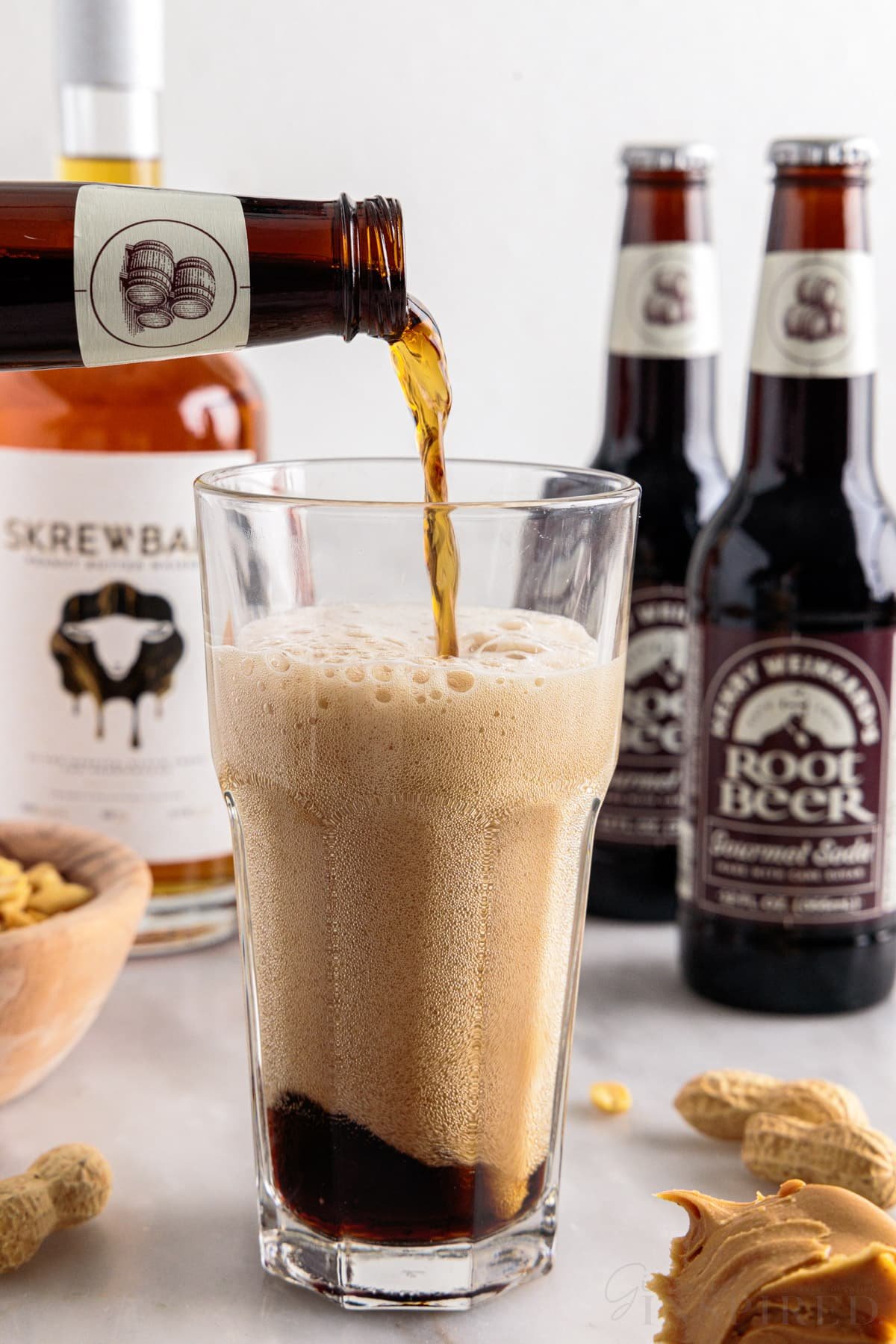 Step 1: In a large soda or milkshake glass, slowly pour in the root beer.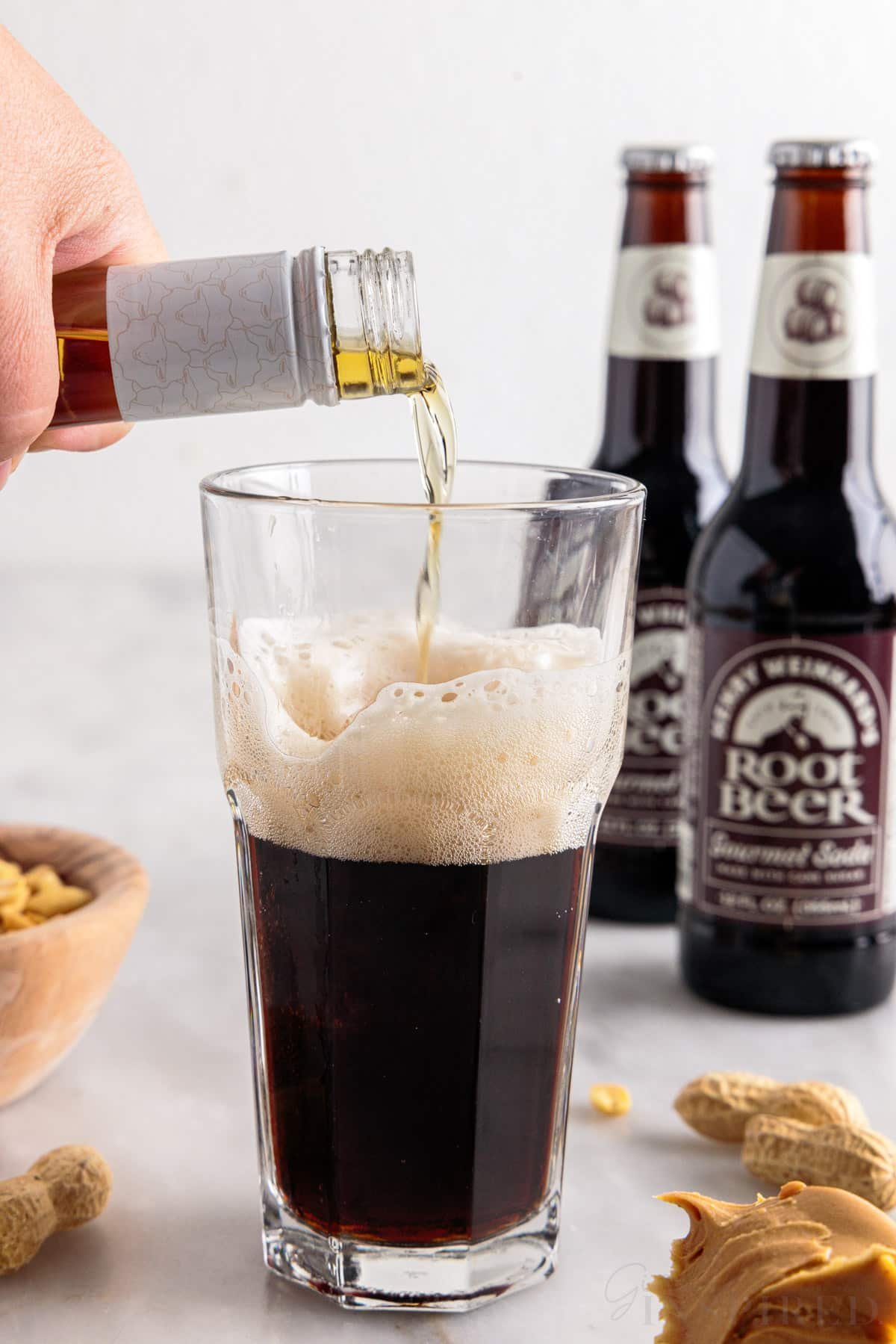 Step 2: Add a shot of peanut butter whiskey.
Step 3: Add 1-2 scoops of ice cream, being careful not to let the glass overflow.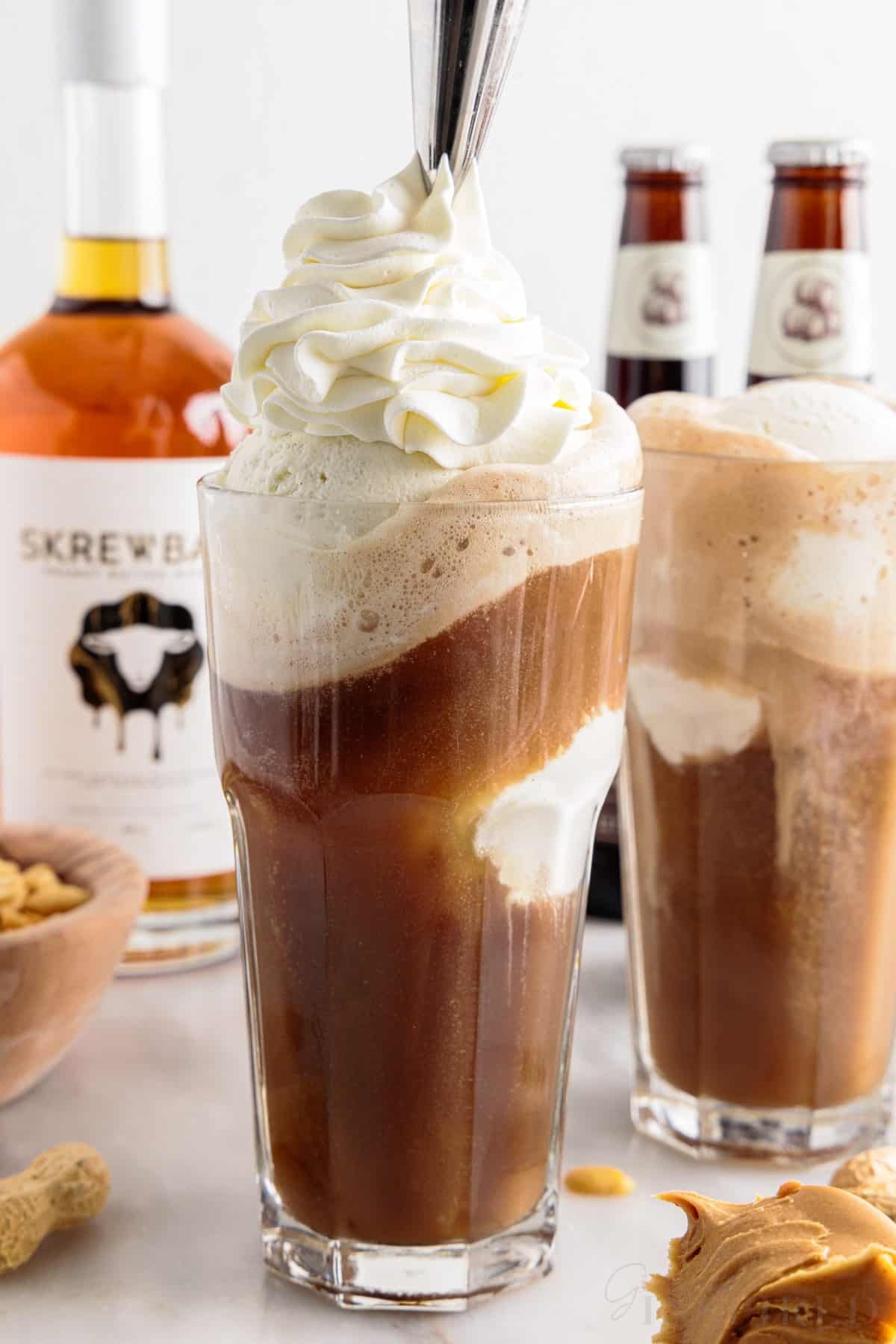 Step 4: Top with whipped cream, peanut butter drizzle, and peanuts.
SERVE: Add a straw or spoon and you are ready to serve!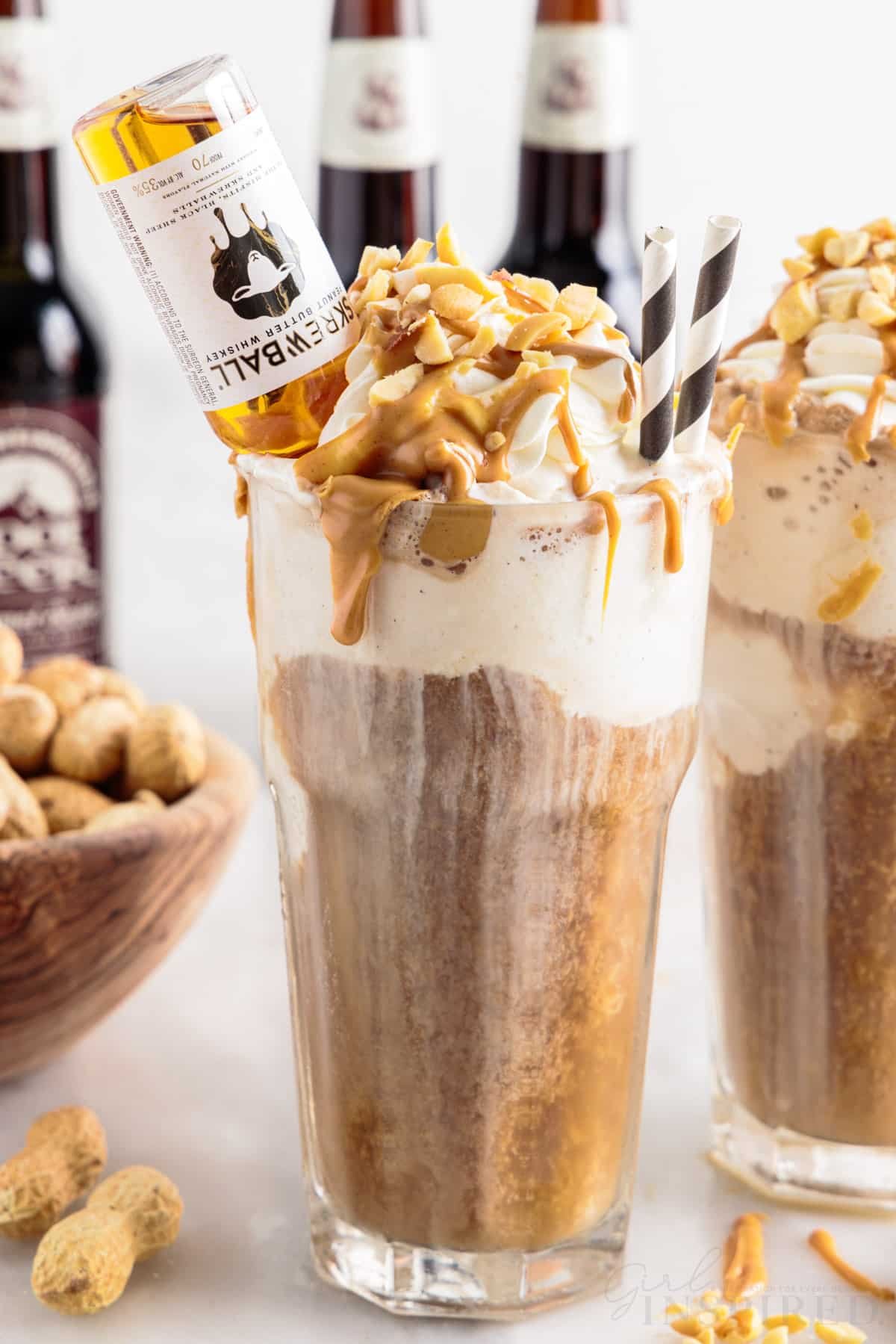 We added one ounce of whiskey to 6 ounces of root beer and it was a nice balance.
Be sure your glass is tall enough to hold the ice cream.
When the ice cream is added, the root beer will fizz.
Skrewball whiskey is sweet and filled with a peanut butter flavor that goes nicely with root beer.
To make the peanut butter pourable, microwave for 30 seconds, then drizzle. You can also rim the glass if desired.
Fun Fact
Steven Yeng and Brittany launched Skrewball in 2018 out of San Diego, California and it was the first of its kind.
What soda is good with Skrewball?
Ginger ale, soda water, Coca-Cola, or grape soda are all great options.
Do you drink peanut butter whiskey straight?
You can just like any other liquor, we like mixing it in a coffee cocktail, pb&j cocktail, or with raspberry liqueur. These tastings pair so well together!
More Cocktail Recipes to Enjoy
Peanut Butter Whiskey and Root Beer Float
Combining Skrewball whiskey with root beer and ice cream is the best boozy float that can be enjoyed year round!
Ingredients
4-6 oz. root beer
1 ½ oz.. Skrewball peanut butter whiskey 1 shot
2 scoops of vanilla ice cream about 1 cup
Whipped cream
Peanut butter warmed until pourable
Crushed peanuts
Instructions
Slowly pour root beer into a large soda glass or milkshake glass.

Add one shot of Skrewball whiskey.

Carefully drop in 1-2 scoops of ice cream, making sure the glass does not overflow.

Top with whipped cream, peanut butter drizzle, and chopped peanuts.
Notes
Storage: Serve immediately with a straw and/or a long spoon. Notes: One ounce of whiskey balances well with 6 oz. of root beer. Use a large enough glass that gives you room for ice cream. The root beer fizzes and foams when the ice cream is added. The Skrewball whiskey has a definite peanut butter flavor and is sweet. It pairs remarkably well with root beer. Turning the combo into a spiked root beer float tastes delicious and is super fun, but you can also serve root beer and Skrewball over ice for a more simple cocktail. Use creamy peanut butter and warm it for about 30 seconds in the microwave to make it pourable. Drizzle over the top of your drink or dip the glass rim in it.
Nutrition
Calories: 619kcal | Carbohydrates: 50g | Protein: 12g | Fat: 31g | Saturated Fat: 12g | Polyunsaturated Fat: 5g | Monounsaturated Fat: 12g | Cholesterol: 59mg | Sodium: 258mg | Potassium: 446mg | Fiber: 2g | Sugar: 43g | Vitamin A: 561IU | Vitamin C: 1mg | Calcium: 191mg | Iron: 1mg