This creamy dessert shot is made with RumChata and Fireball cinnamon whiskey - balanced together in a Cinnamon Toast Crunch Shot that tastes just like a bowl of cereal.
You are going to love this Cinnamon Toast Crunch Shot – a delightful and nostalgic concoction that pays homage to the beloved cereal we all know and love! This shot captures the warm, sweet, and spicy flavors of cinnamon mixed with the creamy richness of vanilla. It's a perfect treat for those looking to add a touch of childhood magic to their adult gatherings or themed parties.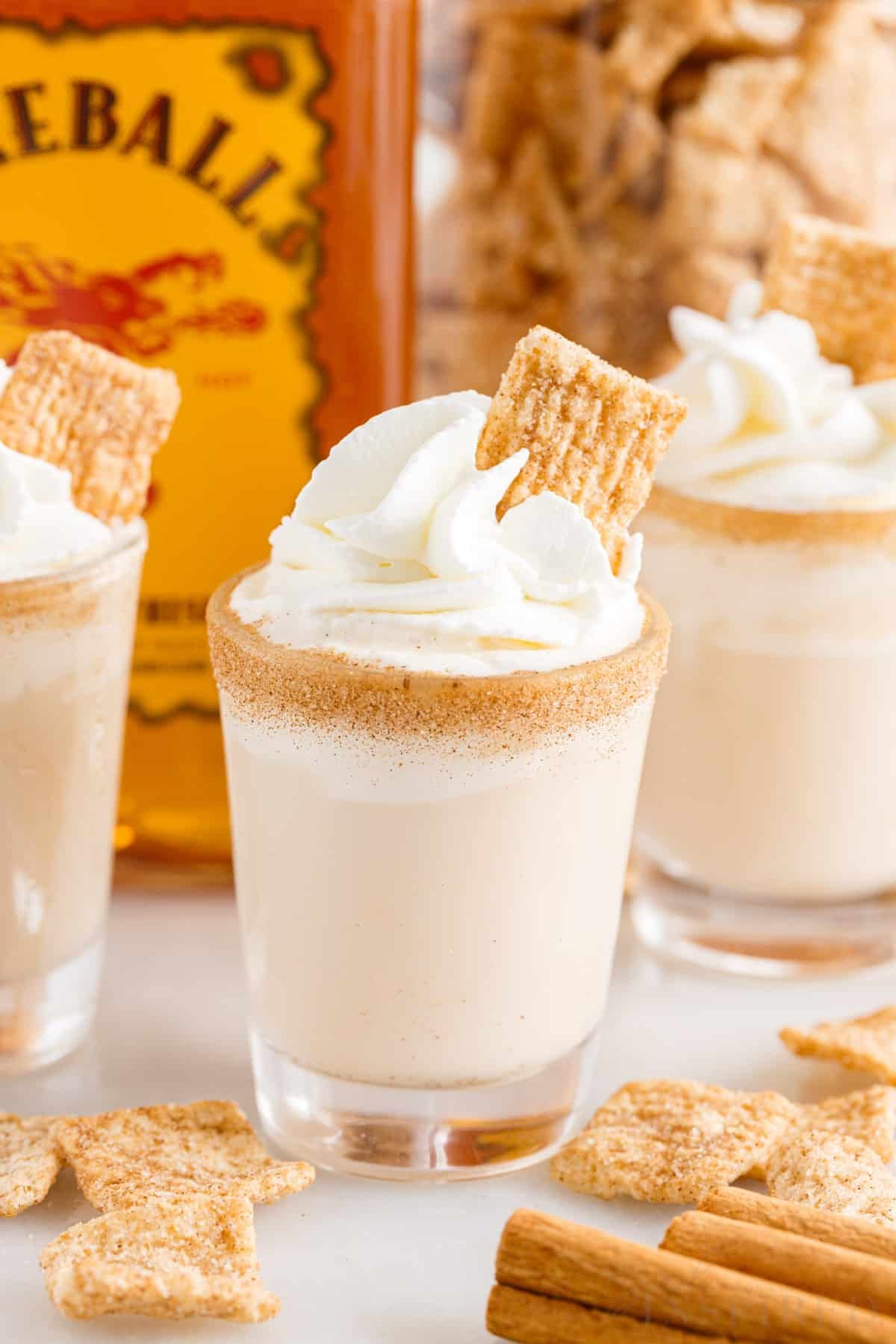 So we won't say that the Cinnamon Toast Crunch shot tastes exactly like the cereal, but this recipe is definitely the adult version of cinnamon toast crunch in a delicious shot form! The ingredient list is short and sweet, if you will. Fireball whisky is balanced by creamy RumChata and the resulting shooter is just a little cup of fun.
If you love a creamy cocktail, try a Malibu piña colada or my Caribbean rum cocktail.
Looking for more shooters and cocktails that are a surefire way to get the party started? Try our Skrewball Whiskey Reese shot, Dole Whip jello shots, or our Jolly Rancher vodka cocktail.
Jump to:
Why You'll Love This Cinnamon Toast Crunch Shot Recipe
It's a sweet treat and a cocktail in one! If Cinnamon Toast Crunch is your favorite cereal, this is the dessert drink for you.
Great for parties and super simple to make with only two ingredients!
The Fireball Cinnamon Whiskey has a spicy bite that is balanced by the creaminess of the RumChata.
We've used equal parts of the main ingredients for the perfect balance, but you can adjust the whiskey and RumChata. Consider adding vanilla vodka or cinnamon flavoring with a different type of whiskey. Adjust to suit your taste buds, but this recipe works because the Fireball whiskey is tamed by mixing with a creamy drink.
🍹Ingredients: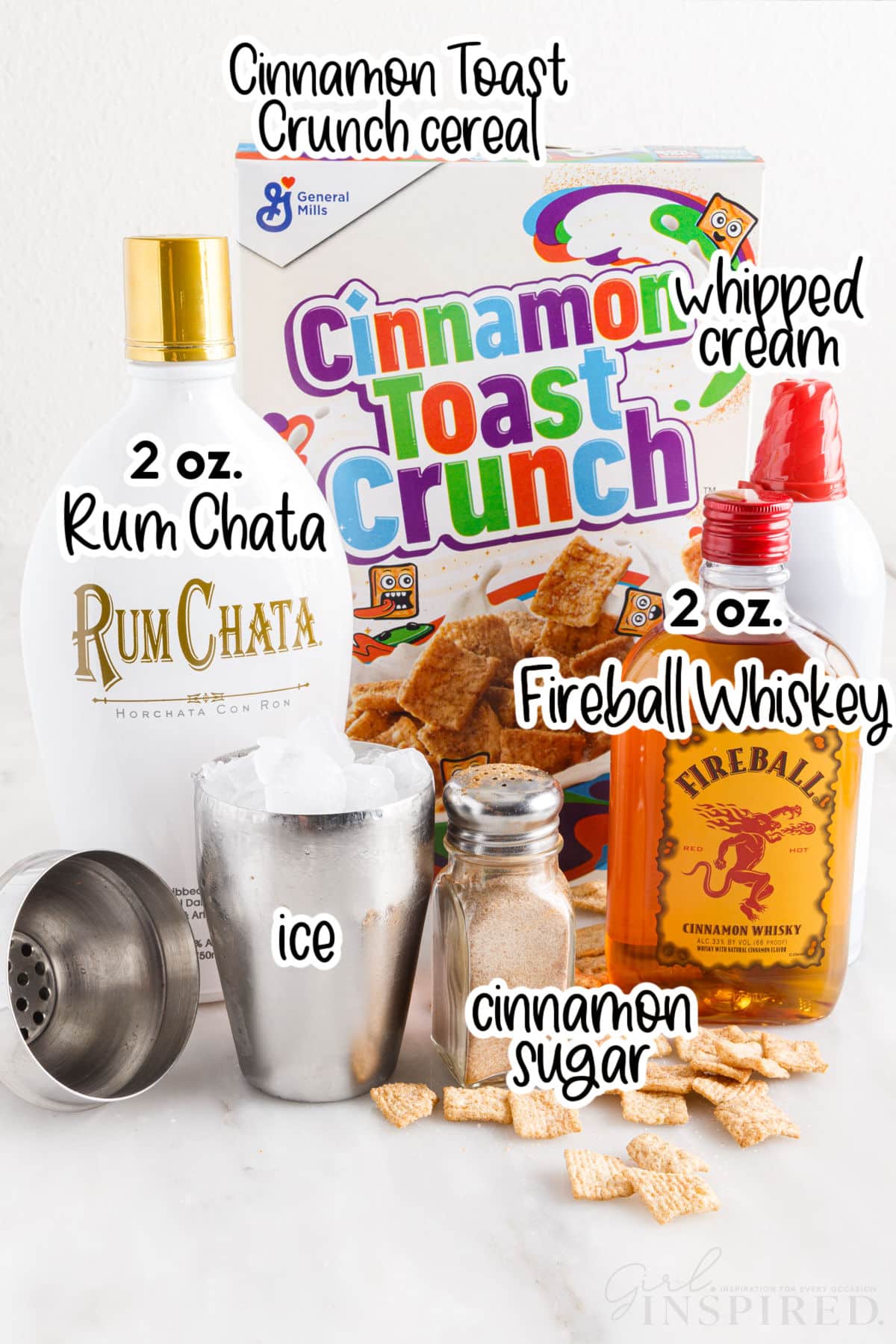 RumChata liquor – this is a rum infused creamy liqueur that has cinnamon and vanilla flavors
Fireball whiskey – a Canadian whiskey that is known for its spicy cinnamon flavor, which sets it apart from traditional whiskies.
whipped cream – while you could make whipped cream from scratch, we recommend the spray kind. It's quick to add and you don't need the whipped cream to hold up for long before you pop the shot into your mouth.
Cinnamon toast crunch cereal – this is for the topping, so if you didn't want to buy a whole box you don't have to.
Cinnamon sugar mixture for the rim – combine ¼ cup of granulated sugar with 1 teaspoon of ground cinnamon to make your own cinnamon sugar.
For a full list of ingredients and their measurements, 📋 please view my printable recipe card at the bottom of the post.
Optional Garnish:
We topped our cinnamon toast crunch shots with whipped cream and a piece of Cinnamon toast crunch cereal, but you could also garnish with a sprinkle of cinnamon or even a small cinnamon stick.
Substitutions and Variations
You can use corn syrup or simple syrup for the cinnamon sugar rim, it's a little thicker than just wetting it with water.
Make a cinnamon toast crunch cocktail: Whip up a double batch and serve it over ice in a rocks glass with a straw. Add some milk or cream to thin out the alcohol content, if you prefer.
Crush up the cereal to rim the glasses or sprinkle crushed cereal over the top of the whipped cream.
🔪 Instructions:
PREP: Chill ingredients in the refrigerator for the coldest drink.
Step 1: Add cinnamon and sugar to a shallow plate. Wet a paper towel and dampen the rim of each glass, then dip the top of the glass into the cinnamon sugar.
Step 2: Add ice cubes to a cocktail shaker and add the RumChata.
Step 3: Pour the Fireball whiskey into the cocktail shaker.
Step 4: Shake well to combine the ingredients and chill the liquors.
Pro Tip: If you don't have a cocktail shaker on hand, use a mason jar with a lid instead.
Step 6: Divide the chilled drink between two prepared shot glasses. Pour into the center of the glass so that you don't smudge the cinnamon sugar rim.
Step 7: Top with a spray of whipped cream and a piece of cereal.
If you are unfamiliar with RumChata, it's like an Irish cream (which is an Irish whiskey with real dairy cream) but with a cinnamon flavor. Think of it as the milk left in the bowl once the cereal is gone.
Whipped cream makes taking the shot a little more difficult in one swoop. It's fine to lick it off and then down the shot. lol.
The whipped cream melts quickly, so spray it on and take the shot immediately!
If you like the taste of White Russians or using Kahlua, you'll love RumChata drinks!
Fun Fact
Fireball Canadian Whisky is very popular across Canada during the fall and winter months.
How much alcohol is in a shot of RumChata?
1.5 ounces of rumchata is 13.75% alcohol by volume.
Do you drink RumChata straight?
While you can drink it straight from the bottle, we think it's much better mixed like in this cinnamon toast crunch recipe.
More Shot Recipes That Are Party Favorites
If you tried this Cinnamon Toast Crunch Shot or any other recipe on my website, please please leave a 🌟 star rating and let me know how you liked it in the 📝 comments below.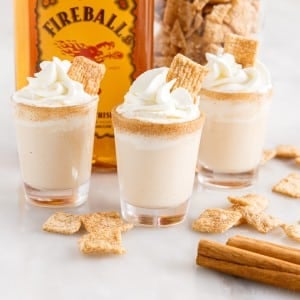 Cinnamon Toast Crunch Shot
This creamy dessert shot is made with RumChata and Fireball cinnamon whiskey – balanced together in a Cinnamon Toast Crunch Shot that tastes just like a bowl of cereal.
Ingredients
2 ounce RumChata liquor
2 ounce Fireball whiskey
Spray can whipped cream
Cinnamon toast crunch cereal
Cinnamon sugar for the rim
Instructions
Use a clean, damp paper towel to moisten the rim of two shot glasses. Place cinnamon sugar in a shallow dish and dip the rim of each shot glass into the cinnamon sugar.

Fill a cocktail shaker with ice.

Add 2 ounces of Rum Chata and 2 ounces of Fireball whiskey to the shaker. Shake vigorously.

Divide between the two shot glasses.

Top with a squirt of whipped cream and a piece of Cinnamon Toast Crunch cereal.
Notes
Serve immediately. Notes: Rumchata is a cream liqueur with cream, sugar, rum, cinnamon, and vanilla flavors. It is similar to an Irish cream, but with cinnamon flavor. Its flavor in this shot can be likened to the milk left in the bottom of the cereal bowl after eating cinnamon toast crunch. The Fireball Whiskey is spicy with a punch – making it quite necessary to shoot the drink. The whipped cream makes it a little more difficult to down the shot in one swoop, but the creaminess does cut some of the sting from the whiskey. Using spray can whipped cream is the obvious choice for an occasion where one is making cinnamon toast crunch shots, but the whipped cream melts quickly so this is a pour and shoot kind of drink, I'd say.
Nutrition
Calories: 71kcal | Carbohydrates: 0.03g | Potassium: 0.3mg | Sugar: 0.03g | Iron: 0.01mg