These peachy party jello shots are made with only 4 ingredients and are a must have for your next summer get together!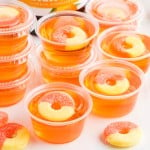 Jello shots are the perfect party starter and in the summertime we are always wanting something fresh and fruity! This time we chose to make peach jello shots topped with peach candy rings for a more festive look, and who doesn't like gummy snacks!
Your summer party isn't complete until you make a batch of jello shots. We make these every year, including our patriotic layered shots that everyone is always so impressed with.
Just a fair warning: You've heard too much of a good thing can be a bad thing? That goes for the alcohol in this recipe. When you see the alcohol ratio to other ingredients, you may be worried that the shots won't be stout enough. Trust me, I love a strong drink as much as the next person. I promise there is more than enough in these yummy peach jello shots. No need to change the measurements for on anything.
The last thing you want is to overdo it on the alcohol and ruin the shooters before your guests are about to arrive!
Ingredients for Peach Jello Shots
peach jello mix
Cold and boiling water
Peach Schnapps
Gummy peach rings
Before you start, place the shot cups on a baking sheet. Prepping the shots on a baking sheet makes them easier to serve and you don't have to chill each one individually.
How to Make the Best Peach Jello Shots
Whisk together the peach jello mix in a cup of boiling water until the jello powder is fully dissolved in a large measuring cup.
Stir in the cold water and peach schnapps. Mix until combined.
Pour jello mixture into plastic jello shot cups. Chill for 4 hours in the refrigerator or until they are set.
Place peach rings on top of each shot as a garnish just before serving.
Leaving the peach rings to sit on top of the jello shots for too long will make them slimy, so pop them on just before serving.
Keep jello shots refrigerated until consuming. They will liquify in the summer heat.
Garnish ideas – cherries, fresh peach slices (frozen), paper umbrellas, or a dollop of whipped cream.
Condiment cups are the perfect size, or you can also serve them in syringes (always a hit of any party).
Variations
Adjust the strength: For a stronger jello shot, use up to 1 full cup of peach schnapps. For a lighter jello shot, you can use additional cold water and less alcohol. You need two cups total of liquid to combine with the jello mixture.
Whiskey: Some choose to go with a whiskey base instead of peach schnapps. Just swap the schnapps for ¾ cup Crown Royal Peach.
Regular vodka: Substitute regular vodka for some portion of the peach schnapps and use both liquors or simply swap out the peach schnapps for all vodka – you will still get plenty of peach flavor from the jello itself.
Flavored vodka: Brands like Burnette's, Smirnoff, and Absolut have flavored peach vodka if you prefer.
Flavored rum: Malibu has a peach rum that is pretty tasty that you can experiment with.

What can I substitute for peach jello?
If you have a hard time finding peach gelatin, you can mix unflavored gelatin with sugar and cornstarch. Add some peach juice, then dissolve in boiling water as you normally would. You can also skip the peach flavored jello and die unflavored gelatin orange and just get the flavor from the liquor.
Does alcohol keep jello from setting?
If you add too much, yes, it can. We have tested this recipe and ¾ cup of alcohol was the best ratio to the other ingredients where they still tasted great and set up correctly. Even though jello shots may taste a little weak, they are strong, so no need for the extra booze.
How long does jello with alcohol take to set?
We recommend at least 4 hours. If you are making it for a party, it's best to make them a day in advance to have them out of the way.
How do you store peach jello shots?
Jello shots will keep in the fridge for up to 7 days. Cover if you use plastic cups that do not come with individual lids; otherwise, pop the lids on for storage. Do not store with candy on top of the jello.
MORE BOOZY FAVORITES YOU'LL LOVE
Peach Jello Shots
These peachy party jello shots are made with only 4 ingredients and are a must have for your next summer get together!
Ingredients
1 – 3 oz. box peach jello mix
1 cup boiling water
¼ cup cold water
¾ cup Peach Schnapps
Peach candy rings
Instructions
In a 2 cup measuring cup, whisk together peach jello mix and 1 cup of boiling water until jello is fully dissolved.

Once the jello is fully dissolved, stir in the cold water and the peach schnapps. Mix until combined.

Carefully pour the mixture between small plastic shot cups. Fill just under the top so they don't spill.
Nutrition
Calories: 74kcal | Carbohydrates: 12g | Protein: 1g | Sodium: 45mg | Potassium: 1mg | Sugar: 12g | Calcium: 1mg | Iron: 0.01mg