This simple garlic butter sauce recipe comes together in minutes and can be used with seafood, steak, pasta, and vegetables.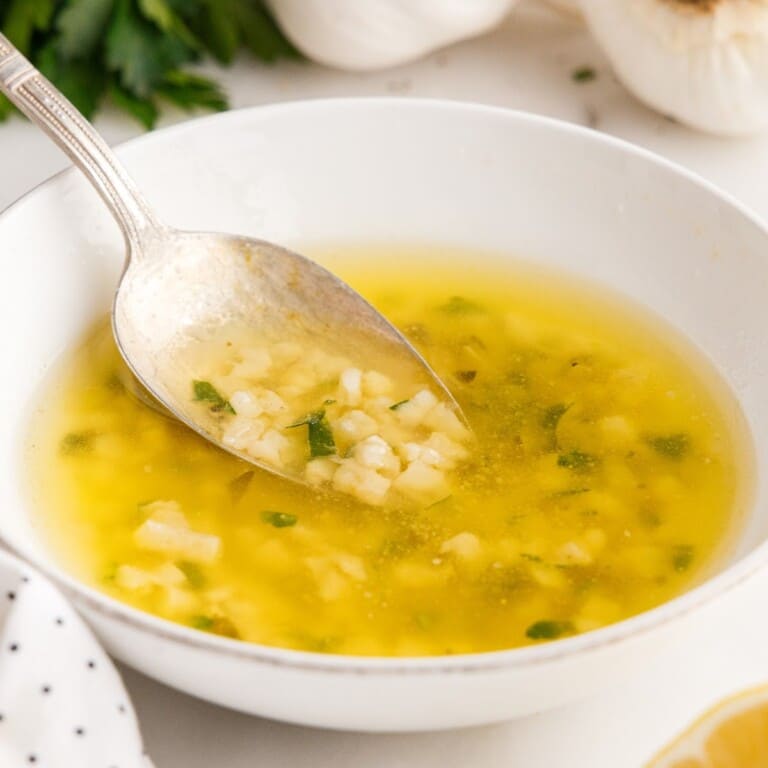 Lemon garlic butter sauce has so much flavor and can be used with pasta, as a dipping sauce, or with chicken breast and fish. The best part is that it's made with 5 simple ingredients, ready in 10 minutes, and is a versatile recipe.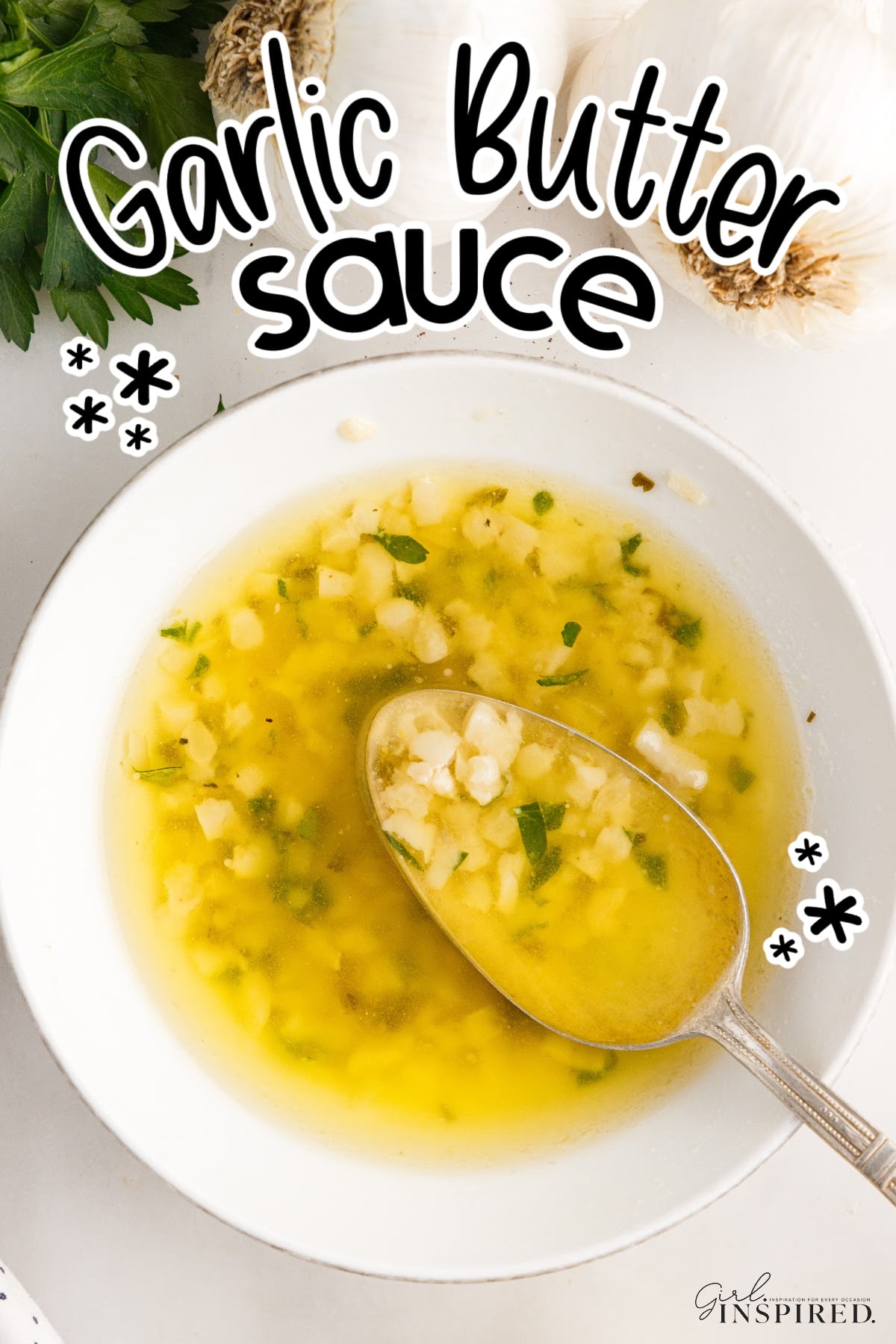 This simple sauce is very similar to compound butter, except in liquid form, making it the perfect recipe to use with a variety of dishes. Sometimes we even drizzle it over potatoes and grilled trout. It's also the easiest way to add flavor to grilled veggies like asparagus, sweet corn, red potatoes, or fresh green beans. Don't forget you can also slather it on a juicy bbq Tomahawk steak or use the garlic butter sauce for pasta.
Some of my favorite recipes to make are sauces and seasonings, because they cost so much at the store! It is quick and simple to make them at home with basic ingredients for a fraction of the price. I've recently started making my own Ranch dressing recipe (and ranch seasoning packet recipe) along with lemon pesto.
Jump to:
🍋 Ingredients: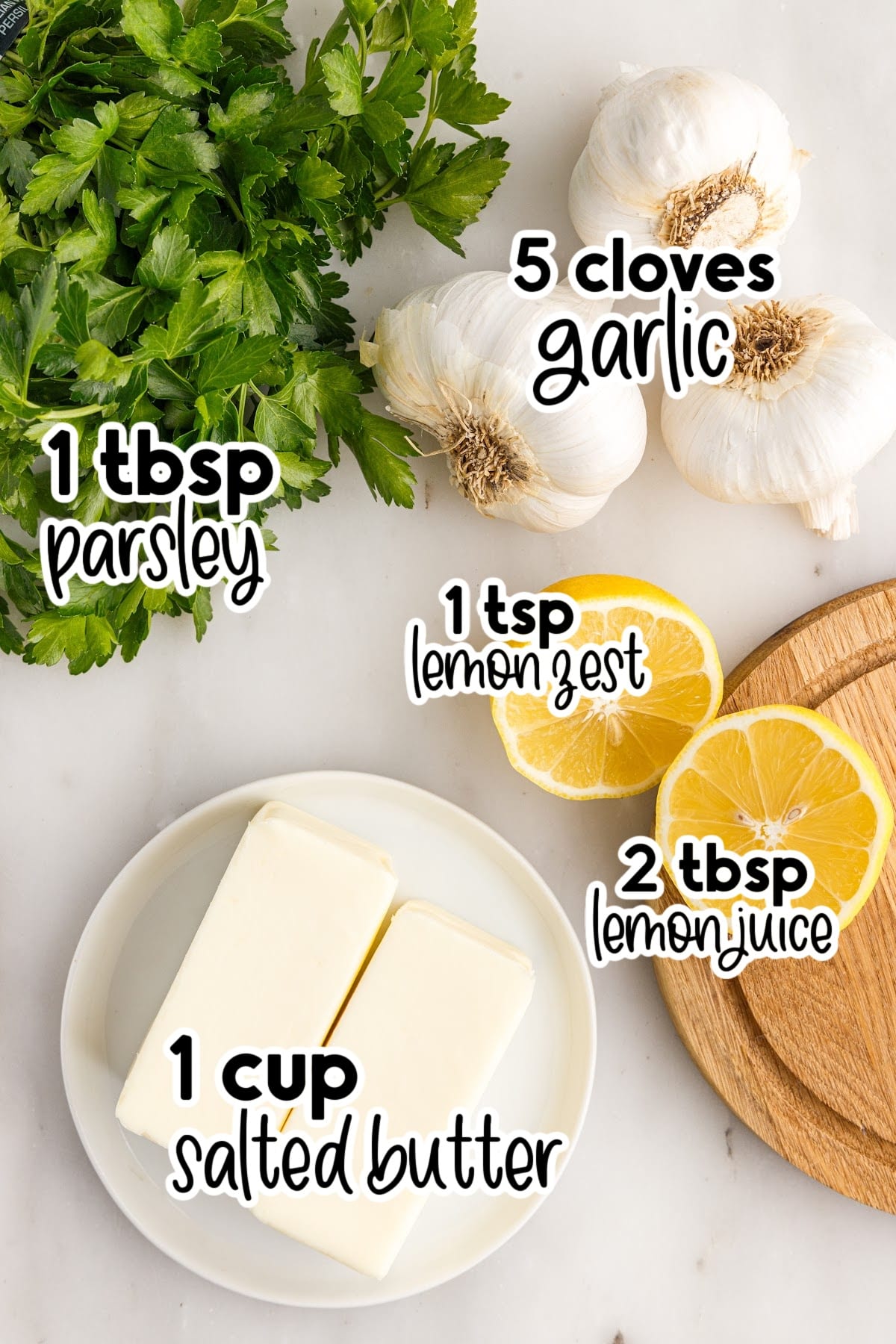 salted butter – we recommend using real butter for the best results. If you use unsalted butter, season to taste with sea salt.
garlic cloves – mince fresh garlic (or grab a container of store bought garlic that is already minced as a last resort.) Garlic powder can be substituted, but the best flavor comes from the freshest ingredients.
lemon zest and fresh lemon juice
fresh parsley – adds a dash of flavor and a pop of color.
For a full list of ingredients and their measurements, 📋 please view my printable recipe card at the bottom of the post.
Optional Garnish:
This easy garlic butter sauce recipe makes a great dipping sauce for shrimp, lobster tails, crab legs, and the classic cajun seafood boil. You can also stir this quick recipe into your favorite pasta or dip leftover pizza crust in it.
Substitutions and Variations
Seasoning – It's a delicious sauce following the recipe, but you can add your own seasonings such as fresh herbs (rosemary and thyme) or red pepper flakes (or cayenne pepper) to make it spicy. If you are using butter garlic sauce with seafood recipes, you can add Old Bay seasoning for a nice touch.
Vegan – use vegan butter instead.
🔪 Instructions:
PREP: Chop the parsley and mince the garlic cloves.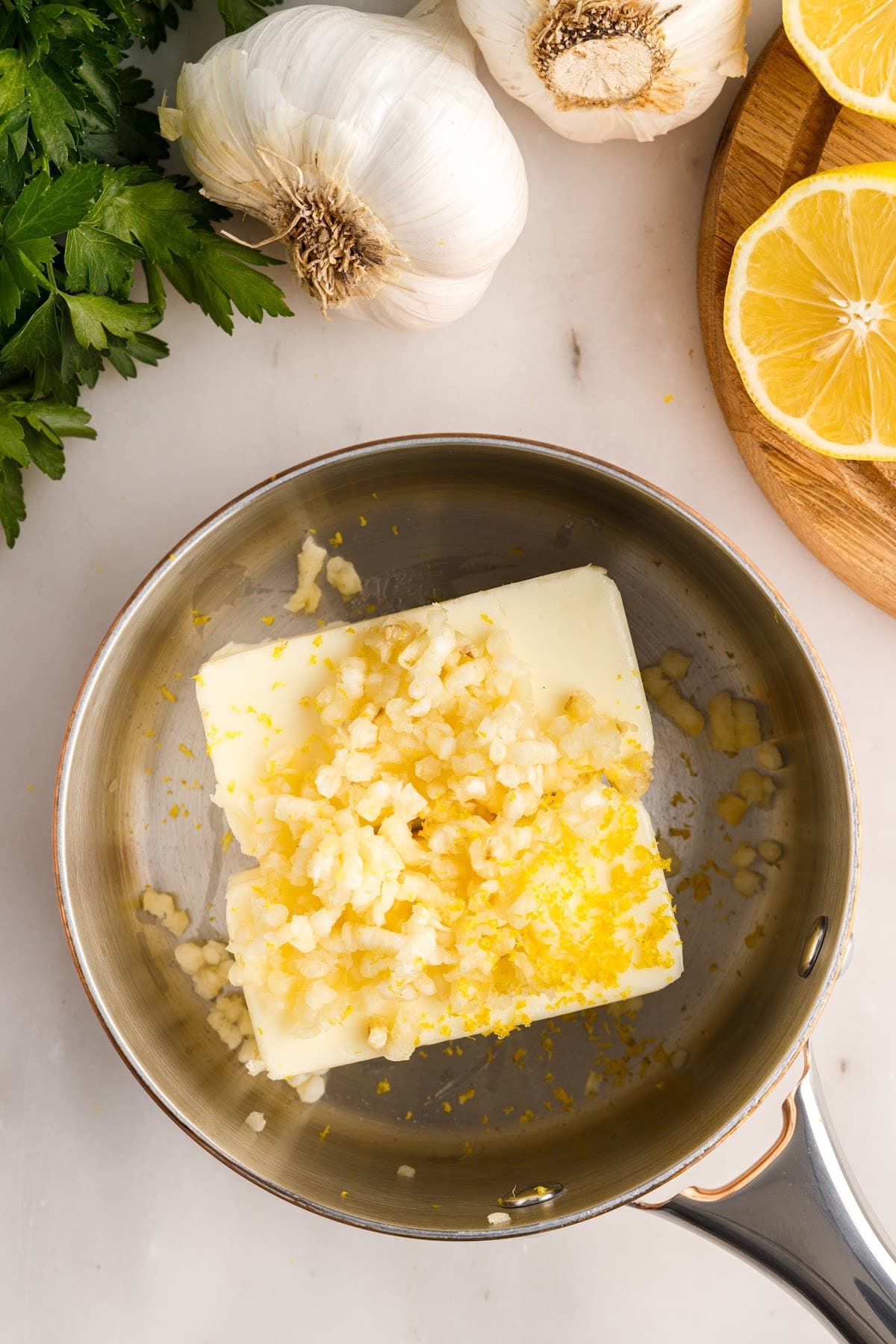 Step 1: Melt the butter in a small sauce pan with the minced garlic and lemon zest over medium heat.
Step 2: Simmer over low heat until the garlic has softened and whisk constantly for 3-5 minutes.
Step 3: Remove the melted butter mixture from the heat and stir in the lemon juice and parsley.
Step 4: Season with salt and black pepper to taste.
Pro Tip: Don't over brown the butter, it will alter the taste of the sauce.
SERVE: Ladle garlic butter sauce over veggies, steak, chicken, or fish and serve!
When using unsalted butter, you will probably need to add more salt. Some prefer only adding pepper when using salted butter.
The amount of lemon juice can be adjusted based on the dish you are serving the garlic butter sauce with. More lemon pairs well with veggies and fish.
Do not use high heat when melting the butter. This will yield brown butter, which is tasty (and my personal fave), but gives a totally different flavor than what we are going for with this recipe.
Fun Fact
If you over cook minced garlic, it will leave a bitter taste in the dish. We are just simmering it in the butter here to infuse the flavors; it's less likely you will overcook or burn it in this recipe.
Recipe FAQs
How to store homemade garlic butter sauce?
This buttery sauce can be kept in an airtight container in the refrigerator for 5 days. You can freeze garlic butter sauce in ice cube trays to keep it longer. To reheat after storing, add to a saucepan or skillet and cook over low heat until it's warm through. You can take the garlic butter dipping sauce cubes straight from the freezer and heat them versus waiting on them to thaw.
Can you put garlic butter sauce on rolls?
Yes, and it's absolutely delicious! We recommend drizzling over bread once it is done toasting.
Serve Garlic Butter Sauce With
If you tried this Garlic Butter Sauce or any other recipe on my website, please please leave a 🌟 star rating and let me know how you liked it in the 📝 comments below.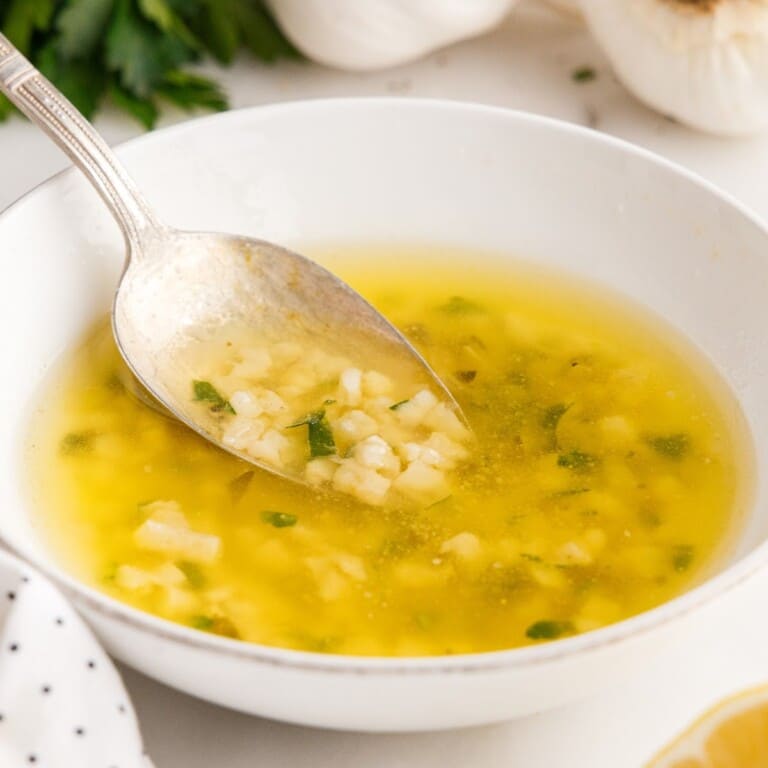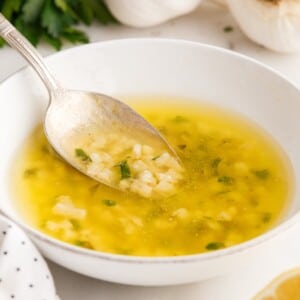 Garlic Butter Sauce
This simple garlic butter sauce recipe comes together in minutes and can be used with seafood, steak, pasta, and vegetables.
cup
Ingredients
1 cup salted butter 2 sticks
5-6 cloves of garlic minced
1 teaspoon lemon zest
2 tablespoons lemon juice
1 tablespoon freshly chopped parsley
Instructions
In a small saucepan, melt the butter, minced garlic, and lemon zest over medium-low heat.

Simmer over low heat, whisking constantly, for 3-5 minutes, until the garlic has softened.

Remove from heat. Whisk in the lemon juice and the freshly chopped parsley.

Season with salt and pepper, to taste.

Serve over fish, chicken, steak, or vegetables!
Notes
If you use salted butter, you may only need to add pepper. When using unsalted butter, we recommend adding a little more salt. When serving with vegetables and fish, add more lemon juice! The flavors go well with each other. You can adjust the lemon juice based on what dish you are putting the butter sauce on. Simmer the butter over low or medium low heat. High heat will cause it to brown, changing the entire flavor of the sauce.
Nutrition
Calories: 1659kcal | Carbohydrates: 8g | Protein: 3g | Fat: 184g | Saturated Fat: 117g | Polyunsaturated Fat: 7g | Monounsaturated Fat: 48g | Trans Fat: 7g | Cholesterol: 488mg | Sodium: 1465mg | Potassium: 171mg | Fiber: 1g | Sugar: 1g | Vitamin A: 6014IU | Vitamin C: 24mg | Calcium: 92mg | Iron: 1mg