This Tomahawk Steak BBQ recipe consists of enormous, succulent and flavorsome cuts of beef seared on the grill and then finished off over low heat.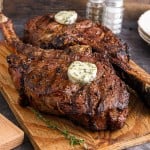 Tomahawk steaks are the most enormous, succulent, and flavorsome cuts of beef with enough meat to satisfy a ravenous cowboy or sliced cuts to serve at a dinner party. Enjoy this juicy Tomahawk steak BBQ recipe with a glass of cabernet sauvignon wine or cabernet sauvignon/ merlot.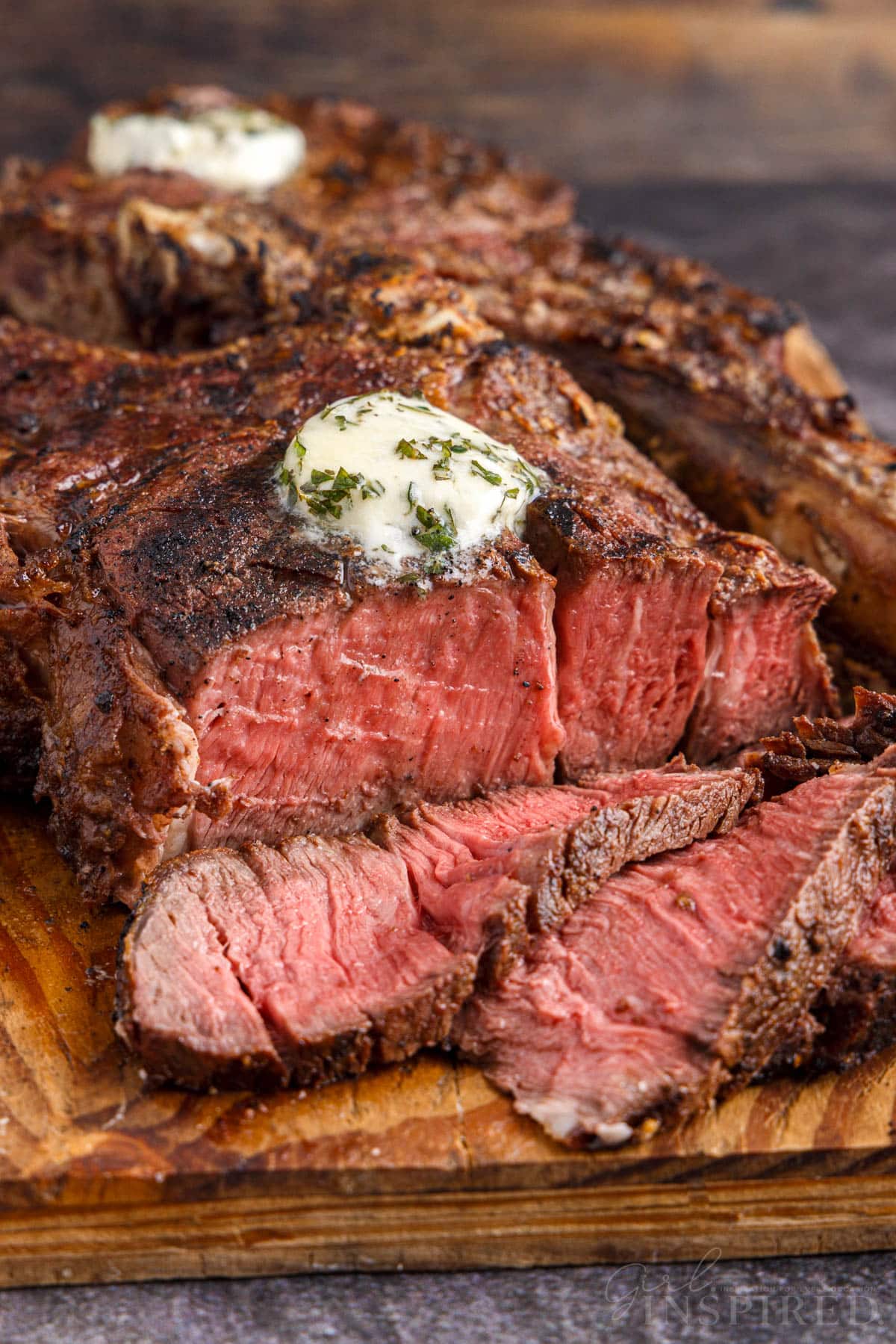 Despite its size, this cut of meat is quick and easy to prepare. The juicy steak with delectable grill marks is perfect for a special occasion or family dinner paired with Duchess Potatoes, Pull Apart Garlic Bread, Brown Sugar Honey Glazed Carrots, or Artichoke Rice Salad.
If you love thick steaks, be sure to try Crockpot Steak Bites, Beef and Broccoli, or this tri-tip roast cooked in the slow cooker! And if delicious beef is what you're after, do not miss out on our family favorite – this classic pot roast recipe is the best for Sunday dinner.
Jump to:
🥩 Ingredients: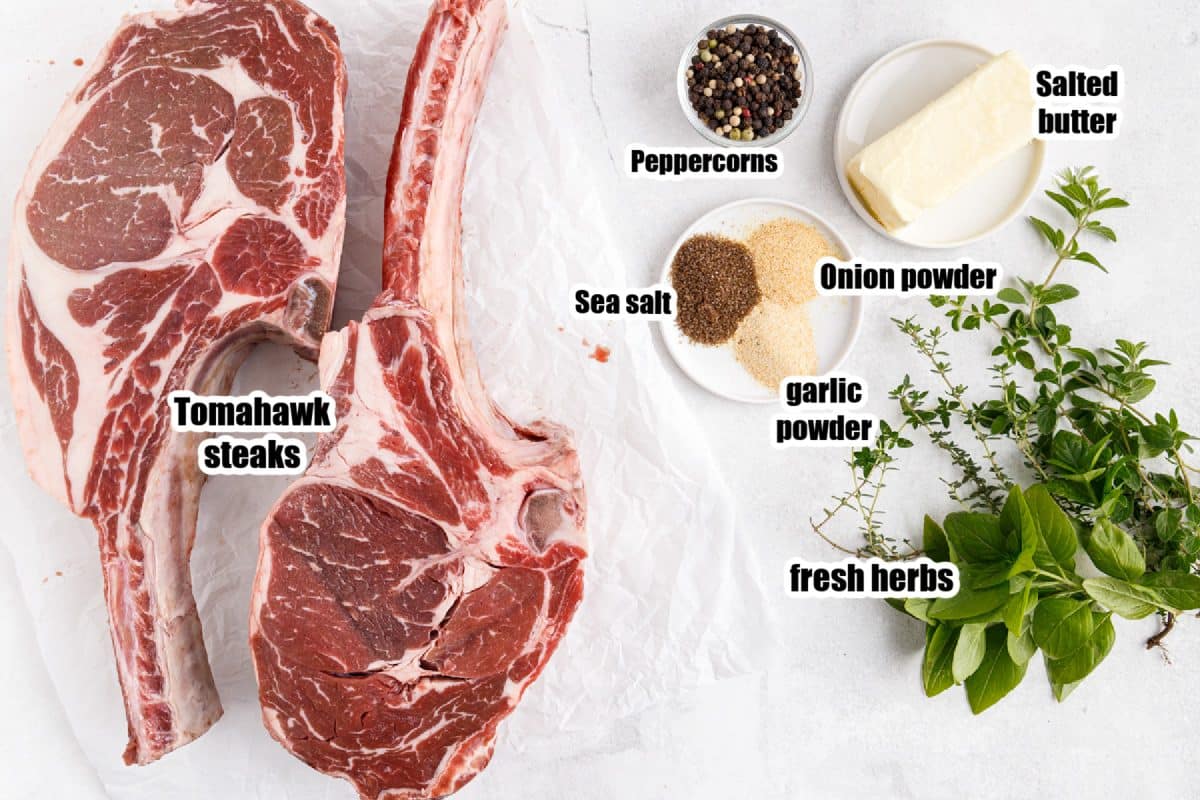 Tomahawk steaks – The best steaks for this recipe should be 3-4 pounds each. Allow the steaks to reach room temperature.
Peppercorns – Freshly ground tri-color peppercorns.
Sea salt – I have also used smoked sea salt or another specialty salt. Kosher salt can also be used.
Seasoning – Onion powder and garlic powder.
Salted butter – Softened.
Chopped fresh herbs – Thyme, oregano, and basil.
Optional Garnish:
Garnish this delicious steak with sliced herb butter.
Substitutions and Variations:
Garnish your Tomahawk ribeye steaks with a different compound butter of your preference.
Cook your steak to your desired doneness. Thick ribeye steak can be enjoyed rare, medium-rare, medium doneness, or well done. You can check on the doneness of your cowboy steak by using an instant-read thermometer.
Change the spices when seasoning the steak. You can also change the fresh chopped herbs used.
Marinade the steak for longer than 10 minutes to intensify the flavor.
🔪 Instructions:
PREP: Allow each Tomahawk chop to sit for 5-10 minutes to reach room temperature before cooking.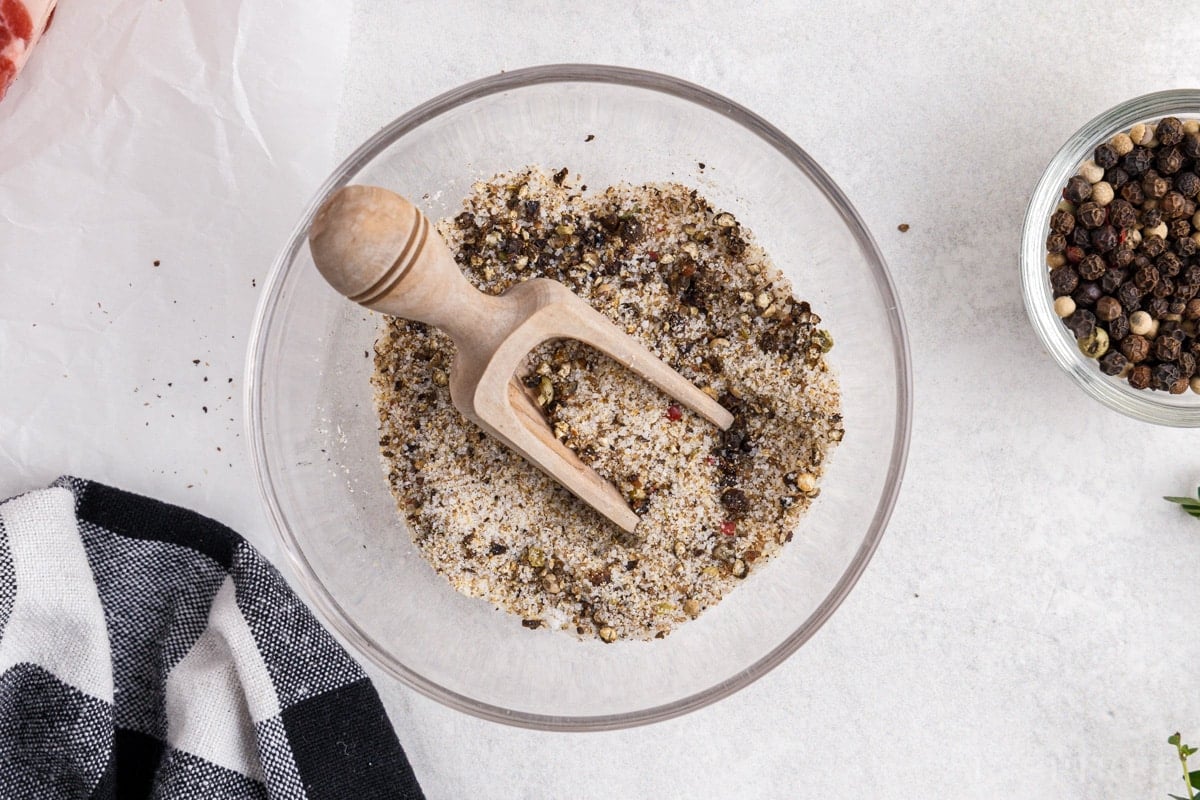 Step 1: Combine the ground peppercorns, salt, garlic powder, and onion powder in a small bowl.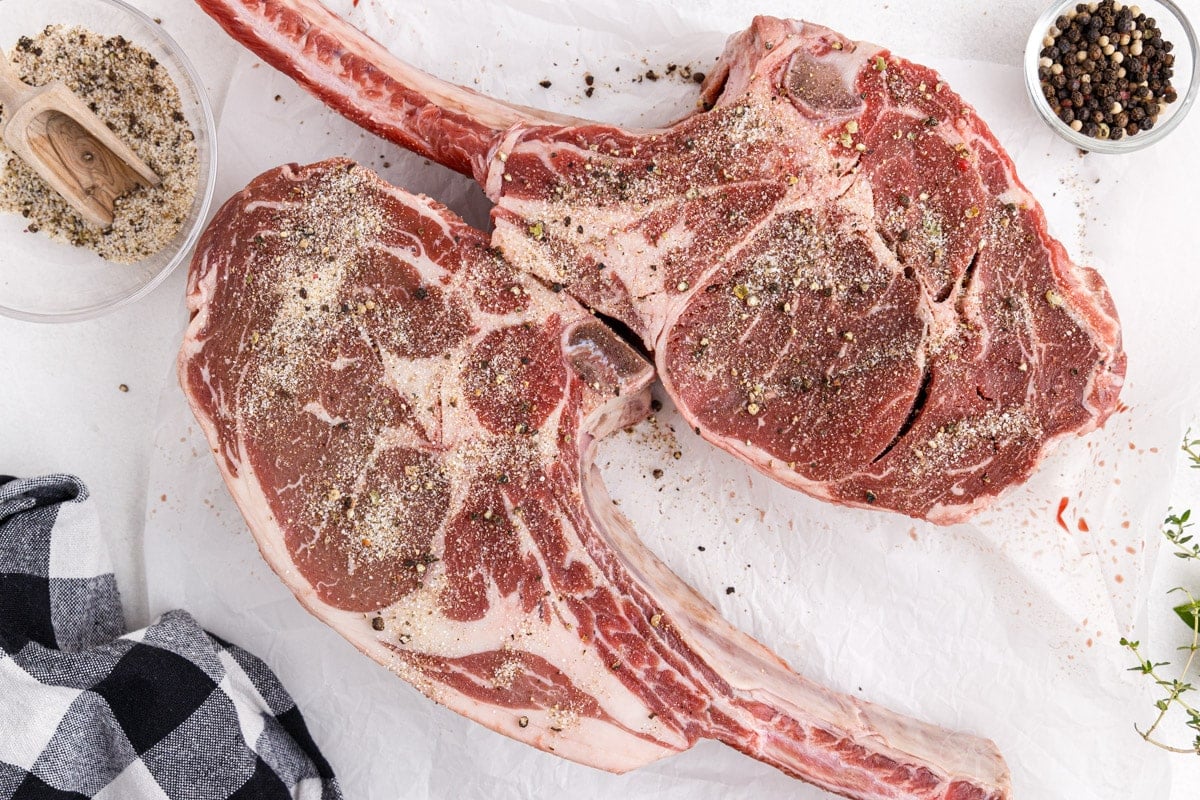 Step 2: Rub the seasoning mixture into each large steak and allow it to rest for 10 minutes. Each side of the Tomahawk steak must be marinaded.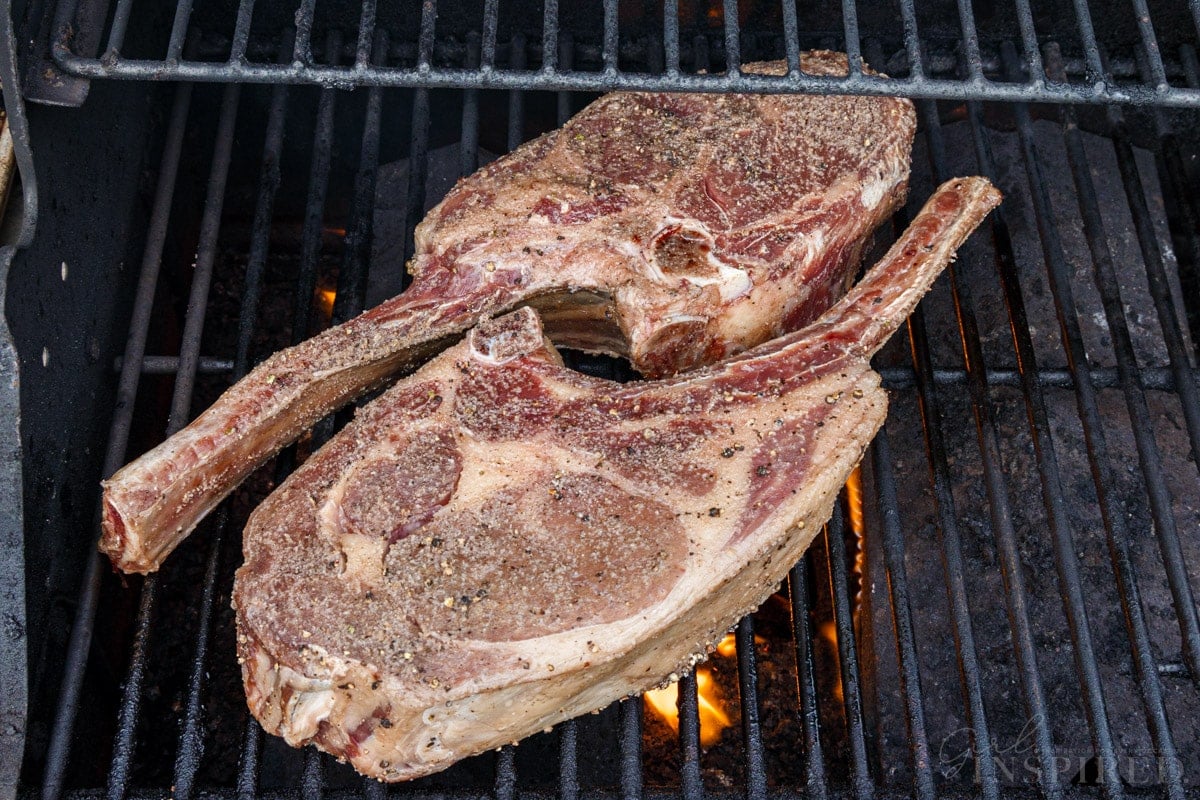 Step 3: Brush a hot grill with oil (vegetable or avocado oil) and place steaks on one side for 5 minutes. Turn for reverse searing. The grill should be around 450F-500F.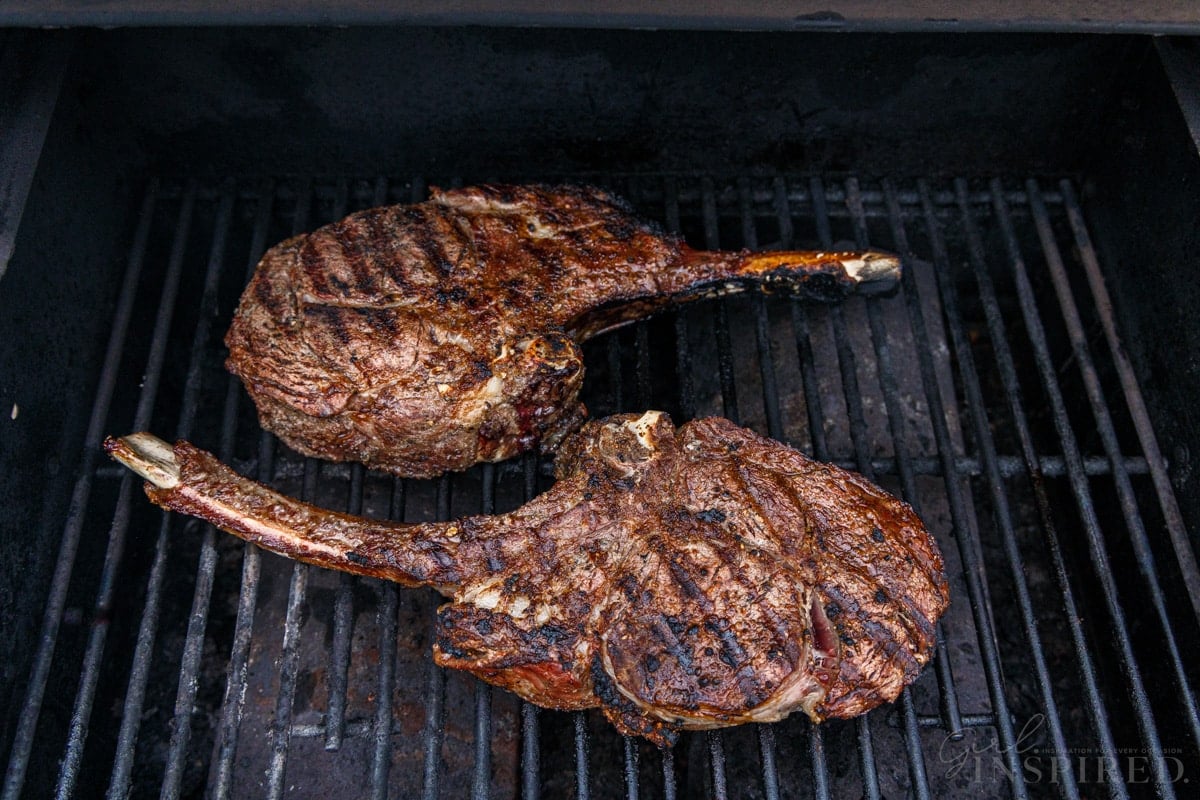 Step 4: Reduce the grill temperature to 130F (low heat) and continue to cook the sides of the steak for another 20 minutes. This will give you medium rare steaks.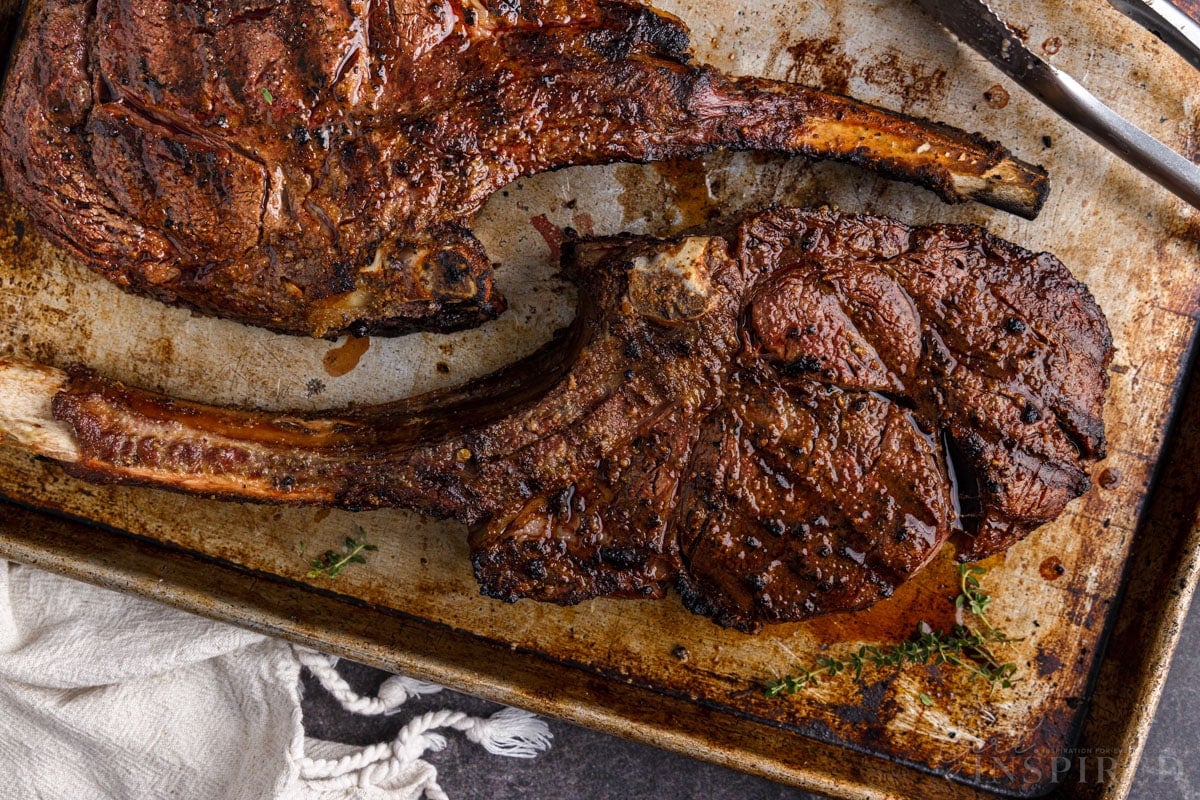 Step 5: While the steaks cook, make the compound butter, roll it in plastic wrap, and store it in the freezer to firm up. Remove the Tomahawk steaks from the grill and allow them to rest for 10 minutes.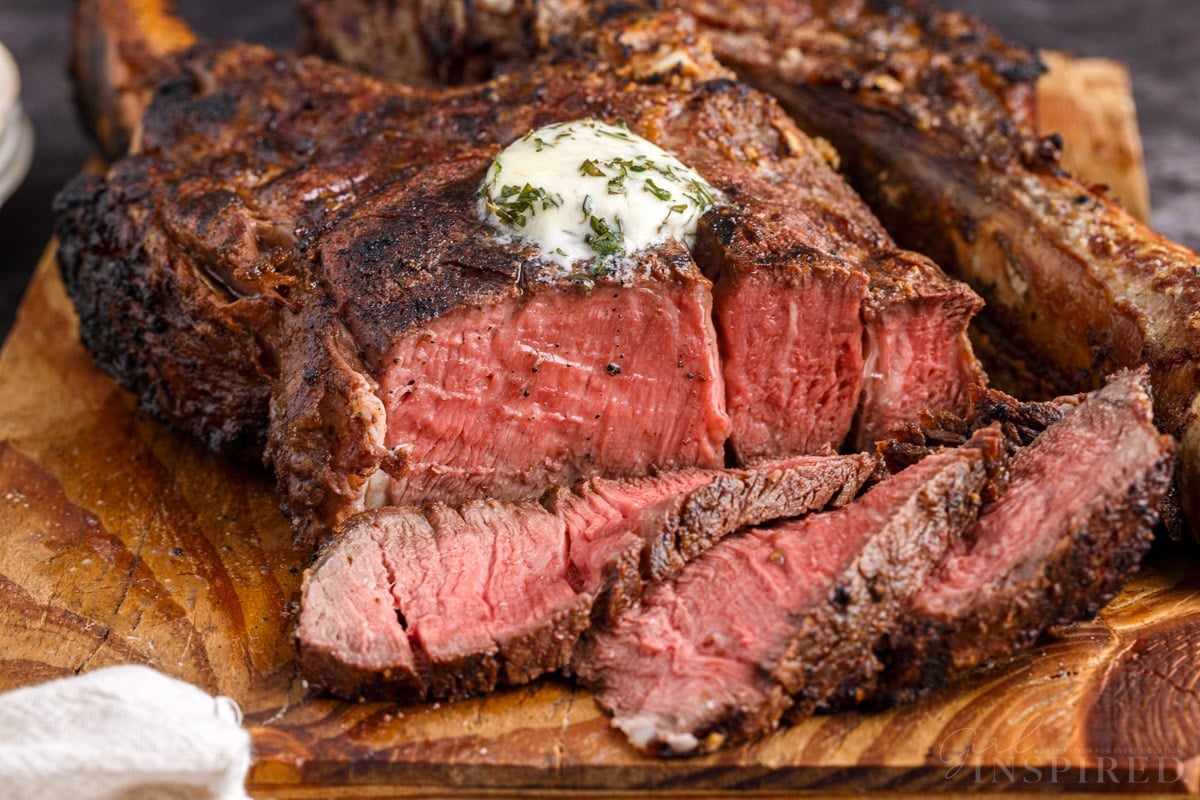 Step 6: Slice the steaks against the grain once rested.
GARNISH: Garnish with sliced compound butter.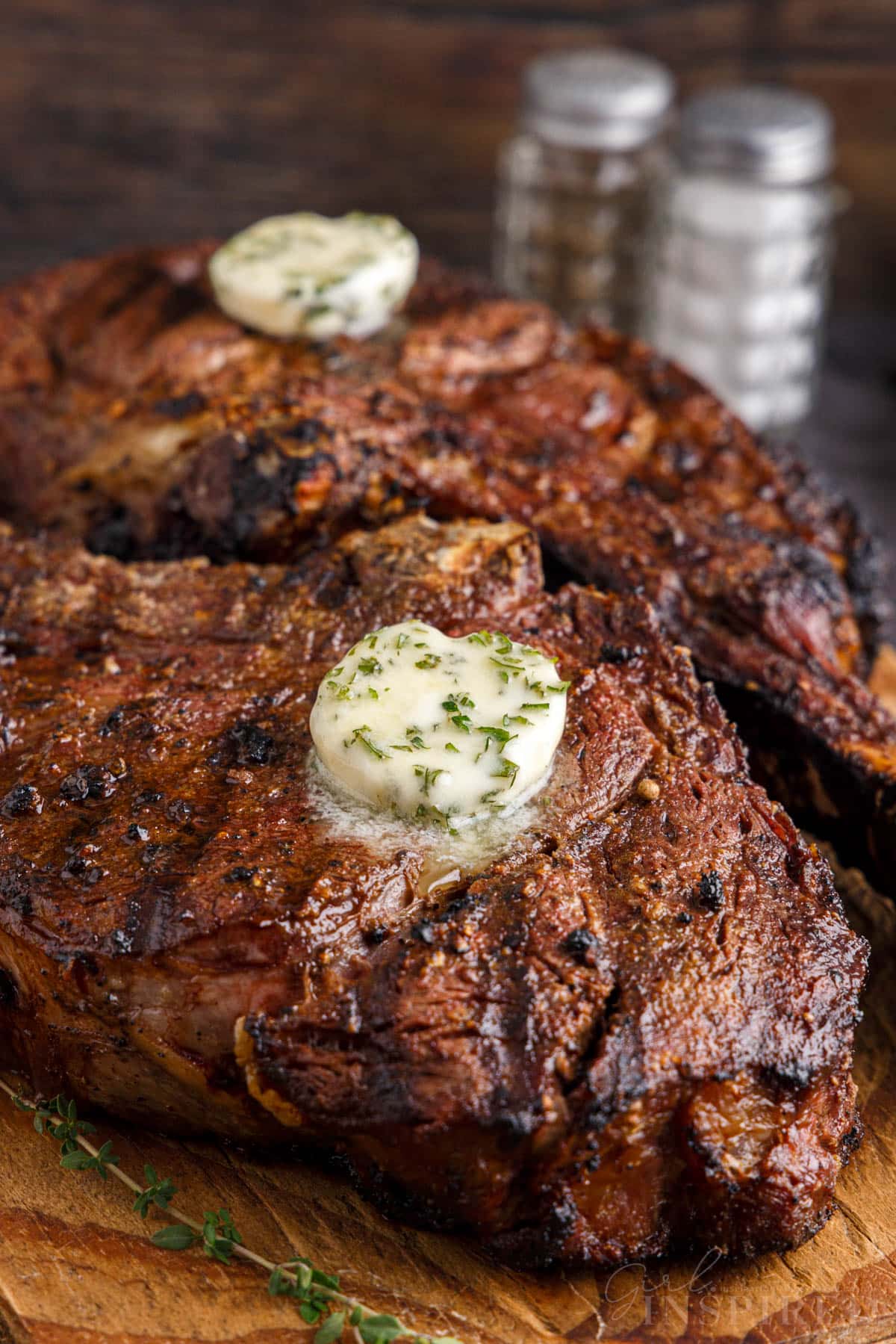 Once cooked to perfection, garnish the meat with the compound butter that you have made. This adds to the juiciness and softens the crusty searing of the meat.
Lovely spices and salts can be used as a rub initially but smoked sea salt added to your other salt is just the best.
Grind whole peppercorns in a mortar and pestle to make your freshly ground pepper, or put the peppercorns into a grinder spice bottle.
Once cooked, slice the meat from the bone and then slice it against the grain.
Leftovers can be stored in an airtight container in the refrigerator for 2-3 days or you can freeze it for up to 1 month.
Arrange the meat on a platter against the bone and serve with garnishing.
Buy your Tomahawk steaks from the meat section of high-end stores, butcheries, or online.
Fun Fact
A Tomahawk steak is actually a bone-in ribeye steak with the bone left to protrude up to 12 inches from the meaty section. The bone is cleaned of any fat or meat and this procedure is referred to as the bone being "frenched".
These steaks come from the rib cage muscles of a cow and the best part comes from around the 6th rib area. This is the most tender section of the rib cage. However, cuts taken from ribs further down are just as tasty but a little tougher.
I'm sure you've realized by now that the term tomahawk comes from the shape of the bone and the meat looking like a tomahawk tool!
Recipe FAQs
Is The Long Bone Just For Decorative Purposes?
The long bone shaft does look dramatic and decorative but, like a cooking rack of lamb, this bone adds important insulation to the cooking of the meat, helping to preserve its distinctive juicy and rich flavors as well as its tenderness.
Why Is It Important To Rub Salt and Other Seasonings Into the Steak?
Not only does the salt and pepper (and other ingredients like garlic and onion powder) add to the flavor of the meat, but the salt draws the juices of the meat up to its surface.

The salt dissolves into those juices forming a brine which is then reabsorbed into the meat enhancing its natural flavor. As these steaks are thicker than regular steaks it is necessary to be quite liberal with the amount of salt rubbed into the raw meat.
What Is The Purpose of Letting The Steak Sit Before Searing It?
Well, this answer is partly answered in the question above, but there is more to this process. In this recipe, I've allowed 10 minutes for sitting once rubbed with the salts and spices, but if you are wanting to upscale your steak experience for an important dinner party you will want to let your steaks sit for a couple of hours, salted and uncovered in the refrigerator. This is the ultimate in ensuring optimum tenderness and moisture.
How Do I Cook Tomahawk Steaks If I Don't Have a Grill?
If you don't have a grill, no problem! Although I have based this recipe on using a grill, it is easy to sear the ready-prepared steaks on the stovetop, preferably in a cast iron skillet.

Simply follow the instructions for the grill by searing each side for up to no more than 5 minutes. You will have in the meantime set your oven to 375F and will then transfer the steaks onto a baking tray and put them in the oven to cook for approximately 30 minutes to reach an internal meat temperature of 130F. At this stage, it is vitally important to use a meat thermometer as you really don't want to overcook this juicy and tender steak.
How Do I Know If My Steaks Are Done According To How I Like My Meat Cooked?
Once again I want to emphasize the usage of a quality meat thermometer. Guesswork will result in great disappointment!
Most chefs agree with the following temperature readings on their thermometers:
Rare steak = 120F
Medium rare steak = 130F
Medium well-done steak = 140F
Well done steak = 150F
Why Must I Let My Steak Rest After Cooking?
This is another very important thing to do before serving your steak. Remember that your meat will continue to cook when removed from the grill or oven. If you cut into your steak before the resting time is up you will be letting out residual cooking heat and juices will run onto the plate instead of continuing to be absorbed into the meat.
Looking for some easy side dishes to accompany your BBQ recipe? Try our delicious Amish potato salad or Amish style macaroni salad.
More Beef Recipes You'll Love!
If you tried this Tomahawk Steak BBQ recipe or any other recipe on my website, please please leave a 🌟 star rating and let me know how you liked it in the 📝 comments below.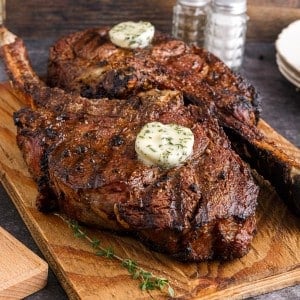 Tomahawk Steak BBQ
This Tomahawk Steak BBQ recipe consists of enormous, succulent and flavorsome cuts of beef seared on the grill and then finished off over low heat.
Ingredients
2 Tomahawk steaks 3-4 pounds each
1 tablespoon freshly ground tri-color peppercorns
2 teaspoons sea salt
1 teaspoon smoked sea salt or substitute another specialty salt or just more sea salt
½ teaspoon onion powder
½ teaspoon garlic powder
½ cup salted butter softened
2 tablespoons chopped fresh herbs we used thyme, oregano, and basil
Instructions
Set out steaks at least 30 minutes before cooking to bring them to room temperature.

In a small bowl, combine ground peppercorns, sea salt, smoked salt, onion powder, and garlic powder.

Divide the spice mixture between the two tomahawks and rub into the meat all over. Allow the spice mixture to sit on the meat for at least 10 minutes before cooking.

Meanwhile, heat a grill on high until it reaches 450°F-500°F.

Brush grates lightly with vegetable oil if desired.

Place the tomahawks onto the heated grill, searing on one side for 5 minutes without moving the steak, then flipping the steaks, switching their positions and searing for another 5 minutes on the other side. Maintain an extra hot grill throughout this time.

Turn the grill down to low and continue cooking the steaks another 20 minutes, or until the internal temperature reaches 130°F (for medium rare).

Meanwhile, combine softened butter and fresh herbs. Roll into a small log wrapped in plastic wrap and place in the freezer to firm up.

Remove tomahawks from the grill and let them rest for 10 minutes before slicing against the grain.

Garnish with a slice of the herb butter.
Notes
Tomahawk steaks are a high quality and typically pricey cut of beef, but the flavor is well worth the payoff, if you're looking for a special and delicious steak. I purchase tomahawks from a specialty local butcher for the best quality. An instant read digital thermometer is essential for achieving your perfect cook. When you're working with an expensive cut of meat, like a tomahawk, it's imperative that you don't overcook. We sear the meat at a high temperature on the grill to lock in the juices and flavor and then turn down the heat so get the inside up to temperature. You can also sear on the grill and finish it off in the oven.
Nutrition
Calories: 149kcal | Carbohydrates: 1g | Protein: 8g | Fat: 13g | Saturated Fat: 7g | Polyunsaturated Fat: 1g | Monounsaturated Fat: 5g | Trans Fat: 0.3g | Cholesterol: 43mg | Sodium: 662mg | Potassium: 120mg | Fiber: 0.3g | Sugar: 0.03g | Vitamin A: 303IU | Vitamin C: 1mg | Calcium: 10mg | Iron: 1mg