These tender, but crisp brown sugar honey glazed carrots are a tad sweet and full of flavor! Such a simple vegetable side dish that is ready in under 30 minutes!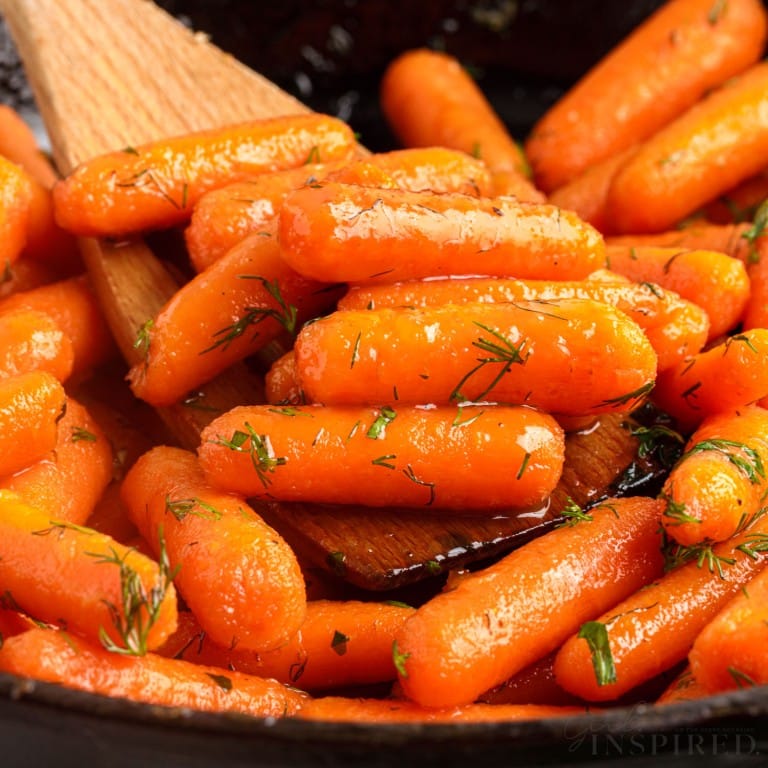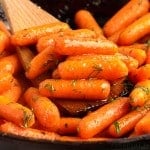 This brown sugar honey glazed carrots recipe is the best go to side dish, especially during the holidays! It is budget friendly, easy to make, and can easily be doubled or tripled for crowds. The sticky glaze is just sweet enough, while the spices and herbs add even more flavor. Fresh dill, thyme, and black pepper create perfect counter balance to the sweetness in the buttery glaze.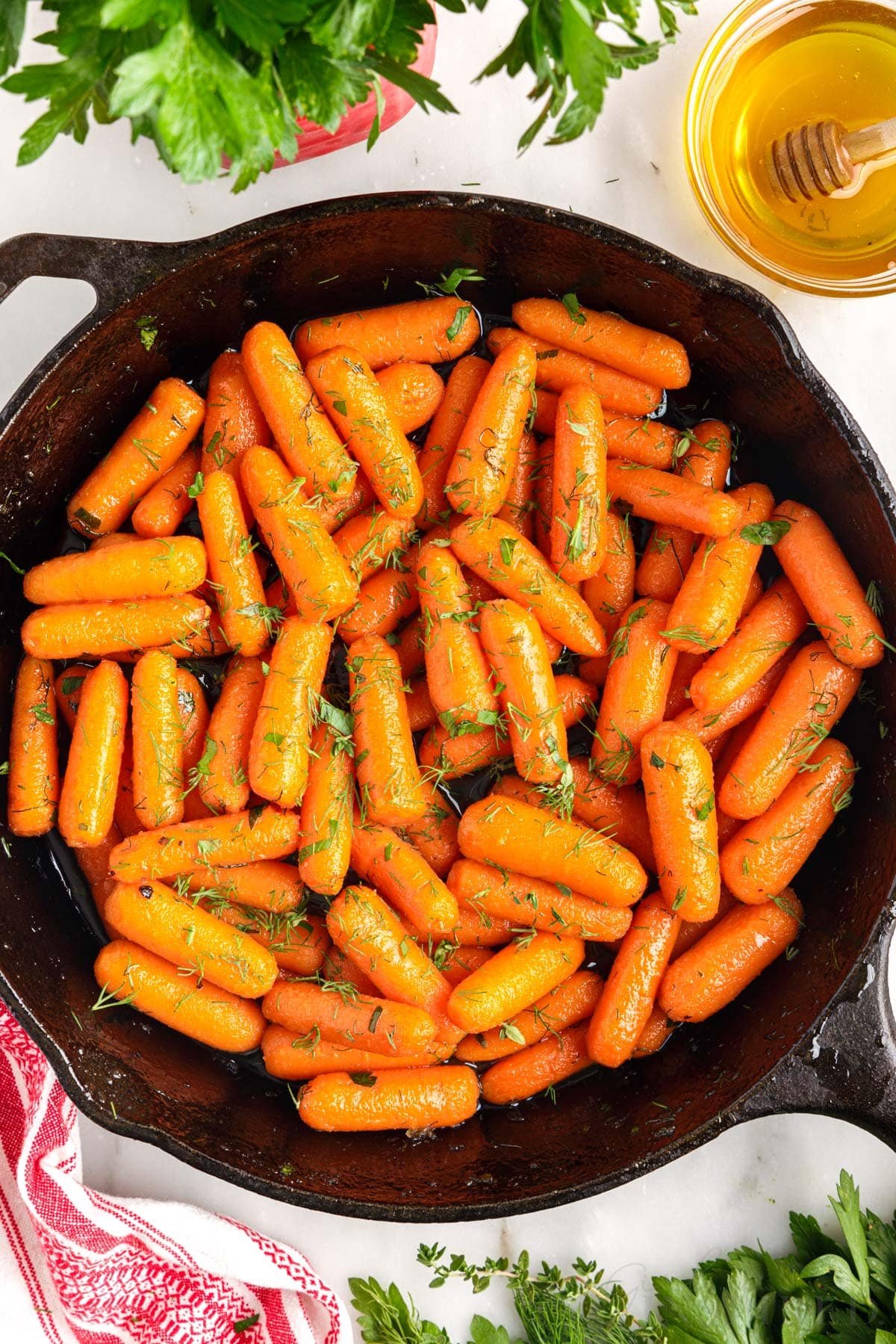 I will be the first to admit, I used to hate eating cooked carrots. Once I learned how to properly cook them with the right seasonings and to tender crisp doneness, I can no longer resist glazed carrots! We are planning on serving these during the holidays, but I've been making them during busy weeknights (with crockpot Mississippi pot roast) to add some color to our plates, because they are just that simple to whip up!
Even though they are slightly sweet, they go with just about anything, including air fryer filet mignon, our classic pot roast recipe, and holiday brown sugar glazed ham! Usually when I serve these, I go easy on the other sides (so flavors don't clash) with something like instant pot corn on the cob, baked potatoes in the air fryer, or duchess potatoes.
Why You'll Love This Glazed Carrot Recipe
Quick and easy.
Minimal ingredients required.
Goes with just about any main course and side dish.
Perfect for holidays and feeding a crowd.
Inexpensive to make.
What Ingredients do I Need for Glazed Brown Sugar and Honey Carrots ?
baby carrots – you don't even have to peel them!
water
unsalted butter
light brown sugar – be sure to pack it when measuring so it's accurate
honey
Salt and black pepper
fresh dill, thyme, and/or parsley, as garnishes
Pro Tip: If you have a leftover bag of regular carrots, you can use the same recipe just chop them up or slice them so they are mini-sized.
How to Make Brown Sugar Honey Glazed Carrots
PREP: Place the water and carrots in a large skillet. Bring to a simmer.
COOK: Add the salt and cook until the water has completely evaporated and they are starting to soften. Stir in the sugars, butter, and honey. Continue cooking until the mixture has reduced to a glaze.
GARNISH: Season with salt and pepper to taste. Sprinkle with fresh herbs, toss, and serve!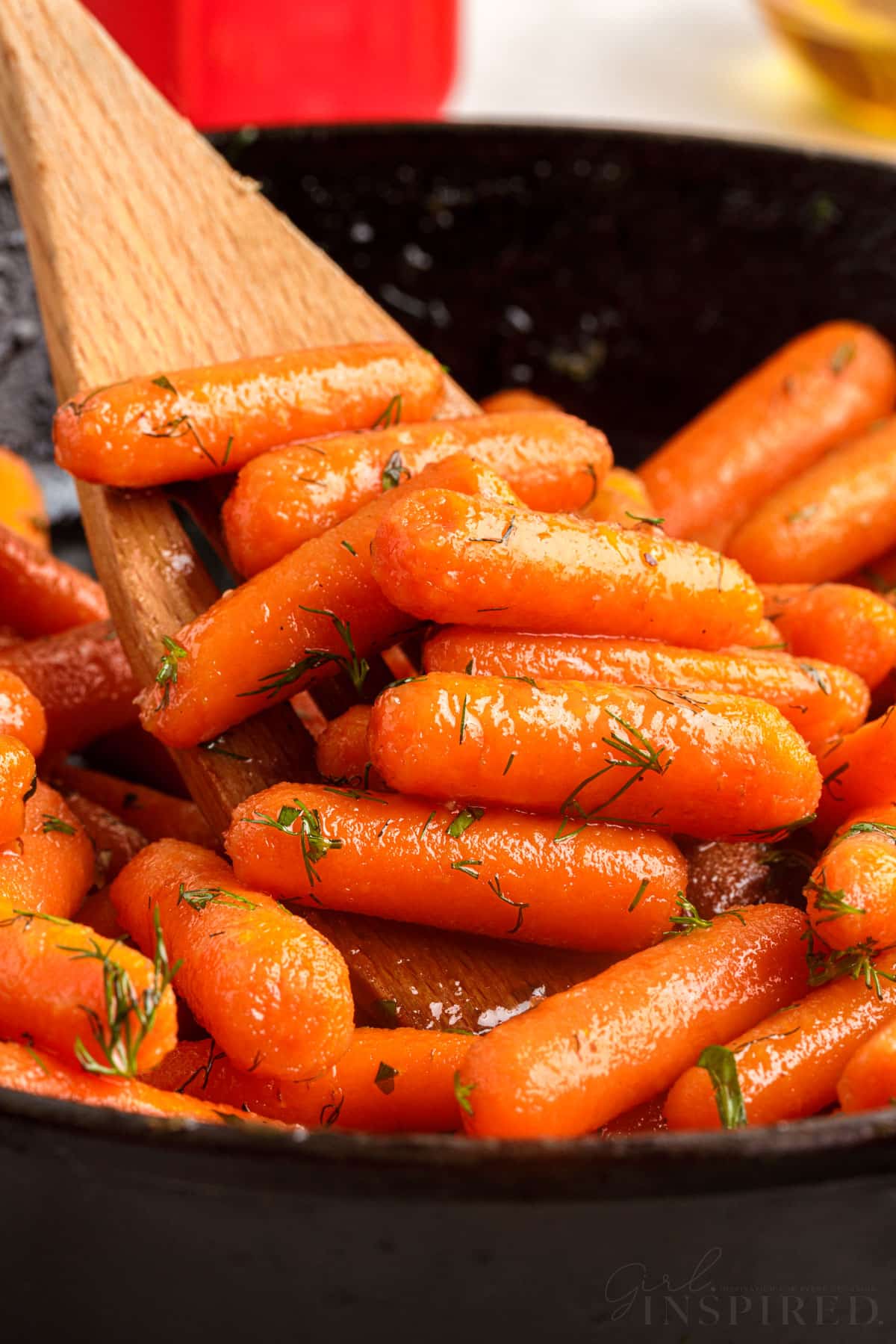 For softer carrots, simmer in more water until desired tenderness. Then drain the water before adding the ingredients for brown sugar honey glaze.
This recipe makes enough glaze for 2 pounds of carrots. Simply double as needed.
Feel free to swap the herbs with your favorites! Carrots go well with most and the herbs balance out the sweetness perfectly!
For more sweetness (add honey to taste) and/or leave out the herbs.
Fun Fact
Before orange carrots came to the market (late 1600s), the only carrots that were produced were those with white, purple, and yellow roots.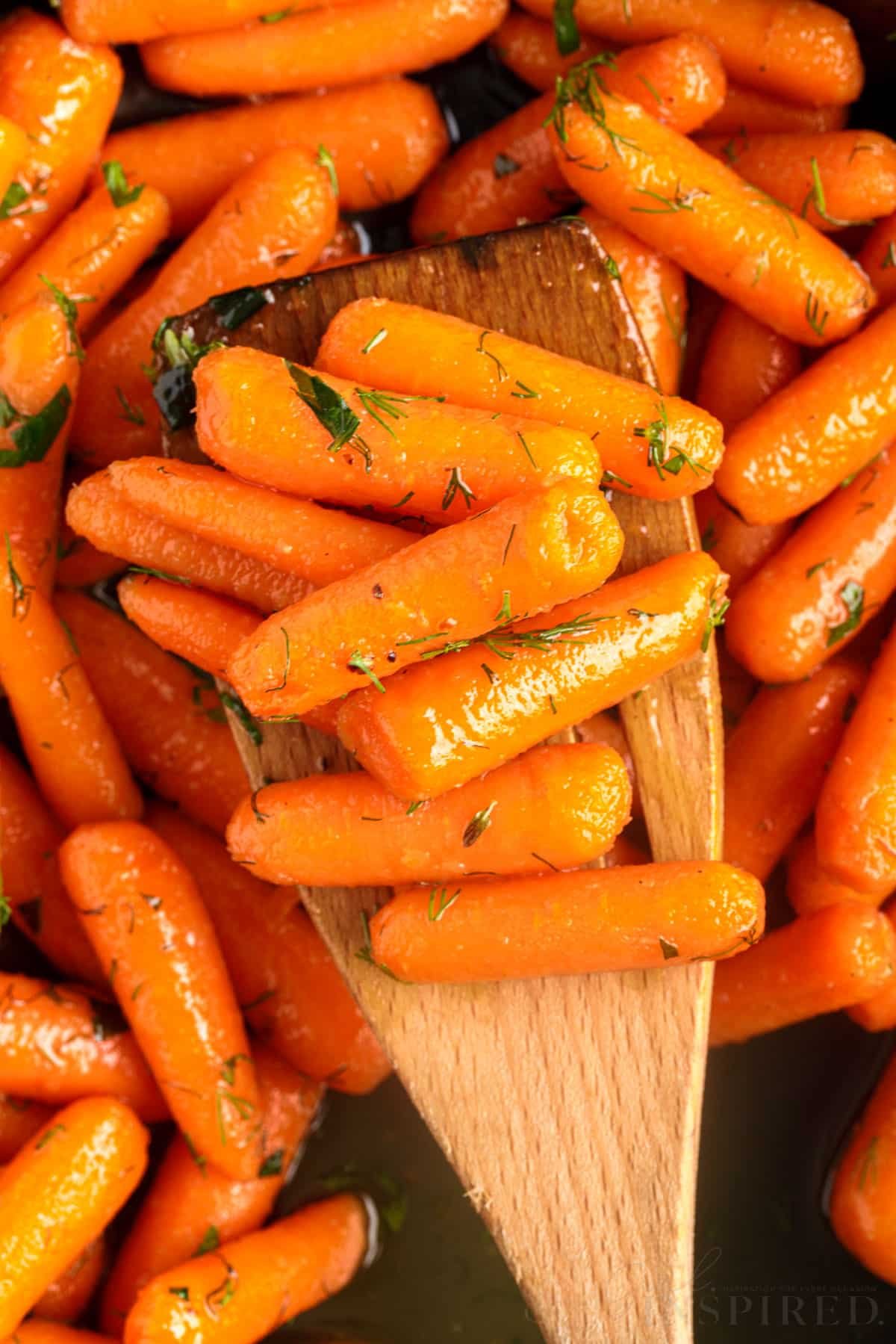 How to store homemade glazed carrots?
Keep leftover glazed carrots in the refrigerator in airtight container for up to 6 days.
Can you reheat honey glazed carrots?
We recommend reheating glazed carrots in the skillet until they are warm. Heating them in the microwave will cook them more.
More Mouthwatering Side Dishes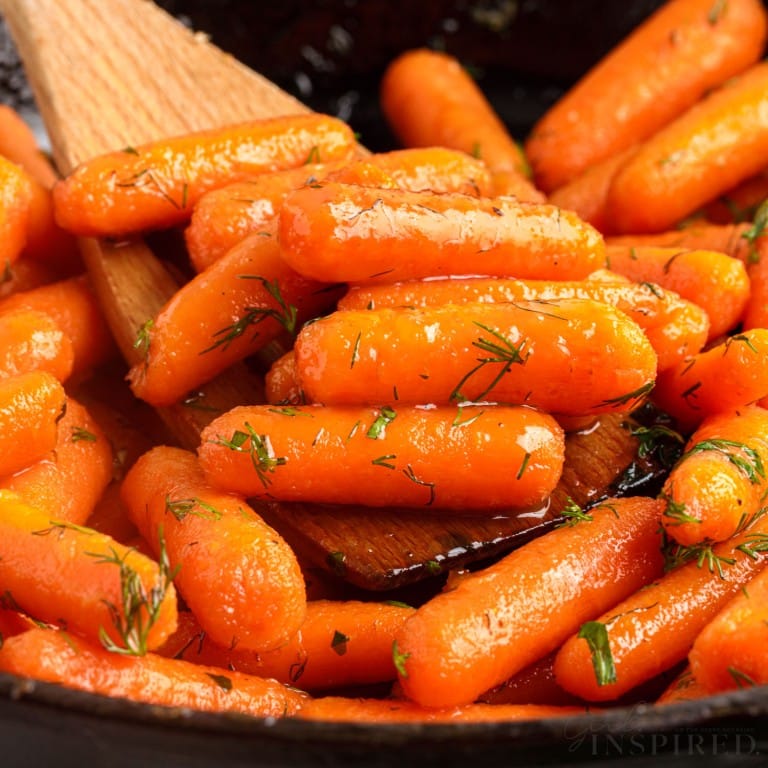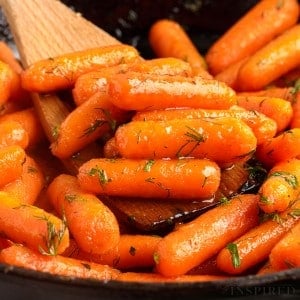 Brown Sugar Honey Glazed Carrots
These tender, but crisp brown sugar honey glazed carrots are a tad sweet and full of flavor! Such a simple vegetable side dish that is ready in under 30 minutes!
Ingredients
2 pounds baby carrots
½ cup water
4 tablespoons unsalted butter
2 tablespoons packed light brown sugar
2 tablespoons honey
Salt and black pepper to taste
1 tablespoon chopped fresh dill thyme, and/or parsley, to garnish
Instructions
Place baby carrots and ½ cup water in a large skillet and heat over medium high until water comes to a simmer. Add salt and cook, stirring frequently, until the water has fully evaporated and the carrots are starting to soften.

Add the butter, honey, and brown sugar and stir to dissolve the sugars into the butter. Cook about 5 minutes longer until the sauce has reduced to a thick glaze and the carrots are fork tender.

Season to taste with additional salt and pepper. Garnish with freshly chopped herbs and toss to distribute the herbs evenly into the glaze.
Nutrition
Calories: 156kcal | Carbohydrates: 22g | Protein: 1g | Fat: 8g | Saturated Fat: 5g | Polyunsaturated Fat: 0.4g | Monounsaturated Fat: 2g | Trans Fat: 0.3g | Cholesterol: 20mg | Sodium: 121mg | Potassium: 370mg | Fiber: 4g | Sugar: 17g | Vitamin A: 21083IU | Vitamin C: 4mg | Calcium: 55mg | Iron: 1mg