Yams candied with maple syrup and brown sugar and topped with gooey toasted marshmallows
Another staple on our Thanksgiving table, and the occasional Wednesday night, we looooove our candied yams with marshmallows in this house! Cooked yams are mashed with melted butter and maple syrup, vanilla and brown sugar; then topped with a huge pile of mini marshmallows. Pop this casserole in the oven and make the kiddos' eyes light up when you tell them to eat their vegetables.
This is my girls' favorite dish of all for Thanksgiving. In fact, we love our sweet potato casserole so much, sometimes we have this marshmallow version and a second pan of yams with brown sugar pecan streusel. Whichever way you bake 'em, this staple dish goes hand in hand with our fancied up stovetop stuffing and mom's cranberry jello salad.
What are Candied Yams?
When I think of candied yams, I often think of cut up chunks or slices of yam or sweet potato, mixed with sugar, butter, and spices like ground cinnamon and ground ginger, and then baked into a caramelized dish. For this version of candied yams, we've mashed tender yams and then mixed them with maple syrup, brown sugar, vanilla, and butter – achieving that caramelized/candied taste without the extra cooking.
How Do You Cook Sweet Potatoes in the Microwave?
Making baked potatoes and sweet potatoes in the microwave is such a huge timesaver (and dish saver)! The skins do not crisp in the same way as when you bake the potatoes in the oven, but the inside tastes practically identical. Since we're discarding the skins for this recipe, waste no time (or oven space) trying to cook these in the oven, and opt for this much quicker route. Even better, no need to peel the yams or take up oven or stovetop space!
For best results, choose yams that are similar in size. Be sure to prick the skins all over with a fork to allow the steam to escape while they're cooking. If you don't, the built up steam may cause the sweet potato to explode. No one has time to clean up that mess either!!
Arrange the yams in a spoke pattern in the microwave. This will ensure more even cooking. You can place them on a dish OR, for easier cleanup, just place them on a few layers of paper towel. They do seep some sticky juice while they're cooking, so be sure those paper towels are ready to catch the drips.
Microwave for about 5 minutes to start and then add 2 minutes per additional yam. Turn the yams over halfway through cooking. You can also flip the end that faces in to the spoke pattern. Add 1-2 minutes of cook time more after the initial cooking until the yams are done. I usually squeeze the sides of the yam to tell when they're done – they're soft and squish easily. They are really hot at this point, though, so be careful. You can also pierce them with a fork – if the fork slides in easily, they are done.
Remove cooked yams from the microwave as they finish cooking. If you have a bit of a smaller one, it may finish cooking faster. Just pull that one out and continue cooking those that aren't done yet.
If you have a microwave with a "baked potato" setting, go ahead and start there. It seems to do the job pretty accurately. Once your yams are cooked, allow them to cool just a little bit and then you're ready to candy them and top them with marshmallows!
Fun Fact
What is the difference between a true Yam and a Sweet Potato?
A yam, my friends, is not actually what we're eating for Thanksgiving dinner. A true yam is a starchy, root vegetable with a rough exterior. You can find yams in parts of Latin America, West Africa, the Caribbean, and Asia, but you'd be hard-pressed to find one in most U.S. grocery stores.
The confusion between yams and sweet potatoes has roots in both the Trans-Atlantic slave trade and a marketing campaign by a Louisiana sweet potato company. If you're interested in more details, this article is a fascinating (and quick!) read on the yam vs. sweet potato mix-up.
Call this classic dish what you will, this might make for an interesting conversation around the holiday table!.
Ingredients for Candied Yams with Marshmallows:
3 yams/sweet potatoes – I love garnet yams! Do double check when you're buying your sweet potatoes that you're choosing those with orange flesh. Some have white flesh – they don't look quite as appetizing and those that I've tried aren't quite as sweet or moist either. If push comes to shove, you can probably substitute canned yams
Butter – we always use the real stuff! I use salted butter for almost everything – if you use unsalted butter, compensate by adding ½ teaspoon or so of salt. You can also use a butter substitute.
Maple syrup – mmmm, maple syrup adds so much flavor and also sweetness to our candied yams. If you're lucky enough to have pure maple syrup from you last trip to Vermont (hahaha), this is the time break it out from the lock box and treat yourself! You can also use pure maple syrup from your local grocery store. If you prefer maple flavored corn syrup, you can use that too.
Vanilla extract – Like the maple syrup, the vanilla adds another layer of flavor and dimension to our candied yams.
Brown sugar – Most of the sweetness is going to come from the brown sugar in this recipe – you can adjust the amount and taste the yams while you're mixing them to achieve the level of sweetness that you'd like. The brown sugar complements the bold flavor of the yams so well.
Heavy Cream – Just as you'd add milk or cream to your mashed potatoes, I like to add just a splash of heavy cream to this dish as well. It adds some creaminess and also breaks up the starches just a bit for a smoother bite. Milk or a milk substitute will work here also. Or skip it altogether, they'll still be delicious!
Other Spices – We keep it simple with the ingredients listed above, but you can add any of your favorite warming spices to the mixture as well. Cinnamon, nutmeg, cloves, or allspice would all blend deliciously!
How to Make Candied Yams with Marshmallows:
Step 1: Start by cooking the yams until they're soft. I like to cook the yams whole, with skins intact, by cooking them in the microwave just like you'd cook a regular potato in the microwave.
Slice them in half and scoop out the flesh. Pile the cooked yams in a mixing bowl.
Step 2: Now we're going to add the "candy" part. Toss in all of the add-ins except for the marshmallows. The butter will melt down as you mix. Mash everything together with a potato masher or a fork. If you like your yams a little bit chunky, that's just fine! Mash them down to your preferred consistency.
Step 3: Now spread the yams out in a baking dish – anything similar to a 9×13 will work. Use an oven safe dish. If you cooked your yams ahead of time and they were cool when you mixed in the add-ins, reheat or bake them for awhile before adding the marshmallows. You can also heat your yam mixture in the microwave before putting them in the oven. If you are making everything at once, they will be hot enough to just go straight to the marshmallow "top and toast."
Step 4: Now, top your candied yams with mini marshmallows and pop it into the oven. Bake in the oven just long enough to toast your marshmallows. I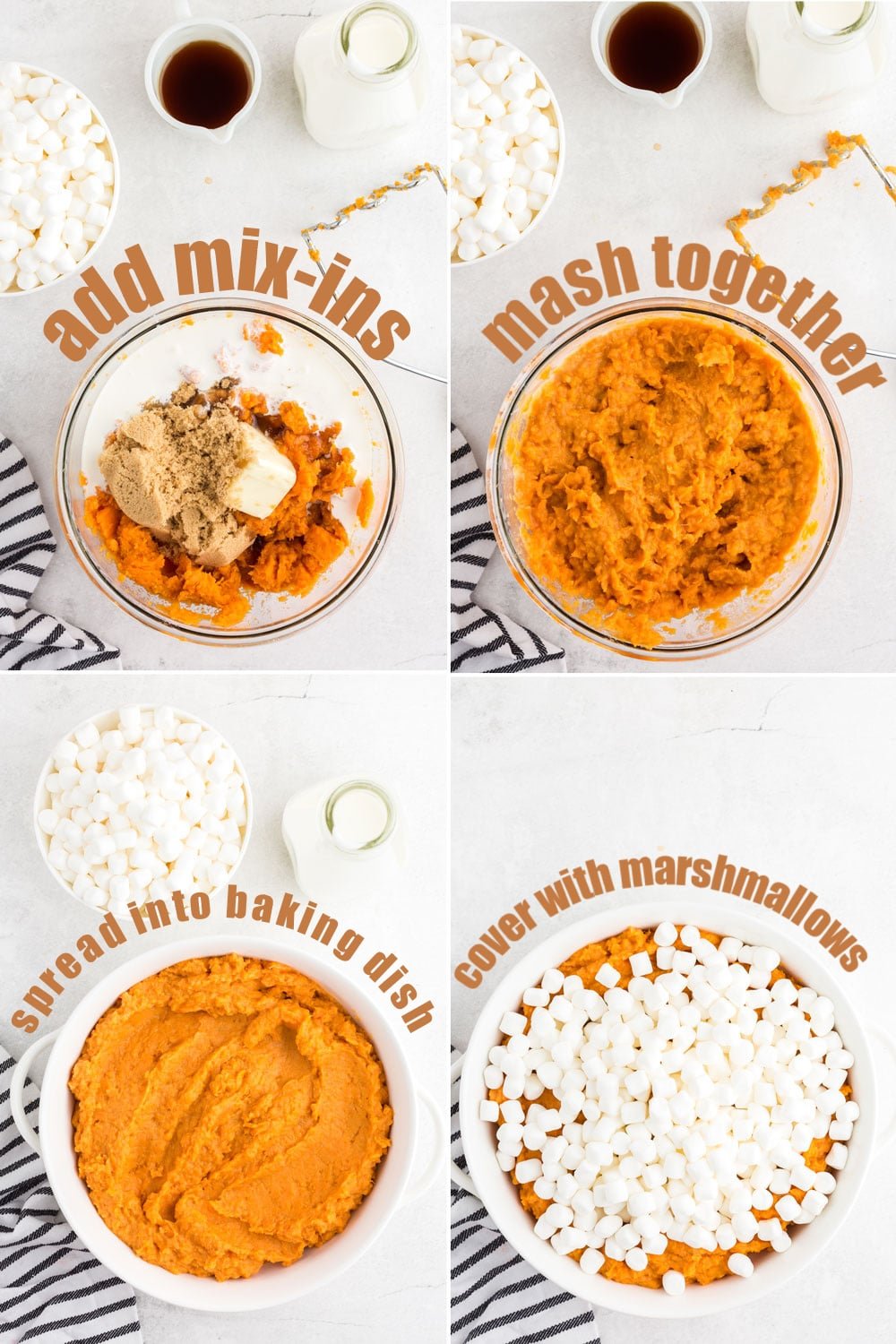 Yummmm! Try to pull those yams out of the oven right at meal time. They take only 15 minutes or so to brown the marshmallows. I usually pop them in the oven to toast as I'm making the turkey gravy. Then, we can eat while the marshmallows are still all ooey gooey!
What is the difference between yams and sweet potatoes?
In America, the two names are frequently used interchangeably. They are almost always referencing sweet potatoes. Actual yams are a different root vegetables and are drier and much less sweet than sweet potatoes. Sweet potatoes can be white, yellow/orange, and even purple! When we say candied yams here, we actually mean candied sweet potatoes. Here is another article by Bon Apetit for your reading pleasure!
Can I make this ahead of time?
Yes, you can cook the yams up to three days in advance. Wrap cooked yams in plastic wrap and store in the refrigerator or scoop out the flesh and seal it in an airtight container. Reheat the yams in the microwave before adding in the "candy" to ensure that your dish is hot coming out of the oven the same time the marshmallows are toasted to perfection,
How Do I Boil Sweet Potatoes?
If you'd rather boil the sweet potatoes, follow the same instructions as you would do boil regular potatoes. Here is a detailed article on how to cook potatoes on the stovetop. Peel and cut the sweet potatoes and place them into a large pot. Cover with water and bring to a boil. Cook until fork tender, then drain and proceed with the candied yams recipe.
How Do I Pressure Cook Sweet Potatoes?
A pressure cooker or instant pot is a super easy method for cooking a big pot of yams. Again, you can cook them the same way we cook potatoes in the instant pot. Prick yams all over with a fork and place on wire rack in the instant pot. Add 1 cup of water to the bottom of the pot. Secure the lid and pressure cook for 18 minutes, followed by a 10 minute natural release.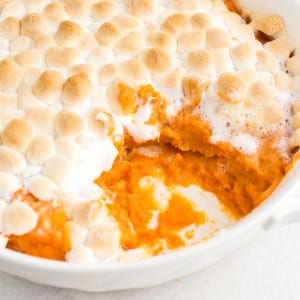 Candied Yams with Marshmallows
Yams candied with maple syrup and brown sugar and topped with gooey toasted marshmallows
servings
Ingredients
Yams
3 garnet yams medium
2 tablespoon butter
⅛ cup pure maple syrup
1 teaspoon vanilla extract
¼ cup light brown sugar packed
½ cup heavy whipping cream
Instructions
Wash yams thoroughly and poke on all sides with a fork to allow steam to escape while cooking.

Arrange yams in a spoke pattern on several layers of paper towel in the microwave.

Cook on the "baked potato" setting or until yams are soft all the way through when poked with a fork.

Remove from microwave oven and allow to sit and cool for 10 minutes or until they are cool enough to handle.

In a bowl, combine yams, butter, maple syrup, vanilla extract, ¼ cup of brown sugar, and heavy cream. Mix well, mashing with a fork or potato masher until most lumps are smooth.

Spread yam mixture into a 9×13 glass baking dish or similar casserole dish.

Bake at 375 degrees for 20-25 minutes or until the marshmallows are toasted brown. Remove from oven and serve immediately.
Nutrition
Calories: 275kcal | Carbohydrates: 52g | Protein: 2g | Fat: 7g | Saturated Fat: 4g | Cholesterol: 22mg | Sodium: 46mg | Potassium: 1053mg | Fiber: 5g | Sugar: 14g | Vitamin A: 420IU | Vitamin C: 22mg | Calcium: 38mg | Iron: 1mg