Pumpkin Butterscotch Cookies are soft and chewy, loaded with gooey butterscotch chips and warm spices! Serve with a tall glass of creamy milk.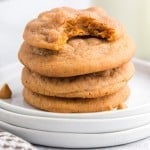 Pumpkin Butterscotch Cookies are super soft on the inside, loaded with melt-in-your-mouth butterscotch chips, with the slightest crisp on the outer edges. YUM!! If you are looking to make a batch of pumpkin cookies in a hurry, you'll be happy to learn that these pumpkin butterscotch cookies only take 8 minutes to bake!
Pumpkin season always gets me excited! The amount of pumpkin recipes is limitless and I keep adding to the list of treats – Pumpkin Cinnamon Rolls, Mini Pumpkin Cheesecakes, Two-Ingredient Pumpkin Donuts…you get the point! These Pumpkin Butterscotch Cookies are truly special. They're made with pumpkin spice instant pudding mix, warm spices, butter, sugar, eggs, butterscotch chips that melt in the baked cookie dough! If you have never tried a pumpkin pudding cookie, now is the time – that pudding in the dough totally transforms the texture.
Enjoy a fresh batch of baked Pumpkin Cookies with a hot mug of coffee or Pumpkin Spice Latte – A great way to welcome the start of pumpkin season!
Why You'll Love Pumpkin Butterscotch Cookies
Pumpkin and butterscotch are delicious, complementary flavors that add diversity to your baked pumpkin treats.
These cookies store well – great for making ahead of holidays or to keep well-stocked during pumpkin season!
Pumpkin butterscotch chip cookies are chewy and gooey inside with a crisp outer cookie shell. They're ideal with a tall glass of milk or a pumpkin spice latte!
What Ingredients do I Need for Pumpkin Butterscotch Cookies?
Butter – I've used softened salted butter for the cookie batter, but you could use unsalted butter instead and increase the salt in the ingredients slightly.
Sugar – Both light brown sugar (¾ cup) and white granulated sugar (¼ cup) have been used. Combining these two types of sugar provides sweetness and a chewy cookie with a crisp outer edge. While you could use only granulated sugar, I highly recommend using the combination in this recipe.
Eggs – Allow the eggs to reach room temperature for better incorporation.
Vanilla extract – Use a good quality extract for all baked goods. It makes a big difference in taste.
Instant pudding mix – I've used a pumpkin spice pudding mix. If you can't source this, choose vanilla pudding mix and add in pumpkin spice.
Flour – All-purpose flour is my favorite choice, but you could also use gluten-free flour such as Bob's Red Mill.
Baking soda – Always check the expiry date on baking soda to ensure that your cookies rise well during baking.
Salt – Add more if you've opted for unsalted butter. The salt helps to accentuate the flavors in baked goods.
Spices – A combination of cinnamon, ground ginger, and ground cloves has been added to the cookie batter.
Butterscotch chips – You'll need about 2 cups of butterscotch chips which can easily be located in the baking aisle of your local grocery store.
PRO TIP: If you're planning on freezing your cookies, first allow them to completely cool once freshly baked, then place them on a lined tray (uncovered) till completely frozen. Once frozen, place your cookies in a Ziploc bag to save you some space in the freezer and to prevent your baked cookies from sticking together.
How to Make Pumpkin Cookies with Butterscotch Chips
COOKIE DOUGH: Cream the butter and sugars in a large bowl using an electric mixer, followed by the eggs. Next, mix the dry flour mixture (flour, pudding mix, baking soda, and spices) into the wet mixture until combined well. Fold in the butterscotch chips.
ASSEMBLE AND BAKE: Scoop out the cookie dough and roll into uniform-sized balls, placing the cookies balls on prepared baking sheets that can either be lined with parchment paper or with a silicone mat. Make sure that the cookie dough balls have enough space between them to spread while baking. Bake the cookies for 8 minutes at 350°F. When complete, transfer the cookies to a wire rack to cool for several minutes before serving.
You can easily make these cookies ahead of time. Prepare the cookie dough the night before baking your cookies and store it in your refrigerator, wrapped tightly in plastic wrap.
You can also store cookie dough in the freezer for up to 3 months. Either wrap the entire batch of cookie dough tightly in plastic wrap to store OR freeze your cookie dough in balls that can then be stored in Ziploc bags, easy for you to bake as many cookies as you wish whenever you want without having to thaw out all of the dough.
Roll your cookie dough into smooth balls before baking for a smooth cookie finish. Otherwise, simply scoop the dough straight onto the cookie sheets.
Use a cookie scoop (aff) for uniform-sized cookies to ensure that your cookies all bake evenly.
You could use unsalted butter in the cookie mixture, but I suggest you increase the salt quantity listed in the recipe. Salt in baking is often an afterthought, yet it's essential for drawing out flavors!
I love making a double batch of this cookie dough, using half immediately and storing the other half in the freezer to enjoy throughout the pumpkin season.
Fun Fact
Did you know that pumpkin is actually a fruit, not a vegetable?! From a scientific perspective, anything that starts from a flower is classified as a fruit. You may also be interested to know that the flowers that bloom on the pumpkin vine are edible! While these cookies don't actually have any pumpkin puree, they still do have a lovely light pumpkin flavor from the pumpkin powder pudding mix.
Variations
Add in some decadent chocolate chips instead of butterscotch chips, and you instantly have yourself a batch of Pumpkin Chocolate Chip Cookies.
Make some pumpkin butterscotch sandwich cookies by joining your cookies with an irresistible Cinnamon Cream Cheese Frosting! You could also spread some frosting on top of each cookie instead of a cookie sandwich;
Add in some chopped mini marshmallows into the cookie mix to create pumpkin butterscotch chip marshmallow cookies (that name is a mouthful, but so is the cookie – in a very good way!);
Need some extra fiber? Consider adding in some oatmeal for a batch of pumpkin oatmeal cookies with some M&Ms instead of the butterscotch chips;
Drizzle your cookies with melted white chocolate, milk chocolate, or butterscotch for an extra decadent cookie. A cinnamon glaze would also be divine!
Pumpkin pie spice and nutmeg can also be added to the cookie dough.
How about ice cream sandwiches? Freeze the cookies so that they hold up to sandwiching and then load them with a scoop of homemade Pumpkin Ice Cream.
How Should I Store Pumpkin Butterscotch Chip Cookies?
These cookies can be stored in an airtight container in the refrigerator for up to 5 days or at room temperature.
Serve them chilled, at room temperature, or heat them up in the oven before enjoying them.
Can I Freeze These Cookies?
Absolutely! These pumpkin butterscotch cookies will last in the freezer for 3 months.

If you plan to store frozen cookies in an airtight container, stack them with sheets of parchment paper between each layer.
Can I Serve These Pumpkin Butterscotch Chip Cookies Warm or at Room Temperature?
You can serve these cookies warm or at room temperature. If you've frozen leftover pumpkin butterscotch chip cookies, let them defrost at room temperature or heat them up slightly in the oven.
Enjoy Pumpkin Season With These Pumpkin Recipes!
Pumpkin Butterscotch Cookies
Pumpkin Butterscotch Cookies are soft and chewy, loaded with gooey butterscotch chips and warm spices! Serve with a tall glass of creamy milk.
cookies
Ingredients
1 cup salted butter softened
¾ cup light brown sugar packed
¼ cup granulated sugar
2 large eggs
1 teaspoon vanilla extract
3.4 ounce pumpkin spice instant pudding mix
2 ¼ cups all-purpose flour
1 teaspoon baking soda
½ teaspoon salt
1 teaspoon cinnamon
¼ teaspoon ground ginger
¼ teaspoon ground cloves
2 cups butterscotch chips
Instructions
Preheat oven to 350°F.

Cream together butter and sugars until creamy and combined.

Beat in eggs and vanilla extract.

Sift together pudding mix, flour, baking soda, salt, pumpkin spice seasoning, cinnamon, ginger, and cloves.

Mix dry ingredients into creamed butter/sugar mixture until combined.

Mix in butterscotch chips.

Scoop about 1-2 tablespoons of cookie dough and roll into a ball. Place on parchment-lined cookie sheet, leaving 2 inches between each cookie.

Bake for 8 minutes. Remove from oven and cool for several minutes. Transfer cookies to a cooling rack.
Nutrition
Calories: 266kcal | Carbohydrates: 41g | Protein: 2g | Fat: 10g | Saturated Fat: 6g | Polyunsaturated Fat: 1g | Monounsaturated Fat: 3g | Trans Fat: 0.4g | Cholesterol: 42mg | Sodium: 292mg | Potassium: 38mg | Fiber: 0.5g | Sugar: 28g | Vitamin A: 325IU | Vitamin C: 0.004mg | Calcium: 16mg | Iron: 1mg