Beef carpaccio is a perfect appetizer for fine dining at home and makes an elegant dish for dinner parties.
This beef carpaccio recipe makes a fabulous appetizer or a great light lunch. While it looks like an award-winning dish from a high-end Italian restaurant, you can make it right in your kitchen with minimal effort and really wow your guests!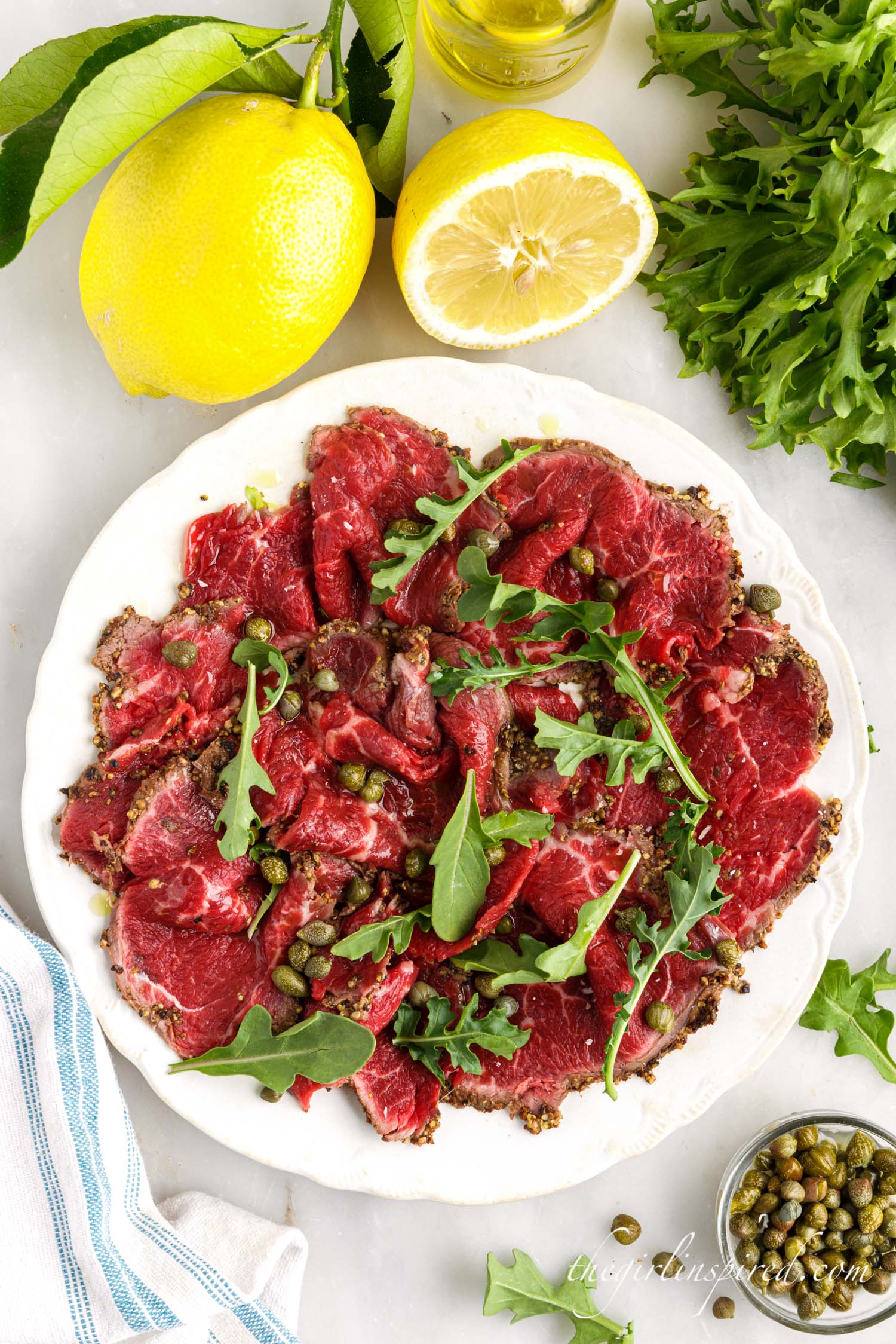 It doesn't matter if you are looking for a fancy appetizer or casual lunch, beef carpaccio checks all of the boxes! This dish is also great for elegant parties.
If you like entrees that are a little more upscale when entertaining, be sure to try roasted tenderloin or Cornish hens. We also love duchess potatoes, peach burrata salad, and pecan baked brie. Prosciutto wrapped asparagus also looks nice on the buffet table with red wine sangria.
What do I Need for this Recipe?
🥩Ingredients:
beef tenderloin – purchase this cut of meat from a good butcher. It's high-quality beef.
mustard – we like stone ground dijon.
black pepper – fresh ground peppercorns add a crusty exterior when seared at high heat.
Olive oil – you can use extra virgin or truffle oil.
salted butter – to sear the beef.
sea salt – add a dash before serving.
capers – sprinkle when serving.
fresh arugula – use baby arugula because it has a much milder taste and is more delicate compared to mature arugula.
lemon wedges – this "cooks" the beef just as it does when using fish for ceviche.
Optional Garnish:
Serve with a drizzle of oil and shavings of parmesan cheese. We like arugula, but you could also serve it with a radicchio salad.
Equipment Needed:
Rolling pin – this works much better than a flat-ended meat mallet. The beef cut is tender enough that a mallet isn't needed.
Variations and Substitutions:
Swap the meat – follow this same recipe and use it with fish or veal. In terms of the cut of beef, tenderloin is the best because it is the most tender. This is also why we recommend fish or veal. No marinating is needed and since it is served raw, we do not want to use a tougher cut of meat.
Red wine vinegar – has the same effect as lemon juice, but can be used as a substitution.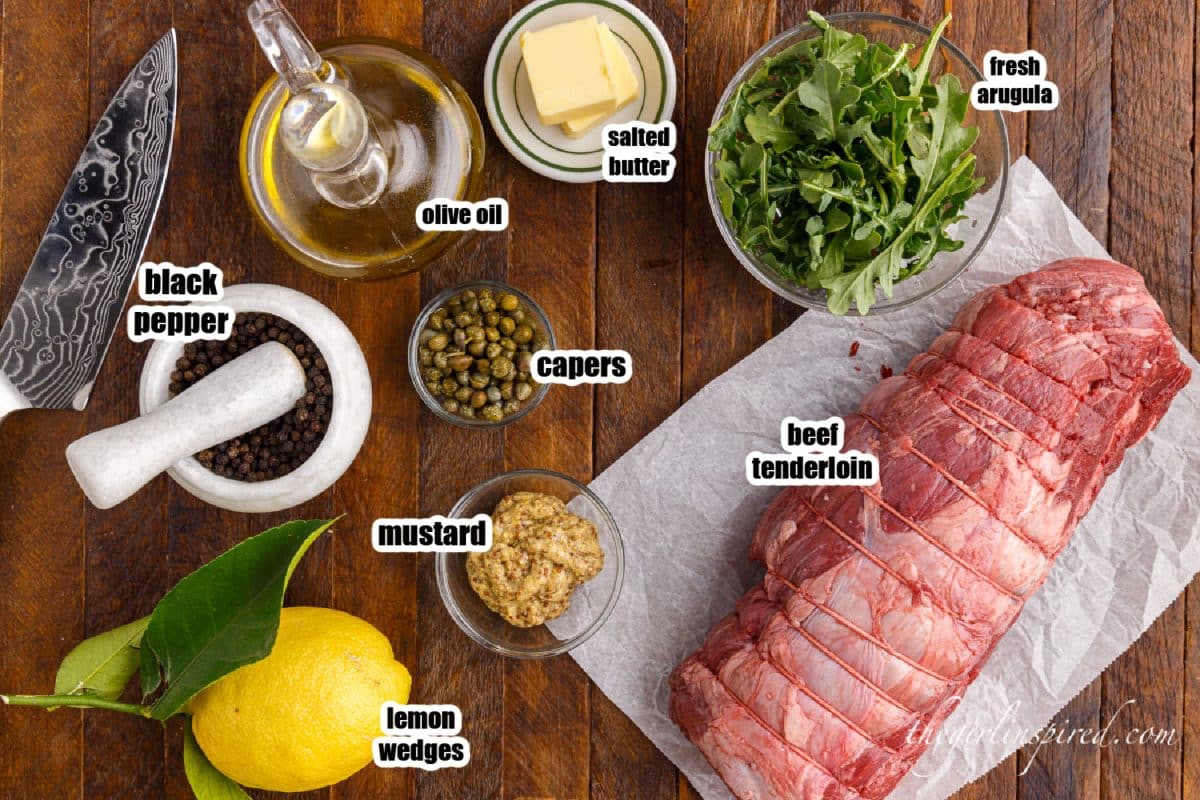 🔪 Instructions:
PREP: Trim the beef tenderloin and remove the kitchen twine if it is tied.
Step 1: Use a pastry brush to cover the meat with the mustard. Grind the whole peppercorns and spread them out on the work surface. Roll the tenderloin in the cracked pepper so it's covered completely.
Step 2: Heat a cast iron skillet over high heat and add the butter and extra virgin olive oil until they begin to sizzle. Sear the tenderloin for a minute on each side.
Step 3: Immediately remove the beef and wrap it in plastic wrap. Pull it tightly around so it forms a nice shape. Freeze for 1-2 hours, long enough to firm up but not to turn solid.
Step 4: Remove the beef from the freezer when you are ready to serve and take off the plastic wrap.
Pro Tip: Keep the beef refrigerated until you are ready to serve so it doesn't get contaminated.
Step 5: Using your sharpest knife, cut the beef into slices that are 2 mm-3 mm thick. Place the beef on a cutting board or a sheet of parchment paper. Place another sheet on top to cover the beef fillet.
Step 6: Use a rolling pin to gently press into paper-thin slices of raw beef. Transfer the beef slices to a serving platter.
SERVE: Drizzle with a little oil, and garnish with salt, capers, and baby arugula. Serve or refrigerate immediately. Just before serving, squeeze fresh lemon juice.
Food Safety: In terms of food safety, there are some health concerns for older adults, young children, those with compromised immune systems, and pregnant women. These individuals are at a higher risk of food poisoning and should steer clear of raw meat and those that are undercooked.
Purchase the beef the same day you plan on serving to reduce the growth of bacteria.
Slice the beef at home rather than having the butcher do it.
Keep it refrigerated at all times. When left at room temperature, bacteria may begin to grow.
Do not pound the meat with a mallet. It's tender enough, and the rolling pit will flatten it easily.
Fun Fact
This casual lunch entrée is believed to have been invented in Venice, Italy, in the 1950s by Giuseppe Cipriani, the founder of Harry's Bar. According to legend, Cipriani created the dish for a countess who was on a strict diet that prohibited her from eating cooked meat. He named the dish "carpaccio" in honor of Vittore Carpaccio, whose paintings inspired the dish's bright colors.
What is steak carpaccio?
Beef Carpaccio is a traditional Italian appetizer that consists of thinly sliced raw beef served with a variety of toppings and seasonings. The dish is named after the Venetian painter Vittore Carpaccio, known for his use of bright reds and whites in his artwork, which resembles the colors of the dish.
What's the difference between carpaccio and tartare?
Tartare is finely chopped or minced raw meat, usually beef or sometimes fish, and is often served as a main course. The meat is typically mixed with ingredients such as onion, capers, mustard, and Worcestershire sauce, and is often topped with raw egg yolk while carpaccio is thinly sliced.

More Mouthwatering Beef Recipes
Beef Carpaccio
Beef carpaccio is a perfect appetizer for fine dining at home and makes an elegant dish for dinner parties.
Ingredients
1 ½ pound beef tenderloin
½ cup stone ground dijon mustard
¼ cup freshly ground coarse black pepper
2 tablespoons olive oil plus more for drizzling
2 tablespoons salted butter
coarse sea salt to taste
¼ cup capers drained
½ cup baby arugula
½ lemon or to taste
Instructions
Prepare beef tenderloin by trimming (if it didn't come trimmed). You can purchase just a portion of a beef tenderloin (you will want the thick, evenly round end) as only about 1 pound is needed for this dish. Purchase tenderloin fresh the day you will prepare the dish.

If tenderloin is already tied, go ahead and remove the ties as they will get in the way of slicing.

Use a pastry brush to slather the tenderloin with the mustard.

Grind whole peppercorns and spread them on your work surface. Roll the mustard-smothered tenderloin in the freshly cracked pepper to coat the full exterior.

In a cast iron skillet, heat the butter and 2 tablespoons of olive oil until they begin to sizzle.

Sear the tenderloin in the hot skillet, cooking for just a minute on each side – just enough to sear the very outside and toast the pepper crust.

Immediately remove the tenderloin from the skillet and wrap in plastic wrap. Pull the plastic wrap taut around the tenderloin to form a nice evenly round shape.

Place the tenderloin in the freezer for 1-2 hours, long enough for it to firm up but not freeze solid.

When ready to serve, remove the tenderloin from the freezer. Unwrap the plastic wrap.

Using a very sharp knife, slice very thin slices off the tenderloin. You are aiming for 2-3 mm thick.

Place the slices of meat on a cutting board or on a sheet of parchment paper or plastic wrap. Place another piece of parchment or plastic wrap over the slices.

Use a rolling pin to gently press the meat into paper thin sheets.

Arrange the meat on a cutting board or serving tray.

Drizzle with olive oil.

Garnish with a sprinkle of salt, capers, and baby arugula.

Serve or refrigerate immediately. Squeeze fresh lemon juice over the dish just before serving.
Notes
Storage: Beef carpaccio should be consumed the same day it is prepared. Notes: The beef tenderloin should be purchased from a reputable butcher or market. It is a high-end cut of meat. To reduce the risk of bacteria growth, purchase the tenderloin the same day you intend to prepare the beef carpaccio and keep it refrigerated at all times. Slice the meat yourself at home rather than having the butcher do it. Beef carpaccio can also be prepared by skipping the seared crust. Freeze the tenderloin for 1-2 hours before slicing it to help it hold its shape. Use a very sharp knife or a serrated knife to slice the meat and be very careful. Since a beef tenderloin is such a tender piece of meat, it flattens out as easily as rolling soft butter when you place it between parchment or wax paper and roll it gently with a rolling pin. No need to pound it out or even put a lot of pressure on the rolling pin. The lemon juice will "cook" the beef – much like when you "cook" fish for ceviche using citrus juice. Give the prepared dish a squeeze of lemon immediately before serving.
Nutrition
Calories: 351kcal | Carbohydrates: 8g | Protein: 19g | Fat: 28g | Saturated Fat: 10g | Polyunsaturated Fat: 2g | Monounsaturated Fat: 13g | Trans Fat: 0.1g | Cholesterol: 67mg | Sodium: 219mg | Potassium: 431mg | Fiber: 3g | Sugar: 1g | Vitamin A: 169IU | Vitamin C: 5mg | Calcium: 66mg | Iron: 4mg