Enjoy this delicious limoncello spritz recipe at your next summer party or have it as a great after-dinner drink. The combination of limoncello pairs perfectly with sparkling wine, especially during warm weather.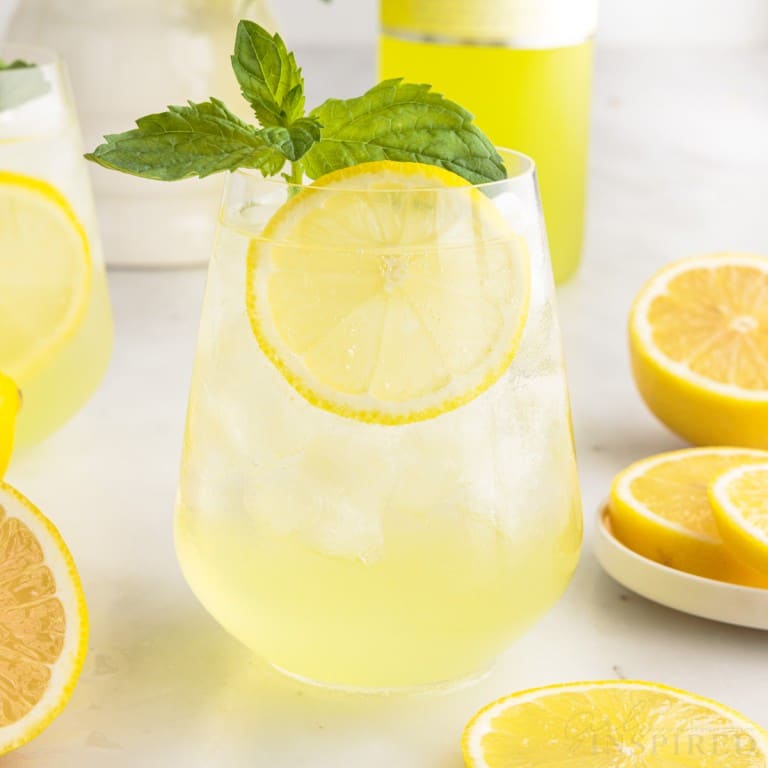 This refreshing Limoncello Spritz makes the perfect drink on a hot summer day using just 3 simple ingredients. It's made with sweet Italian lemon liqueur, sparkling water, and Prosecco to make it extra bubbly. Naturally, it has a bright lemon flavor that is a must-have when warmer weather hits.
A homemade limoncello spritz is such as simple cocktail that is almost like a thirst-quenching drink! The flavor combination is a little on the sweeter side, making it totally refreshing and perfect for those who don't like to choose between sweet and sour.
In the summer we also love making Strawberry Sangria, Orange Lemon Gin Cocktail, and Strawberry Daiquiri Jello Shots. If you like the taste of refreshing carbonation, you'll love a blackberry gin cocktail.
Jump to:
🍋 Ingredients:
Limoncello liqueur – adds a sweet lemon flavor and is the star ingredient in our tasty cocktail; can be found at all liquor stores.
Prosecco – typically has a lower alcohol content compared to other sparkling wines, such as Champagne. This lower alcohol level makes it more suitable for a refreshing and lighter cocktail like the Limoncello spritz, allowing you to enjoy the flavors without overwhelming the palate. Prosecco is also an Italian wine so its use here aligns with the traditional Italian flavors and culture.
sparkling water or club soda – do not substitute tonic water; the club soda cuts the alcohol a bit and adds some bubbles.
For a full list of ingredients and their measurements, 📋 please view my printable recipe card at the bottom of the post.
Optional Garnish:
Garnish your limoncello spritzer with a slice of lemon, twisted lemon peel, or a sprig of mint.
Substitutions and Variations
Flavored sparkling water – Instead of plain soda water, you can use the limoncello La Croix or another flavored water.
Make your own limoncello – you'll need 11 lemons, a bottle of vodka that is at least 80 proof, and simple syrup. Add the lemon peels to the vodka and let it infuse for at least 4 days. Strain the limoncello through a coffee filter and add the syrup until the desired taste is reached. Transfer to a bottle that can be sealed and chill before making the limoncello spritz.
Customize – You can adjust the sweetness, acidity, or even experiment with different citrus flavors by using variations like orange liqueur or grapefruit garnish.
Experiment with Bitterness: If you enjoy a slightly bitter taste, you can add a splash of Aperol or Campari to the spritz. This adds complexity and a different dimension to the cocktail.
🔪 Instructions:
Step 1: Fill the cocktail glass or wine glasses with ice cubes.
Step 2: Pour in 2 ounces of Limoncello and 4 ounces of Prosecco. (I like to use a ratio of 1 parts Limoncello to 2 parts Prosecco – if you're using a different size glass, adjust the amounts accordingly.)
Step 3: Top with a splash of soda water.
Step 4: Garnish with a mint sprig and lemon wheel.
Pro Tip: Only stir spritzers, since they are made with sparkling water, you don't want to shake them and cause them to go flat.
SERVE: Best served chilled and garnished with mint and lemon.
The sweetness of this light drink will depend on the type and brand of limoncello used. You can adjust the taste based on preference.
For less sweetness add more Prosecco and/or add more soda water.
For an extra punch of flavor, add a squeeze of fresh lemon juice.
Keep the ingredients chilled for the coldest drink and to keep the ice frozen for longer.
Make ice cubes of frozen Limoncello to maintain the flavors of the spritz as the ice melts.
For another refreshing citrus drink with a tequila twist, try our mint margarita!
Fun Fact
The exact origins of Limoncello are unclear, but it is believed to have originated in southern Italy, along the Amalfi Coast, or perhaps in Capri, regions with prime climate and soil for lemon growing.
What is limoncello?
Limoncello is a traditional Italian liqueur that originated in southern Italy, particularly in the area around the Gulf of Naples, the Sorrentine Peninsula, and the Amalfi Coast.

Today, Limoncello is produced throughout Italy and is a popular Italian liqueur that is enjoyed both domestically and internationally. The production process for Limoncello is regulated by the Italian government, which requires that the liqueur be made with lemons grown in specific regions of Italy and that it meet certain quality standards.
What is a spritz?
A spritz is a popular Italian cocktail that originated in Venice. It is typically made with Prosecco, a bitter liqueur such as Aperol or Campari, and a splash of soda water. The drink is usually served over ice and garnished with a slice of orange or olive and may also be known as a classic Aperol spritz.
Can you make a big batch or pitcher of limoncello spritz?
We recommend single servings because the bubbles in the Prosecco and club soda will go flat, and as the ice melts in the pitcher, it waters down the drinks.

If you tried this Limoncello Spritz or any other recipe on my website, please please leave a 🌟 star rating and let me know how you liked it in the 📝 comments below.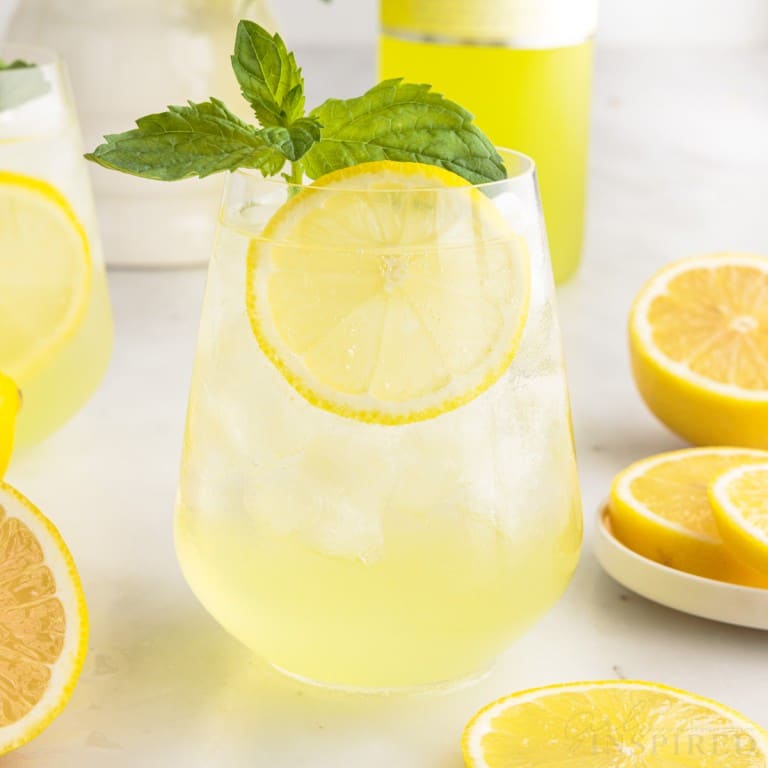 Limoncello Spritz
Enjoy this delicious limoncello spritz recipe at your next summer party or have it as a great after-dinner drink. The combination of limoncello pairs perfectly with sparkling wine, especially during warm weather.
Ingredients
2 ounces Limoncello
4 ounces Prosecco
1-2 oz. sparkling water/club soda
Lemon slices and mint sprigs for garnish
Instructions
Fill glass with ice.

Add 2 ounces of Italian Limoncello.

Add 4 ounces of Prosecco.

Top with sparkling water.

Garnish glass with a lemon slice or two and a sprig of fresh mint.
Notes
Depending on the brand/type of Limoncello, the sweetness will vary. The Limoncello is adding the lemon flavor and the sweetness to the drink, so adjust the recipe according to personal preference. As written, the spritz is nicely balanced and leans on the sweeter side. Add more Prosecco for less sweetness and/or add more club soda/sparkling water to thin out the potency. Some of the specialty brands of sparkling water make a "Limoncello" flavor. You can use this in your Limoncello Spritz instead of the plain club soda. Add a squeeze of fresh lemon juice for an extra punch of flavor or to cut the sweetness. I recommend pouring and serving Limoncello spritz as single servings versus mixing up in a pitcher. The bubbles will go flat after sitting out and the ice will melt and water down the drink, so it's best to mix each one up fresh. Keep Limoncello, Prosecco, and club soda chilled in the refrigerator for the coldest drink. You can even freeze ice cubes made from Limoncello to prevent watering down of the drink.
Nutrition
Calories: 299kcal | Carbohydrates: 25g | Protein: 0.1g | Sodium: 12mg | Potassium: 81mg | Sugar: 23g | Calcium: 12mg | Iron: 0.3mg